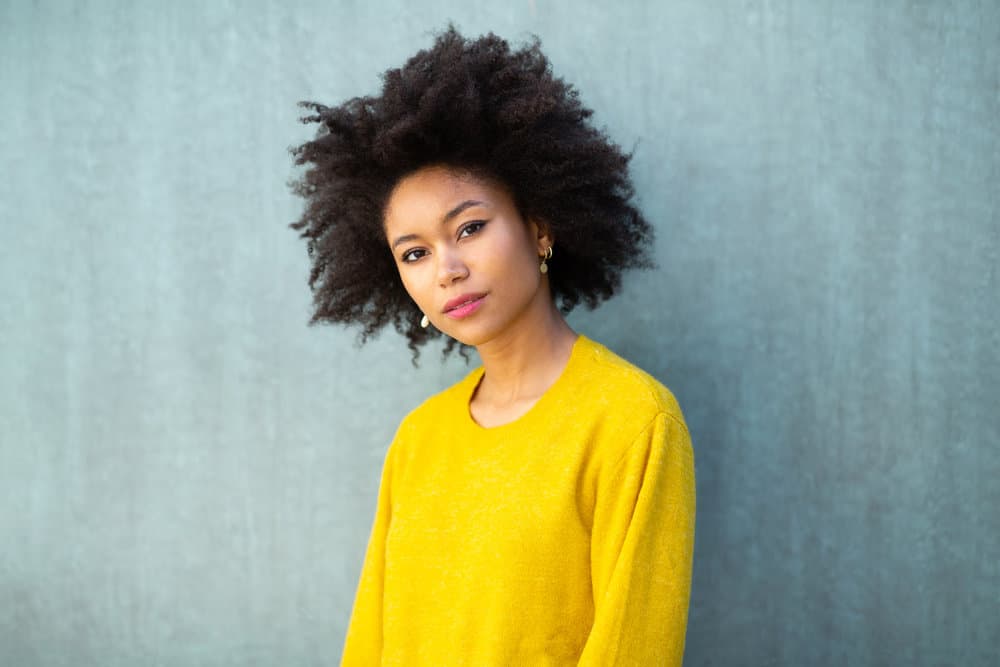 4B hair is a uniquely beautiful natural hair type that's often misunderstood. Even girls and guys who have 4B hair don't always know how to take care of it or style it.
In this post, we'll clear up any confusion about what type 4B hair is and give you the low-down on the best ways to cultivate it to reach your hair goals. We'll also touch on some of the most popular styles for people with this hair type.
What Is 4B Hair?
4B hair is a hair type that's extremely curly, voluminous, and prone to shrinkage and dryness. The "4B" hair type comes from Andre Walker's hair typing system, which is the most popular way to categorize natural hair types.
The system is made up of 4 hair texture categories:
Type 1 – Straight
Type 2 – Wavy
Type 3 – Curly
Type 4 – Coily/Kinky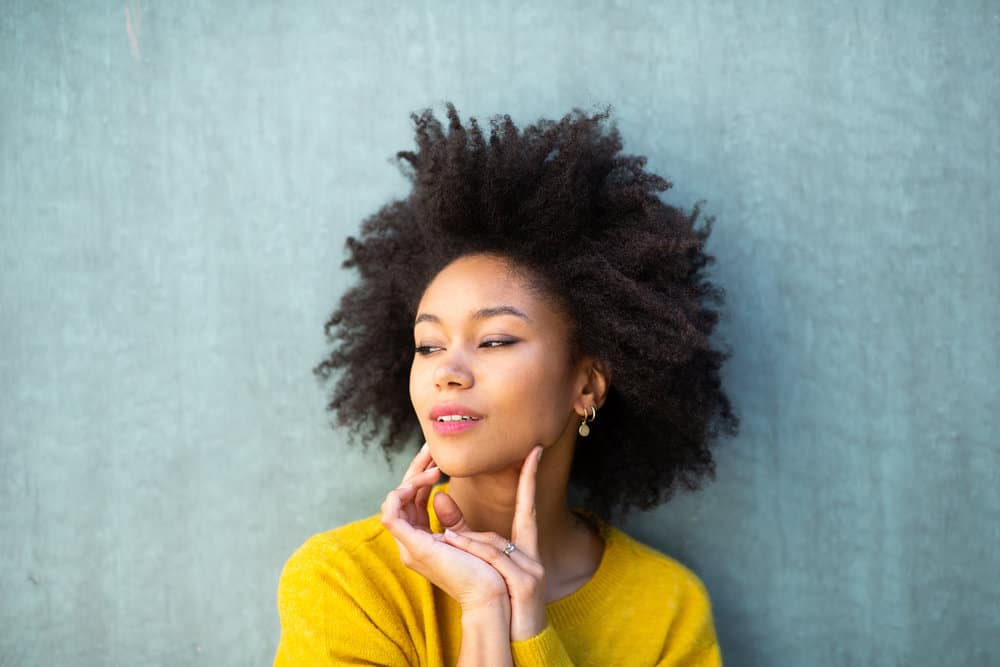 Each of the above hair typing categories is further broken down into subcategories A, B, and C, with "A" being the least textured and "C" being the most textured.
So, for visual purposes, let's look at all of the hair types:
Type 1 Straight – 1A, 1B, 1C
Type 2 Wavy – 2A, 2B, 2C
Type 3 Curly – 3A, 3B, 3C
Type 4 Coily/Kinky – 4A, 4B, 4C
As you can see, type 4B hair is part of the type 4 category and sits between types 4A and 4C.
What Does 4B Hair Look Like?
The main distinguishing feature of 4B hair is its zig-zag-like appearance. It doesn't usually have a consistent curl pattern, and there's minimal clumping. When adequately cared for, it looks fluffy like a cloud, but it can also take on other shapes.
This hair type is often confused with 4C hair, but the two are quite different. The main difference is that 4C hair has a much tighter curl pattern than 4B. 4B curls are also more tightly curled than 4A.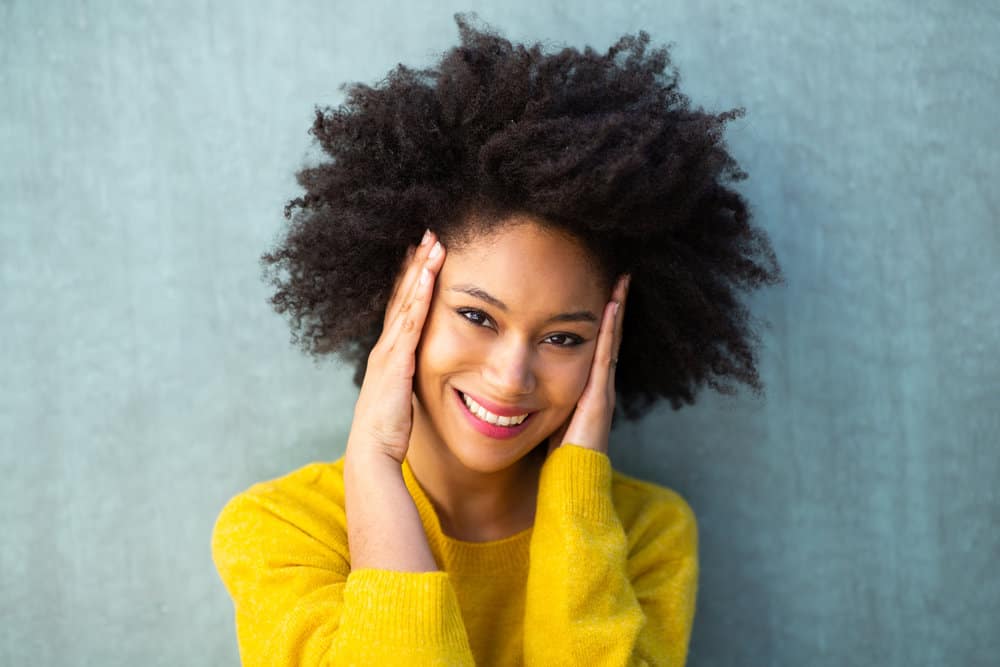 What Are the Benefits of Having 4B Hair?
Wondering what makes 4B hair great? This section will be a huge help. 4B hair comes with a whole host of benefits, and we'll address each of them in this section:
Versatility
Few hair types are more versatile than 4B curls, which is why this hair type is so loved. 4B hair can be worn in a variety of styles. You can embrace your natural texture with a wash n' go, or you can rock it sleek and straight with the help of heat styling tools.
You can also try out fun styles like Bantu knots or flat twists to change things up. The possibilities are endless with 4B hair!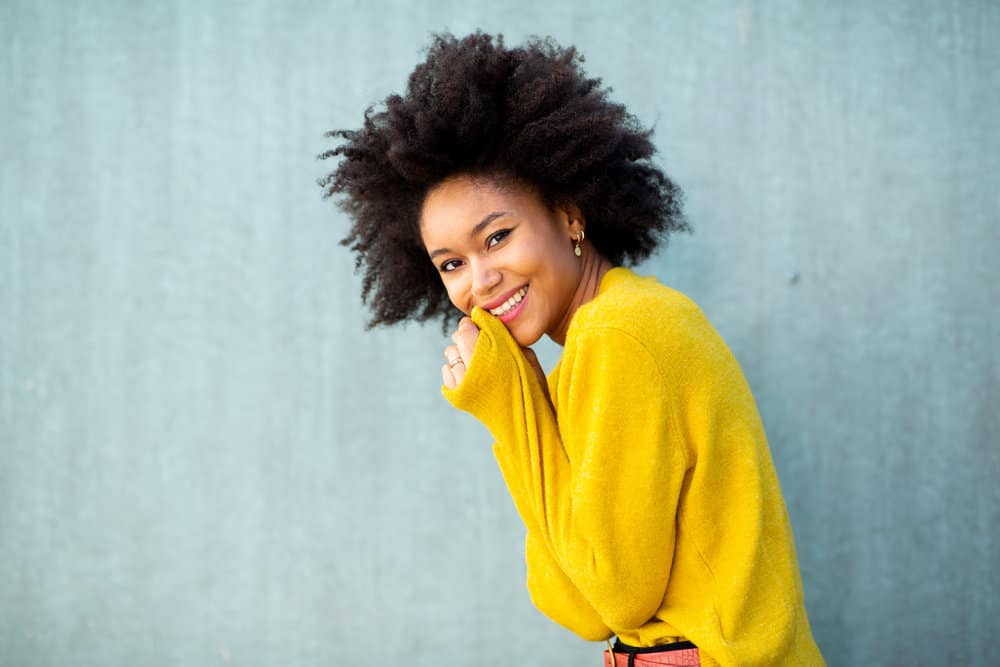 Fullness and Volume
4B hair is known for being big and voluminous, and that's a major part of its appeal. The tightly coiled nature of 4B hair means that there's less negative space between strands, which gives the hair a fuller overall appearance.
This is a massive benefit for those who want to achieve big, bold styles. When your hair is in its natural state, you'll never need to break out the teasing comb or blow-dry your hair upside down.
Protective Styling Ease
Straight and wavy hair can be difficult to manipulate into protective styles. This is because they don't have a ton of texture. 4B hair has plenty of texture, so it lends itself well to protective styling.
When you braid your 4B hair, you won't have to worry about it unraveling by itself or becoming frizzy prematurely. The tightly coiled nature of the hair ensures that your style will stay put, no matter what.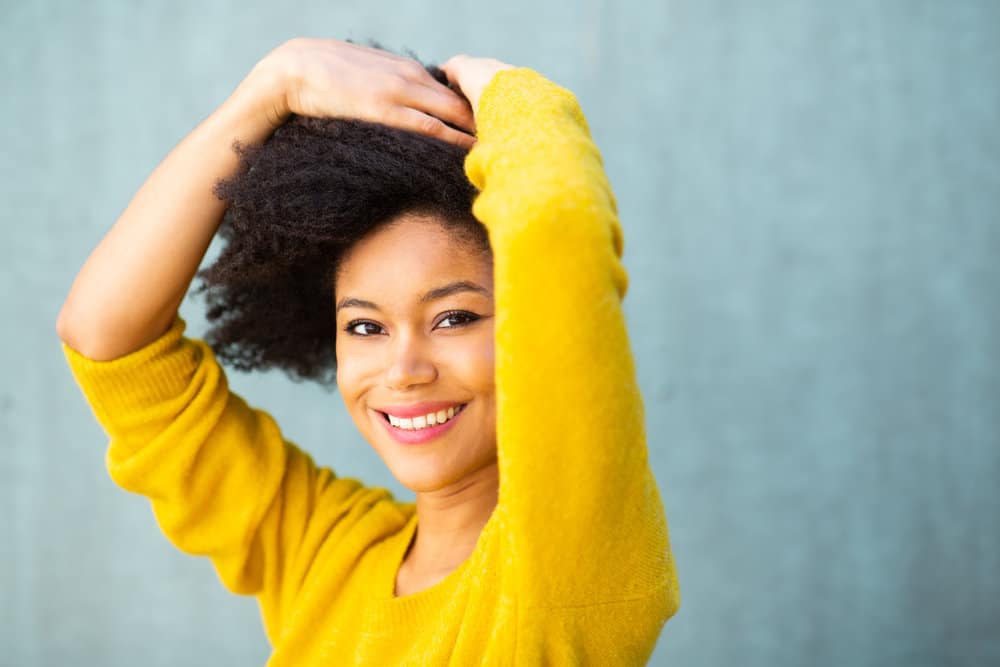 Visual Appeal
The tiny zig-zags and curls that make up 4B hair are just a joy to look at. This hair type is lovely in its natural state, and it can also be styled into a variety of chic and elegant looks without losing all of its characteristic texture.
Whether you're rocking a big and bold afro, a pineapple, or a twist out, you're sure to turn heads.
What Are the Challenges of Having 4B Hair?
Though 4B hair is gorgeous, it does come with its fair share of challenges. In this section, we'll touch on some of the most common challenges associated with the hair type.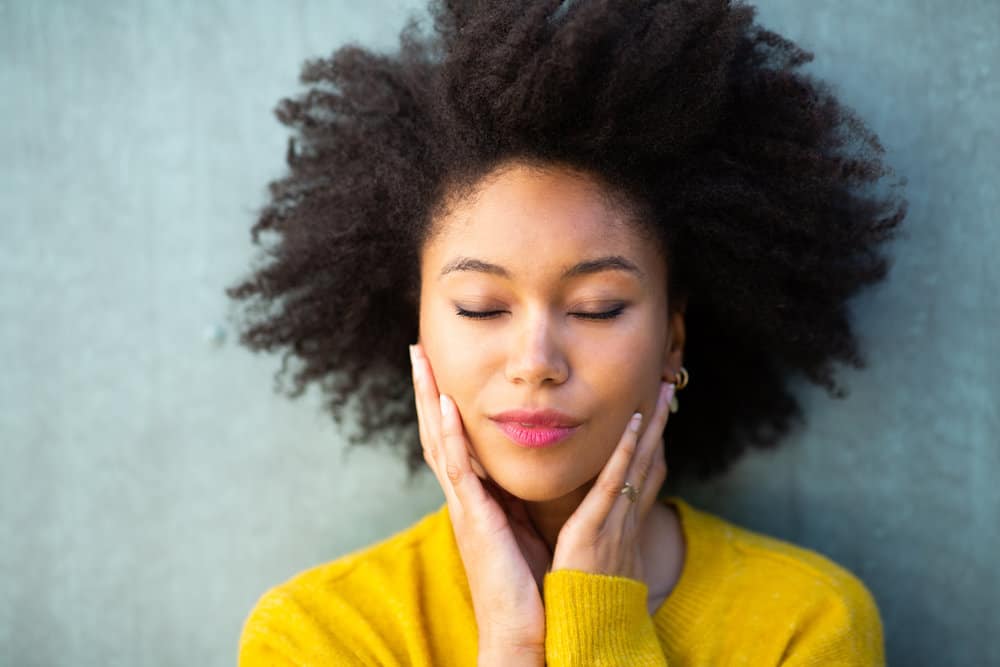 Chronic Dryness
One of the most common challenges faced by those with type 4B hair is dryness.
The hair's texture gives way to so many twists and turns that the scalp's natural oils aren't able to adequately coat the strands. This often leads to dry and brittle hair that's prone to breakage.
The lack of moisture can also make the hair difficult to style.
Fragility
In addition to being dry, 4B hair is also quite fragile. Anytime it's touched, styled, washed, or otherwise manipulated, there's a risk of breakage.
Every zig, zag, and coil that makes up 4B hair is prone to damage. That's why it's so essential to handle 4B hair with care.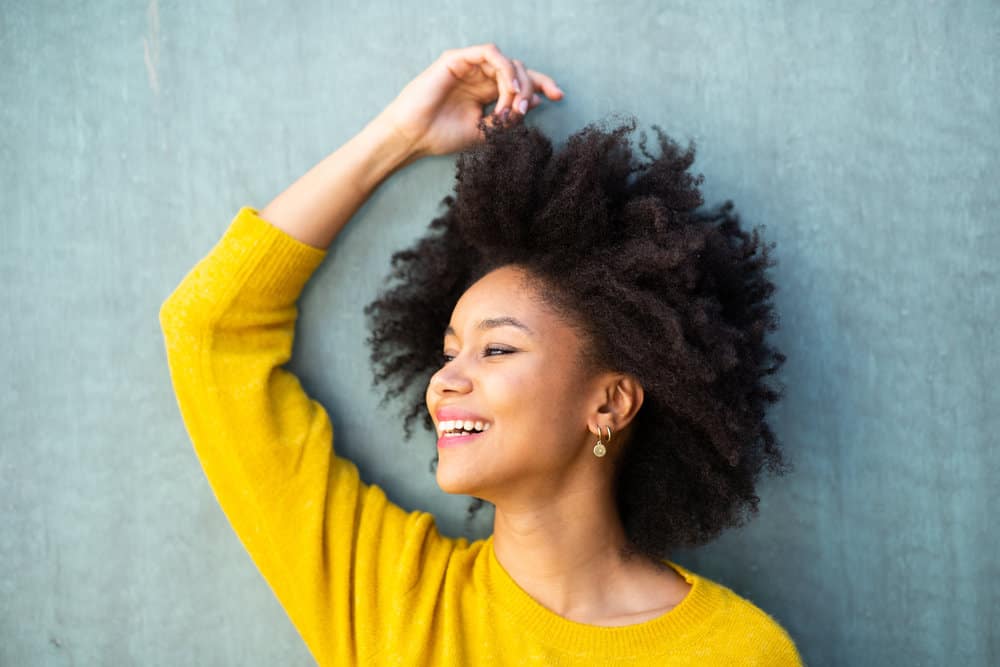 Sensitivity to Heat and Chemicals
Heat and chemicals are the arch nemesis of 4B hair. Because the hair is already so dry and fragile, any additional damage can be difficult to come back from.
4B curls are especially susceptible to heat damage, which results from using heat styling tools like curling irons, flat irons, and blow dryers.
Every time you apply heat to hair as textured and fragile as 4B hair, the already thirsty hair cuticles take some degree of damage.
The worst part?
Hair cuticles cannot regenerate, so once the damage is done, it's impossible to undo. The same goes for chemical damage, which is caused by over-processing the hair with dyes, bleach, and other harsh treatments.
Styling Difficulty
Earlier, we touched on the fact that 4B hair lends itself well to protective styling. That cannot be said for some style types. The more you fight against 4B hair, the more complex and challenging the styling process will be.
For instance, straightening 4B hair is possible, but it's not easy.
To get the hair sleek and straight, you'll need to use a lot of heat and elbow grease, which we already know is a recipe for disaster. 4B hair has a mind of its own, and most of the time, it will do what it wants if you fight your natural texture.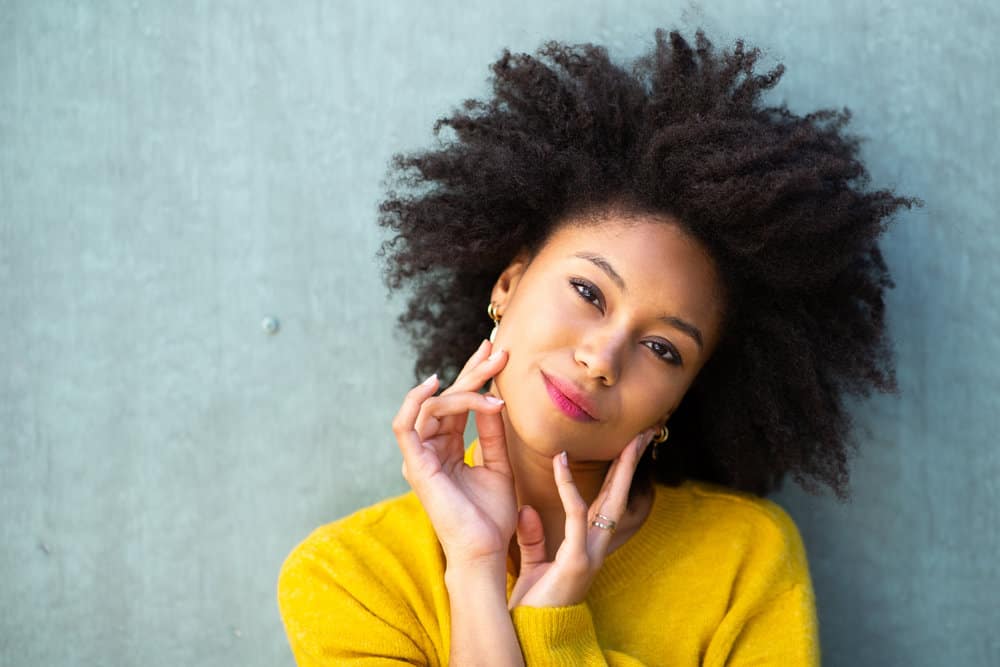 Shrinkage
One of the most frustrating things about 4B hair is its shrinkage. When your hair is wet, you see your hair's actual length. But as soon as it dries, most of that length disappears.
It can be incredibly frustrating when you've tried so hard to grow your hair out, only to have it shrink up into a tiny afro. 4B hair can shrink to up to 75% of its actual length when it's dry.
How to Care For 4B Hair
Type 4B hair requires a bit more care than almost all of the other hair types. In this section, we'll give you some tips on how to take care of your 4B coils.
Deep Condition Religiously
Deep conditioning is a must for 4B hair. Because the hair is so dry, it's essential to give it an extra boost of hydration at least once a week. Choose a deep conditioner that's packed with moisture-replenishing ingredients like aloe vera and glycerin.
Apply the product to clean, damp hair and let it sit for up to 30 minutes before rinsing it out. For deeper penetration, you can cover your hair with a shower cap or plastic wrap and sit under a hooded dryer for 15-20 minutes.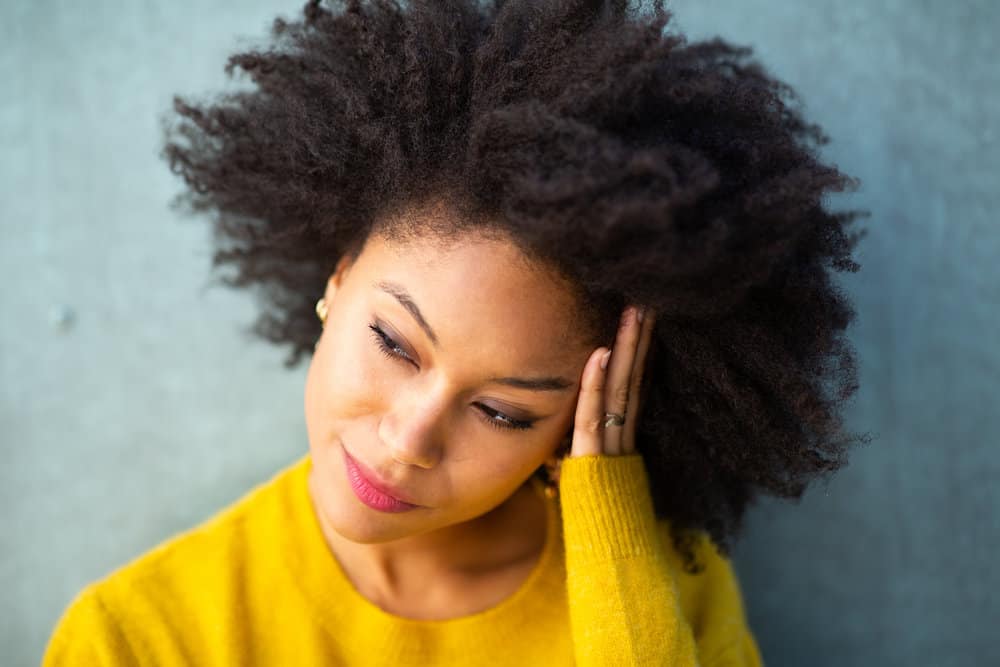 Wash Less
Washing your 4B hair too often can strip it of its natural oils, leaving it dry and brittle. When you do wash your 4B coils, be sure to use a sulfate-free, moisturizing shampoo. Only wash your hair once or twice a week at most to avoid over-stripping the hair.
Be Gentle
When it comes to 4B hair, less is more. The less manipulation you put your hair through, the better. When you do style your hair, be sure to use gentle motions and avoid tugging at your strands.
When combing or brushing 4B hair, use a wide-tooth comb or brush to avoid snagging and breaking the hair. And when it comes to heat styling, use the lowest heat setting possible to minimize damage.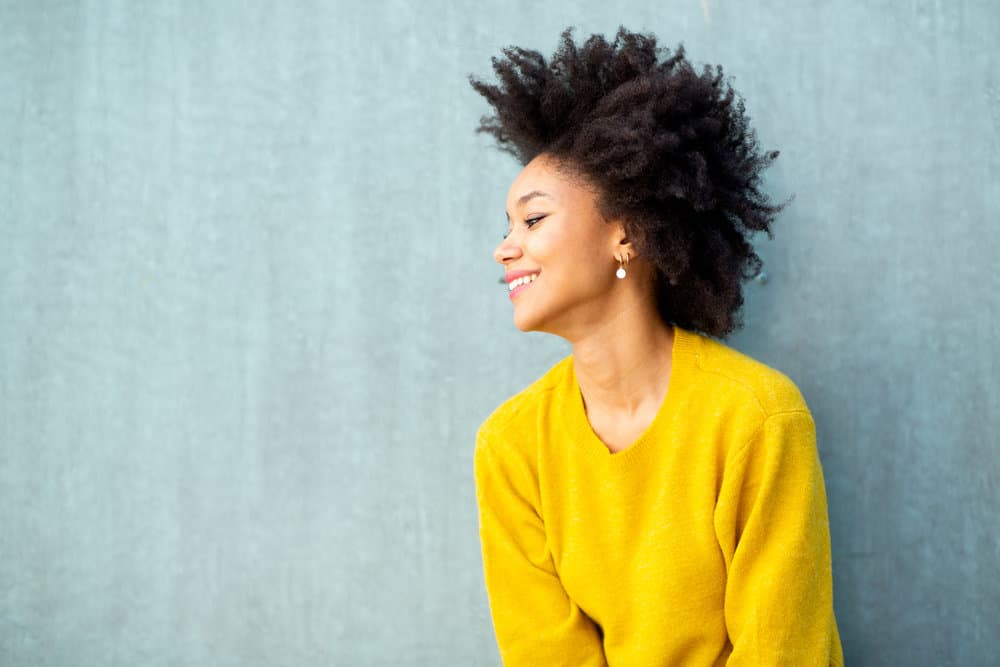 Use the Right Products
4B hair craves products that are packed with moisture. Look for products that contain natural oils like jojoba oil, coconut oil, and olive oil. These products will help to hydrate and nourish your 4B coils.
Also, avoid products that contain certain alcohols, as they can dry out the hair.
Fatty alcohols, like cetearyl alcohol, are okay to use, but drying alcohols, like SD alcohol 40 and denatured alcohol, should be avoided like the plague.
Never Forget Your Heat Protectant
When heat styling 4B hair, be sure to use a heat protectant serum or cream to minimize damage. And when possible, air dry your hair to avoid using heat altogether. Excessive heat exacerbates the already dry nature of 4B hair, so it's best to avoid it whenever possible.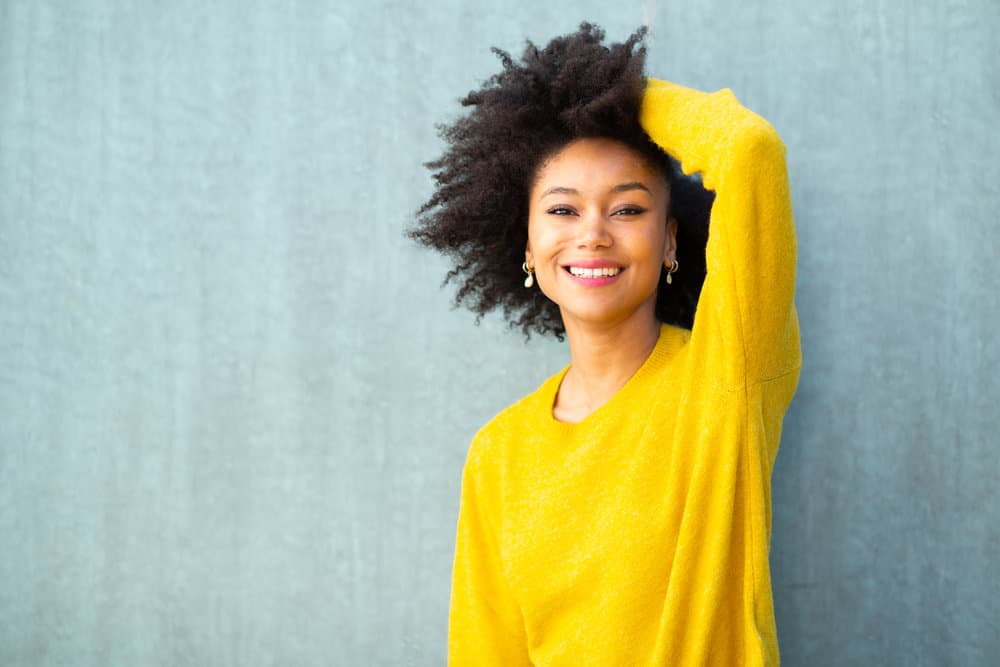 Prioritize Moisture
As we mentioned, 4B hair is prone to dryness. To combat this, you need to moisturize your hair often. Use a light, water-based leave-in conditioner or cream to hydrate the hair.
Apply the product to damp hair and allow it to air dry.
You can also seal in the moisture with a natural oil like jojoba oil or argan oil. Apply a small amount of oil to your damp hair and style as usual. If you moisturize and seal, you can go longer between moisturizing sessions.
How to Style 4B Hair
Now, for the fun part – it's time to learn how to style your 4B hair. In this section, we'll give you some tips on how to make your 4B coils look their best.
Opt for a Protective Style
Natural Hairstyles | How to Style 4C/4B Hair
Protective styles are a great way to give your 4B hair a break. When you wear a protective style, you don't have to worry about manipulating your hair too much. This can help to minimize damage and breakage.
Plus, it gives you a chance to encourage healthy hair growth.
Some great protective styles for 4B hair include braids, twists, high puffs/pineapples, and low manipulation updos.
Here's a video showing several easy protective styles for 4B hair. Accessorize your protective styles with cute hair clips, headbands, or scarves.
Try Wigs and Weaves
If you're looking for a quick and easy way to style 4B hair, you can try wigs and weaves. They allow you to experiment with different colors and styles without damaging your own hair.
Plus, they're relatively low maintenance. Just be sure to take care of your wig or weave with the same intensity that you would your natural hair.
That means keeping it clean, moisturized, and free of tangles.
And always care for your natural hair underneath your wig or weave. Wash your braids whenever they show signs of buildup, and take your wig off every few days to maintain your own hair.
Wet Set It
Wet sets enable you to achieve virtually any curl pattern without resorting to heat. To do a wet set, start with clean, damp hair and follow the below instructions:
Apply a generous amount of leave-in conditioner and curl cream to your strands.
Use a wide-tooth comb to detangle your hair.
Section your hair and put it in rollers, Flexi rods, or even braids.
Allow it to air dry overnight or sit under a hooded dryer.
When your hair is completely dry, take it down or out of the rollers/Flexi-rods.
Separate the curls with your fingers as necessary.
Use a toothbrush and gel or mousse to style your baby hairs (optional).
Finish with a light mist of hairspray or oil to add shine.
Jazz It up With Color
Adding some color to your 4B mane is guaranteed to take it to the next level. If you're not ready to commit to permanent color, try using a semi-permanent or demi-permanent dye.
These dyes will give you a fun color result without damaging your hair too much.
For subtle color changes, an at-home color session will do the trick, but for dramatic hair color transformations, we recommend going to your local stylist. Make sure that the stylist you choose has experience coloring 4B hair before you book an appointment.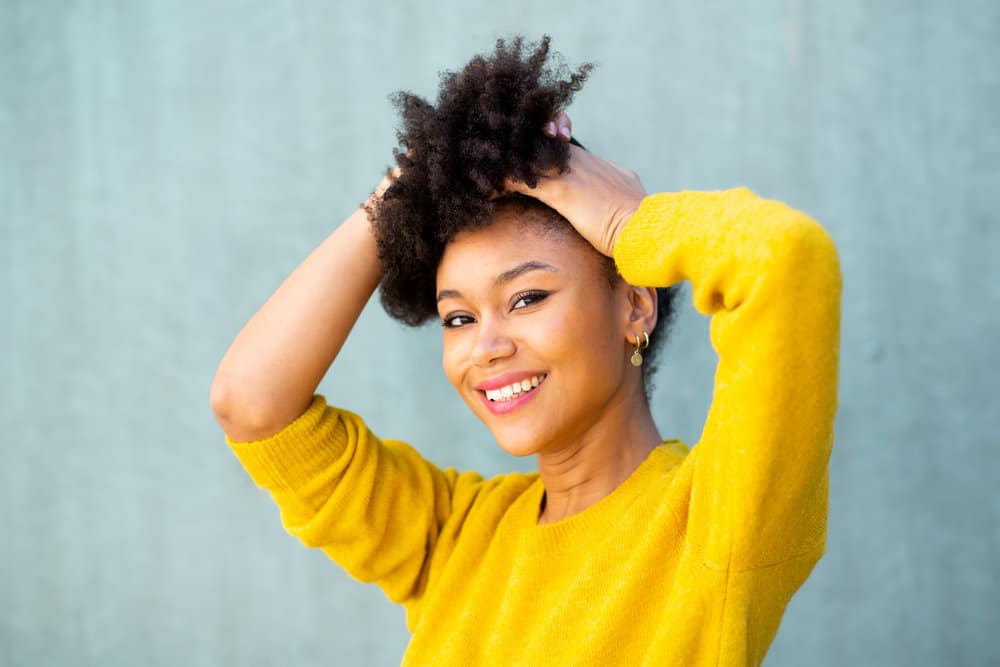 Dos and Don'ts of Caring for 4B Hair
Now that you know how to take care of and style 4B hair, let's go over some dos and don'ts. They will help you to keep your hair healthy and looking its best.
Dos
Moisturize your hair regularly to stave off dryness and breakage.
Seal in moisture with a natural oil after every wash day for long-lasting hydration.
Wear protective styles often to give your hair a break from manipulation. Be sure to give your hair a break in between styles.
Use a wide-tooth comb or your fingers to detangle your hair while it's wet and coated in a slippery conditioner or detangler.
Invest in high-quality hair products that are specifically tailored to 4B hair.
Don'ts
Use heat on your hair too often as it can lead to breakage and damage.
Overwash your hair as this leaves your hair brittle and damage-prone.
Brush your hair when it's dry.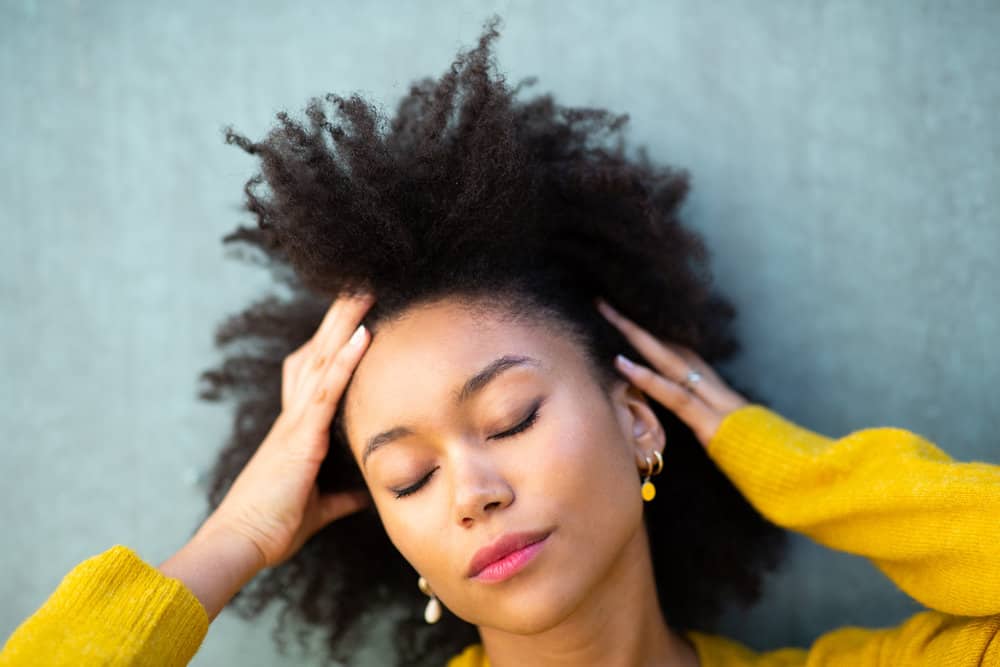 Best Products for 4B Hair
The best products for 4B hair are ones that will baby your strands. If you look hard enough, you can find shampoos, conditioners, leave-ins, deep conditioners, and oils that do just that!
But you don't have to scour the internet to find suitable products for your 4B hair. Just check out the following list.
Carol's Daughter Goddess Strength 7 Oil Blend
This oil blend is perfect for 4B hair as it contains seven different oils that will hydrate and nourish your strands. Castor oil, olive oil, and jojoba oil are just a few of the oils that are included in this blend.
Use it after your leave-in conditioner on wash day to seal in the moisture and keep your hair shiny, nourished, and hydrated.
Mielle Organics Pomegranate & Honey Curl Smoothie
This curl smoothie is a leave-in conditioner that will hydrate and define your curls. It's chock full of amazing ingredients like pomegranate, honey, and shea butter, which are all great for 4B hair.
Apply it to damp hair after cleansing and conditioning, then follow up with a styling product of your choice. You'll be left with soft, hydrated, and defined curls.
Kinky Curly Knot Today Leave-In Conditioner
This leave-in conditioner is a holy grail for many with 4B hair. It's made with ingredients like mango fruit extract, cetyl alcohol, and slippery elm, which will hydrate and aid in detangling your strands on wash day.
Apply the product to wet or damp hair and use your fingers or a wide-tooth comb to work through those tangles.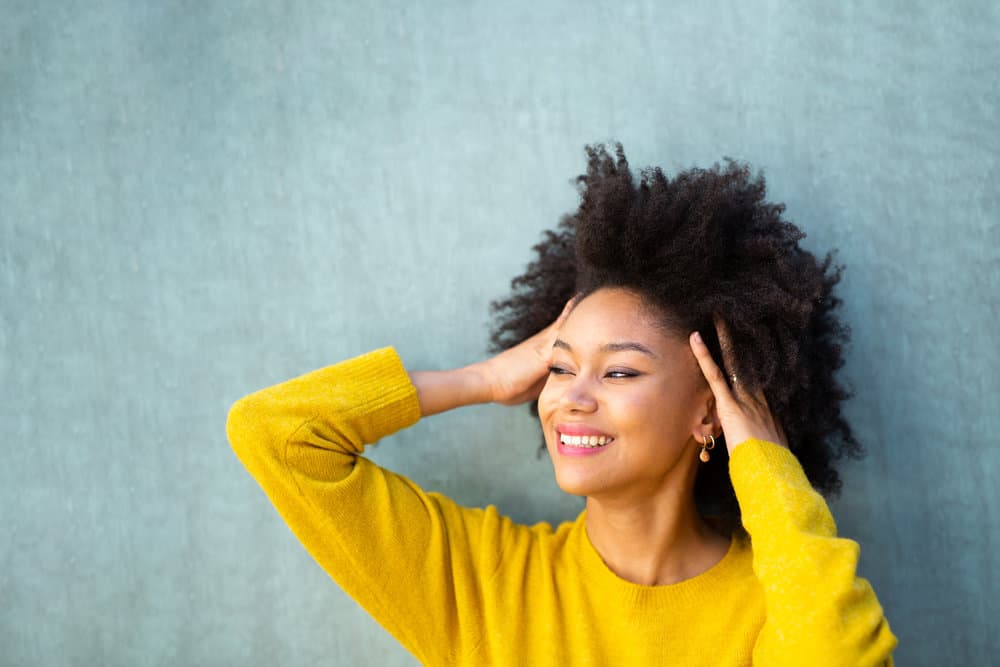 TGIN Moisture Rich Sulfate-free Shampoo
This shampoo is formulated with sulfate-free, gentle cleansers to cleanse your hair without stripping it of its natural oils. It also contains hair-loving vitamin B5 to smooth your hair cuticles and condition your scalp.
SheaMoisture Curl and Shine Conditioner
This conditioner is perfect for 4B hair as it will hydrate and detangle your strands. It's made with coconut oil to keep your hair protected from the elements.
It also contains neem oil and silk protein, both of which leave your hair smooth and shiny.
OGX Extra Strength Hydrate & Repair + Argan Oil Hair Mask
This delightful hair mask has everything you need to bring thirsty 4B strands to life. The star of its formula is argan oil, which is perfect for hydrating and nourishing damaged hair.
Apply it to clean, damp hair and leave it on for 3-5 minutes before rinsing thoroughly.
Now that you know all about 4B hair, what are you waiting for? Start using the tips and products we've shared to get your 4B hair healthy and looking its best.
And don't forget to have fun with it!
We hope this article has inspired you to appreciate your coils and kinks and take a proactive approach to caring for them. Good luck on your natural hair care journey!