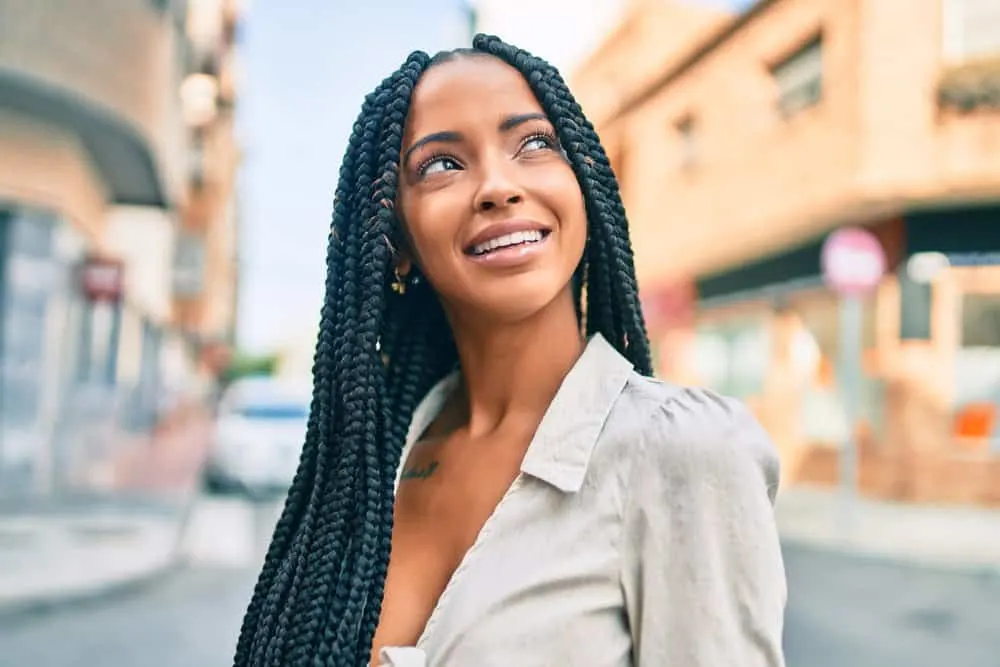 Protective styles have a reputation for being low-maintenance and easy to do, but that's not always the case. Preparing for and maintaining a protective style takes a lot of work if you want to keep your hair healthy.
Although, these styles are becoming more and more popular.
In fact, many popular celebrities have started wearing protective hairstyles, including Tessa Thompson, Zazie Beetz, Gabrielle Union, Justine Skye, Tracee Ellis Ross, Yara Shahidi, Amandla Stenberg, Issa Rae, Jhene Aiko, and Lacy Redway.
That's why we are going to tell you everything you need to know about protective styling. As a bonus, we'll share with you five great protective styles that you can try for yourself!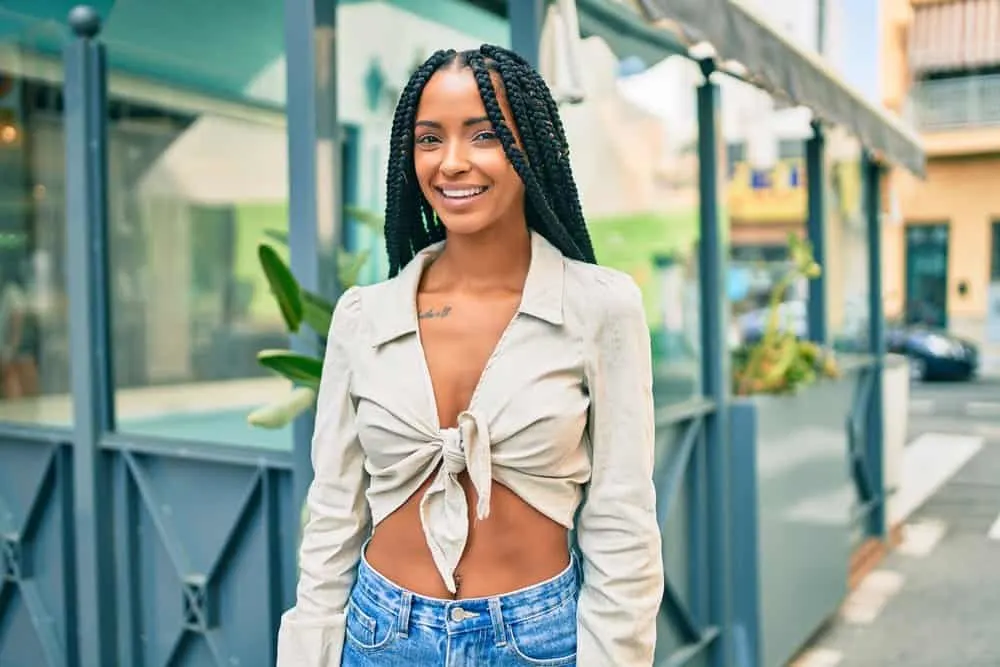 Why Are Protective Styles Important?
The basic concept of "protective styling" is to preserve your hair from damage. If one of your hair goals is to preserve your hair from damage, then you should incorporate protective styling into your natural hair regimen whenever possible.
Protective hairstyles are created to reduce ongoing manipulation of your hair, encourage growth retention, and protect the ends of your hair strands, reducing knots and tangles.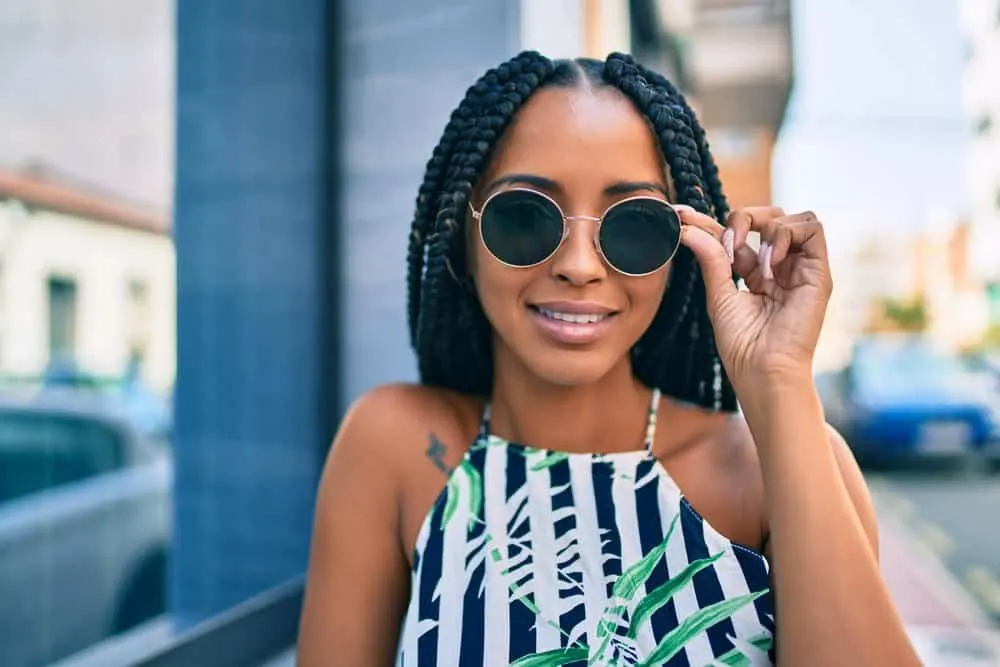 How to Do Protective Hairstyles for Natural Hair
Before doing any protective style on your hair, you need to do some preparation. Preparation is the foundation of every single style, enabling your hair to handle the manipulation that protective styles require.
Prepping natural hair requires a series of steps, each one aimed at cleaning, nourishing, and moisturizing your strands so that the protective style won't cause damage or hair breakage. Also, prepping your hair will ensure that your scalp won't get dry, flaky, or irritated.
Now, let's get into the specifics of prepping your hair with a step-by-step guide infused with a few expert tips.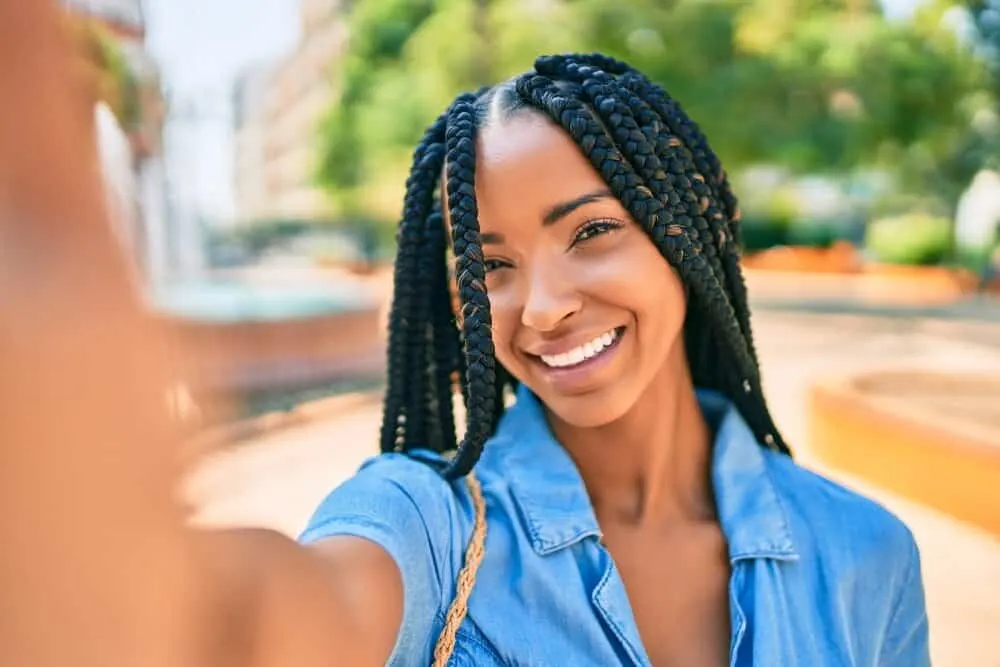 Shampoo Your Hair
The first part of hair prep is to remove dirt, oil, and product buildup from the hair.
When choosing a shampoo, we recommend going for a sulfate-free shampoo to avoid dry, crispy strands later. So, grab your shampoo, hop in the shower, and follow these steps.
Pre-Rinse – The first thing you want to do is soak your hair. Make sure that it's drenched from root to tip before you add any product.
Time for Shampoo – Grab a sulfate-free shampoo, take a bit, and apply it directly to your roots. Apply as much product as you need to cover the entire scalp before you start to work it in.
Work in Shampoo – Using circular motions, work the shampoo all around your scalp using the pads of your fingers.
Distribute – Move the shampoo down the length of your hair with your fingers. You don't want to leave the shampoo sitting on your hair, as this will dry your hair out quickly.
Rinse – With hair nice and clean, it's time to rinse out the product. Rinse thoroughly to make sure no shampoo is left behind.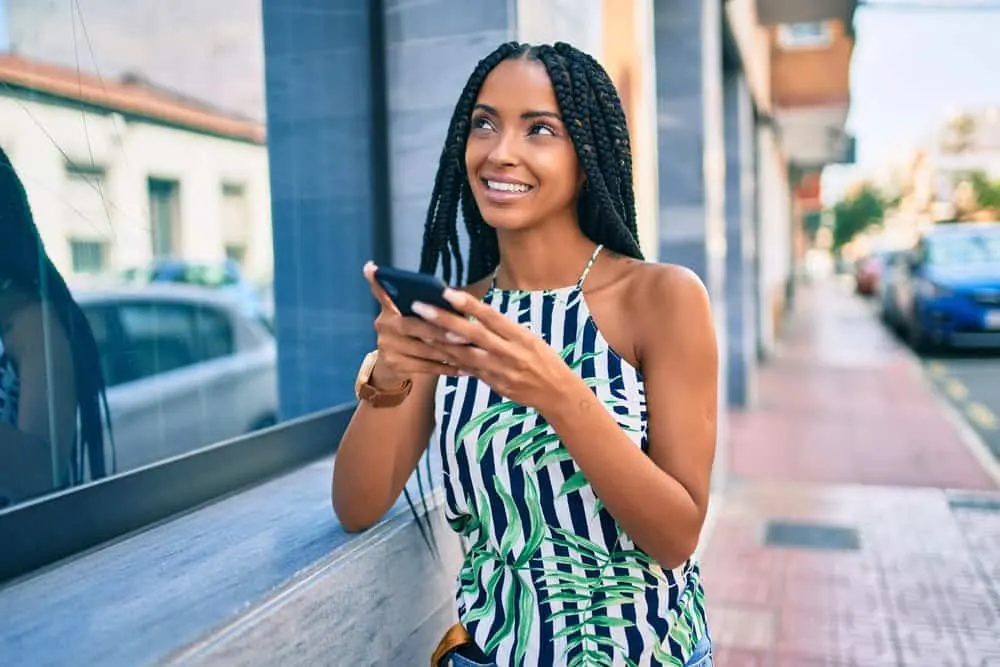 Condition Your Hair
When conditioning naturally curly hair, focus on the ends, coating them with a moisturizing conditioner that prevents breakage and split ends.
Your ends are the oldest parts of your hair, and they need TLC. To condition, you'll need to:
Apply Conditioner to your ends – Apply a natural moisturizing conditioner to the ends of your hair while it's still wet from shampooing. Don't be afraid to use a lot of hair conditioner, especially if your hair is thick or extremely dry.
Work it in – Massage the conditioner into your ends until they are fully covered.
Apply it all over – Apply the conditioner to the rest of your hair until it's all coated. Then, massage a bit into the scalp.
Comb through – While your hair is coated in conditioner, begin detangling. Grab a wide-toothed comb and gently detangle from ends to roots.
Let it sit – If you have time, put on a shower cap and let the conditioner sit for 15–20 minutes.
Rinse – Now, it's time to rinse out the product. Make sure you rinse thoroughly so that there'll be no excess product left in your hair.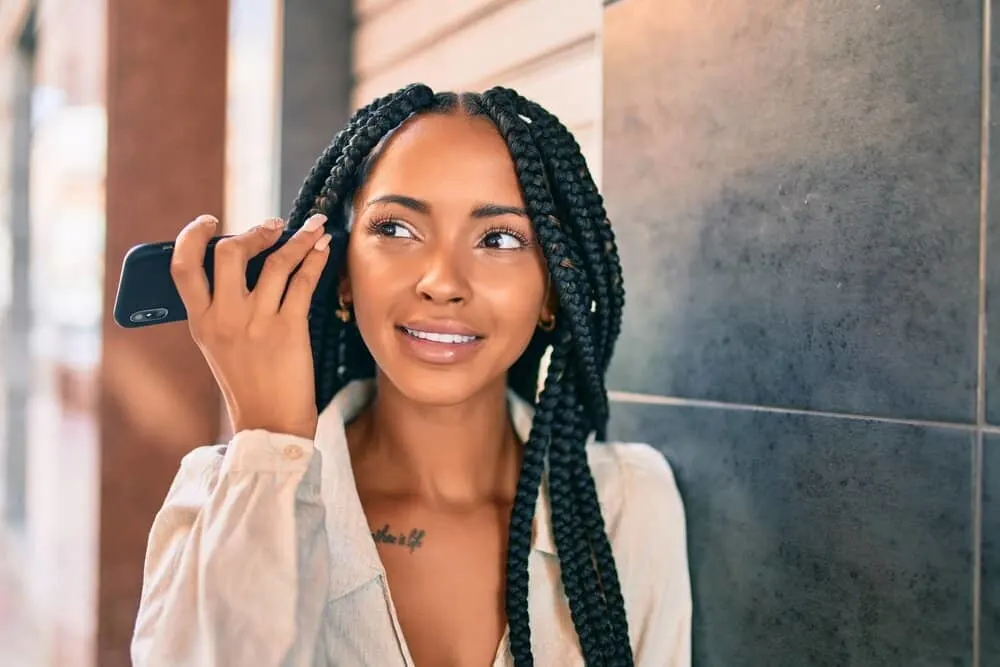 Moisturize Your Hair
With your hair clean and conditioned, it's time to moisturize. For natural hair, oils like argan and jojoba are great, and a little goes a long way. For an effective moisturizing session, follow these steps.
Section the Hair – For optimal distribution, start by parting the hair into four sections (more if you have thicker hair).
Twist – Twist each section down to the ends to keep them separate.
Add Oil – Working section-by-section, add a few drops of oil or a bit of moisturizer and work it from roots to ends. Use a comb to aid in distribution.
Repeat – Repeat until all of your hair has been moisturized.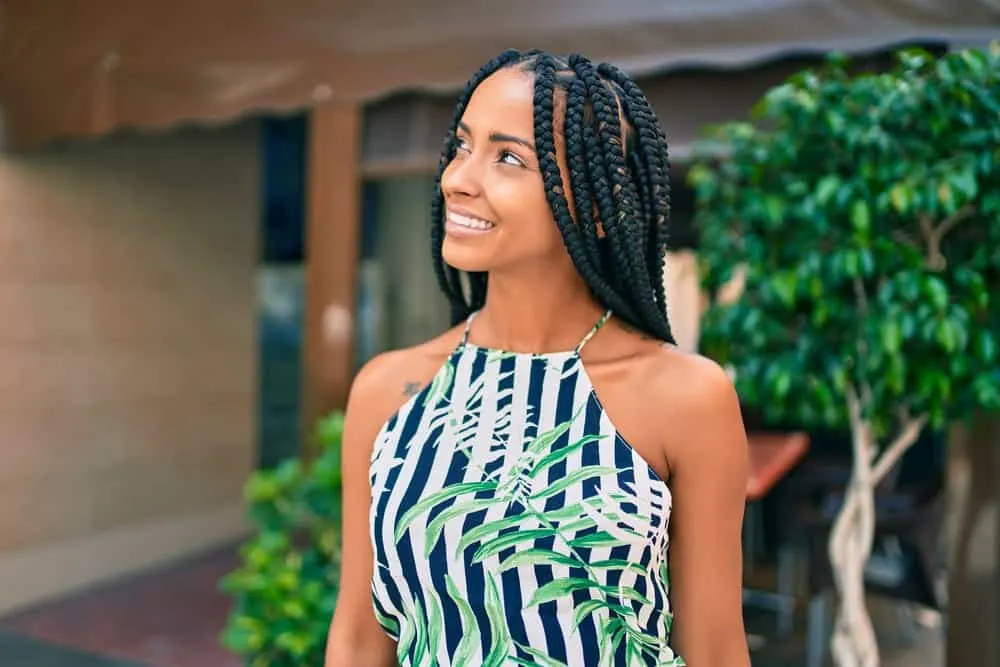 Stretch Your Hair (Optional)
Some protective hairstyles don't require you to stretch your hair, and some do. There are three methods of stretching, all of which we'll share with you below.
We'll also share steps on how to do them correctly without breaking or tangling your hair.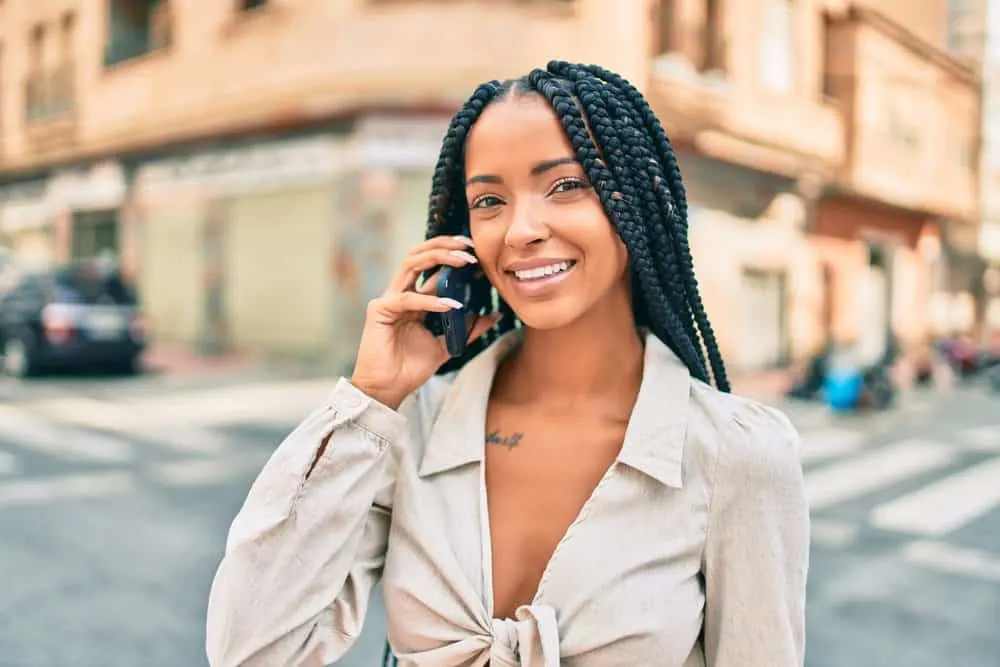 Banding
Banding is a heat-free method of stretching the hair. You can band both wet and dry curly hair, and here is how to do it.
Section Hair – Start by parting the hair using a comb to create at least four sections.
Brush – With a Denman brush, brush through each section from root to tip to elongate hair.
Make a Ponytail – Put a band at the roots of each section. Be sure not to make it too tight.
Add Hair Ties – Starting with one sectioned ponytail, pull your hair down so that it's stretched all the way. Then start adding hair ties along the hair shaft until you get to the end. *Leave about 1/2 an inch between each hair tie.
Repeat – Repeat the previous step for all sections, allow your hair to dry, and then remove the bands.
For Max Stretch – Use your Denman brush to brush your hair before adding each hair tie.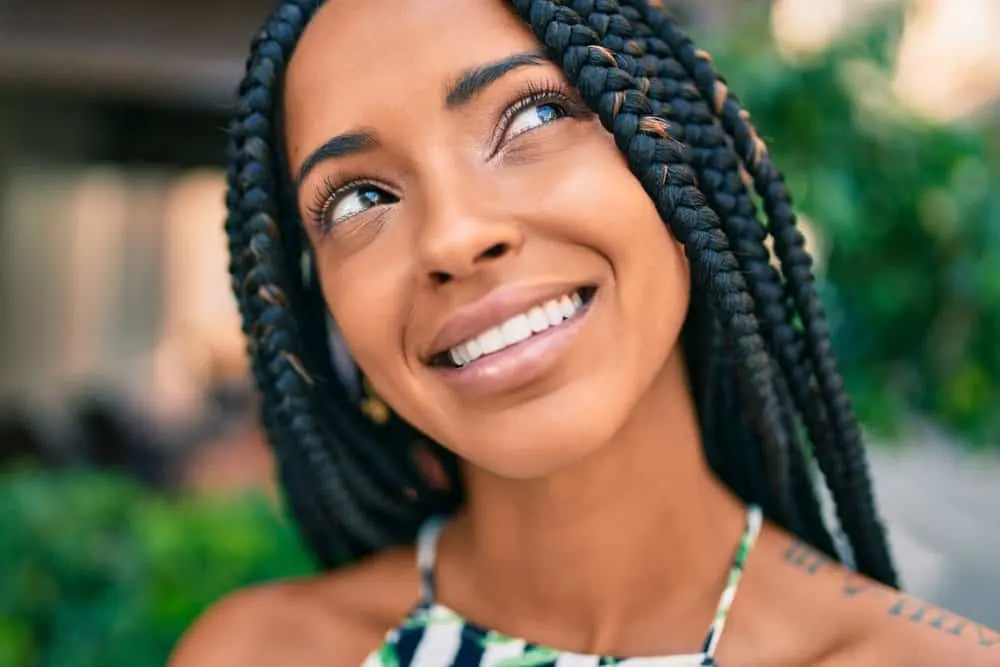 Blow Drying
Blow drying the hair to stretch it is an effective (and quick) method. When doing this method, be careful not to turn the heat up too high – doing this reduces the possibility of drying out or damaging your hair. To stretch curly hair with the blow-dry method, follow these steps.
Section Your Hair – Use a comb or your fingers to separate your hair into at least four sections.
Stretch It – Take one section and stretch it with your hands. *Be careful not to overstretch.
Blow Dry – Being cautious of the heat setting (lower is better), move the blow dryer along your hair shaft from roots to tips until it's dry and stretched.
For Max Stretch – Use A Denman brush to brush through sections as you blow-dry.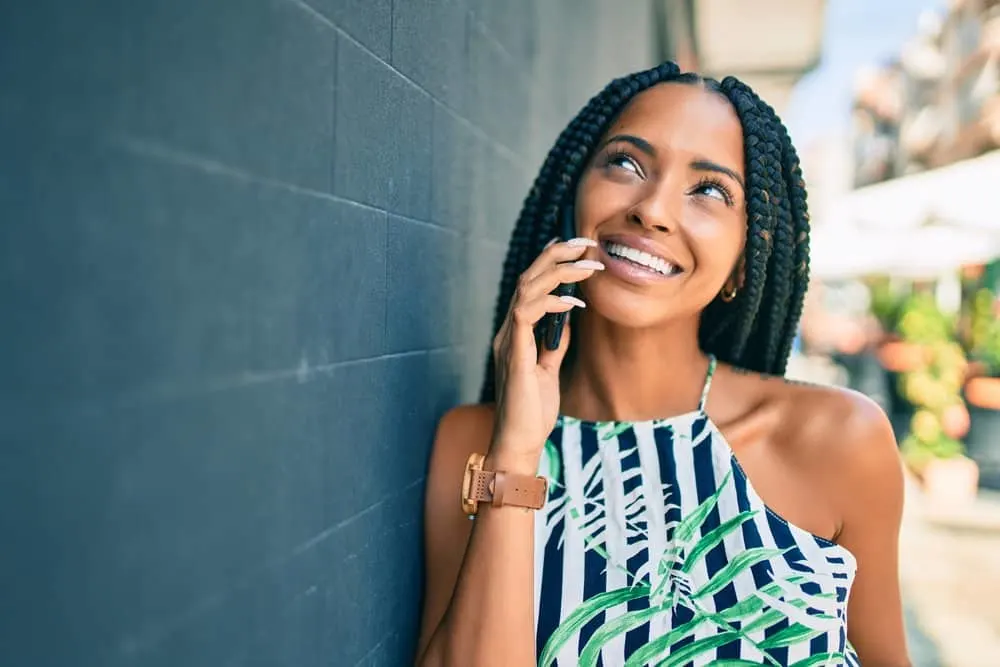 Braiding
Stretching the hair with the braiding method is another way to go heatless. To stretch curly hair by braiding, here's what you'll need to do:
Choose the Right Protective Style for You
Section Hair – Part the hair into two sections. *Do more sections for thick hair.
Brush – Choose a section and brush through it with a Denman brush to get smooth strands.
Braid – Braid the section down from roots to tips.
Repeat – Repeat the previous steps for the rest of your hair.
Wait – Leave the braids in your hair until they are totally dry.
Remove the Braids – Take the braids out and brush through each section with a wide-toothed comb.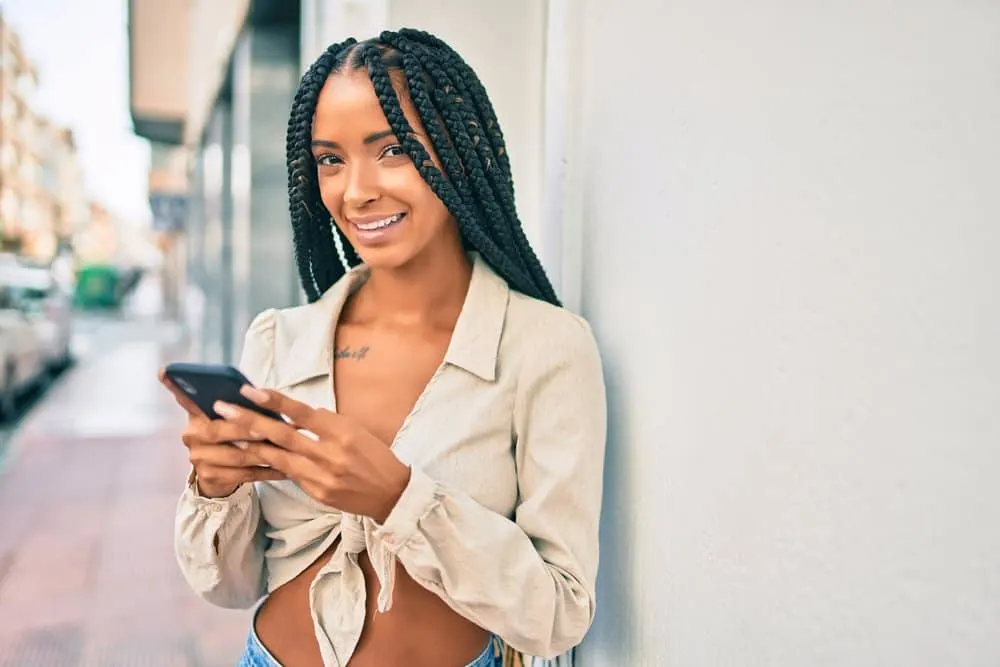 When choosing the right protective style for you, there's a lot to consider.
First of all, it helps to understand your hair type and density. For instance, those with thicker hair seldom experience damage from protective styles.
On the other hand, thin hair has a higher chance of breaking and is better suited to styles that don't require much tugging.
Second, it helps to know if you've got any summer plans, like going to the beach or hanging out in the sun.
You might think twice about getting crochet braids if you plan on going for a swim – instead, you may want to go with lemonade braids or box braids.
Third, it's essential to know how difficult it is to install a specific protective style. If you're new to doing protective styles on your own hair, we recommend starting with a simple protective style.
Lastly, you should consider how long a given protective style lasts. Protective styles could last anywhere from a week to two months. If you are looking for a long-term protective style, a low bun won't cut it.
Once you've considered these things, it's time to choose your preferred protective style.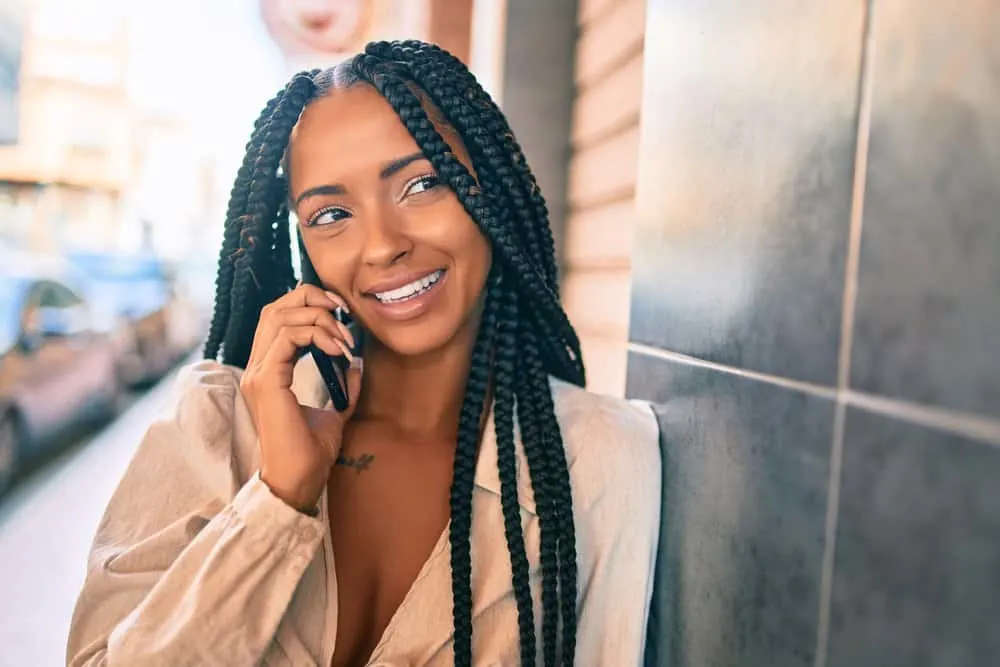 Our Top 5 Protective Styles for Natural Hair
You've got a wide variety of protective style options to choose from. No matter your hair type, summer plans, or style preferences, we're sure there's one that will catch your eye.
For some ideas, check out these top 5 hot protective styles and how you can create them at home.
Note: Prep your hair according to the previous instructions before taking the following steps.
Cornrows
How To: Cornrow Your Own Hair | For Beginners
Cornrows are a great protective style that keeps your hair tame and your ends protected. The style lasts a week or longer, and when you take the braids down, you'll have a beautiful braid-out.
When creating cornrows, the only limit is your imagination.
You can go for simple straight backs or get creative with wavy, intricate parting designs. Also, you can play with the quantity of hair, creating small or large sections depending on the look you want to achieve.
To try out this fun protective style, here's what you'll need to do.
Plan your design – As we mentioned above, there's a lot of flexibility here. Start by planning out your style.
Part your first section – Part your hair with a rattail comb according to the design you'd like to achieve.
Braid – Start by taking three sections at the root. Begin braiding and picking up sections of your own hair as you go.
Repeat – Repeat the same process until all of your hair is braided.
Low Bun
How I Achieve Sleek Low Buns/ Ponytails on My THICK Natural Hair
Low buns are stylish, simple to pull off, and perfect for the summer. They keep the hair protected and the ends of natural hair tucked away.
There are a few things to watch out for when rocking a low bun as a protective style, including your hair type, strength, length, and the elasticity of the hair tie you're using. To create a stylish and protective low bun, follow these steps.
Brush hair –Start by brushing your hair with a Denman brush until it's smooth and tangle-free.
Apply a styler – Apply a styling gel or cream around the perimeter of your hair, avoiding the ends.
Make a ponytail – Brush your hair back into a low ponytail about an inch or two from the nape of your neck. Use a boar bristle brush for this step.
Create a bun – Place one hand at the base of your ponytail and swirl it into a bun.
Secure – Secure the bun in place with either bobby pins or an elastic band with no metal pieces.
Afro Puff
EASY HUGE AFRO PUFF TUTORIAL
Afro puffs are cute and easy to manage. They protect the hair by keeping it up and out of the way. The only thing to watch out for is using too much product on your edges (i.e., baby hair), which could cause buildup and hair loss.
Afro puffs come in many sizes and styles, all of which are gorgeous in their own way. To create an afro puff, here's what you'll need to do.
Apply your styler – Begin by adding a styling gel or cream to the hair around the perimeter of your head.
Brush your hair upward – Using a boar bristle brush, brush your hair upward.
Create your puff – Put an oversized elastic band around your hair to create the puff.
Lay your edges – Use a toothbrush and some edge control to lay your edges down.
Instead of adding product each day, wrap your hair in a scarf to make the style last.
Bantu Knots
Bantu knots are a spunky, bold protective style. While your hair is wrapped into Bantu knots, it's protected from manipulation and outside elements.
The style usually lasts about a week or longer, depending on whether you cover your hair up at night.
Prepare your bands – Before you start making the buns, add oil to your elastic bands. The oil will prevent the bands from tugging or snagging your hair.
Part the hair – Using a comb, part your hair into several sections. You can make the sections as large or small as you'd like.
Secure each section – For each section, take a bit of gel, apply it around the section's borders, and brush it in with a boar bristle brush. Secure the section with an elastic band, making a ponytail.
Make Bantu Knots – Starting at the base of one of the sections, twirl your hair to make a coil. Then wrap the coil around itself repeatedly to create a Bantu knot.
Repeat – Repeat the previous steps for all of the sections.
Box Braids
EASY SUMMER BOX BRAIDS! (beginner friendly)
Box braids are a trendy protective style that, when maintained properly, can last up to 8 weeks. It's ideal for the summer, as you can get box braids wet without any worry about messing up your style or damaging your natural hair.
Using synthetic braiding hair, you can create box braids of whichever length and size you want. You can even add colored extensions and embellishments. If you're going for traditional box braids, here's how you can achieve them.
Part hair – Starting at the back of your head, create a horizontal section and clip the rest of the hair out of the way. Within that section, make a small box-shaped section (about an inch or so) and comb through it.
Add braiding hair – Hold a one-inch piece of extension hair at the base of your first section. Getting as close to the root as you can, start braiding your natural hair into the braiding hair.
Keep going – Once the braiding hair is incorporated, keep on braiding down to the ends. * To seal the braids and keep them from unraveling, dip the ends in boiling water.
Faux Locs, Fulani Braids, and Other Styles
Other popular hairstyles include faux locs, Fulani braids, flat twists, a traditional twist out, Fulani braids, Senegalese twists, a braided crown or halo braid, knotless box braids, hair extensions, finger waves, faux ponytails, Marley braids, and two-strand twists.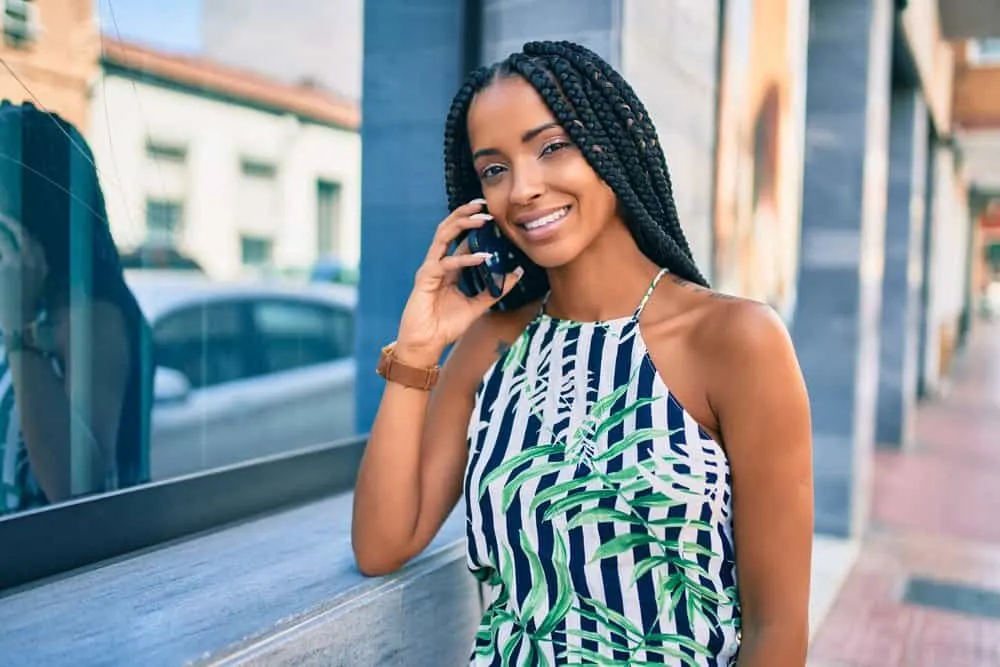 Protective Style Maintenance
To keep your protective style in tip-top shape, you'll need to do a few things.
First of all, if your hair appears to show signs of buildup, you should wash it. When washing your hair while it's in a protective style, take your time and be gentle, so you don't create unnecessary frizz.
Note: Washing your hair may not always be possible while it's in a protective style. For this reason, you should only apply styling products to your hair when absolutely necessary.
If you wear wigs as a protective style, the key to keeping the wig looking good is to keep it moisturized. But don't forget your natural hair under the wig – every week or so, you should wash, condition, and moisturize your hair.
No matter what protective style you wear, it's essential to cover your hair up at night with a silk or satin bonnet. Doing this will reduce the chances of hair damage, frizz, and breakage.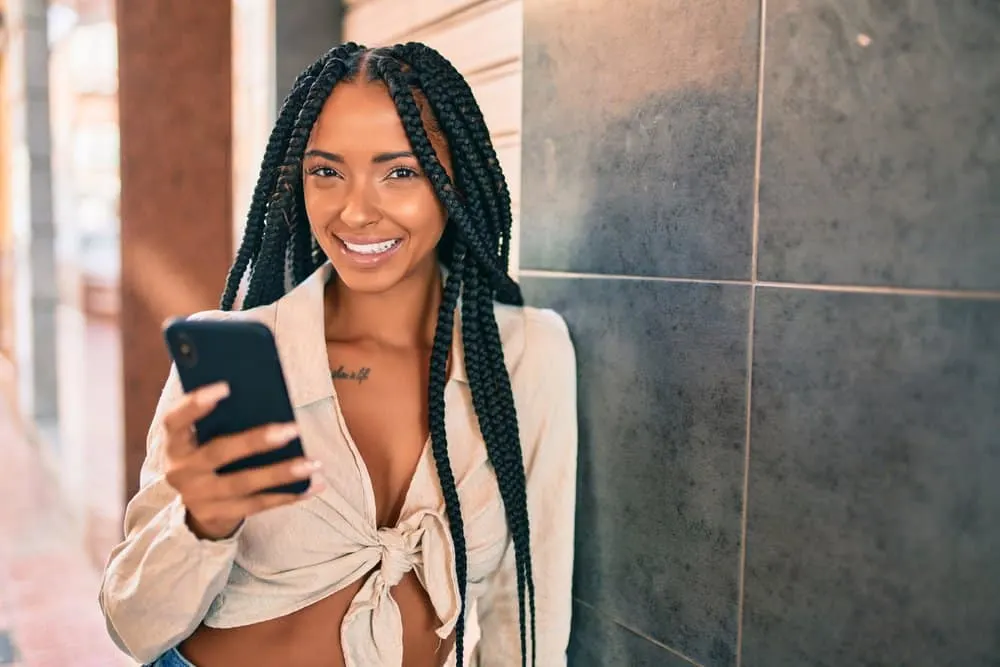 When to Take Out Protective Styles
Each style has an expiration date, so understanding the signs is crucial. The most obvious sign that you need to take out your protective style is excessive hair growth, which is easier to spot in some hairstyles than others.
For instance, with box braids, the roots show; this makes it easy to gauge whether you need to take the braids out.
Another telling sign is product buildup, which usually appears around the roots as a white, flaky substance.
Product buildup is normal, caused by a mix of product, dirt, and oil. If you begin to get product buildup that you can't wash away, it's time to take the style down.
Here are a few common protective styles and how long they last:
Box braids and yarn braids: 6 to 8 weeks
Twists with extensions: 4 to 8 weeks
High puff, low bun, Bantu knots: 1 week
Lemonade braids and other cornrow styles: 2 to 4 weeks
Pro tip: After taking down a protective style, let the hair rest for a week or two. This will limit hair damage from over-manipulation.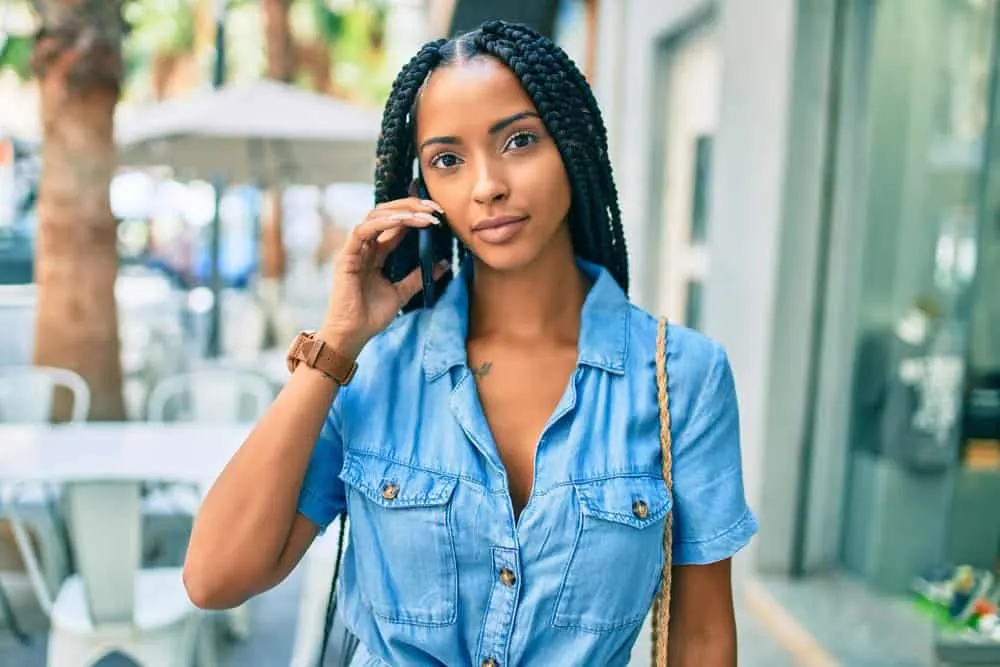 Do Protective Styles Really Protect Your Hair?
The simple answer is that it depends. Factors that determine whether a protective style is actually protective include:
The amount of TLC you give to your hair before, during, and after doing a protective style.
How much tension is involved in the styling process? Tension is not healthy for the hair, causing it to weaken and break.
Whether heat is involved. Protective styles requiring heat application carry the risk of heat damage.
Choose protective styles that don't require heat or excessive tension. Also, make sure that you adequately prep and maintain your hair.
Pros and Cons of Protective Styles
Protective styles come with both advantages and disadvantages. Let's jump right into the pros and cons below.
Pros
Some protective styles keep the hair and ends tucked away to prevent damage and allow the hair to rest.
Some protective styles are easy to create and maintain (afro puffs and low buns).
Protective styles allow you to be carefree, not worrying about what you're going to do with your hair every day.
Cons
Some protective styles require a lot of practice, time, and effort to install.
Wearing the same protective style repeatedly or longer than recommended can cause tension, alopecia, and breakage.
Dos and Don'ts of Protective Styles
To ensure that your protective style endeavors don't end in ruin, we'd like to share some helpful dos and don'ts.
Do
Take time when prepping your hair to minimize breakage and damage.
Watch for signs of buildup while wearing a protective style.
Take a moment to research specific protective styles before doing them on yourself.
Don't
Wear protective styles for longer than recommended.
Pull or tug on hair too tight during the styling process.
Add hair that's too heavy for your strands.
Allow someone without prior experience to do a protective style on your hair.
Beautiful Braided Protective Styles from Instagram
✨PROTECTIVE STYLES COMPILATION✨
This beautiful braided protective hairstyle basically involves parting your natural hair and twisting it towards the nape area of your neck.
The good thing about this sort of hairstyle is that it's cute, vibrant, and youthful.
Braided Twists Style
This is one of the most common protective styles when it comes to braided twists. This is because it often involves cornrows but is much easier and faster to do.
If you would like a nice-looking hairstyle that can last for several weeks, this is definitely a good choice.
High Natural Hair Bun Style
In some cases, a high bun is not viewed as a protective style.
However, any hairstyle that tucks the ends of your hair away puts minimal stress on your hair edges and doesn't require constant manipulation can be viewed as protective.
This is often a great protective style for short hair.
Short, Natural Twist Updo
New naturals often think that protective styling significantly limits their hairstyle choices; however, there are plenty of beautiful protective styles. This style uses big twists to create a textured updo hairstyle.
Cute and Professional Protective Style
Protective styles are trendy nowadays, especially as more women embrace their natural hair. This is a simple updo with buns, but it's amazing. It's also perfect for a day at the office or school.
The Truth about Protective Styling
There is often a lack of understanding within the natural hair community of exactly what protective styling really means. Let me explain why protective styling is so important.
Failing to incorporate protection into your natural hair regimen is one reason several women experience excessive hair breakage and fail to retain their desired hair length.
Furthermore, protective styling, an acceptable term within the natural hair community, is admittedly limiting and leaves out an essential component.
Usually, when we refer to the concept of protective styling, we're speaking specifically about the various protective hairstyles that can keep your ends safe and tucked away – protected.
However, protective styling is only one component of your journey. You must focus on your entire natural hair regimen and look for ways to incorporate more protection across the board.
The term protective styling is often used in a limiting fashion. It should really refer to the process used to style your hair and not the actual style that you choose to wear.
The actual style that you decide to wear should be referred to as a protective hairstyle. It can be confusing when you think about it, but let me clarify why the distinction is so important.
Protective styling is really about increasing the number of good things you do for your hair and decreasing the number of bad things you do to your hair.
Let's look at an example of how you can incorporate more protection into your natural hair regimen. If you fail to take your time and be gentle when combing your hair, it's relatively easy to stress your hair strands and cause unnecessary breakage.
You can incorporate more protective styling to mitigate this potential cause of hair damage. For example, use wide-tooth combs, seamless bone combs, or incorporate finger combing into your regimen.
If you decide to incorporate finger combing as a protective measure, be sure to remove any jewelry that you're wearing and make sure your fingernails are well-trimmed.
Keep in mind that this is just one example of how you can mitigate potential hair damage when styling your hair by incorporating more protective styling into your natural hair regimen.
What Are Protective Styles?
Protective styles are designed to protect hair from damage and breakage. They typically involve low-manipulation techniques that minimize tension, pulling, and styling stress on the hair. Protective styles include braids, twists, buns, weaves, wigs, and other styles that keep the ends of your hair strands tucked away. These styles not only help to protect the hair but also provide a break from daily styling.
Do Protective Styles Make Hair Grow Faster?
While protective styles do not directly make hair grow faster, they promote hair growth by protecting the hair from damage and breakage. When hair is constantly exposed to heat, chemicals, and styling stress, it can lead to damage and breakage, which can slow down hair growth. Protective styles minimize this damage so the hair can grow more freely.
What Protective Styles Help Hair Grow?
Protective styles that involve low-manipulation techniques and minimize tension on the hair are the best options for promoting hair growth. These styles include braids, twists, buns, weaves, and wigs, among others. Additionally, scalp massages and regular deep conditioning also help promote hair growth. Remember that hair growth also depends on things like genetics, diet, and overall health.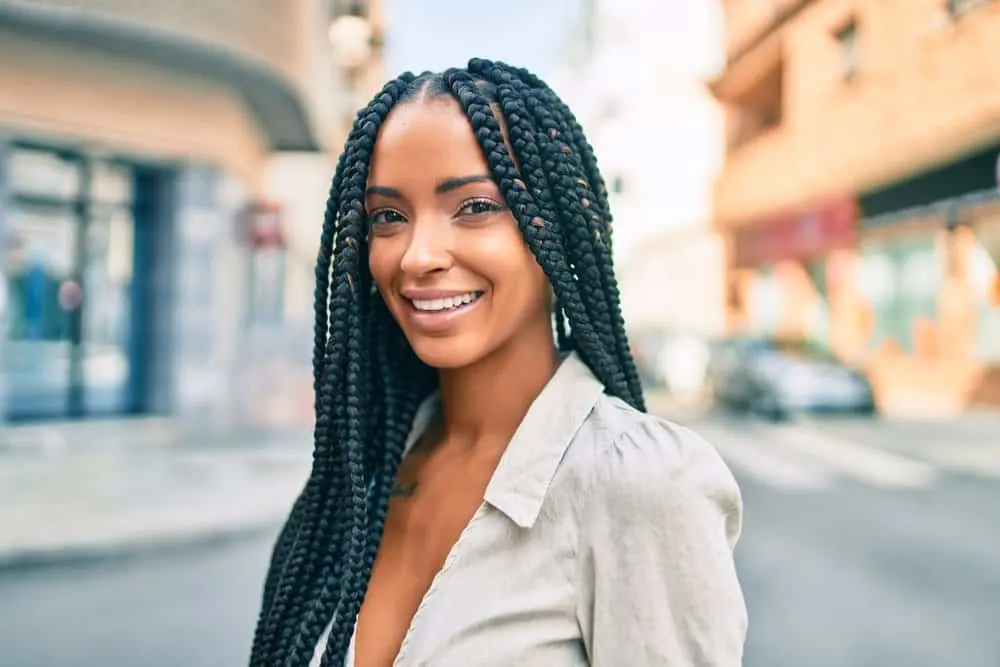 What Hair Types Need Protective Styles?
Protective styles can benefit all hair types, but they are particularly important for those with curly, coily, and kinky hair types. These hair types are more prone to damage and breakage, which can impede hair growth. Protective styles can help to minimize this damage and breakage, allowing the hair to grow healthier and stronger.
Can Protective Styles Damage Your Hair?
While protective styles can be great for your hair, they can also lead to damage if not done properly. Styles that are too tight or involve too much tension on the hair cause breakage, thinning, and even hair loss. Additionally, leaving protective styles in for too long leads to matting and tangling, which can cause damage when removed.
How Long Should You Let Your Hair Breathe Between Protective Styles?
Let your hair breathe between protective styles for at least 2-4 weeks. This allows your hair to rest and recover from the previous style, and it also allows for proper cleansing and conditioning of the scalp and hair. Avoid over-manipulating the hair during this time, and ensure that the hair is adequately moisturized and protected.
Can Your Hair Grow Without Protective Styles?
Hair can definitely grow without protective styles. Protective styles can help promote hair growth by minimizing damage and breakage, but they are not necessary for hair growth. It's important to maintain a healthy hair care routine and to minimize exposure to heat, chemicals, and styling stress in order to promote healthy hair growth.
Protective styles are a great way to give your natural hair a break. Though these styles are "protective," you still need to prep, maintain, and remove styles promptly for the best results. We hope that this article is helpful to you in your protective styling endeavors.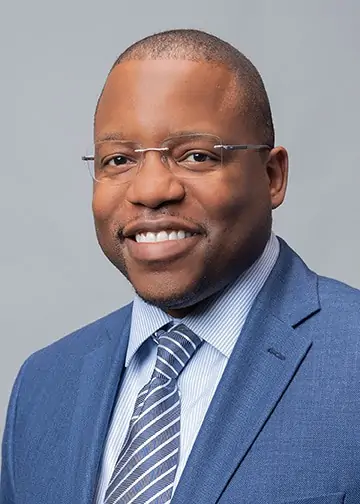 Kenneth Byrd holds a BS in Accounting and Management Information Systems and an MBA from the University of Alabama at Birmingham. With over 15 years of experience, Kenneth has been dedicated to hair care since 2008, when he co-founded Curl Centric® and Natural Hair Box alongside his wife. As a team, they promote healthy hair care practices through their comprehensive platform, Curl Centric. Curl Centric is a website operated by a husband and wife team that encourages healthy hair care. At Curl Centric, we aim to help our readers take control of their hair care journey and make good decisions about products, hairstyles, and maintenance techniques. We also have strict editorial integrity; here's an explanation of our editorial guidelines and how we make money.