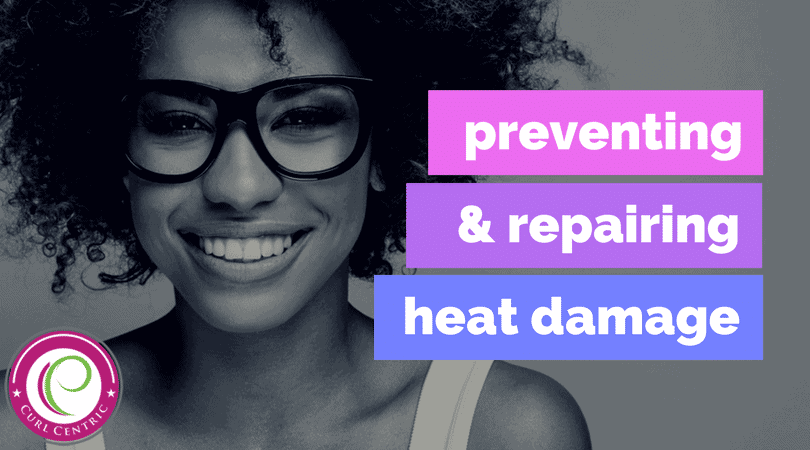 There are 60 hours of video uploaded to YouTube every minute. There is a car accident every 5 seconds. Every 15 seconds, someone in the natural hair community suffers from heat damage.
Ok, I just totally made up that heat damage statistic. Although, if you had heard the number of heat damage stories that I have, then you would probably agree that my stat sounds about right.
Heat damage is a real problem that is affecting women every day. In this article, we're going to discuss how you can fix heat-damaged hair.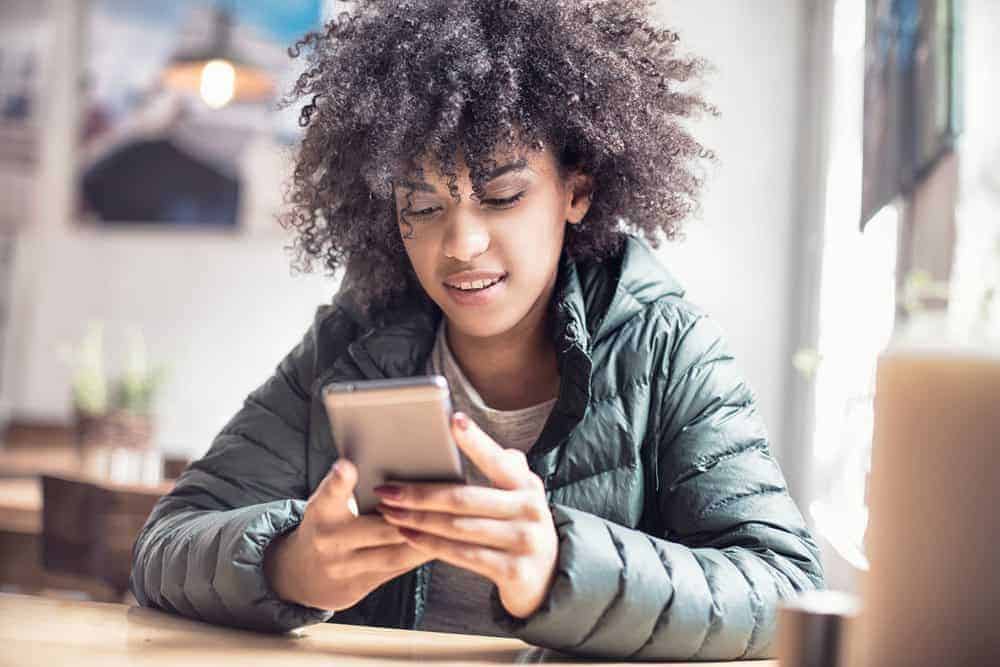 Some women are so afraid of heat damage that even the thought of using heat styling tools causes them to tremble. Other naturals are so carefree that experiencing heat-damaged hair is only a matter of time.
Are you concerned about possibly experiencing heat damage?
Here is the part that many people don't want to hear: The safest way to style your hair is to avoid heat altogether.
Since that's not a reasonable scenario or desirable styling option for many women, let's dive into the best ways to counter-attack the possibility of heat damage.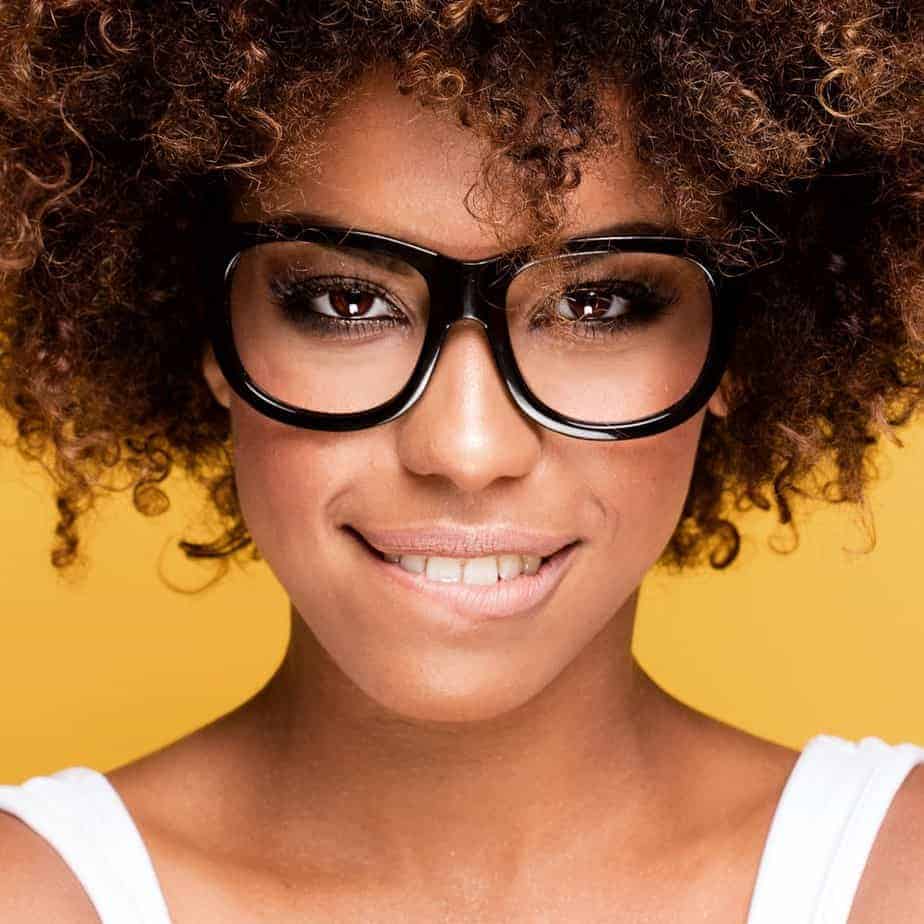 Before you get started using heat, it would be nice if there was a way to determine your heat tolerance or hair's heat capacity.
Unfortunately, there isn't a way to determine exactly when you will experience heat damage.
Plus, it's worth mentioning that heat tolerance can vary from person to person. So it's critical that you take the proper precautions relative to mitigating the possibility of heat damage.
Even if your hair is in really good condition, it can be absolutely destroyed by heat damage.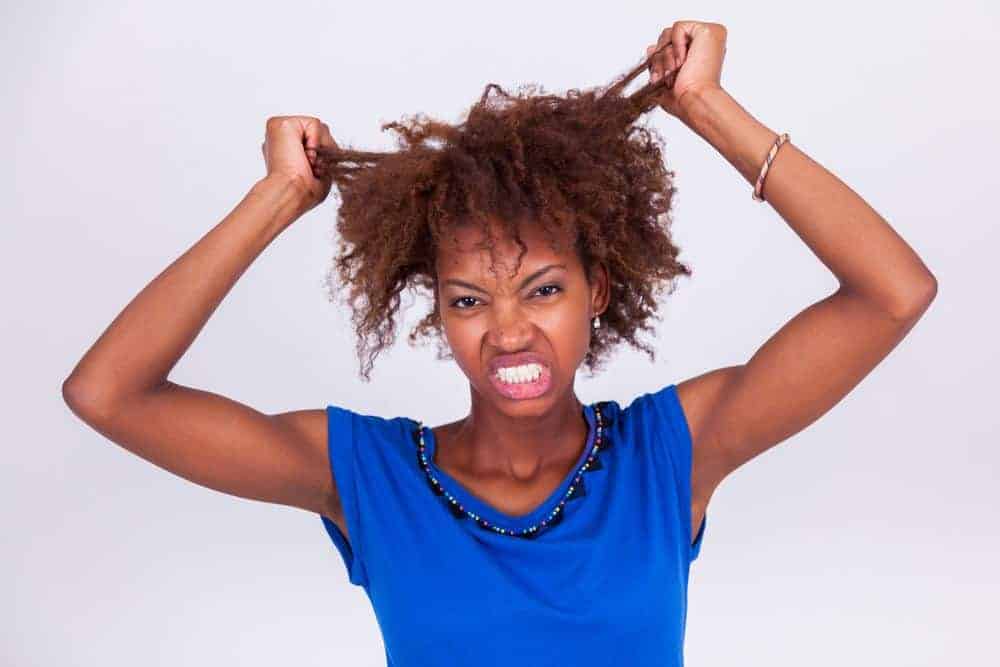 Will Heat-Damaged Hair Revert Back to Its Natural State?
This topic has been debated for years on hair forums, but most people who have experienced heat damage know the truth. Heat damage is not reversible.
Once your curls are truly damaged, they have reached a point of no return.
What Are the Possibilities of Repairing Heat Damage?
The Journal of the Society of Cosmetic Chemists wrote a research paper called "Hair Damage and Attempts to its Repair."
The research paper focuses on how changes to the physical properties of hair fibers incurred as a result of weather, handling, and cosmetic treatments such as applying heat to the hair can be significant.
In many instances, these cosmetic treatments may lead to premature fracture of the hair, longitudinal fibrillation or separation of the hair cortex, and other potential problems like an increased absorption of moisture.
The example that I used was as follows: "the process of burning green, wet wood is slower than the process of burning dead, dry wood.
The reason for this is that wet, green wood has a higher heat capacity or tolerance when compared to dead, dry wood."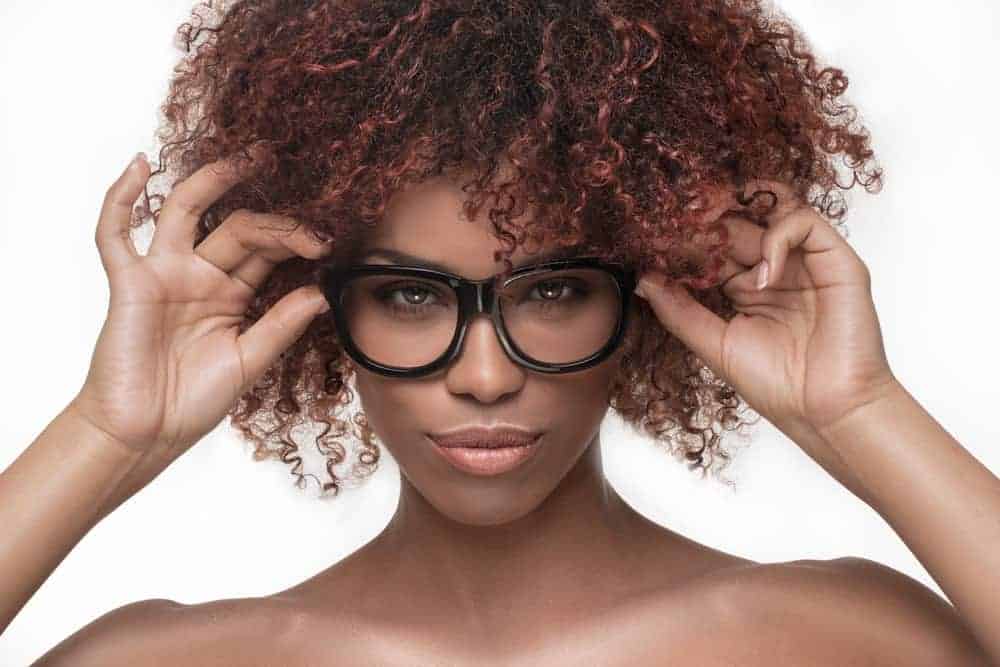 So, to conceptually mitigate the potential of heat damage, it's important to increase the heat capacity of the hair before straightening natural hair.
Even with your best efforts, there are no guaranteed protections against heat-damaged hair.
The scientific studies that I've read, including Hair Damage and Attempts to its Repair, discuss how efforts to restore the hair to its original state have been numerous but largely unsuccessful initiatives.
This is true – even after mild degradation or attempts to protect undamaged hair against structural weakening
So, it's important that you understand the risk. By using heat on your hair, there is a risk that you may cause irreparable damage to your hair strands. Now – to be clear – hair damage isn't only caused by heat.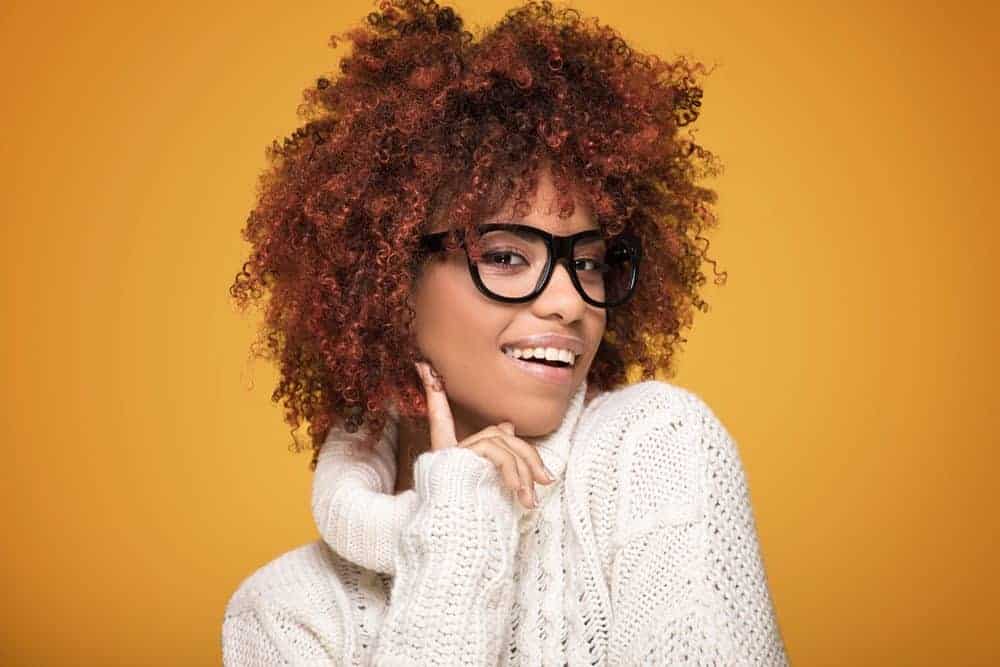 Hair damage occurs in various ways – including by washing, combing, relaxing, dying, and straightening the hair.
If you're more gentle as you deal with your hair, you will generally cause less damage.
This is why the concept of protective styling shouldn't be limited to hairstyles. It's much broader than that when you actually read through the research studies.
Protective styling should refer to the overall "protection" that you incorporate into your hair care regimen.
It's also worth noting that weathering is an important factor to consider.
As your hair ages, it will have fewer cuticle layers and generally incur damage more easily. So, how can you mitigate (not repair) hair damage?
Build more protection into your hair care regimen by understanding the purpose of your hair conditioner and by utilizing the proper conditioner for your situation.
Conditioners typically contain various agents that mitigate hair damage. For example, conditioners that contain silicone are commonly used to temporarily repair split ends.
There are other ingredients – like surfactants – in many hair products that are avoided that have a real purpose in the right situation.
A full-blown discussion on ingredients is outside the scope of this article, but it's important to note that you shouldn't avoid ingredients solely because "you read" about them being bad on a hair forum.
It's important to understand why certain ingredients are included, and that starts with doing a little research on your own.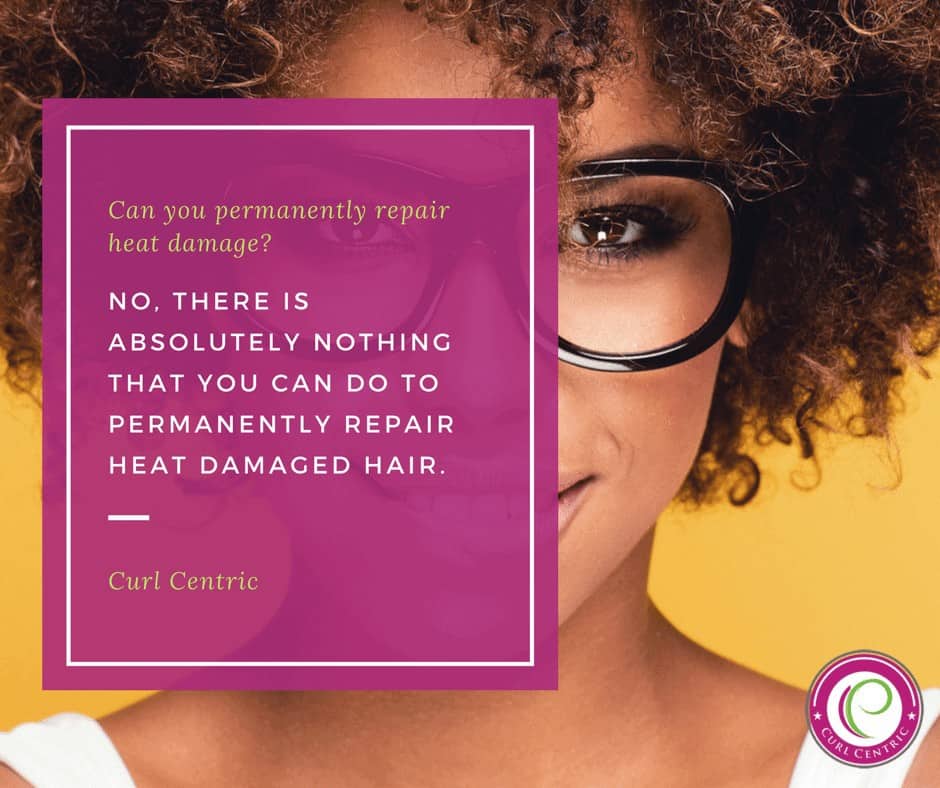 Heat Damage Case Study: A Real-Life Story From the Curl Centric Community
The story below is a real-life case study (told in first-person) from one of our Curl Centric readers that has experienced heat damage.
It was January 16th when I decided to go natural. After receiving relaxers since the age of 6, I was inspired by women transitioning from relaxed hair to natural hair.
These women seemed so confident in their decision, and they loved their natural hair.
Married at the time, my husband and I were working with a limited budget, and visits to the hair stylist were not cheap.
My hair stylist charged $75 for a relaxer. I thought that was crazy when I see the "same thing" at Walgreens for $7 a box!
There was no way I was going to continue paying $75 for a relaxer. The chemicals in the relaxer had destroyed my curl pattern and stripped my hair, making my hair strands dry, thin, and brittle.
Furthermore, I could never grow my hair past my shoulders. Going natural just made sense.
So I decided to big chop.
My hair grew so fast! It was almost scary.
I was able to do a wide range of hairstyles that were low maintenance.
My favorite styles were: cute teeny weeny afros, protective styles, and two-strand twists.
Other people started to embrace my new look.
Frankly, I did too.
People paid attention to my face and my intelligence.
Later during the year, in October, I decided to change up my look a bit. I thought about trying a press and curl.
Why did I do that?
A stylist that I knew stated that she "does" natural hair!
I was ecstatic about the opportunity to show others the versatility of natural hair. She pressed my hair, and it was beautiful.
My hair was longer than I expected, and everyone loved it!
I decided to go back a 2nd, 3rd, and even a 4th time for the same press and curl.
The styles were beautiful, and I felt great!
One year later, I was so excited about my hair growth, but my curl pattern had changed.
My ends were straight as a stick, and my hair started to shed drastically.
I started to cover up the straight ends by doing two-strand twists and adding rollers to the end. Sometimes, I decided to wear a wig.
My hair continued to shed more and more.
During the 4th visit for the press and curl, I noticed something strange.
When my hair stylist was blow drying my hair, she put a tiny bit of hair grease or a hair grease-like product in my hair.
Then she proceeded to press my hair and curl it.
"That's a lot of heat," I thought to myself. She's not even using a heat protectant.
On January 25th of the next year, I saw my hair coming out in sections.
I literally had sections of my hair gone!
On February 1st, I made the gut-wrenching decision to big chop again.
I was so heartbroken, but I knew that my hair was damaged beyond repair.
But I now understand what I can and can't do to keep my hair from being damaged. Heat styling tools can destroy your curl pattern and leave your hair strands damaged.
I have pledged not to put heat on my hair at all, but if I ever do, I will use a good heat protectant as part of my hair care regimen.
Be careful if you use heat styling tools (flat irons, curling irons, blow dryers, and other hot tools). I've learned the hard way.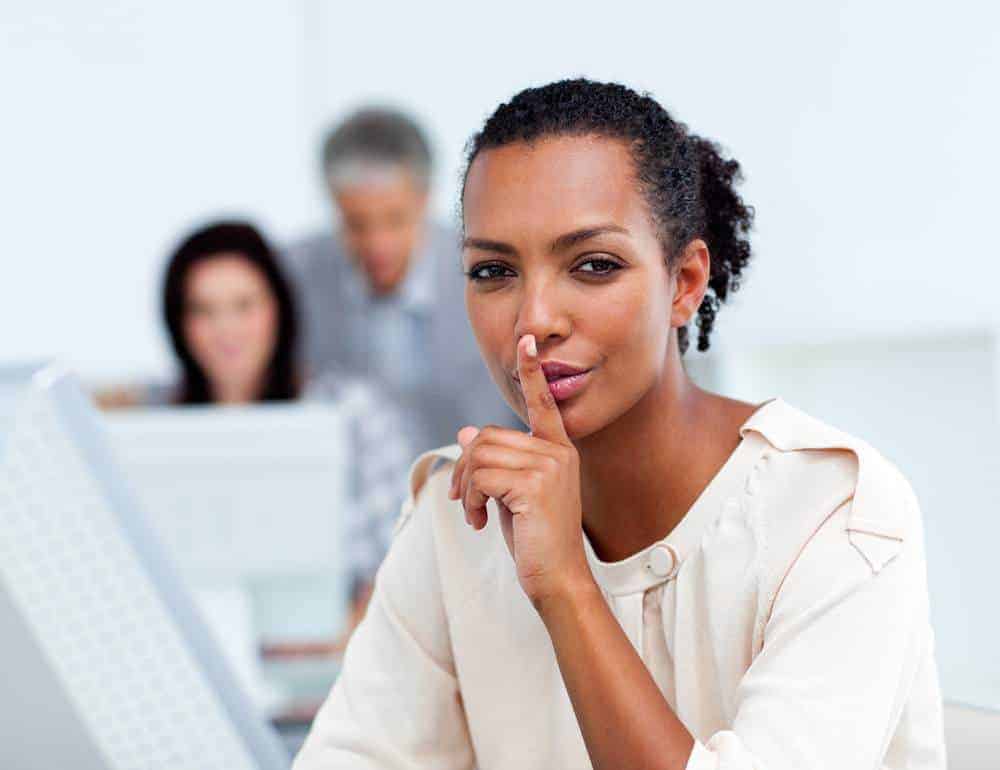 The Secrets to Preventing Heat Damaged Hair
Regardless of what you read on hair forums or from other bloggers, there is absolutely nothing that you can do to permanently repair heat-damaged hair.
If you have heat damage, it's not going to permanently revert back.
Understanding the Concept of Heat Capacity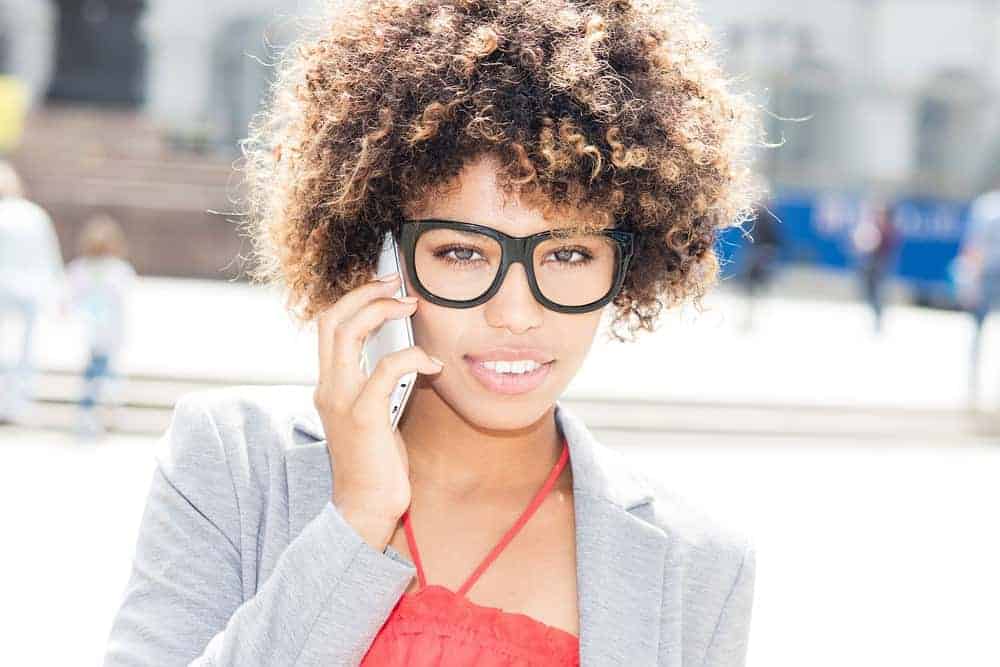 Wet, green wood burns more slowly than dead, dry wood. That's because wet, green wood has a higher heat tolerance or capacity relative to dead, dry wood.
The dead, dry wood heats rapidly and burns easily. The wet, green wood takes quite a while to heat up and then burns slowly due to the amount of moisture in the wood.
The moisture within the wood serves as a form of protection against heat damage.
The concept of heat damage is very similar. In order to mitigate the possibility of heat damage, you should increase the heat capacity of your hair prior to applying heat.
Make sure that your hair has been conditioned recently with a good moisturizing deep conditioner prior to your heat usage.
It's also important to note that you shouldn't forget that it's not only about moisturizing your hair; maintaining proper moisture and protein balance (e.g., incorporate protein treatments) is critical.
This deep conditioning article will describe exactly how to use protein treatments.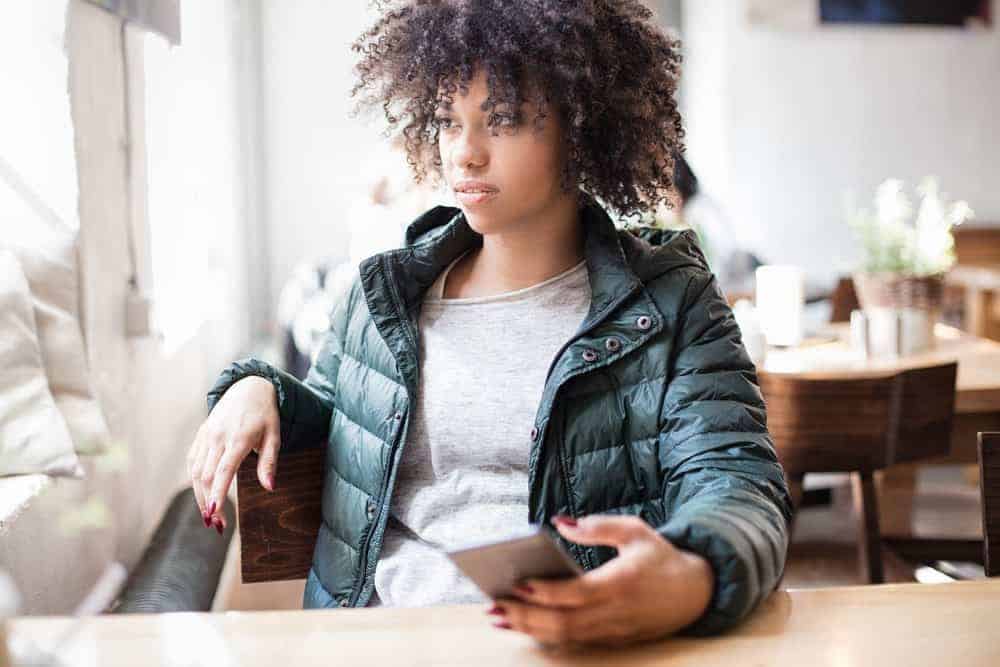 Heat Protection is a Critical Component
Now that you have a basic understanding of the heat tolerance principle let's talk about the purpose of using a heat protectant. The purpose of using a heat protectant is to use a product with low thermal conductivity.
The primary benefit of good heat protectants is to absorb a substantial amount of the heat from your heating appliance, mitigating the possibility of heat damage.
Heat will still pass through to your hair, it will just occur more slowly.
You have a much lower chance of damaging your hair if you heat it slowly and keep the heating appliance moving.
Just in case you missed that last tip, I will say it again. Do not allow your heating appliance to remain still for any period of time when straightening your hair.
Concentrating the heat in one spot will ultimately increase the probability of experiencing heat damage.
Remove Product Build-up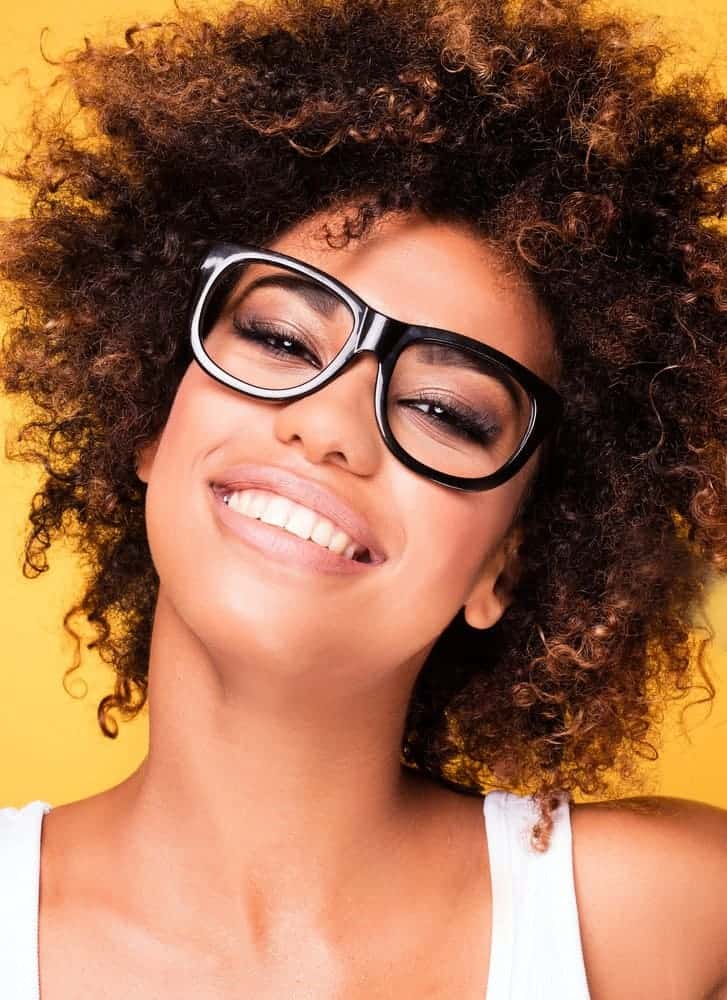 Ensure that your hair is clean before you utilize heat. The concept of heat capacity and tolerance applies to current products within your hair also.
If you fail to clean your hair prior to utilizing heat, you increase the possibility of experiencing heat damage. It's also important to make sure that your heating appliances are clean.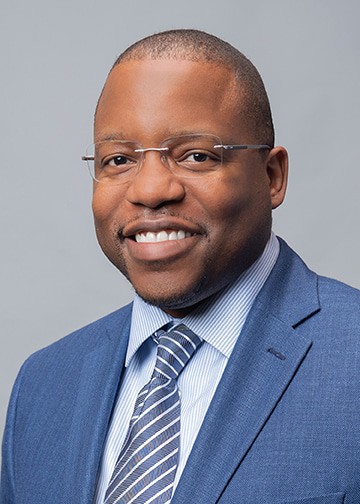 Kenneth Byrd holds a BS in Accounting and Management Information Systems and an MBA from the University of Alabama at Birmingham. He is a serial hair blogger that has been writing about hair care since 2008, when he co-founded Curl Centric and Natural Hair Box. Curl Centric is a website operated by a husband and wife team that encourages healthy hair care.