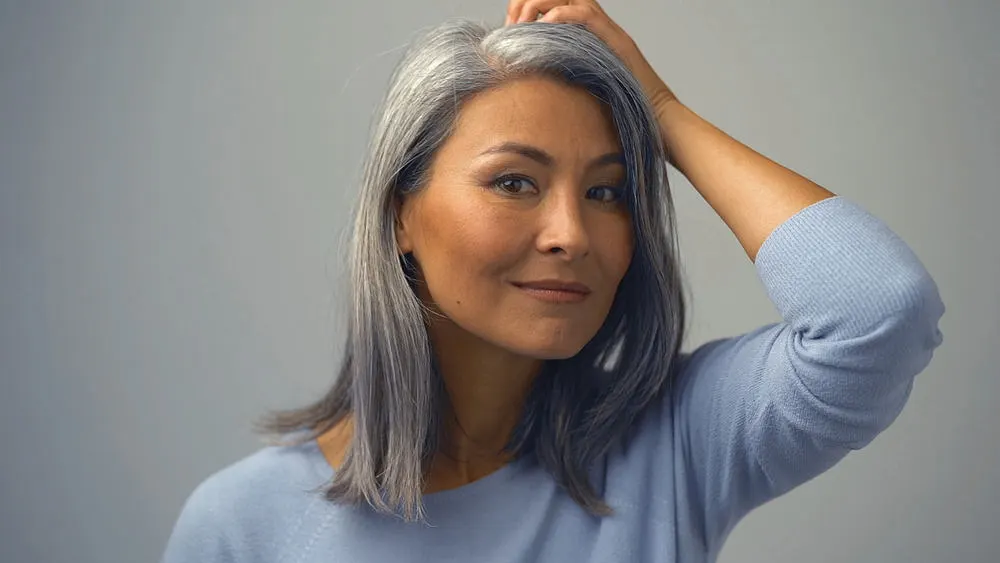 Whether you've recently decided to embrace the greys or you're just looking for a fresh start, right now is a great time to go grey!
Unfortunately, greys are notoriously difficult to color, and removing hair color to go grey often proves to be just as tricky.
But there's no need to worry – we've got you 100% covered! This article will walk you through everything you'll need to know to remove hair color from stubborn grey hairs.
Removing Hair Color to Go Grey at Home: Complete DIY Guide
From color remover to vitamin C, you've got many options to choose from when removing hair color and going grey. In this section, we'll tell you all about each option, who should try it, and more.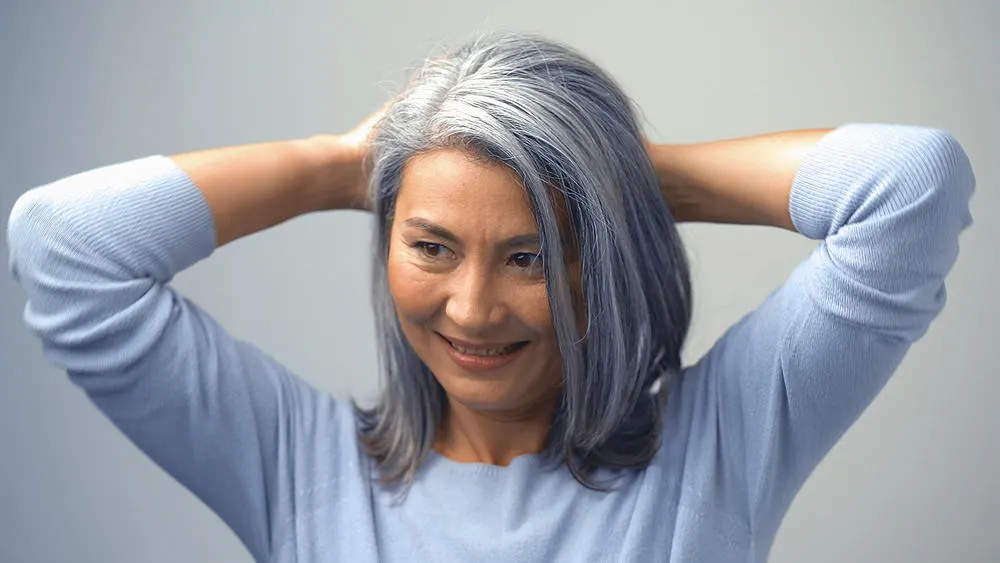 Use a Color Remover
Color removers are specially formulated to remove artificial dye from your strands. They pry open your hair's cuticles and dissolve the synthetic pigments left behind by hair dye.
These products only target hair dyes and leave your natural hair color intact.
But be forewarned – color removers work best on natural shades. Neon dyes like purple, blue, green, and pink will probably require a different color removal method.
While color removers can damage hair, they are much less aggressive than bleach. Here's how to safely use one on greys.
What You'll Need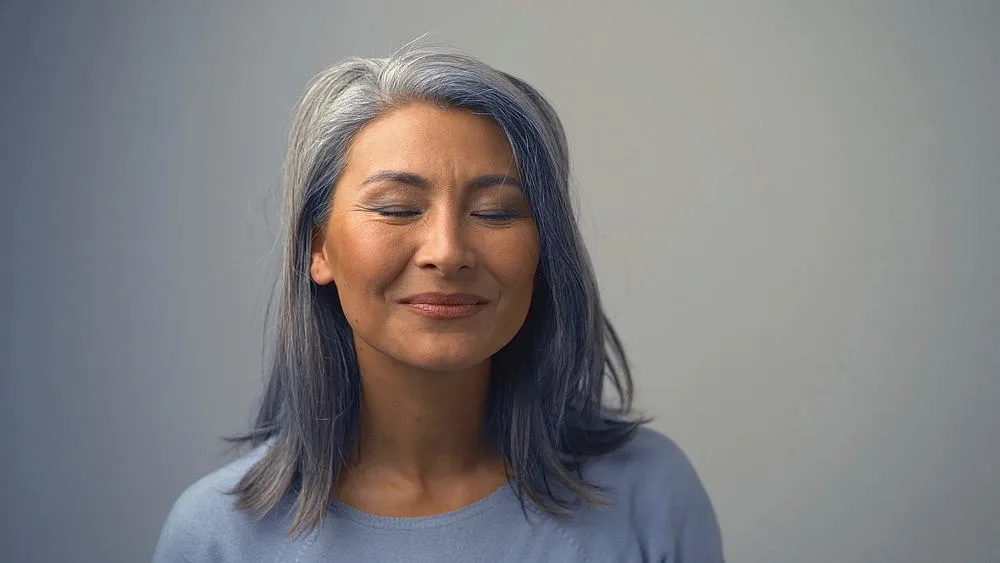 Steps
Skip washing your hair for at least two days before using a color remover.
Make sure you're in a well-ventilated room.
Prepare the color remover according to the directions on the package.
Put on your gloves and immediately apply the mixture to your hair.
Once your hair is evenly coated, cover it with a shower cap and let the mixture sit for around 20 minutes. For added color removal power, sit under a hooded dryer. Use a blow-dryer to evenly disperse heat if you don't have a hooded dryer.
Rinse your hair thoroughly with cool water.
Shampoo your hair once or twice to help get rid of excess color. Rinse thoroughly after each wash – the rinsing is what removes the color molecules.
Apply a hair mask or deep conditioning treatment to restore your hair's natural moisture.
Repeat the process up to once a week until you are satisfied with your color.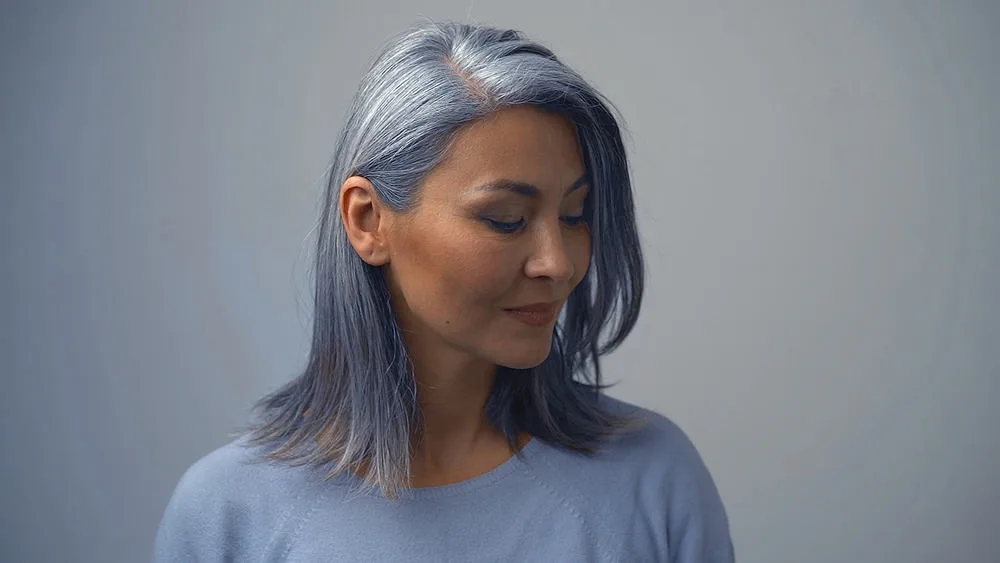 Try a Bleach Bath
Bleach is one of the most aggressive methods of hair color removal. While we don't recommend it for everyone, bleach is fantastic for anyone looking to go grey immediately.
We advise against applying full-strength bleach on your hair for the purposes of color removal. Instead, opt for a gentler approach – a bleach bath.
While it'll take multiple treatments to lighten darker locks fully, it's less damaging than a typical bleach treatment. Yet, it's strong enough to remove stubborn colors like pink, blue, or green.
After reaching your desired level of lightness, tone your locks using your favorite silver dye or color depositing shampoo. Here's everything you need to know about this color removal method.
Get Your Supplies Ready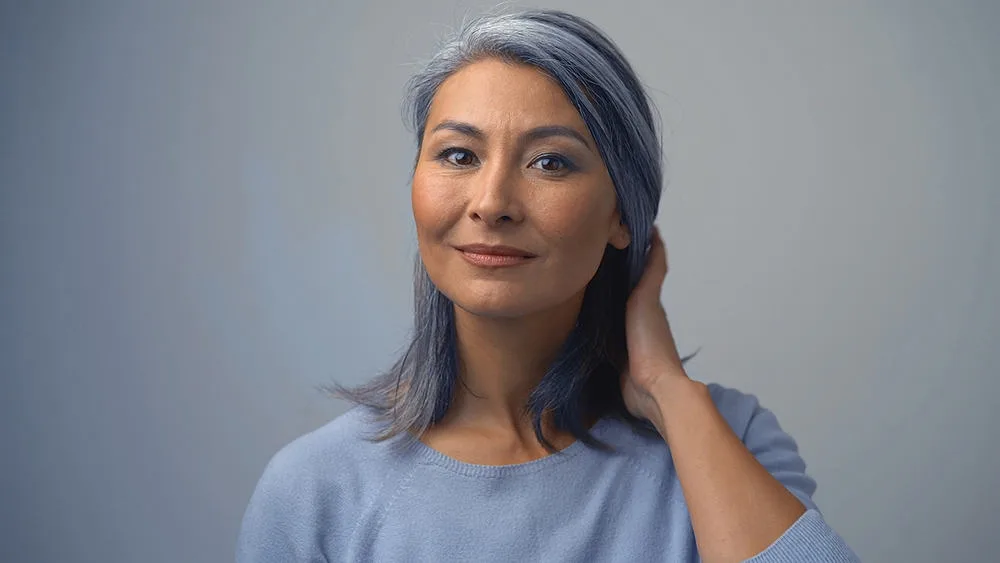 Instructions for Bleach Bath on Grey Hair
Dampen unwashed hair with warm water.
Put on your gloves and pour equal parts bleach and developer into your bowl. Use 20 volume developer for highly pigmented dyes and 10 volume for partially-faded or duller shades. Mix well.
Add enough shampoo to double the bleach mixture. The more shampoo you use, the more diluted your bleach bath will be. You can also add a bit of conditioner to the mix to make it gentler on your strands.
Using the application brush, apply the bleach bath to your hair. Start with the ends of your hair and work your way up. Save your roots until the end, when you finish the rest of your hair.
Put on your shower cap and let the bleach bath sit for up to 25-40 minutes. Check your hair every few minutes to see how the color removal process is progressing. Rinse your hair as soon as you're satisfied with the level of color removal.
Thoroughly rinse your hair with cool water.
Apply a hair mask or deep conditioner to help repair the damage done by the bleach bath. If you want to dye your hair grey right away and your hair appears undamaged, skip the conditioner and go straight into coloring.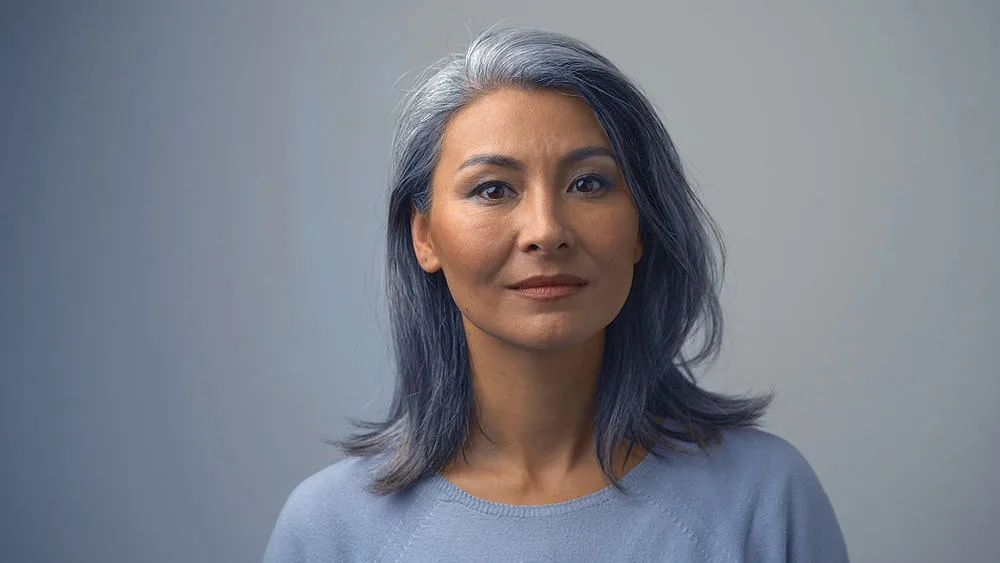 Use a Baking Soda Mask
Baking soda has so many uses that you probably already have this handy color remover sitting in your pantry! Given its natural color-lifting abilities, a baking soda mask will help fade unwanted dye from your hair in minutes. Just follow these easy steps.
Materials You'll Need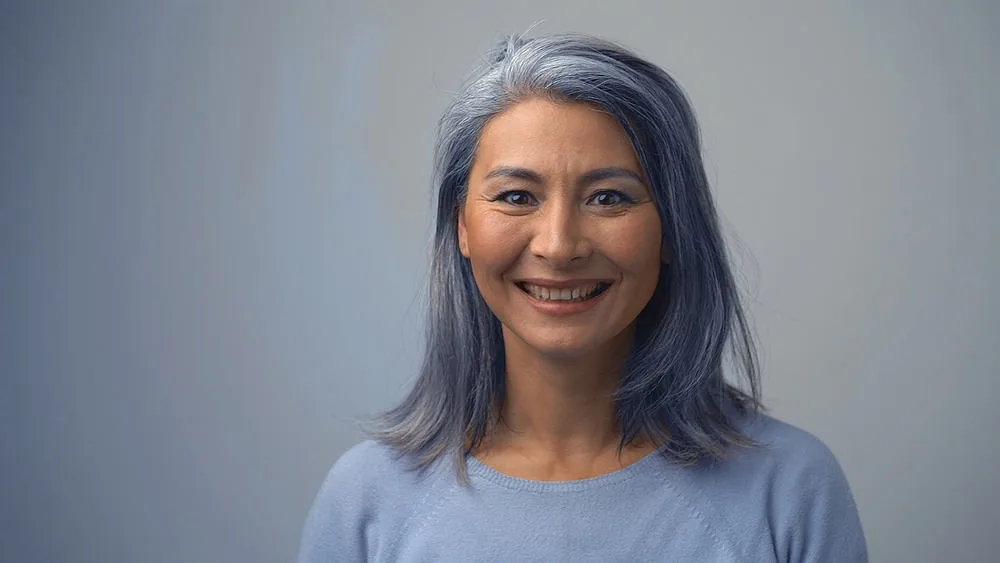 Baking Soda Mask Instructions
Dissolve 2 tsp of baking soda in ½ cup of warm water.
Add in 5 drops of your favorite essential oil. We recommend using peppermint, tea tree, or rosemary.
Apply the mixture onto damp hair and gently work it into your strands. Baking soda is abrasive, so try not to rub it too vigorously into your hair and scalp.
Once your locks are thoroughly saturated, cover them with a shower cap and wait for up to 10 minutes.
Rinse your hair with warm water.
Deep condition your hair to restore its moisture levels.
Repeat the process as often as once or twice a week.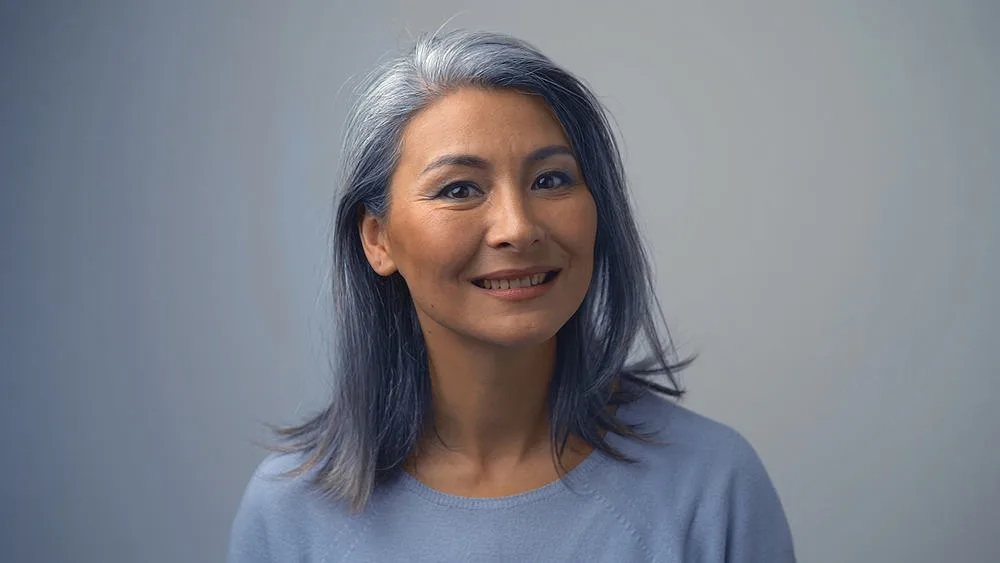 Slather on Some Olive Oil
Olive oil is another food pantry staple that has hair color fading effects. Using oil to fade color is one of the gentlest ways to strip dye from grey strands.
If you aren't a fan of olive oil, just swap it out for coconut or avocado oil. Here's how to use olive oil as a color remover.
Get Your Materials Ready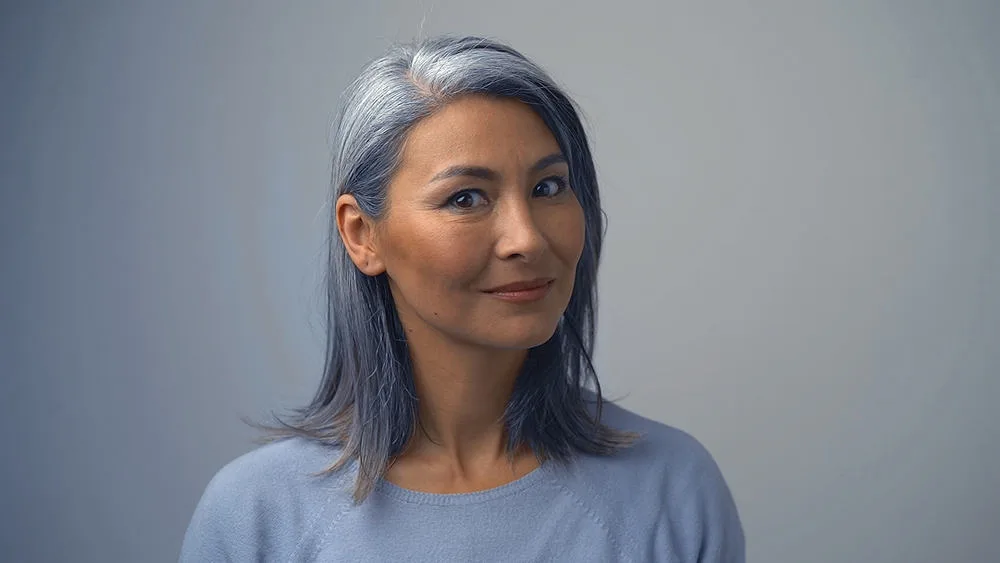 Instructions for Removing Dye with Olive Oil
Shampoo your hair with warm or hot water. The hotter the water is, the more your cuticles will open.
Pour half a cup of extra virgin olive oil into a microwave-safe container and microwave it for 10-30 seconds.
Check the temperature of the oil. It should be hot, but not hot enough to burn you. If the oil is too hot to be comfortable, let it cool a bit.
Put on your gloves and carefully pour the oil onto your damp hair.
Keep pouring until your hair is fully saturated. Gently massage the oil to make sure every strand is covered.
Put on a shower cap and wait for at least half an hour. You can tuck an old towel into the neck of your shirt in case the oil drips.
After 30 minutes have passed, rinse your hair with warm water.
Apply a clarifying shampoo to your hair and wash away any residual oil.
If your hair feels a bit dry after shampooing, you can apply a lightweight conditioner and rinse as usual.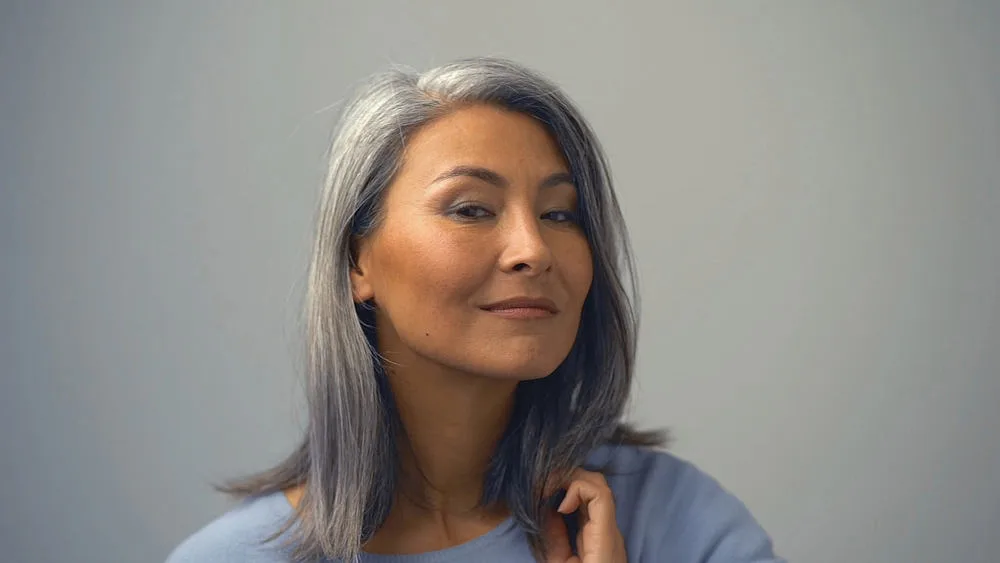 Use a Vitamin C Mask
Vitamin C treatments are another relatively low-damage approach to color removal. Vitamin C breaks the bonds holding hair dye in place. Once the bonds are broken, the dye pigments are ready to be washed away! Here's how to do it.
Grab Your Supplies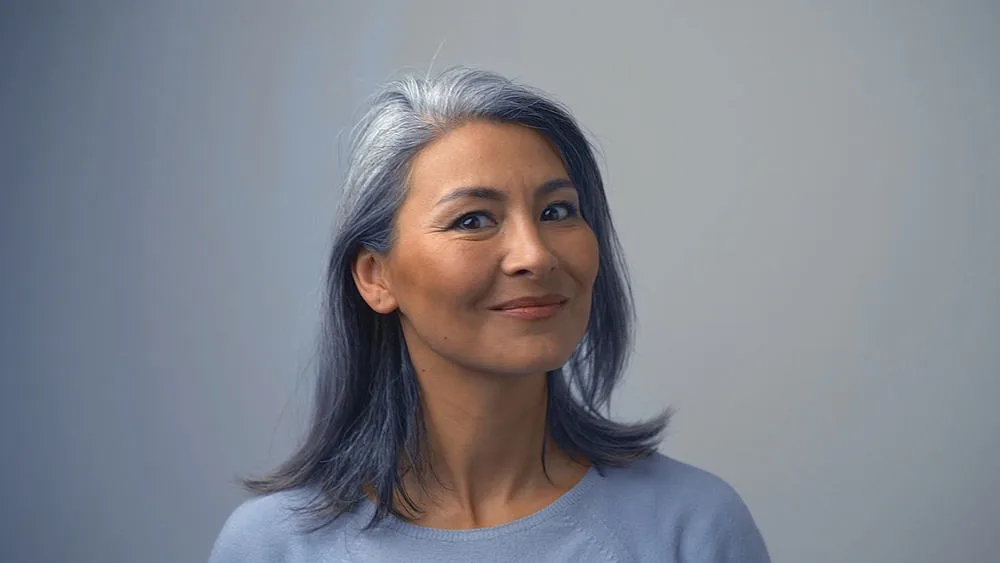 How to Do a Vitamin C Mask
Dispense about ½ an ounce of shampoo into your bowl.
Crush 10 vitamin C tablets until they take on the texture of a fine powder.
Add the crushed tablets to the shampoo and use a spoon to mix them together thoroughly.
Coat your damp hair with the paste.
Gently massage the paste into your strands to make sure they are evenly coated.
Cover your head with a shower cap and leave the mixture on for up to one hour.
Rinse your locks thoroughly with warm water.
Shampoo your hair to get rid of any residual Vitamin C powder.
Condition and style your hair as usual.
Repeat the process once or twice a week as needed.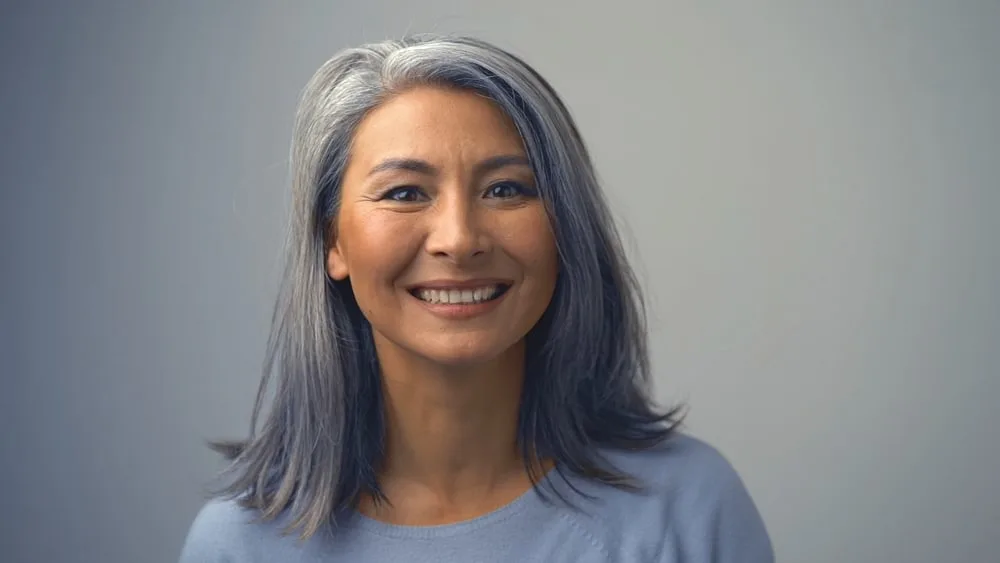 Use a Clarifying Shampoo
One of the most straightforward methods of hair color removal is to use a clarifying shampoo.
This shampoo-type contains more cleaning agents than regular shampoo and can help strip unwanted pigments from your mane. The best part is that clarifying shampoos couldn't be simpler to use! We'll walk you through the steps now.
Gather These Materials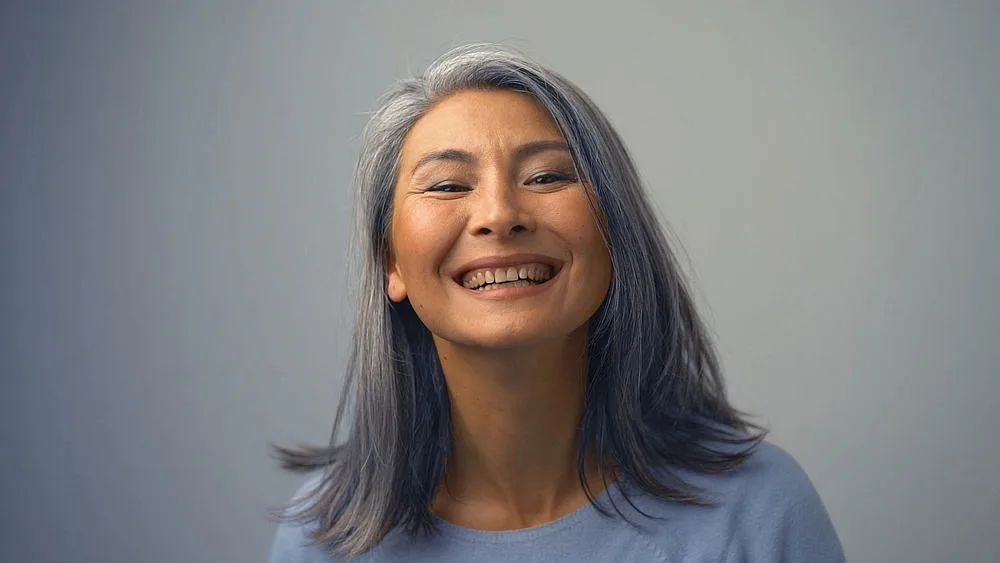 Steps
Soak your hair with warm water.
Apply a liberal amount of clarifying shampoo to your hair and work it into a rich lather.
Cover your strands with a shower cap.
You can sit under a hooded dryer to amp up the color removal. The heat opens your cuticles so more of the dye can be rinsed away.
After 10 minutes have passed, check your hair. If the color hasn't lifted enough, you can let it sit for another 10 minutes.
Rinse your hair until the water runs clear.
Follow up with a hair mask or deep conditioning treatment to combat the drying effects of the shampoo.
Repeat once or twice a week as needed.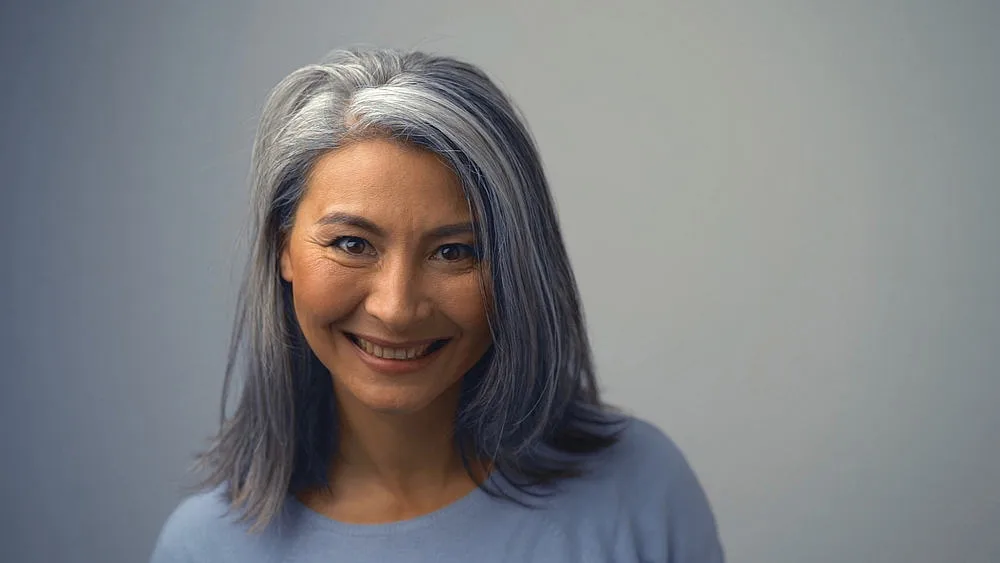 How to Choose a Hair Color Removal Method
If you're having trouble deciding between methods, consider the health of your hair and the colorfastness of your hair color. Highly pigmented shades like green and blue are much more difficult to remove than soft browns and blondes.
If your hair is already dry or brittle, use one of the gentler methods regardless of your current hair color. But if you believe your strands can handle it, try a more aggressive approach for stubborn colors.
Note that semi and demi-permanent dyes are much easier to remove than permanent hair dyes.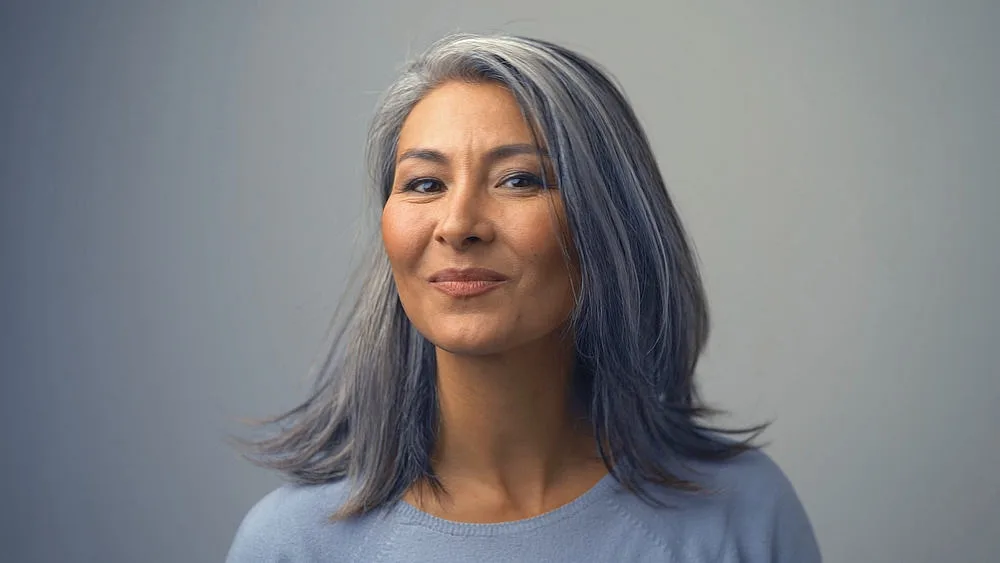 How Do You Transition From Dyed Hair to Natural Greys?
Aside from using color removing treatments, there are three basic ways to transition from dyed hair to natural grey. Each method has its advantages and weaknesses. We'll get into those below.
1. Blend Your Greys with Hair Dye
While many women go grey to get away from the hair dye, some don't mind continuing to color their strands. If you want to skip the awkward stages of growing your greys out, blending them with hair dye is an excellent option.
There are a few different approaches you can take. You can try adding:
lowlights
highlights
all-over color
While this method will give you stunning, immediate results, it can get expensive and time-consuming. The dye might also damage your fragile strands.
If you want to blend your greys, we strongly recommend contacting a stylist for professional color. Even though it's more costly, they'll know how to keep your mane healthy and beautiful.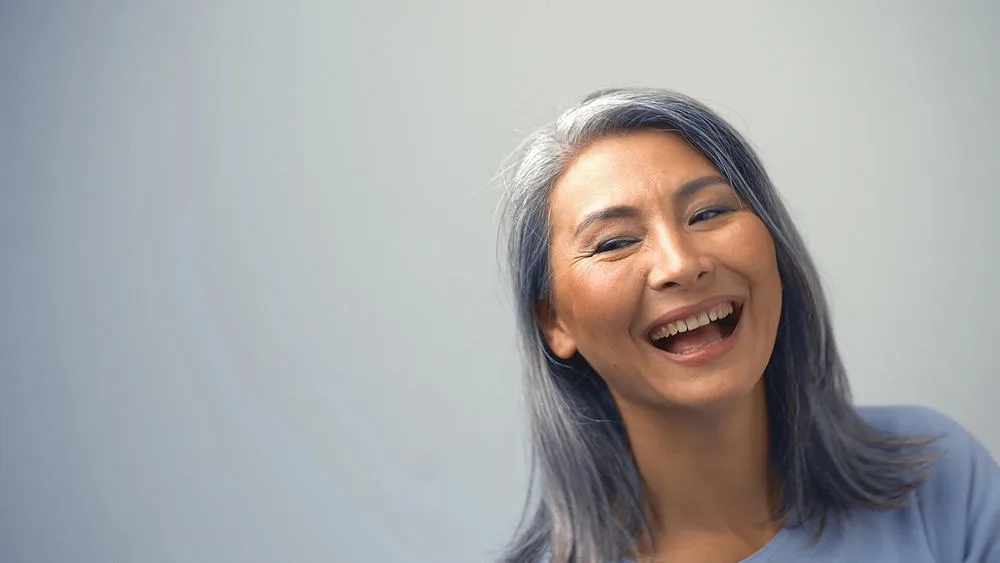 2. Let Your Hair Grow Out
Letting your hair grow is the easiest and cheapest way to go grey. All you have to do is stop coloring your hair, and it will eventually revert to its natural hue.
You won't have to make any noteworthy changes to your routine. The remaining dye will fade as your hair goes through repeated washing and styling sessions.
This method is perfect for anyone who takes a laid-back approach to hair care.
The color might not always be flattering, and it might take years before your color ultimately grows out. But you can speed the process up slightly by getting regular trims and avoiding color-safe products.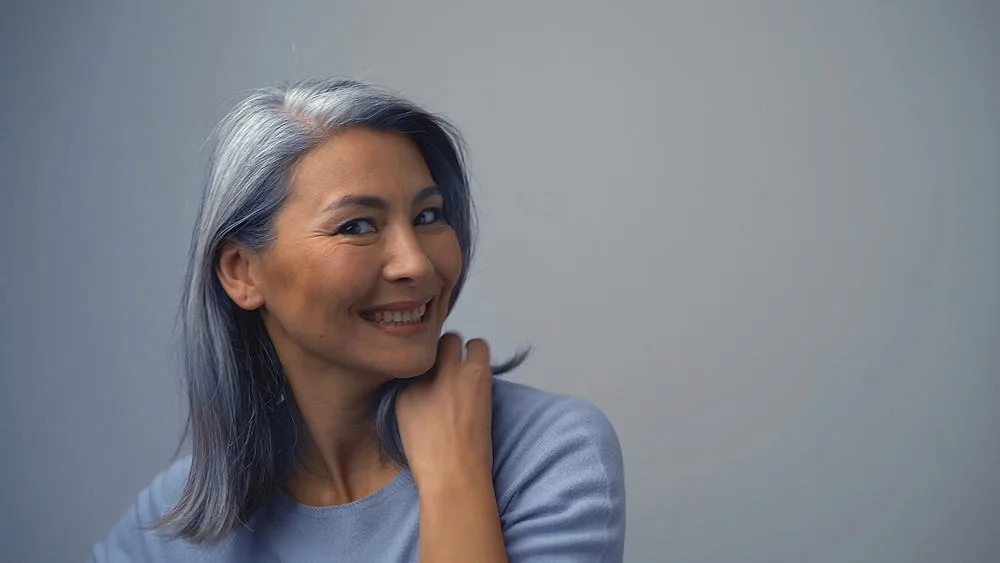 3. Do a Big Chop
When it comes to ditching the dye, nothing is quite as satisfying as cutting off all your colored hair. Though the big chop is usually associated with going natural, it's also the fastest way to go grey.
It immediately removes all the damage left behind by chemical processing and allows you to start with a clean slate. The only thing required for a big chop is a haircut, so it's one of the easiest and least expensive options.
If a buzzcut is too much of a change, you can get a cute pixie cut to help make the transition easier. Alternatively, you can cut off a few inches every month for a gradual change.
How to Care For Grey Hair
Now that you know how to remove the color from your greys, it's time to dive into a list of best practices. Keep these tips in mind to keep your silver locks looking beautiful and feeling healthy.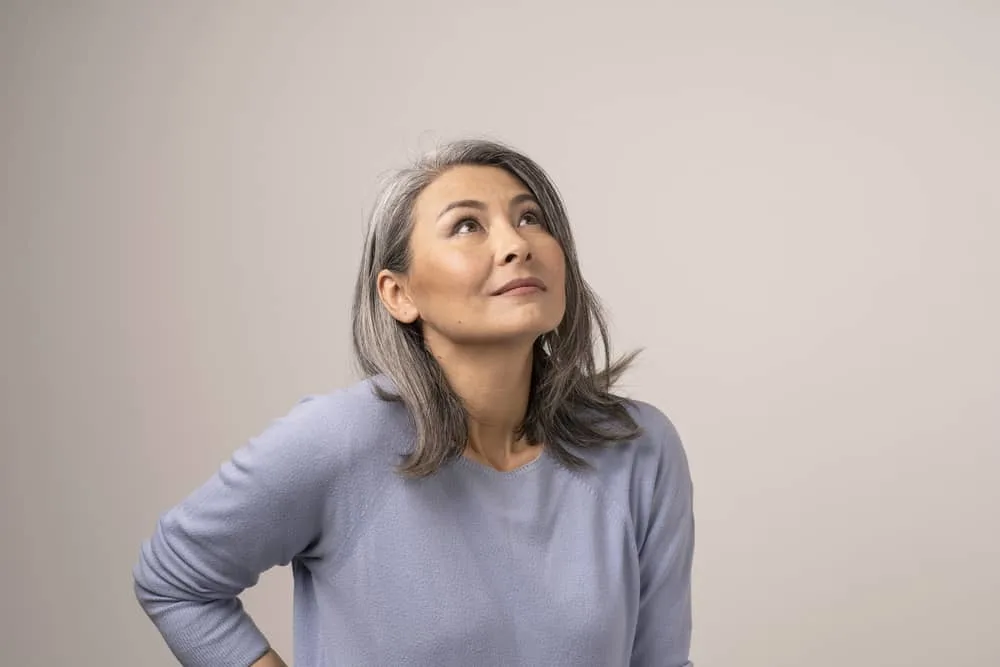 Use a silver shampoo – Silver shampoos will give your hair a natural-looking color boost and take your silver locks to the next level. Despite the name, silver shampoos contain purple pigments that cancel out the golden hues that often pop up in grey hair. A silver shampoo will help keep your locks cool and vibrant.
Eat right and hydrate – Healthy hair starts from the inside out. The first step in ensuring your greys are well cared for is to ensure your body has all the vitamins and nutrients it needs.
Go easy on the styling – Grey hairs are more fragile than naturally pigmented strands, so you'll have to handle them gently if you want them to stay healthy. Avoid using heat and harsh chemical treatments and stick with low manipulation hairstyles whenever possible.
Close your cuticles with bond repairers – You may notice that greys are naturally coarser than your other strands. This is because grey hair has thin, raised cuticles that are more prone to damage. Use bond repairing treatments like Olaplex to keep your tresses strong.
Give your hair plenty of moisture – Every week, use a deep conditioner or nourishing hair mask. Pop on a shower cap and sit under a hooded dryer for added hydration. The heat lets the treatments penetrate your strands better.
Use a silk or satin pillowcase – Most traditional pillowcases are made of cotton. While this material helps keep you cool, it can suck moisture from your hair and increase breakage. Switching to a pillowcase made from silk or satin will keep your hair hydrated and reduce sleep-related wrinkles. You can also put on a satin headscarf or bonnet before going to sleep.
Best Products to Remove Hair Color from Greys
Removing color from grey hair can be tricky. Color removers are harsh, and they can quickly ravage delicate greys. That's why we've created a list of some of the most gentle and effective products for removing unwanted hair color from greying hair.
BIOLAGE Normalizing Reset Shampoo
This invigorating deep cleansing shampoo helps cut through stubborn product build-up. Its lemongrass-powered formula will strip unwanted colors from your strands with regular use. Just remember to let it sit for a few minutes before rinsing out.

Color Oops Hair Color Remover Extra Conditioning
Color Oops is a gentle alternative for anyone looking to strip their locks of unwanted color. Unlike most other color removers, its formula is bleach and ammonia-free.
Instead, it contains soy proteins that strengthen and rebuild fragile strands and aloe for a much-needed hydration boost.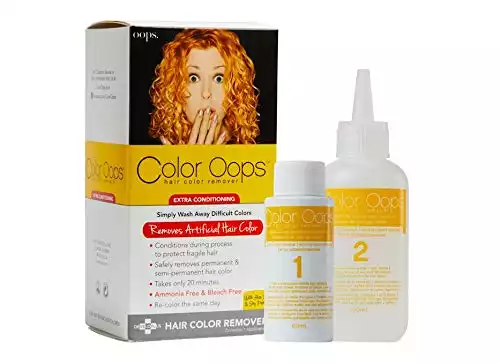 ION Color Remover
This color remover is powered by vitamin C and is gentle enough to leave in your hair for hours. Its mild formula contains bentonite clay and fatty acids to strip color without causing damage, making it the perfect choice for delicate grey strands. It also has chelating agents that bind to the microscopic metals left behind by hair dyes.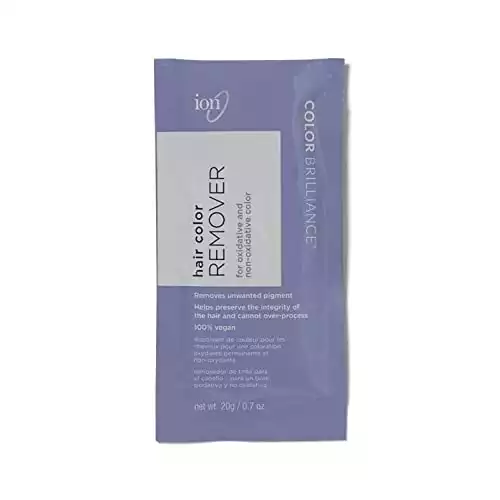 Design Essentials Oat Protein and Henna Deep Cleansing Shampoo
Like other clarifying shampoos, this multi-purpose cleanser will help gradually fade your color. Its luscious formula features henna and hydrolyzed oat proteins to help increase your hair's moisture, shine, and elasticity. You'll notice fuller, stronger strands with each use!

If you have stubborn color that won't fade no matter what, don't hesitate to reach out to a hairstylist! A professional will be able to remove the hair color without damaging your tresses.
If you decide to try one of the DIY methods we've listed in this article, we hope you have success with removing the hair color from your greys.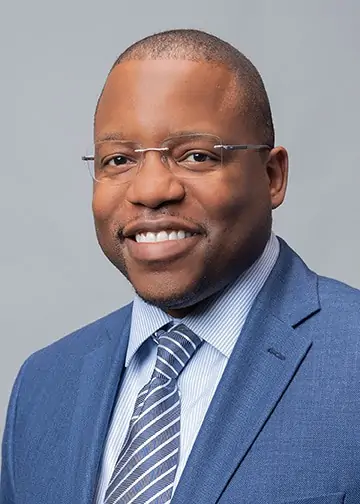 Kenneth Byrd, with a BS in Accounting and Management Information Systems and an MBA from the University of Alabama at Birmingham, has over 15 years of experience and is a recognized authority in hair care. Co-founder of Curl Centric® and Natural Hair Box, Kenneth has dedicated himself to promoting ethical and scientifically-backed hair care practices. Rigorous editorial guidelines, industry recognitions, and features in numerous media outlets evidence his expertise. Kenneth's commitment to transparency, quality, and empowerment has positioned him as a trusted voice in the field, empowering readers to confidently embrace their natural beauty.