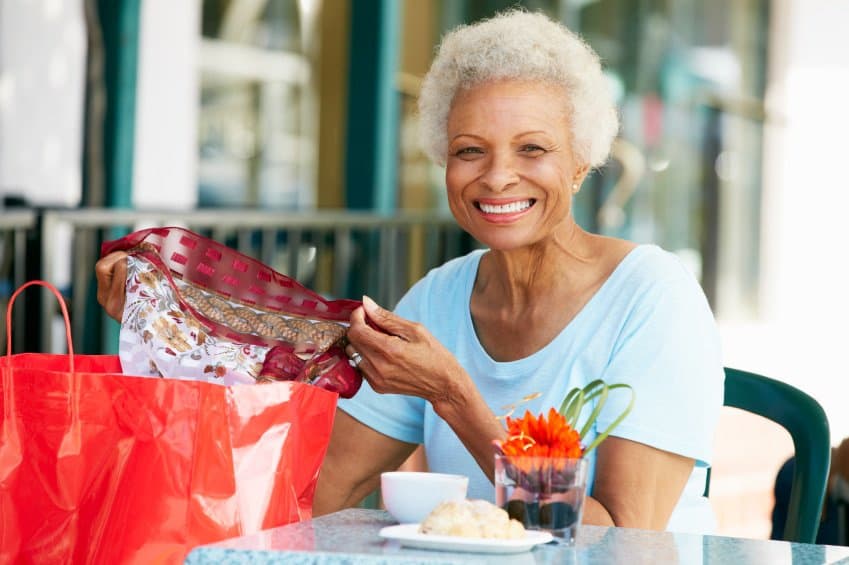 Some people say that gray hair makes you look distinguished. Other people say it's simply a sign that you're getting older. Regardless of how you feel about gray hair, it's nearly a guarantee as you get older. For some people, graying occurs at a surprisingly young age, and for others, it occurs much later.
Be Thankful for Your Gray Hair
If you've read my article on female hair loss, you know that it's a blessing to even have a full head of hair as you get older – but I digress. Do you know why the hair turns gray as you get older?
What Causes Gray Hair?
Over the years, scientists have performed quite a bit of research to understand exactly why the hair grays.
Gray hair, which is commonly referred to "salt and pepper" when it's combined with black hair, is not a product of gray or white pigmentation. There is a natural pigment called melanin (specifically eumelanin and pheomelanin) that gives the hair its color.
Melanin is produced in the hair follicles by melanocyte cells. Over time, the melanocyte cells are damaged and they are unable to continue producing melanin. Most scientific studies say that this is due to DNA damage and the potential accumulation of hydrogen peroxide in the hair follicles.
There is a theory called the DNA damage theory of aging that supports this argument. Without melanin, your new hair growth will not have any pigmentation, making the hair appear to be gray or white.
How soon the graying process begins is generally determined by the genetics of each individual. This essentially means that if your parents started graying early, there is a good possibility that you could gray early also.
Other than age, there are also certain medical conditions that can cause gray hair including a thyroid deficiency, low levels of Vitamin B12 or Waardenburg syndrome.
What Getting Older Means for Your Hair
As time goes on, what were once luscious locks may now seem thin, wiry, and gray. The reality is that getting older doesn't just have impacts on your body, it can also affect your hair.
The good news is that you're not alone – we're all getting older, and that means the majority of us will, at some point, have to deal with changes to our hair caused by natural aging.
For many, it's often more than just a few stray gray hairs – it can also be thickness, texture, color, and balding. Let's break down some common signs of hair aging and walk through what you can do to help fix them.
What is Hair?
So, what is hair, anyway? Many people don't often stop to think about this, but it can be helpful to understand the makeup of your hair in order to effectively address hair aging.
Each strand of hair is made up of keratin, a strengthening protein, and then surrounded by overlapping sheets that create the hair cuticle. The hair follicle in the epidermis and dermis is actually the only living part of your hair.
This means that the hair we see and take so much pride in caring for is actually dead.
Weird, right?
The aging of your hair can be caused by a few different factors, including microscopic, biochemical, or hormonal alterations that impact the hair follicle.
Hair aging can even be caused by external, environmental factors (often induced by you) that are rough on the hair, causing unnecessary wear and damage.
Texture and Thickness: Why Does Hair Thin with Age?
Believe it or not, your hair has some staying power.
In fact, a single hair can live up to roughly four or five years. Of course, your hair is growing during this time – on average, a little less than half an inch per month.
That means that if you have hair that's a foot long, then your hair has been through nearly three years of wear and tear. This includes everything from UV light, to heat from styling tools like blow dryers, curling irons, or flat irons, and potential chemical exposure through treatments like coloring, perming, or straightening.
Even the friction from brushing your hair can take a toll.
When you think about it, it's amazing that your hair doesn't give up faster. All of this wear and tear causes cuticle cells to raise up and soften, meaning your hair looks rougher and is more likely to break.
As time passes, follicles produce thinner and smaller hairs – or at times, none at all. Some may refer to this condition as senescent alopecia, even though it might just be a sign of the natural aging process.
Recommended Solutions
If you've noticed major changes to texture and thickness but don't know what to do, fear not. Luckily, the anti-aging business is booming, boasting hordes of products that claim to fight hair aging like this.
These include humectants, which serve to lock in moisture to the hair cuticle, creating a silky-smooth illusion, and sealing the cuticle with hair conditioner.
Some products claim to be rich in antioxidants that help shield the hair against harsh UV light. These products usually work by altering the appearance of each strand of hair, rather than changing the structure itself.
Naturally, in conjunction with the products mentioned above, you could also make a concerted effort to take the heat out of your haircare routine.
Try your best to avoid any hot styling tools like curling irons or flat irons, and hold your blow-dryer at least 6-12 inches away from your head when drying your hair.
Going Gray: When Will I Get Gray Hair?
People with lighter skin tend to go gray sooner, with Caucasians starting as soon as their early 30's. For those with darker skin tones, they can expect to see gray hair roughly 10 years later.
As much as we'd like to be in full control of our hair, in reality, going gray is determined in large part by your genetics.
In "The Aging of Hair", a paper by dermatology researcher Ralph Trueb, it states that 50 percent of people by age 50 will have 50 percent gray hair, regardless of gender and initial hair color.
In comparison to the hair on the scalp, however, body hair (such as eyebrows, pubic hair, and chest hair) typically goes gray much later in life.
Some say that going gray has to do with oxidative stress, a major theory of aging in general. If you're unfamiliar with this concept, oxidative stress refers to when an excess of free radicals is made as new hairs are formed.
This subsequently damages the cellular structure that creates the pigment within the hair follicle.
This may also explain why you might find your hair becoming courser and more difficult to deal with over time – the melanin-producing cells are closely tied to those that build the keratin hair shaft.
Recommended Solutions
Of course, many people choose to simply go gray in style, embracing their natural hair and aging gracefully.
If that doesn't appeal to you, however, you have numerous hair coloring options at your fingertips.
For example, you can get reverse highlights to add streaks of darer color back into your hair. Additionally, if you choose to get a permanent dye treatment, these can typically last a while despite repeated washing.
Semi-permanent color is another option, although the color will only last for several shampoos before starting to fade.
Nonetheless, a word of caution when it comes to hair coloring: permanent is important if you want to avoid frequent maintenance. If you try to fix your problem with temporary tints, the color won't be absorbed by the cuticle and will be washed away in no time, bringing you back to square one.
What Causes Hair Thinning and Balding as You Get Older
Thinning hair is so common that it seems like everyone has to face it at some point. In fact, two-thirds of men experience noticeable hair loss by the age of 60.
This hair-loss condition is formally known as androgenetic alopecia, and more commonly known as male-pattern baldness.
This kind of hair loss normally starts on the top of the head, or sometimes around the temples. Men that suffer from hair loss may be predisposed to produce smaller and less visible hair as a result of changes in hormones over time. Smoking is also tied to male-pattern baldness in some cases.
When it comes to women, there is indeed such a thing as "female-pattern" baldness. This can mean thinner hair and a visible scalp in certain areas as a woman ages.
It can also have ties to genetics, changes in levels of "male" hormones (called androgens), certain vitamin deficiencies, or some other health condition.
Recommended Solutions
Unfortunately, today there is no cure-all solution for baldness. There are some treatments out there that help to stimulate new hair growth, such as Rogaine and Finasteride, which is an oral medication.
Minoxidil is the only treatment of this kind for women that has been approved by the FDA at this point in time.
If you're open to more serious treatments for hair loss, you could undergo a hair transplant. This involves taking small plugs of the healthy scalp with thicker patches of hair and applying it to the balding area.
However, please keep in mind that this solution is not cheap and it may require many treatments in order to be effective.
Do You Have New Hair in the Wrong Place?
In other cases, the issue can actually be too much hair – at least, too much hair in the wrong places. When hair begins to sprout on a woman's body in areas that are more generally associated with male body hair (think: face, neck, chest, thighs, and back), this could indicate that the woman has a condition called Hirsutism.
This is caused by certain medications, genetic makeup, and potentially aging. This condition, although generally harmless, can be very embarrassing for many women to deal with from a social standpoint.
Recommended Solutions
Naturally, many women address the presence of unwanted hair by tweezing or waxing. If you find that these temporary solutions aren't working for you, please consult your doctor.
If you're willing to invest the time and money, there are other more involved techniques for hair removal that you can also try, such as laser therapy and electrolysis.