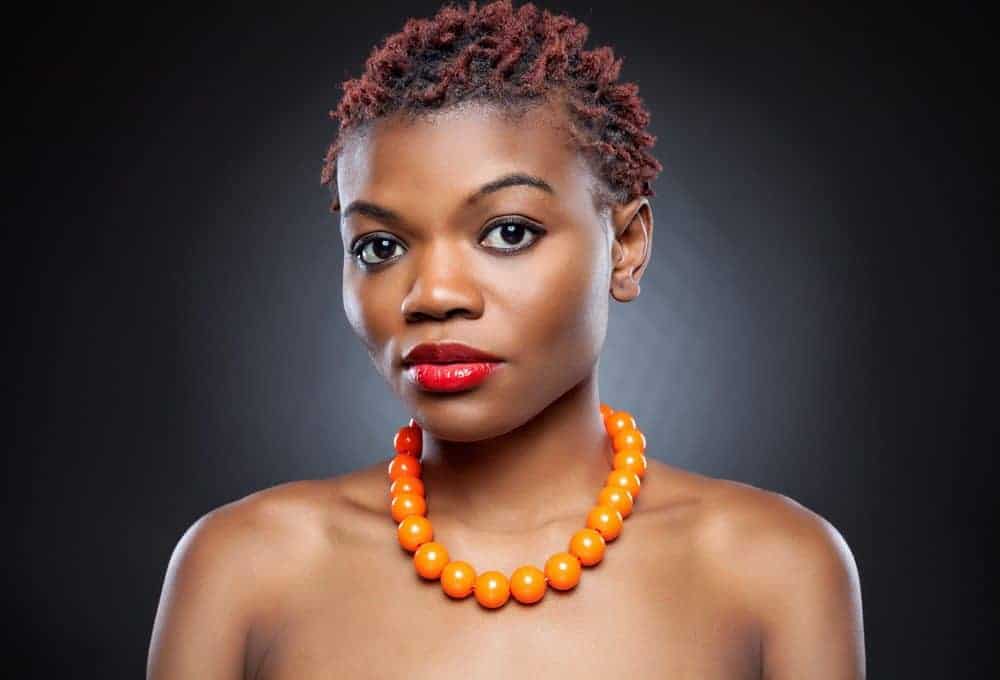 TWA hairstyles are really popular right now as more women big chop while going natural. For the new naturals, TWA stands for a teeny weeny afro.
Once you make the decision to go natural, you have a couple of primary options. You can either slowly transition to natural hair or you can big chop.
More and more women, especially over the past several years, are deciding to big chop, which involves cutting off your chemically relaxed hair in a single session.
We've heard time and time again how refreshing and renewing the experience of big chop is for many women. It allows you to start off your natural hair journey with a fresh start.
In fact, it allows you to get rid of chemically relaxed, damaged hair and it can liberate and empower you, especially if you have become extremely attached to your hair.
However, some women don't want to cut their hair, because hair growth takes time. If you're confident you can deal with short hair for at least a period of one year, then go for it.
Plus, short hair is gorgeous. For many women, short hair accentuates their facial features and highlights their natural beauty.
If you've had long for quite some time, you might not know how to style short hair or believe that you're styling options are severely limited. We created this collection of short TWA hairstyles to inspire women that need styling ideas.
We have watched seemingly hundreds of YouTube videos, found several cool hairstyles on Pinterest and Instagram, and compiled our favorites within this article
The styles that we've chosen don't "require" regularly cuts or color treatments, although you might find a color-treated hairstyle that you really like on the list.
Also, as your hair starts to grow, some of these styles will look quite a bit different if you don't cut your hair to maintain the desired look. At any rate, you have several options to create your own unique TWA hairstyle.
As mentioned, some TWA styles are absolutely fabulous and very easy to maintain. TWA hairstyles may appear to be limited initially, but this article will prove that there is quite a bit of variety for TWA styles.
Some TWA styles are absolutely fabulous and very easy to maintain. TWA hairstyles may appear to be limited initially, but this article will prove that there is quite a bit of variety for TWA styles. We've included several pictures and videos of awesome women rocking TWA hairstyles.
Bantu Knots Tutorial
Short Natural Hair Routine TWA | Bantu Knots 4C Hair
If you're familiar with
bantu knots
, you may be aware of the historical significance of the hairstyle and the Bantu people. Regardless, bantu knots are an amazing hairstyle for short natural hair.
Now it's important to note that your knots or "mini buns" will be small if your hair is short. However, some women add extensions to their hair to create larger bantu knots. In this video, Akilah provides a short natural hair routine for 4C hair types.
Blonde Curly Afro
How I Style My TWA + Update
You don't always have to stick by with the textbook definition of a TWA. You can grow out your curls a bit longer and add a little blonde hair color for a sweet buttery hue.
Then you'll have a pretty hairstyle that can frame your face perfectly. Just ask Tianna, who provides a quick tutorial on how she styles her blonde curly afro.
A blonde, bronze or honey hue is something that can give life and dimension to any TWA. It still looks natural but has a warmer feel to it than any other color.
Reddish, Brown-Colored Ombre Curls
Coloring My Curls: Blonde to Dark Auburn
Have you seen all those cute ombre hairstyles on Pinterest? If so, you'll notice that they are usually posted by women with long hair.
Did you know that you could also rock a beautiful curly reddish, brown-colored ombre TWA hairdo? It's a fun hairstyle that's simply stunning.
Pastel colors work extremely well with afros. If you ever get tired of the usual pinks and blondes, you can try a rainbow-colored one!
In this video, Alexandria Addison provides a step-by-step tutorial on how she applies Shea Moisture Color Creme (Medium Chestnut).
A chestnut brown hue works well with TWA hairstyles because of the fact that if you grow it out, you'll get a natural ombre look. It's one of the best looking TWA hairstyles in my opinion.
Rainbow TWA Color Stripes
Rainbow Hair DIY! | Bleach & Color Short TWA With Adore hair color | MAKEUP BY CARRIE
Another great way to make your TWA stand out from the rest of the crowd is to decorate it with colored stripes. Choose colors that work well together or those that have a nice contrast.
As Makeup By Carrie shows in this video, you can dare to be different even when it comes to your hair. If you're raring to try something new, edgy, and innovative with your hairstyle, then get this could be the perfect hairstyle for you.
Bright Platinum Blonde Hair
DIY BLEACHING | HOW TO BLEACH NATURAL HAIR PLATINUM BLONDE
What better color to illuminate your face than with a bright blonde hue?
This ultra-short TWA style is perfect for those who feel very adventurous with their look and the color is just right. This style also works really well for those ladies that have high cheekbones to show off, like many of the women in my family.
This style also reminds me of the beautiful buzzed hairstyle made popular by Amber Rose, although Tyiesha Zhane's hair is longer than Amber's hair typical is in this video.
In this video, Tyiesha provides a DIY platinum blonde bleaching tutorial. You can channel Tyiesha's style by wearing a shaved afro hairdo and following her hair coloring tutorial.
If you're worried about looking nearly bald, you can always keep the top of your hair a bit longer and have only the sides shaved low if you like.
Edgy Fade
Snip Snip | From Tapered Cut to Edgy Fade
Get that razor out and try shaving the sides of your head, leaving just a little bit of hair on top for some character. If edgy is your middle name and wear an edgy fade, this style might be perfect for you.
This hairdo involves shaving (really tapering) the sides of your head for a look that is as epic as it is unique. Edgier still, extra points if you opt to give your TWA a little bit of color on top for a unique look.
Yes, the flat top is a hairdo as old as time, but you can try spicing things up by getting a shaved angle on the side. This, in turn, can add definition to a side part.
The top should be a bit longer and styled in a squarish shape for that no-nonsense yet stylishly cool look. The key is to have fun and be willing to create unique TWA hairstyles.
TWA Curl Sponge Tutorial
In this video, Nia Hope provides a detailed, well-explained tutorial on defining your TWA curls using a curl sponge. If you're the type of girl who wants to keep her hair natural, don't fret, you can still have a lot of fun with your afro.
You could always try having an interesting shaved design on your head or getting a colorful asymmetrical cut. Although, there's nothing wrong with keeping it plain (i.e., natural). Just embrace your ultra-tight, uncolored ringlets and let them hug your face and show off your best features.
Having a buzzed afro or cute trimmed curls is as simple as you can get. The best thing of all, this style requires minimal styling. Just remember to get regular haircuts to keep the length short if that's the look that you're trying to achieve.
An Afro in Scarlet
How to maintain Red colour treated Natural hair
In this video, YonkelC demonstrates how to maintain red color treated natural hair. Forget the boring old blues, pinks, and blondes that most people go for nowadays.
Just kidding, but if your TWA needs a unique color that can freshen it up, what better color would it be than a deep red? This color says sassy and chic in just one go.
What's the Best TWA Hairstyle?
So, we've provided a few examples of beautiful TWA hairstyles for women with natural hair. Some styles are little more edgy, like the rainbow hair color afro or the TWA style with tapered sides.
One of my favorites is the "caramel goodness" (i.e., blonde hairstyle). Just keep the hair on the top of your head a little longer than the sides and add a little bit of hair coloring to make the curls caramel colored.
I love it when the ladies style their curls on top a bit funkier for that extra cuteness. We already covered warm colors such as blonde, pink, red, and orange, but how about if we go the opposite route?
You could also rock a cool, stark white blonde style that would be as striking as hair dyed in any other color. Let us know which styles are your favorites in the comments section.
The History & Etymology of TWA Hairstyles
The teeny weeny afro (TWA) is also commonly referred to as a "fro" or "natural". TWA hairstyles are usually worn by people with naturally kinky, curly hair types.
This style is also frequently worn by women who have recently transitioned from relaxed to natural hair by big chopping.
People without naturally curly hair (i.e., straight hair) can adopt this hairstyle with the help of hair products, such as gels or creams to create the afro look.
This hairstyle was very popular in the early 60s within the African American community.
During this time, African American would use an "Afro Pick" or a wide-toothed comb to maintain the shape of their afro during the day. The term "afro" actually comes from the expression "Afro-American".
This hairstyle, especially the shorter version, was referred to as a "natural" because the hair is worn in its natural form. The style could be created without the use of any hair products, chemicals, straightening agents or relaxers.
Note that this same style is now commonly referred to as a TWA style.
TWA Styles Throughout the Years
Before the 1960s, some African Americans wore afros in tight kinks. These hairstyles were described as nappy, cottony or coarse.
These traits were almost the exact opposite of what was supposed to be the standard of beauty in European American norms. Therefore, afros were often seen as unappealing.
As time went on, straight hairstyles became more popular among African Americans. The key to straightening the hair is through the use of relaxers like lye and other caustic substances.
An experienced hairstylist is needed to relax the hair, to avoid burning sensitive parts of the head, such as the ears and the scalp.
Hot combs were also used in the 1960s to straighten natural hair temporarily. Today the hair can be straightened temporarily using a flat iron.
There were also other ways to style the hair if the individual didn't like their hair straightened. For example, braiding hairstyles, like the popular goddess braids and box braids, were worn by many women.
Many of these hairstyle preferences could cause damage to the hair shaft if done incorrectly. This could lead to problems such as hair loss later on in life.
During the 1960s and 1970s: The Impact of the Civil Rights Movement
One of the effects the Civil Rights Movement had was a profound renewal in the African American sense of identity.
The community redefined their sense of style and moved away from the norms of white society, going back to their roots in black aesthetics.
This movement was known as "Black is Beautiful" and restarted the practice of many women wearing natural hair. The afro was used as an icon of black pride.
Some critics dismissed the notion of the afro being used as an icon of black pride.
Kobena Mercer, in his book titled 'Welcome to the Jungle: New Positions in Black Cultural Studies', mentioned that the contemporary, mid-20th-century African society didn't see the afro as an African staple.
Brackette Williams, in her book titled 'Stains on My Name, War in My Veins: Guyana and the Politics of Cultural Struggle' also stated that the adoption and popularization of the afro was a nuisance with some African nationalists because some see it as Western arrogance.
The afro was an inexpensive style. It also provided an alternative from the usual straightened, relaxed or braided styles that many people wore.
The hairstyle expanded not only within the African American community, but it spread outside the community as well.
Some of the most notable sociopolitical figures and entertainers who wore giant afros include Jimi Hendrix (rock star), Pam Grier (actress), Angela Davis (activist, scholar, and writer), and The Supremes and the Jackson 5 (R&B groups).
TWA Hairstyles Are Very Popular in the 1990s and 2000s
The afro "came back" as a favorite hairstyle in the 90s and continues to be popular today.
It also has evolved into many different forms, with some afro hairstyles making use of twists, beads, and braids in various sizes. As this article shows, TWA hairstyles are very popular right now.
Some of the more notable celebrities who wore afros include NBA basketball star Kobe Bryant (in his early days). Renowned musicians include rock star Lenny Kravitz and singer and songwriter Erykah Badu.