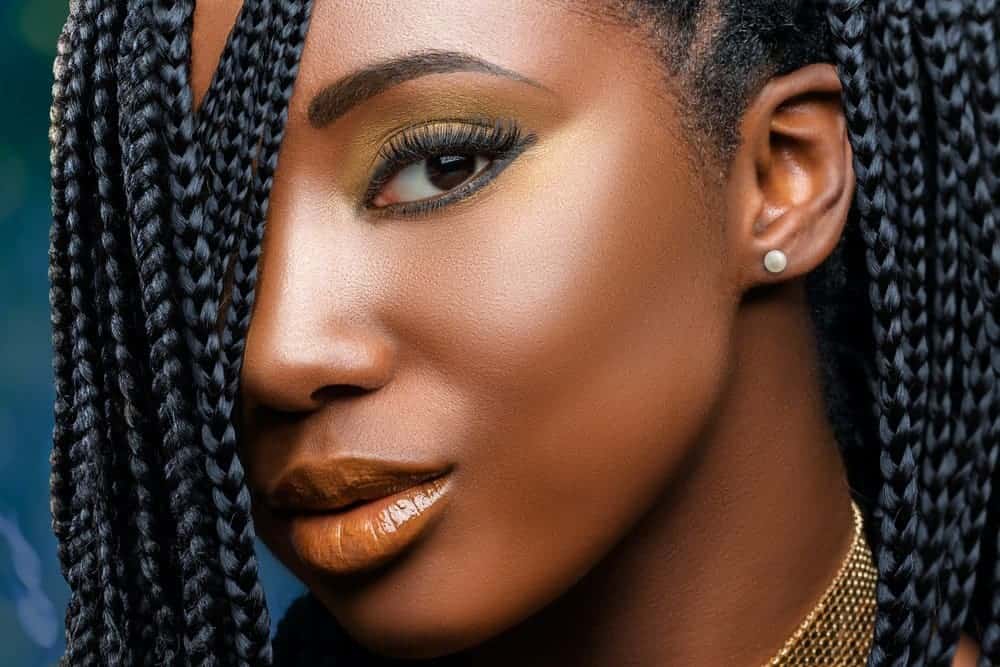 Box braids are among the most popular hairstyles for black women, and it should come as no surprise! They are incredibly stylish, and easy to maintain, and there are several different styling options.
Box braids can be spotted easily by their somewhat boxy, squared-off divisions. Hair extensions are often critical for pulling off the appropriate look. Best of all, box braids even serve as a form of protective styling.
Currently, it's not uncommon to see women with waist-length box braids. Even celebrities like Alicia Keys, Eve, and Sanaa Lathan have joined in on the trend.
It's an exciting return to form, given the prevalence of this look among many television, movie, and music stars, like Janet Jackson and Brady Norwood, several decades ago.
Box braids are being championed as one of the go-to hairstyles for ladies that like to change up their appearance.
They'll add protection while adding eye-catching length. Even merely throwing them over your shoulder is a great style all its own!
As it stands, there's no denying the cultural impact this hairstyle has had over the years. It's a joy to see that their elegance and versatility are now back in full force.
What Is a Box Braid?
Box braids are individual braids that are divided into little square sections or boxes. This popular braiding style is a "protective hairstyle" with "boxy" hair divisions that are intended to keep the hair "protected." Hair extensions are commonly used to create box braids.
The term "box braids" comes from the fact that each braid is divided into a box of hair, although nowadays, there are several different ways to create box braids as creativity in the natural hair community continues.
Installing Regular Box Braids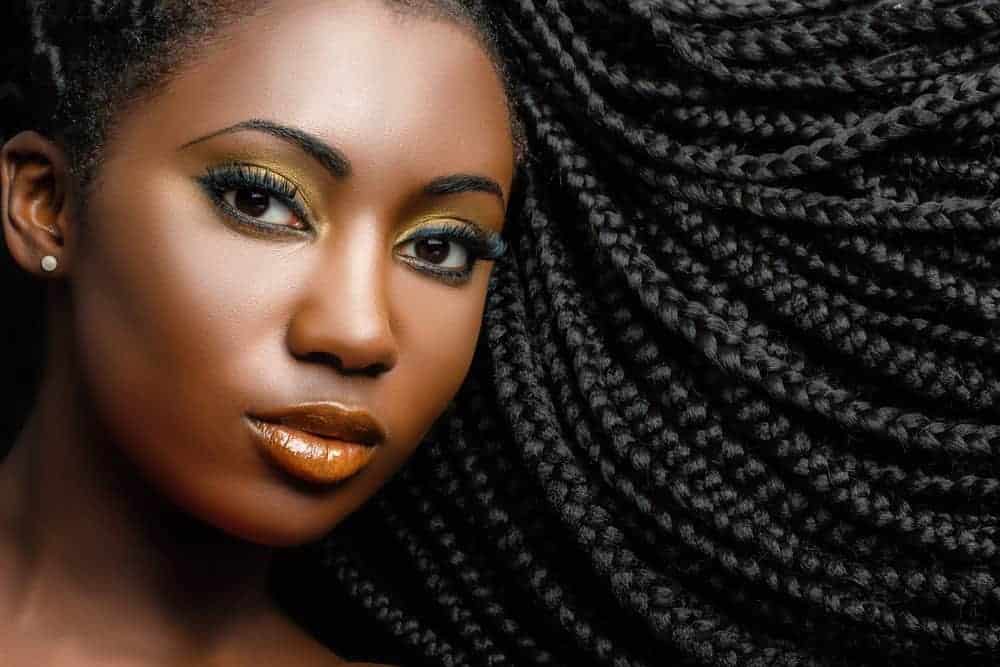 There are several different choices when it comes to wearing twists and braids. Plus, there are always new cute box braids being regularly created.
Crochet braids, goddess braids, Ghana braids, and poetic justice braids are some of the most popular braiding styles. After considering which style you want to use, thickness, length and color must also be decided.
Twists and braids have to be appropriately installed for them to protect your hair. Otherwise, you have the risk of causing hair damage.
Many women use extensions when creating braiding styles, although we recommend using human hair extensions when possible.
These human hair extensions are often a little more expensive than synthetic hair extensions, but human hair will create a much more natural-looking box braids hairstyle.
How To| Box Braids Protective Style
As
Forever Cryssy
shows in the video above, it's critical to ensure that box braids aren't installed too tight; otherwise, they can cause significant hair damage to your baby hairs (or edges).
Tight braids can cause hair loss, too. Once the braids are installed, make sure that your scalp and your hair are kept clean.
It is always a good idea to keep your hair covered at night. This helps ensure the braids last longer and continue to look good.
However, you don't want to keep the braids in forever, and 6-8 weeks would be the recommended maximum. Just like installation is important in regards to maintaining healthy hair, so is removal.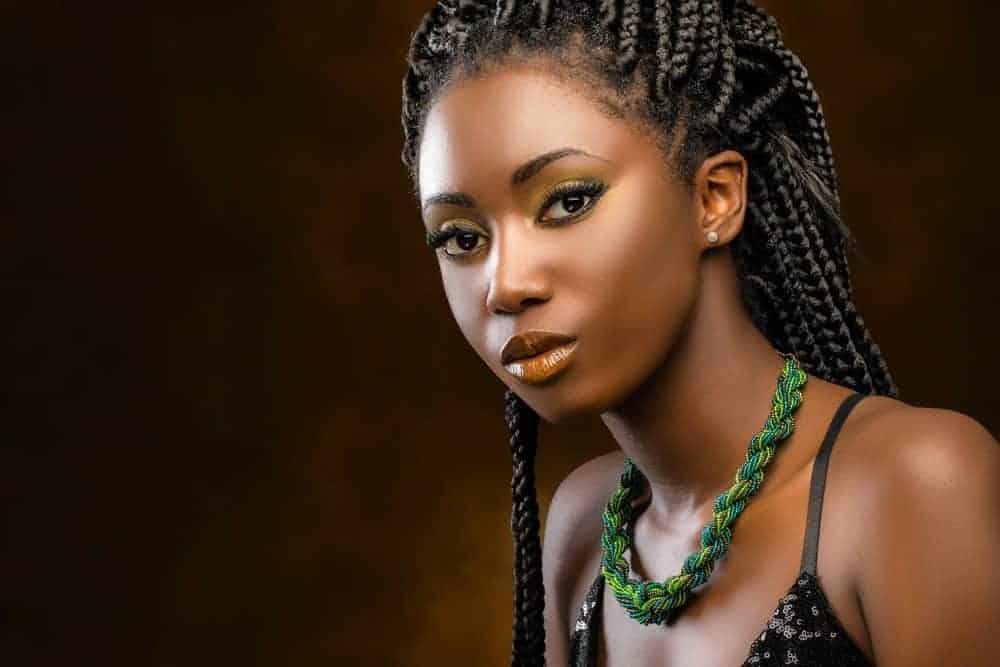 When you remove extensions, be sure to snip much lower than where you think your real hair starts. This is recommended so you don't accidentally cut your real hair.
Using oil during the removal process also helps with detangling. Use your fingers to detangle your hair as you remove the braids. You also want to make sure that you get rid of hair that has been shed.
Take good care of your hair during both the installation and the removal processes. Remember that the most important thing is not to install braids or twists too tightly. You do not want to suffer permanent hair loss because you installed your box braids incorrectly.
Box braids continue to make up a vital portion of many African American girls' hairstyling repertoires.
This is one of the hairstyles that offer lower maintenance, and this protective style allows you to keep your natural hair free from manipulation and out-of-the-way.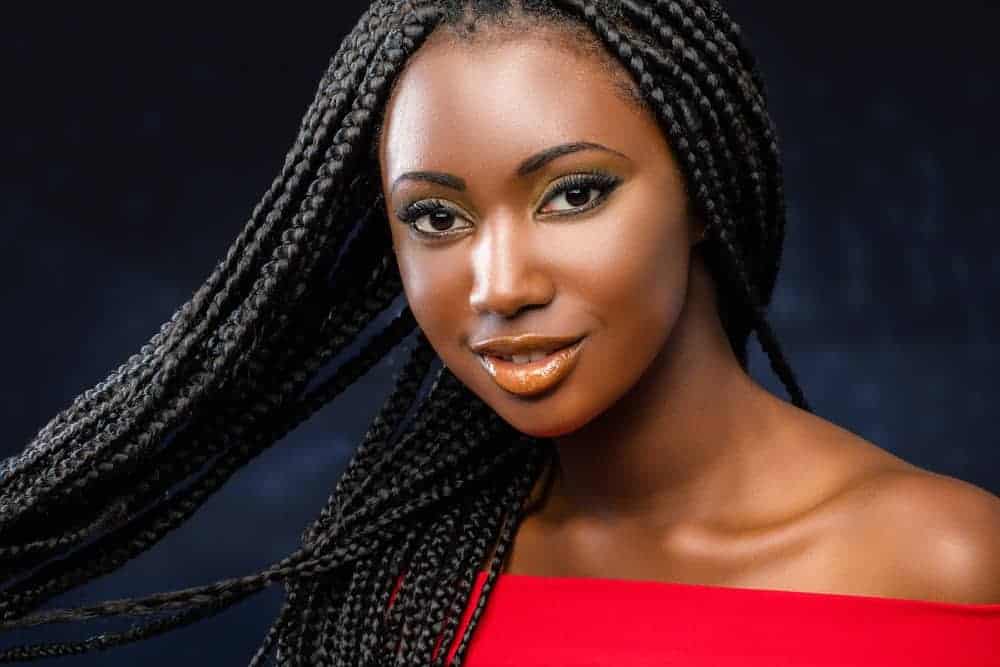 Box braids are also one of the more versatile ways to show off your hair. Once they are installed, there are several ways you can show off your braids and several ways in which to style them.
When making the decision to wear box braids, you will first need to consider the color, length, and size that you want.
Box Braid Sizes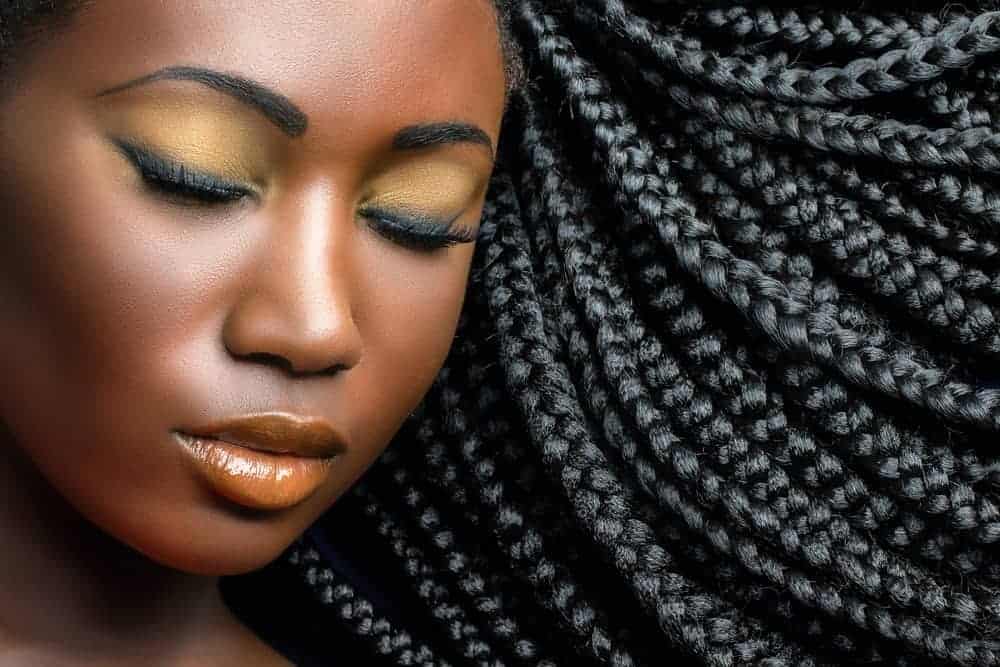 Typically, box braids come in 3 basic sizes: (1) the normal size, which can be compared to the width of a pencil, (2) jumbo box braids, which are thick and chunky braids, and (3) very thin, micro braids.
Chunky, Jumbo Braids
Jumbo box braids are trendy due to their fashionable, dramatic appearance.
HOW TO: RUBBER BAND METHOD BOX BRAID TUTORIAL | TANIEYA
Tanieya
uses the rubber band method to install jumbo box braids in this tutorial. She also uses x-pression
hair extensions
with
edge control
styling gel, olive oil, and rubber bands.
Some women complain about jumbo box braids being too heavy and causing tension in their hair strands, so pay close attention to the tightness of the braids and the size of sections used.
Also, due to the size of jumbo box braids, some women have trouble keeping them clean compared to micro braids. Use this tutorial to learn how to braid hair with extensions for beginners and folks that need a detailed refresher.
Thin, Micro Braids
When considering micro braids, it's important to consider that more tension could be placed on your hair follicles as less hair is used to carry the weight of these braids.
With this in mind, when installing micro braids, make sure that your stylist doesn't make your braids too tight, leading to additional tension of your hair follicles.
One advantage of micro braids is that they offer more access to the scalp, which makes cleaning your scalp and hair a lot easier.
HOW TO: DO MICRO BOX BRAIDS WITH CORNROWS (Step By Step)
In this video tutorial,
Freedom Styles
shows a step-by-step process for installing micro box braids with cornrows. It appears that the stylist was a little rough with the hair, although the video was sped up, so this likely contributes to the hand motions appearing to exaggerated.
Normal, Pencil-Sized Box Braids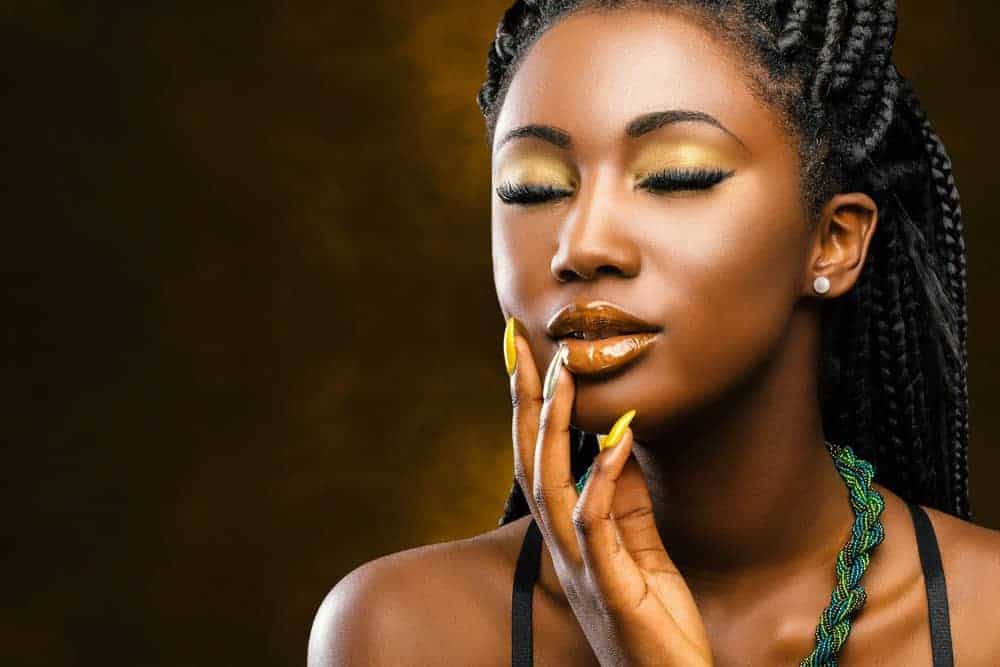 The normal box braids may be the best option when you want to play it safe. They're not heavy like some jumbo box braids can be, and they aren't thin, micro braids that can put stress on small sections of your hair. These "normal" box braids are often the best place to start for people new to braiding hairstyles.
Braid Lengths
Now that you have made up your mind about the size of your braids, the next step involves choosing the length of the braids.
Long-Box Braids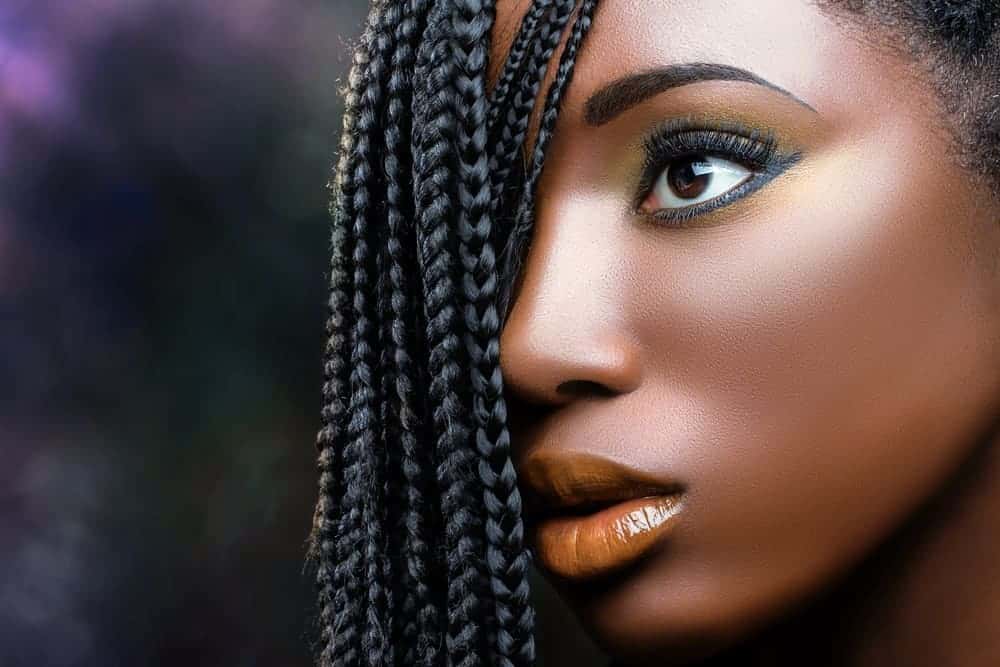 If you are looking for a more dramatic look, then long braids are the better option. However, keep in mind that these braids can get in your way and maybe uncomfortable when you sleep at night.
Short-Box Braids
One of the more popular trends at the moment is the short box braids styled into a bob.
Short Box Braids Styled into a Bob: Women with longer hair or a passion for longer styles prefer this old-school look. It aims to use short box braids for the hairstyle. For anyone that loves to have a bob hairstyle, this is a great option. This can be turned into a powerful braid that is classic, beautiful, and can work well in a multitude of situations without looking odd.
MediumBox Braids
Medium-length box braids may also appeal to you as this is not the common length. In most cases, you will see women either sporting short or long braids.
Box Braids with Beads: For those that are not picky about length, these short box braids really stand out. This is a modern style that is very trendy. The style is a bit different, but it has an authentic, beautiful feel to it. The beads are exuberant and stylish.
Colors
The sky is the limit when it comes to choosing a color for your braids. You can choose to stick with natural, subtle colors such as browns and blacks. Or, if you are feeling adventurous, you may want to try out reds or blondes.
Other outrageous colors include bright orange highlights, neon pink, rainbow braids, red box braids, grey, yellow, purple, or blue.
Box Braids Hairstyles
Once you have chosen the color, length, and braid size and they're now installed, the last step involves choosing a style. You can choose to wear your braids loose, or you can tie them up into a neat ponytail.
Unique Long Braids with an Updo Bun: This is one of those creative looks with a bun on top. You want to express yourself and use this look to spread your wings.
Some other popular box braid hairstyles include double buns, half buns, or full buns. You can even choose to show off this style with shaved sides along with hair accessories or bangs. Here's a list of box braid styles:
Knotless Box Braids
HOW TO DO KNOTLESS BOX BRAIDS | BEGINNER FRIENDLY | VERY DETAILED | Tiffani Renae
Goddess Box Braids
How To - Goddess Box Braids
Box Braids Ponytail
Easy Box Braids Ponytail | Outre' Pretty Quick Pony Jumbo Box Braids 32"| Sams Beauty
Box Braids with Curly Ends
how to Box Braids With Curly Ends Tutorial | goddess braids
Purple Box Braids
Purple Box Braids Tutorial - @breanarenee_ @trvpgirldallas
Multi-colored Box Braids
Rainbow Box Braids on a TWA
Triangle Box Braids
BEST TRIANGLE BOX BRAID TUTORIAL *CLOSE UP & PARTING TIPS
Note: This video also includes a good tutorial on how to part hair for box braids installation.
What's the Average Price for Box Braids?
From our experience, the average price for box braids is anywhere from $65 all the way up to $350. Many different factors affect the box braid prices, the most common of which are age (i.e., child vs. adult prices), length of hair, and size of the braids.
The stylist may charge more or less as well, depending on the market. We've noticed that geographic region can also be a factor since the market can differ drastically.
It depends on population, competition, and many other location-based factors. Price can vary widely in large cities like New York, Jacksonville, Kansas City, Denver, Atlanta, Los Angeles, and Houston.
Also, prices outside of the United States are unpredictable; Canada, the United Kingdom, and Africa (for example) will have very different pricing models.
The most expensive box braids are those that go down to the waist. You can expect to pay more than $200 in nearly every market for waist-length box braids.
However, many places will offer children age 10 or younger a discount since they won't need as much hair.
The length of your natural hair is also a factor. If your natural hair isn't long enough to achieve your desired length, you will need to use a hair weave (i.e., extensions).
As previously mentioned, kids and adults often have different prices. Some salons charge a minimum price of $150 to style box braids for an adult, but children usually will have a minimum price of less than $100.
What's Included?
If your hair is already long enough, you can just have it braided. If it isn't, then you'll need to purchase hair extensions.
Some stylists will charge you less if you bring your own braiding hair. Your local beauty supply store should be able to help you find good braiding hair for box braids.
However, there are other salons and stylists that will demand you purchase their hair extensions.
This is sometimes a requirement to force you to pay more, but other times it may be due to having a particular brand they prefer because of ease of use.
Depending on the exact nature of the box braids you're getting, styling products may be included. As with many other services, this depends on the salon.
Learn How to Loosen Tight, Sore, Heavy Box Braids
How To Loosen Tight/Sore Braids | BOX BRAID SERIES. 1
In this video, Angie Bee provides an overview on dealing with tight, heavy braids.
Are Box Braids Heavy?
Many black women complain about box braids being very heavy. Often following the install, there is an adjustment period where your scalp, neck, and back may hurt depending on the weight of the braids.
As time goes on, you're likely to adjust to the weight of the braids, and potential agony should subside after a few days.
Generally, when we hear most about box braids being heavy, it's related to longer braids where several packs of braiding hair have been installed.
With many of these women, sleeping, showering, and washing your hair can be significant challenges.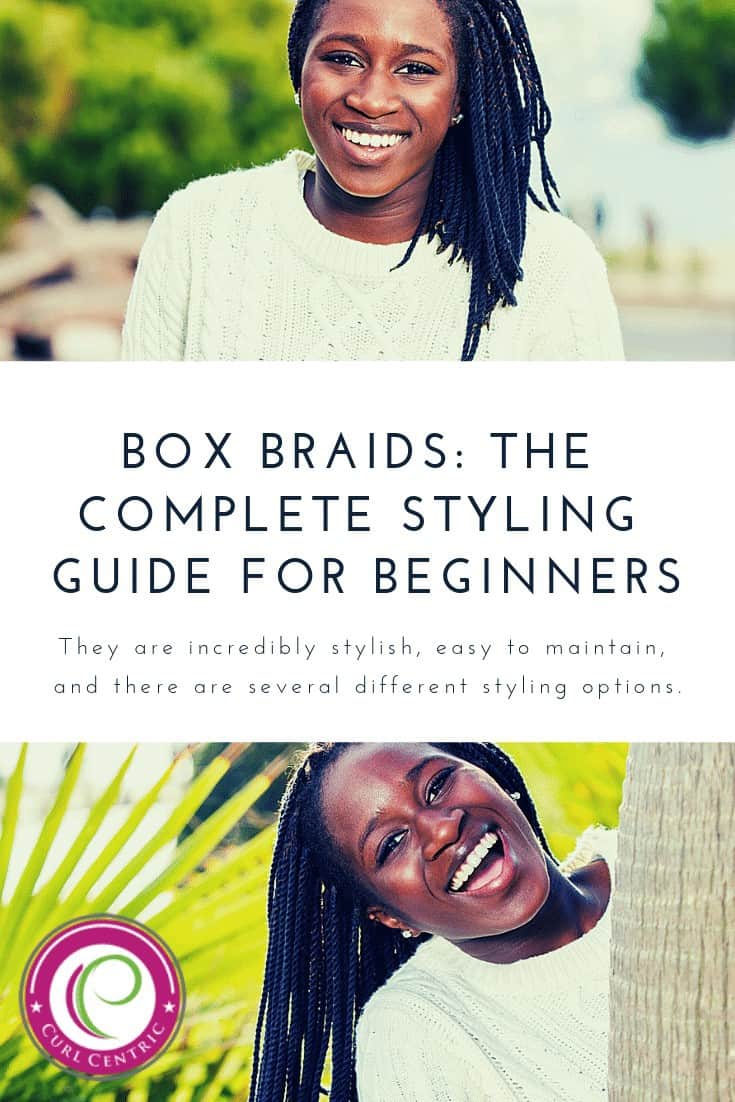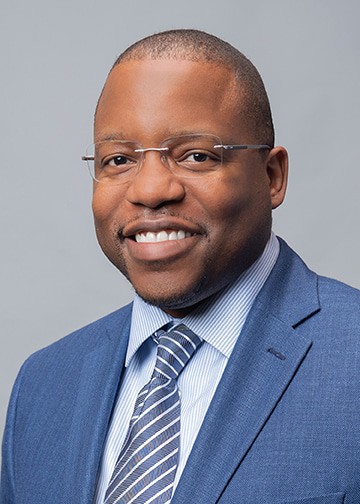 Kenneth Byrd holds a BS in Accounting and Management Information Systems and an MBA from the University of Alabama at Birmingham. He is a serial hair blogger that has been writing about hair care since 2008, when he co-founded Curl Centric and Natural Hair Box. Curl Centric is a website operated by a husband and wife team that encourages healthy hair care.