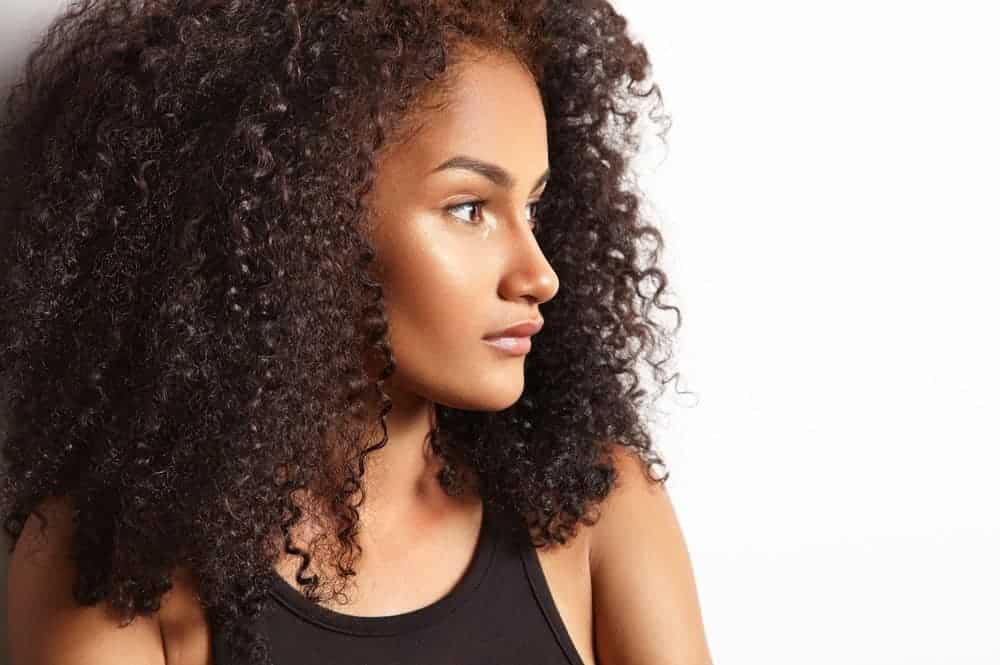 Putting mud in your hair may sound odd, but many women are now raving about the benefits of using bentonite clay on their hair.
Ultimately, these women are using bentonite clay hair masks for hair growth, low porosity hair, dandruff, hair loss, dry hair, and issues with oily hair.
Sounds like a holy grail hair product, huh?
Well, let's dig in to see if you should consider using clay on your hair.
What is Bentonite Clay?
Bentonite clay's scientific name is "montmorillonite," because it was first founded in a region in France called "Montmorillon." Consequently, the clay is often referred to as montmorillonite clay. It is a mudlike substance derived from volcanic ash.
Uses Throughout History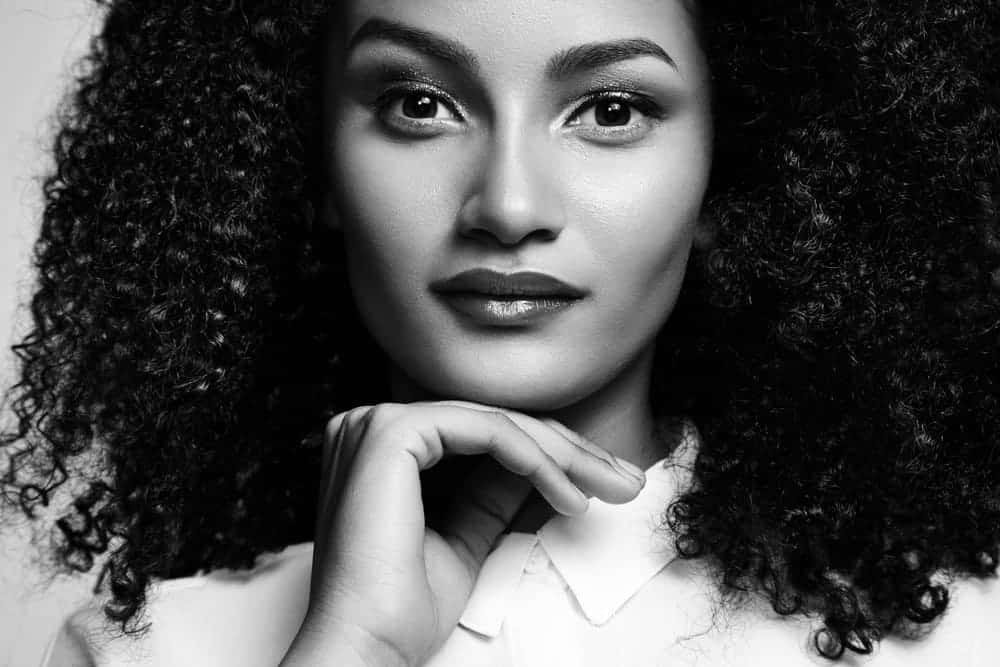 Throughout history, bentonite clay was used by medical doctors because they claimed it had many healing properties. They would use the clay for all types of ailments, treating issues inside and outside of the body.
Some people think of bentonite clay as the all-purpose answer to many common health issues.
For instance, doctors who specialize in alternative medicine will prescribe bentonite clay to get rid of bug bites, digestive issues, dryness, and so much more.
Bentonite clay first gained notoriety within the beauty industry because of its purportedly powerful cleansing properties.
…But, What Can Bentonite Clay Do for My Curls?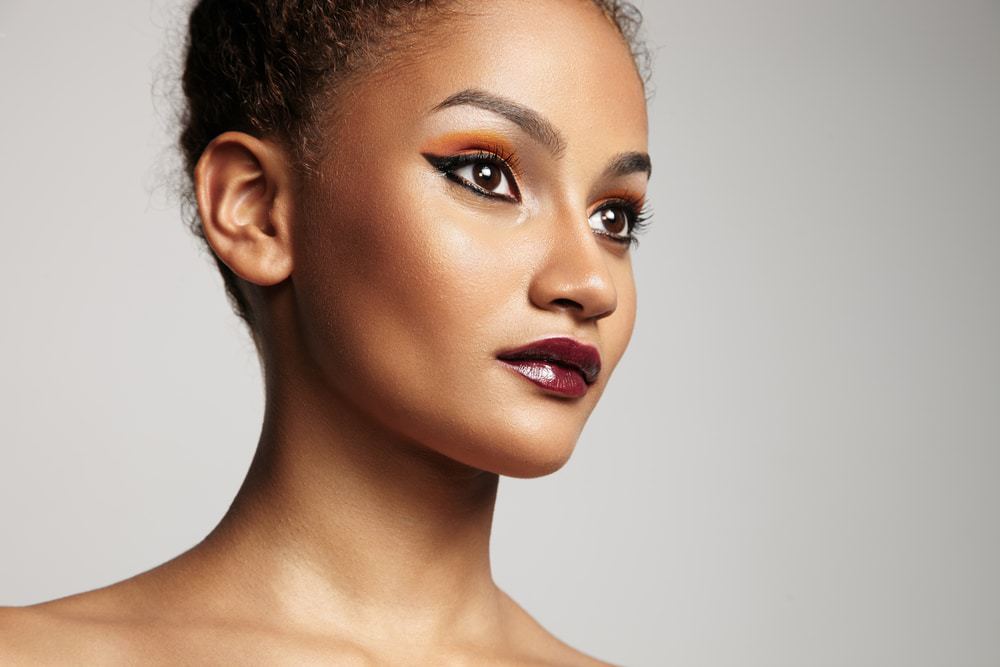 While origins of bentonite clay are rooted in healing ailments, its introduction to the western world revolutionized the uses of bentonite clay.
Gradually, women began creating their own clay hair mask recipes as a natural way to add moisture and remove dirt and oil from their hair.
As bentonite clay hit the mainstream hair care world, the claims started to flood the blogosphere.
DIY Natural Hair Mask for Healthy Scalp & Hair!
In this video, Jewellianna Palencia provides a step-by-step DIY tutorial for creating a natural hair mask that works for all hair types. Jewellianna uses tea tree oil, apple cider vinegar, activated charcoal, and clay.
We've Read Reports That a Bentonite Clay Hair Mask Can Cure…
dandruff
hair loss
low porosity
dry hair or scalp
frizziness
In many ways, bentonite clay, an absorbent aluminum phyllosilicate clay, may be the missing tool in your natural hair regimen.
Why?
Many ladies claim that it has the unique ability to combine the benefits of your favorite clarifying shampoo along with your go-to conditioner.
Of course, all of these amazing firsthand accounts of successful bentonite clay hair masks had very excited, but also suspicious!
We had to know what the scientific community had to say about bentonite clay.
Is it worth all of the hype or is this yet another DIY superstar lacking researched-backed scientific evidence?
The Verdict: Does It Really Work?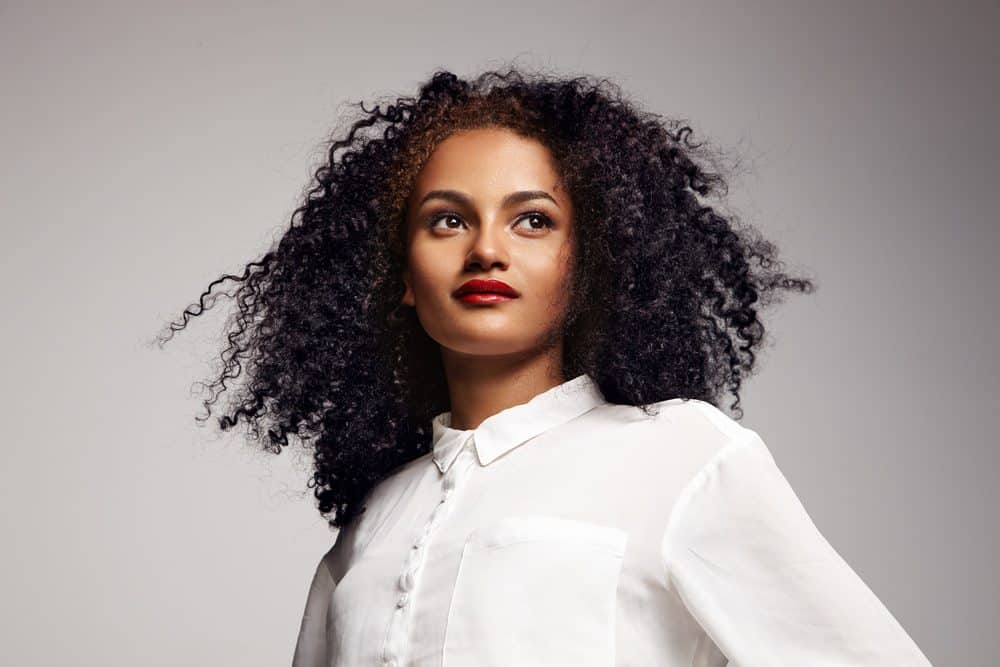 Unfortunately, to date, there are only a few scientific studies to support the benefits of using clay on your hair.
There was one notable review published in the Iranian Journal of Public Health. Researchers found that bentonite clay requires more research before definitive conclusions can be made.
However, there are growing sentiments in the natural hair community that bentonite clay can help you grow longer hair.
What's the catch?
The study participants weren't women with naturally curly hair, they were sheep! Luckily, after using bentonite clay masks, sheep grew longer softer wool.
While there may not be a lot of scientific research backing the benefits of bentonite clay on your curls, that doesn't mean that it's not the solution for you.
We recommend experimenting with bentonite clay to determine if you like the results. Bentonite clay works for many women and it may work for you also.
If you'd like to try out bentonite clay on your curls, we've put together a DIY guide (below):
DIY Bentonite Clay Mask Guide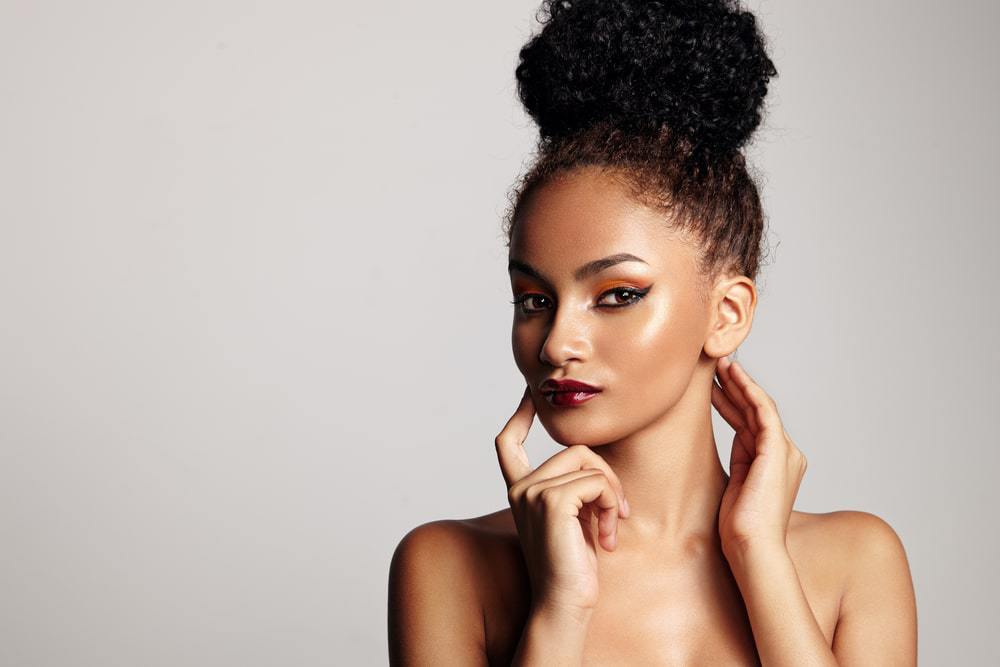 Ingredients
There are many different variations of DIY clay mask hair recipes, but most recipes have these two main ingredients:
You can always start off with a basic routine which will make the process easy and cost-effective.
Bentonite Clay Treatment: DIY Mask Process
Grab either a plastic, wooden, or ceramic bowl and use a wooden spoon to mix all of your ingredients together. We don't recommend using metal utensils as it may impact the effectiveness of your clay mask. Using heavy metals with bentonite clay can cause a chemcial reaction.
Pour the water into your bowl first and then gradually add in the bentonite clay and stir until your mask starts to take on a yogurt-like consistency. It can be a little tricky to get the consistency just right, but you are shooting for a mask that is thick enough to coat your hair evenly, but also thin enough to easily glide through your curls. We suggest you start with a cup of bentonite clay and a cup of water and then adjust if necessary.
Section your curls before applying the mixture and make sure each section is wet before applying.
Starting at your roots, massage a handful of the clay mixture into your hair and work down to the roots until your hair is fully covered.
Don't forget that clay hardens when dry. If you apply your mixture to dry hair, it will be much more difficult to rinse out. You may also notice the clay becoming dry and stiff as you work on other sections. If so, don't panic! Just use a spray bottle to rehydrate your curls and continue working.
Cover your curls with a hair cap (e.g., shower cap, plastic cap, etc.) to prevent your hair from drying out once you are finished applying your mask and set a timer for 5 – 20 minutes and let the clay work its magic.
Once you are ready to wash out your mask, make sure you use warm water and shampoo to remove all the clay from your hair.
Bentonite Clay Mask Tips and Tricks
Don't Stress Over the Mess:
Bentonite clay masks can actually cleanse your curls, but be prepared for things to get a little messy during the application. We encourage you to use old t-shirts and towels to keep your bathroom clean and save your clothes.
If you normally like washing your hair in the sink, just trust us. When it comes to washing out bentonite clay, it'll be easier and cleaner to wash it out in the shower.
Reduce, Reuse, and Recycle:
Let's say you decided to take the plunge and made your very first DIY bentonite clay mixture but now you are stuck with leftovers. Don't be afraid to get creative!
Remember, bentonite clay is also a very popular face mask so you can always apply any leftover mask to your face and detox your curls and your skin.
However, if you are new to using bentonite clay make sure to do a patch test on a sensitive part of your skin (like behind your knee or elbow) just to make sure you do not have a bad reaction.
If you still have leftover mix, don't fret! You can always store your leftover bentonite clay mixture in a closed lid container until next time.
It can normally last for about a week in an airtight container wherever you keep the rest of your curly girl hair care products.
Bentonite Clay and Apple Cider Vinegar:
Despite there not being enough research to substantiate the purported benefits of apple cider vinegar (ACV) on your hair, there is quite a bit of anecdotal evidence.
Many women add ACV to their clay mix to help balance out the acidity in your hair, in the hopes that it will make it shinier or healthier.
If you're curious and want to try out ACV for yourself, these are our suggestions on the ratios to follow for the best results.
Start with 1/2 cup of apple cider vinegar. Don't forget to dilute the ACV with water. You'll need 3 parts of water for 1 part ACV.
How Often Can I Use My Clay Mask?
We use the same rule of thumb for bentonite clay masks for both your hair and skin. When it comes to how often you should use the clay mask on your curls, start with once per week.
After using it once per week for a few weeks, adjust accordingly. However, try not to overindulge and stick to only a few times per week.
Not a fan of DIY?
We realize that not every curly girl is a DIY queen.
If you're looking for a pre-made hair detox option similar to the cleansing effects of our DIY bentonite clay mix, Shea Moisture offers an excellent hair and scalp treatment designed to remove toxins. The product is made from African water mint, ginger, charcoal, and Opuntia.
Don't forget to moisturize.
While many ladies love singing the praise of their results after using bentonite clay, many also complain about the fact that while their curls are clean they are often a little dehydrated.
Luckily, you can always counteract potential dryness before, during and after each treatment.
Before Clay Mask:
Honestly, before any deep cleansing treatment, we encourage ladies to moisturize their natural curls beforehand.
Also, many women like to add small amounts of their favorite essential oils to their bentonite clay masks. Some of our favorite natural oils are argan, coconut, jojoba, rosemary, tea tree, coconut, and castor oil.
After Rinsing Clay Mask:
If you notice your curls are feeling excessively dry after washing out the bentonite clay mask, then grab your favorite deep conditioner. You can always add heat to your deep conditioning treatment for an added boost.
Are There Any Side Effects to Using Bentonite Clay?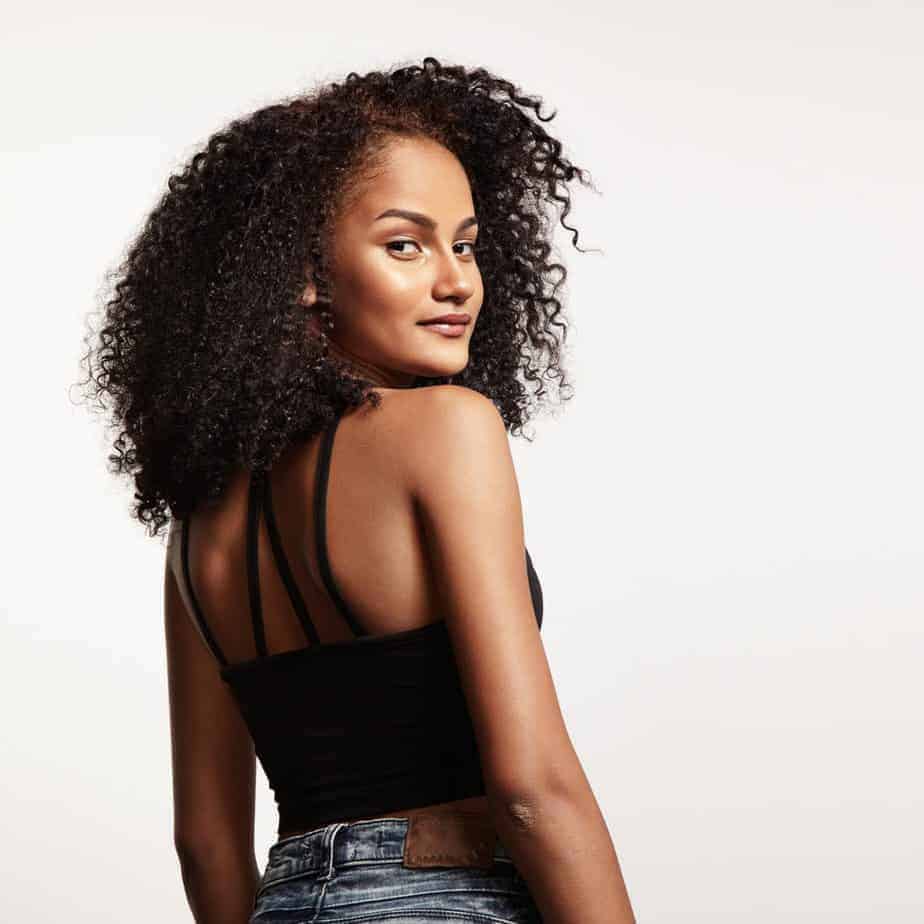 We searched high and low to find that there are largely no reported side effects from using bentonite clay. Although, more scientific studies on the effects of bentonite on your hair and skin need to be conducted to completely rule out potential side effects.
We are strong believers in always patch-testing new products before applying, just to be on the safe side.
You can also, apply your DIY bentonite clay mask to a small section of your skin and wait a day to see if any side effects occur. If no redness, rash or itchiness develops, you're all set.
Final Thoughts
While we wait for researchers to produce more work on the effects of bentonite clay on human hair, it seems safe enough for ladies to at least experiment with your own curls, as long as you follow our suggestions.
We recommend testing a small amount of the clay on your skin and waiting at least a day to determine if you have an allergic reaction. If you develop a rash, skin irritation or redness, then discontinue use immediately.
If you have a sensitive scalp, we don't recommend experimenting with DIY products.
With most new products, you'll start to see how your curls respond after 1-3 uses. It can be even trickier when you are trying to figure out if bentonite clay is the right fit for you because of its volcanic origins.
In fact, according to the scientific journal, International Geology Review, the chemical composition of bentonite clay mineral deposits varies so it's also important to remember that your results may vary (slightly) each time.
If you decide to try out our clay mix, or another DIY recipe, don't forget to share your results below in the comments!