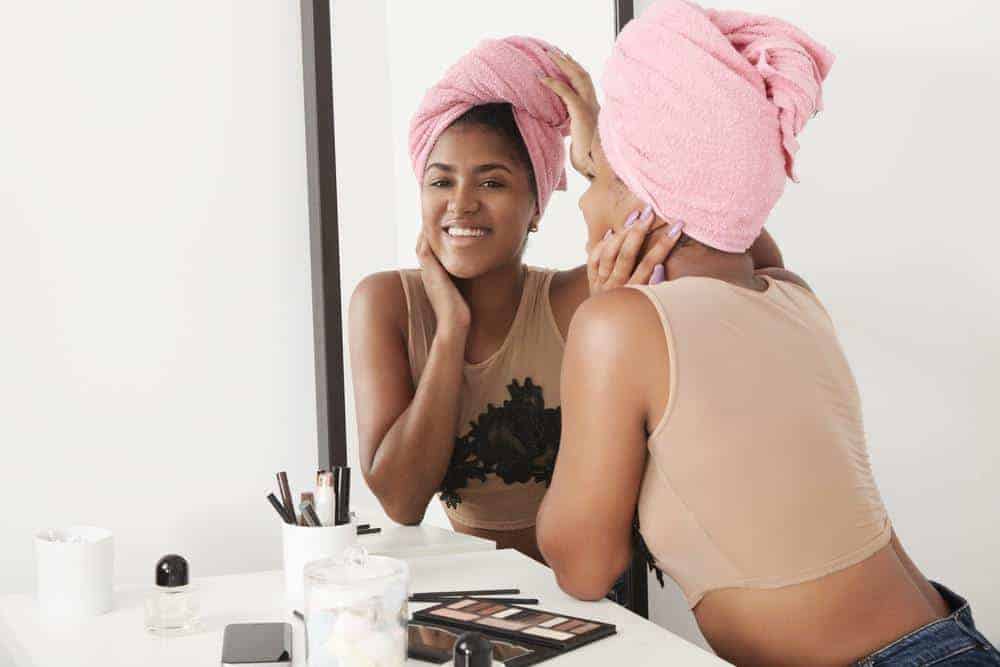 Are you thinking about purchasing a microfiber hair towel?
In this article, we review the best hair towels for curly hair, however these towels are pretty universal and work well for nearly all hair types.
What's a Microfiber Towel?
Can a Microfiber Towel Keep Your Hair Healthy?
Microfiber towels are made of fine fibers that are fitted close together along the surface of the towel. They're less fluffy than a cotton towel but more effective at drying hair and reducing frizz.
These towels have a smooth texture, which means less breakage and damage.
While the coarse fibers on a cotton towel can get caught on your strands, the fine fibers on a microfiber towel won't lift your cuticle or promote frizz.
They also last longer, making them a worthy investment. Microfiber towels can last for years if you take care of them.
These towels are great for getting excess moisture out of your hair without stripping it of all its natural moisture. Since it's an efficient drying material, you don't have to rub your hair ragged.
This reduces the friction on your strands, helping you maintain healthy hair and decreasing the risk of split ends and frizziness.
Best Microfiber Hair Towel for Curly Hair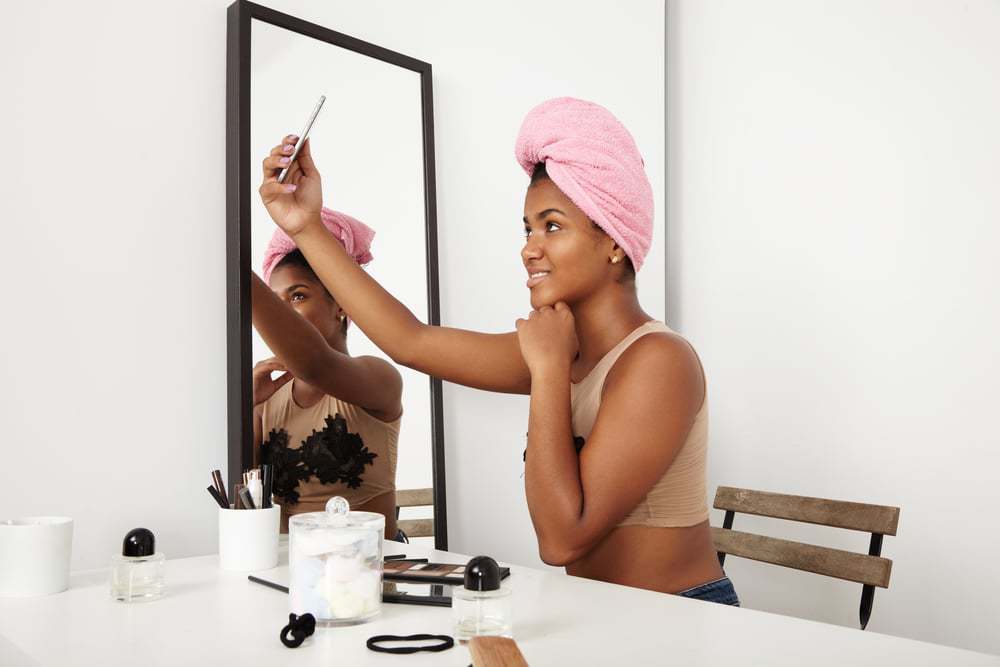 Here are a few top picks for curl-friendly microfiber towels that will reduce your drying time and your chances of breakage and frizz.
DevaCurl DevaTowel
DevaCurl is a company with 25 years of experience in the world of curly hair, starting as a salon tailored to women with curls.
Their "DevaCut" quickly became well known in the haircare world and the company soon expanded into a line of styling products.
Their cleanser, diffuser, and other products are designed to maintain the lush shape of different curl types.
In 2007, they opened the DevaCurl Academy to train hairstylists on how to care for curly hair.
Their 100% microfiber Deva Towel is intended for all curl types and will safely dry the hair while enhancing your curl shape or wave pattern.
Its smooth texture won't lift your cuticle so your hair stays frizz-free and gorgeous. The microfiber blend is made of 80% polyester and 20% polyamide for a soft, lint-free, and hypoallergenic fabric.
This towel is awesome for curly and wavy hair but it would also be great for straighter hair and other hair types as well. The towel absorbs just enough water to get you ready for your day without depleting your hair of moisture.
You'll drastically decrease your drying time with the DevaTowel while reducing frizz and maintaining the health of your hair. The towel is also very soft, cleans easily, and comes with a convenient fabric loop so you can hang it dry.
At 39″ x 20″, it may be too small if you've got a lot of hair. Lots of women found that the towel was too thick for the plop method so consider your hair length and thickness before purchasing.
On the whole, the DevaTowel is a high-performing microfiber towel from a reputable brand.
Pros:
Has a convenient loop for hang drying
Works well for curly, wavy, kinky and straighter hair types
Is lint-free, hypoallergenic and easy to clean
Cons:
Small overall
Too thick for plop method
Click here to read user reviews, see more images, check current pricing and to purchase the DevaCurl DevaTowel.
Turbie Twist Microfiber Towel
You might remember the Turbie Twist commercials from back in the day.
Today, the brand is well known among haircare aficionados and even made it to the INC 500 list of the fastest-growing companies in America.
Made of a microfiber blend of 87% polyester, 13% polyamide and measuring 23″, the Turbie Twist is a solid choice for just about everyone.
Its universal size and elastic loop are suitable for kids and adults. Just put it on, twist it, and loop the fabric to secure it around your head for a customized fit.
It comes in a variety of fun colors and patterns and it's machine washable for your convenience.
The Turbie Twist removes just enough water so you're not dripping all over the floor but then you still have enough moisture left to apply your favorite styling products.
If you're constantly worried about over-drying your hair, then this is the product that we recommend. Efficient drying leaves your curls or waves nice and soft while the tapered design ensures a better fit on your head.
There will be no more balancing a bulky towel on your head and straining your neck! This towel is durable, super soft, and lighter than a conventional towel.
It's a good size for short and long hair and it stays put so you can go about your business while you dry your hair, which is great for getting ready in the morning.
If your hair is super long and thick, then you might have a few pieces sticking out of the Turbie Towel but the product has a pocket of fabric included in the design for this very purpose.
Overall, the majority of users find it to be a good size and a great way to minimize the potential damage caused by drying curly hair.
Pros:
Achieves a better fit on your head
Is suitable for long and short hair
Fits kids and adults
Cons:
Doesn't get hair completely dry
Might be a tad short for very long hair
Click here to read user reviews, see more images, check current pricing and to purchase the Turbie Twist Microfiber Towel.
Aquis Original Microfiber Hair Towel
The Aquis brand is a mainstay in the haircare niche; plus, they're passionate about female empowerment.
What's not to love?
All of their towels and turbans are designed to keep hair naturally hydrated so women can shine on and love their hair.
Aquis tailors its products to all types of hair lengths and textures. They tested several natural and synthetic fibers to find the best fit for their towel.
The result was the Aquitex microfiber solution, a blend of 80% polyester and 20% nylon.
The Aquis Original Microfiber Hair Towel gets the water out while keeping your hair's natural moisture in so your hair stays soft and shiny.
The ultra-fine fibers cut down on friction and eliminate the need to rub your hair, resulting in way less frizz.
The way it works is the absorbed water gets distributed throughout the length of the towel, encouraging even drying and less swelling of the cuticle.
This is a good choice for color-treated hair as the towel won't lift the cuticle, which maintains hair texture and color.
Besides being great for curls, it works well for fine and thinning hair because of its gentle microfibers.
The towel's thin material is gentle yet effective and works on thick and thin hair with no need for rubbing or scrunching.
The Aquis microfiber hair towel was even recognized by Good Housekeeping magazine as the best quick-dry hair towel.
If you're looking to drastically reduce your blow-drying time and save your strands from heat damage and breakage, this lightweight towel is perfect.
It's machine washable and dries quickly between uses. It measures 39″ x 19″ and has an average lifespan of three years.
On the downside, this towel might be too small for those with longer hair. There's also no loop to keep it in place so hopefully you're skilled at the plop method!
Pros:
Maintains hair's natural texture and shine
Commonly recognized as a top hair towel
Made from ultrafine Aquitex microfibers
Cons:
Might be too small for people with longer hair
Has no loop to keep it in place
Click here to read user reviews, see more images, check current pricing and to purchase the Aquis Original Microfiber Hair Towel.
How to Towel Dry Curly Hair
Overnight WET PLOPPING for Maximun Definition & LESS Drying Time!
The "plop method" is one of the most common methods of towel drying curly hair. It's also a method that's commonly recommended by stylists.
While sitting or standing, lay a towel out vertically in front of you. Then, bend over at the waist so that you can flip your hair over your head.
With your hair on the towel, fold the sides in, then bring the edge that is farther away from you over your hair to meet the nape of your neck. Tie the excess towel material in a knot on top of your head.
Within 10 to 20 minutes, you should have dry enough hair that you only need to use a diffuser or let their hair air dry for a few minutes to finish up.
After drying your hair, apply your preferred styling product and allow it to sit in your hair undisturbed. You may be tempted to touch it up but messing around with it will invite more frizz.
You can also leave the towel on your head overnight if you're washing your hair in the evening. This will be an individualized thing so experiment with what works best for you personally.
Unlike the twisted towel drying method, this plop method lessens your hair's exposure to breakage, split ends, and frizz by putting less tension on your strands.
Also, since your hair is drying on the top of your head rather than down your back, it will result in bouncier curls and more lift.
Some people like to cup a towel around their wet hair and scrunch it up but this isn't necessary with a good-quality microfiber cloth.
Besides, the plop method already scrunches up your curls to some extent, helping to further define your curl pattern.
If you want to bypass the towel turban process, then use your towel to cup your wet hair section by section and give it a gentle scrunch to remove excess moisture.
FAQs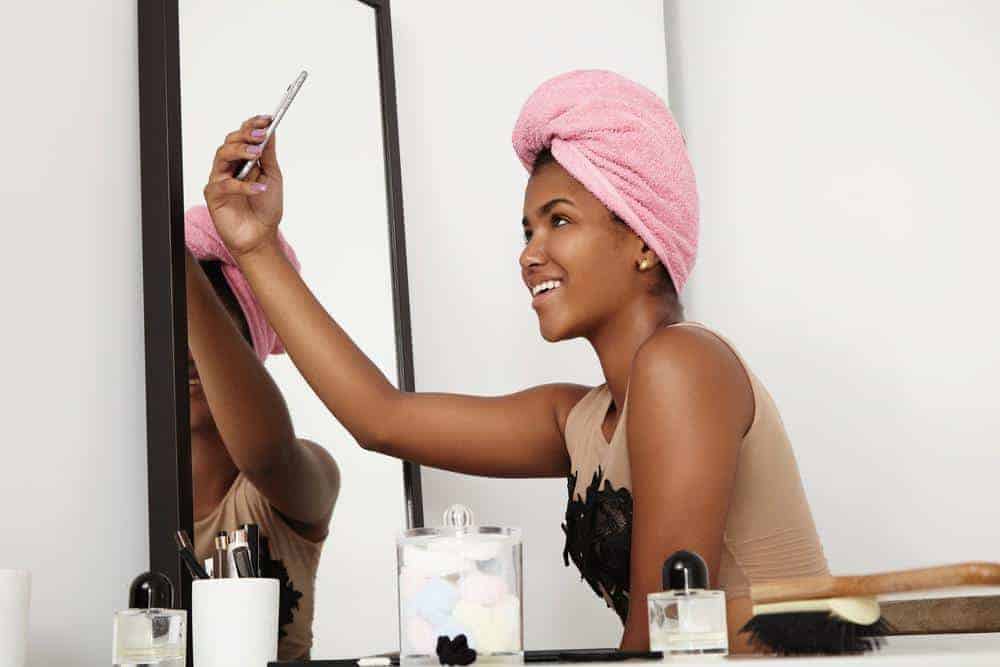 Don't worry. You're not the first person to have questions about using a microfiber towel. If you're new to using a microfiber towel to dry your hair, here's what you need to know.
Why Use Microfiber Towels for Hair?

Microfiber towels are designed specifically for drying your hair with minimal damage. Microfiber towels are better for your hair than using cotton towels, which could be damaging.
Cotton towels have a coarse texture that increases the likelihood of lifting your hair cuticle, which can lead to breakage and frizz. Also, they can increase your chances of split ends.
Cotton towels are also very drying and end up taking too much moisture out of your hair, leaving it prone to damage.
What Should I Look for When Choosing a Microfiber Towel?
Pay attention to the towel's material. Cotton towels might work okay for certain hair types, however we only recommend microfiber since the majority of our audience has curly hair.
Different microfiber towels will contain varying blends of polyester, polyamide, and nylon. You'll also want to consider the size of the towel.
If you don't have enough dry surface area on the towel to dry your hair, then you won't get the curl definition you want.
Your hair thickness will also come into play so if you've got thick, long hair, you'll need a towel that's big enough to dry all that hair.
Sometimes when women are in a pinch, they'll use t-shirts but you're likely to get better results with a microfiber towel.
How Do You Properly Clean a Microfiber Towel?
Keeping your towel neat and clean will help your scalp and hair stay in good condition. Since microfiber towels are made of fine materials, you're better off hand-washing them.
Use lukewarm water and a mild soap every week. If you must stick it in the washing machine, keep it paired with the more delicate laundry items and don't use fabric softener as it may result in a coarser texture.
Be aware that some brands of microfiber towels will have slightly different cleaning instructions. Some towels are machine-washable and can also go in the dryer.
Other suppliers recommend that you hand-wash the towel and then allow it to hang dry. So be sure to review the cleaning instructions after purchasing a microfiber hair towel.
My Stylist Says That I Should Apply Product Before Drying with a Hair Towel. Is That Okay?
Yes, of course. Everyone's hair is different and what works for you might not be the best option for another curly-haired lady.
There might be some trial and error that goes on before you find what works best for your particular hair type.
There are different types of curls and waves so if adding your styling product before drying works well for you, that's perfectly fine.