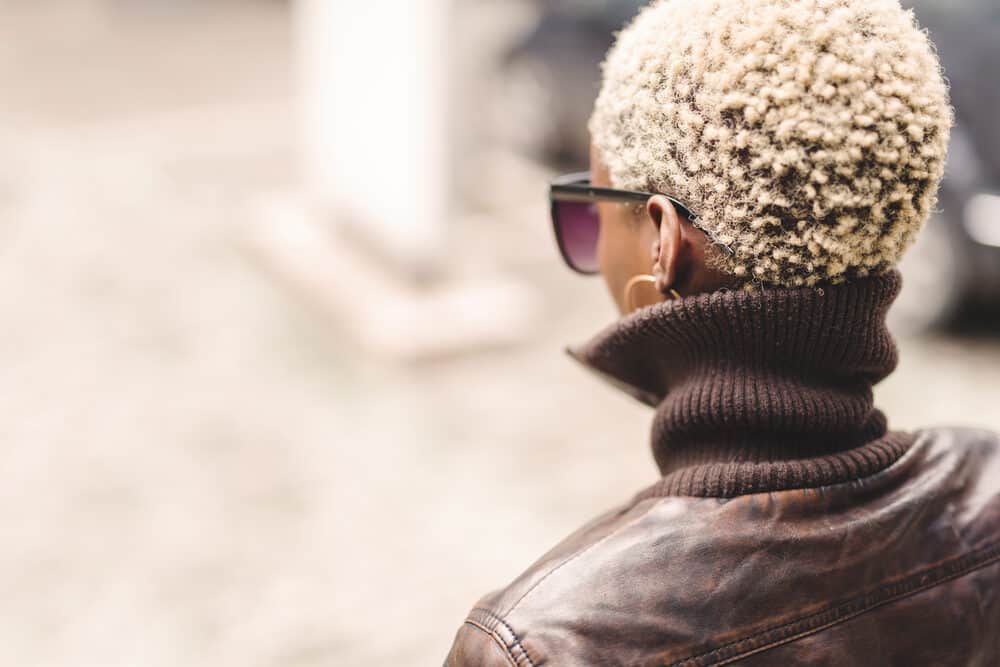 Are new grayish-silver strands making it impossible to find a style that represents the true "you"? Many women over 50 find it difficult to choose a hairstyle that matches their hair type and personal style.
Regardless of your age, it is possible to find a hairstyle that makes you feel like the best version of yourself.
Browse this list of the 25 best hairstyles for black women over 50 to find simple pixie cuts, long hairstyles, elegant protective styles, and more. Your next best style is here!
1. Tousled Straight Pixie Cut
MUST TRY!|THE QUICKEST WAY TO STYLE YOUR PIXIE!| Short Hair Tutorial!| Roxy Bennett
A straight pixie cut with a dramatic side part is a classic yet trendy look that is low-maintenance and versatile. If you want to keep things simple, straighten your hair and let it be free, or add some highlights for dimension and interest.
This style is a popular choice among celebrities like Halle Berry, Rihanna, and Ciara. Also, Janelle Monáe is known for wearing a short black pixie cut. Actually, the short pixie cut is one of the most popular hairstyles for black women over 50 and it looks great on women with relaxed hair.
Watch this Youtube video to learn how to do a tousled straight pixie cut.
2. Edgy Pixie Cut
How To Do: Pixie/Spiked Short Cut
Another trendy style worn by star Halle Berry is the edgy pixie – it'll defy your age. Get a choppy pixie cut, and then use styling gel to create small spikes.
The short haircut is perfect for experimenting with lighter shades like platinum blonde. Read this article to learn how to achieve blonde highlights without using bleach.
Don't be afraid to sport a trendy, edgy haircut – age is just a number! This style is great at showing off your personality as you walk around town and it's one of our favorite low-maintenance short natural haircuts for black females.
Learn how to do an edgy pixie cut in this video demonstration.
3. Curly Pixie Cut
Tapered cut on natural gray hair pt2
Show off your unique curls with a voluminous short pixie. This short hairstyle reduces tangles, making it easy to maintain your ringlets.
Wear it with a side or a middle part based on your personal preferences. If you want to add a little spice to your pixie, taper down your sides for a faux-mohawk look that's all the rage!
Jada Pinkett-Smith donned a blonde curly pixie haircut in 2020, which has become an iconic look for her. It's one of the most beautiful short hairstyles, and it's easy to maintain.
If you want to try this style, watch this video demonstration on YouTube.
4. Super Cropped Pixie
An ultra-short, close-shaved hairstyle is the most low-maintenance hairstyle out there. This hairstyle is a great way to show off platinum silver or blonde curls.
It exudes a timeless elegance perfect for everyday wear or special events. Pixie cuts have long been a symbol of non-conformity and empowerment for women, and this shaved style achieves this beautifully.
Rocking a super cropped hairstyle is sure to get you noticed. The fact that shorter hair is easier to style and maintain is simply a bonus.
This YouTube video will show you how to do a cropped pixie.
5. Raised Boy Cut
This is another popular pixie style, but this time the hair is blown out to create upward volume for a raised look. This short black hairstyle is both sleek and voluminous, giving you the best of both worlds.
We encourage you to express your self-confidence and beauty with this striking, low-maintenance style!
6. Bowl Cut
Texture Pixie BOWL CUT | Instagram @EnhanceByLynette
When it comes to short haircuts for black women, the bowl cut is a bold look that best complements oval-shaped faces. If you have an oval-shaped face, the bowl cut may be the perfect style for you.
This style can be customized to fit your style, as it looks great with natural salt and pepper hair or highlights.
It can also be worn in a blunt cut or with choppy, layered pieces. It's a low-maintenance haircut that will only take a few minutes to style each day for an effortlessly sophisticated look.
Add a little makeup, jewelry, a cute outfit, and heels, and you'll have an amazing look that can take on any event.
Watch this video for instructions on how to do a bowl cut.
7. Kinky Curly Short Hair
TWA Wash & Go | How I Style My TWA | Super Defined, Easy and Quick | Ro Edition
Another great option for curly gals is kinky curly short hair. Think Lupita Nyongo.
Show off your loose curls with plenty of volume, or opt for a defined short TWA using gel and other styling products for extra hold. Take the style up a notch with hair adornments like decorative clips and stylish headbands.
This YouTube video will teach you how to do this style.
8. Short Afro
My 2021 TWA Routine | Defined Shiny Curls for Short Type 4 Natural Hair
If you have type 3 or 4 curls, let them be free! Rock a full and voluminous afro with undefined coils.
This style, commonly referred to as a teeny weeny afro or TWA, can be worn without a part, but a deep side part will add a flattering shape to the style. Diana Ross flaunted this iconic look in the 70s, and countless celebs have been slaying this style ever since.
This style is also common for women that have recently big chop to kick start their natural hair journey. It's a glamorous, attractive way for African American women to join the natural hair community.
9. Finger Waves
A retro hairstyle that came out in the 50s, finger waves are a feminine, striking hairstyle that commands attention. As its name suggests, finger waves are waves created with your fingers.
Using a specific technique, they are flattened to your head and stay in place for up to a week. This vintage style works best with short hair and looks fantastic when accessorized with clips and pins.
If you want to try finger waves, watch this video.
10. Straight, Side-Parted Bob
Highlights on natural hair | how to do a bobb Cut on natural hair
A short bob on straight hair is a classic look that complements round face shapes especially well. This style can be cut with or without a side bang, depending on your preferences.
It typically comes down to chin length and is worn with a side part, as most women find that asymmetry looks best with their face shape. Short hair is easy to maintain and will transition beautifully from everyday wear to evening events.
Straightening your hair can be a great way to change up your look, although we recommend using a heat protectant hair spray to mitigate the chance of heat damage.
To learn how to do a straight bob, watch this video demo.
11. Asymmetrical Bob
how to point cut an Asymmetrical bob
Spice up a simple bob with an asymmetrical cut! This style is most commonly worn with a deep side part, and one side of the hair is cut longer and more angled than the other.
This adds dimension to a simple hairstyle and creates a unique flattering face frame that's sure to turn heads.
This simple style can be worn with your natural hair color, or adding highlights can create even more dimension to this stunning haircut. It's a charming, impressive look, but often requires a hairstylist unless you're a hair-cutting guru.
Learn how to do an asymmetrical bob in this video.
12. Curly Bob with Side Bangs
Horizontal Graduation Bob Haircut on Curly Hair | Textured Bob Haircut Step by step
This hairstyle is a gorgeous textured look that will frame many face shapes! Pair loose or wavy chin-length curls with a straightened, choppy side bang.
This style has so much texture and dimension and has even framed the faces of Kerry Washington and Michelle Obama. If you're looking for a versatile hairstyle with a flattering face-framing effect, a curly bob with side bangs might just be the style for you.
Find out how to do a curly bob in this video.
13. Loose, Shoulder Length Curls
How to curl your hair with a flat iron
Loose shoulder-length curls are a simple, parted hairstyle that can show off the beauty of your natural hair texture. Separate the curls for extra volume and a bigger shape that will make a gorgeous statement.
This is another hairstyle that will look simple and elegant for any occasion. Voluminous, shoulder-length curls and waves have been Oprah Winfrey's signature style for many years and have also been worn by Taraji P. Henson.
Watch this video tutorial to learn how to do shoulder-length curls.
14. Wavy Shoulder Length Hair
HOW TO CREATE BEACH WAVES ON SHORT HAIR W/ CURLING WAND
It's easy to look stunning with shoulder-length waves! Worn by Michelle Obama and many other celebs, the style radiates both youth and contemporary flair.
Pair the cut with highlights, or leave your hair color natural. Try a side part, or go for a middle part. You're sure to find a look you like that fits your face shape and style.
This YouTube video will teach you how to create shoulder-length waves with a curling wand.
15. Retro Pin-Up Curls
Classic Pin Curls #SalonWork
Retro pin-up curls originated in the 50s and are still a staple hairstyle today! This style is achieved by creating flat curls using pins. It's a feminine and elegant look for shoulder-length or short hair
This style looks especially beautiful if you've got shorter pieces at the front of your hair that can be curled to frame your face.
Check out this YouTube video to find out how to do pin-up curls.
16. High Updo
LOOK GOOD WITH YOUR NATURAL HAIR FOR VALENTINE! - EASY UPDO NATURAL HAIR STYLE
High updos create a regal and confident aesthetic for women over 50 and are perfect for dressy affairs. For this look, straightened hair is swept up and pinned on top of the head in a voluminous, almost faux-hawk look.
This style looks best with longer, oval-shaped faces and pairs well with formal or professional attire.
Watch this video to find out how to do a quick high updo on your natural hair.
17. Twisted Updo
*PROTECTIVE STYLE* TWISTED FAUX HAWK UPDO
A "twist" on the updo described above, the twisted updo is as beautiful as it is intricate. It's perfect for summer weddings, church services, or fancy dinners.
But if you're someone who likes to look polished all the time, this style is a great choice. As a bonus, the style keeps your hair off of your face and neck, helping to keep hot flashes and night sweats under control.
If you're dealing with hot flashes, night sweats, or other symptoms of menopause, this is a great style for black hair.
This YouTube video will show you how to do a twisted updo in 10 minutes.
18. Long Silver Locs
Gray Loc Extensions Tutorial!
Women of all ages can wear protective hairstyles! Try styling your hair into a protective faux locs style with silver braiding hair for a natural look.
This style looks best on ladies with a slender, oval face shape. Like any long hairstyle, it can be worn down for everyday errands and styled in a variety of ways for special events, like a half-up/half-down, a high bun, or a low side-swept style.
This video tutorial will help you achieve long silver locs.
19. Braided Low Bun
SIMPLE Protective Style | Slick Down 2 Cornrow Braids and Low Bun on Short 4C Natural Hair Tutorial
If you like to wear your hair out of your face, a braided low bun is the ideal protective style for you. Pair the look with a french braid along your hairline or cornrows to add interest to the style.
Braids and low updos look stunning with silvery tones, so don't be afraid to let your natural color shine through! This style works great for African American ladies with thick hair.
For an easy braided low bun, watch this YouTube video.
20. Sleek and Simple High Bun
Quick and Easy High Bun On Natural Hair
Another great way to pull your hair up and away from your face is the high bun. A round top bun demonstrates a simple elegance that will complement your wardrobe and style.
Pair this style with highlights or greys to add dimension. Frame your face by leaving down layered side bangs. Sleek high buns are a stunning look for formal, casual, and professional wear.
Check out this YouTube video to learn how to do a high bun.
21. Long Rope Twists
How To: Rope Twists For Beginners (Step By Step)
Long rope twists are one of the most popular protective hairstyles for women worldwide, and it's great for women over 50, too! Long hairstyles can be worn with any face shape, but they especially complement longer oval-shaped faces.
Rope twists can be styled to your preferred length, thickness, and color, giving you the ability to experiment with different looks.
Go neutral with black or brown braiding hair, play with colorful rainbow tones, or go silver to accentuate your natural hair in a bold new way!
Learn how to do long rope twists in this YouTube video.
22. Box Braid Bob
The box braid bob is a trendy alternative to wearing long box braids. The stylist will cut the braiding hair short, braid it in with your natural hair, and finish it by curving the ends slightly inward.
Shorter length braids with shape create a mature and elegant look that is gentler on your scalp and looks great for every outing.
Interested in doing this style on yourself? Watch this YouTube video for inspiration and a complete tutorial.
23. Mini Twists
TWO STRAND TWIST.. on NATURAL GRAY/SILVER HAIR
Twists are an easy, low-maintenance way to protect your natural curls, and they look lovely on women over 50. Thin twists protect your ends from damage for months when done with braiding hair (e.g., weave).
This style works on short or long hair and complements any face shape. Thin grey twists are a beautiful natural look for graying hair.
Learn how to do mini twists on your gray hair in this video tutorial.
24. Straight, Long Hair Natural Hair
THE BEAUTY OF NATURAL HAIR! CURLY/SILKY STRAIGHT LONG HAIR!
When it comes to youthful hairstyles, long hair is the way to go! If you have long hair already, you're ahead of the game.
Luckily, this look is attainable even if you don't have long hair – you can use wigs, weaves, and extensions to get the look. There are few things as beautiful as long, silver tresses. You'll quickly fall in love with this look.
Long, straight hair is a versatile style that allows you to try different updos and styling techniques for formal events and everyday wear. The style looks great on everyone, but it looks especially good on those with oblong or oval face shapes.
Find out how to straighten your long gray tresses in this video.
25. Long and Natural Curly Hair
WASH AND GO ON TRANSITIONING GREY HAIR // Samantha Pollack
You're never too old for long curls! If you can grow healthy, beautiful hair or want to wear a long wig, then go for it. Curly long hair is undeniably beautiful although it requires more upkeep than short black hairstyles.
Wear your long, curly hair down and unstyled for a casual look, or pin it up for more formal affairs. Curls can be created with rollers, a curling iron, or a simple wash and go if you have naturally curly hair.
Watch this YouTube video to learn how to style your long gray curls.
Other beautiful curly hairstyles that are honorable mentions are side-swept bangs, short bangs, bantu knots, layered undercut, and a fashionable ponytail. These styles also work for a variety of ladies and accentuate your facial features.
Some of these natural hairstyles require the use of heated styling tools, like a curling iron or a blow dryer. It's important to take the right precautions when using these tools, so be sure to use a heat protectant to mitigate hair damage.
Some additional favorite short hairstyles are the chic pixie cut, loose waves, or a short curly afro following a big chop. Both our these styles will show off your beautiful facial features.
Conclusion
As you can see, black ladies have many different styling options at their disposal. This list of hairstyles for black women over 50 is only the beginning as you're only limited by your imagination and creativity.
Just because you have graying hair doesn't mean that you can't have fun with unique hairstyles and create your perfect look!
From sophisticated hairstyles to protective styles worn by all ages, you can find a new hairstyle that will complement your age and fit your lifestyle.
Don't be afraid to experiment and try new things to find a haircut or hairdo that makes you feel like the beautiful woman that you are!