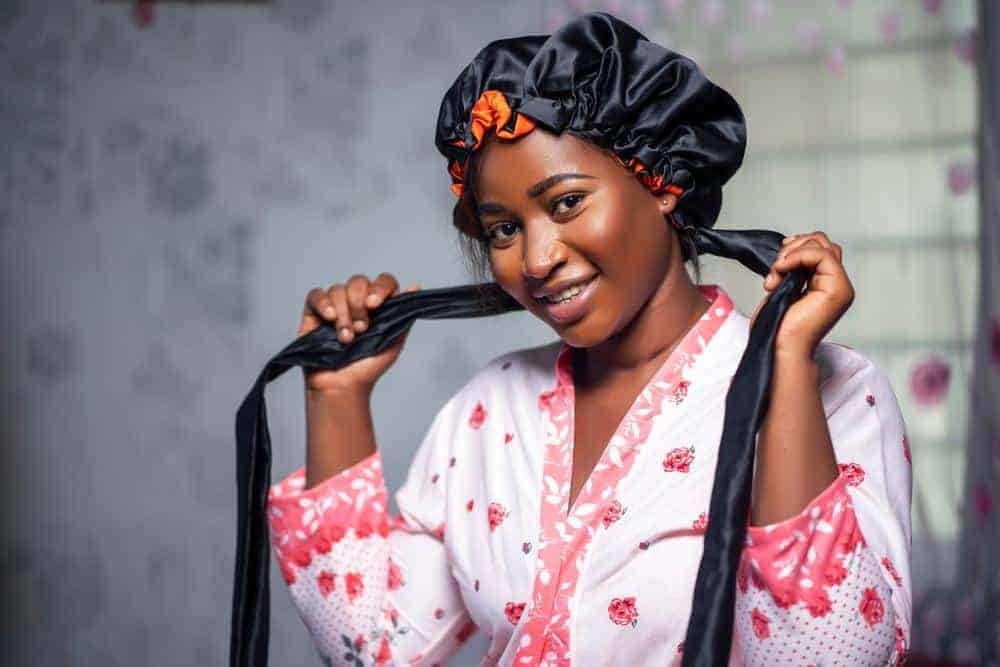 We all want to take care of our natural hair, and one of the easiest ways to protect it is to wrap it up at night.
Unfortunately, many women struggle to find the right method of wrapping their hair. Luckily, there are several hair wrapping methods to choose from – chances are there's a method that's perfect for you.
In this article, we will discuss several ways to wrap your hair up at night.
Throw on a Silk or Satin Bonnet
Perhaps, the most well-known way to wrap natural hair up at night is with a silk or satin bonnet. At night, you'll tuck your hair up under the bonnet and go to bed.
This nighttime protection is excellent for ladies who want to sleep without worrying about waking up with dry, frizzy, unmanageable hair.
Silk and Satin Bonnet Benefits
Bonnets are the standard in natural hair protection for several reasons. The list below will tell you some of the benefits of wearing silk scarfs and satin bonnets:
Easy to wear. You don't need to learn how to wrap a bonnet on your head. Just put it on like you would a hat, and tuck your hair inside.
Prevents friction. Bonnets decrease the amount of friction between your bedsheets and your hair, preserving your hair's moisture throughout the night.
Preserve your curls. Since bonnets fit loosely on the head, they don't flatten your hairstyle as much as some other types of head coverings.
Adjustable. Some companies make bonnets with an adjustable band (that you tie yourself) for a custom fit, increasing comfort for the wearer.
Cost. Most satin bonnets are affordable on any budget.
Silk and Satin Bonnet Considerations
Several problems may arise with the traditional silk or satin bonnet. Some of the most common issues include:
They don't always stay on all night. Some bonnets are constructed with a faulty or ill-designed elastic band, leading to an insecure fit. Other elastic bands function well when they're new and get weaker over time.
Some aren't made for large amounts of hair. If you have a lot of hair, you may find that some of your hair won't fit under the bonnet. Most bonnets don't stretch to accommodate larger heads or amounts of hair. In cases like this, you'd be better off purchasing an oversized bonnet.
They can be uncomfortable. Some bonnets are just flat-out uncomfortable, using rough materials that leave marks on your head or give you a headache.
They won't preserve sleek styles. Bonnets are generally not designed to keep your hair sleek and flat. So, if you want to keep your hair flat, you should choose another option.
Types of Silk and Satin Bonnets
There are several types of silk and satin bonnets, and knowing about all of these will help you choose the best one for your hair. The following list will explore your options:
Wear a Stocking Cap
Another way to wrap your hair up at night is to use a stocking cap. You can make your stocking cap out of any old stockings lying around your house.
Stocking caps are preferred over bonnets in situations where:
You're unable to find a bonnet that stays on snugly.
You wear sleek styles and want to keep your hair flat.
You want to try your hand at making a stocking cap.
How to Make a Stocking Cap
One of the main appeals of a stocking cap is that you can make it yourself. All you need to make it are scissors and old stockings.
Place the stockings over your head and tie a knot at the top. Cut the excess material away, and you're done!
Stocking Caps Can Cause Dryness
It's important to be careful when using stocking caps. Stockings are usually made of nylon, which can be drying to the hair. So, if you decide to use a stocking cap, we recommend putting a silk scarf or bonnet underneath it.
Where to Purchase a Stocking Cap
You can find stocking caps online at Amazon, Sally Beauty, and at other online retailers. You can also purchase stocking caps at your local beauty supply or department store.
Jump on the Slap Cap Bandwagon
One of the newest sleep caps on the market is the Slap Cap, a satin-lined sleep cap. Since Grace Eleyae introduced the Slap Cap in 2014, the cap has gained a sizable following of both women and men with natural hair. Use this link to learn more about the Slap Cap.
Slap Cap Benefits
The Slap Cap has several benefits, and we'll go over each of them below:
Increases moisture retention. The Slap Cap has an internal satin lining that keeps moisture in your hair.
Fewer tangles. The cap is snug and restricts hair movement, which decreases tangles.
Style preservation. The cap decreases frizz, which makes your styles last longer.
Slap Cap Considerations
The Slap Cap is not without its faults. Here is a quick look at the cons:
Fit. Some people report that the cap doesn't fit their head correctly. Others feel like the cap is too slouchy and gets in the way. Many have no problems at all, but it's best to try it on immediately after it's been delivered to ensure that it fits.
Cost. One Slap Cap is more than $20. This price is more than some may want to spend on a sleep cap. But for most, the benefits justify the cost.
How to Wear a Slap Cap
Using a Slap Cap is straightforward. All you need to do is slip it on over your head. Tuck any loose hairs, braids, etc., into the cap, and you're ready for bed.
Wrap Your Hair in a Satin or Silk Scarf
My Curly Hair Sleep Routine | Preserve Curls Overnight!
Silk and satin scarfs are indispensable for any curly girl, as they allow you to preserve many styles, from wash and go hairstyles to braids. Satin scarves are widely used because they're cheaper than silk scarves, but silk scarves are gentler to the hair.
These scarves can be used in many ways, and the following list will let you in on the most helpful:
Wash n go – Scarves are great for protecting your hair when it's in a wash n go style. You can put your hair up in a high ponytail, also called a pineapple, to preserve your curls. A satin or silk scarf can be quickly wrapped around your hair within seconds. In the morning, you take the satin scarf off, shake your hair out, spritz it with water, and go. Here's a video tutorial on how to wrap a scarf for a wash n' go.
Braids – You can protect your braids at night with a silk or satin scarf. The best way to preserve most braid styles is to flatten your hair and restrict movement. Wrapping your hair up at night with a scarf will make your braided styles last longer.
Straight hair – If you've straightened your hair, you can comb your hair in a circle around the perimeter of your head and then wrap a scarf around your head. The scarf will keep your hair in place until the morning time.
Silk or Satin Scarf Benefits
These scarves are a favorite among women and men with natural hair everywhere, and here are a couple of reasons why:
Variety – There are several different types and sizes of scarves for sale. You can choose small to oversized scarves in various shapes, colors, and designs.
Preservation of braided styles – No other headscarf, hair wrap, or bonnet lends itself better to protecting braided styles.
Versatility – You can wrap your hair in many ways using different wrapping techniques.
Silk or Satin Scarf Considerations
Silk and satin scarves are not without their faults. Let's look at some potential disadvantages below:
Discomfort – Many wearers experience pain from wearing scarves due to the knot you have to make to secure them.
Learning Curve – It may take some time to get used to tying a scarf if you're a beginner. While you're figuring it out, you may have headaches from tying your scarf too tightly, or you may wake up with the scarf on the floor if you don't tie it tight enough.
Costs of silk scarves – Silk scarves are costly compared to satin scarves.
Sleep in a Durag
Chances are you're already familiar with a durag, as they've been around for a long time. Men often wear these head coverings, but women can also wear them if their hairstyle and haircare routine call for it.
Durag Benefits
Durags are loved because they tie up and don't come off easily, and they help keep your hair protected from the elements. They are also excellent for keeping your hairstyle in place (depending on what hairstyle it is). The list below will highlight a few other pros of wearing durags:
Frizz Control. Durags are often used to control frizz, and this benefit lends itself well to preserving braids and straight hairstyles.
Easy to use. There is no learning curve when it comes to putting on a durag. All you need to do is put it on like a hood, wrap the strings around your head, and tie them in a knot.
Cheap. You can get a durag for as little as a few dollars at your local beauty supply store.
Durag Considerations
While there are several benefits of wearing a durag to bed, there are also some cons that you should consider:
Flat hair. Durags tend to flatten your hairstyle, so you shouldn't wear a durag overnight if you have a wash and go hairstyle or want to keep your hair voluminous.
Dented hair. Durags have the tendency to leave dents on your hair.
How To Wrap Your Hair at Night
What's the best head covering? With all the head covering choices available, it can be challenging to choose the right one for your specific needs. The following section will tell you which coverings would be best for you based on your hairstyle.
Wash and Go
When you wear your hair in a wash-and-go, you should wear a bonnet, which will protect your hair overnight without flattening your curls. You could also use a silk or satin scarf, but only if it's tied loosely. It will provide the same benefits as a satin bonnet.
French Braids
French braids can be maintained overnight using a durag or a stocking cap. Both options will decrease frizz and friction as you toss and turn throughout the night. If you end up choosing a stocking cap, wear a silk or satin covering under it to preserve your hair's moisture.
Longer Hairstyles
If you have very long hair or wear your hair in long styles, opt for an oversized silk or satin bonnet or a large scarf. Either option will protect your hair as you sleep.
Short Styles and Teeny Weeny Afros (TWAs)
If your hair is short, you can choose any of the options mentioned above to cover your hair at night. Each of the options will help you to retain your hair's moisture to keep it healthy.
Now you know about several ways to wrap your hair up at night, and you've gathered a ton of helpful tips to help you along. We hope that this article is useful to you as you seek out information about nighttime hair care.