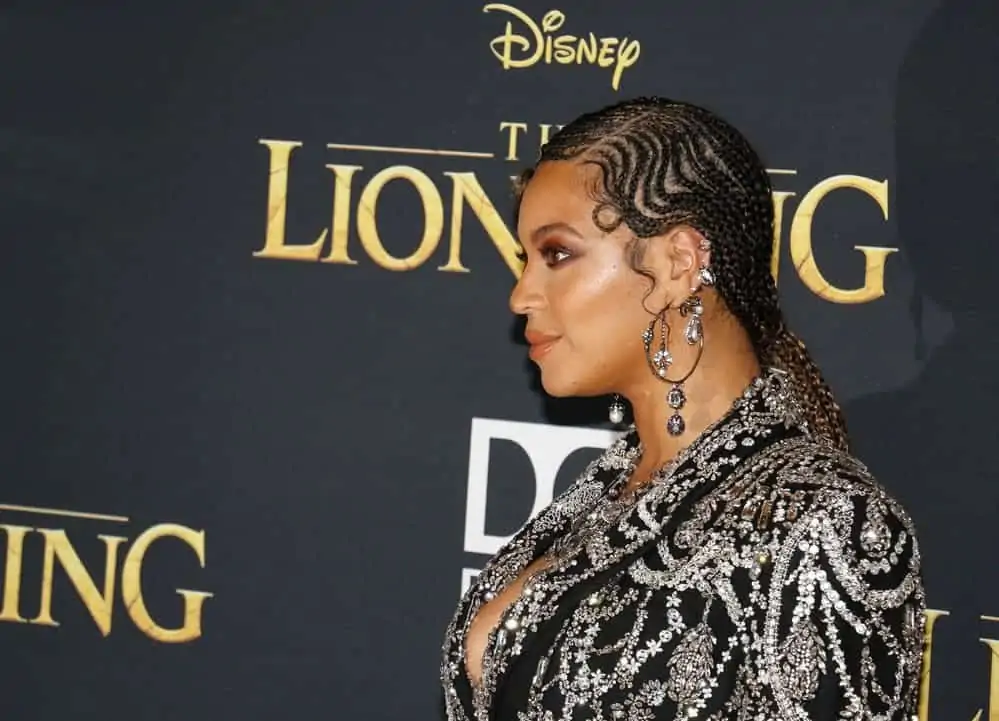 Though cornrows have been around for centuries, Beyonce (also known as Queen Bey) took the natural hair community by storm when she debuted her iconic Lemonade Braids in 2016.
Now, at any given moment, countless women are rocking this gorgeous style.
If you want to channel your inner Beyonce with lemonade braids, this article is for you. We are going to explain to you exactly how to do Beyonce lemonade braids on yourself or someone else.
Why Do They Call Them Lemonade Braids?
In 2016, Beyoncé issued a call to arms for black women in America to get in "formation" and demand respect in society.
Her Lemonade visual album is perhaps her most signature work, garnering nearly a dozen visual award nominations.
Those visuals included a nod to historical moments in the country, key figures in the Black Lives Matter movement, and several artists and collaborators.
The lemonade album gave us an hour-long retrospective of Beyoncé, her influence, story, and many representations of traditional black hairstyles.
One of the most notable examples was when she wore side cornrows with extensions, which came to be known as "lemonade braids."
Beyoncé - Formation (Official Video)
For Lemonade's filming, Beyoncé turned to Pantene celebrity hairstylist Kim Kimble. The goal was to showcase natural hair, as well as iconic hairstyles from decades past.
Kimble says that "hair is a woman's crown," and this became evident throughout Lemonade. The whole vibe brought us a vintage throwback to a time when African American women didn't use hair relaxers in their hair.
In those music videos, we saw Beyoncé wear a crown of braids and loose, natural curls. She also wore several other styles, such as Dutch braids and Victorian updos with an Afrocentric twist.
We also saw those iconic cornrows that brought us back to the '90s.
The side cornrow braids that were seen throughout Beyoncé's work conjure up images of the singer during her Destiny's Child days. Also, it reminds us of standout African American women in entertainment, such as Brandy and Janet Jackson.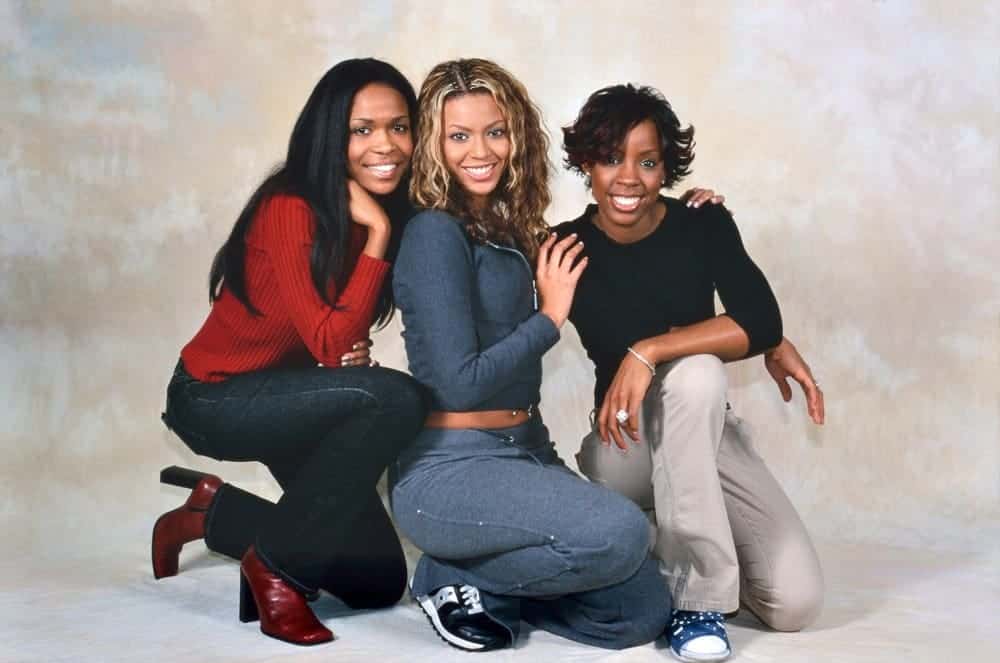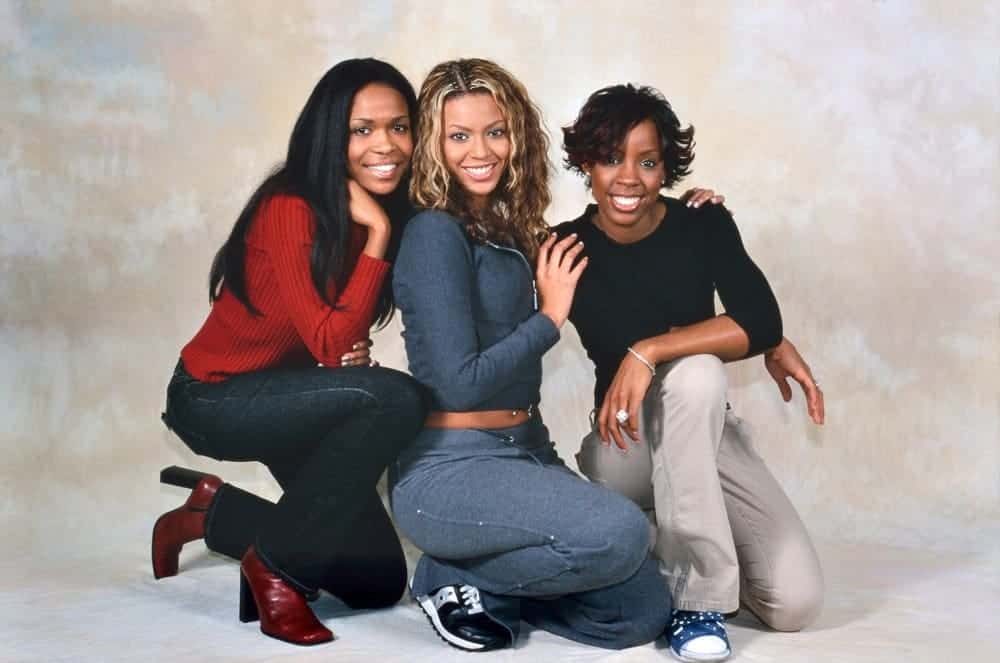 Cornrows can exude a certain toughness, but some baby hair on the edges can give them a softer look, which we saw in Beyoncé's music video. It's a protective hairstyle, yet it makes a statement, especially given the context of Lemonade.
Nicki Minaj's Pink Lemonade Braids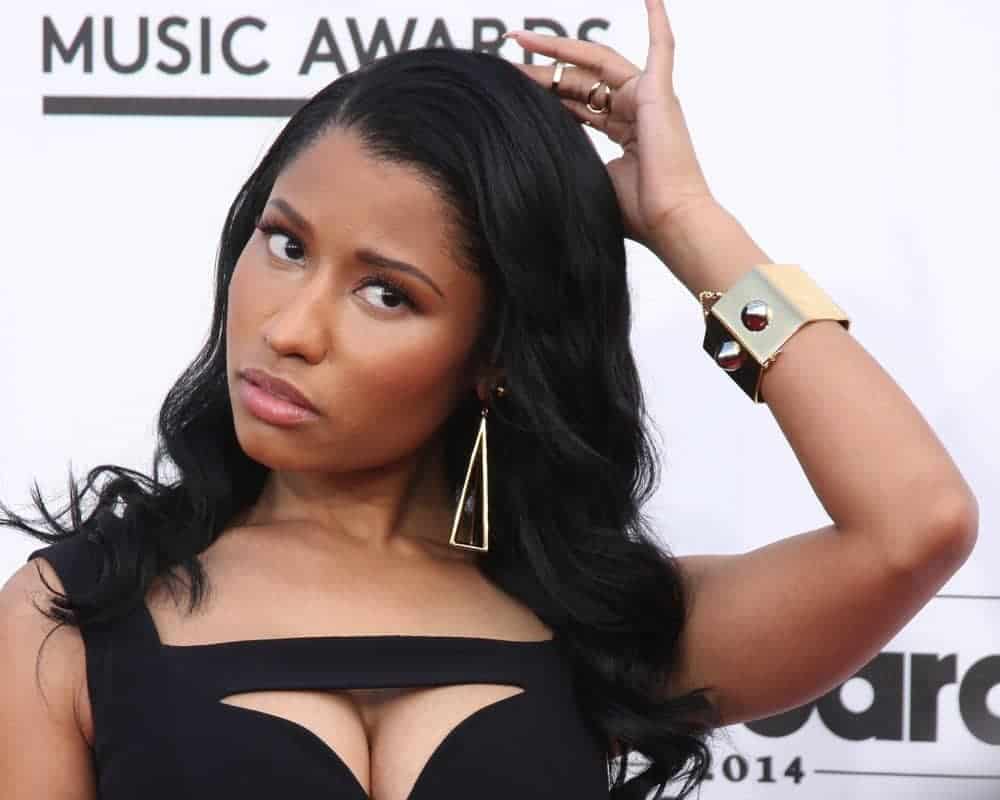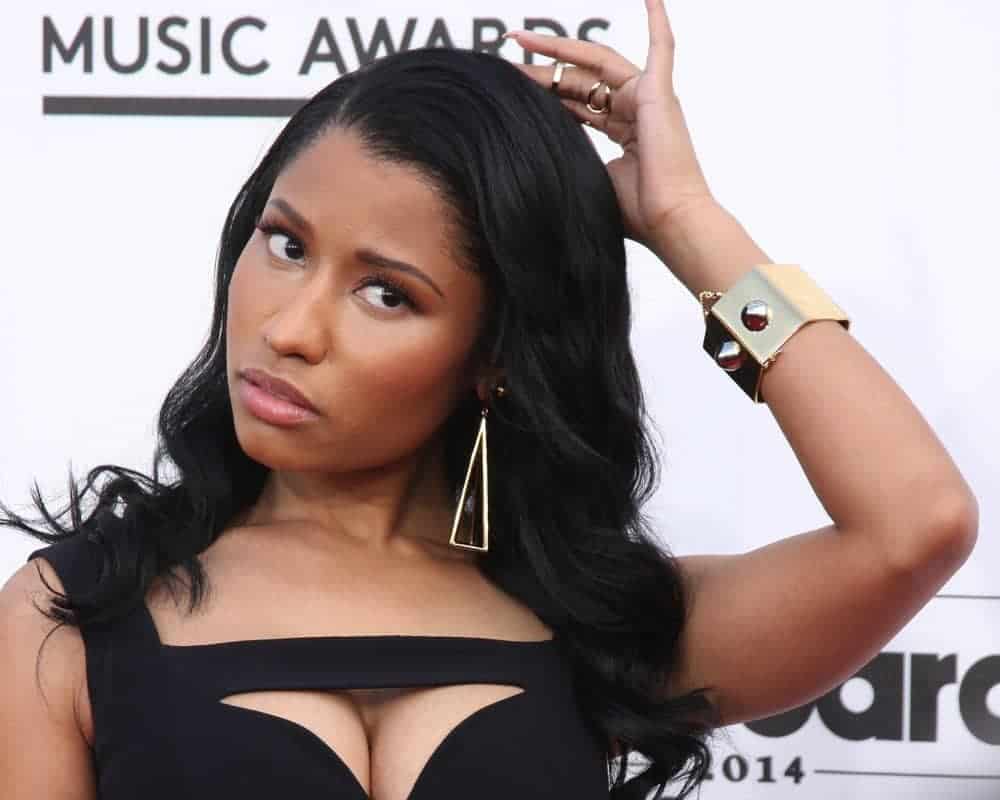 A year after Beyoncé shook the world with Lemonade, Nicki Minaj came out with her music video for "Motorsport."
She wore long cornrow braids that reached down to the floor, prompting fans to deem them as "pink lemonade braids" or "Nicki Minaj big lemonade braids."
Migos, Nicki Minaj, Cardi B - MotorSport (Official Video)
The braids were done by none other than Kim Kimble with help from Kendra Garvey.
The pink Nicki Minaj lemonade braids came on the heels of Beyoncé's iconic "Formation" hairstyle, ushering in a new era of black hairstyles.
More hairstyle trends began to incorporate cornrows, mixing in vibrant colors, extreme lengths, and the addition of jewels and ombre effects.
Wearing side lemonade braids with color has become very popular, as seen in Nicki Minaj's photo wearing pink lemonade braids to the side. You'll notice that the core design incorporates traditional cornrow braids.
Obtain the Necessary Supplies
The first step in creating lemonade braids styles is to get your supplies. Without the right supplies, your style won't turn out how you envisioned. Save yourself the frustration and headache of not having what you need by gathering the below supplies:
Shampoo
Conditioner
Moisturizer
Deep conditioner (optional)
Rattail comb
Wide toothed comb
Extension hair
Edge control
Blow dryer (optional)
Elastic Ponytail Holders (optional)
Piping hot water
Pitcher
Scissors
Towel
Bobby pins (optional)
What Type of Hair Is Needed for Classic Lemonade Braids?
When it comes to extensions for long lemonade braids, you've got a couple of options.
Kanekalon Braiding Hair (Synthetic)
The most common type of extension hair to use for lemonade braids is kanekalon braiding hair. Kanekalon braiding hair has an easy-to-braid texture, and you can dip it in hot water to seal the ends.
Most people love using kanekalon braiding hair because it's the most affordable extension type, and it's widely available – you can find it online, at department stores, or at your local beauty supply store.
Cost: Expect to pay anywhere from $2 to $6 per pack.
Human Hair
Another extension hair option to consider is human hair. In case you're not familiar with using human hair, synthetic hair tends to get tangly and unruly after a period of time. On the other hand, human hair stays shiny, lustrous, and tame for an indefinite amount of time.
This perk makes human hair a more desirable option for some. Yet, many choose synthetic hair over human hair because human hair costs way more than synthetic hair.
Cost: Expect to pay $40+ per human hair bundle.
Both human hair and synthetic hair will work perfectly for your lemonade braids. You should make your choice based on your personal preferences and budget.
How Many Packs of Hair Do You Need for Lemonade Braids?
Now that you know your hair choices, you may be wondering how much hair you need to buy for a full head of lemonade braids. The short answer is that it depends.
The amount of hair you'll need for your lemonade braids will depend on:
The desired thickness of your braids. For low-profile, thinner lemonade braids, you won't need a ton of extension hair. These braids are often called micro braids, mini braids, or small lemonade braids. If you want jumbo lemonade braids (e.g., chunky braids), you'll need more packs of braiding hair.
The length and thickness of your natural hair. If you have high-density hair, you won't need as much extension hair as someone who has low-density hair.
As a general rule, you may need anywhere from 4 to 8 packs of extension hair. Most people will not need eight packs of hair, but you should always buy more hair than you think you'll need.
Doing this eliminates the risk of having to go out to the beauty supply store while your hair is partially done. Plus if you want large lemonade braids (i.e., thick braids) you'll likely need more hair than expected to create jumbo braids.
Prep Your Natural Hair to Create Lemonade Braids
Once you've obtained the necessary supplies, you're ready to get to work prepping your natural hair for your lemonade braids. There are quite a few steps in the natural hair preparation process, but each step ensures that your braids turn out perfectly and your natural hair remains healthy.
Wash Your Hair Thoroughly
Cleanse your hair with a shampoo for textured hair – not every shampoo will work for your hair. Look for sulfate-free shampoos, as these will cleanse your hair without washing away all of your scalp's natural oils.
A great sulfate-free shampoo to try is L'Oreal Paris Ever Pure Shampoo. Focus the shampoo on your scalp primarily, and then work it through the length of your hair.
Use a Conditioner to Replenish Moisture
After your hair is clean, it's time to apply a moisture replenishing conditioner. Focus the conditioner on the mid-lengths and ends of your hair, as these are your hair's oldest, driest areas.
If you don't have a conditioner that you love, try SheaMoisture Curl and Shine Conditioner. It's got silk protein and neem oil, which help to hydrate and repair dry hair.
If you regularly deal with dry hair, you could benefit from using a deep conditioner. Follow the instructions on the deep conditioner product label and then rinse the product out. EDEN BodyWorks Natural Deep Conditioner is an excellent deep conditioner for thirsty strands.
Detangle your hair with the wide-toothed comb while the conditioner is in your hair. The slipperiness of the conditioner will make the detangling session virtually painless.
Apply a Penetrating Moisturizer
After rinsing out your conditioner, it's time to apply a moisturizer of your choice. Since you'll be putting your hair in a long-term protective style where you can't readily moisturize your hair, moisturizing it thoroughly beforehand is crucial.
The best type of moisturizer to use before a protective style is a medium to heavy-weight one with butters and oils in the formula. Apply the moisturizer and then comb it through with a wide-toothed comb for even coverage.
Stretch Your Natural Hair
Curly or kinky hair doesn't usually blend well with extension hair because of texture differences. Some women apply gel or another smoothing product to their natural hair before braiding it, but this can make the hair more difficult to braid. A better solution in most cases is to stretch your natural hair to make it easier to blend with the extension hair.
To stretch your natural hair, you can choose one of the following methods:
Banding – To band your hair for stretching, begin with parting your hair into two or more sections and wrapping an elastic band around each section. Then, starting with one of the sections, begin wrapping more elastic bands until you get to the ends of the hair. Leave the bands on your hair until it is completely dry, remove the bands, and then comb gently through your hair with the wide-toothed comb.
Blow drying – Section your hair into four or more sections (the smaller the sections, the better). Blow-dry each section of hair as you brush through it with a Denman brush.
Braiding – If you know how to braid, you may find the braiding method to be the easiest. All you need to do is separate your hair into a couple of sections and braid each section down to the ends. Once the braids are completely dry, take them down and then detangle your hair with a wide-toothed comb.
Prepare Your Extension Hair
If your extension hair has blunt ends, you'll need to prepare it before the braiding process. Extension hair that has feathered ends is easier to braid with. To feather your extension hair, follow the steps below:
Take the extension hair out of the package.
Hold one end of the extension hair in one hand.
Begin pulling up small sections of hair with your other hand. Do this for a minute or two.
Hold the middle of the extension hair in one hand and finger comb both halves of the extension hair with your other hand.
Here's a visual demonstration of the extension feathering process that ladies can use for most braiding styles, including lemonade braids, box braids, goddess braids, Ghana braids, crochet braids, mini twists, and spring twists.
HOW TO FEATHER EXTENSIONS EASY |4 BOX BRAIDS, TWISTS, CORNBRAIDS, CROCHET & GODESS BRAIDS
Now your extension hair is ready for the braiding process.
How to Install Your Lemonade Braids
Here's the fun part – installing your lemonade braids. There is a learning curve to creating the braided style, but you'll soon have some bomb lemonade braids if you follow the instructions in the below sections.
Use your rattail comb to part a section of natural hair at the back of your head, going from side to side. The way you part your lemonade braids is entirely up to you, but usually, lemonade braids are parted in a swoop from ear to ear. We recommend that you use pictures for inspiration.
Apply some edge control to the borders of the part to make the parts look sleek.
Cornrow your natural hair about a half-inch.
Add in a tiny section of extension hair by placing it between your pointer and thumb as you cornrow. If your hair is thin, add extension hair more often. If your hair is thick, add extension hair less often.
Continue cornrowing (and adding extension hair) in the direction of your part. As you get toward the end of the braid, you should add larger and larger pieces of extension hair. Stop adding hair when your braid is as thick as you want it.
Braid down to the ends.
Repeat the previous steps all over your head.
Here is a video demonstration of how to do lemonade braids.
How To: Lemonade Braids | Small Feed in Braids | Dopeaxxpana
Clip, Dip and Seal Your Braided Hair
After installing your braids, your ends may be stiff, frizzy, and loose. To combat this, follow the steps below:
Use the scissors to cut away any stray hairs from the ends of your braids.
Heat some water on the stove until it boils.
Transfer the water to a heat-safe pitcher.
Dip the ends of your braids in the water for a few seconds, and then wrap them immediately in a thick towel.
Take the towel off after the braids have cooled down.
Lemonade Braid Maintenance
After doing all the work to install your lemonade braids, we're sure you want your style to last. To maintain your lemonade braids, you should cover them up with a silk/satin scarf or bonnet at night and oil your braids whenever they seem dry.
If you put in the work to maintain your lemonade braids, they will last up to a month or even longer.
Dos and Don'ts of Lemonade Braids
To help ensure that you have a painless lemonade braid installation, read the following dos and don'ts.
Dos
Do prepare your natural hair before installing lemonade braids. If you try to do this braid style on unwashed, unstretched hair, your style will not turn out as neat and sleek as it could otherwise.
Do add extension hair often enough while cornrowing. It will take a while to get a feel for how much extension hair to add, but it's crucial to add enough to create the braid fullness you desire.
Do be patient. The learning curve for lemonade braids stops many from doing the unique style on their own head, but you will soon become a pro with patience and practice.
Do use multiple mirrors. Set up two mirrors during installation – one mirror in the front and one in the back. Doing this will ensure that you can see everything you're doing. Otherwise, all you can do is hope that you're doing things right.
Don'ts
Don't forget to maintain your hair. If you don't maintain your lemonade braids, they will get frizzy very quickly.
Don't braid your hair too tightly. As with any braided protective style, it's important to be gentle. You must strike a balance, making the braids secure but not too tight.
Don't overload your braids with edge control. While you can wash your braids to remove buildup, doing so will increase frizz and reduce the style's longevity.
Pros and Cons of Lemonade Braids
Before trying lemonade braids, we recommend that you take a look at the pros and cons.
Pros
The lemonade style allows for creativity. There are tons of lemonade braid styles that you can create. If you'd like, you can come up with your own fresh take on the style, or you can look around on Google images and find some inspiration. For example, we've seen swirl lemonade braids, blonde lemonade braids and lemonade braids with beads.
Low maintenance – All you need to do after getting lemonade braids is cover them up and night and oil them as needed. It doesn't get easier than that.
Quick installation – Compared to other braided styles, the installation for lemonade braids is quick. While some braided styles can take 8+ hours, lemonade braids take as little as 2 hours to complete.
Cons
Soreness after install. Often, stylists braid lemonade braids too tight, causing scalp soreness and headaches.
Difficult takedown process. Depending on how long you've left your braids in, taking them down can be difficult and even painful.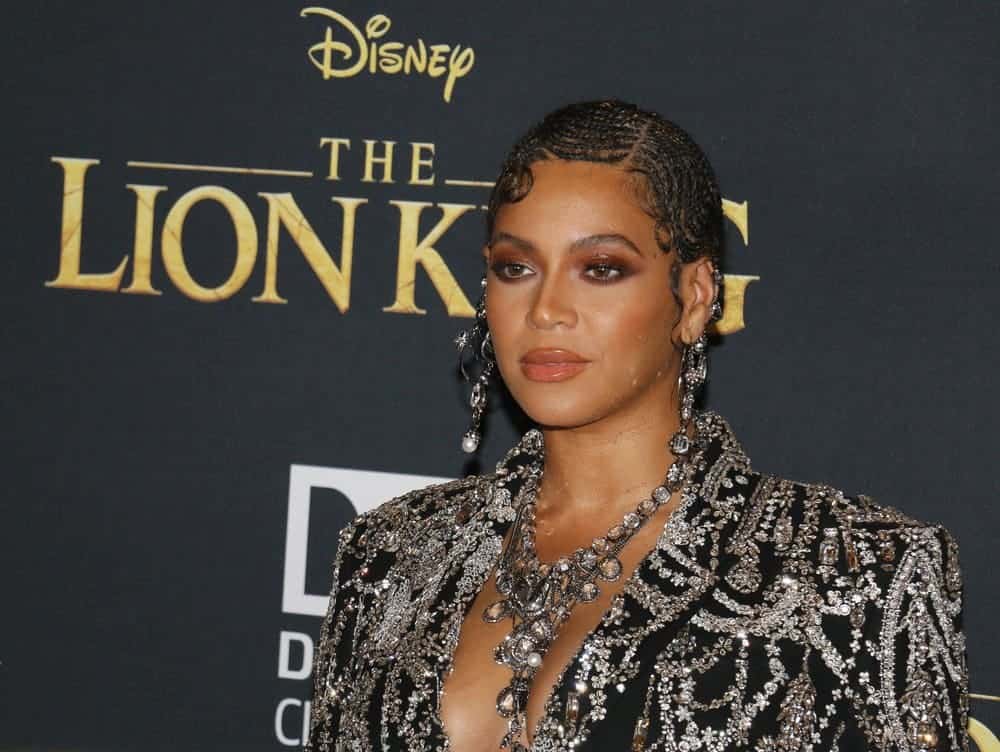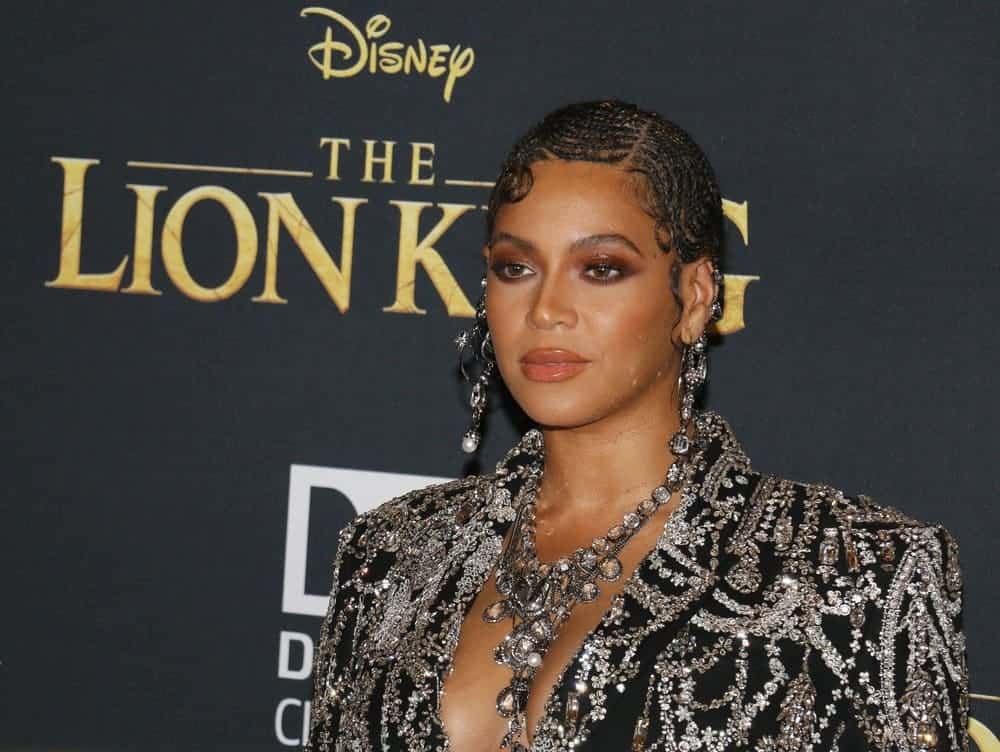 We usually recommend that first-timers go to a professional hair salon for their lemonade braids. However, if you're interested in a DIY approach, watch the video above describing the approach.
While lemonade braids are considered a protective hairstyle (meaning that the style shouldn't cause damage to your hair and should protect the ends of your hair to encourage length retention), this only applies if the style is installed correctly.
If the braids are installed too tightly, creating unnecessary tension on your hair and scalp, you increase the likelihood of incurring significant hair damage.
As you consider installing lemonade braids yourself or having them installed at a salon, the video below demonstrates several things you should keep in mind.
I GLOWED UP! | Lemonade Braids [UPDATE]
The following products were used within these tutorials:
Additional Tips on How to Do Lemonade Braids for Beginners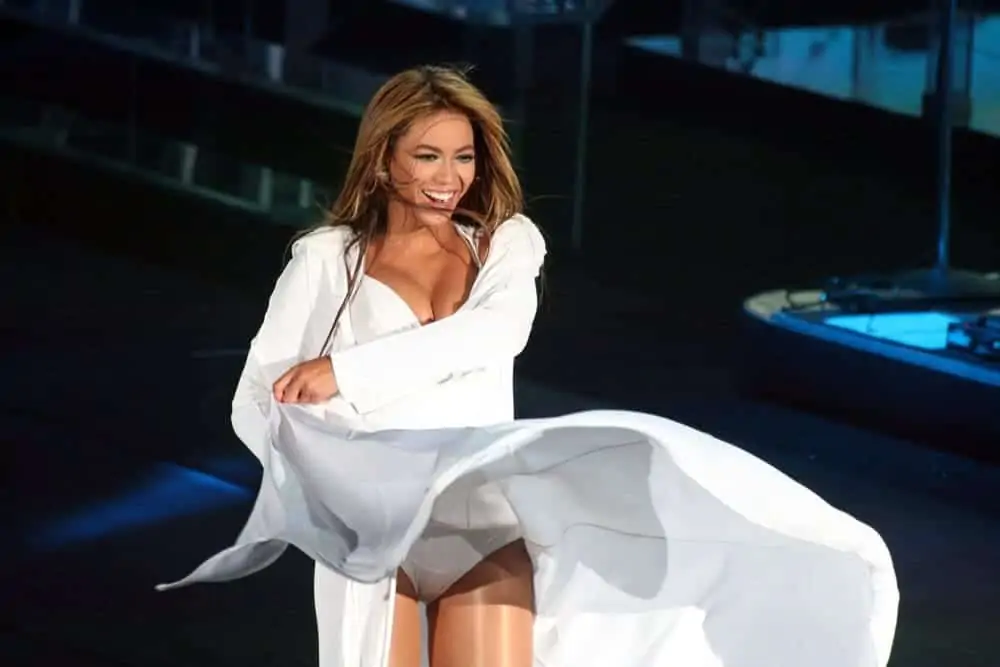 Start With Clean, Moisturized and Conditioned Hair
Braids are often worn for long periods of time, so it's critical that you wash, moisturized, and condition your hair before having braids installed. You can follow your normal hair washing routine and incorporate a deep conditioning treatment after cleaning your hair.
If you're going to use hair extensions within your lemonade braids, some women with sensitive skin choose to soak their braiding hair in apple cider vinegar to avoid itchiness before the braids are installed.
Following the apple cider vinegar soak, be sure to thoroughly rinse the braiding hair with warm water to remove any remaining vinegar. If you prefer, you could also gently wash the braiding hair with your favorite shampoo before installation.
Massage Your Scalp with Oil
We believe that scalp massages should be a key component of your hair care regimen regardless of whether you're wearing braids.
Scalp massages are often addictive because they feel amazing. There is also evidence that incorporating scalp massages into your regimen encourages hair growth.
Often we recommend using your favorite essential oils during scalp massages. However, some women like to utilize witch hazel and water if their scalps are feeling itchy.
Scalp massages are optional, but it's recommended if you're trying to encourage hair growth. Plus, they feel wonderful.
Consistently Use a Nighttime Hair Care Routine
To protect and prolong the life of your braids, wear a satin bonnet or silk scarf around your head at night to protect your edges and scalp.
If your hair is on the longer side, then it would help to wrap your hair in a scarf at bedtime. Having a silk pillowcase helps too. Read our natural hair regimen article to create a step-by-step nighttime hair care routine.
Avoid Using Heat Styling Tools and Techniques
Most synthetic hair extensions cannot handle high temperatures, although some human hair extensions can hold up to heat styling tools. However, we recommend that you avoid heat and allow your hair to air dry to be on the safe side.
Have Fun. Be Creative.
Lemonade braids (and other braided hairstyles) can be done in many ways, so feel free to play around with this beautiful style. The examples shown by Beyoncé and Nicki Minaj are just two examples, but the options are nearly endless.
You can always incorporate concepts from box braids, crochet braids, or goddess braids to create a unique look. Or, you could add some color or incorporate jewelry into your hairstyle. Take a page from Nicki Minaj's book and explore the possibilities.
A quick YouTube search really highlights the creativity within the natural hair community, showing a variety of eye catching lemonade braids hairstyles, including side braids, two-tone lemonade braids, ombre lemonade braids, burgundy lemonade braids, rainbow braids, tiny braids, braded updo, zig zag styles, and much more.
Take a Break Between Braided Hairstyles
After these braids are removed, especially if they were tight, you will want to give your hair time to breathe. Jumping straight into another tightly braided hairstyle can increase your chances for traction alopecia. Allow your baby hairs (and edges) to breathe before wearing another braided look or even rocking the same style.
Should It Feel This Way? Lemonade Braid Maintenance
The traditional cornrow hairstyle is relatively hassle-free. It's versatile and low-maintenance, making it a great warm-weather hairstyle. That being said, cornrows can look fabulous during any season, and their high functionality and pop culture status make them a good choice when you're not sure what to choose.
All it takes is a re-watch of Beyoncé's Lemonade to get some style inspiration.
Despite being considered a protective style, it is still possible to damage your hair while wearing lemonade braids.
If the braids are too loose, they'll easily come apart, but if they're too tight, you'll be reaching for painkillers to ease a throbbing headache.
It's common for braids to feel a "little" tight at first, but if the tightness is prolonged or becomes painful, the braids may need to be adjusted or removed completely.
One additional revealing sign is if you start seeing little bumps along the hairline. These bumps often indicate that the braids are too tight.
It helps to ask for a test braid from a stylist so you can gauge how the braids feel. If the braids are too tight, you could do serious damage to your hair and scalp.
Always remember that you're in control. Ask your stylist to adjust the tightness of the braids if necessary.
It's important to note that most braided hairstyles can last for several weeks. However, many professional stylists suggest only keeping braids in between four and six weeks.
We generally agree with this recommendation, although a shorter timeframe is always better. It's also important to continue to take care of your natural hair while you're wearing braids.
How to Wash Your Beyonce Braids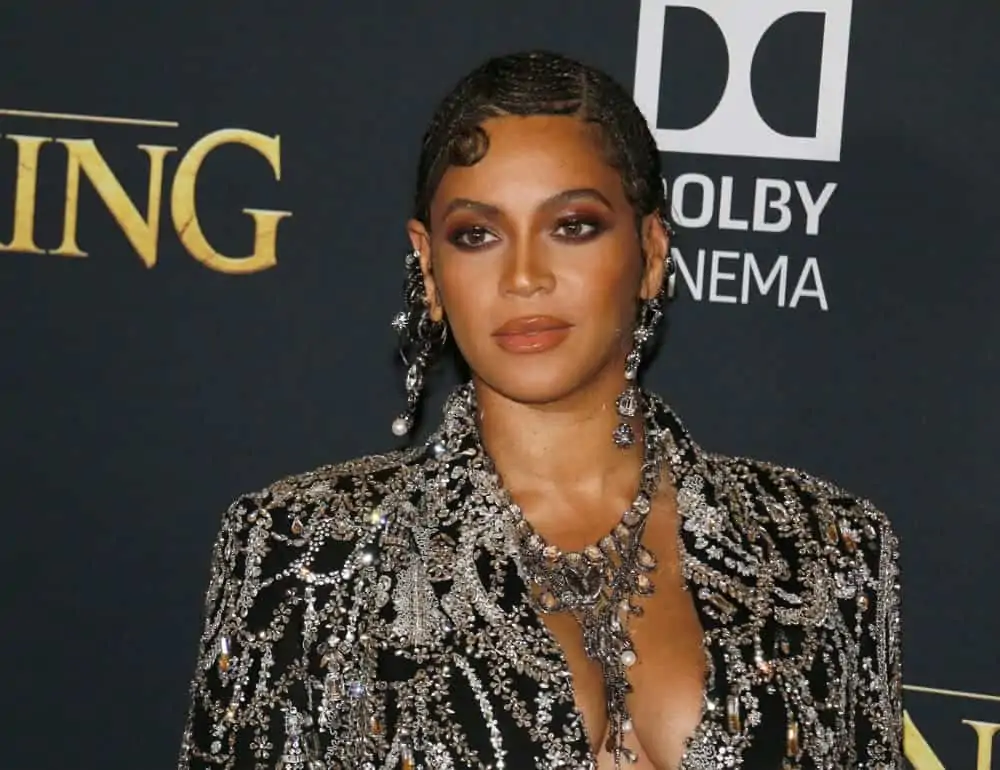 The process for washing your braids will vary slightly from person to person, but everyone should focus on the scalp since that's where oils and dirt will usually build up.
We recommend using a gentle shampoo free of sulfates, then following up with a moisturizing conditioner. You can read this article to find the best natural hair products (including shampoos and conditioners) to use while wearing braids.
After washing and conditioning your hair, the next step is to use a lightweight hair oil and gently massage it into your scalp. Some women even use oil and water mix to gentle spray their braids to preserve their shine.
It's easy for shampoo to get stuck in your braids and linger there. To minimize the chances of this, you can fill a spray bottle with equal parts of water and shampoo.
Spray this mixture on your scalp and braids to ensure that you're getting them clean, but you're not drowning your hair in product. Then you can rinse it out without worrying about any excess shampoo clinging to your braids.
Finally, we recommend that you steer clear of dry shampoo as it can leave residue around your scalp that can be difficult to get out.
What About Removing the Braids?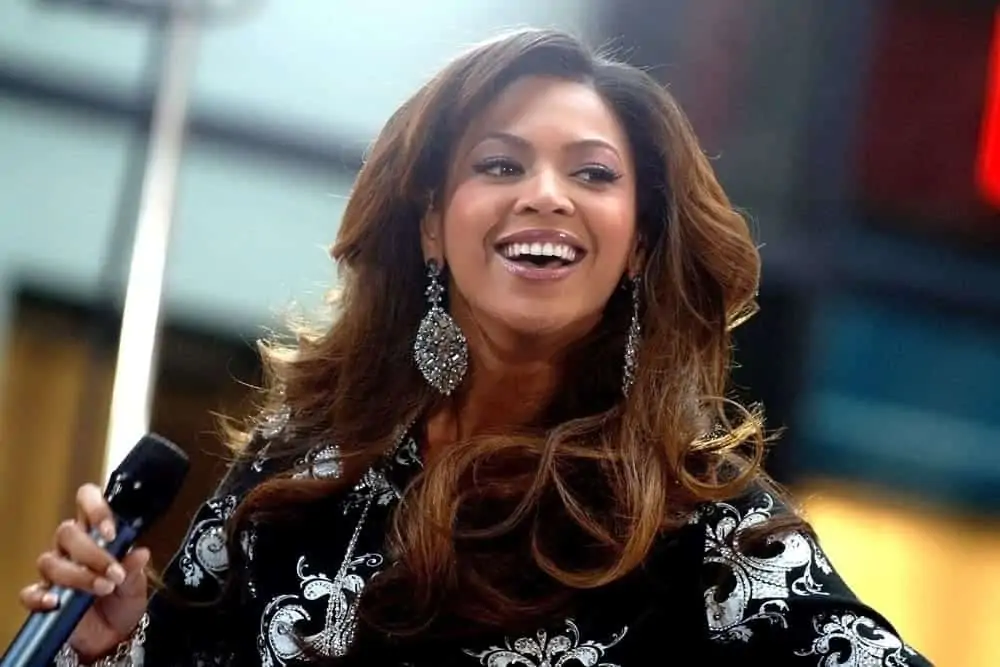 When it comes to taking these amazing braids out, first-timers should go to a stylist. A hair professional will be able to take the braids out while minimizing damage and potential hair loss.
Don't be alarmed if you see minimal shedding or some infrequent loose strands falling out; this is normal. Of course, you also don't want cascades of hair falling from your scalp.
Are Lemonade Braids for You?
Are you still on the fence regarding whether lemonade braids are for you? Well, we can help nudge you in the right direction.
Lemonade braids are for you if you have:
Healthy hair without signs of breakage
Enough patience to install the braids correctly or sit through the installation process at a hair salon
Not only do you know how to do lemonade braids, but you've also got helpful tips to ensure that your style turns out right and lasts for several weeks.
Sure, you might not have a Pantene celebrity hairstylist on speed-dial to help you out, but this guide should cover the details so that you can confidently rock your next look.
Remember to have fun and bring out your creative side to design the best lemonade braids hairstyle for your personality and style.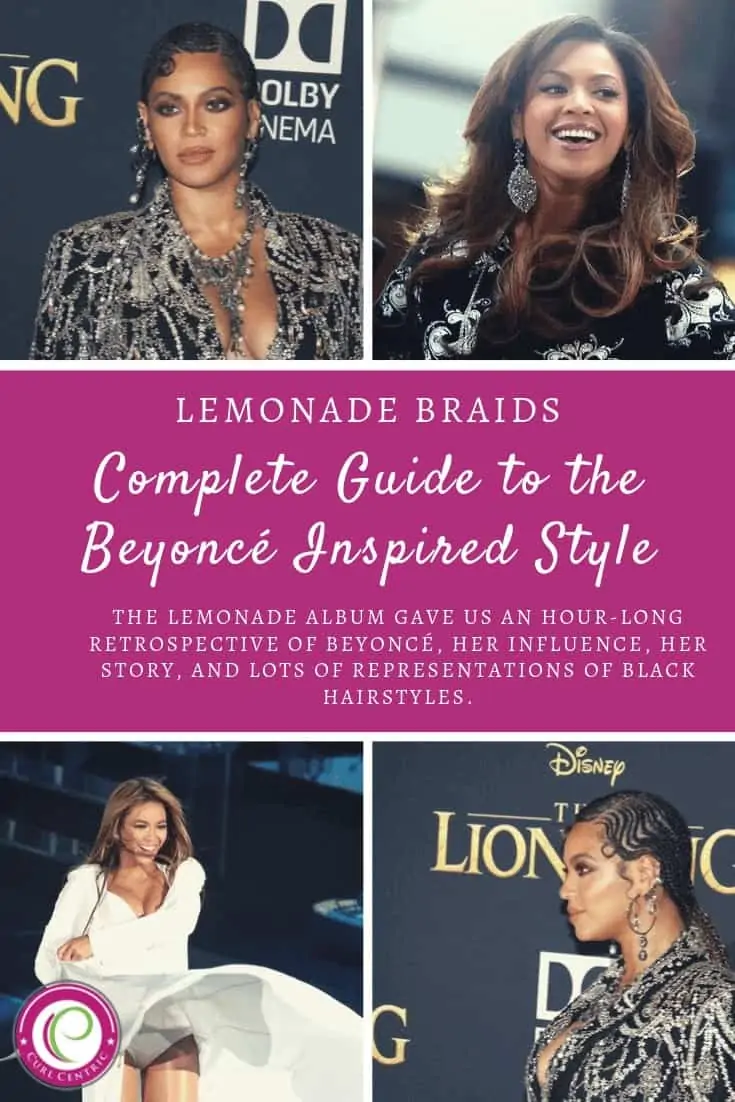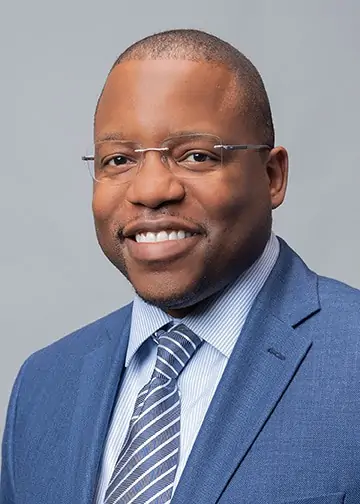 Kenneth Byrd, with a BS in Accounting and Management Information Systems and an MBA from the University of Alabama at Birmingham, has over 15 years of experience and is a recognized authority in hair care. Co-founder of Curl Centric® and Natural Hair Box, Kenneth has dedicated himself to promoting ethical and scientifically-backed hair care practices. Rigorous editorial guidelines, industry recognitions, and features in numerous media outlets evidence his expertise. Kenneth's commitment to transparency, quality, and empowerment has positioned him as a trusted voice in the field, empowering readers to confidently embrace their natural beauty.