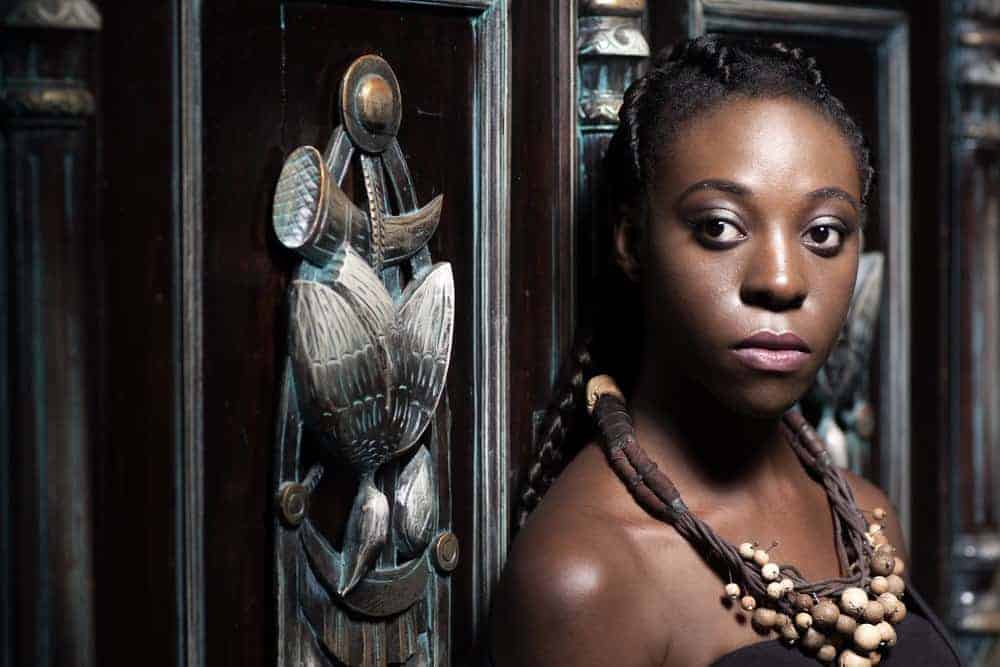 Ghana braids, which are also often called cornrows, straight-backs, or banana braids, are a classic protective style for natural hair and curly hair.
Ghana braids can trace their roots all the way back to Africa. In centuries past they were an integral part of many different ethnic, religious, social, and cultural traditions. The earliest depictions of Ghana braids appear in hieroglyphics and sculptures carved around 500 BC.
Cornrows, Ghana braids, goddess braids, box braids, and other protective styles are more popular with women now than ever before, and the hairstyle is worn by many different ethnicities today.
Ghana braids are suitable for all ages, and they work great with decorative options, such as wooden beads, flowers, metal rings and much more.
How To Create Ghana Cornrow Braids For Beginners
Thank you,
Whitney White
, for creating this very engaging, friendly, and watchable video tutorial on installing Ghana cornrows with extensions. As you'll see, it's actually quite easy. Over the course of the video, Naptural85 aka Whitney White will provide a step by step guide that will help you master the Ghana cornrow braiding in no time.
How to Install Ghana Cornrows: Invisible Cornrows on Natural Hair
While bantu knots might be one of our favorite hairstyles, sometimes we like to change things up every now and then. This video features a brilliant method for braiding Ghana cornrows from Samantha Pollack.
It shows off the technique with straight hair rather than kinky hair, but all of the advice is spot on. If you're looking for braiding hair recommendations, here is a link to X-Pression kinky hair on Amazon.
Also, please note that this style was done after a blowout. According to Samantha, this makes her hair much easier to braid. Just be sure that you're as gentle with your hair as possible. We don't recommend blowouts because of the increased probability of heat damage.
However, after a blowout, a product like ORS HAIRepair Coconut Oil & Baobab should be gently massaged into your scalp and hair. The goal is to replenish and nourish dehydrated, damaged hair, and moisture is also crucial. Learn more in our insider's guide to preventing & repairing heat damage (link).
Pictures of Ghana Braids Styles
The Ghana braids hairstyle is one of the most popular braided hairstyles in the natural hair community. Below is a gallery of pictures of Ghana braids hairstyles.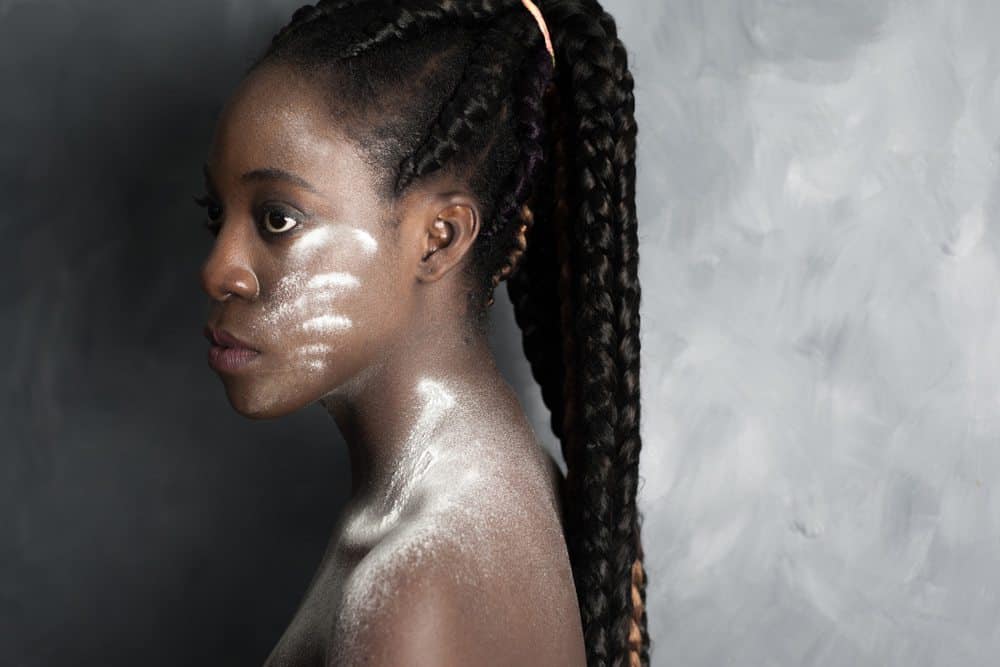 1. Beads and Gold Extensions On Long Braids
This braided hairstyle is beautiful all on its own. Although, for extra impact, these Ghana braids have been accessorized with gold beads. The matching beads bring unity to the whole style and make it a real beauty.
2. Fishbone Braids and Ponytail
Ghana braids can be created with a virtually endless range of patterns, sizes, and combinations. Your imagination is the only limit to the options presented to you. A fishbone design executed carefully, as shown here, creates an impressive hairstyle.
3. Beautiful Golden Asymmetrical Pigtail Braids
These beautiful golden braids create a dynamic, unique hairstyle, and pulling them into curvy designs adds, even more, interest to your hair.
4. Whirlpool Braids
This is an example of something you can come up with if you remember to search widely for Ghanian hairstyle examples. This dynamic whirlpool look, created with curvy braids and daring style, creates a brilliant look that presents a unique, attractive hairstyle.
5. Heavy Cornrows with a Low Bun
Once your locks are braided, you can wear them up or down in so many ways. Coiling them up into a low bun is a simple and popular choice. Start your braids off thin at your hairline and make them larger as they approach the back of your head.
6. Long Cute Ghana Braids With a Center Part
This style incorporates a stylish Ghana sensibility. Note that paying careful attention to the part is what really makes this look distinctive; the center line is arrow-straight and all of the braids are evenly spaced.
7. Purple Ends On Skinny Braids
This style delivers something appealing and unconventional regarding both style and texture. Dip dying works great with Ghana cornrows, and adding lilac extensions creates an eye-popping burst of color.
8. Chunky Ghana Braids
This Ghana braid hairstyle adds oomph with chunky braids. You can even break up the big braids with micro braids in between.
9. Black, Blue and Purple Cornrows
The contrast between alternating thick and thin braids would be distinctive enough in a single natural color. Turning the bigger braids, blue and purple sets the whole thing off and creates an incredible hairstyle.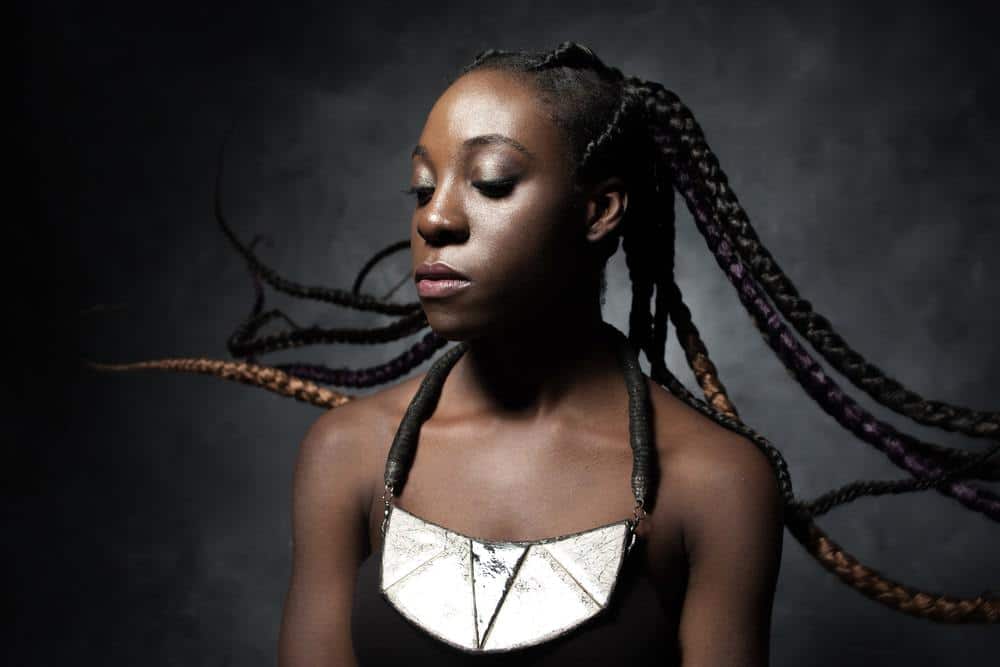 Detailed DIY Ghana Braids Tutorial
In addition to the Instagram photos of Ghana Braids shown earlier in the article, this video was created by Brittany Mays aka Flawless Britny. Brittany (another first-timer in this video) provides a very detailed braiding tutorial using the following products:
Shake N Go Que Volume tri-pack jumbo synthetic braiding hair (1B hair type) by Que Products
Ampro Shine 'N Jam Silk Edges with Olive Oil (learn more about edge control)
Professional Hair Cutting Scissors (our recommended hair shears)
Lighter
Styling tools included a wig brush, soft-bristle brush, and a rat-tail comb
Other than edge control gel, styling products included African Pride olive miracle braid sheen spray and Vigorol olive oil mega moisture mousse
Common Questions About Ghana Braids
What kind of hair will you need?
Many hair stylists prefer two or three packs of Rasta Fri hair or Kanekalon synthetic hair extensions, although there are many options to choose from in most beauty supply stores.
How long do Ghana braids typically last?
Typically, the braids can be worn for several weeks, although it really depends on how well you take care of the braids. If you'd like to extend your style longer then two or three weeks, be sure that you're sleeping with either a satin pillowcase, bonnet or scarf.
What differentiates regular cornrows and Ghana braids?
Ghana braids are commonly referred to as cornrows, invisible cornrows, Cherokee cornrows, pencil braids, banana braids, and goddess braids.
While many of these braiding types are similar, the primary difference usually relates to the braiding techniques used to create the hairstyles.
Ghana braids often start out like traditional cornrows towards the front of your hairline, and braiding hair (i.e., extensions or weave) is gradually added as the cornrow braid approaches the top of your scalp.
DIY Large Cornrows – Feed-in Braiding Method
During this video Jade Kendle, known as
LipsticknCurlss
on YouTube, uses the feed-in method to create Large Cornrow Braids. Jade mentions that this is her first attempt at using this braiding method, although it's a very good tutorial.
How versatile are Ghana braids?
As can be seen in this article, Ghana braids are very versatile. You can create a variety of beautiful hairstyles, so you aren't limited to straight back styles.
You can put them in a bun, ponytail, add a bang to cover the forehead, add hair color, include beads, and other types of jewelry. You're only limited by your styling imagination.
Conclusion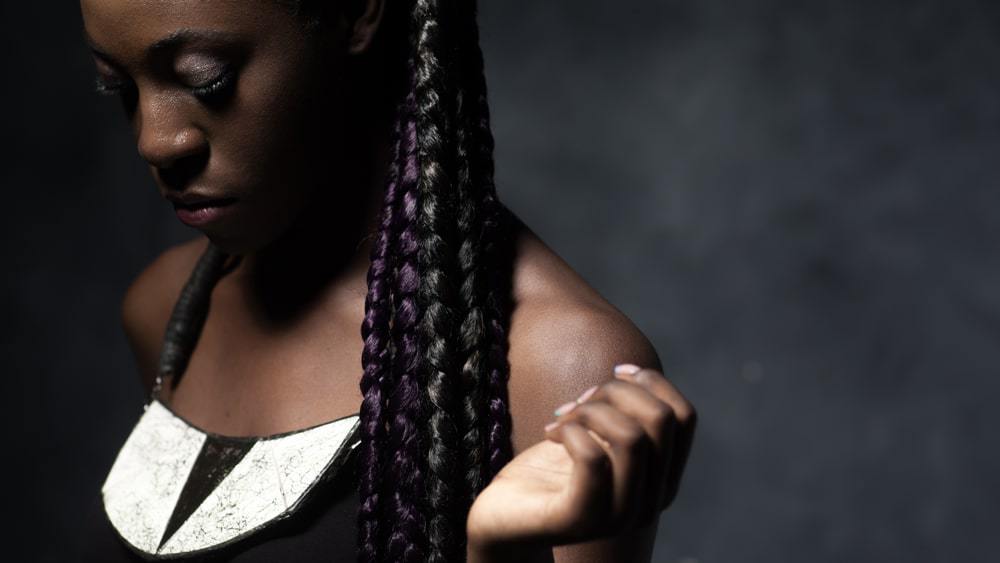 Ghana braids are commonly referred to as cornrows, straight-backs, and banana braids – sometimes incorrectly. At any rate, the Ghana braids are considered a protective style in the natural hair community.
The history of Ghana braids traces back to approximately 500 B.C. as they were often worn to honor various ethnic groups, ages, social statuses, and religions. Sculptures and hieroglyphs from that 500 B.C. era saw the first ever Ghana braids.
Nowadays, we're seeing women of different races and ethnicities wear cornrows and Ghana braids more than ever.
Ghana braids usually transcend ages and can even be adorned with hair jewelry such as metal rings, wooden beads, or even just a lone flower tucked behind one ear.
Many hairstylists start with the natural hair of their client, which gets braided from the front hairline and then to the back, where added extension hair provides more length and thickness.
So, do these goddess braids inspire you enough to hit up your favorite hair salon with new ideas for a fresh look? Or, are you a do-it-yourself (DIY) type? Let us know about your Ghana braid styling experience in the comments.