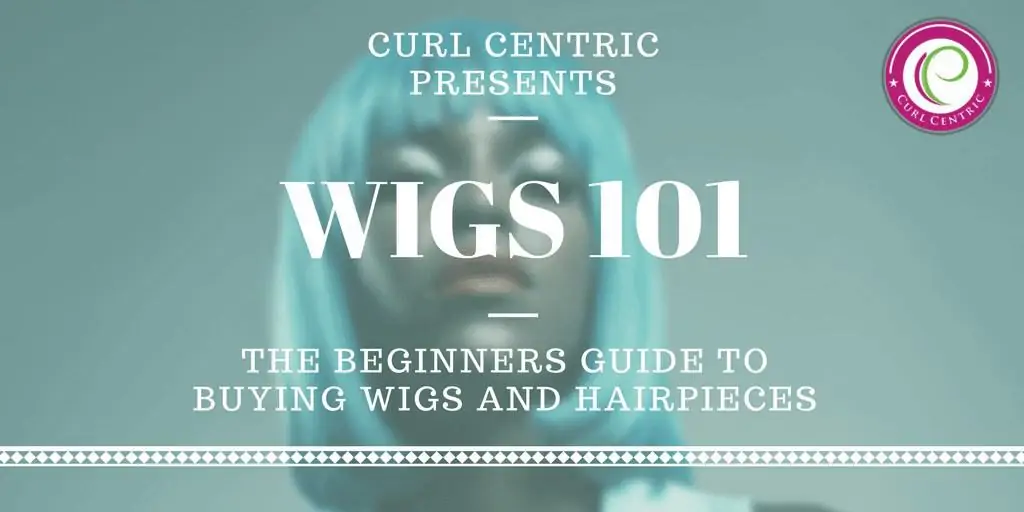 Wigs are an easy and fun way to give yourself a quick, safe, no-commitment makeover! Although, with the vast selection of wigs available online, it can be hard to know which ones will be comfortable, look natural, and last the test of time.
To help you out, we've rounded up 6 of the best wigs that Amazon has to offer. Keep reading for the rundown!
Top Wigs for Women
Curl Centric recommends the Comently Body Wave Lace Front Human Hair Wig, Muskink Water Wave Lace Front Human Hair Wig, Long Ombre Blonde Wavy Synthetic Wig, Aiterina Deep Wave Headband Wig, UCUVIC Bob Wig Human Hair, and Beauhair Lace Closure Human Hair Wig Straight.
These are top-rated, high-quality, affordable hair wigs for sale from some of the best brands in the world. These wigs are fashionable and can be worn daily. If you're looking for custom wigs or wigs for Halloween, these are currently outside the scope of this article.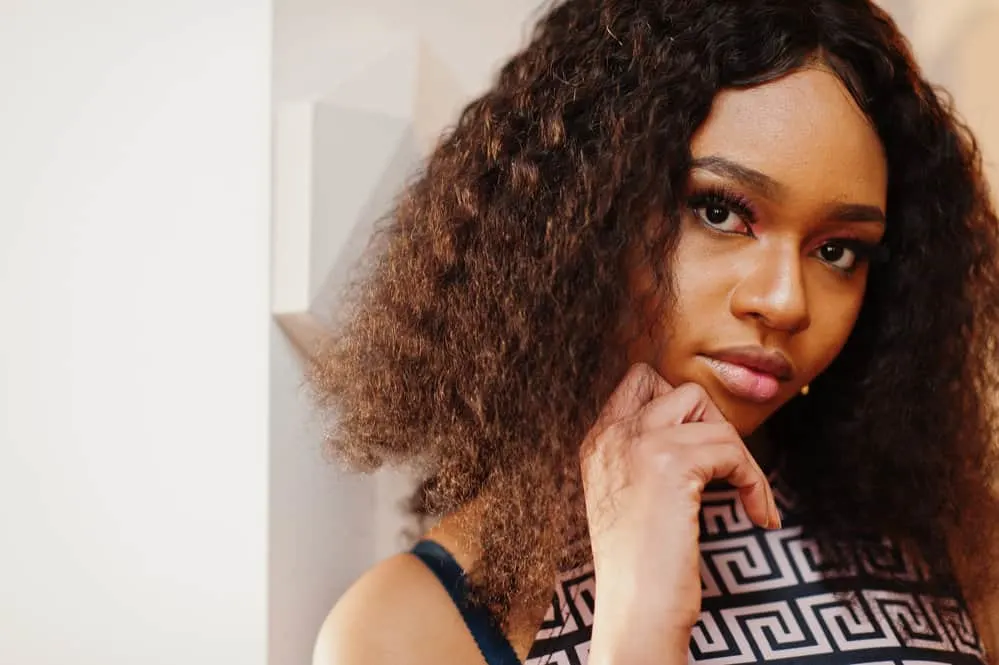 Top 6 Best Wigs on Amazon
With so many different styles of wigs online, picking a wig can be pretty confusing. There are lace front wigs, human hair wigs, and several other wig-like hairpieces for women. In this buying guide, we won't waste any of your time.
Let's jump into our top 6 Amazon wig picks! The bulk of the wigs on our list were chosen because of their stellar customer ratings. However, some were chosen more for their rarity, style, value, etc.
1. Comently Body Wave Lace Front Glueless Wig
Our first pick is a gorgeous body wave lace front wig by Comently. It's got long, cascading waves that look unapologetically glam – the density is 160%. This is a pre-plucked unit with transparent lace and a full 13×4 lace front.
You can glue this unit on if you want, but you don't have to because it's glueless. You'll also save time on the initial install since you won't have to pluck the wig's hairline or cut baby hair.
This wig is available in several lengths ranging from 18 to 34 inches.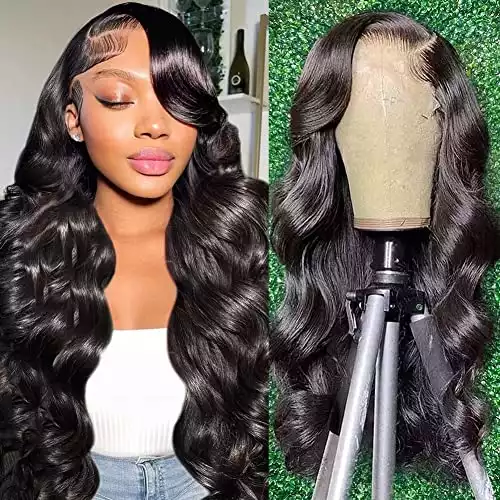 Pros and Cons
With the basics down, let's get into the pros and cons of this unit.
Pros
Adjustable strap for security.
Genuine 10A Brazilian human hair looks natural, especially for those with naturally textured hair.
Can be heat-styled.
The unit has HD lace, which melts easily and looks very natural.
Quick shipping and 30-day returns.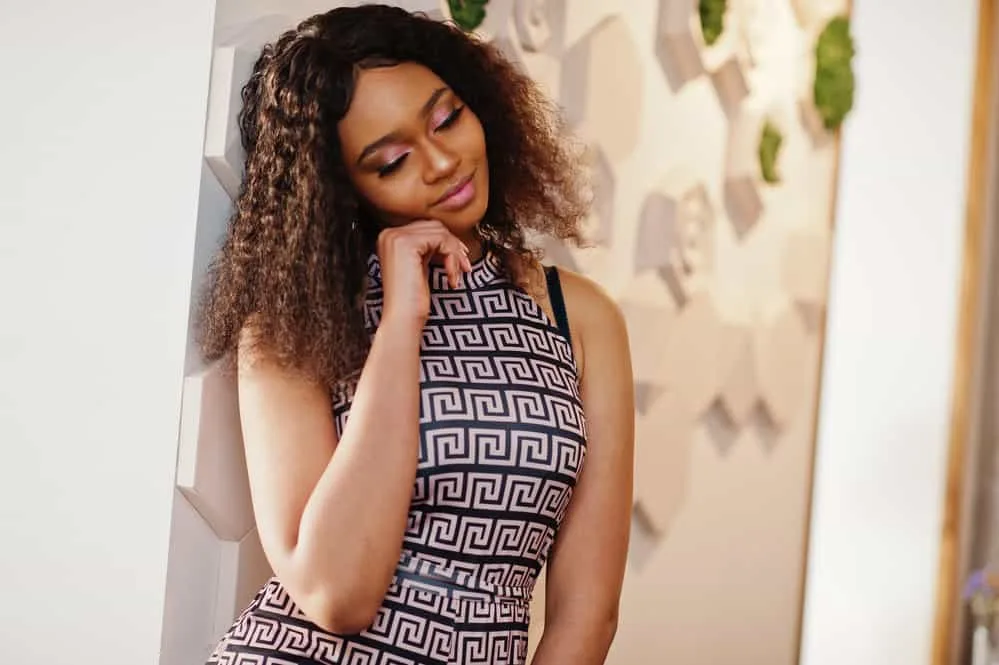 Cons
The hair is not Remy, meaning that its cuticles aren't intact. This doesn't seem to be a problem for those who have bought this unit, but it should be considered.
It only comes with a medium size cap, which will not fit everyone.
Lace frontals can be difficult to work with and adhere to the skin, so they may not be the best for beginners.
Note: There was one customer who had a problem bleaching the wig's knots and hair. But, being that this was the only negative comment referencing this issue, the chances of you experiencing the same issue are probably low.
2. Muskink Water Wave Lace Front Human Hair Wig
Do you live for waves? Then, this water wave lace front wig will be your jam. It's a glueless unit with a gorgeous wave that invokes double takes. It's got a 13×6 HD lace frontal and a super meltable hairline.
If you're a beginner, you'll love that you won't have to pluck the hairline or bleach the knots. It's already done for you. Basically, all you need to do is throw the unit on and go!
This is a unit that could quickly become your go-to. Dress it up with some dangly earrings and a bodycon dress or down with a t-shirt and cutout jeans. The possibilities are endless.
The wig is available in a natural black hair color and is available in 16 to 32 inches.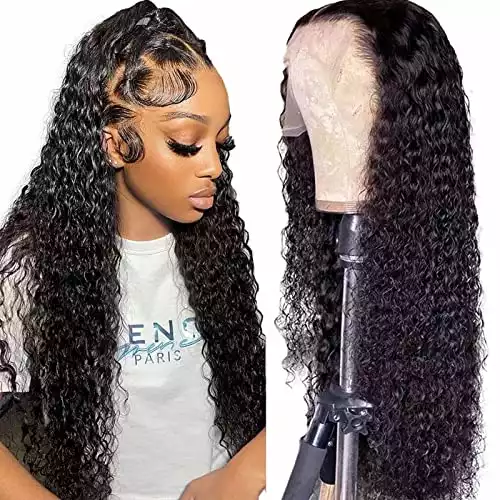 Pros and Cons
This wig seems to check all the boxes, but there are both pros and cons that you should know about.
Pros
Features unprocessed virgin human hair that you can style, color, or straighten/curl as you please.
Wet and wavy hair texture is on trend.
Lace frontal is 13×6 instead of the typical 13×4. This gives you more parting and styling versatility.
Thick density is perfect for bold styles.
HD Transparent Swiss lace, which melts almost to the point of being invisible.
Hair is soft and pliable – good for styling.
Quick shipping.
30-day exchange or refund with no questions asked.
Minimal shedding.
True to length.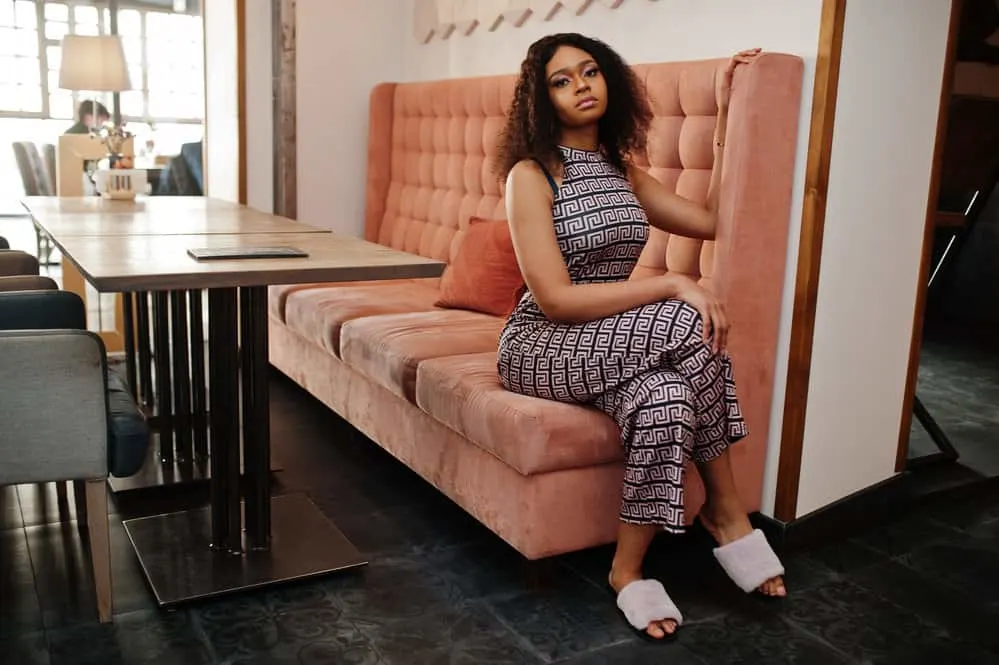 Cons
Only one cap size option.
We did find a review online where a customer mentioned that they were unsure whether this unit is actually fully human hair.
The reason they gave is that the product details mentioned both human and synthetic. It's important to note that the hair is human hair but that the wig cap and lace are both considered synthetic.
3. Long Ombre Blonde Synthetic Wavy Wig
For those who prefer blonde locks, this blonde wig is a sure winner. It's a long 26-inch wig with a wavy hair texture and an ombre finish. Near the roots, the wig is a mix of brown and blonde, and as you get to the ends, it gradually becomes blonder.
There's no harsh line of demarcation. The big, bouncy curls make you look as extra as you want to be. Yet, you can go the casual route with the right outfit and accessories.
As for the wig construction, this wig features a lace scalp portion in the middle of the crown so that the wig will look reasonably natural.
The hair on the lace portion is hand-tied. In addition to that, the wig wefts are sewn on to maximize breathability. This wavy wig is also available in several different colors.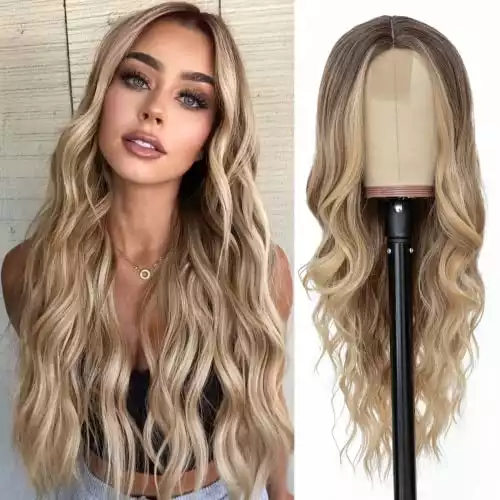 Pros and Cons
With that understood, let's take a look at the pros and cons of this unit:
Pros
Can be heat-styled up to 320 degrees Fahrenheit.
Long hair fibers, which give you styling versatility.
The waves are universally attractive, regardless of your face shape.
You get two elastic straps for security.
Low-cost unit that is affordable on almost any budget.
Wig installation is quick and easy.
Very quick shipping.
Easy returns or exchanges within 30 days.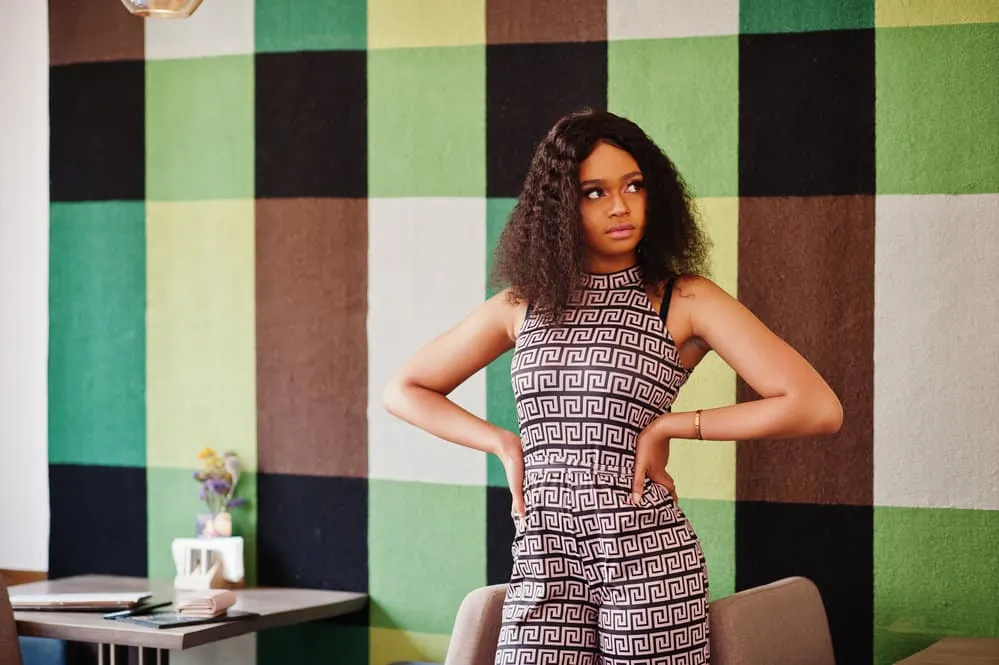 Cons
You can only part this wig in the middle.
Only one cap size – 21-22.5 inches.
4. Aiterina Deep Wave Headband Wig
Sometimes you need a wig that you can install in seconds. And a headband wig allows you to do just that! But not just any headband wig will do. This headband wig by Aiterina gives you everything you ever needed in a unit of this kind.
It's a Brazilian remy unit in 150% density with a beautiful natural-looking deep wave texture. The main thing differentiating a headband wig from other wig types is that it's basically a half wig attached to a headband.
Ironically, headband wigs don't always include the headband, but this one does. Personalization is big with wigs like this one, as you can switch out or cover up the existing headband to change the overall look.
This wig comes in 11 different lengths, from 8 inches to 28 inches. And as far as sizing goes, the wig cap is medium.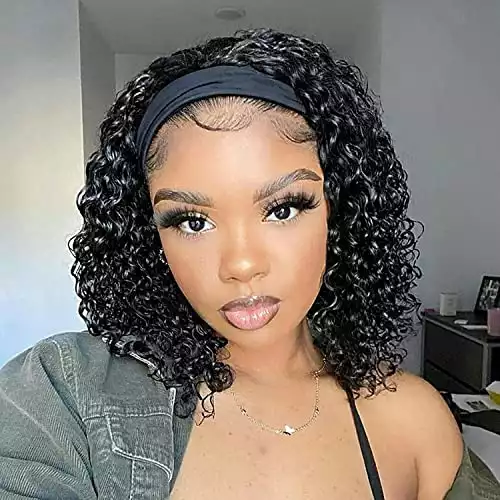 Pros and Cons
It's hard to imagine that there could be any negatives associated with this headband wig, but it's true. Keep reading for the pros and cons.
Pros
Easy install in just a minute.
Comes with clips in the front and adjustable straps in the back that hold the wig on. This gives you peace of mind.
Features Remy hair with cuticles still intact, which is good for the wig's longevity and reduces tangling and knots.
The wig will look like your natural hair since your natural front hairline will be on display.
Fast delivery
Easy 30-day returns and exchanges, no questions asked.
Minimal shedding.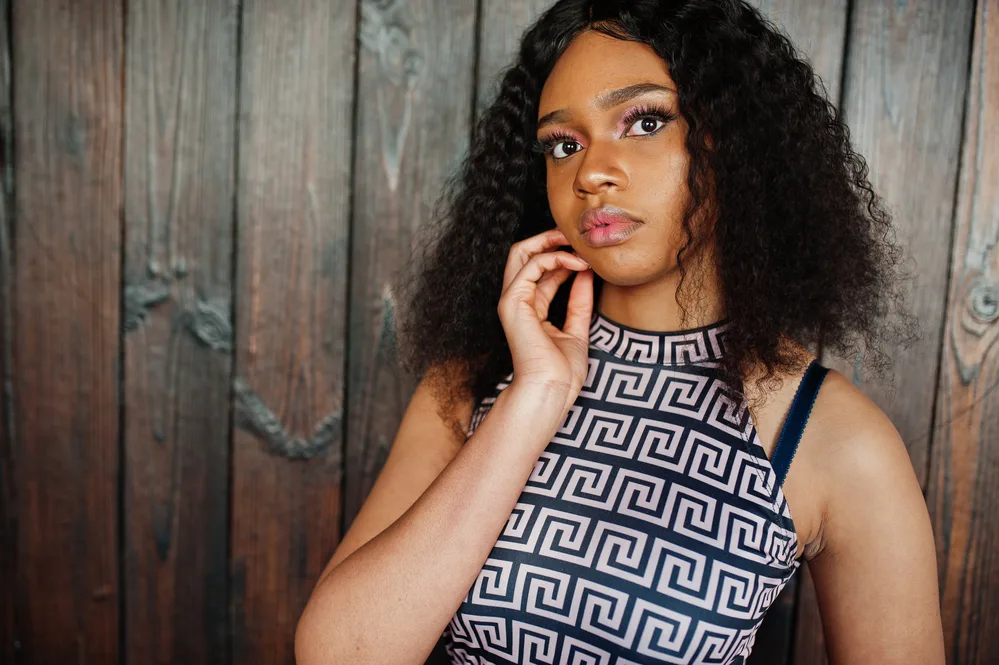 Cons
You must repeatedly slick back your natural hair whenever you wear this wig. This could be damaging to your hair over time.
A few dissatisfied customers say the wig didn't look like the picture, tangled excessively, or shed more than they liked. But these reviews were a very small minority.
5. UCUVIC Bob Wig Human Hair
Just look at this wig – it looks like it's growing straight from the scalp. For a natural, undetectable look every day of the week, no matter the occasion, this unit is a great pick. It's a glueless lace frontal with a 13×4 inch lace front.
It's styled in a side part, though you can switch it up.
The density of this wig is 180%, so it's on the fuller side. And the human hair used is of 10A grade, meaning that you can expect the wig to be soft, healthy, and thick without random short pieces throughout.
For security, the wig comes with comb clips and an adjustable strap.
You can get yours in several colors, from brown to blonde to pink. The unit is available in 4 lengths – 8, 10, 12, and 14 inches.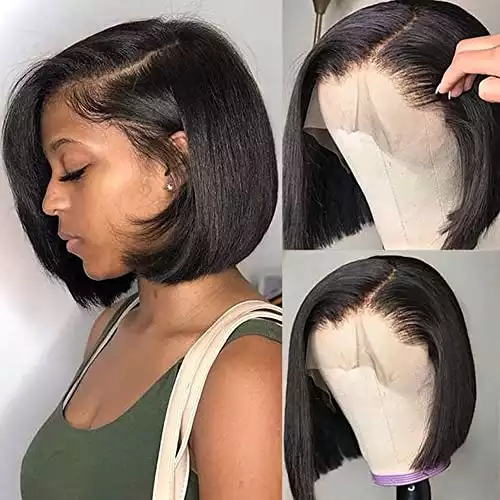 Pros and Cons
With the basics out of the way, let's get into the pros and cons of this unit.
Pros
Features HD lace, which is known to be durable and easy to blend.
Comes pre-plucked, so you don't have to.
Medium-high density for both glamorous and casual occasions.
Pre-styled side part that can be changed based on your preferences.
10A quality hair that you can heat style and chemically process.
One month returns for any reason.
Quick shipping.
Breathable cap for comfort even during extended wear.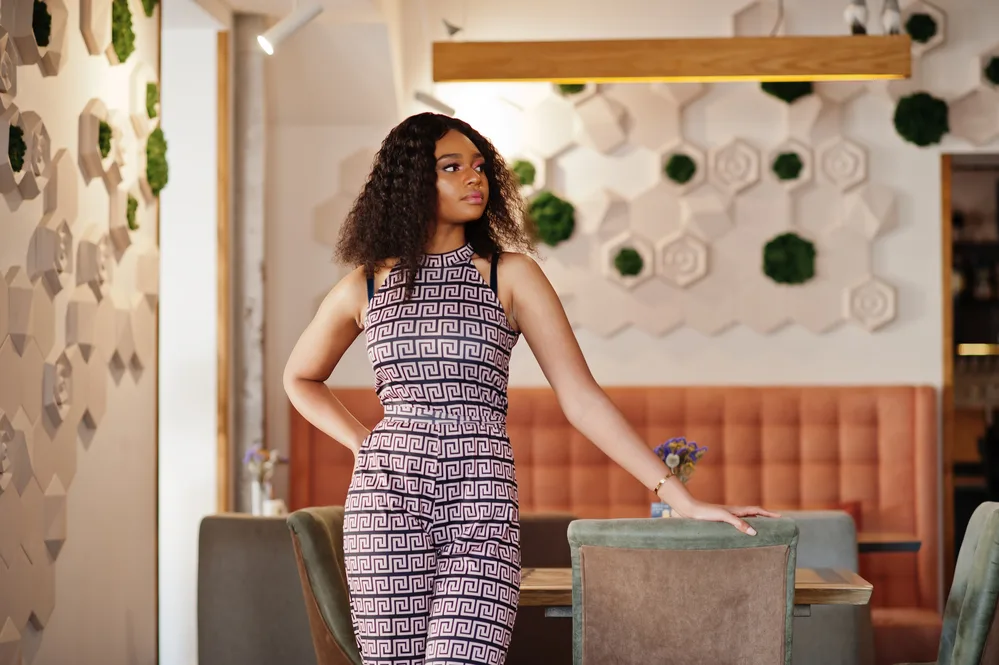 Cons
Just one cap-size option.
May require some styling to get it to look like the picture.
Lace isn't as transparent as some would like.
6. Beauhair Lace Closure Human Hair Wig Straight
Looking for a lace closure unit? Here's one of the most natural ones you'll find anywhere. The hair on this unit is 10A quality unprocessed Brazilian hair with a density of 150% and a length of 18 inches.
When you put this wig on, no one will suspect it's not your hair.
Since this is a closure wig, it doesn't have lace from ear to ear. It's only situated in the crown of the head between the temples.
So, you'll only be able to part the wig in that area. Deep-side parts aren't an option. But if you want a simple, silky straight look, that's exactly what this wig will deliver.
You can get it in this bomb straight texture or kinky curly.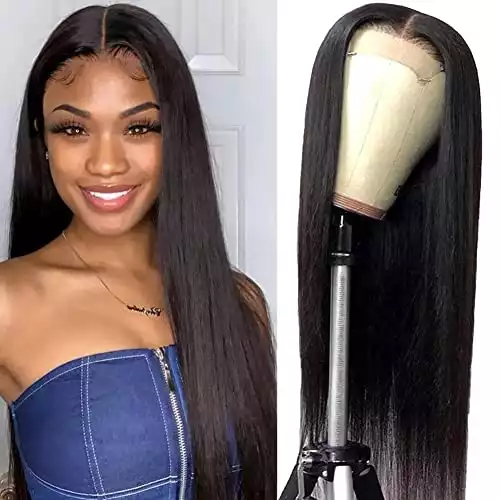 Pros and Cons
Before you pick up this unit, be sure to take a close look at the pros and cons associated with it. We'll outline them below:
Pros
Lace closure doesn't require a ton of styling to make the unit look natural.
Comes with elastic straps and combs for two layers of security.
Can be color treated or otherwise processed.
9A quality hair is durable and can last up to 24 months with proper care.
150% density is neither too thick nor too thin.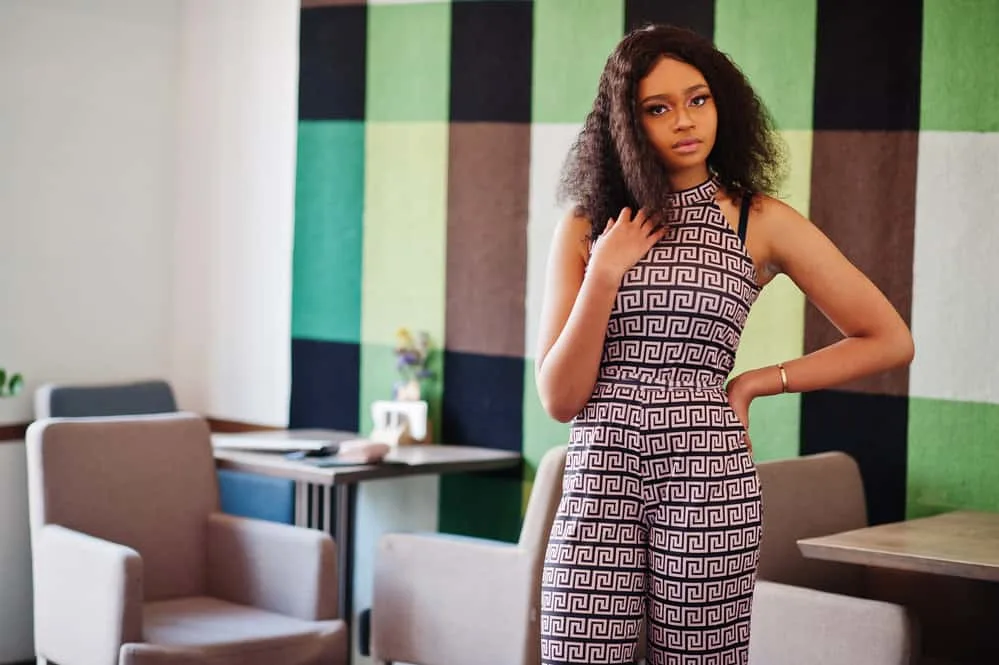 Cons
A few customers believe the wig isn't thick enough to be 150% density.
Only comes with a medium-sized cap.
5 Things to Consider When Choosing a Good Wig
If you're a wig newbie, you may be having trouble deciding which unit is right for you. That's 100% okay. In the following sections, we'll explain what you need to consider before forking over your coins.
Hair Type
If you prioritize naturalness, you'll need a human hair wig. Even those who don't know much about wigs can tell that a synthetic wig is fake. There are levels to human hair – virgin, Remy, and non-remy.
Virgin Hair: Virgin hair is the purest, highest-quality hair you can get your hands on. It doesn't go through the processing that other wig hair types go through – cuticle stripping, dyeing, texture processing, etc. It is cut from the donor's head, with all the hair cuticles facing one direction, and is minimally processed. As a result, it lasts for multiple years, doesn't tangle much, and isn't damaged by chemicals.
Remy Hair: The next best hair type for wigs is Remy hair. This hair has been minimally processed, similar to virgin hair, and it still has its cuticles intact. However, it may have been dyed or otherwise processed to take on a certain appearance or texture. And this could reduce its longevity, increase the risk of tangles, and reduce the hair quality overall.
Non-Remy Hair: Non-Remy hair is the lowest quality human hair. It doesn't have in-tact hair cuticles (the manufacturer strips them during processing), so excessive tangling is extremely common with this wig hair type. In addition to that, the hair may have gone through any number of chemical processes to get it looking the way you see it on the wig.
Synthetic Hair: If you're looking for a wig in a fun color, are short on cash, or just don't care about your unit looking natural, a synthetic wig could be just what you need. Synthetic hair fibers are cheap and easily manipulated into different textures and colors by manufacturers. The downside with this hair type is tangling, an unnatural shine, and the inability to heat-style and chemically process (in many cases).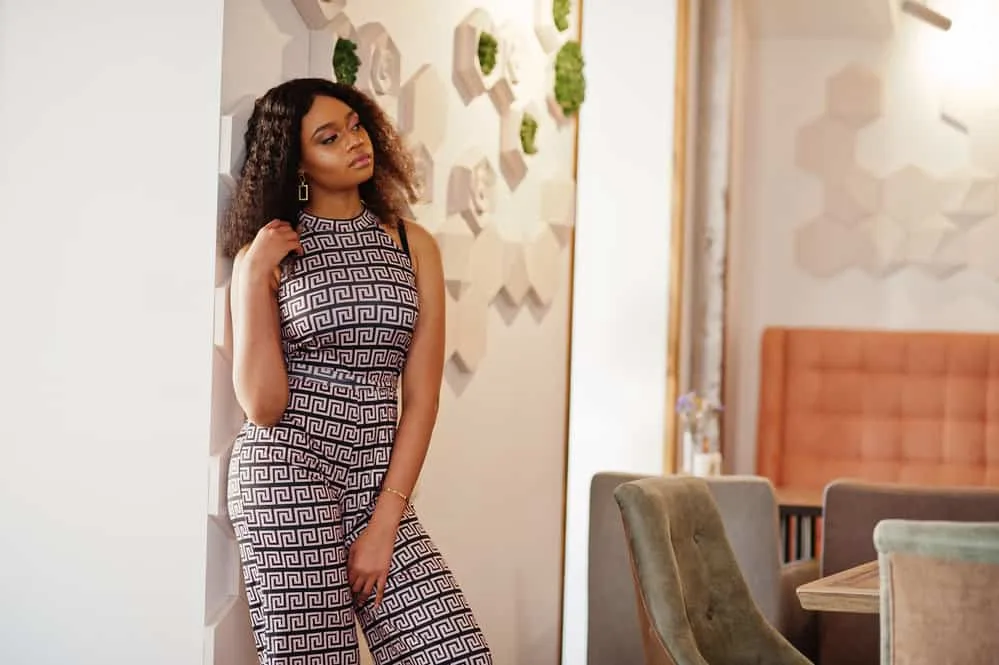 Lace Type
When it comes to wig lace types, there are several main options. They include Swiss lace, HD lace, clear lace, and transparent lace. None of these lace types are inherently bad, but transparent lace is the lowest quality.
Most lace types can be finessed to blend in with your skin (or melt) and look natural.
But the thinner and more transparent the lace is, the easier it will be to make it look like your wig is growing straight from your scalp. Stay away from Korean or French lace wigs – these are uncomfortable and difficult to work with as far as blending.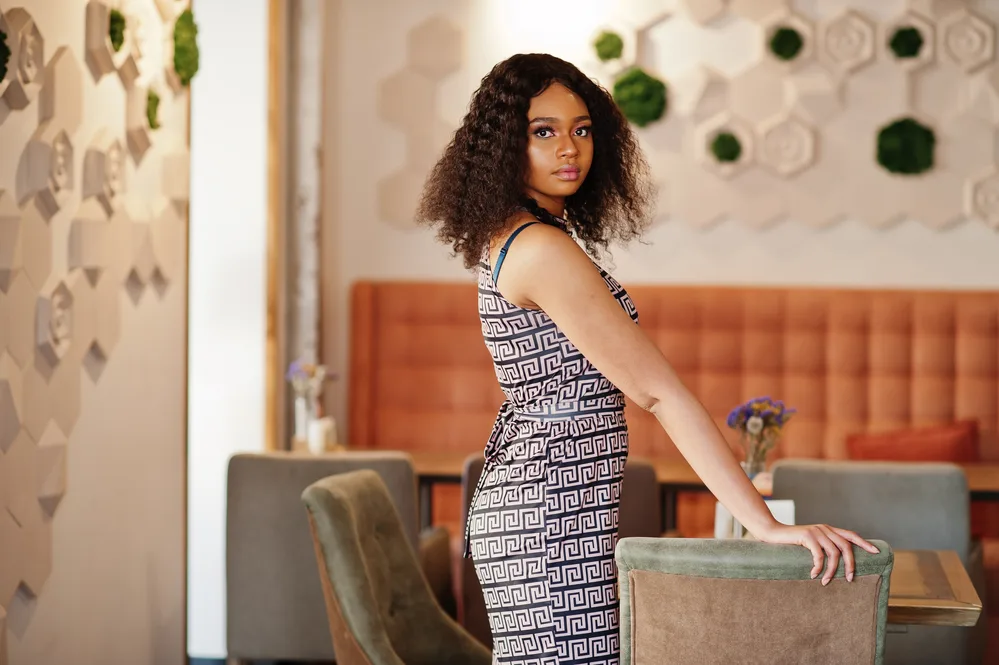 Hair Shedding Rate
Wigs come with only so much hair, and since they can't grow new hair, it's important that your unit doesn't shed excessively. Once a wig has shed too much hair, the wig won't have the volume or body it used to.
So, it's imperative that you choose a wig that doesn't shed a lot. Notice that we didn't tell you to look for a wig that doesn't shed at all. All wigs shed.
How the Hair Feels
The softer the wig's hair is, the more comfortable it will feel on your skin. Stay far away from any wig with hair that feels like sandpaper. Virgin hair is the least likely to exhibit this problem.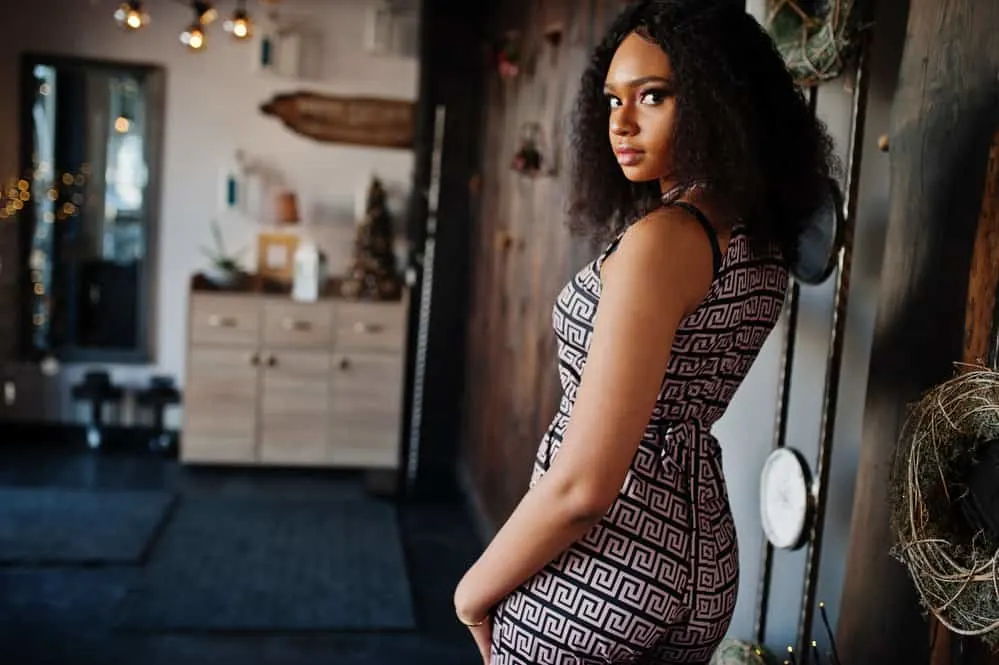 Wig Construction
Wigs may be constructed in various ways. There are closure wigs (with a 4×4, 5×5, or 5×5 inch lace portion in the crown, lace front wigs (with a 13×4, 13×5, or 13×6 lace portion across the front of the wig), full lace wigs (entirely lace), 360 wigs (lace around the perimeter of the wig), and more.
The best wig construction type for you will depend on the styles you plan on doing, how much money you have available for your unit, how experienced you are in installing wigs, and more.
But as a general rule, the more lace your wig has, the more styling versatility you have and the more natural your styles have the potential to be. In addition to that, you have wig extras for security, like ear tabs, adjustable straps, and combs.
You'll want all of these features for your unit if you're not planning on gluing it on. Otherwise, adjustable straps and combs will suffice in most cases.
Note: The best wig for you is individual; there's no perfect wig.
What Is a Wig?
A wig is a head covering that's typically made from either human hair or animal hair, although some wigs are made with synthetic fibers.
The root word 'wig' is derived from the word 'periwig'. The term first showed up in documented English literature around approximately 1675 AD.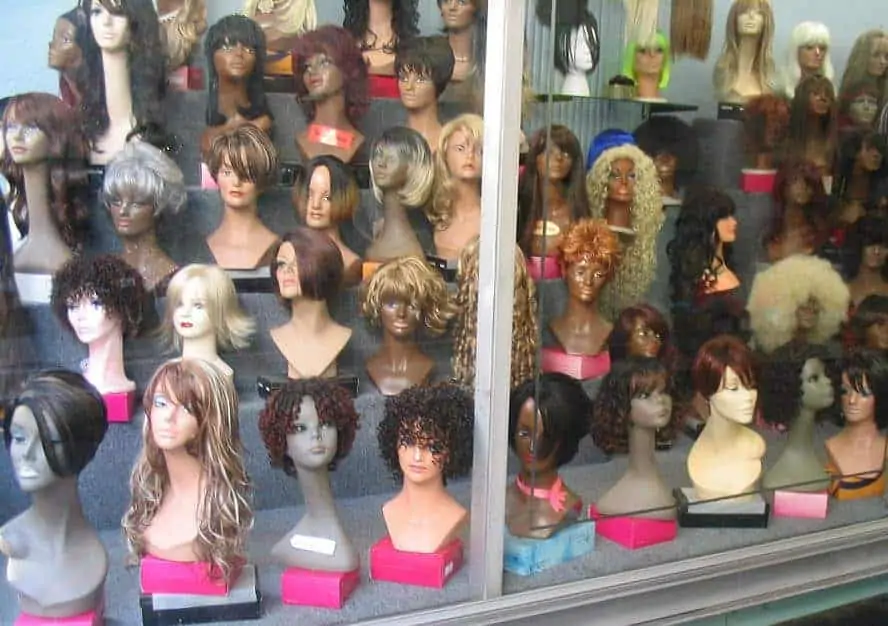 Wigs are worn for many reasons. Some people simply want to hide their hair loss, as wearing a wig can be far less intrusive (and cheaper) than restoring hair through surgery or even installing hair extensions.
Wigs for cancer patients are also very common. Some women use wigs, like apparel, as an opportunity to periodically change up their appearance.
In movies, it's common for actors and actresses to use wigs to suit the characters they portray.
A Historical Perspective on Wearing Wigs

In ancient Egypt, men and women often had their heads either shaved clean or cropped close to their scalps, and they would often use wigs.
In fact, it is theorized that ancient Egyptians created the wig itself so they could protect their heads from the rays of the sun.
Some Egyptians wore wigs on top of their hair, using resin and beeswax to keep the wig in place.
Rich Egyptians had elaborate wigs that sported scented cones of various animal fats on top. Other ancient or classical cultures that used wigs in daily fashion included Israeli Jews, Assyrians, Greeks, Romans, and Phoenicians.
How Are Hair Wigs Used in the 21st Century?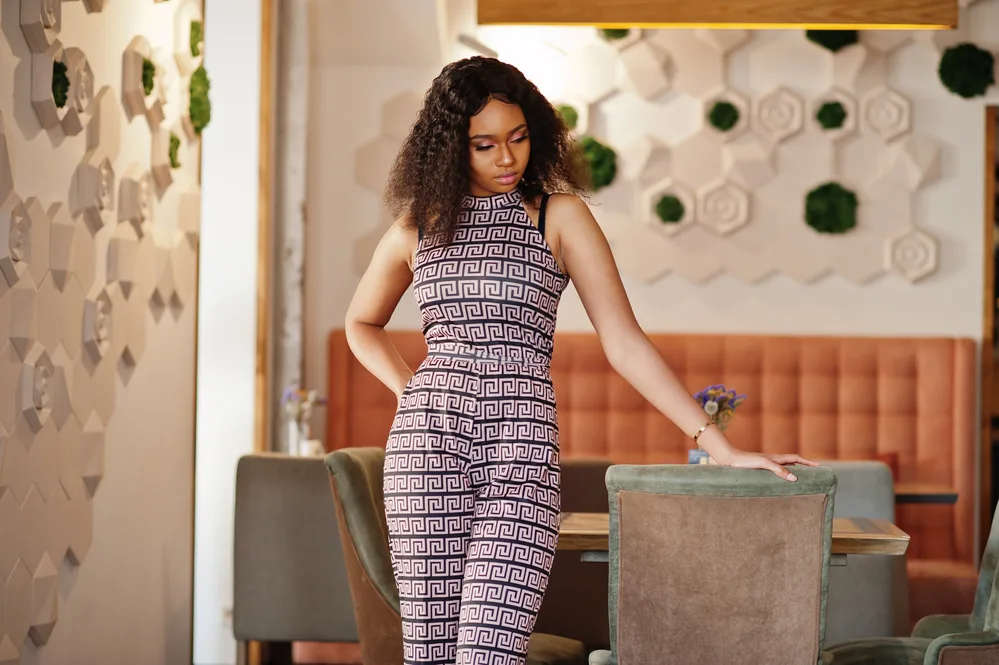 Wigs have been popularized in American society lately due to their use by celebrities such as Tina Turner, Diana Ross and The Supremes, Lady Gaga, Katy Perry, and Dolly Parton.
Cher is also known for wig-wearing over four decades, and Cher's wigs have ranged from curly to straight and from black to blonde.
Many individuals also wear them just for fun, as an article for fancy dress apparel, such as a costume party.
These might even be made from things like tinsel and contain outrageous colors. Halloween is a time of year that sees a lot of wigs. Television, theater, and film also use wigs a lot.
Wigs are worn by many people, sometimes daily, sometimes just situationally.
Convenience is often a reason behind their use, as wigs can get styled in advance.
Wigs are also used by those suffering hair loss, be it genetic pattern baldness in middle age or someone going through chemotherapy while undergoing cancer treatment.
Do Hair Wigs Cause Hair Loss?
Dr. Amir Yazdan Helps Celebrity Countess Vaughn on The Doctors
Wearing wigs for extended periods of time, especially when you neglect to properly care for your hair, can lead to all sorts of hair-related issues, including hair loss.
Although just to be clear, hair loss isn't exclusively attributed to wearing wigs. It's simply that wigs can contribute to hair loss. Actually, anyone can suffer from hair loss.
According to the American Hair Loss Association, up to 40 percent of hair loss sufferers in America are women.
It is not easy to understand the emotional toll that hair loss can have on you if you haven't previously experienced it first-hand.
It can be absolutely devastating.
Hair, especially for women, is a vital part of who you are and also a sense of femininity for women.
However, it becomes noticeable when the shedding rate exceeds the regrowth rate or when the rate of regrowth becomes thinner relative to the past.
Excessive hair loss is known medically as alopecia. The condition may be triggered by a wide range of factors, like side effects of chemotherapy and radiation effects, stress, genetics, age, autoimmune disorders, and poor nutrition, among other things.
Androgenetic alopecia is genetically predisposed and causes 95 percent of hair loss – often pattern balding for men and diffuse thinning for women.
Alopecia areata, as well as other kinds of lesser-known alopecia, refer to autoimmune disorders that result in hair loss and may range from tiny patches to total hair loss. This condition can be permanent or temporary.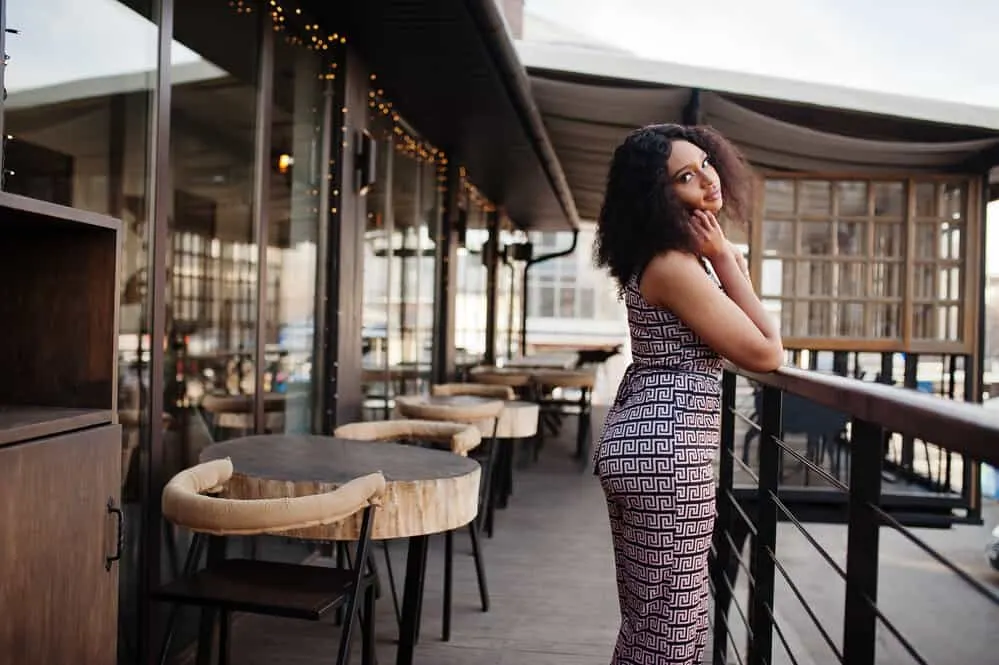 What Is the Best Place to Buy Hair Wigs?
For those who prefer to shop in-person, local beauty supply stores and wig boutiques can be a great place to start. These locations often have a wide selection of wigs in various styles, colors, and materials. Additionally, you can try on wigs before making a purchase, which can be helpful in finding the right fit and style for you.
What Is the Best Place to Buy Wigs Online?
If you prefer to shop online, there are many reputable websites that offer a wide selection of wigs at affordable prices. Some popular online retailers for wigs include Amazon, WigOutlet.com, and Wigs.com. When shopping online, it's important to read reviews and do your research on the retailer before making a purchase to ensure that you're getting a quality product.
What Are the Best Wigs for Thinning Hair?
For those with thinning hair, try Monofilament wigs which feature a thin, breathable mesh material at the crown of the wig. This creates a more natural-looking scalp and hairline. Additionally, lace front wigs can be a great option, as they feature a lace material at the front of the wig that mimics the appearance of natural hair growth.
What Is the Best Brand of Synthetic Wigs?
When it comes to synthetic wigs, there are many great brands to choose from. Some popular options include Raquel Welch, Jon Renau, and Estetica Designs. These brands offer a wide selection of synthetic wigs in various styles and colors and are known for their quality and durability. A synthetic wig is made from synthetic fibers rather than natural human hair.
What Is the Best Brand of Lace Front Wigs?
If you're in the market for a lace front wig, there are many great brands to choose from as well. Some popular options include Sensational, It's A Wig, and Outre. These brands offer a wide selection of lace front wigs in various styles, lengths, and textures and are known for their quality construction and natural-looking hairlines.
Who Has the Best Full Lace Wigs?
When it comes to full lace wigs, many great options are available from various brands. Some popular options include Zury Hollywood, Vivica Fox, and Bobbi Boss. These brands offer a wide selection of full lace wigs in various styles, textures, and colors and are known for their quality construction and comfortable fit.
Which Cap Is Best for Wigs?
Some popular options include traditional caps, which feature a closed crown and are typically the most affordable option. Additionally, monofilament caps and lace front caps can provide a more natural-looking scalp and hairline, while full lace caps can provide maximum comfort and breathability. Ultimately, the best wig cap depends on your budget, level of coverage, and personal preferences.
How to Choose a Wig for Your Face Shape
While you consider and compare different wigs that interest you, take some time to think about the styles that might be flattering based on the shape of your face. Below are a few guidelines you might find helpful.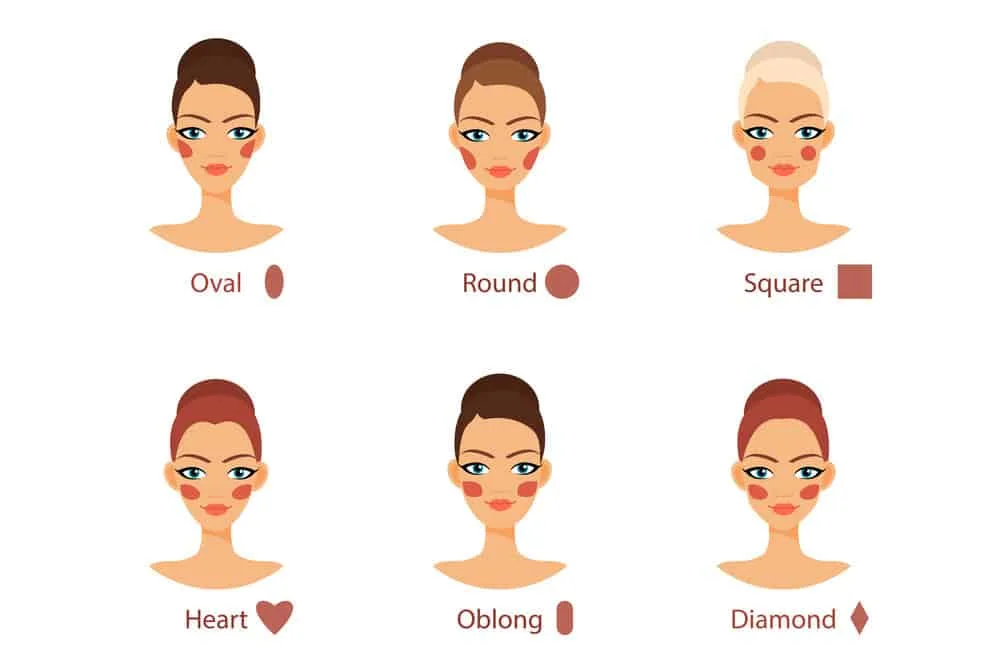 Oval (or Oblong): An oval-shaped face is longer rather than wide, while the jaw is narrower than the cheekbones. Since an oval-shaped face doesn't have any dominant areas and is largely proportional, the face will look good with almost any hairstyle, length as well as texture.
Round: A round-shaped face has a wide hairline and fullness beneath the cheekbones. Some women with round faces may be obese, with the neck appearing short. Round-shaped faces look pretty good with a linear or geometric style. Add height, if you can, and long, thin side areas for the cheeks to appear narrow. Then comb the hair close to the head both on the side and at the back of your neck.
Square: A squared-shaped face has a wide hairline and jaw. Such a face needs height on top, while the sides should be narrow. To add height to the face, comb the hair off your forehead. Curly texture and wisps of hair close to the face break the wide, straight lines commonly found on square faces.
Heart (or Diamond): Heart-shaped faces have wide foreheads and narrower chins. To hide its width, bring some hair onto your forehead. You should also keep the hair close to the head, on the area close to your eyes, but make it somewhat full around the jaw as well as beneath and at the fore of the earlobes.
So, there you have it – 6 of the best wigs on Amazon and what to look for in your next unit! We hope you found everything you were looking for, and we wish you the best!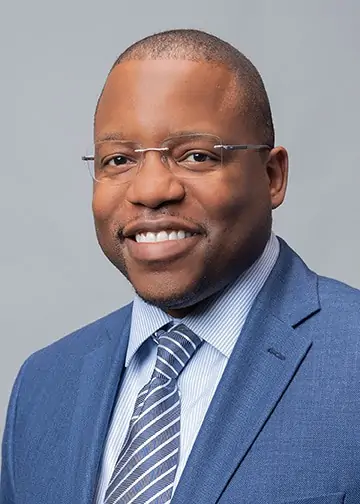 Kenneth Byrd holds a BS in Accounting and Management Information Systems and an MBA from the University of Alabama at Birmingham. With over 15 years of experience, Kenneth has been dedicated to hair care since 2008, when he co-founded Curl Centric® and Natural Hair Box alongside his wife. As a team, they promote healthy hair care practices through their comprehensive platform, Curl Centric. Curl Centric is a website operated by a husband and wife team that encourages healthy hair care. At Curl Centric, we aim to help our readers take control of their hair care journey and make good decisions about products, hairstyles, and maintenance techniques. We also have strict editorial integrity; here's an explanation of our editorial guidelines and how we make money.