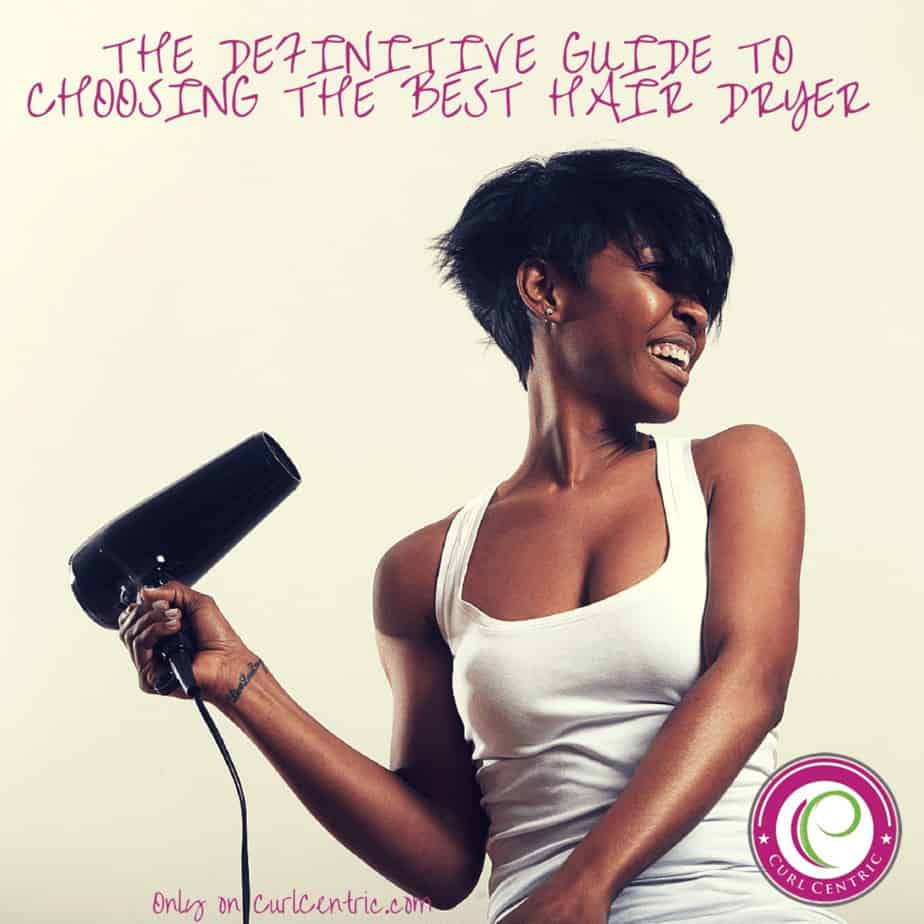 How to Choose the Best Hair Dryer for Your Hair Type
Whenever we look to buy a new hair dryer, the price, unfortunately, dictates which unit we are more likely to buy.
Why is this a problem?
We generally don't take the time to consider and understand all of those extra features, specifications, and details that are on the product's packaging.
You will see buzzwords like ceramic, watts, ionic, tourmaline, and whatever the heck a cool blast is!
Definitive Consumer Reports Style Hair Dryer Buying Guide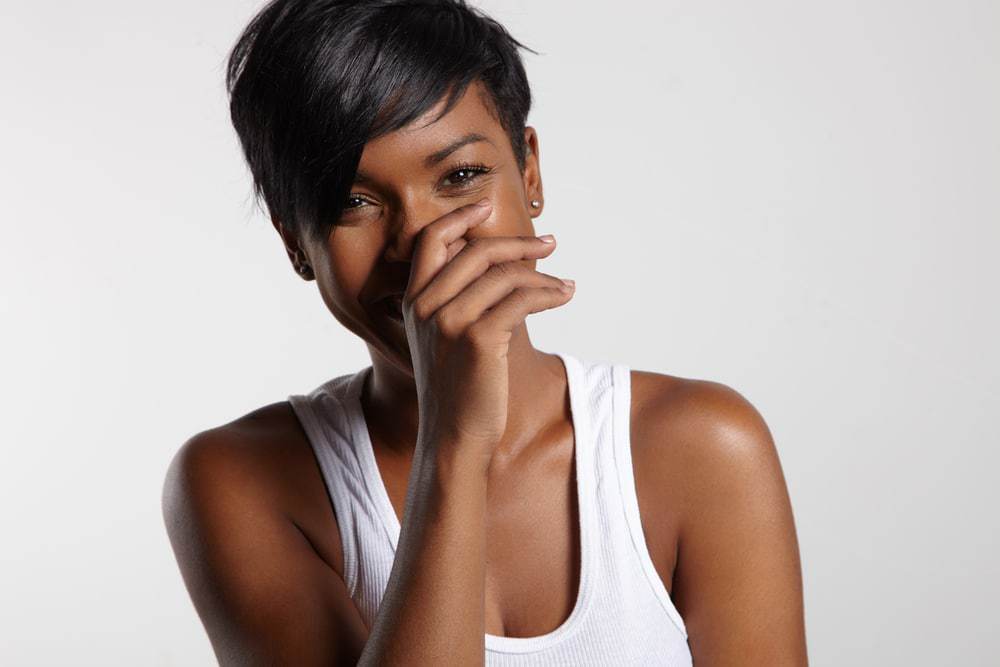 Buying a hair dryer is similar to buying wine – some dryers are $20, others dryers cost $250, and you're not really sure if you're getting your money's worth.
Ladies are always asking us for our recommended list of hair products, tools & accessories. This is why we decided to create a comprehensive hair dryer buying guide. In addition to providing product recommendations, we'll also cover the following frequently asked questions:
What is an ionic hair dryer?
What is a ceramic hair dryer?
What does tourmaline ceramic mean?
What are the best dryer brands?
What is the best hair dryer for African American hair?
What is the best hair dryer for naturally curly hair?
What do all the top dryers have in common?
Our goal is to make sure that you purchase the best hair dryer for your needs at the end of the day. So, let's dive right into our analysis; what is the best dryer?
The Best Mid-range Hair Dryer for Curly Hair
Curl Centric recommends the BaBylissPRO Nano Titanium Dryer by BaBylissPRO. This ergonomically designed hair dryer provides an impressive package of speed, power, and advanced features. It's also lightweight, easy to handle, and includes multiple heat and speed settings. Learn more about the BaBylissPRO Nano Titanium Dryer and see the current pricing on Amazon.com (click here).
One popular hair dryer among women that have 3A to 4B hair types is the DevaCurl Devafuser. We haven't tested this unit, but based on anecdotal evidence we decided to include it in this article. The device can help cut hair drying sessions by more than 50 percent. It's not as feature-packed as the Dyson Supersonic hair dryer, but it's often more reasonably priced. Check current pricing on Amazon.com.
The Best Hooded Dryers for Curly Hair
Depending on your hair type, porosity levels, and general preferences, many naturals prefer to deep condition with either a hair steamer (see our favorites), a hand-held hair dryer, or a hooded hair dryer.
In this section, we'll primarily highlight the differences between hooded hair dryers and handheld dryers.
The most noticeable difference is that handheld dryers require that you hold them, while hooded hair dryers allow you to dry your hair and read a book, check your email, paint your fingernails, drink a cup of coffee, and much more.
In other words, you can multitask while using a hooded hair dryer.
Plus, hooded dryers, in addition to being hands-free, circulate warm air and are designed to discharge indirect heat to your hair. Handheld dryers blow hot air, instead of circulating air.
Ladies with curly hair, especially in the natural hair community, often use hooded hair dryers while deep conditioning, though the best hooded dryers provide an overall better drying result with less effort.
There are many benefits of using hood hair dryers, although downsides include the amount of space required to store a hood dryer, plus it's usually a much more expensive option than a conventional hand-held hair dryer.
The best hooded dryers are easy to disassemble and easily fit into a relatively small storage space.
Comprehensive Hair Dryer Buying Guide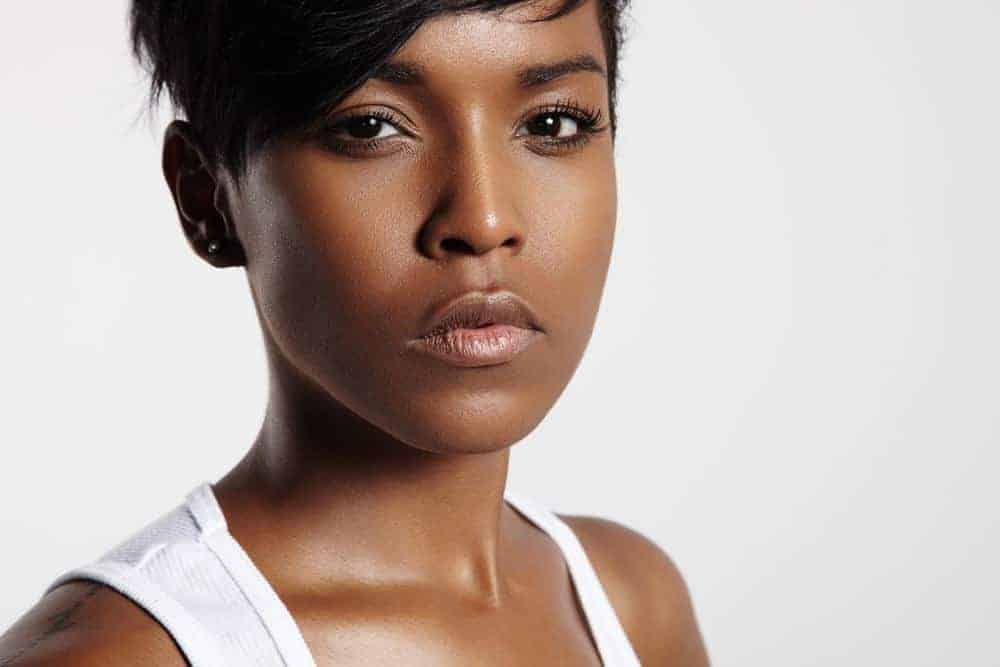 The following information was considered about the hair dryers that we've reviewed:
Brand name and dryer type/model
Hair dryer design and wattage
The overall weight of the hair dryer
Combination of features
Pricing
Consumer opinion (ratings/reviews, up to 5 stars)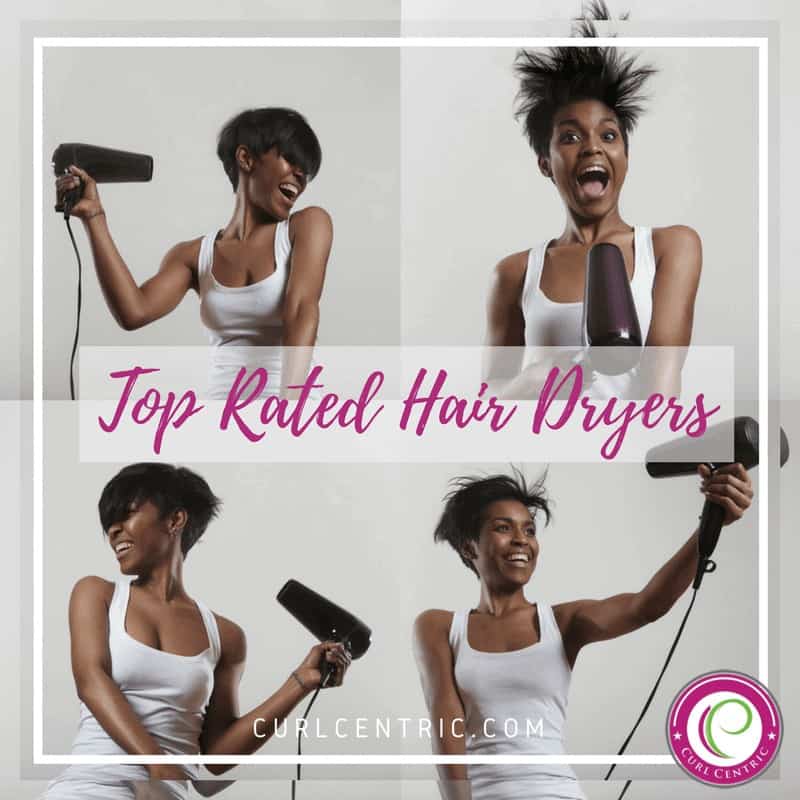 Top-Rated Hair Dryers
If you can't find what you're looking for in the list of hair dryers shown above, there are several more hair dryers available on Amazon. Our goal is to present a range of the best hair dryers from each category.
Advancements in the Hair Dryer Marketplace: Innovation or Hyperbole?
If you haven't recently purchased a hair dryer, you will certainly be surprised at what is out there on the market today.
Due to some rapid changes in technology, and some great innovations by the people responsible for coming up with these updates, hair dryers have seen an incredible transformation over the past number of years.
An outdated hair dryer is what can often lead to a styling experience that doesn't leave that same great look that you get after a visit to a salon.
So you may be thinking, "Well if it's not the price, how should I know what's important in my next hair dryer?"
You need to ensure that you purchase a product that is right for your hair, picking one that matches what you want to use it for, and what features you need it to have.
Latest Features of the Best Hair Dryers

High Wattage Hair Dryers
High-wattage hair dryers will have a greater amount of power. Also, these units pump out more heat, in turn drying the hair quicker.
Keep in mind that damaging your hair with too much heat is a very realistic scenario. You need to ensure that you aren't frying your hair, and instead, are drying it.
Ensure that the wattage you buy is the right amount needed for you and your hair, without going overboard. You don't necessarily need a high wattage dryer unless you have coarse or thick hair.
Dryers for Coarse, Thick, or Curly Hair
If you have coarse hair, thick strands of hair, or curly hair you might want to consider a higher wattage hair dryer, to ensure that your hair dries in a timely fashion.
Dryers with higher watts, have more blowing power and produce more heat, which can maneuver around thick or coarse hair strands more easily and ensure they dry thoroughly.
Plus, thick hair tends to be stronger than fine hair and is able to withstand this more intense blow drying process.
For ladies with short hair or long fine hair, you might consider purchasing a hair dryer with lesser wattage.
The thought behind this consideration is that a lower wattage dryer will produce less heat and mitigate the possibility that you'll receive heat damage.
Short hair or long fine hair generally can't handle the heat the same way that thicker hair or coarse hair can.
As a frame of reference for your purchase, 1,875 watts is generally enough power to dry thicker hair.
The Importance of Temperature Controls
It's also worth noting that many hair dryers have temperature controls, which are used to regulate the heat.
Buying a dryer that has the ability to change the heat setting for how intense or high the heat gets is a very important consideration. This is why having more than an on/off switch is important.
It will allow you to tailor how much heat is needed specifically for your hair type. This is critical for those looking hair dryers for natural hair.
There is no real "rule" when it comes to the wattage for your type of hair, but here are some reference points to consider.
Damaged, Thin or Fine Hair: 1200 to 1500 Wattage: If your hair is already damaged or is somewhat fragile, allow your hair to air-dry first, and then change the settings to the lowest level before drying your hair.
Normal/Medium Straight or Wavy Hair: 1300 to 1800 Wattage: Hair types in this category will usually be able to dry quite well within this range of wattage.
Coarse, Thick, or Curly Hair: 1600 to 2000 Wattage: As discussed, this hair type is more favorable to allowing high levels of power and heat, and a dryer in this range will do the trick for the quickest drying time.
What's the Best Travel Hair Dryer?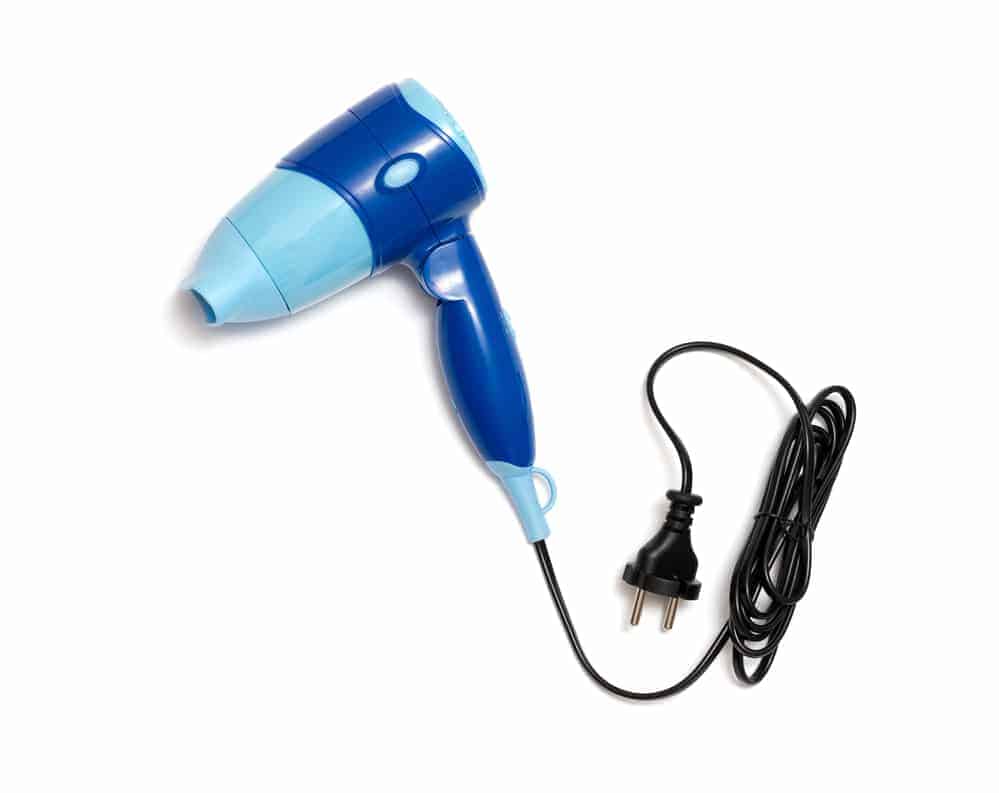 In case you need to travel frequently, it's better to have your own hair dryer as the dryers offered by hotels are typically too big, too loud, or do not satisfy your needs.
In such situations, the best travel hair dryers operate at low noise levels and easily fit into your travel bag or case. Noise level is a consideration as you don't want to disturb other guests in the hotel.
Consider looking at the voltage of your new dryer. Something to think about is that if your dryer doesn't have an option for dual voltage, it will not work internationally, outside of Canada and the US, or in other countries that do not support 110/120V.
You can purchase a standard adapter or converter to use the 220/240V, which allows you to carry your dryer almost anywhere your travels may take you.
Also, as previously mentioned, you may want to look at getting a dryer that is compact with a fold-down handle, to ensure that the unit easily fits in your suitcase.
The Best Travel Hair Dryers with Folding Handles and Dual Voltage
Using the links below, you can check the current prices of these travel dryers on Amazon.com.
Heat Options
Simply put the more heat options, the better. Every dryer type should have basic heat settings (i.e., low versus high heat).
This will ensure that if the unit is too hot, you are able to reduce the heat. If the unit isn't hot enough, you want to be able to turn that heat level up!
It's easiest to style your hair when it is already a bit damp and warm, so remember this if you're someone who likes to style their hair frequently, this tip will be more important for you and your hair.
Less heat tends to be better, as too much heat will lead to damage. Always keep the dryer moving, not leaving it too long in any one section.
You need to ensure the heat is high enough that it dries your hair but low enough that it doesn't cause damage.
Cool Shot /Blast
Many people may already have a cool shot button on their hair dryer and may not even know that it actually serves a purpose!
While heat works to dry and create the style, this cool air setting will allow you to set your style in place!
When styling section by section, be sure to give each finished area a blast of cool air to set that area in.
A helpful tip in the event that your hair dryer needs you to hold down the cool button, is to try and use a twist-tie like the ones you use to keep your bread bags, to keep the button held down to give your finger a break!
If you haven't recently purchased a hair dryer in the past decade, and you frequently use a dryer to style your hair, it might be time to consider an upgrade!
Especially when you consider the cost compared to the number of times you use it, the investment will be well worth your while.
With some recent advancements in technology such as tourmaline, infrared, ionic, ceramic, and porcelain features, it's probably time to look at replacing that old dryer!
So what does each of these terms mean?
It's important to understand the terminology so that you can be sure to find something that best matches your hair and its' needs.
The Ionic Dryer
Ionic hair dryers encourage moisture retention and speed up the drying time.
The ionic technology used in these dryers will help break down any water molecules in your hair, creating a faster drying period.
And, as you already know, the less time you spend dryer your hair, the less time your hair is exposed to potentially damaging heat.
Not only do ionic dryers reduce your drying time, but they also work best at low heat settings, once again minimizing any heat damage that could potentially happen.
Infrared Technology
Infrared heat technology is commonly found in tourmaline dryers. This type of drying system is much gentler on your hair, especially during styling.
Infrared dryers also allow your hair to endure a higher heat without creating damage to your hair. The goal of this technology is to help your hair dry evenly.
Tourmaline Technology
You may have heard of tourmaline before and know it for being a semi-precious gemstone.
When tourmaline dryers are heated, the tourmaline is able to specifically target sections of hair and break down large drops of water into a smaller droplet, which in turn is able to simply evaporate.
Not only does this quickly dry hair, but it also helps to mitigate heat damage.
Ceramic Technology
Ceramic dryers deliver an even, gentle heat. Ceramic is a unique material that has heat conducting properties, this means that the heat will radiate evenly across your hair, which mitigates sections from over-drying or overheating.
Concentrated Nozzles
Concentrated nozzles are designed to help direct where you want the heat to go. This can be especially helpful if you are styling your hair a particular way.
It is important to blow dry your hair without the concentrated nozzle first, to get out any initial moisture, before you start the styling process.
Diffuser Technology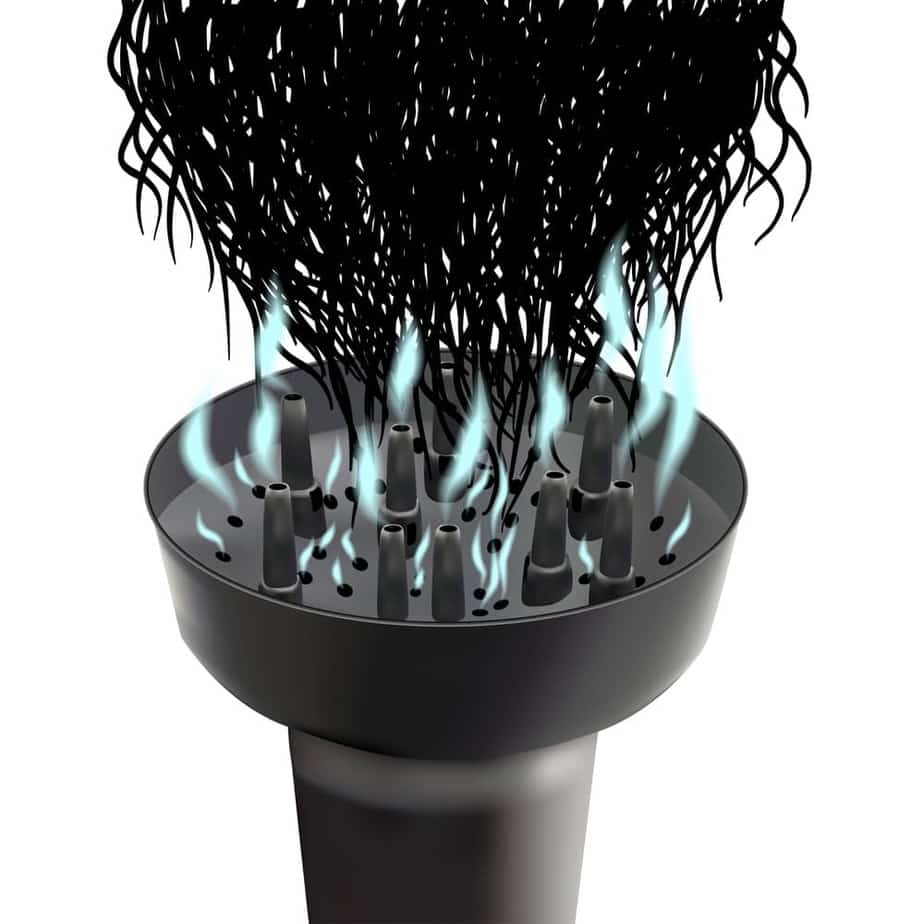 Diffusers usually work great if you have naturally curly hair! They help keep curls curly, as it slows down the drying process so as not to disturb the curls.
This tool is perfect if you don't have a ton of time to let your hair air dry, or when the weather outside is cooler. Plus, if you have straight hair, a diffuser can help set styles.
Can a Hair Dryer Cause a Headache?
There is no denying the fact that most models of hair dryers make more sound than a tornado in full swing. These things are especially loud when these are only a few inches away from the ears.
You should know that loud sounds can have a harmful effect on your hearing when you get constantly exposed to loud sounds.
It doesn't matter whether the loud sound exposure is only for a few minutes as even a little exposure can do a lot of harm. You may experience a clicking, ringing, or buzzing sound in your ears for a few hours after exposure to loud sound, similar to tinnitus.
Which Dryer is the Quietest?
The noise level of a hair dryer is measured in decibels. I will provide more details later on sound measurement, however, if you are looking for a quiet dryer, look for a dryer that has an alternate current (AC) motor.
This type of motor is usually very quiet. Many louder dryers have direct current motors (DC).
If you have particularly sensitive ears, you'll definitely want to invest in a quiet hair dryer.
However, we recommend considering the dryer's noise level even if you don't typically experience a ringing sensation after using a hair dryer.
Why Should You Consider Your Hair Dryer's Noise Level?
Hair dryers can cause a disturbance especially if you use them in a small apartment that does not have insulated, soundproof walls. As shown by this decibel scale, dryers are considered to be very loud at 90 dB.

The loud noise produced by a dryer may disturb your friends, family members, or even the next-door neighbors.
Your kids, your significant other, or your neighbors may not complain when the noise is tolerable, especially if you are running it only for a few minutes each day.
However, you will certainly hear from them when you run a dryer that makes too much noise, especially if it's early morning or during late evening hours.
Can Hair Dryers Cause Hearing Loss?
Hearing loss can be really dangerous, and you should be concerned about it. It is important for you to keep in mind that hearing damage may occur when your ears are exposed to loud noises (measured by decibel level) for a long period of time.
OSHA created the Occupational Safety and Health Administration's Noise standard (29 CFR 1910.95). The standard states that employers should establish hearing conservation programs under certain conditions if employees are consistently exposed to loud noises.
You might be surprised to learn that many modern dryers make noises that exceed OSHA's maximum standard according to 29 CFR 1910.95, and can cause hearing damage with prolonged usage.
Salons often use more powerful hair dryers. These more powerful dryers, which are often hooded dryers, commonly use motors of 1,500 watts or more. These motors make noises that often exceed 90 dB.
The CDC has also maintained that repeated exposure to noises of 90 dB can lead to hearing loss. In other words, you need to protect yourself from prolonged exposure to loud noises.
Removable Air Filter
Having a removable air filter is a great feature to have on your hair dryer. Remember to clean it on a regular basis. Build up from debris can cause your dryer to overheat and cause damage to your hair.
Weight
Dryers range in different sizes and weights. Most professionals use extremely light dryers that have AC motors and are often under one pound, to ensure their arms don't tire throughout the day.
Opting for a lighter weight dryer yourself isn't a bad idea either, especially when reaching around to the hard to reach spots on the back of your head. The last thing you want to do is give up and begin thinking, why did I do this, because your arms are tired!
The Best Blow Dryer for Natural Hair
We decided to write this article because it's tough to go through a process of trial and error with expensive electronic devices like blow dryers.
If you're trying to find the best blow dryer for your natural hair, there are several features to consider depending on your natural hair type.
All Hair Types
Ceramic hair dryers distribute heat evenly.
Ionic technology creates negative ions, which smooths the hair while locking in your hair's natural moisture, decreasing the overall drying time.
Thick or Coarse Hair
High air flow dries thick and coarse hair more quickly.
Multiple heat settings: lower settings for styling and higher ones for powerful drying. Use the lowest heat setting possible to achieve your desired result to mitigate the possibility of heat damage.
Curly Hair
Using a diffuser will encourage your curls to keep their definition and make them frizz-free. Most mid-range (or above) dryers have diffuser attachments available as add-ons. Several professional dryers include hair diffusers with the base unit.
Thin or Fine Hair
Having multiple heat and speed settings are preferred; use the lower heat settings for fine hair.
Having an on/off for the ion generator allows you to create more volume.
If you have fine hair, make sure you choose a blow dryer that has an ion switch. This will allow you to control turning the ionic generator on and off as you please, controlling the volume you create while styling your hair.
Straight Hair Types
It is important to look for a blow dryer with a combination of an ionic generator, tourmaline, and ceramic, as well as one that delivers infrared heat. This will ensure that your end result will be both smooth and frizz-free yet full of moisture. A dryer with a concentrated nozzle would be a bonus for this hair type, as it will let you direct that airflow in certain areas only.
The History of the Hair Dryer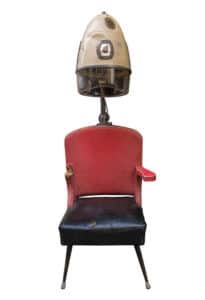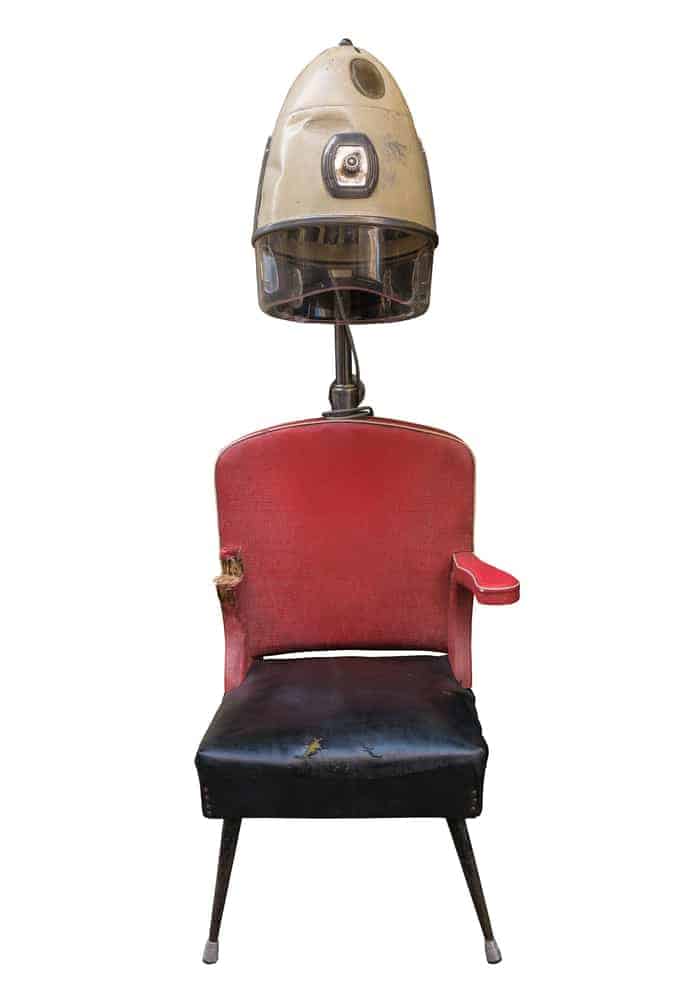 The hair dryer (or blow dryer) is a device that was engineered to move hot air through your damp hair.
The dryer then speeds up the evaporation process of water particles to dry the hair.
These dryers allow users to shape and style their hair, by controlling and speeding up the formation of hydrogen bonds in each strand of hair.
Hydrogen bonds are strong, but are only temporary and will eventually become vulnerable to humidity. These hydrogen bonds disappear after the hair has been washed one time.
The hair dryer can provide room temperature air for styling or heated air for drying and reducing frizzy hair.
The very first hair dryer was created in the 19th century. It was engineered by Alexander F. Godefroy in his salon in France.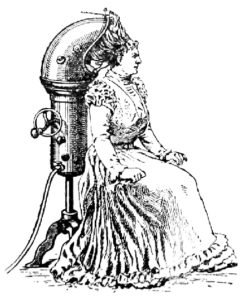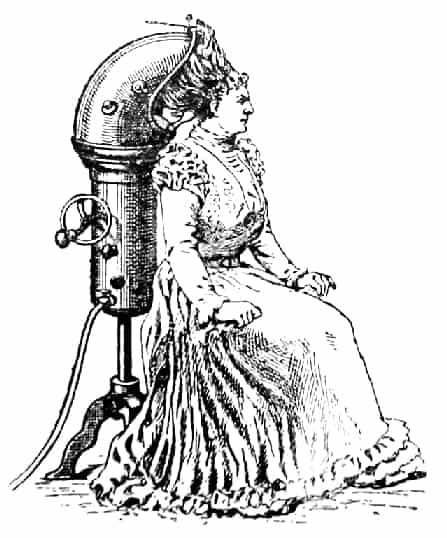 It wasn't until thirty years later in 1920 that the handheld version of that blow dryer was introduced, then utilized in beauty salons and by the average consumer who could afford one. Early dryers were very expensive for the average consumer.
Most blow dryers use wire coils that have a very high electric resistance. They heat up rapidly by way of electric current.
The dryer's fan blows the room temperature air across the hot coils that result in heated air that effectively dries the hair. This heating element is usually a bare, coiled wire wrapped with insulating mica heat boards.
The nichrome wires are utilized because of two distinct properties, it doesn't oxidize when heated and doesn't conduct electricity.
Most hair dryers used today use ceramic components because they provide instant heat. They take less time to heat up and dries the hair faster.
Most of the modern hair dryers have a normal button that turns off the heat and provides room temperature air.
This is helpful for setting the hair and reducing frizz. Many feature ionic operation, which reduces static electricity that builds in that hair.
The dryers available for purchase today come with a variety of attachments, airflow concentrators, diffusers, or comb nozzle attachments.
Airflow Concentrators: The airflow concentrator allows the end of the dryer to be narrow so heated air can work one area of the hair more rapidly.
Diffusers: Diffusers stop the hair from being blown around while drying.
Comb Nozzle Attachment: The comb attachments are similar to the concentrator, but with comb-like teeth on the end for easy styling and eliminating the need to hold a brush in the other hand while drying.
Before the blow dryer, most people had to use their vacuum cleaner to dry the hair. The original hair dryer designed by Godefroy in 1890 was inspired by the vacuum cleaner of the time.
The first consumer dryer was utilized in the salon where women had to sit under it to have the hair dried. The hair hood was a plastic dome that allowed heated air to flow through more evenly.
The hooded dryer is still in use in many high-end salons around the world.
When was the Handheld Hair Dryer Invented?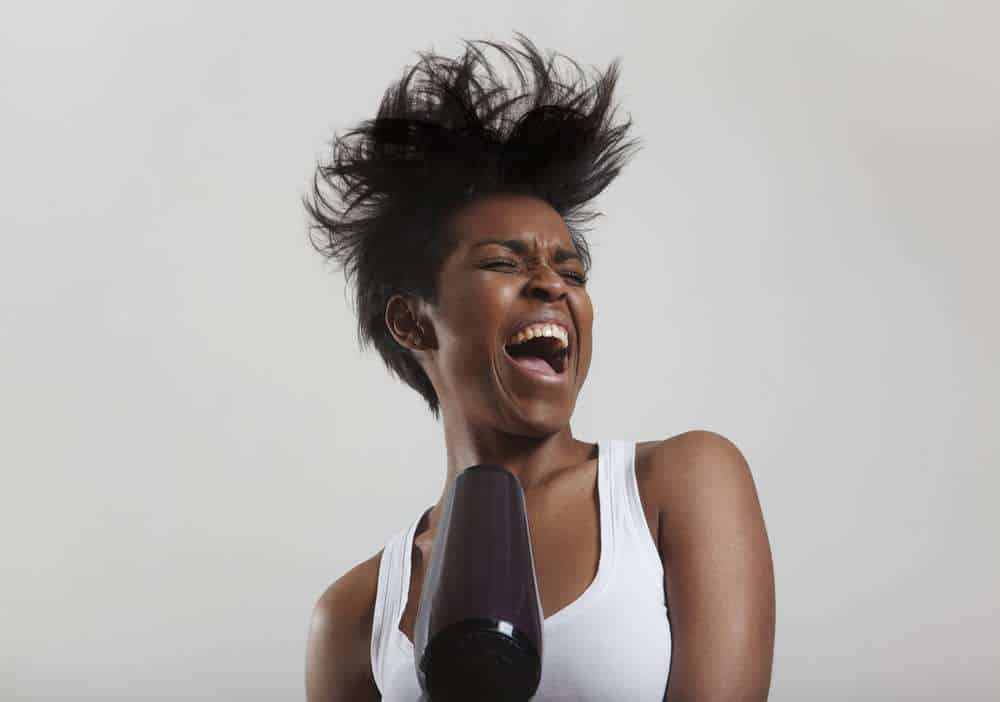 When were handheld hair dryers invented? In 1915, National Stamping Electric Works created the design changes that allowed the blow dryer to be handheld.
The Hamilton Beach Company continued that year to make more modifications to the design to give it a broader consumer appeal. It wasn't until four years, after a patent was granted, that handheld designs hit the consumer market.
Even in 1920, the hair dryer still weighed in at two pounds and was cumbersome to use.
There were many instances of electrocution and overheating, and since it only used 100 watts of power, the hair remained wet longer.
During this period, there were many deaths due to electrocution.
Dating back to the 1920s, the development of the hair dryer was focused on trying to improve upon the exterior design and the wattage.
Since the inception of the dryer over 100 years ago, there have been no major changes other than switching to a more lightweight exterior material.
It was in the 1960s when an improvement to plastics changes the look and weight of the blow dryer. The last significant design change was in 1954 when the motor was moved inside the casing.
Are Hair Dryers Dangerous?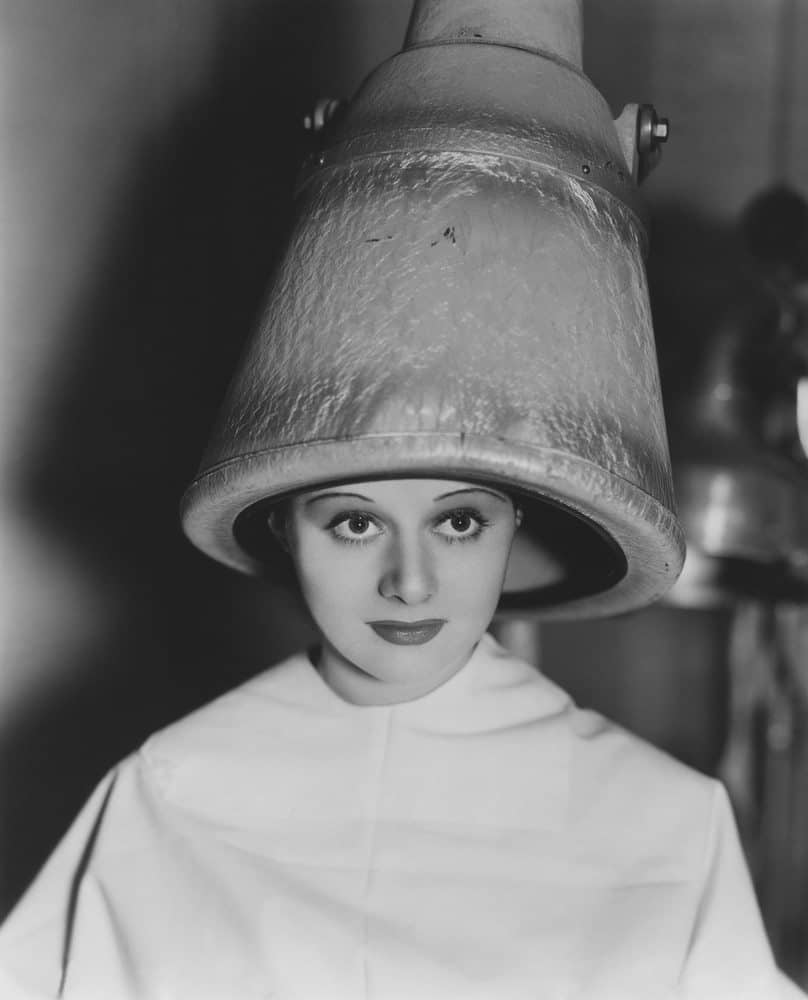 Hair dryers aren't dangerous anymore, but they were very dangerous a few years ago. The Consumer Product Safety Commission began to set-up guidelines in the 1970s concerning safety mechanisms that needed to be implemented before the hair dryer could be considered safe for manufacturing.
Going back to 1991, the Consumer Product Safety Commission mandates that all hair dryers in the United States must have a ground circuit protector so that a person can not get electrocuted if the device becomes wet.
In 2000, deaths from hair dryers dropped to a low of only four people per year, an enormous difference from the hundreds who lost their lives from electrocution in the mid-twentieth century.
The dryer today can also be used as an effective tool for treating head lice.
The noise, size, weight, and look of the modern dryer has completely gone through a transformation since the days of those noisy, heavy, and dangerous contraptions back in the early 1900s.
Nowadays several dozen manufacturers are engineering devices in different sizes, styles, and colors, but they all still run on the premise that was developed in a salon in France over 100 years ago.
The prices have also come down significantly. Dryers are now very affordable devices.
Today you can find two different types of dryers on the market (1) rigid hood dryers and (2) bonnet hair dryers.
The rigid hood dryer is typically seen in salons, with the large plastic dome with tiny air holes so the heated air can circulate properly. These dryers typically will use a much higher wattage than the bonnet dryer.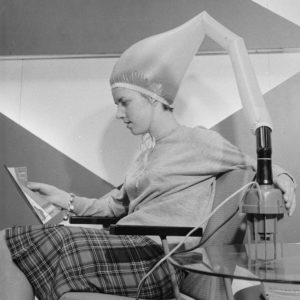 The bonnet dryer was first introduced back in 1951 and worked by connecting a little box to a tube that went inside the bonnet and placed it on a person's head.
When the heated air was pumped into the bonnet, it dried all the hair more evenly and quickly.
Well, there you have it! The ultimate guide to choosing the best hair dryer for your individual hair type. We hope you found it helpful, happy shopping!