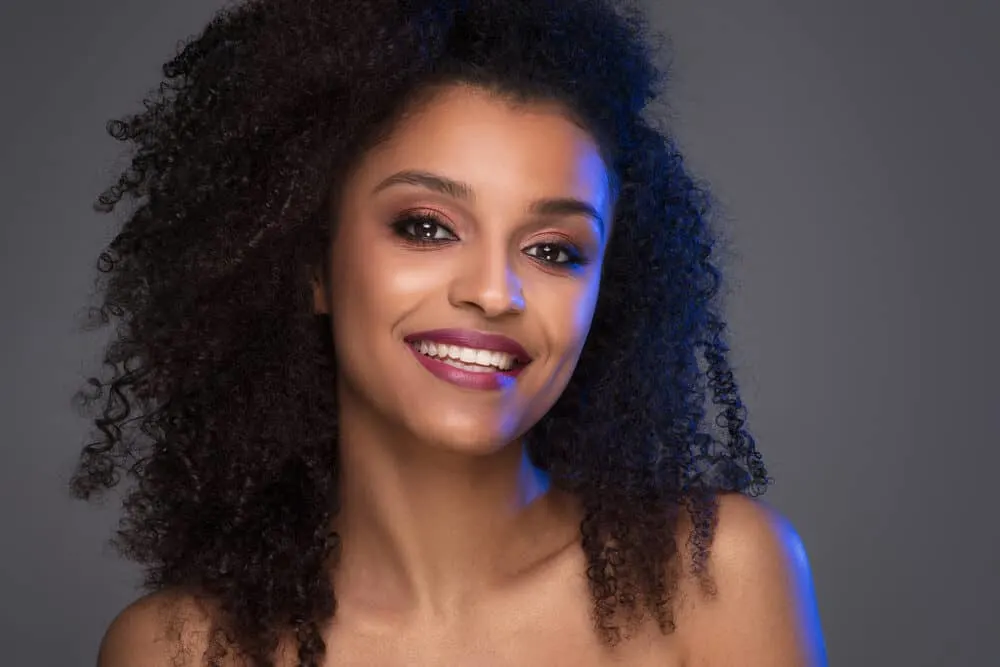 Daydreaming about extra-long, stunning Rapunzel-length hair is something we've all done at one point or another. After all, long hair is often highly coveted.
So, it only makes sense that you'd want to keep track of your hair growth on a regular basis.
Measuring the length is straight hair is relatively easy, unfortunately, it can be difficult to accurately measure the growth of curly hair due to its twists, turns, coils, and kinks.
So, in this article, we'll fill you in on several methods of measuring your natural hair length regardless of your hair type or texture.
How to Measure Hair Length
Documenting your hair's progress is an excellent way of finding out where you are on your hair growth journey. It's also a great way to gauge how different hair care routines or products affect your length retention (and overall hair length, consequently).
Below are several options for measuring your hair, along with the pros and cons.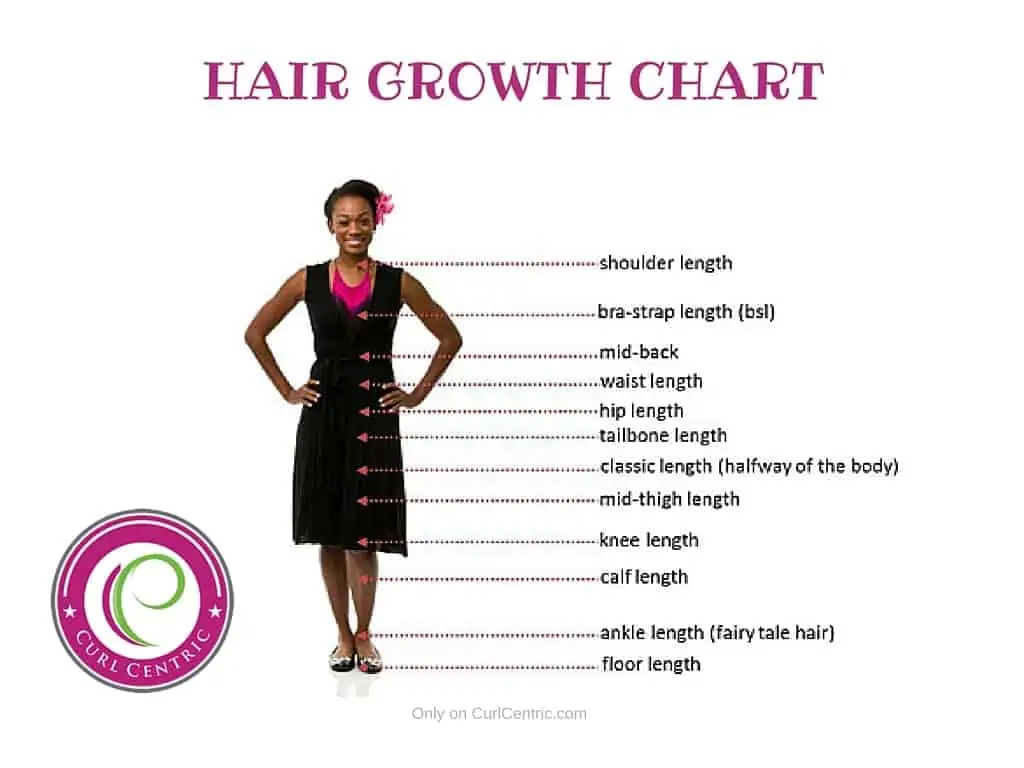 Comparison Photos for Length Checks
1 Year Post Big Chop | Length Check Comparison | Natural Hair
Comparison shots are all over the internet, and they are some of the most interesting photos shared on the web. Curly girls all over the world use them to measure their hair length over time.
Here are some tips for getting good hair length comparison shots:
Wear your hair in the same hairstyle in both pictures.
Make sure that your background and clothing contrast with your hair color.
Take the picture from the same distance in both pictures.
Leave enough time between the first picture and the second picture.
Comparison Photo Pros:
Visual: They are a great way to visually track your hair growth.
Click and Share Ability: They give you the opportunity to share your hair growth progress with your friends and family either in person or over social media.
Comparison Photo Cons:
Imprecise: They are not the best option if you want to get precise length measurements. Other methods work much better for this purpose.
Disappointment: You may take two pictures months apart and not notice any growth even though your hair did indeed grow. This could cause unnecessary discouragement.
Use a Length Check Shirt as a Hair Length Guide
DIY Hair Growth Length Check T-Shirts! How long is my hair?? | BiancaReneeToday
Another great way to track your hair growth progress is to get a length check shirt. It's a t-shirt featuring lines at different hair growth milestones – it not only allows you to keep track of your hair length, but it's a fun way to set length goals for the future.
With a length check shirt, you can periodically measure whether your hair has reached a certain length using body parts:
Ear Length (EL)
Shoulder Length (SL)
Armpit Length (APL)
Bra Strap Length (BSL)
Mid Back Length (MBL)
Waist Length (WL)
Or longer!
Pros of a Length Check Shirt
Easy measuring: If used correctly, you can track your hair growth inch by inch.
Click and shareability: Length check shirts are a great addition to hair length comparison photos.
Cons of a Length Check Shirt:
Inaccuracy: Your hair length measurement may be altered by how you wear the shirt. You might accidentally pull your shirt up, down, stretch it out, or the shirt might become looser with time.
Where Can You Get a Length Check Shirt?
Hair-length shirts are available online. Several online shops offer them for an affordable price. One of the best options is "Spreadshirt" as it offers colors and designs to suit everyone. Amazon and Etsy are other great options.
If you Google the term "length check shirt," you'll find several options available online.
Use a Soft Tape Measure
4c Natural Hair: Official 4 Year Length Check w/ Tape Measure
A soft tape measure (also called measuring tape) is the most accurate way to measure your hair length. The best way to track your progress with a tape measure is to write down your measurements and compare them with future ones.
Here are step by step instructions:
Unwrap your tape measure and find the end with the smaller numbers. Hold the tape measure at that end between your thumb and pointer finger.
Choose a section of your hair that you want to measure.
Hold your tape measure so that the end of it touches your scalp (near the hair section you chose).
Use one hand to hold the tape measure at your scalp and use the other one to stretch out and measure your hair.
Take note of where your hair ends.
Repeat the above instructions all over your head (on each side, the crown, the back, etc.)
Pros of Using a Soft Tape Measure
Accuracy: You can check exactly how long your hair is and keep track of your monthly hair growth rate.
Ease of Use: Once you get the hang of measuring your hair with a tape measure, it'll get easier over time.
Cons of a Soft Tape Measure
Measuring the hair in the back: You might find it tricky to measure the hair in the back, especially if you've got short curly hair.
Which Hair Measuring Method is the Best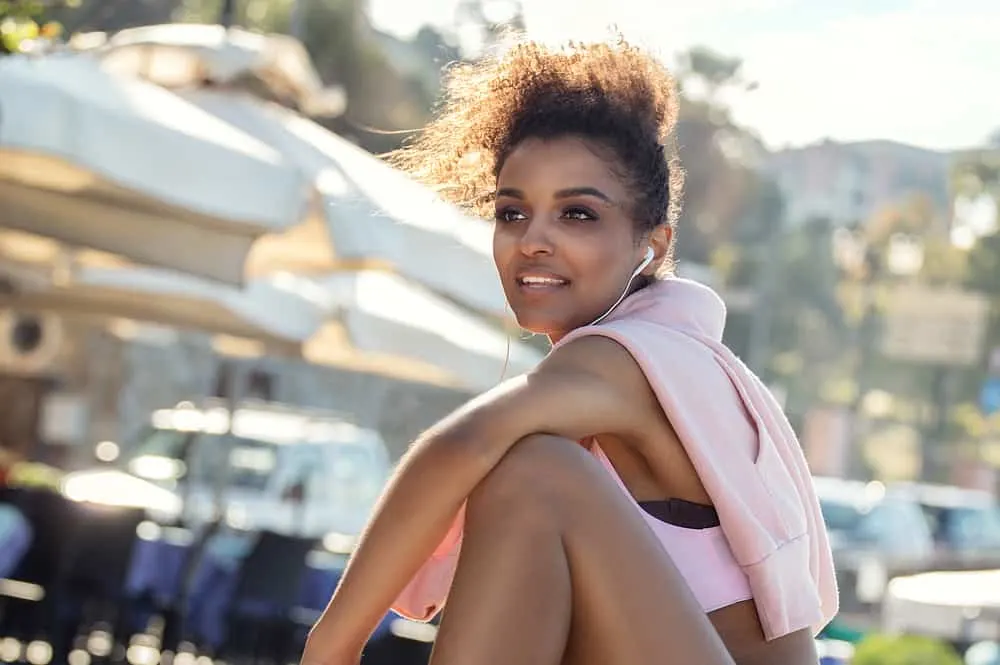 The best hair measuring method will vary from person to person, and this is because we all have different reasons for measuring our hair.
One person may want to do it for social media images – in this case, comparison photos or a hair-length T-shirt will be the best options.
Although, for someone who wants accuracy above all else, the soft tape measure method will be best. We suggest you choose which method is best for you based on the pros and cons.
How Not to Measure Hair Length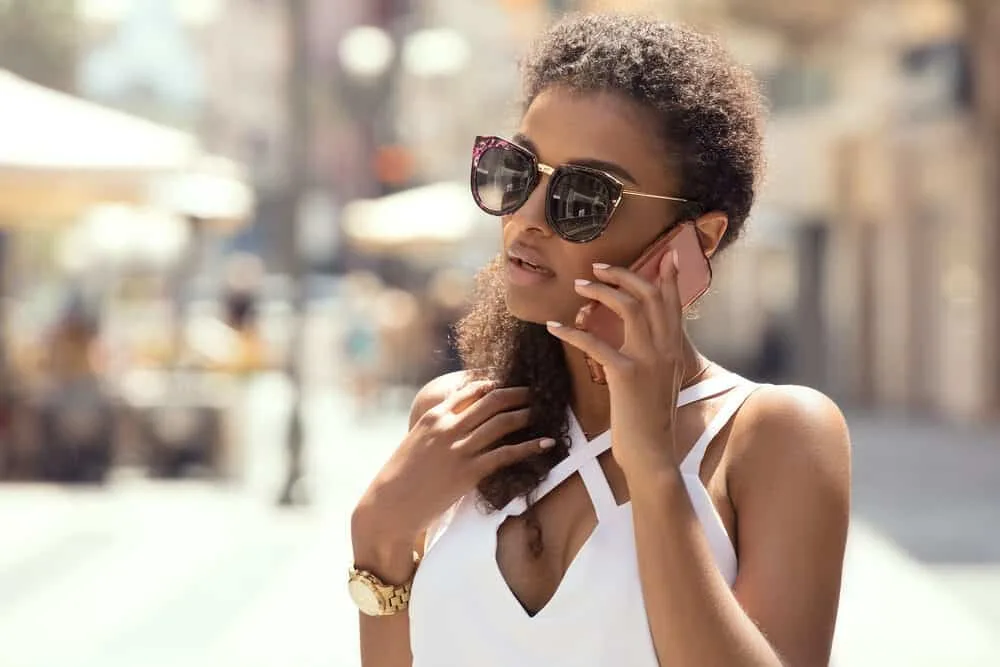 Now that you know how to correctly measure your hair's length, let's jump into some things that you should avoid when you measure your hair length.
Measuring it While Curly
Measuring your hair while it's in its curly state is a surefire way to get unreliable measurement results with comparison photos or length check shirts.
Since curly hair shrinks to different levels depending on the level of moisture in the air and how you style it, it's important to stretch or straighten your hair before measurement.
Stretching Your Natural Hair
Measuring straightened hair will give you the most precise measurements. But since we want to keep our hair healthy and promote growth, that's not the best option.
Luckily, when you stretch your natural hair, you'll get more reliable measurements than you would if you measured your hair in its curly state. So, at minimum, we recommend stretching your hair.
There are several ways to do this, and we'll focus on three of the most popular ways.
Banding
The banding method of stretching is preferred by curly girls who don't know how to braid and prefer to avoid heat. Here are some steps to follow for this stretching method:
Wash, condition, deep-condition (optional), and apply a leave-in conditioner to your hair. While the conditioner is in your hair, use a wide-toothed comb to detangle your hair. After this step, your hair will be ready for the stretching process.
Part your damp hair into several sections (4 or more) and secure each one with a scrunchie. Ouchless scrunchies are preferred over others, as they won't snag your delicate strands.
Choose one of the sections, remove any remaining tangles, and begin adding rubber bands down the length of your hair. Don't stop adding scrunchies until you've reached the ends of your hair.
Allow your hair to air-dry overnight and remove the scrunchies in the morning.
Detangle your hair gently with a wide-toothed comb.
Braiding
If you know how to braid, this stretching method may be perfect for you. Take the following steps to stretch your hair out with braids.
Prepare your hair for the stretching process by washing, conditioning, deep-conditioning (optional), and applying a leave-in conditioner to your hair. Detangle your hair with a wide-toothed comb while the conditioner is in your hair.
Part your hair into at least 4 equal sections and braid them from roots to ends.
Allow your hair to dry completely – it could take several hours. If needed, let it dry overnight.
Take the braids down and gently comb through your hair to see it in its stretched state.
Blow-drying
Blow-drying is yet another way to stretch your natural hair. When you use a heated option on your blow dryer, it'll get your hair straighter than the previous two methods. Use the following steps to blow your hair out without damaging it.
Prep your hair for the blow-drying process by washing, conditioning, deep-conditioning (optional), and applying your leave-in.
Part your hair into several sections and use clips to keep the sections separate.
Turn on your blow dryer and set it to low heat.
Take one of the sections down, spray it with a heat-protectant and then comb it through for even distribution.
Begin to blow-dry it from roots to tips. If you come across any tangles, use your fingers to detangle and then continue blowdrying.
Repeat the previous two steps on the rest of your hair.
As you track your hair's growth from this point forward, you should use the same stretching method each time. This will help to ensure that you get reliable measurements over time.
Measuring Too Often
Measuring your hair every week will only end in frustration over how little your hair has grown. So, we recommend that you measure your hair once every couple of months or so. The less often you do it, the more growth you'll see, and the happier you'll be with your progress.
Switching Between Measuring Methods
If you're keeping track of your hair growth over time, it's important not to switch between hair measuring methods. This will cause your hair growth records to be inconsistent or even downright confusing.
What Hair Length is Considered Long?
Everyone refers to hair lengths in the general terms of "short," "medium," and "long." However, these words may convey different things to different people. Let's go over the lengths that we consider short, medium, and long – they just may help you define your hair growth goals.
Short hair is shorter than 12 inches.
Medium-length hair is from 12 inches to 20 inches.
Long hair is longer than 20 inches.
These measurements only apply to straightened curly hair and are general estimates.
How Fast Does Hair Grow?
According to The American Academy of Dermatology, hair grows approximately half an inch per month or six inches per year. However, keep in mind that these numbers might not be the same for everyone.
Your hair growth rate depends on several factors, including your age, gender, and overall health.
Age: Hair grows faster between the ages of 15 and 30 than at any other time in your life.
Health: If you're dealing with thyroid issues or other health problems, your hair growth rate can slow. Stress levels can also cause your hair growth to slow down or stop in some areas.
Diet: If you are not taking in adequate nutrients, your hair will not grow at its normal rate. Eat a well-balanced diet of fruits, vegetables, proteins, and more to promote healthy hair growth.
Gender: Men grow hair faster than women.
Now that you know the many factors that influence hair growth let's move on to the hair growth cycle to give you some additional insight.
Get to Know the Hair Growth Cycle
Hair grows in a defined cycle, with multiple phases. We've outlined each of the stages below for quick reference.
Anagen phase: the "active growth" phase, when hair strands keep growing for 3 to 5 years.
Catagen Phase: the "transition" phase, when your hair stops growing. This stage lasts around 2 weeks.
Telogen Phase: the "resting" phase before your hair starts shedding. This phase lasts 2 to 3 months.
Exogen Phase: the "shedding" phase of the growth cycle.
A lot is still unknown about the hair growth phases, but we do know that these phases are relatively consistent unless you have a health problem.
If you're wondering whether you can extend your hair's anagen phase (growth phase), we've got some not-so-great news. There's no known way to extend it, as far as researchers know.
The best thing that you can do to maximize your natural hair growth is to put your health first.
Length Retention: The Key to Growing Long Hair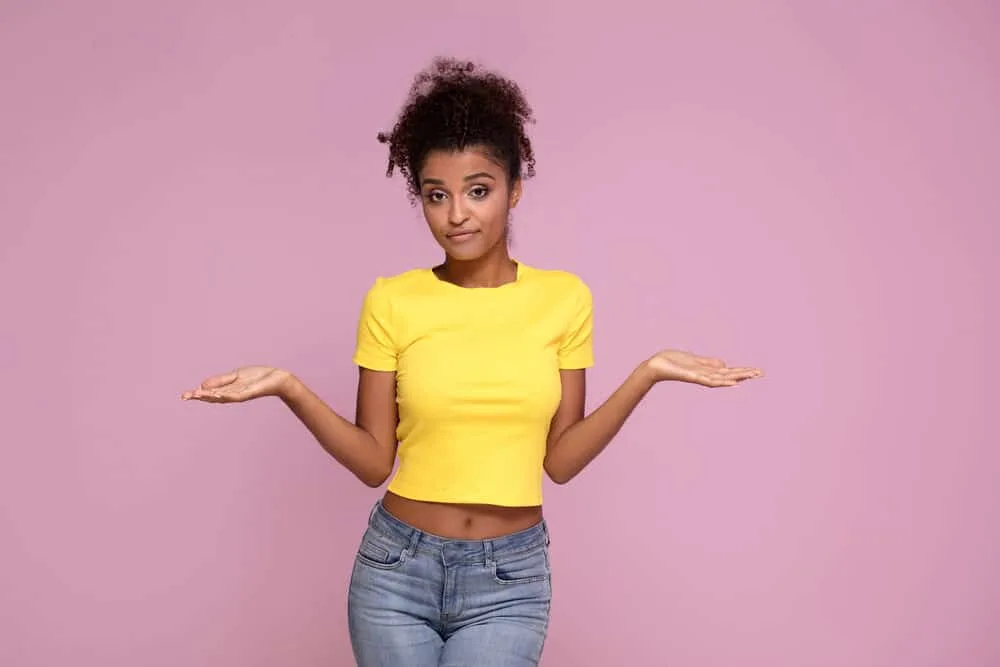 While there's no way to speed up hair growth, there are some steps you can take to maximize your length.
Length retention depends entirely on how well you take care of your hair after it's grown out. Your ends are the thinnest, weakest, and highest porosity parts of your hair.
As a result, they break and burn easier than the rest of your hair. To help your hair grow as long as possible, you must effectively slow down the damage to your ends.
Here are a few helpful tips to maximize length retention:
Keep Your Hair Moisturized
Keeping your hair moisturized is one of the best ways to promote length retention. Use the following tips to keep your hair moisturized:
Use hair products that have water listed as one of the first three ingredients. Ingredients are generally listed in the order of concentration. That means that the first few ingredients listed on an ingredient list are present in large amounts. Being that water is the most effective moisturizer there is, it's advantageous to use products that have a substantial amount of water in them.
Deep-condition your hair frequently. A good rule of thumb is to use a deep-conditioner 1 to 4 times per month. If your hair is extremely dry and you're having a hard time retaining length, you should do closer to 4 deep conditioning sessions per month.
Don't touch your hair all the time. When you mess with your hair, you remove moisture from your strands and leave them vulnerable to damage from outside elements. The more you leave your hair alone throughout the day, the better.
Seal in the moisture. If you're new to your natural hair journey and have done any amount of research, you may have heard about the importance of sealing in moisture. To seal in the moisture, you have to first apply a moisturizing liquid or oil, and then you apply a sealing oil or butter. Some popular sealing oils and butters include castor oil, babassu oil, and mango butter.
Moisturizing systems. Two popular moisturizing techniques worth checking out are the Curly Girl Method (learn more) and Squish to Condish (learn more).
Protect Your Hair at Night
Protecting your hair while you sleep is very important when trying to retain length. Most of us sleep on cotton pillowcases that rob our hair of moisture, leaving it dry and crunchy by morning.
Instead of sleeping on cotton pillowcases, you should opt for a non-absorbent silk or satin pillowcase. It will keep your hair from drying out.
The same principle applies to cotton scarves. Switch it out for a silk or satin scarf – it'll preserve your hair's moisture by forming a smooth barrier to prevent friction.
Wear Protective Hairstyles
Protective styles are a great way to maximize your length retention, as they keep your ends (and sometimes the entire hair shaft) tucked away and protected from outside elements. They also keep your hands out of your head.
You can also use hair extensions (or braiding hair) if you'd like to create braided hairstyles, like box braids, goddess braids, crochet braids, bantu knots, and more.
Curly hair can be challenging to measure, but luckily there are several ways to keep track of your hair growth progress.
No matter which measuring method you choose (comparison shots, hair length shirts, or soft tape measure), remember that hair growth takes time, care, and patience. We encourage you not to rush the growth process – instead, embrace the journey as a whole.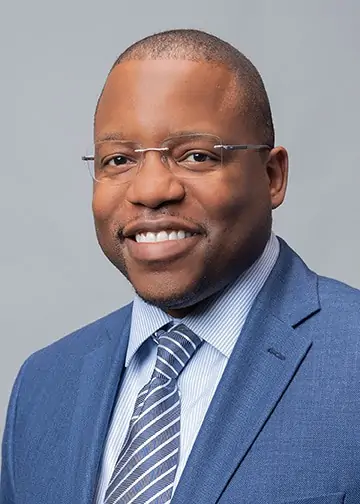 Kenneth Byrd holds a BS in Accounting and Management Information Systems and an MBA from the University of Alabama at Birmingham. With over 15 years of experience, Kenneth has been dedicated to hair care since 2008, when he co-founded Curl Centric® and Natural Hair Box alongside his wife. As a team, they promote healthy hair care practices through their comprehensive platform, Curl Centric. Curl Centric is a website operated by a husband and wife team that encourages healthy hair care. At Curl Centric, we aim to help our readers take control of their hair care journey and make good decisions about products, hairstyles, and maintenance techniques. We also have strict editorial integrity; here's an explanation of our editorial guidelines and how we make money.