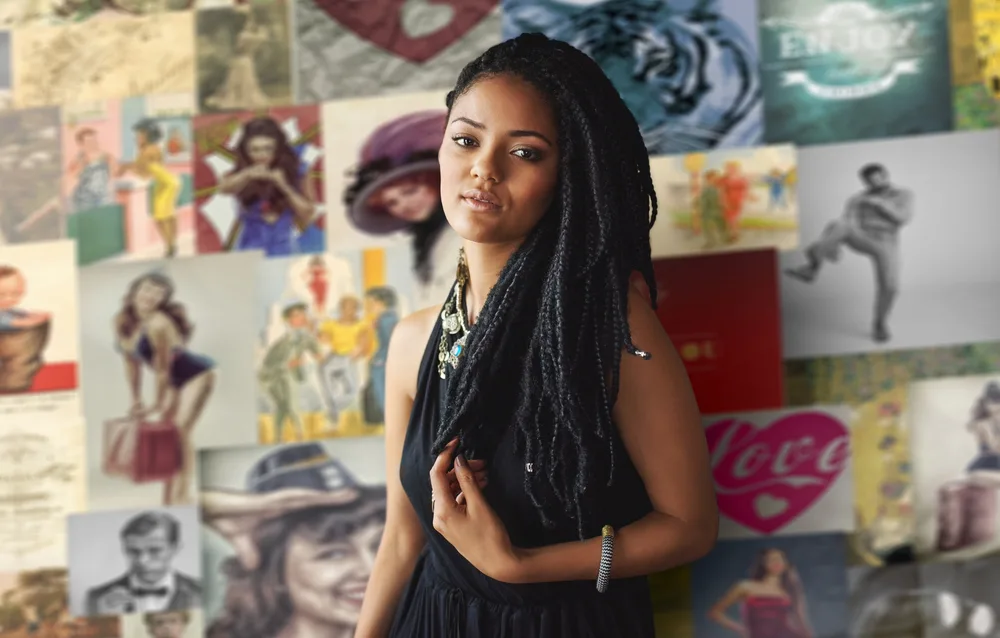 Hair length charts are incredibly useful tools that help individuals understand and articulate their desired hair length and style. They are often used in hair salons and barber shops around the world to give people a reference from which to choose their desired hair length.
They are also valuable for anyone who wants to grow out their hair and needs a point of reference for goal setting. In this comprehensive guide, we'll explore everything you need to know about hair length charts and answer your most pressing questions in a clear and easy-to-understand manner.
What Is a Hair Length Chart?
A hair length chart is a visual guide that displays hair growth milestones, typically ranging from chin length to tailbone length. There are some charts out there that display longer measurements, but those are much harder to find.
Hair length charts often use specific terms, such as 'bra strap length', 'waist length', etc., to provide standard terminology for referring to different lengths of hair.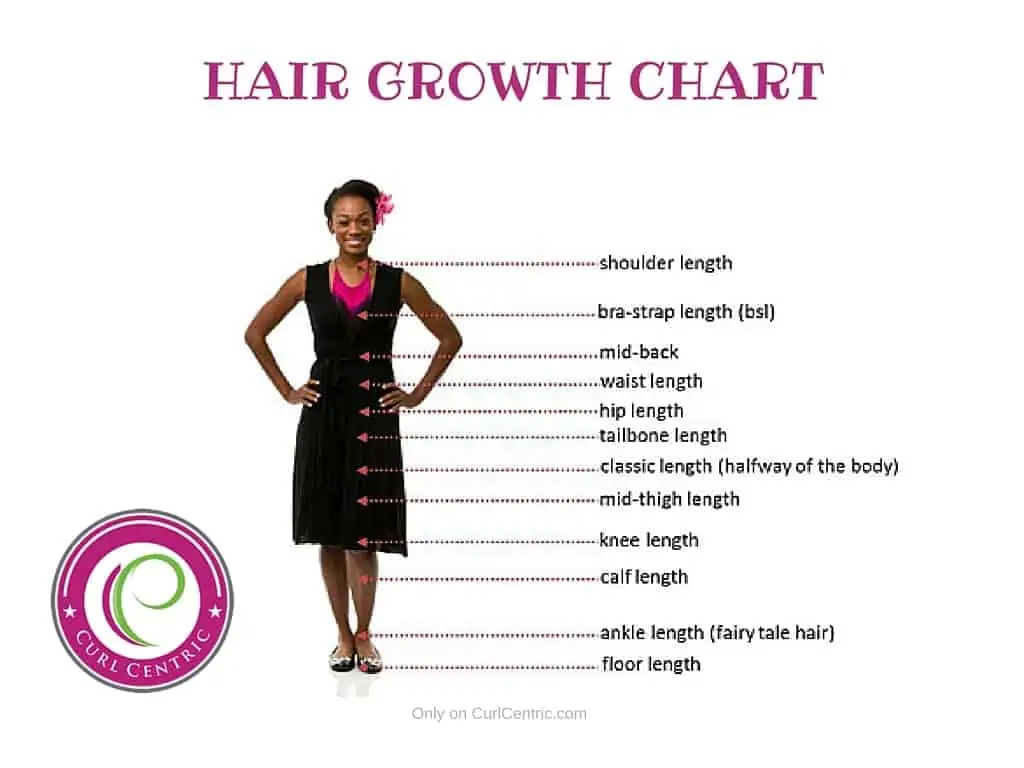 Hair Length Chart Uses
A hair length chart can be used for a variety of purposes, including the following:
Professional Hair Styling: Professionals in hair care and styling use these charts to communicate effectively with their clients about desired hairstyles.
Hair Growth Tracking: People who are growing out their hair often use hair length charts to monitor progress and set growth goals.
Visual Representation: Since verbal descriptions of hair lengths can be vague and subjective, a hair length chart provides a standard, visual way to discuss and think about hair length.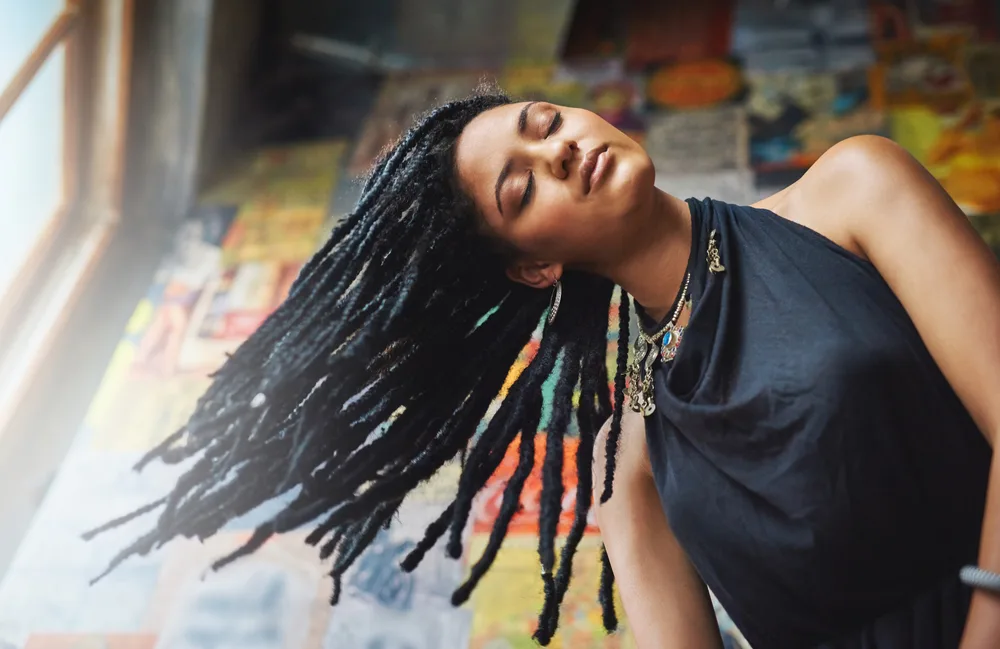 How Long Does Hair Grow in a Month?
On average, human hair grows approximately half an inch per month. This rate equates to about six inches per year. However, this growth rate can vary from person to person due to various factors such as genetics, diet, overall health, and hair care practices.
It's important to note that while this is the average growth rate, not everyone's hair will grow this quickly. Some people's hair may grow more slowly, while others may experience faster growth. Environmental factors, like stress and nutrition, can also impact hair growth. So, keep in mind that everyone's hair growth journey is unique.
With that being said, you can still use this hair growth rate as a general guide to give you an idea of how quickly your hair might grow in a defined span of time.
To cut out the math and get a personalized prediction of how quickly you can reach your hair goals, check out our hair growth calculator.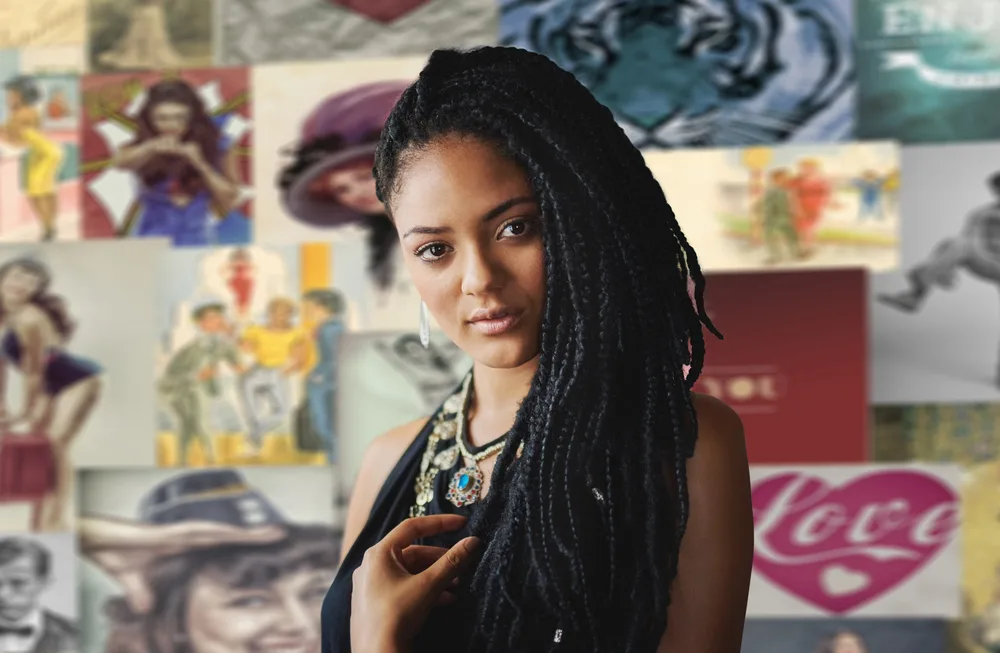 Does Curly Hair Grow Slower?
The speed at which hair grows doesn't actually depend on its texture, whether it's curly, wavy, or straight. However, curly hair might appear to grow more slowly for a couple of reasons:
Shrinkage: Curly hair naturally coils up, which can make it seem shorter – a phenomenon known as shrinkage. Because of this, even though your hair is growing at the same rate, it might not look like it's getting longer as quickly as straight hair would.
Breakage: Curly hair is more prone to dryness and breakage compared to straight hair, primarily due to its structure, which can make it more difficult for natural oils from the scalp to travel down the hair shaft. Breakage can make it seem like your hair isn't growing, or is growing slowly, because the ends are breaking off at a similar rate to the new growth at the roots.
Common Haircut Lengths
Now that we understand a little about hair length charts and the standard hair growth rate, let's get into some of the hair lengths that you should know about.
Buzz Cut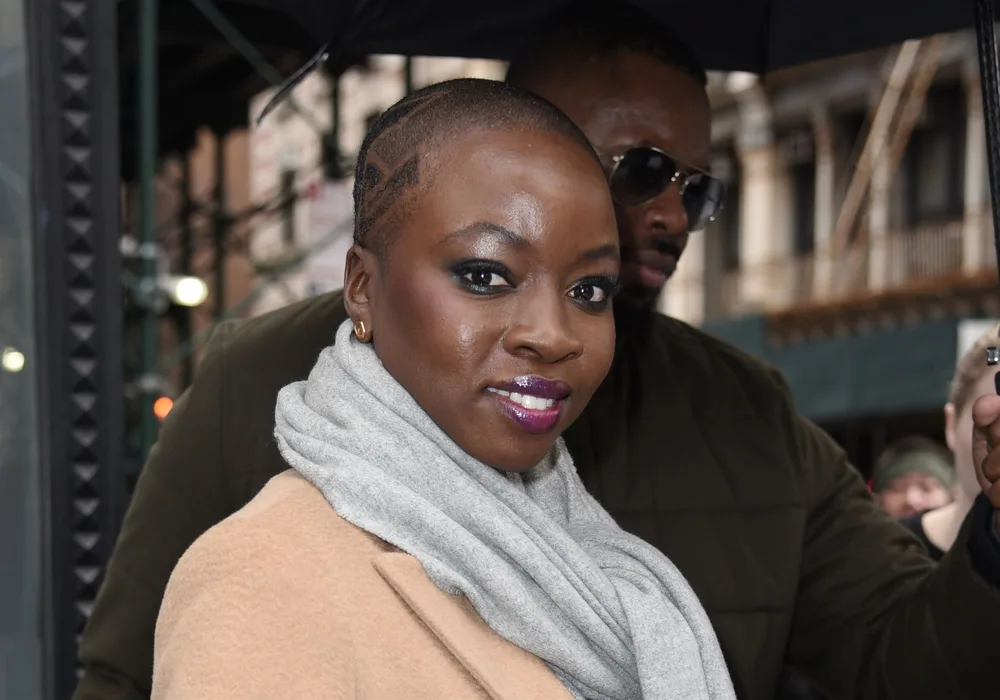 A buzz cut (often called a TWA when worn by black females) is where the hair is cut extremely short, typically less than 1/4 inch, and all around the head. This style is most commonly seen in men but is also worn by women.
It's a low-maintenance haircut that requires little to no daily styling and can look very chic and fashionable. You may want to opt for a buzz cut if you want out of your hair styling routine and want to show off your facial features.
Ear Length (Pixie)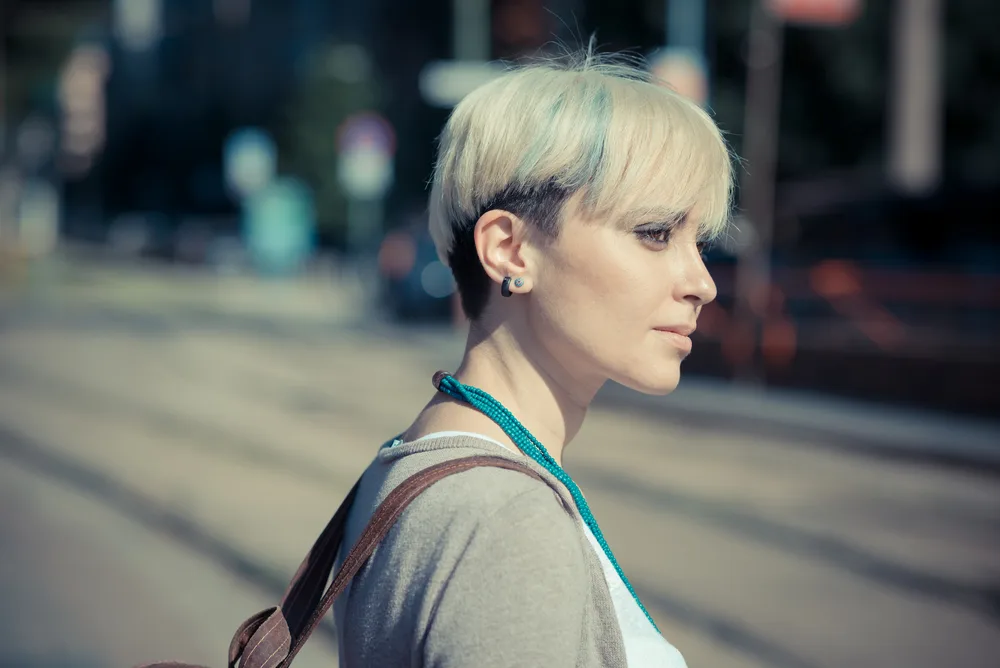 Pixie cuts are short hairstyles where the hair is cut to ear length. This style tends to be longer on top, with shorter sides and back, allowing for a variety of styles. You can go for a totally slicked-down look or a voluminous, tousled mane if you want.
Pixie cuts are a bold choice that can highlight your facial features and are relatively easy to maintain with regular trims. Just know that if you have naturally curly hair and go for a straight pixie, maintenance will be much more involved.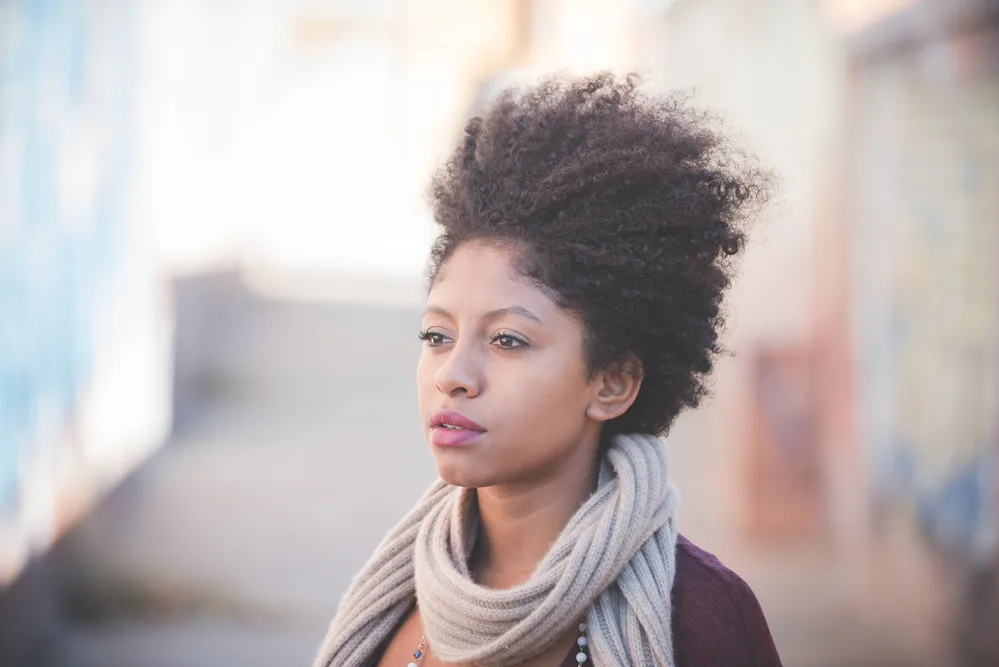 Chin Length (Bob)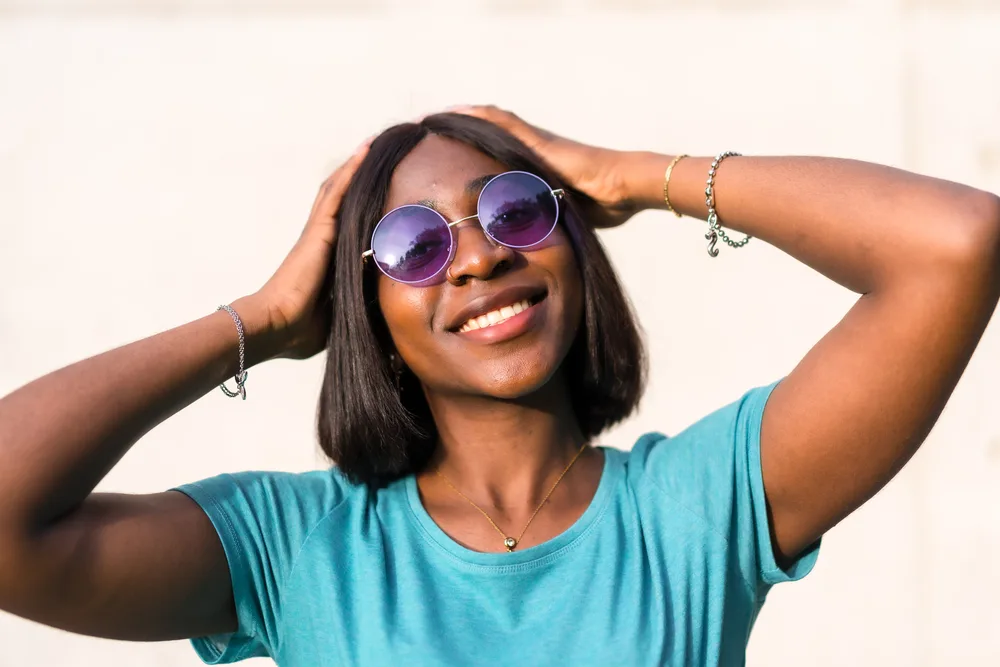 The bob is a versatile hairstyle that ends at the chin. This length can add volume and bounce to the hair, which is fantastic for those who struggle with flat hair.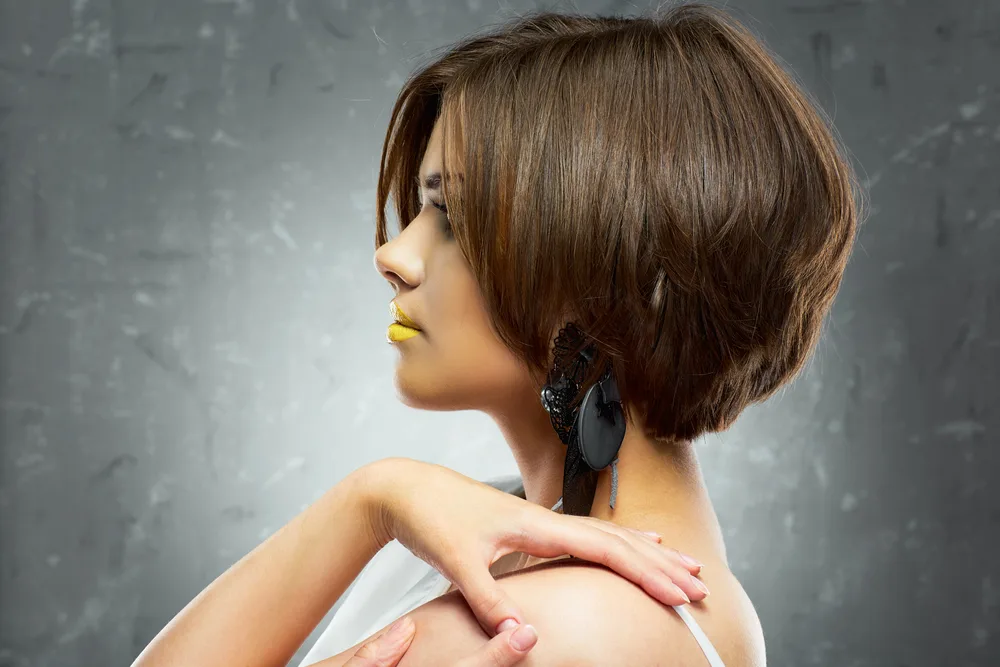 There are numerous variations of the bob cut, including the inverted bob, the layered bob, the shaggy bob, and more. This style is suitable for many hair types and face shapes and can be styled in various ways, making it a popular choice for many.
Shoulder Length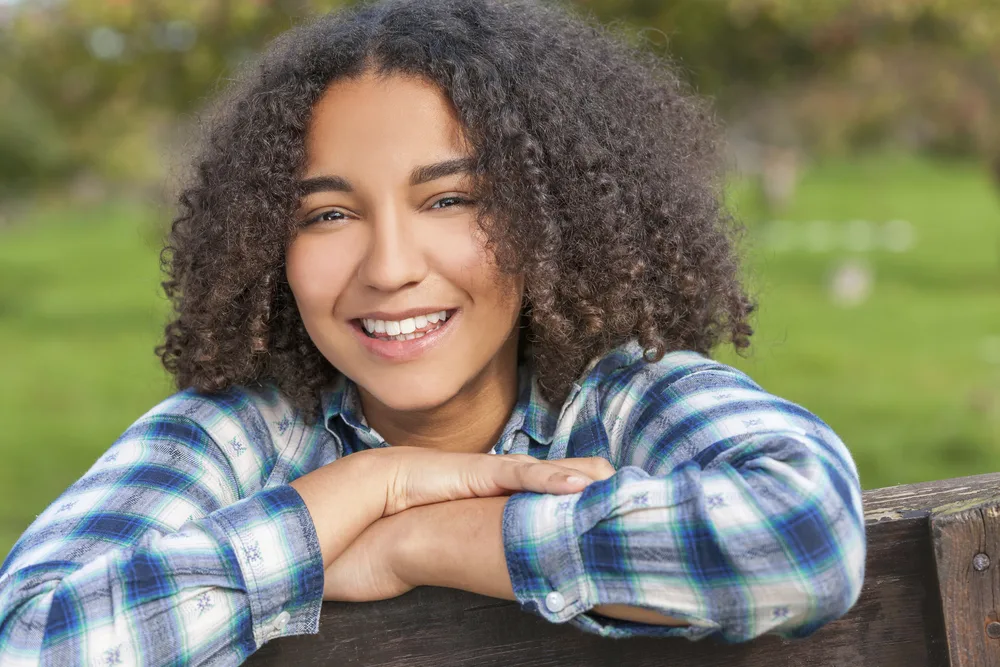 This length is exactly as it sounds – the hair reaches the shoulders. Shoulder length hair is on the longer side but it's not so long that styling and maintenance become a chore. It offers the benefits of both short and long hair, allowing for updos while still being manageable. This length also tends to suit most face shapes and hair types.
Armpit Length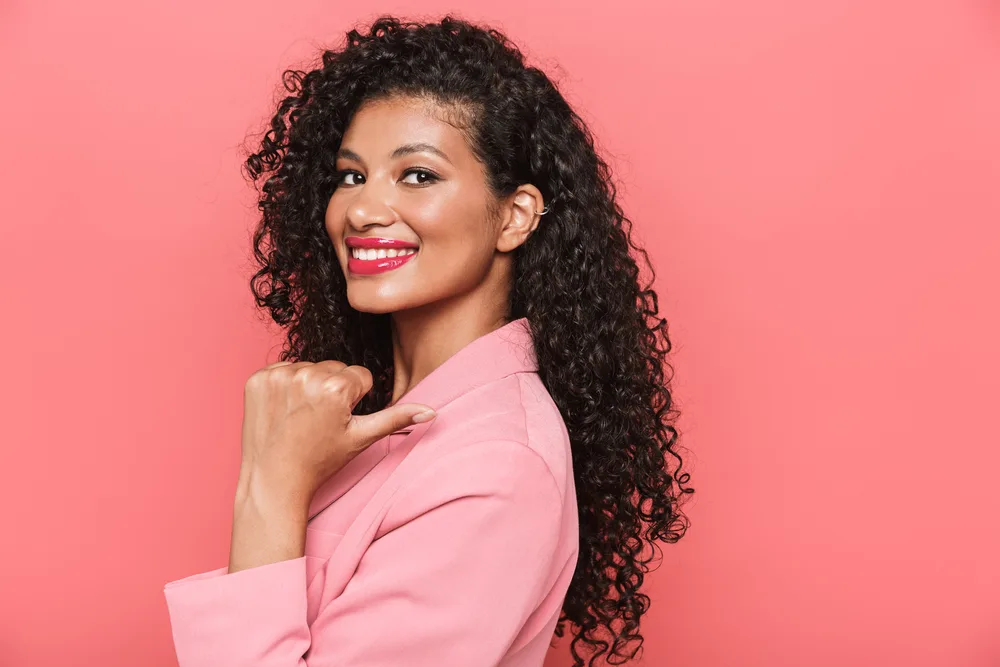 Armpit length hair reaches down to where the arm naturally falls against the torso. At this length, you'll have even more styling options available to you.
Mid-Back Length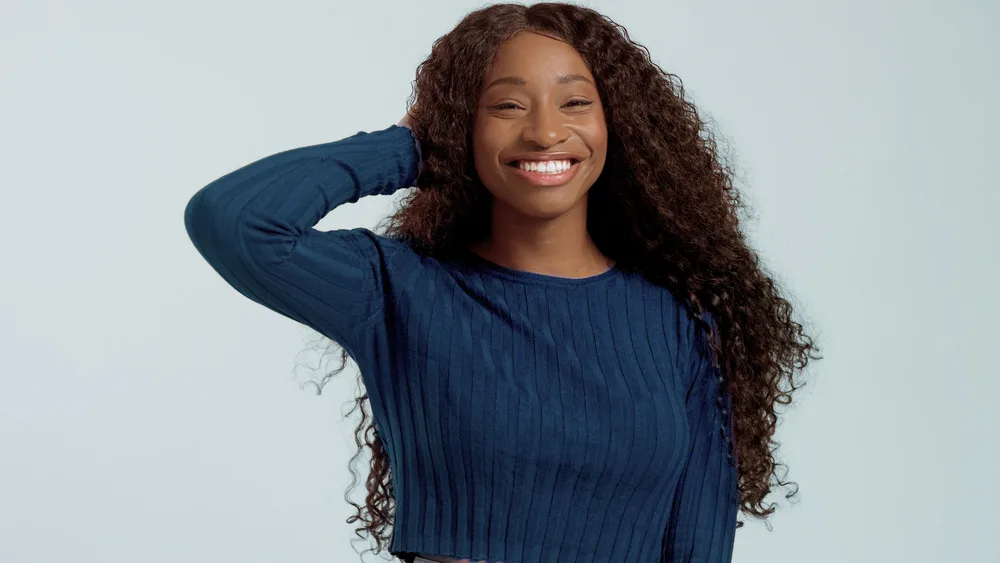 Mid-back length hair extends down to the middle of the back. This length provides a full, dramatic look, enabling you to try super elaborate updos. However, it requires more maintenance than shorter lengths and might require more time for washing, drying, and styling. This is a common length for glam wigs and protective styles like extension braids.
Tailbone Length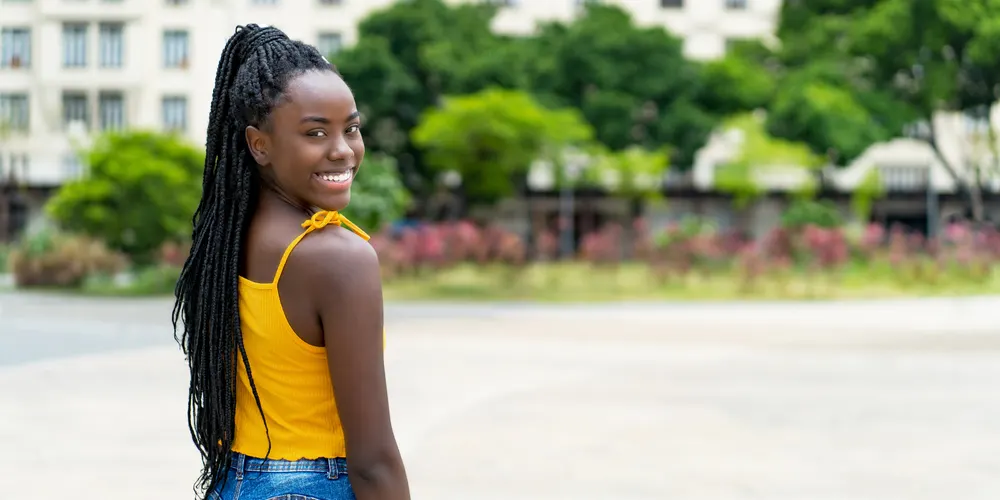 Tailbone length hair reaches all the way down to the tailbone, as you might expect. This length requires significant upkeep, but for those who enjoy long hair, the variety of styles and the feminine, flowing aesthetic can be worth it.
It's especially important to regularly trim and condition the hair at this length to prevent split ends and maintain health and shine.
Each of these lengths has unique qualities, and the best one for any individual depends on their lifestyle, hair type, and personal style preferences.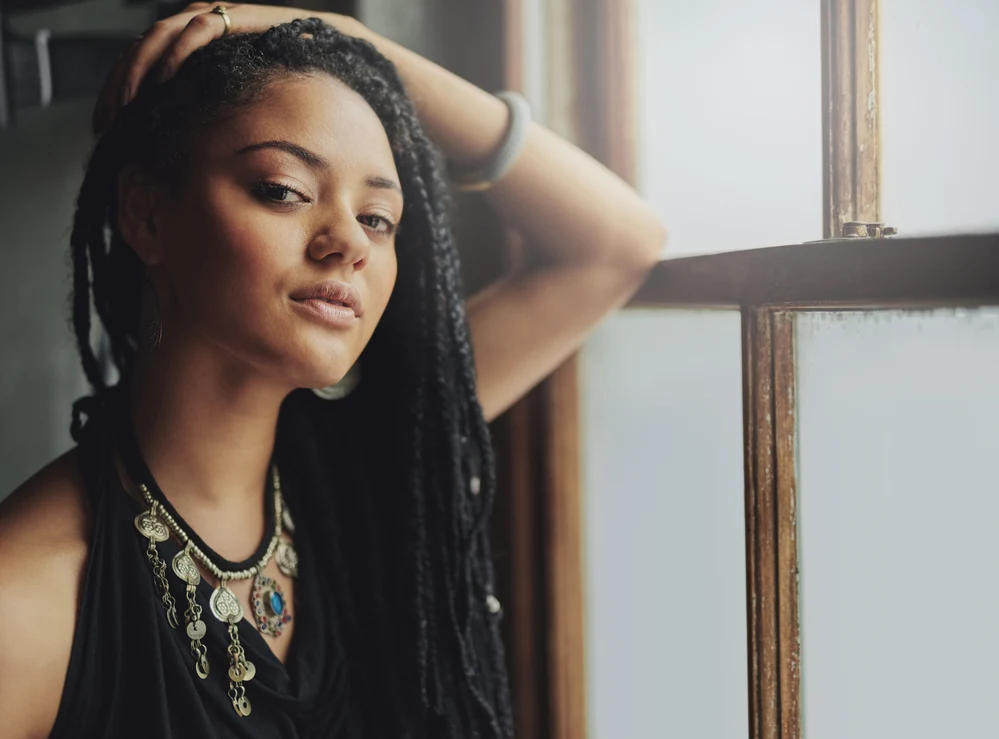 Gauging Hair Length for Wigs, Extensions, and Haircuts
Whether you're at the salon, browsing online shops, or scoping out brick-and-mortar wig/extension shops, it can be helpful to know where a specific hair length will fall on your face or body. Here are some general guidelines to give you an idea:
2 inches: This is a very short length, longer than a buzz cut, but still quite close to the scalp. It might be enough to style slightly, depending on the hair's texture.
4 inches: This length offers a bit more styling versatility. For most, it would cover the entire scalp and touch the tops of the ears or the nape of the neck.
6 inches: This length is likely to reach past the ears, possibly touching the neck or even the chin for those with smaller heads or high hairlines. It should accommodate a short bob or a longer men's style.
8 inches: This is around the range of a short bob or a longer pixie cut. It might reach the nape of the neck or just past it, depending on the individual's proportions.
10 inches: At this length, the hair should hover over the shoulders or graze them.
12 inches: This length would typically fall right at or past the shoulders. It is generally considered medium length.
14 inches: This length will fall a couple of inches past the shoulders on most people. It's considered upper back length.
16 inches: This length of hair is often around armpit level or a bit longer, considered to be a "long" length for many people.
18 inches: At this length, the hair usually falls to about mid-back for most people.
20 inches: Hair of this length often reaches the lower back.
22 inches: This length would typically reach past the mid-back and could be approaching waist length for some people.
24 inches: At this length, the hair would generally be just past waist length.
26 inches: At this length, the hair typically reaches below the waist. It could be around hip length for some people, depending on their height and torso length.
28 inches: This length usually extends to or past the hips for most people. This is a very long length, which could provide quite a lot of versatility for various hairstyles but would also require more maintenance.
30 inches: Hair of this length would generally reach down to or even past the tailbone for many people. This is an extremely long length by most standards and would be considered to be in the "extra long" category.
Note on hair texture. It's important to understand that the above descriptions are for straight hair. Wavy and curly hair will appear shorter due to the nature of the curls or waves. This phenomenon is often referred to as "shrinkage" in the hair world, where the curl pattern of the hair causes it to contract and appear shorter than it truly is.
When stretched or straightened, wavy and curly hair will show its actual length, which can be significantly longer than when it's in its natural state.
So, when you're measuring or assessing the length of wavy or curly hair, it's crucial to consider the degree of curliness or waviness and the potential for shrinkage. Ultimately, the same measurement in inches or centimeters will look different on straight hair compared to wavy or curly hair.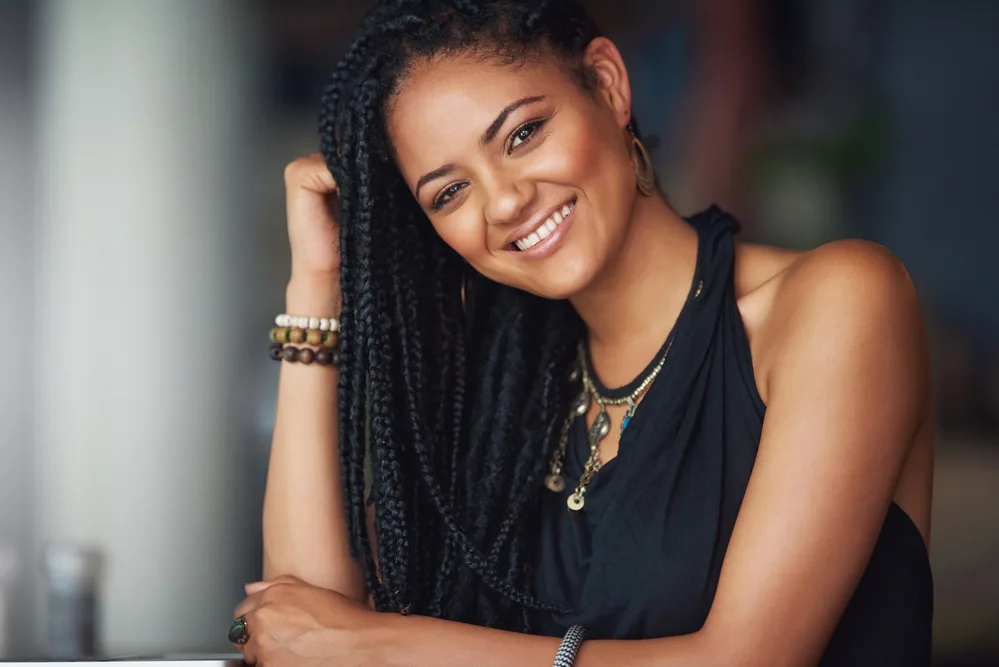 What Hair Length Is Considered Long?
If you're wondering what hair length is considered long, the first thing you should know is that it's subjective. What one person considers "long" might be considered "medium" to someone else. However, in general terms, hair that reaches armpit length is typically considered to be "long."
Here's a rough breakdown of what's considered long for women:
Short Hair: This usually includes lengths like the buzz cut, pixie cut, and bob cut, where hair does not exceed chin length.
Medium-length Hair: This typically includes hair that is longer than chin length but doesn't go beyond armpit length. Shoulder length hair would fall under this category.
Long Hair: Generally, hair that reaches or passes the armpit is considered long. This includes mid-back length, waist length, hip length, tailbone length, and any length beyond that.
Remember, these categories can vary based on personal and cultural perspectives.
What Men Consider Long Often Differs
The concept of what's considered "long" hair can differ between men and women due to societal norms and cultural perceptions. For men, hair that reaches or covers the ears or the nape of the neck might be considered "long." Here's a rough guideline:
Short Hair: For many men, short hair typically refers to styles where the hair is cut very close to the scalp, like a buzz cut, or styles where the hair on the sides and back is cut close, like a crew cut or a fade.
Medium-length Hair: Medium hair for men usually means that the hair has grown out enough to start touching or covering the ears and the nape of the neck. It's typically not long enough to tie back into a full ponytail.
Long Hair: Long hair on men is often considered to be hair that extends beyond the base of the neck and can be tied back into a full ponytail.
Again, these definitions can vary widely based on individual and cultural perspectives. For instance, in some cultures and communities, men commonly grow their hair as long as women traditionally do, and thus the concept of what's "long" might be very different. Similarly, in the world of fashion and hairstyling, there are always exceptions and unique trends.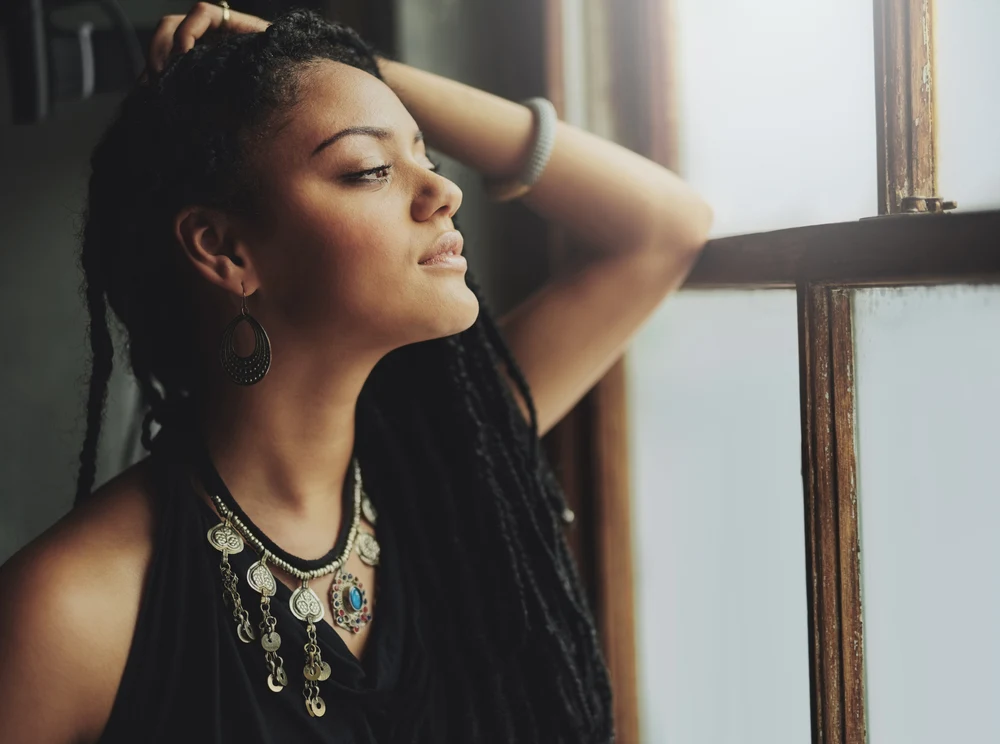 Which Hair Length Is Most Attractive?
There's no hair length that's always considered to be more attractive than another. Some people favor shorter hair lengths, while others prefer longer styles. The main thing to remember is that "beauty is in the eye of the beholder."
As such, the concept of attractiveness is highly subjective, depending heavily on a person's individual preferences, what they're used to seeing, and their personal experiences.
What truly matters is how a specific hair length complements your unique features, personality, and lifestyle. From pixie cuts to waist-length locks, each hair length has its own charm and appeal.
But above anything, regardless of your hair's length, confidence tends to be the most universally attractive trait. So, whether you're sporting a sleek bob, a shaggy mid-length style, or long, flowing tresses, the key to attractiveness is feeling comfortable and confident in your personal style.
How to Measure Your Hair Length
Measuring hair length can be a useful exercise when tracking hair growth or deciding on a new hairstyle. Here is a step-by-step guide on how to accurately measure your hair length:
Gather Your Materials
Tape Measure: Flexible, soft tape measures used for sewing are ideal.
Mirror: It's essential to stand in front of a large tri-fold mirror to see what you're doing.
Comb or Brush: To make sure your hair is free of tangles.
Steps to follow:
Start with Dry, Straight Hair: If your hair is wavy or curly, it will be shorter when it's dry due to shrinkage. Stretch or straighten your hair for the most accurate measurement. Only do this if your hair is in good condition health-wise.
Comb Your Hair: Use a comb or brush to detangle your hair and smooth it out. This will ensure that your hair is lying flat and is as straight as possible.
Choose a Section of Hair to Measure: We recommend selecting a strand from the top of your head, near the front, as it's easy to access and usually represents the longest length of your hair.
Find the Root of the Section: Locate the root of the hair strand at your scalp. This is where you will start measuring.
Measure: Place the '0' end of the tape measure at the root of the hair strand on your scalp. Extend the tape measure along the section of your hair all the way down to the ends. Try to hold the tape measure taut and straight to get the most accurate reading.
Read the Measurement: The number at the very end of the strand of hair is your hair's length. Record this number in inches or centimeters, based on your preference.
Repeat: For a more accurate measurement, you might want to repeat these steps on a few different strands around your head and take an average.
So, there you have it – everything you needed to know about hair length charts. We hope you found all the information you were looking for, and we wish you the best with your hair.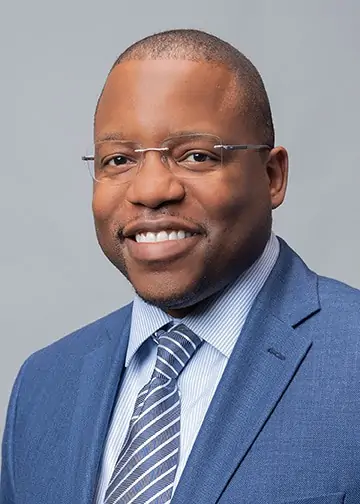 Kenneth Byrd, with a BS in Accounting and Management Information Systems and an MBA from the University of Alabama at Birmingham, has over 15 years of experience and is a recognized authority in hair care. Co-founder of Curl Centric® and Natural Hair Box, Kenneth has dedicated himself to promoting ethical and scientifically-backed hair care practices. Rigorous editorial guidelines, industry recognitions, and features in numerous media outlets evidence his expertise. Kenneth's commitment to transparency, quality, and empowerment has positioned him as a trusted voice in the field, empowering readers to confidently embrace their natural beauty.