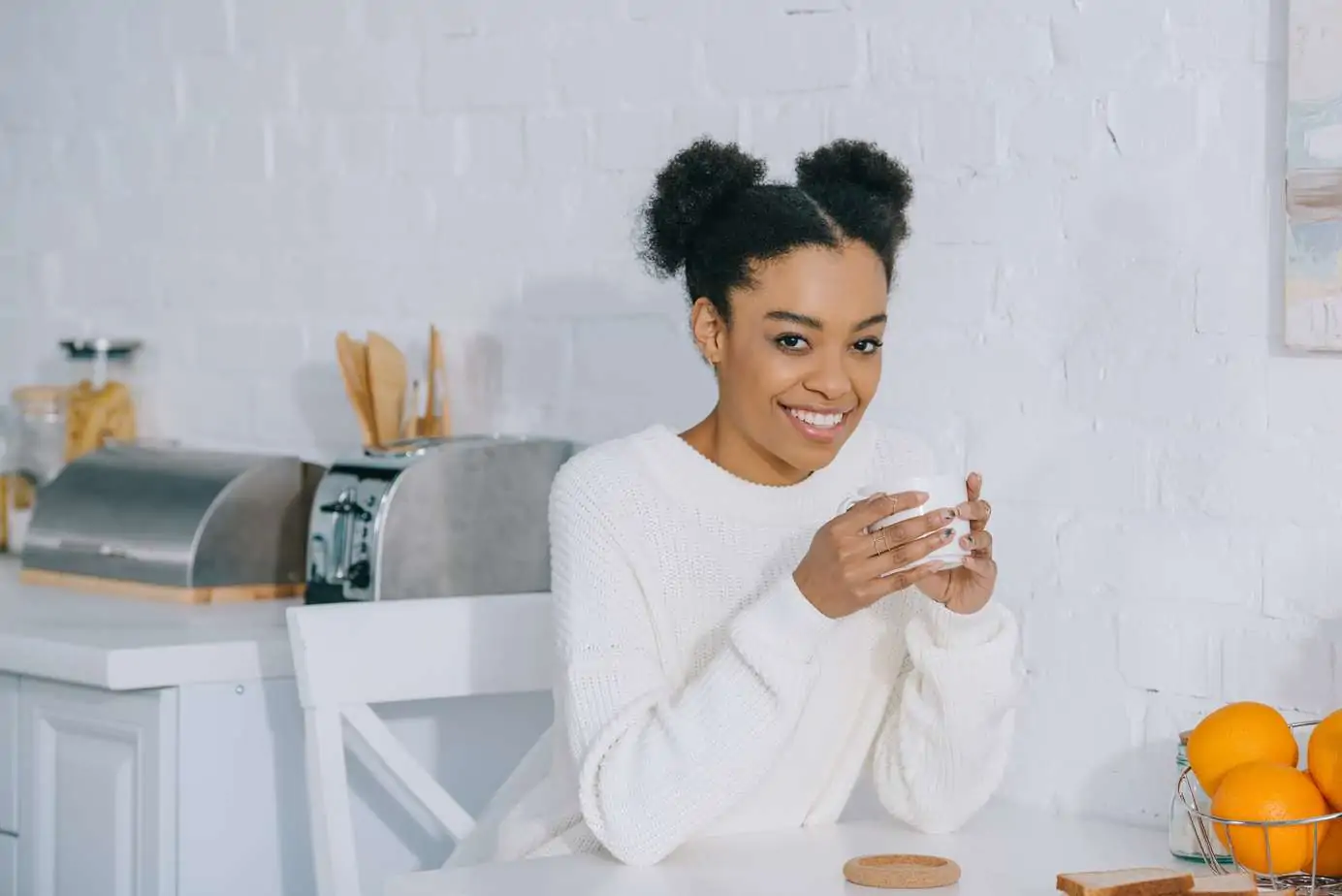 Do you ever wonder how your natural hair crush gets her perfect afro puffs? We bet you do!
Afro puffs have been around for a long time, most notably in the 1960s.
Since the most recent natural hair movement started many years ago, afro puffs have become one of the most beloved natural hairstyles of all and it continues to be popular among black women.
There are many nuances to this gorgeous style, and if you're thinking about trying it out, you're in the right place.
In this article, we will tell you all about how to do afro puffs. We'll give you step-by-step instructions along with helpful tips that you can use to make the process easy!
What Are Afro Puffs?
For anyone who isn't aware, afro puffs are a style in which the hair is secured into two or more pony puffs. The puffs are often quite large and situated on both sides of the head.
The concept of contrast is integral to afro puffs. The puffs are textured and free, while the hair near the scalp is sleek and tame.
Afro puffs are not to be confused with regular curly ponytails. Afro puffs have a distinctly puffy texture.
Note that wearing a single afro puff that's centered (i.e., in the middle of a person's head) is also a popular variation of this hairstyle.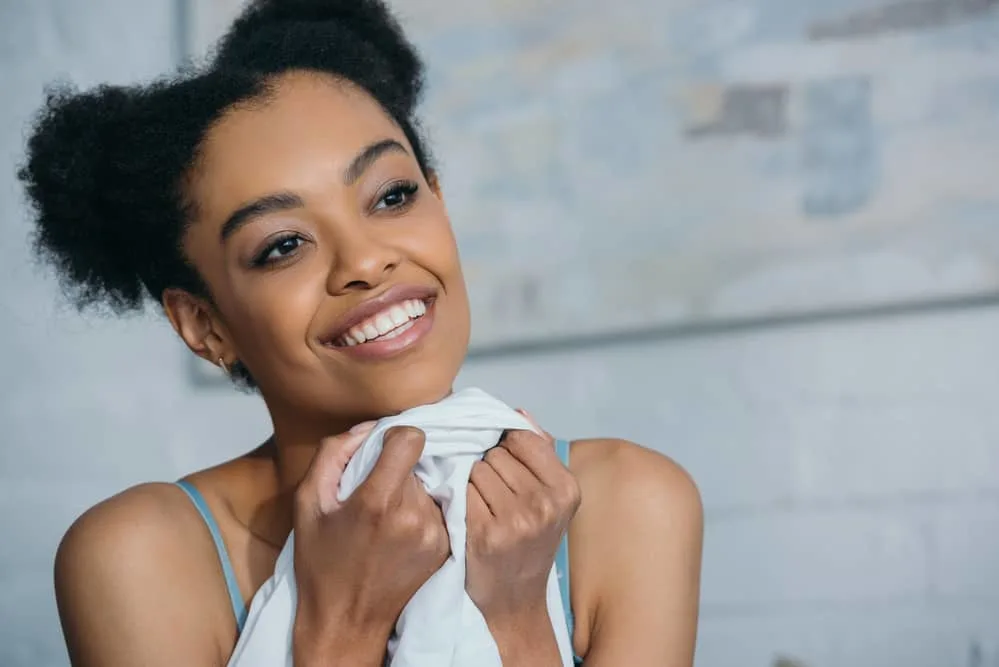 How to Do Afro Puffs
When it comes to creating afro puffs, there are many ins and outs that you should be aware of. This section will fill you in on the easiest way to create an afro puff.
Gather Your Supplies
Before you begin, you'll need supplies. At a minimum, you will need the following:
Comb
Pick
Brush
Gel
Edge Control
Hair ties, ribbons, or a large headband
Silk scarf
As you gather your supplies, a wide-tooth comb is preferred, as it will glide through your hair without much resistance. A traditional comb may pull out a considerable amount of hair as you pull it through.
To preserve your edges, use the softest boar bristle brush that you can find. The less pulling on your edges, the better. Also, an alcohol-free gel will give you hold without drying out your strands.
Finally, sleekness is essential for this style, so a good edge control gel with super hold is a must!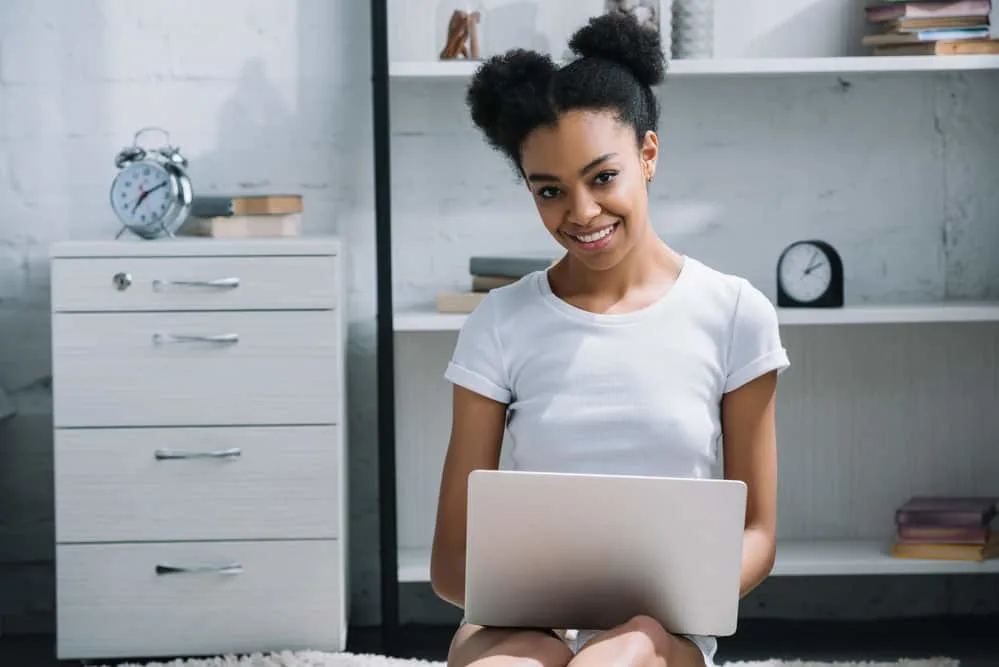 Wash, Condition, and Moisturize Your Hair
Just like with any other natural hairstyle, you'll need to prepare your hair before you start styling. The following sections will tell you exactly how to get your hair ready for styling.
Wash
You can do afro puffs on unwashed hair, but the process will be easier on clean hair. Wash your hair with a sulfate-free shampoo. A sulfate shampoo could make your hair extremely dry.
Condition
After washing, condition or deep condition your hair. If you plan on keeping your hair in the puff for several days, you may want to opt for a deep conditioner over a standard rinse-out conditioner.
After you apply your conditioner or deep conditioner, detangle your hair with either your fingers or a comb. This decreases the amount of detangling you may need to do later.
Moisturize
While you don't want to have heavy products on your hair when doing afro puffs, your hair should still be moisturized. Make sure that you use a lightweight moisturizer so that your hair won't be weighed down.
Stretch Your Hair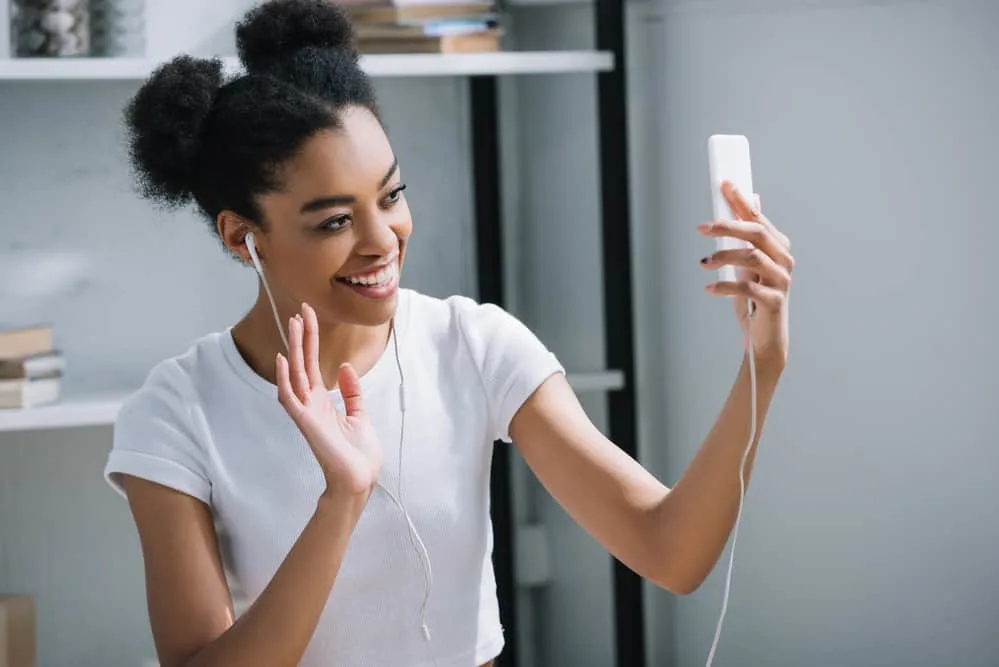 After gathering all of your supplies and preparing your hair, it's time to start styling! The first step in creating afro puffs is to stretch your hair.
This step is optional, but it gives your puffs more volume. If you don't wish to stretch your hair, then you can skip this step.
To stretch your hair, try one of the following methods:
Braids
Use a comb or your fingers to part your hair into several sections (two or more sections will be sufficient). Depending on the thickness and length of your hair, you may need to part more sections.
Braid each section down to the ends.
Secure the ends with a ponytail holder if necessary.
Allow your hair to dry completely.
Take the braids down.
French braids
Part your hair from front to back (two or more sections will be sufficient).
French braid each section. The number of braids you create is up to you. Click here for a french braiding tutorial.
Allow your hair to dry completely.
Take the braids down.
Banding
HOW I STRETCH MY TYPE 4 Natural Hair | NO HEAT + RETAIN LENGTH
Put your hair in two low-side ponytails.
Wrap ponytail holders, or a large stretchy band, around the length of your hair repeatedly until you get to the ends. Watch the video above by My Natural Sistas for a demonstration.
Allow your hair to dry completely.
Take the bands off.
Blow Dry
If you want to use a quick method to stretch your hair, you can blow dry it. You can use the "cool" setting on your blow dryer to minimize heat usage.
If you are in a rush and prefer to use your blow dryer on full heat, don't forget to use a heat protectant.
The goal is not to get the hair bone straight, just stretch it out a little.
Comb Your Hair Out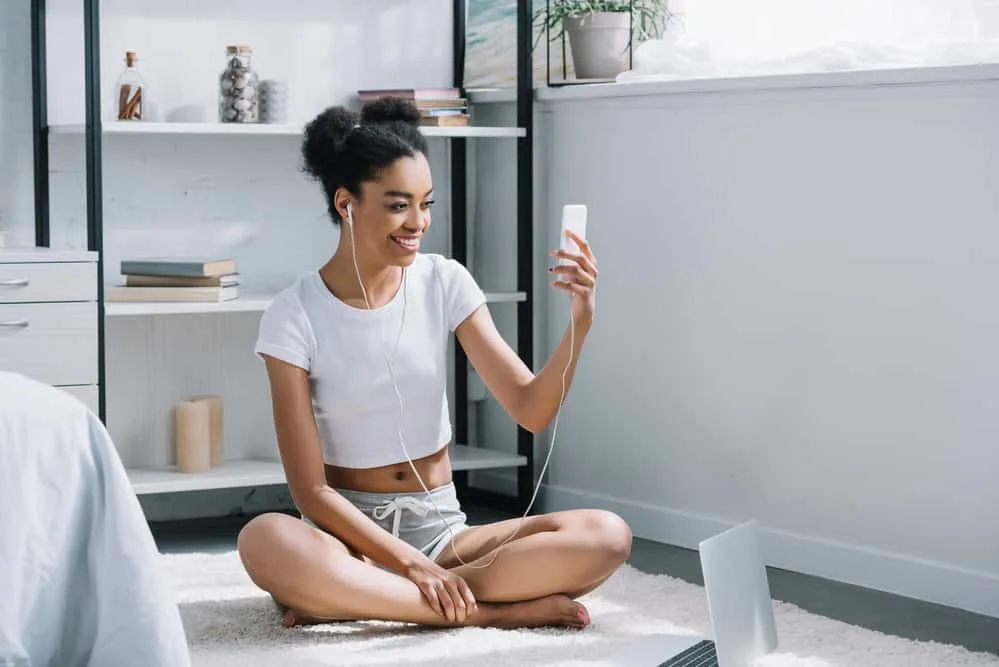 The next step is to comb your hair out. This is another optional step. If you don't want your hair to be in a 100% afro-like state, you can leave it as is.
However, if you want your hair to be in a proper afro puff, this step is non-negotiable.
Using a wide-tooth comb, comb your hair out from ends to roots.
It's important not to start at the root because this could increase your risk of breakage. Continue combing until the comb glides relatively easily through your strands.
Part and Gather Your Hair Up
Once your hair is sufficiently detangled, part it into two or more sections. Take your time as you part your hair, especially if you want your parts to be clean.
Gather your hair up into ponytails and secure them with scrunchies. Be careful not to tie your hair too tight. If you do, you may develop bothersome symptoms like headaches and traction alopecia.
Tame Your Hair
Your puffs should be wild and free, but the rest of your hair should be sleek and shiny. To get your edges to lay down and behave, apply a gel to the hair leading up to the ponytails.
You can also add edge control to the hair around your hairline and at the nape of your neck. Use your brush to distribute both the gel and edge control evenly and smooth your hair down.
Pro tip: Be gentle as you apply the edge control to your edges. Use a super soft bristle toothbrush for maximum creative control without the roughness.
Set the Style
After you've done all that work to tame your edges, take one more step to make the style last all day.
Tie a scarf around your hairline to flatten and set your style. You may want to skip this part, but tying your hair down will help flatten stray hairs and keep your hair slicker for a longer period of time.
You don't have to leave the scarf on all day to get good results. Leaving it on for just 3 to 5 minutes can make a big difference in the style's longevity.
Shape the Puffs
If your puffs are not already in a puffball shape, then it's time to shape them.
You can do this by gently picking out the hair and then using your hand to mold your hair into a ball. Most of the time, all you need to do is use your hands to shape your hair.
In some cases, you may have stretched your hair too much, causing your hair to stand on end. To get your hair to resemble the shape of puffballs, mist your hair with water from a spray bottle.
You shouldn't drench your hair, as this will cause your hair to revert to its natural state. A very light mist of water may be all that you need to make your hair pliable enough to shape into puffballs.
Use your wide-tooth comb as needed when shaping.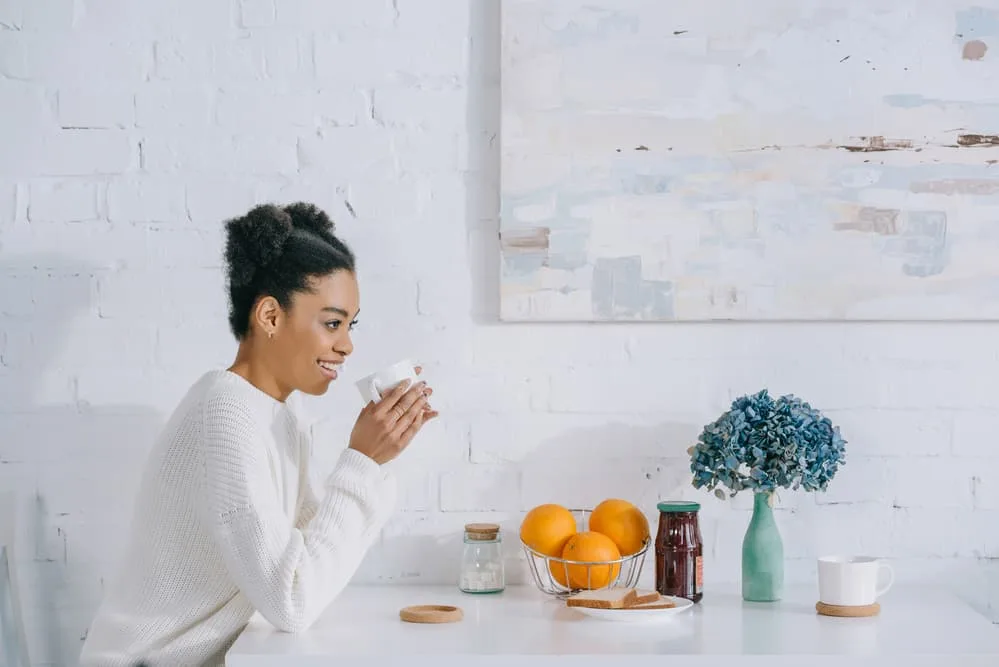 Get Extra Volume in Your Afro Puff Style
Sometimes you've got to fake it till you make it! There are many faux afro puffs on the market for anyone who wants to add extra volume and flair to their afro puffs.
Drawstring afro puffs are either synthetic or 100% natural hairpieces that you can attach to your hair via a drawstring mechanism.
Here are a couple of high-quality drawstring afro puffs that you can find online:
Human Hair Afro Puff – This is a 6-inch afro puff that you can find on Amazon. These puffs are made of Brazilian human hair. Many customers agree that the hair is soft, shiny, and does not shed excessively. It comes with clips for security. If you are doing double afro puffs, make sure that you buy two of these.
Synthetic Afro Puff – This is another 6-inch afro puff from Amazon. This afro puff is made of synthetic hair. It has clips for security and comes in several colors, like honey blonde, brown, red, and gray.
How to Use a Faux Afro Puff
A faux puff is worthless if you don't know how to use it! In the following list, you'll find step-by-step instructions on how to use a drawstring afro puff attachment:
Immediately after putting your hair into ponytails, twirl your natural hair around itself until it resembles a small ball.
Secure each natural hair ball with bobby pins or ponytail holders.
Place the afro puff attachment on top of one of the natural hair balls and pull the drawstring to tighten. Snap the clips onto your natural hair if your faux afro puff has them. If you would like additional security, you can use bobby pins to secure it further.
Helpful Hair Accessories and Products for Afro Puffs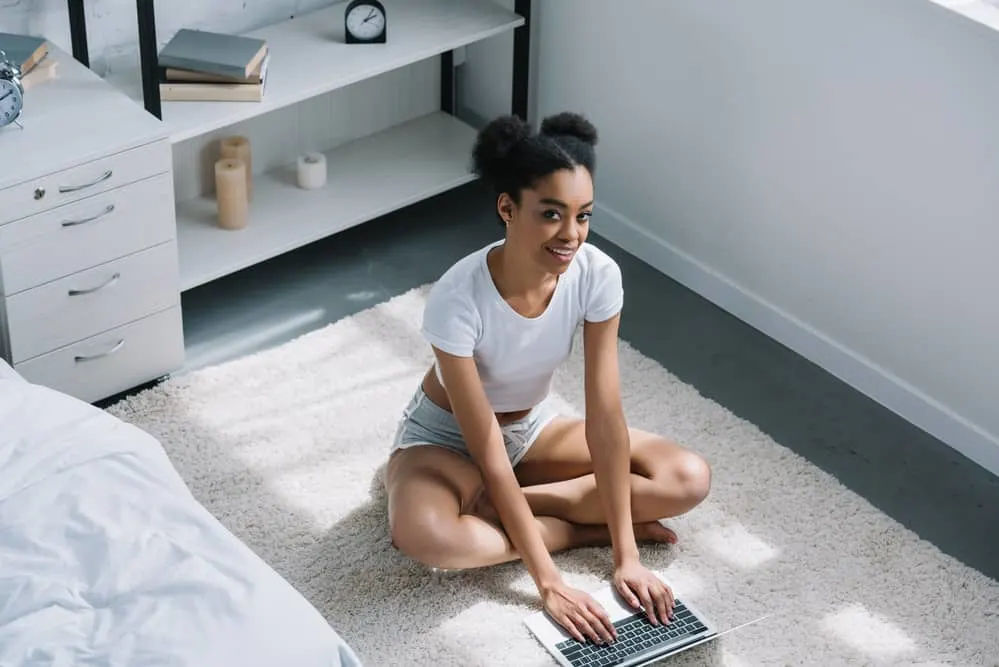 Having the right products is essential when doing afro puffs. For instance, if your ponytail holders are too small, your hair may break right through them.
There are many products on the market that are widely used for this style. Read about some helpful products for afro puffs below:
Stretchy Head Wrap – Whether your hair is long and luscious or short and sweet, an elastic headband could be your very best friend. Instead of trying to fit all of your hair into small ponytail holders, you can use stretchy headbands.
Ouchless Hair Ties – The hair ties you use matter! Some hair tie accessories are made with a metal closure, which can snag and break your strands. Instead of using these, reach for Ouchless Hair ties, which have no metal. You can also search for "no-snag ties." One size works for virtually every puff size!
Bunzee Bands – Afro puffs have the potential to pull your hair and cause headaches. You can prevent this by using soft-hold bands. Bunzee Bands secure your ponytails without giving you a headache. One size fits all!
Dos and Don'ts of Natural Hair Afro Puffs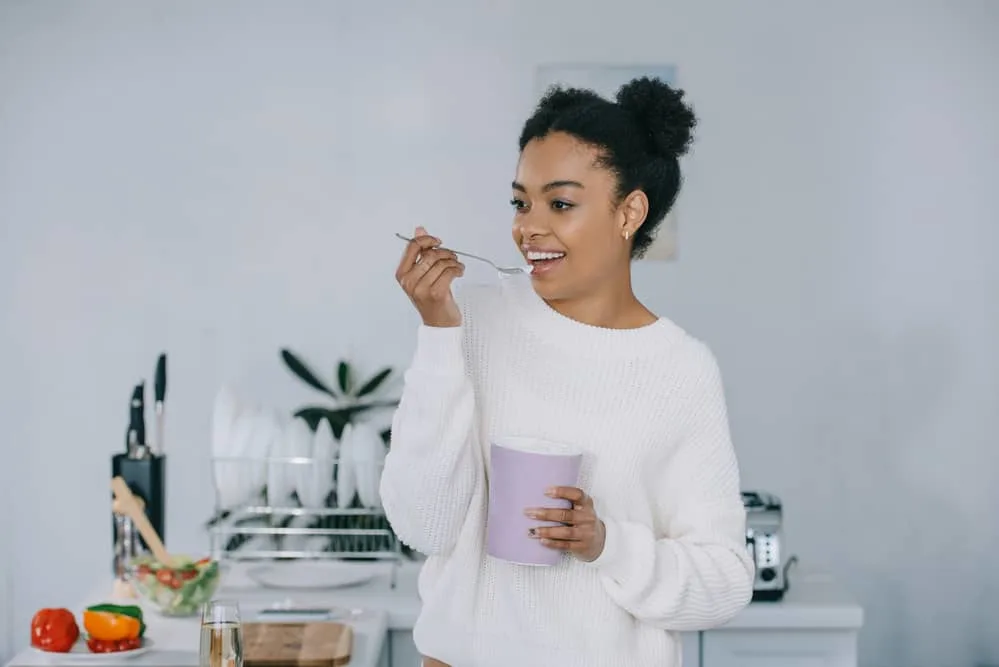 The process of doing afro puffs is relatively easy, but there is still room for mistakes. If you want to create beautiful afro puffs every time, then read this section on the dos and don'ts for this style.
Dos
Wash your hair before styling. Any buildup or debris will be easily seen in your puff if your hair is dirty.
Detangle your hair before putting it up in a ponytail. If you don't detangle your hair beforehand, it may be challenging to create a uniform puff.
Trim your hair if needed. Scraggly ends can make your puff look uneven no matter how much you pick it out and shape it.
Be patient. It may take a few tries to get the puffball shape right, so be patient and keep trying.
Don'ts
Be rough when detangling. If you don't take your time and be gentle while picking out or detangling your hair, it could end up damaged.
Put too much product on your hair. Afro puffs should be soft and pliable, rather than stiff and hard. So, try not to put too much product on your hair. Start with a little and add a bit more as necessary.
Now you know all you need to know about creating afro puffs. We hope that this article is helpful to you as you seek out puff perfection.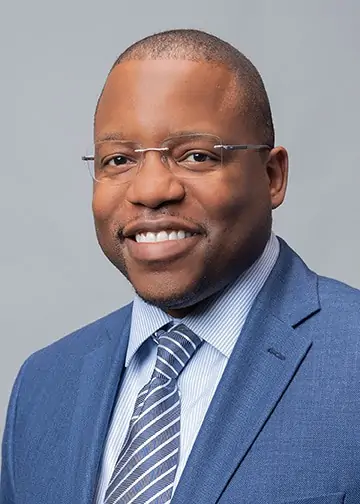 Kenneth Byrd, with a BS in Accounting and Management Information Systems and an MBA from the University of Alabama at Birmingham, has over 15 years of experience and is a recognized authority in hair care. Co-founder of Curl Centric® and Natural Hair Box, Kenneth has dedicated himself to promoting ethical and scientifically-backed hair care practices. Rigorous editorial guidelines, industry recognitions, and features in numerous media outlets evidence his expertise. Kenneth's commitment to transparency, quality, and empowerment has positioned him as a trusted voice in the field, empowering readers to confidently embrace their natural beauty.