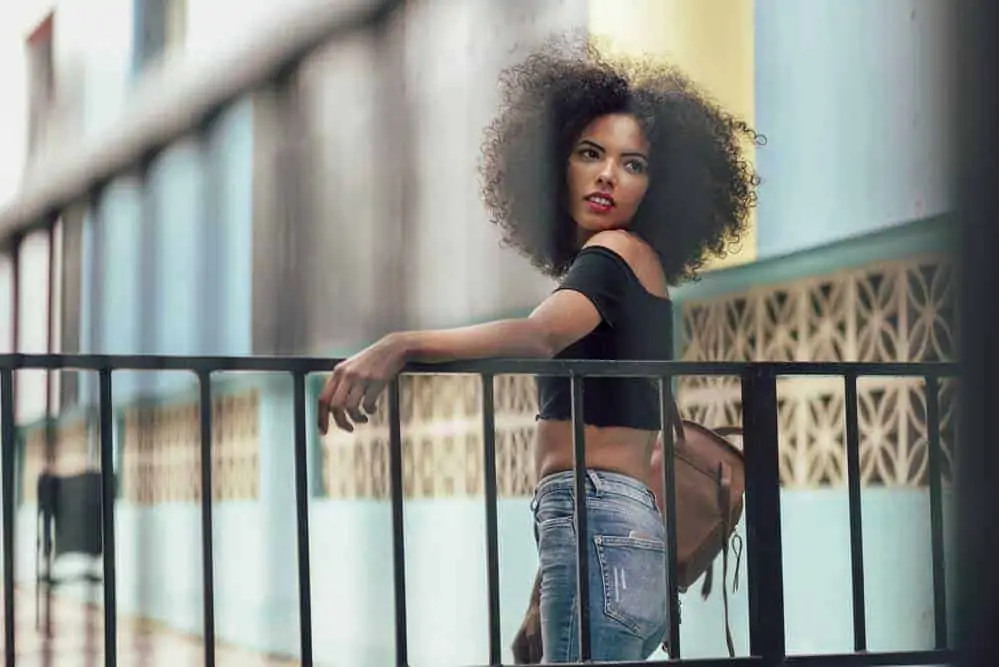 Many ladies use argan oil for hair, skin, nails, and other beauty-related needs.
Due to its various uses, it's commonly referred to as "liquid gold". Although it has many benefits, it is still growing in popularity and this is partially due to the fact that it is hard to get.
It comes from the nut portion (i.e., kernels) of the fruit that grows on the Argan tree, but you can only find this tree in Morocco.
The trees will live between 150 and 200 years providing ample time for producing the nuts, but they won't start growing the fruit until they are 30 to 50 years old.
For centuries, pure argan oil has been used for cooking. Although, recently it's been used as a remedy for various health and beauty issues, including hair loss.
Today, argan oil can be found in various hair and skin care products. According to our research, argan oil has several benefits, so let's kick off the discussion.
Benefits of Using Argan Oil for Natural Hair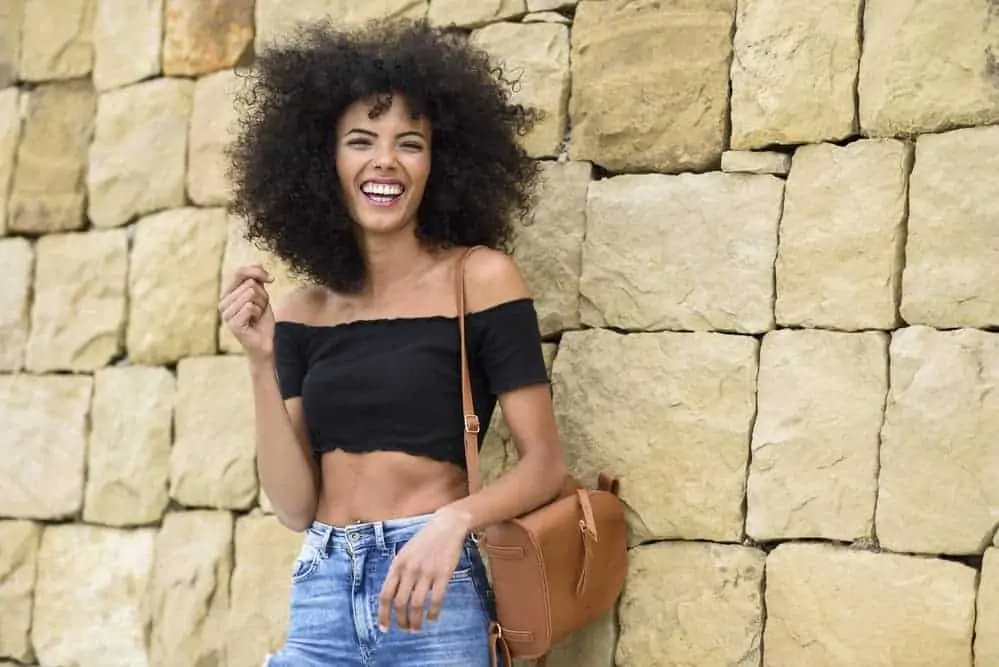 Argan oil is packed with fatty acids and potent antioxidants, such as vitamin E, which have been proven to have many benefits for your hair and scalp.
Argan oil can help naturally hydrate hair and is commonly used as a conditioner. It is strong enough to help tame frizz and treat split ends.
It can also add shine to the hair and is a popular styling product.
To use it in this way, simply rub a few drops on your hands and comb your hair with your fingers. It can even be used as an overnight hair mask to provide shine.
This happens because the oil is rich in essential fatty acids and proteins. These nutrients are needed to mitigate cuticle damage and promote follicle health.
Argan oil contains a range of nutrients and these can help improve the blood circulation in the scalp which in turn encourages hair growth.
Argan oil is able to remove free radicals from your hair because of its unique nutritive properties. This allows hair follicles and shafts to regenerate and recover from damage.
Using Argan Oil as a Moisturizer and Conditioner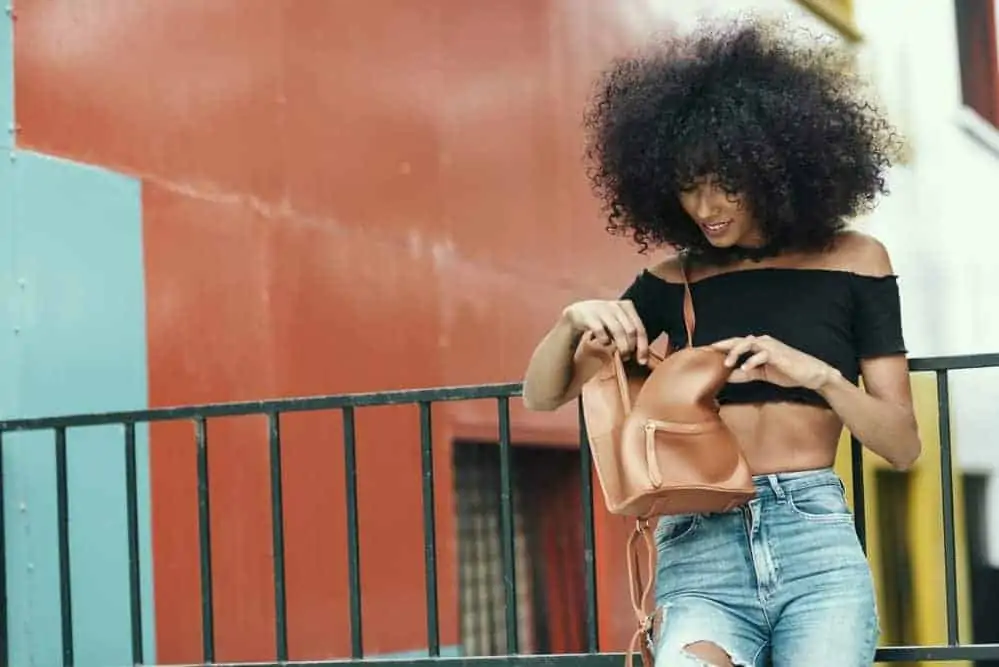 The most common use of argan oil is to moisturize the skin and hair as a result of its high fatty acids content.
The two main types of fatty acids in argan oil, oleic and linoleic acid, have been shown to help lubricate the hair shaft helping your hair retain moisture.
Argan oil also has a high vitamin E content, which forms a fatty layer on the scalp and hair. This layer can help prevent dryness and mitigate frizz. It also boosts your hair's shine to a noticeable level.
Vitamin E also has many other hair benefits. We have written extensively about how to use vitamin E for hair growth, breakage, and thinning. Click here to learn more about the hair benefits of vitamin E.
Apply Argan Oil to Improve Scalp Health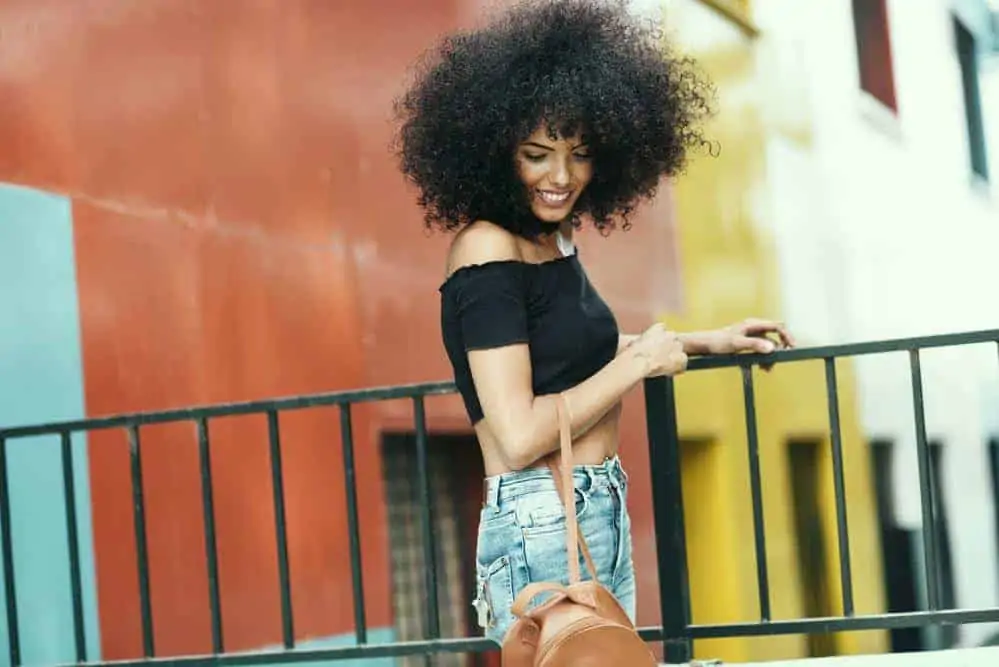 Argan oil has powerful antioxidant and anti-inflammatory properties, which are vital for skin health. When used regularly, argan oil may help cure or prevent various skin conditions that affect the scalp and lead to hair loss, such as:
Seborrhoeic dermatitis
Psoriasis
There are claims that argan oil has anti-fungal properties, but there is not enough research to back this claim. However, there are many reports of people who have successfully used argan oil to treat dandruff, particularly dandruff caused by yeast-like fungus on the scalp.
Prevents Coloring or Styling Damage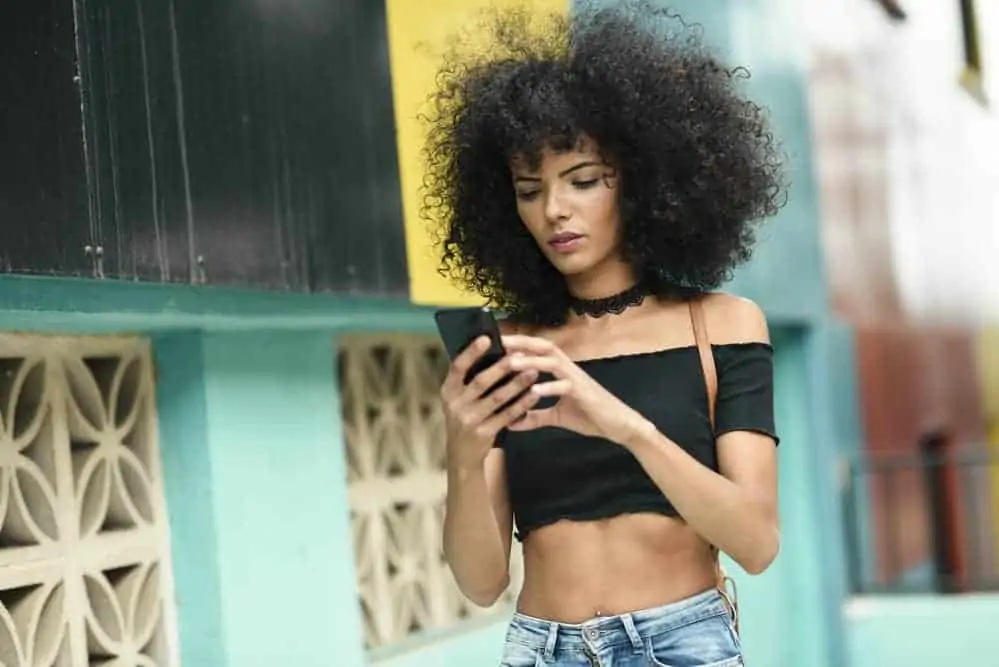 Argan oil has medium-chain fatty acids that are known to have a protective effect that prevents damage from styling, coloring, and washing your hair.
Research shows that hair oils rich in oleic, linoleic, and palmitic acid mitigate hair loss during heat styling by providing a strong protective layer.
We've never tested it, but research shows that argan oil could potentially serve as a heat protectant. It also improves combing force and reduces the formation of split ends, resulting in thicker, healthier hair.
In 2013, a study of argan oil benefits proved that it could help reduce damage caused by the application of hair dye to caucasian hair.
Sun Protection
Argan oil is extracted from a Moroccan indigenous tree. Morocco is a North African country that is almost fully covered by the Sahara desert.
For centuries, Moroccan women have relied on argan oil to protect their skin from the hot Sahara desert sun.
Another 2013 study found that the powerful antioxidant qualities of argan oil helped protect skin against sun damage.
This protection likely extends to the hair also, meaning that argan oil most likely helps mitigate dryness and damage from harmful UV rays.
Using Argan Oil for Hair Loss
There is little research available on argan oil for hair loss, but its benefits for the scalp and hair may also help prevent hair loss or breakage.
Argan oil has high vitamin E content which has been shown to encourage hair growth in a small study in 2010.
The nourishing fatty acids and powerful antioxidants found in argan oil help keep your hair moisturized as well as provide protection against damage caused by free radicals and excessive styling. This should result in less shedding and breakage.
How to Use Argan Oil on Your Hair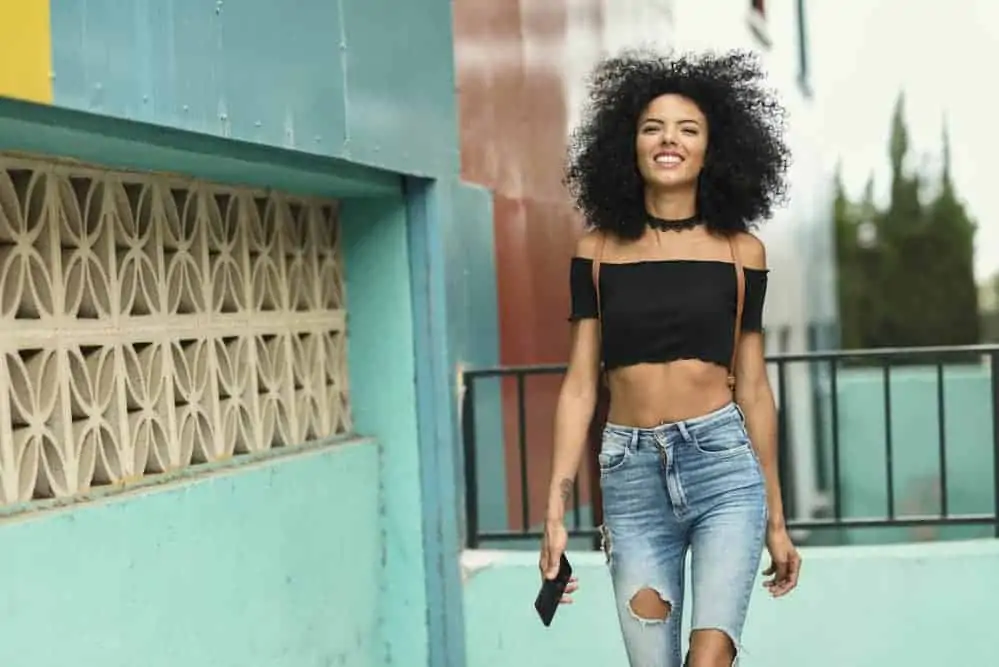 While we always encourage experimentation, below we've listed four different ways to use argan oil to reap its maximum benefits:
Argan Oil Benefits for Natural Hair- Less Breakage, Hair Growth, Shine and More (4c Hair)
1. DIY Argan Oil Hair Mask Instructions
You can easily make your own DIY argan oil hair mask at home. For amazing results, you should use pure argan oil on its own or combine it with other helpful ingredients, such as castor oil or coconut oil.
Here's how to go about it:
Massage about 10 drops of pure argan oil into your scalp and hair using your hands. You may use more or less argan oil depending on the length and volume of your hair.
Keep massaging your scalp and hair for about 10 minutes, until you are sure every hair strand on your scalp is covered from the root to end.
Wrap your hair in a hair wrap and leave it on overnight.
When you wake up the next morning, wash your hair and proceed to style as usual.
2. DIY Argan Oil Shampoo
Argan oil shampoo is available to buy from various shops, but you can also make your own at home pretty easily.
Here's how:
Pour your favorite shampoo into the palm of your hand. Add a few drops of Argan oil into the shampoo and mix it all together by rubbing your hands together.
Apply the mixture to your hair. Wash and rinse your hair as usual.
3. DIY Argan Oil Leave-in Conditioner
Skip your usual hair conditioner and use argan oil as your leave-in conditioner. It helps reduce hair loss and breakage from styling and combing. Here's how to do it:
Wash the hair thoroughly using your favorite shampoo.
Dry your hair until no water is dripping.
Rub about 3-5 drops of argan oil in your hands and rub it into your hair. Adjust the amount used depending on the length and thickness of your hair.
Style your hair according to your preferences.
4. DIY Argan Oil Styling Gel
Argan oil can be used as a styling gel to tone down frizz and mitigate breakage. It also protects your hair from heat damage. Here's the process:
Lightly apply two to three drops of Argan oil to clean, dry hair. The goal is to achieve a light coating of argan oil on your hair's surface.
Style as usual.
What's the Best Argan Oil for Hair?
The best argan oil for hair-related use should be a pure, high-quality product. It will often be expensive, but we don't recommend buying a cheap alternative. If you're going to use argan oil, use a high-quality product.
When buying argan oil, ensure that it's:
100% pure organic argan oil free from other ingredients.
Sold in a dark-colored bottle made of glass. Argan oil is sold in a dark-colored glass bottle that is designed to help maintain its properties.
Labeled for cosmetic use.
Pure organic argan oil is odorless. Low-quality argan oil has a distinctive strong, rancid odor. So, what brands do we recommend?
There are many argan oil brands and products available to purchase. Some of the top brands include:
Note: All of the product links below take you to Amazon.com to learn more about the product, read reviews and make a purchase if you're ready to incorporate argan oil into your natural hair regimen.
This award-winning hair argan oil treatment from Moroccanoil is responsible for a fair amount of the argan oil hype. Adding two pumps of the formula to clean hair every day will give your hair boosted shine, less frizz, detangled strands, and faster dry time.
If you are on a tight budget, this is one of the best options. It is available at an affordable price and is highly rated by many women in the natural hair community. After using even a small amount of this product, you should notice additional softness and shine.
It is not just your hair that will benefit from the moisturizing ability of argan oil. You can use pure argan oil for your skin and nails as well.
Josie Maran's pure argan oil is a highly rated product that is cold-pressed and certified organic. The formula is full of fatty acids and vitamin E that nourish and hydrates skin.
Excessive use of hot tools and coloring may leave your hair feeling dry and damaged. This intensive hair serum helps restore moisture leaving your hair strands smooth and shiny. To get the most out of it, rub it into wet hair after your usual shampoo and conditioner routine.
This argan oil and keratin-infused leave-in treatment is the perfect fix for dry and frizzy hair. You may use it as a pre-shampoo primer, overnight conditioner, or blow-dry heat protectant.
For those who find the price of Josie Maran's Pure Argan oil a bit too high, this budget-friendly option is worth a try. It's also 100% pure organic argan oil, so you can also use it to hydrate and nourish your body, face, and hair.
Some people argue that Oribe and argan oil together create the ultimate hair care dream team.
These two ingredients, along with other powerful additions like sandalwood extract and jasmine oil deeply condition hair and strengthen it without weighing it down. As a bonus, you also get UV protection.
This product is derived from a rich mix of sesame oil, hibiscus oil, grape oil, and argan oil. It can be used to moisturize hair, skin, and nails.
What makes this product a winner is its sweet smell and ability to absorb quickly into the skin completely without a leftover residue.
This product is great for people with dry, color-treated, or damaged hair. The product is made up of argan oil, ceramide, and vitamin E that repairs damaged hairs and restores hair volume, texture, and shine.
Should Argan Oil Have a Smell?
100% pure organic argan oil should be odorless. However, some brands do add some fragrances to their argan oil and it is usually a sweet smell.
Although, argan oil should not have a strong smell. Even with fragrances added, the smell is often similar to an olive oil smell, but with a light citrus fragrance.
Can Argan Oil Go Bad?
Yes, argan oil usually has an expiration date after which you shouldn't use it. You may extend its shelf life by making sure it's always stored in a cool, dark place.
Oil Extraction Method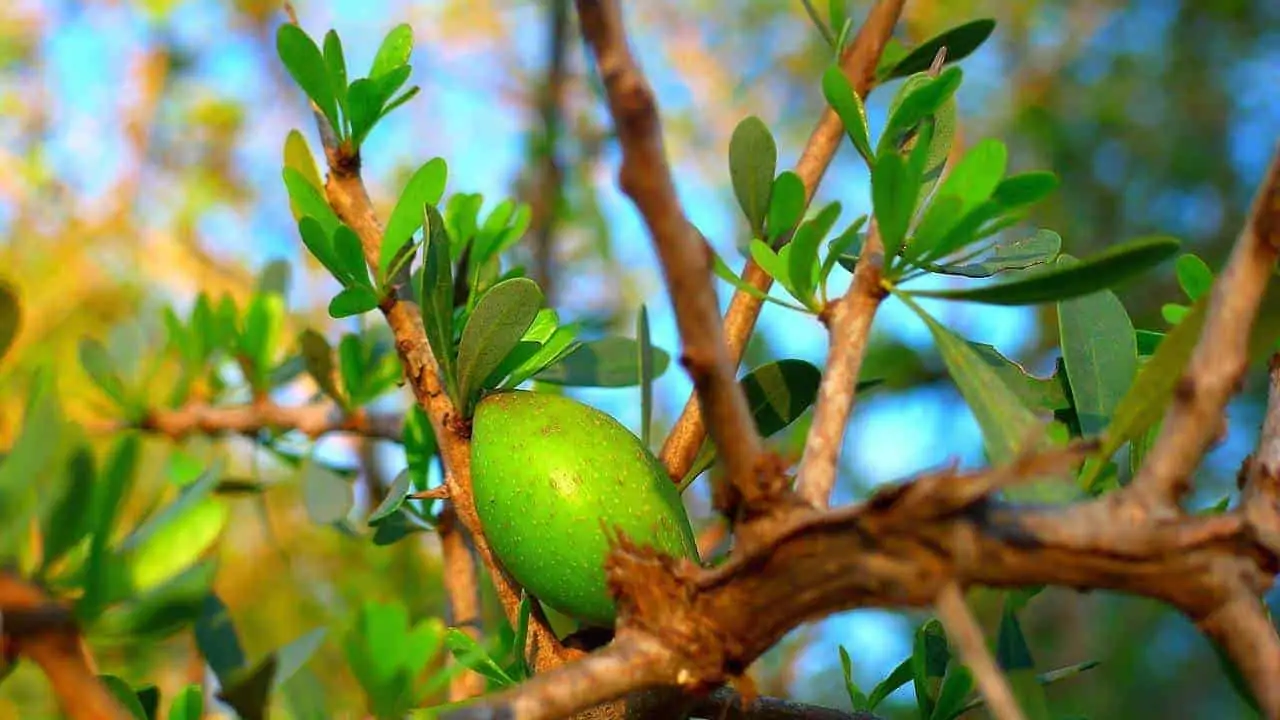 In addition to being rare because of the lack of argan trees, the oil is labor-intensive to produce. Most of it is made in Morocco's southwestern areas where the natives still follow traditional extraction methods.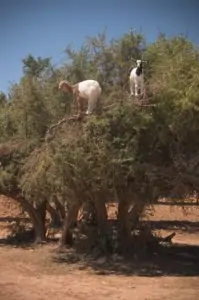 In this process, the fruit will ripen naturally and independently.
The traditional method and one that is still commonly used although not always, is to allow the goats to climb the trees and eat the fruits as they have always done.
They will spit out the seeds after they don't digest in their rumen and they are then collected.
The process of extracting argan oil has traditionally been performed by Moroccan women. Another process that is growing in popularity is collecting the ripe fruit directly from the tree.
They then lay it out in the sun so it can dry but will sometimes make the seeds dry faster by using ovens. The women then crack the seed, which can be done by hand or by using a manually operated stone grinder.
Some Final Thoughts About Using Argan Oil for Hair Care
When using argan oil as a styling treatment or a heat protector, you should always apply a very small amount. Start by trying to use only a drop or two and then slowly increase the amount if necessary.
To use the oil as a conditioner, you will need to use more argan oil. Gently rub it into the hair section by section and then use your fingers to massage more onto your scalp.
After this, you can leave it in for one to three hours before washing it out using a gentle shampoo.
Argan oil is a great product to add to your hair and skincare routine. When used regularly, argan oil moisturizes the hair and skin, mitigating hair loss and promoting thicker, fuller, and longer hair.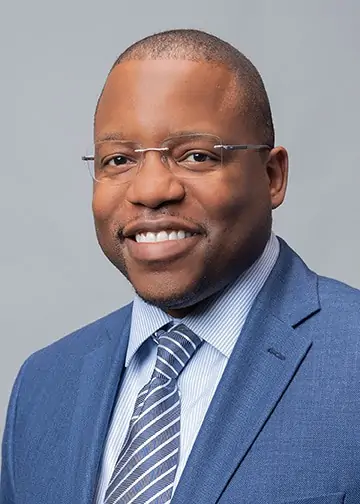 Kenneth Byrd holds a BS in Accounting and Management Information Systems and an MBA from the University of Alabama at Birmingham. With over 15 years of experience, Kenneth has been dedicated to hair care since 2008, when he co-founded Curl Centric® and Natural Hair Box alongside his wife. As a team, they promote healthy hair care practices through their comprehensive platform, Curl Centric. Curl Centric is a website operated by a husband and wife team that encourages healthy hair care. At Curl Centric, we aim to help our readers take control of their hair care journey and make good decisions about products, hairstyles, and maintenance techniques. We also have strict editorial integrity; here's an explanation of our editorial guidelines and how we make money.