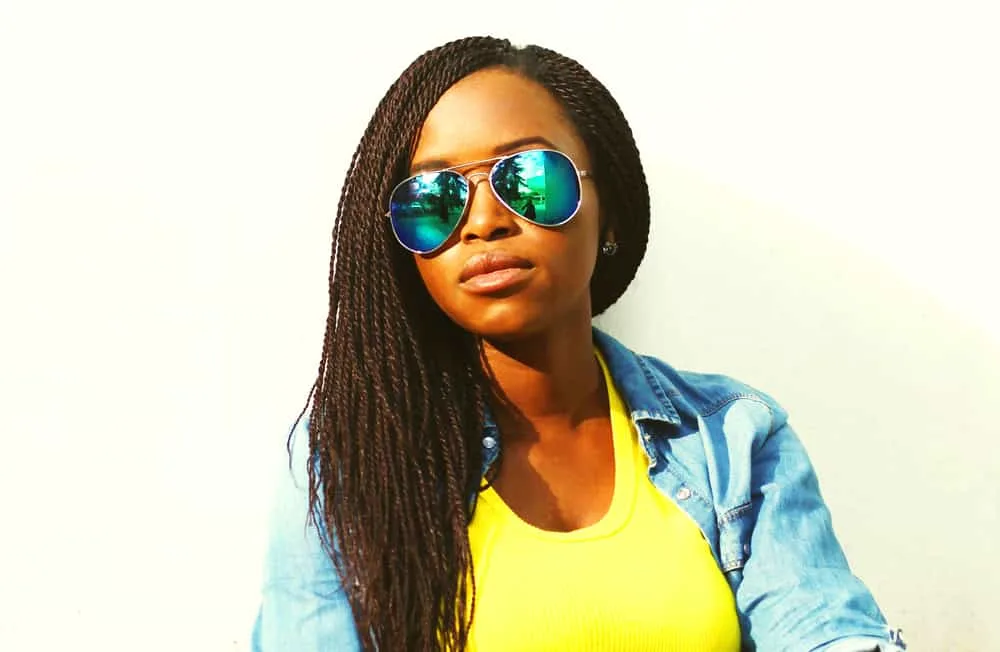 Wearing your curls in protective hairstyles is a great way to promote length retention and get a break from hair maintenance.
When selecting a protective style, you need to consider many factors, like the cost, ease of installation, and longevity, but that's not all.
Most people fail to consider whether the style will remain intact after getting wet. That's unfortunate because even the most expensive and intricate protective styles can be ruined after coming into contact with water or humidity.
Protective Hairstyles That Can Get Wet
In this article, we'll introduce you to several protective styles that hold up after you shower or take a dip in the pool.
Box Braids
Box braids are one of the most forgiving protective styles, and they suit virtually everyone. The braids vary in size and are created using hair extensions.
Not only do they last up to 2 months with proper care, but they do really well in the water. You can take a deep dive at a pool party or even wash them now and again without ruining the style.
How To: EASY DIY Box Braids (BEGINNER FRIENDLY) | Medium Sized
Pros and Cons
Before you choose box braids, we'd like to give you some information about the benefits and drawbacks of the style:
Pros
All of your natural hair will be tucked away inside the braids, which means the style will shield your hair from the outside elements, like the sun, dirt, and debris. It'll also help to protect your strands from moisture loss.
Box braids are almost entirely hands-off. To maintain them, all you need to do is oil your scalp as needed, cover them up at night with a silk or satin scarf, and gently wash them whenever buildup is present.
You can style your box braids in several ways, including pulling them up in a ponytail, doing a half-up-half-down style, or even space buns.
Cons
Box braid installation and removal are both time-consuming.
When braided too tightly, box braids can cause traction alopecia and scalp pain.
You'll have to spend a pretty penny on your box braids (usually more than $150).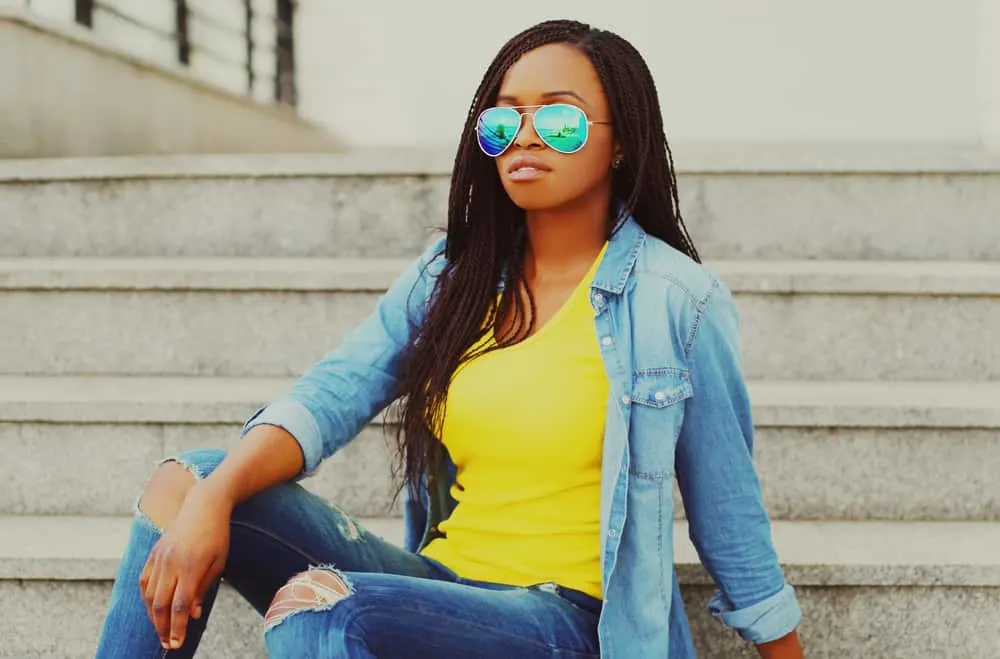 Lemonade Braids
Just like box braids, lemonade braids are durable and long-lasting. They are long extension cornrows with intricate parting designs, popularized worldwide when Beyonce donned them in her Formation video.
Since lemonade braids are usually small and firm, you should be able to submerge your lemonade braids underwater without any problems.
How To: Lemonade Braids | Small Feed in Braids | Dopeaxxpana
Pros and Cons
Lemonade braids are beautiful to look at, but they come with some unique issues that you should know about. Let's look at some of the pros and cons – they'll help you decide if lemonade braids are suitable for you.
Pros
Lemonade braids could last for up to a month with proper care.
They are always on-trend.
All of your natural hair is woven into the braids, which means it's protected for the duration of the style.
Maintenance for lemonade braids is super easy, only requiring you to cover them up at night and oil your scalp as needed.
They are more affordable than other protective styles, like box braids and sew-ins, though the final price depends on the stylist you choose.
Cons
You can't do very many styles with your lemonade braids. In most cases, you've got to wear them however they're initially styled.
If your stylist braids the cornrows too tightly, you could get headaches and red bumps along your hairline.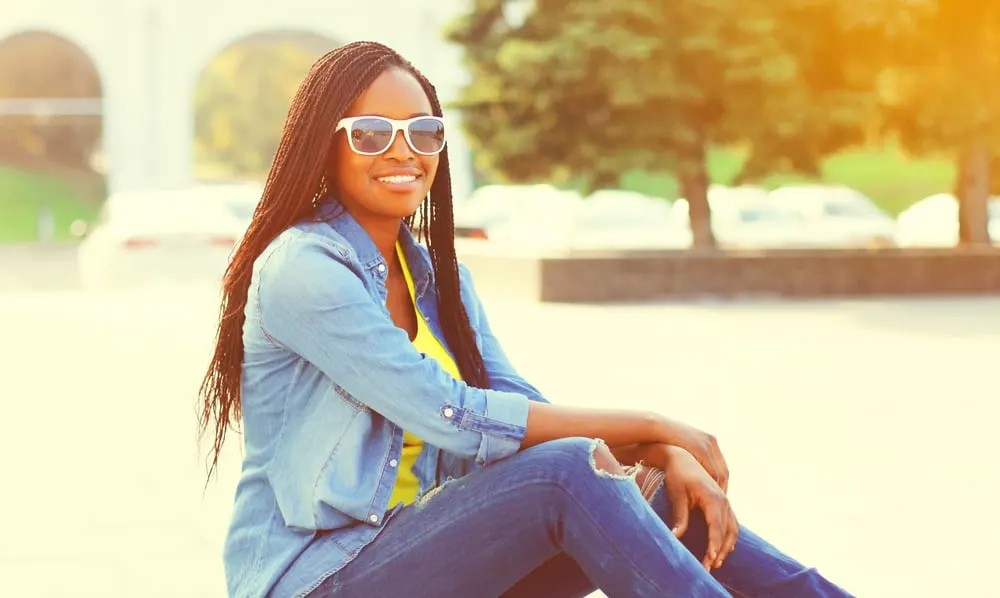 Senegalese Twists
Another protective style that can get wet is Senegalese twists, also called two-strand twists. These are twist braids that can be done with or without extension hair.
When this style comes in contact with water, you may notice that your twists shrink up a bit (if done without extensions), but that's the extent of it.
How To: DIY SENEGALESE TWISTS for BEGINNERS /Protective Style /Tupo1
Pros and Cons
Below, we'll look at some of the pros and cons of Senegalese twists, so you'll have a better idea of whether this style is for you:
Pros
The style has a fun boho vibe that pairs well with swimsuits and party attire.
Twists won't unravel easily when installed correctly.
They are easy to install and uninstall. If you're up for it, you can DIY this low-maintenance style.
Cons
When the twists aren't twisted tight enough, they could slip a bit. So, it's best not to completely submerge them in water.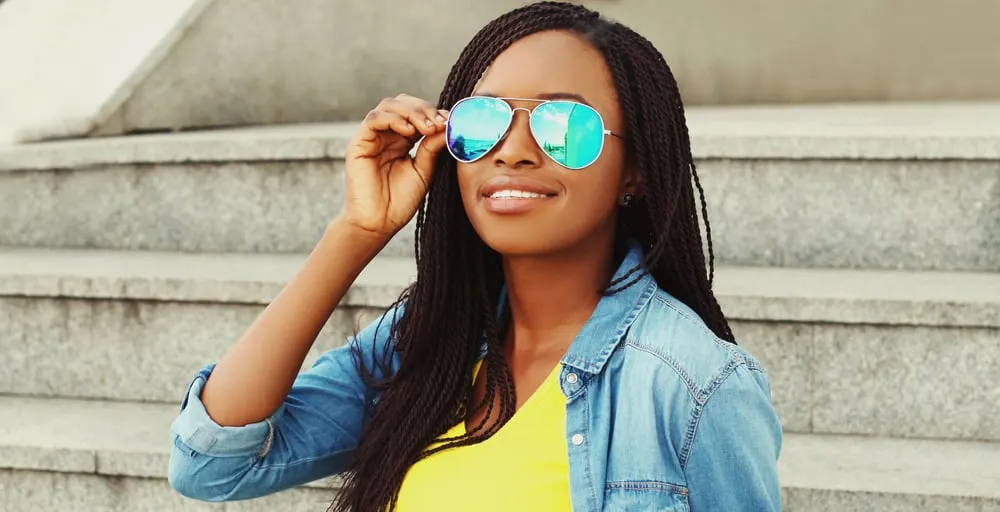 Topknot or Low Bun
Virtually any type of bun will keep your hair up and out of your face as you splash away in the water. Choose from a topknot or a low bun, whichever one feels more "you."
While you can let your bun get wet while you're out, you'll want to take the bun down and dry your hair thoroughly when you get home. You don't want the moisture to get trapped in your bun and cause mold growth.
BEST METHOD FOR SLEEK HIGH BUN ON TYPE 4 NATURAL HAIR || HEAT/SWEAT RESISTANT!
Pros and Cons
Buns come with their own advantages and disadvantages, and they include the following:
Pros
It's nice not to have to worry about your hair while it's in the bun.
A bun is hard to mess up, even in the water.
Anyone can style their hair in a bun.
Cons
Pulling your hair back too tight can cause traction alopecia and headaches.
The inside of your bun could harbor mold and bacteria if you leave it wet for too long.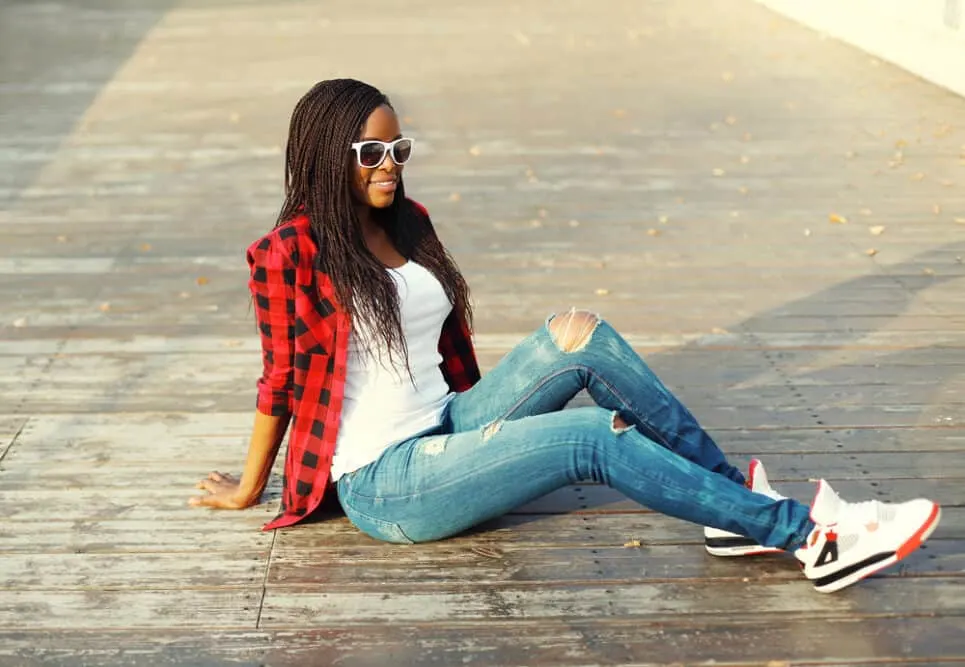 Double French Braids
Double French braids have stood the test of time, remaining a stylish classic for decades. Plus, they can last for days and are super easy to do.
When your hair is in two French braids, you can swim, hang out in the hot tub, or shower without thinking about your hair.
How To Cornrow Braid For Beginners | Clear Easy Steps
Here's a video tutorial on how to do double French braids on your natural hair. To make the braids last longer, you can add extension hair – watch this tutorial to learn how to do them yourself.
Insta Braids / Cornrows with Extensions - No Feed-In Method!!
Pros and Cons
Now that you know a bit about double French braids, let's get into their pros and cons.
Pros
If you want to get your braids done by a professional, you won't have to pay much. In most cases, the cost will be under $50.
Double French braids, braided firmly, will hold up in the water.
Double French braids look flattering on most people, complementing a wide variety of face shapes.
Cons
Tips for Protecting Your Hair Before and After a Pool Party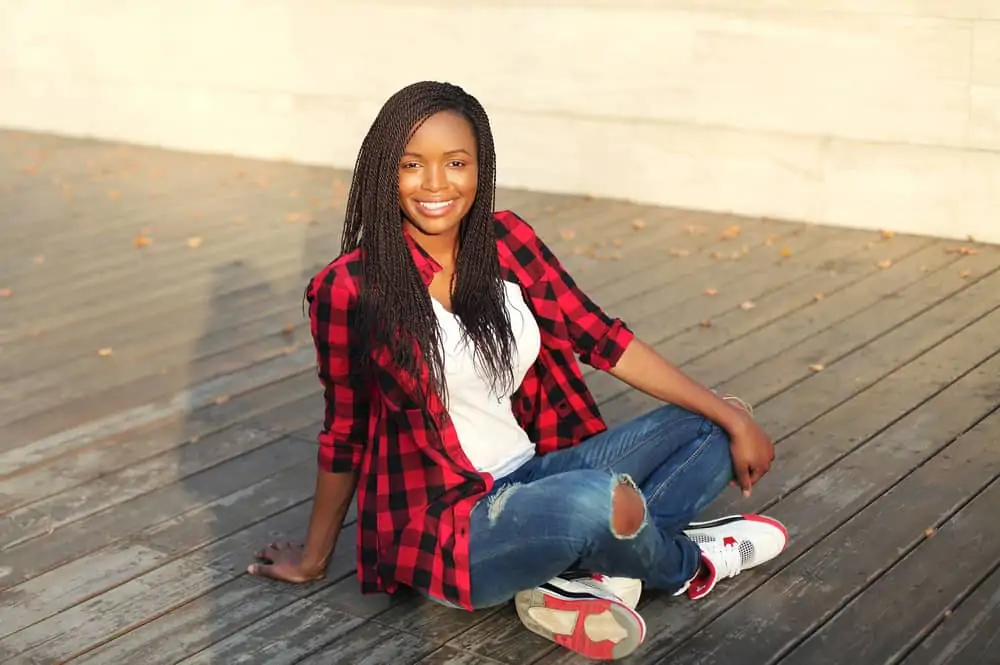 In addition to choosing an appropriate hairstyle, it's essential to take other measures to keep your hair healthy. Below, we'll share a few suggestions for protecting your hair at a pool party:
Dry Your Hair Completely After It Gets Wet
Leaving water sitting on your hair for an extended amount of time is never good. Not only could it make your natural hair more prone to tangles, but it could also lead to mold and mildew growth.
When you get home, use a blow dryer or towels to speed up the drying process. Your hair should be dry by the time you go to bed for the night.
Consider a Swim Cap When Swimming
Chilling by the pool and getting splashed by water is okay in most cases, but getting your hair drenched in pool water can lead to a ton of problems, including hair dryness, tangles, and more.
Wear a swim cap if you'll be swimming under the water; it will help to keep most of the water out.
Rinse Your Hair Afterwards
If you'll be coming in contact with chlorinated water, rinse your natural hair thoroughly afterward to remove the chemicals.
Conclusion
We encourage our readers to wear their curls in protective hairstyles (and incorporate protective styling techniques) because it helps them promote length retention and get a break from hair maintenance for weeks at a time.
It's essential to protect your hair from heat styling, chemicals, and over-manipulation, but what about the unavoidable effects of water? It's important not to forget about whether or not the hairstyle will remain intact after getting wet.
That is why I always recommend using swim caps when swimming – even if your hair isn't curly!
In addition to protecting against chlorine damage from pools and hot tubs (which can be drying), swim caps also help keep water out of your ears while you're submerged in water.
We hope that the styles and tips presented in this article are helpful to you. Any one of the above natural hairstyles will have you looking flawless and feeling worry-free!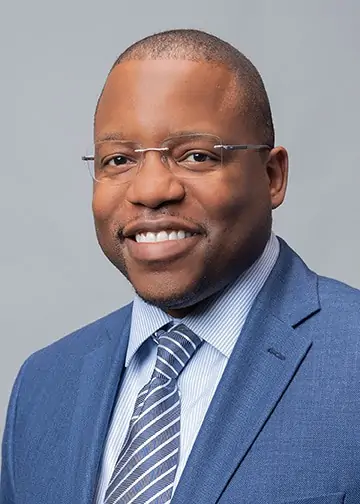 Kenneth Byrd holds a BS in Accounting and Management Information Systems and an MBA from the University of Alabama at Birmingham. With over 15 years of experience, Kenneth has been dedicated to hair care since 2008, when he co-founded Curl Centric® and Natural Hair Box alongside his wife. As a team, they promote healthy hair care practices through their comprehensive platform, Curl Centric. Curl Centric is a website operated by a husband and wife team that encourages healthy hair care. At Curl Centric, we aim to help our readers take control of their hair care journey and make good decisions about products, hairstyles, and maintenance techniques. We also have strict editorial integrity; here's an explanation of our editorial guidelines and how we make money.