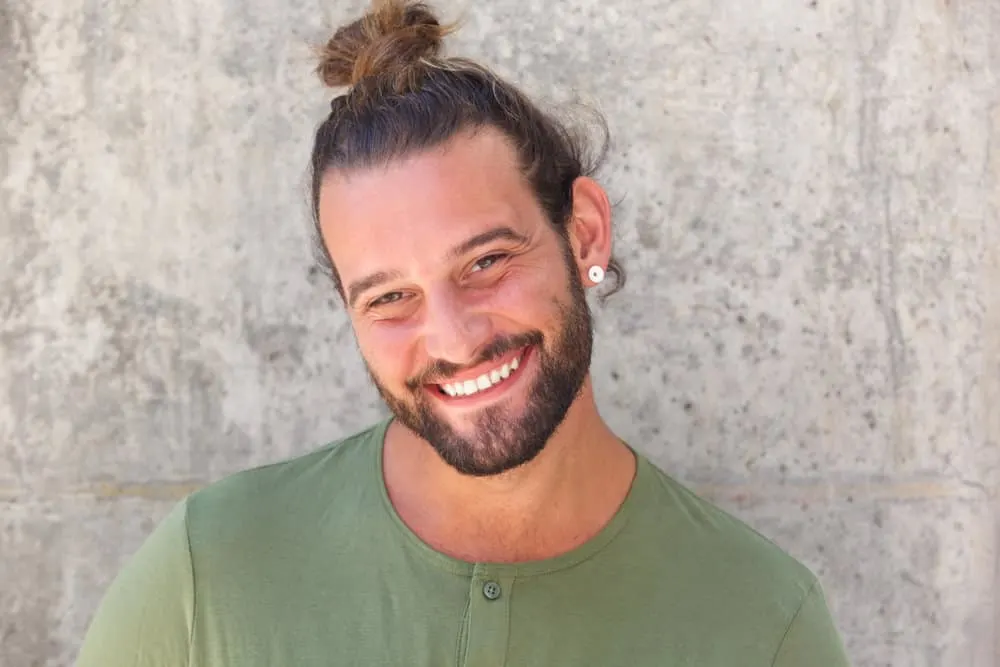 Hate them or love them, man buns have become increasingly popular in recent years. However, with so many different types of man buns to choose from, it can be a challenge knowing where to start.
So whether you're after a classic or cutting-edge look, we've got you covered! In this article, we'll explore a selection of various man bun hairstyles.
We'll explain what they are and give you all the tools you need to make each look your own. Your new favorite hairstyle is just a few scrolls away, so make sure you keep reading!
1. Half-up Messy Bun
Can't decide between pulling your hair up and leaving it down? Well, our first look proves that sometimes, not choosing is the best thing you can do! A half-up messy bun is one of the most stylish and relaxed takes on a man bun.
And although it combines two stunning looks in one, the result is perfectly cohesive.
Hairstyles for Men with Long Hair // Man Bun Tutorial // Easy Men's Hair HALF UP HALF DOWN tutorial
To create a half-up messy bun, spritz a texturizing spray into damp, freshly washed hair. Then, part your hair horizontally, from ear to ear, and gather the top half into a loose, messy bun.
For a cooler, more beachy vibe, gently tug on the ponytail to free a few strands of hair.
Brush through the lower section of hair to remove any knots or tangles, and voila! Getting your half-up messy bun just right can be a little tricky at first, so here's a beginner-friendly tutorial that walks you through the steps.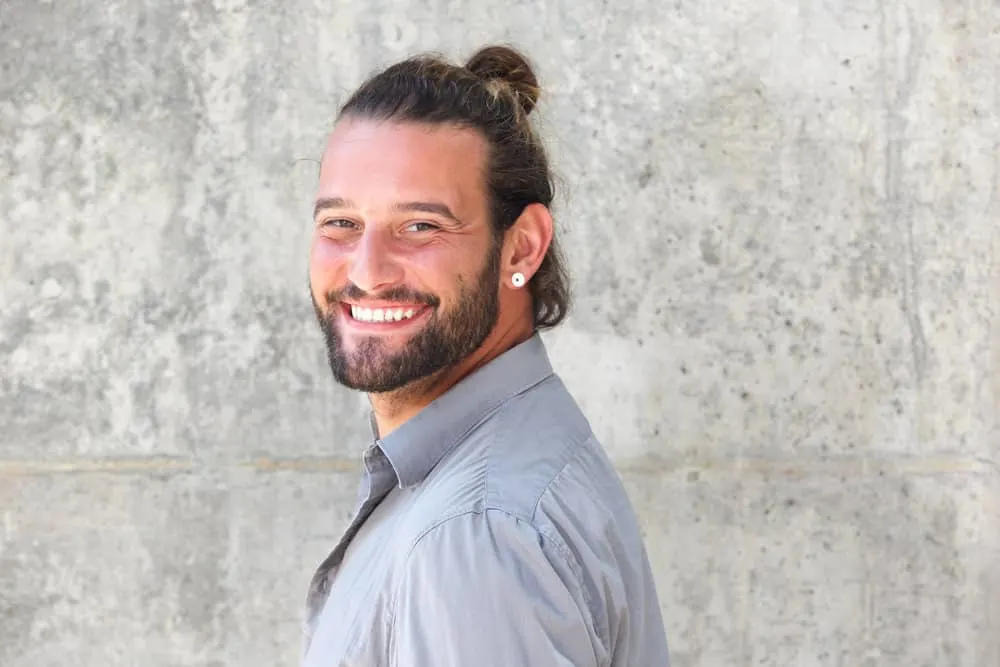 2. Braided Top Knot
One of the best ways to discover new hairstyles is to go back in time. This asymmetrical braided top knot takes inspiration from the Vikings. It combines the structure and texture of a braid with the soft organic shapes of a man bun.
Viking Braided Top Knot/Man Bun | Step by Step
The result is a hairstyle that perfectly contrasts hard and soft elements for one eye-catching, one-of-a-kind style. If you want to create a braided top knot, spritz a texturizing or volumizing spray onto damp hair.
Then, brush or comb through your hair to detangle it and create a deep side part on either the left or right side. French braid or cornrow the smaller section straight back. Next, brush the loose section of hair straight back.
Gather the braid and your loose hair into a neat top knot and fix it with a hair tie or rubber band. Would you rather learn by watching? Check out this informative tutorial for more information on how to get a braided top knot.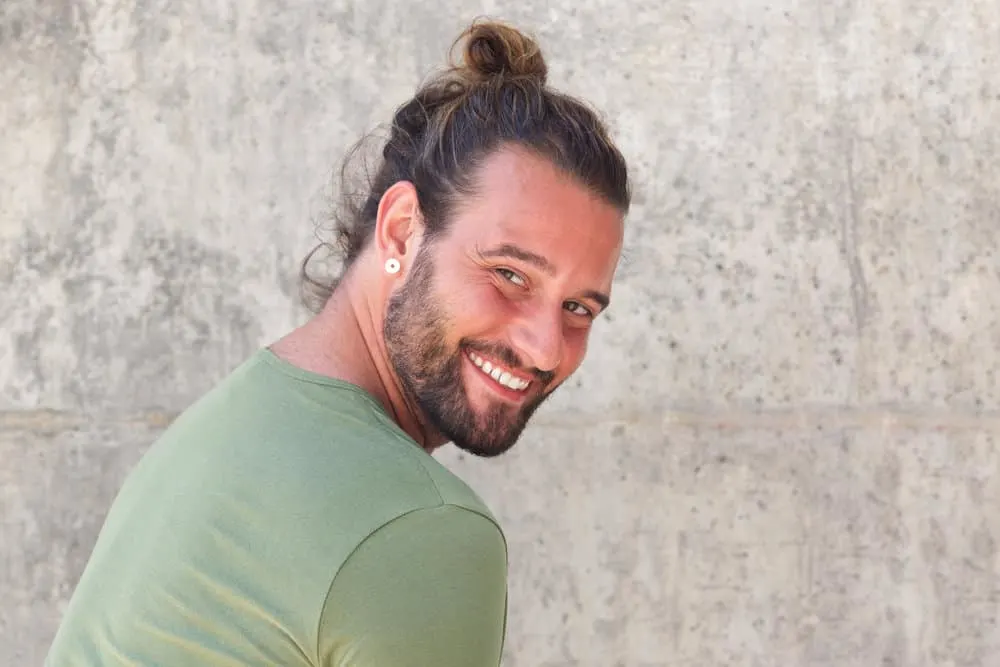 3. Top Knot
A top knot is an exceptionally sleek and professional approach to a man bun. It's a more casual option in which your hair is pulled up and tied into a small knot at the top of your head. It has a sharp silhouette that lends a touch of fanciness to any simple look.
Mens Hair Tutorial Man Bun Top Knot
And best of all, top knots are super easy to pull off! Just brush through your hair to get rid of any knots or tangles.
Then, apply a smoothing balm and pull your hair into a sleek, high ponytail. To hold your ponytail in place, wrap a hair tie around it a few times. To finish things up, fold your ponytail in half, and wrap the loose ends around the base of the ponytail.
Tuck the ends underneath your hair tie, and you're done! Here's a tutorial that'll give you a little more information on how to recreate the perfect top knot.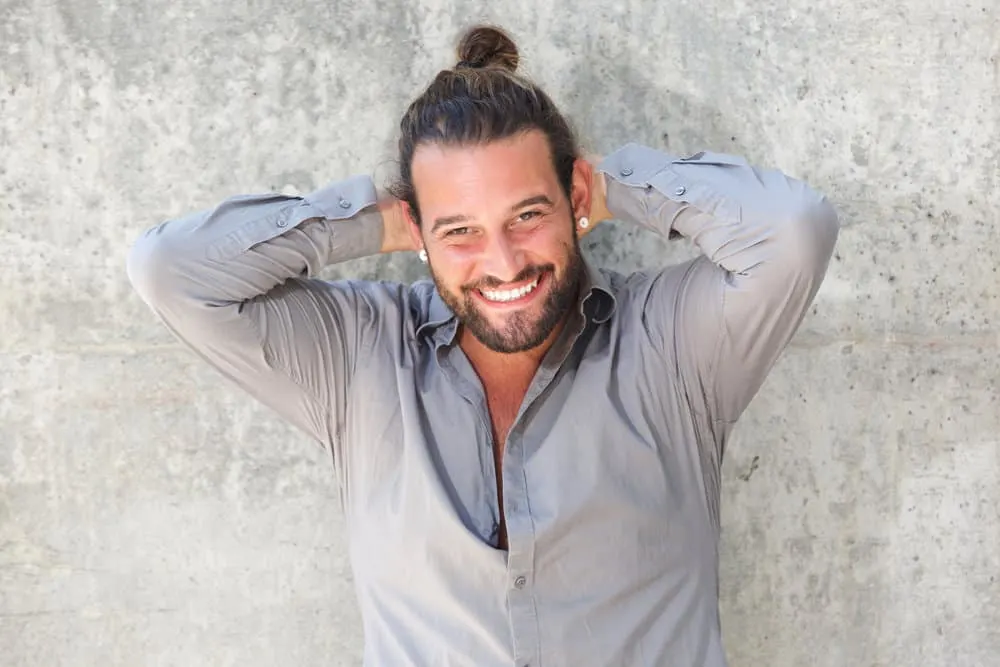 4. Low Messy Bun
Are you after a more casual and understated take on a man bun? If so, you'll love our next entry. A low messy bun is a carefree style in which your hair is tied loosely at the nape of the neck.
And despite being so laid back, a low messy bun is surprisingly fashionable.
4 WAYS TO DO A LOW MESSY BUN! EASY LONG & MEDIUM HAIRSTYLES
That's because the low placement adds length to your hair and balances out round or square faces. Additionally, the perfectly disheveled texture brings in a rugged, masculine edge.
To get the look, run your fingers through your hair and gather it into a loose, low ponytail. And don't worry about making it too neat or precise. The key to this style is keeping things relaxed and tousled.
Once you've created your bun, loosely secure it with a hair tie. Next, pull out a few strands for a messy, undone effect. Here's a short video showing a few different ways to pull off a low messy bun.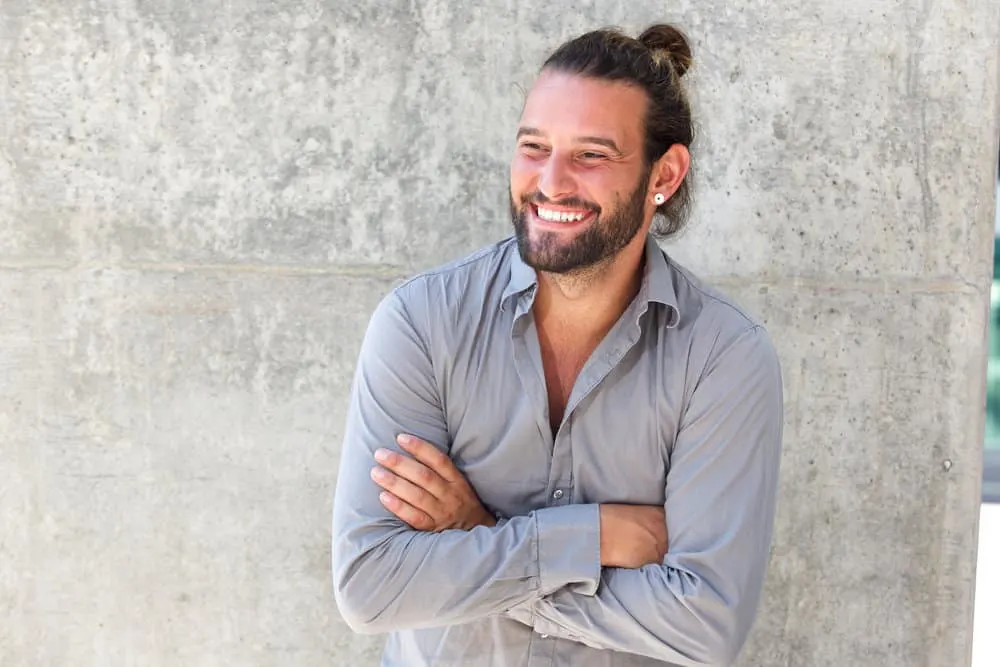 5. Slicked-Back Bun with a Middle Part
Even though man buns are generally thought of as a laid-back, casual style, they can also make the perfect formal style. A slicked-back bun with a middle part is a polished and understated man bun with plenty of sophistication and personality.
How To Do A Sleek Man Bun - (With Middle Part)
It's created by applying a generous amount of gel or pomade to your locks and brushing them back into a tight bun. And keep in mind that the perfectly slicked-down texture isn't the only thing that this hairstyle has working for it.
It also features a crisp middle part.
Middle parts help highlight your facial symmetry and bring a modern edge to your bun. Although this bun is prim and polished, it's surprisingly easy to pull off! Check out this video demo to find out more.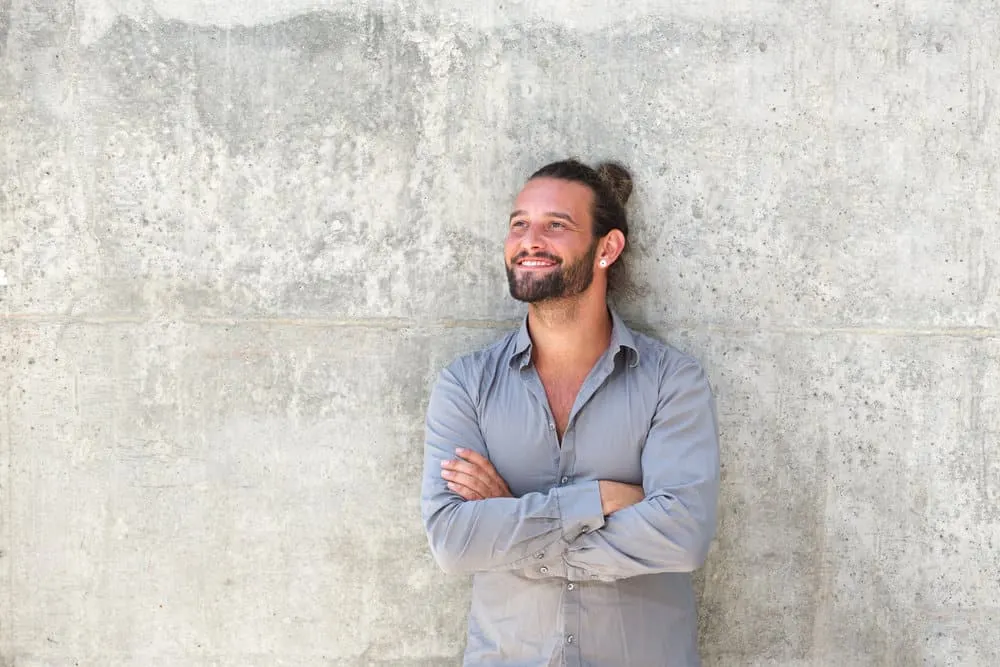 6. Two-Braid Bun
The only thing better than a man bun with one braid is one with two of them! A two-braid bun is an updated take on the classic style that uses cornrows to create visual interest and make your strands easier to manage.
Two Braid Man Bun Tutorial► Men's Natural Curly Hair
And like the other man bun styles on this list, it's a practical way to keep your hair out of your face without sacrificing style. Starting with a fade or undercut, part your hair straight down the middle, and cornrow each half straight back.
Secure each braid with a small elastic hair band or hair tie to prevent your braids from unraveling.
Then, gather both braids and tie them together with another elastic band or hair tie, creating a small bun at the back of your head. As a final touch, smooth a hydrating cream over your finished hairdo. You can learn how to perfect your braided bun by watching this helpful video demo.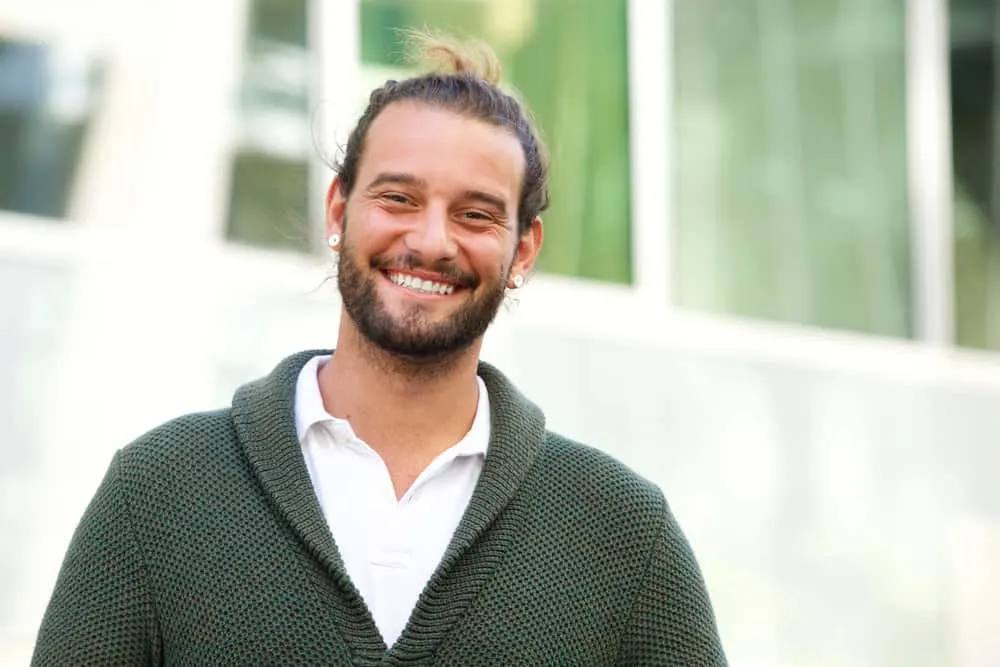 7. Twisted Bun
While some buns are simple and classic, this style is anything but. A twisted bun is created by twisting sections of hair before tying them into a bun. The result is a significantly more intricate and textured look that's always ready to impress.
Unlike the other man buns we've gone over so far, this one can be difficult to pull off.
But if you'd like to give it a go, pull all of your hair back into a sleek, low ponytail. Then on the second loop, fold your ponytail in half, and pull it through the tie. Grab the ends of your hair and divide them into two equal sections.
Lift the halves up and tie a small rubber band around them to hold everything together. Finally, twist the ends and lower them until they're wrapped around your initial bun.
This twisted man bun tutorial shows you how to create a twisted bun on both medium-length and long hair, so be sure to check it out.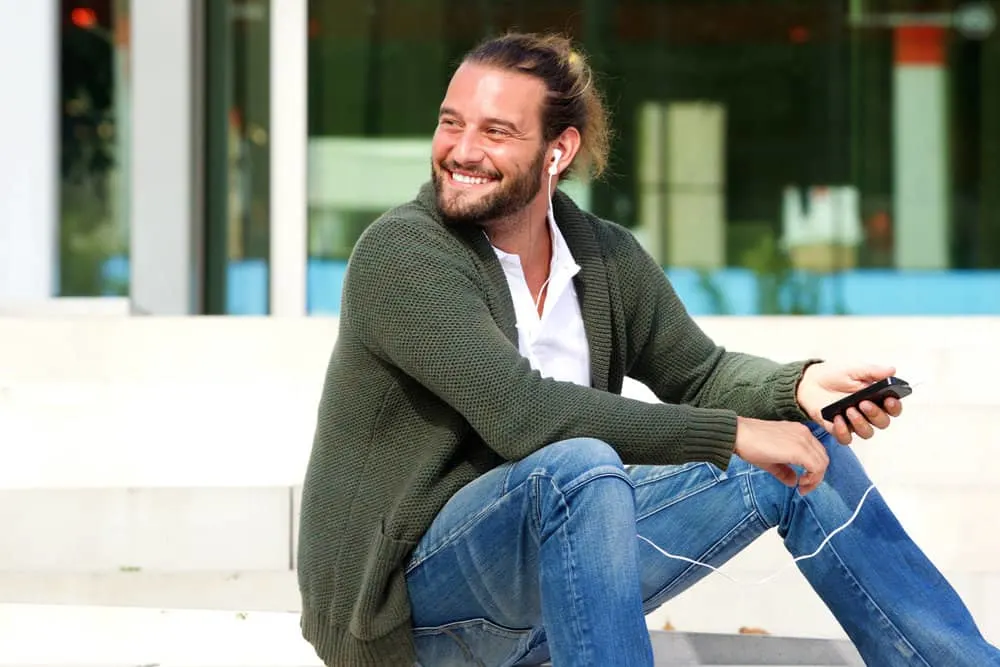 8. Braided Double Bun
This braided double bun is a bold and unique option for guys who don't mind looking downright adorable at times. It features two French braids that lead into small buns on either side of the head.
Space Buns - Boxer - Legolas | Braid Styles | Men Long Hairstyles
The braids add more texture and interest to your buns and give them a more structured edge. If you want to try out this braided double bun, start by parting your hair straight down the center.
Starting from your nape, French braid each half straight up towards your crown. Next, gather both halves into a loose bun. And that's it!
Despite taking mere minutes to complete, a braided double bun will make it look like you've spent hours working on your hair. Now that you get the gist, here's a Youtube video that will take care of all of your other questions.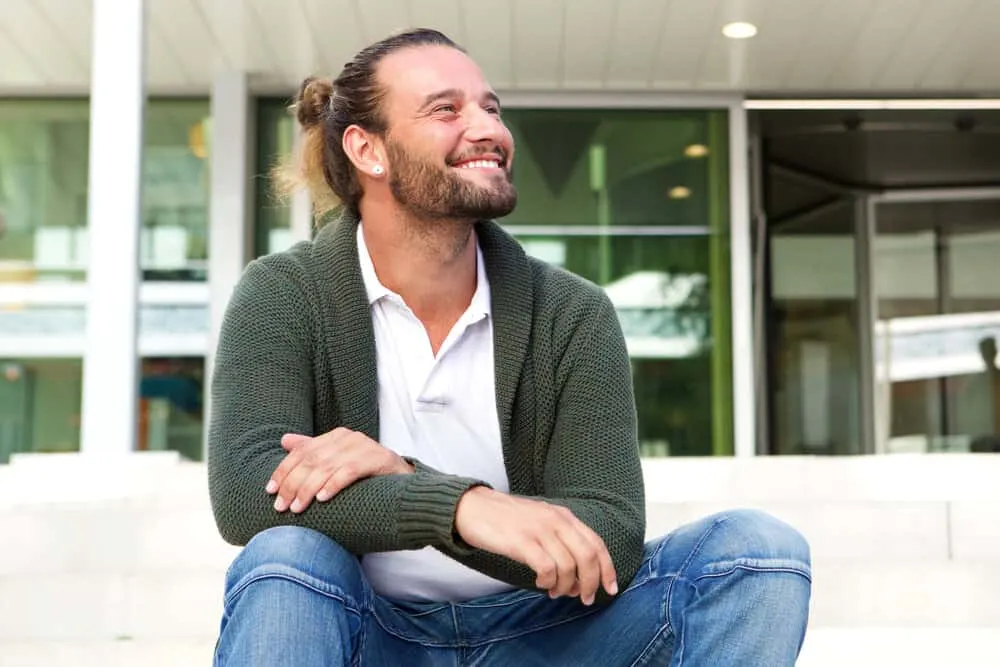 9. Man Bun with Fade
For an ultramodern and slick man bun, try pairing your usual hairdo with a fade. Like other fades, this hairstyle leaves the hair on top of your hair long. Then, your sides are taken in and gradually become shorter as you make your way down.
BARBER TUTORIAL: HOW TO FADE A UNDERCUT | MAN BUN STEP BY STEP INSTRUCTIONS
The fade brings a sharp precision to the softness of the bun, elevating it to an entirely new level of cool. And since your sides and back are short, styling your man bun will be easier than ever!
Simply rub a small amount of pomade or gel between your palms, and slick them down your sides. Next, smooth the leftover product over your top as you gather the hair into a high ponytail.
Wrap the length of the ponytail around its base, and tuck the ends underneath your hair tie. Now that you know how to style, you're probably wondering how to get the cut. Don't worry; we have you covered! Watch this video to learn how to create your man bun with a fade.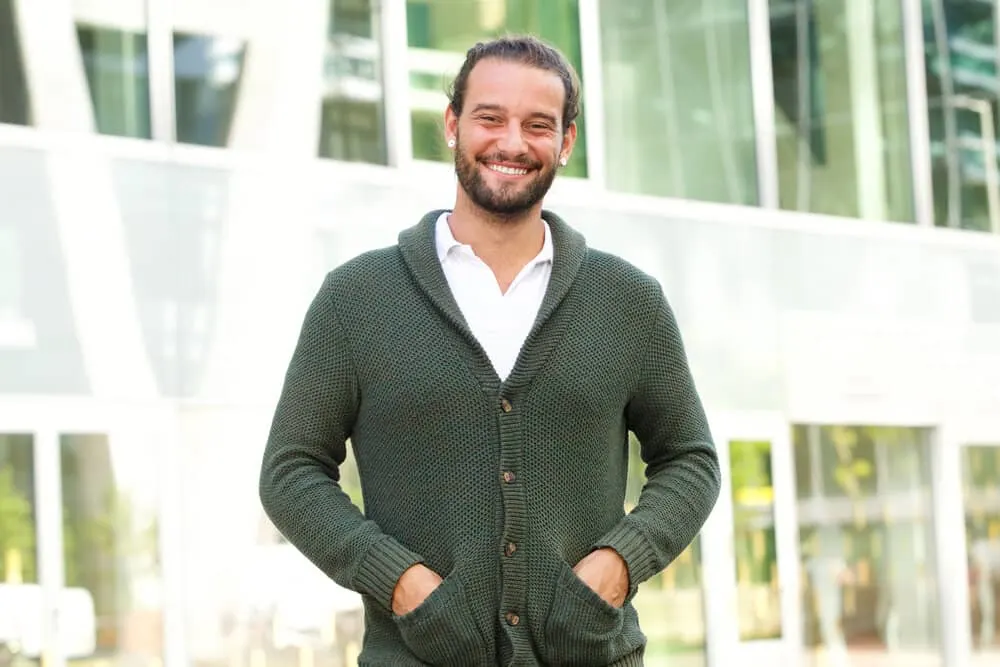 10. Samurai Bun
The samurai bun is a variation of the classic top knot, originating in feudal Japan. Like a standard top knot, samurai buns are high and tight. However, samurai buns are placed somewhat higher on the head and have a bolder, more voluminous shape.
While samurai buns were initially designed to keep the samurai's helmets in place, they've since been transformed into one of the freshest and most modern takes on a man bun.
Samurai Man Bun \ 4 Easy Quick Men's Hairstyle
To create a samurai bun, gather your hair into a high ponytail and twist it into a tight knot. Secure it with a ponytail holder, and wrap a second one around the knot's base.
Grab your bun from both sides and gently fan it out as a finishing touch. That will give your hair the signature samurai shape. This Youtube video will teach you everything else you'll need to pull off this incredible look.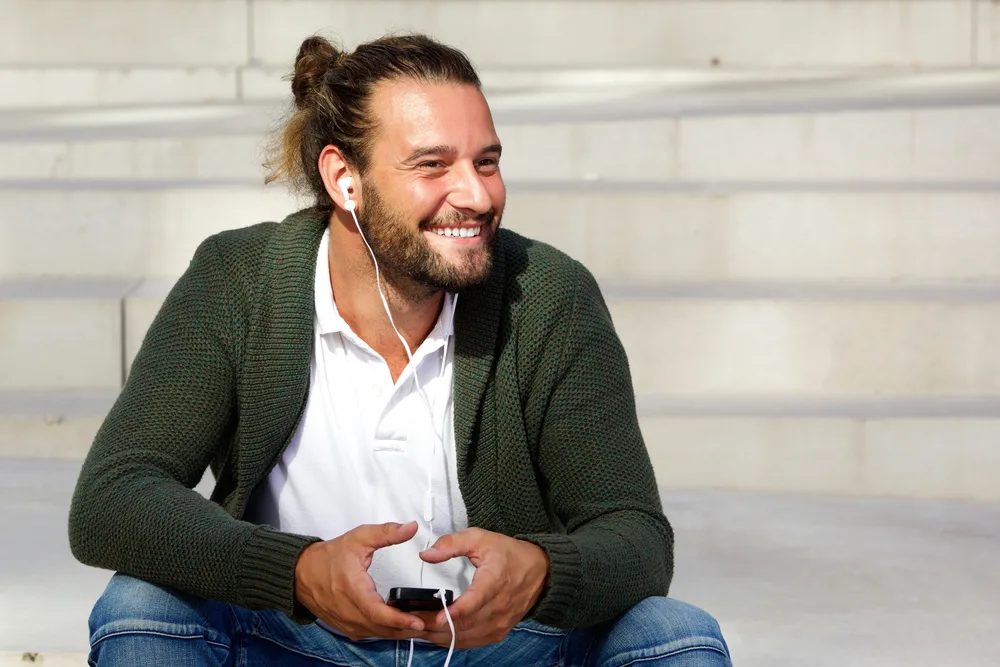 11. Curly Man Bun
Man buns aren't just for guys with straight and wavy locks! Our next look contrasts the sleekness of a man bun with the natural volume and texture of curly hair. It's a fun and stylish hairstyle that highlights your natural texture and keeps those curls from falling into your face.
Ready to learn how it's done?
Men's Curly Bun Tutorial: Low Puff🐡
First, tame your curls with a curl-defining product and pull them back into a high ponytail. And don't worry about making it perfectly neat. A slightly messy look is perfect for curly hair and lets all that texture shine.
Twist the ponytail into a bun, and tuck the ends underneath before securing it with a hair tie. Use bobby pins to secure any loose strands or unwanted flyaways. Need a little more inspiration? Here's a video tutorial that shows you how to create this great-looking curly man bun.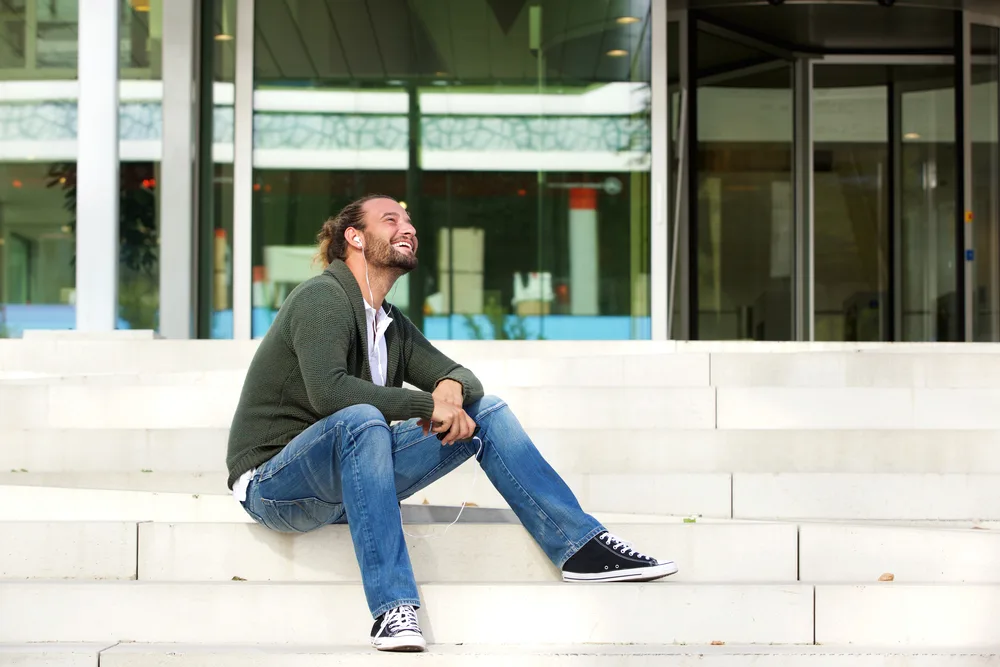 12. Man Bun with Undercut
Are you looking for a way to make your long, thick hair easier to manage? Adding an undercut to your bun is a fast and easy way to upgrade your bun while making your hair way less maintenance.
Like fades, undercuts keep the hair on top of your head long and luxurious.
The Undercut Man Bun | Liem Barber Shop's Collection
But unlike a fade, undercuts don't gradually transition in length. Instead, they get dramatically shorter right away. The sharp contrast in lengths gives the bun a modern, masculine edge.
If you want to pull this look off, ask your barber for an undercut (i.e., bun with undercut). Then, work a smoothing serum into your strands and pull them into a high bun. For a more casual look, pull some strands out of your bun.
Alternatively, you can keep things smooth and polished by applying a lightweight gel or pomade. If you'd like to find out more, watch this helpful video demo.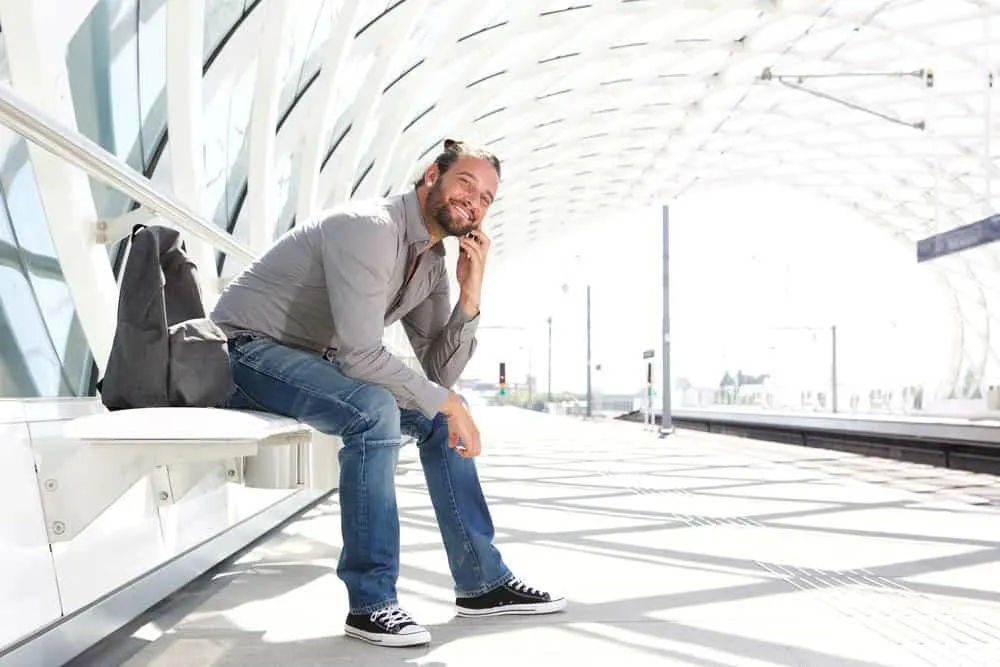 13. Zig Zag Cornrowed Bun
Although this look has a lot going on, the sleek profile ensures that it looks trendy and stylish rather than busy. The cornrows give the bun a modern edge, while the zig-zags add a creative, geometric quality.
And since cornrows are a protective style, you can wear your braids for up to three to six weeks at a time! To get this one-of-a-kind look, you'll have to start with a haircut that's long on top, with a faded back and sides.
Man Bun Braid Styles► Zig Zag Cornrows
Once you have that base, part your hair into multiple zig-zagging rows.
For even more contrast, try incorporating both straight and zig-zag parts. Cornrow each section from front to back, and finish the ends in loose braids. After completing your cornrows, gather your ends into a small, high bun.
Keep in mind that in order to pull this look off, you'll have to be familiar with cornrowing. So, as a result, a zig-zag cornrowed bun may not be beginner friendly. But for more information, you can watch this helpful video.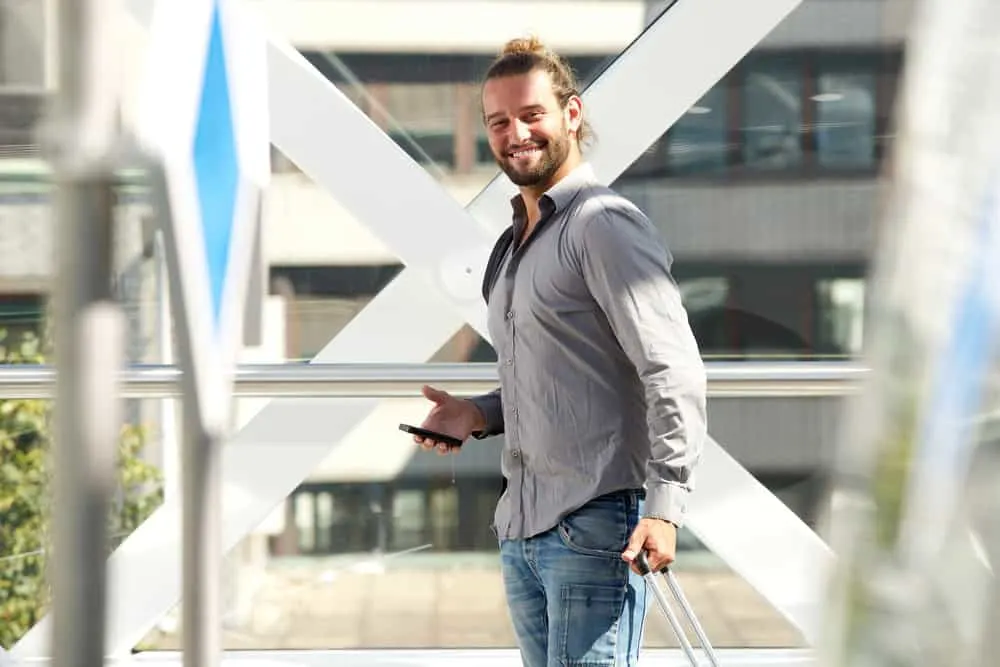 14. Low Bun
A low bun is probably one of the most classic and iconic iterations of the man bun. It is achieved by pulling hair back and tying it at the nape of the neck. The result is a more casual, understated look.
Mens Long Hair: Easier Man Bun Tutorial
It's the perfect hairstyle for when you're in a rush or in need of something that works in a more professional environment. To achieve this look, brush your hair back and gather it at the nape of your neck.
Secure the hair with a hair tie, making sure the bun sits low on the head. For a neat and polished style, smooth down the stray hairs with a comb and apply some hair product to keep each strand in place.
If you want to dress your low bun up even more, add a simple accessory or two for a simple pop of color and texture. Here's a video tutorial for more insight into creating the perfect low bun.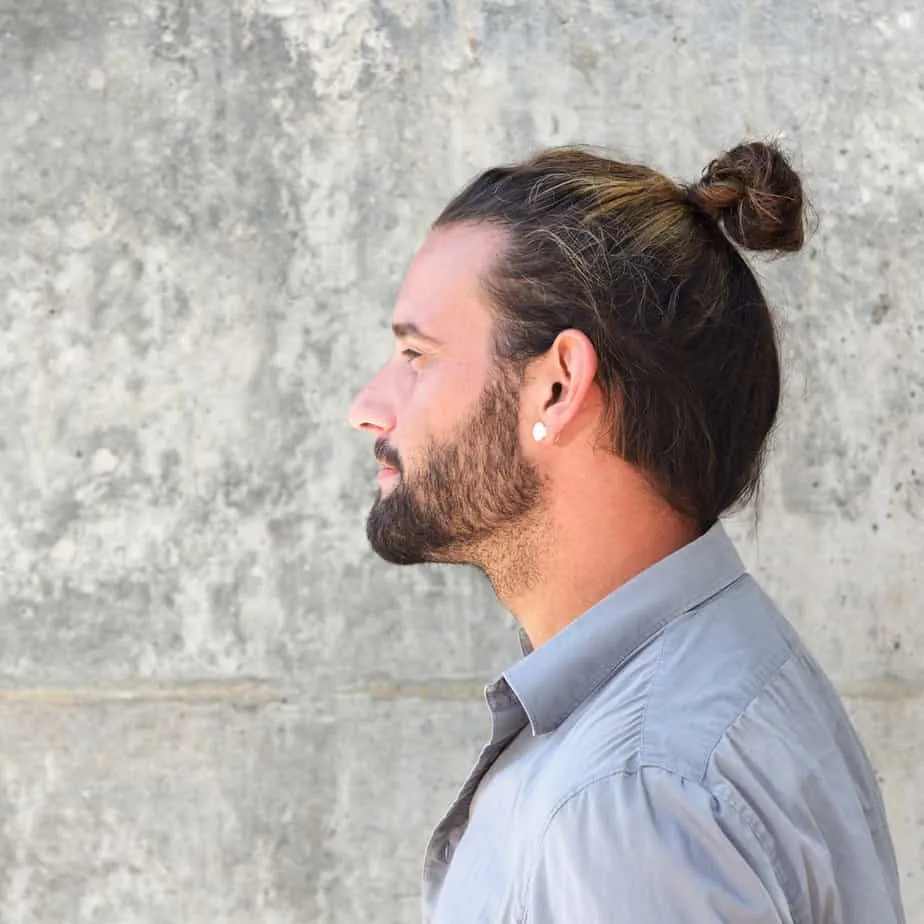 15. Box Braid Bun
Our final man bun combines two classic looks in one. A box braid bun is a fresh, modern take on a man bun. Instead of throwing your loose hair into a bun, a box braid bun is created with neat, small box braids.
It's the perfect option for men with kinky or curly hair looking for a low-maintenance option. To recreate this style, part your hair into small, box-shaped sections.
*FULL LENGTH* BARBER TUTORIAL: UNDERCUT | MAN BUN
Braid each one from root to end until you run out of sections. Next, gather the loose braids into a bun and secure them with a hair tie. And that's it!
The best thing about this man bun is that it's incredibly long-lasting. Although you'll have to redo your bun daily, the braids should stay fresh for four to six weeks.
Just make sure you wrap your hair at night with a scarf or durag overnight. And as a talented barber proves in this video, box braid man buns look even better when you pair them with a clean fade or taper.
To sum things up, man buns are a surprisingly versatile and stylish option for men with medium-length to long hair. They're also easy to create, look great, and do a fantastic job of keeping your strands from getting in the way!
Just be careful not to pull your hair back too tightly, or you may cause thinning and hair loss. On that note, we hope that the man buns we've gone over today are just what you were looking for!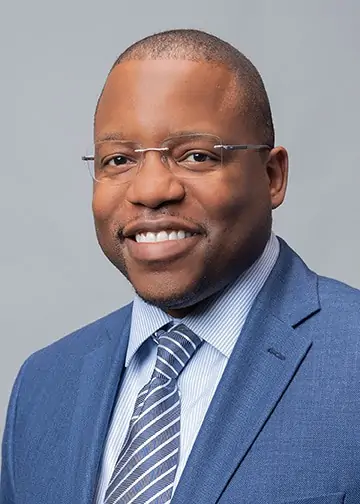 Kenneth Byrd holds a BS in Accounting and Management Information Systems and an MBA from the University of Alabama at Birmingham. With over 15 years of experience, Kenneth has been dedicated to hair care since 2008, when he co-founded Curl Centric® and Natural Hair Box alongside his wife. As a team, they promote healthy hair care practices through their comprehensive platform, Curl Centric. Curl Centric is a website operated by a husband and wife team that encourages healthy hair care. At Curl Centric, we aim to help our readers take control of their hair care journey and make good decisions about products, hairstyles, and maintenance techniques. We also have strict editorial integrity; here's an explanation of our editorial guidelines and how we make money.