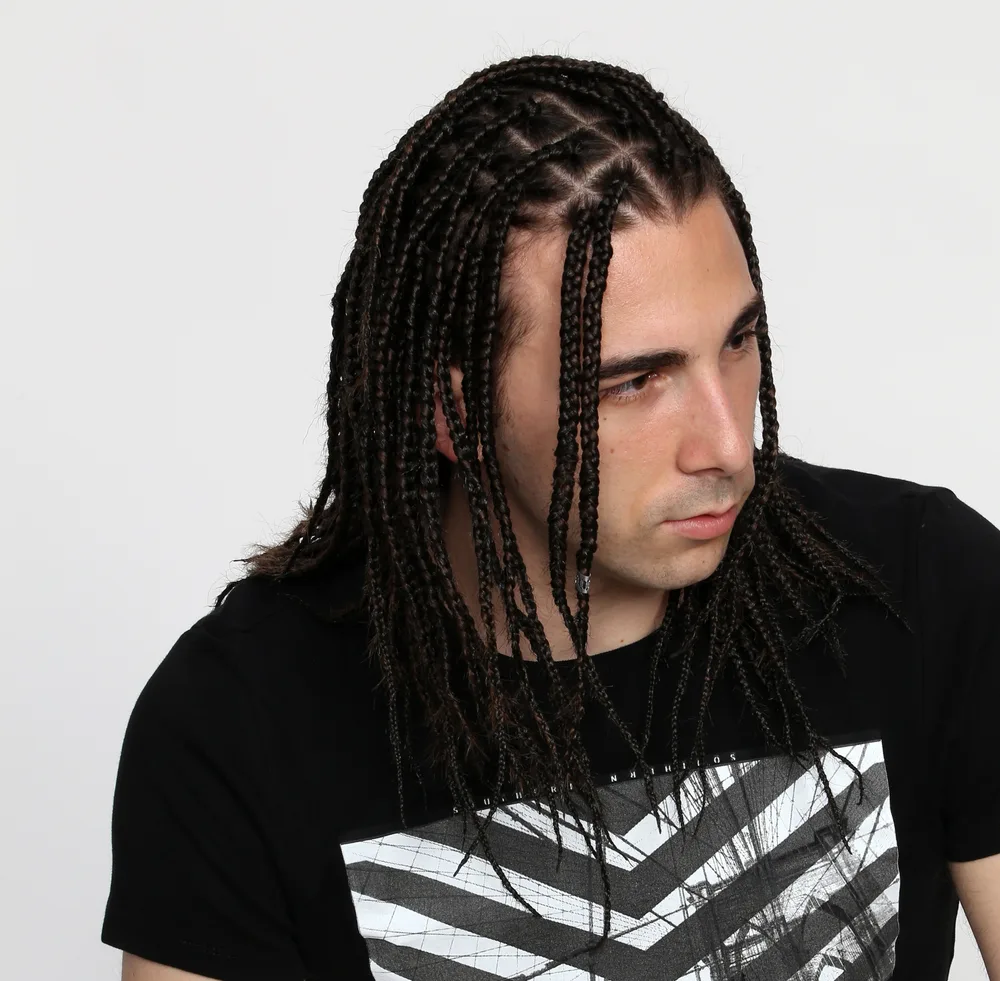 When you think of white boy hairstyles, braids might not immediately spring to mind. But times are changing, cultures are blending, and white boys are increasingly experimenting with various braided styles.
So, if you're searching for your next favorite hairstyle, this is the article for you!
Today, we're going to walk you through some examples of the best braids for white men to try. We'll explain how to get each look and give you a few details about what makes them work so well. Ready to find out more? Then just keep reading!
White Boy Braids: Hairstyles, Pictures, and Videos
Braids are a timeless hairstyle, transcending cultural, gender, and age boundaries, and today we're zeroing in on a specific niche: white boy braids. Whether it's to showcase individuality, maintain hair health, or simply enjoy a low-maintenance style, braids can be a fantastic option for white boys and men alike.
In the next section, we provide tutorials to explore various braiding styles, maintenance tips, and the cultural significance of braids. We're excited to take you on this hair-styling journey that is both fashionable and functional.
1. Box Braids
HOW TO: BRAIDS FOR MEN | WHITE GUY
Box braids are a quintessential style that has rows of neat three-strand plaits. In order to do box braids, you'll first part your hair in a grid pattern. Then, braid each section straight down.
Work your way through the rest of your hair until you've finished all the sections.
Depending on the length and texture of your hair, you might have trouble getting your braids to fall downwards. In that case, tie a scarf around your head, ensuring that the braids are all flat against your scalp.
Doing so will press the braids downward, so they take on a more flattering shape. Box braids couldn't be simpler to master! But don't take our word for it. Just watch this beginner-friendly video demonstration!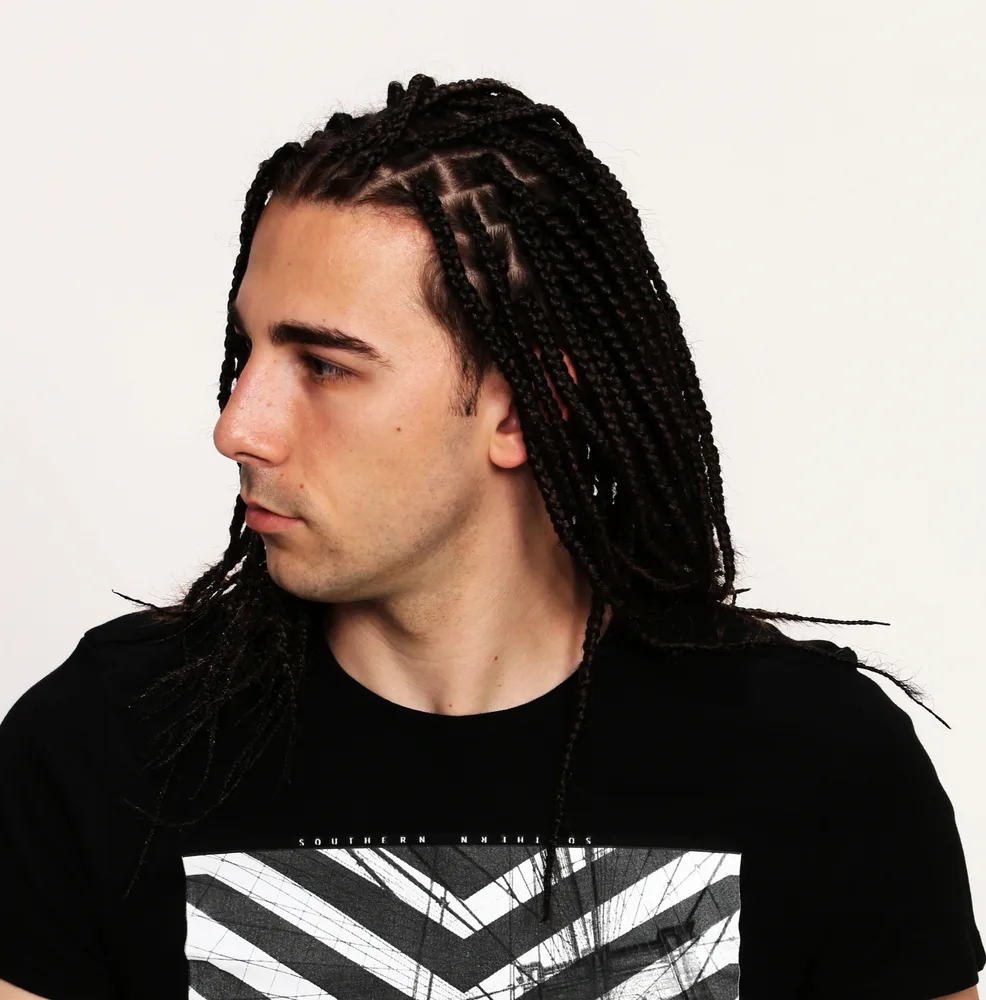 2. Mohawk Dutch Braid
How To: Easy Mohawk Dutch Braid
At first glance, it's easy to confuse Dutch braids with cornrows. I do both cornrows and Dutch braids close to the scalp. However, Dutch braids are crossed under, while cornrows are crossed over.
This subtle difference in technique creates a chunkier braid with more height than a cornrow. And this look further elevates a traditional Dutch braid by combing it with a mohawk.
While mohawks typically require you to shave the back and sides of your hair, this look is a little less dramatic. Instead of cutting your hair, you'll simply pull your hair back into a bun.
So while you'll still have the sleek side profile of a mohawk, you don't have to worry about sacrificing any length. Despite looking super complicated, the style is relatively easy to recreate. You just need to find a tutorial–like this one–that shows you how!
3. Rope Braids
How To Rope Braid for Beginners
Not that good at braiding? Don't worry because even total beginners can pull off this next look. Rope braids have a similar shape to styles like Dutch braids and cornrows. But instead of braiding the hair, you'll twist it in two thick ropes.
In fact, that rope-like texture is why they're called rope braids! You'll incorporate the rest of your hair into the rope as you move further down the twist.
That will help anchor it to your scalp and ensure that your twists have the right shape.
It will also make your twists more snug, so they don't unravel as you go about your day. Want to try these rope braids out for yourself?
Just watch this easy-to-follow video! Twisting straight hair can be a challenge, so make sure you get plenty of practice in while you have free time.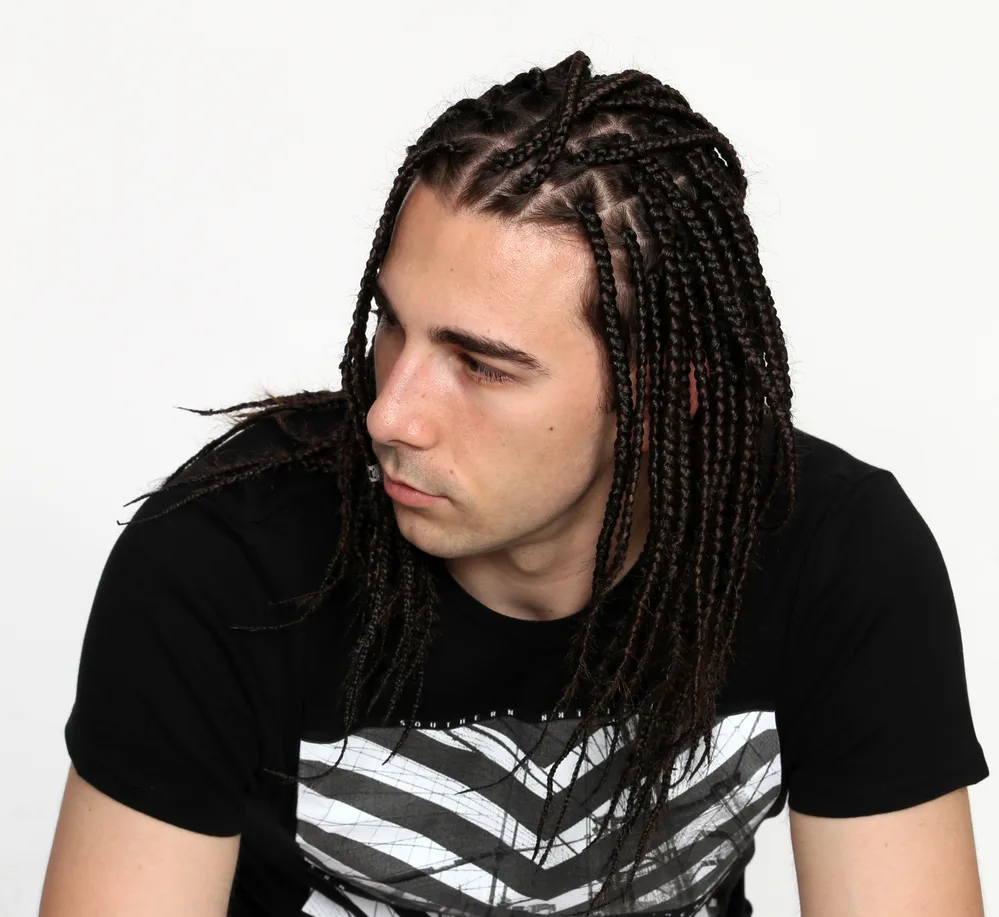 4. Double Braid Man Bun with Fade
Man Bun / Fade | Simple To Follow Haircut Tutorial (HD)
A double-braid man bun with a fade is a great style for men who are stuck trying to decide between long and short hair. The fade reduces the amount of hair you have to style and care for while also giving the style a hard element.
That balances out the braids' softness and brings definition to your face.
It will help make your jaw and cheekbones appear more chiseled, enabling you to put your best face forward. If you want to pull this style off, you'll first need to grow out your hair until it's around shoulder length.
Then, get a fade that starts at your ears or higher.
Now, the stage is set for your double-braid man bun with fade. Simply part your hair straight down the middle, and cornrow each half straight back. You can either let the braids hang freely or wrap them around each other to create a neat bun.
Either way, we think that this is a braided hairstyle that is sure to turn heads wherever you go. Now that we've finished the introduction, you can watch this video tutorial to learn how to get the job done on your own.
5. Double Dutch Braids
How To Dutch Braid For Beginners
When you're looking for guy-friendly braided styles, you might not automatically think of pigtails. But we're here to tell you that you could be doing yourself a disservice – just ask Snoop Dogg.
This simple but stylish look features a Dutch braid on both sides of your head. The double braids frame your face and accentuate your jawline, which can make you appear more masculine and brings a cool edge to the look.
Another great thing about Dutch braids is that they're relatively easy to pull off, even for total beginners. All you'll have to do is part your hair straight down the middle and braid each half straight back. Need a little more help getting started?
This YouTube video should give you all the tools you'll need.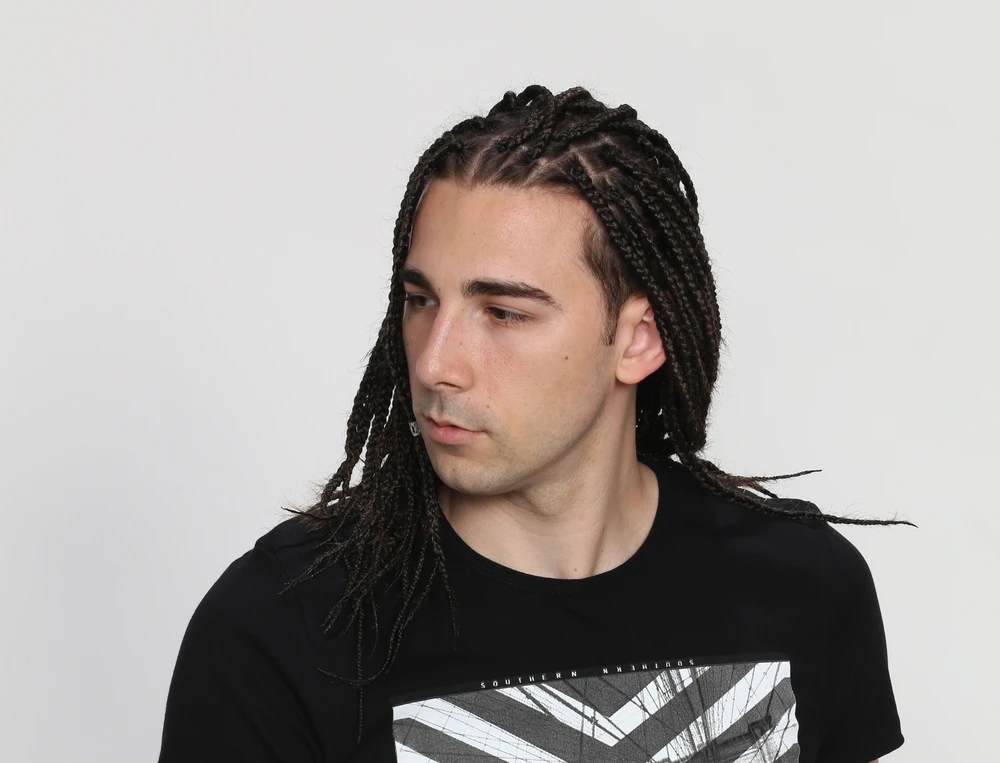 6. Rubberband Braids
EASIEST WAY to Braid Your Own Hair | Straight Hair Men's Braiding Tutorial!!
Not everyone has experience with braiding their own hair. Fortunately, this style doesn't require much braiding at all! It uses small rubber bands to hold your hair against your scalp in small, neat-looking rows.
To start, you'll part your hair straight down the middle. Next, divide each half into five or more smaller sections. After that, tie a small rubberband around each section to hold it together.
Braid each section straight down, and add one more rubberband when you reach the end. Once you've finished creating your braids, pull your first braid back and use a twisting motion to combine it with the following braid.
Repeat the process until you've reached the last section, and use one more rubberband to secure it. Do the exact same thing on the other half of your hair, and you're done!
Or, you can learn how to get rubberband braids by watching this helpful video demo.
7. High-Top Boxer Braids
High top cute braid for men with short straight hair #STRAIGHTHAIR
Boxer braids, which is just another name for cornrows, are a simple yet attractive braided style. The hair is braided flat to your scalp, so it creates texture and interest without too much volume.
Keep in mind that braiding Caucasian hair is no easy feat since the strands are fine and have a silky texture. That makes getting and maintaining a grip very challenging.
As a result, your hair will have to be at least eight inches long to get boxer braids. It's also important to note that boxer braids can be time-consuming to install.
But since the back and sides of your head are shaved short, it'll dramatically cut down on your styling time. Boxer braids are one of those styles that will take a few tries to get the hang of. So here's a video to help get you started.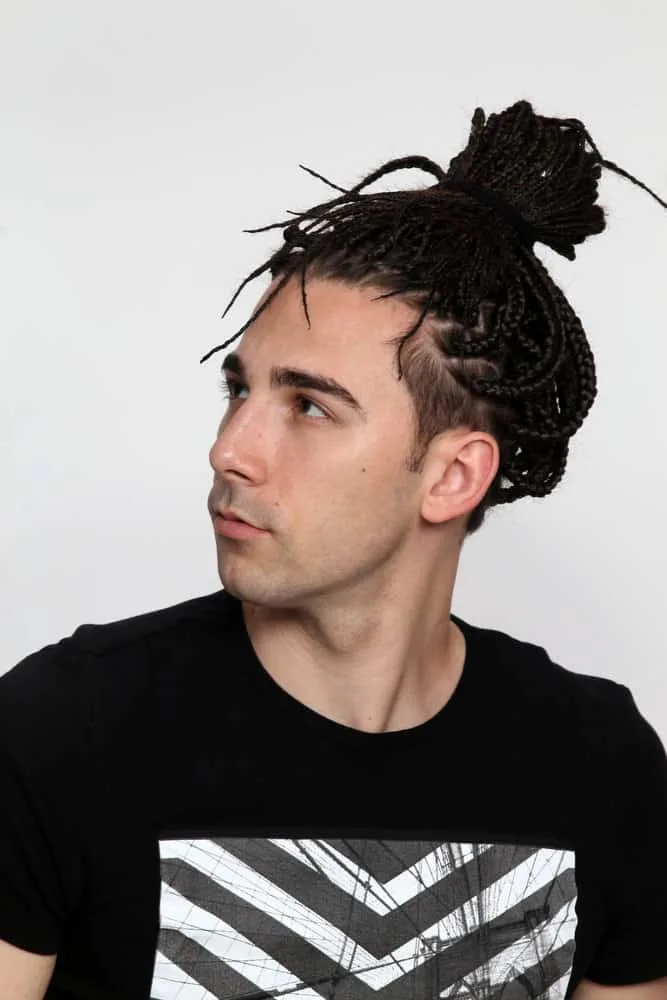 8. Dragon Hair Braid
•Dragon Hair Braid Tutorial•
When it comes to braids for white guys, there are a number of great Viking-inspired options. These braids, in particular, have a rough, wild edge that's sure to inspire.
They are called dragon braids because they look similar to the bumpy scales you'd find along the back of a dragon. Unlike cornrows, dragon braids are braided upside down.
They're also incredibly voluminous and create a fun 3D effect. A dragon braid goes exceptionally well with a beard, as facial hair mirrors the wild, edgy feel of the braid.
It will also help highlight your facial features and give them a sharper look. And, as you can see in this video, they're surprisingly easy to pull off once you get the hang of things!
9. Fishtail Braids
With a name like fishtail braids, you might not know what to expect with this next entry. But we're happy to tell you that they look better than you think.
Fishtail braids are one of the most unique braided styles.
They have an interwoven texture that's reminiscent of a fish skeleton. They are simple enough to wear to work, class, or while you're out running errands.
But, the intricate texture means that a fishtail braid won't look too out of place at a more formal occasion. Because it involves an entirely different braiding technique, getting your fishtail braids perfect may take a couple of tries. The good news is that there are helpful tutorials that will help guide you through all the steps.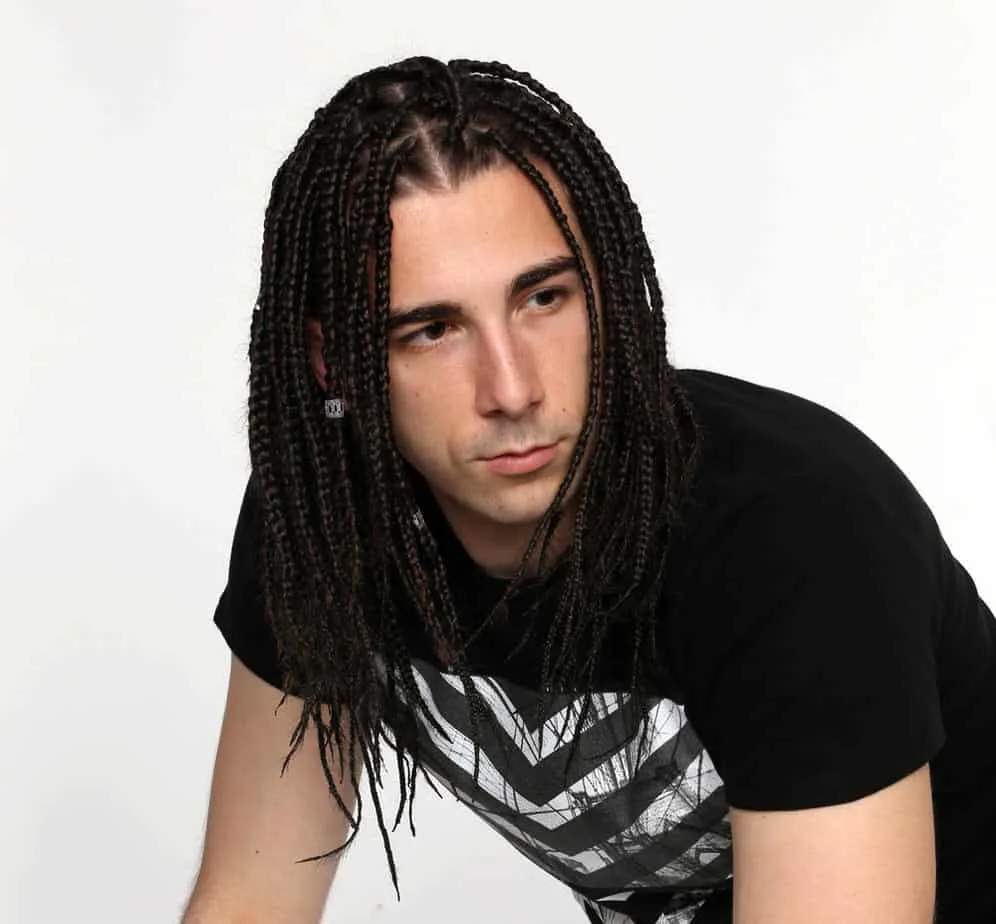 10. Braided Man Bun
A Viking Bun? - Unique Looking French Braid Man Bun
Love it or hate it, a man bun is the go-to hairstyle for men around the world. And this particular style elevates the simple man bun into an absolute show-stopper.
Throwing a braid into your man bun adds more visual interest and brings some exciting detail to the basic style. Did we mention that there are plenty of practical reasons to love a man bun?
Buns help keep your hair off your face and neck. That helps keep you cool and makes this look perfect for those hot summer months.
After you get the hang of doing a braided man bun, you'll be able to pull it off in a matter of minutes. And once you do, you can experiment with the number of braids you put in it. Ready to get started? Just watch this Youtube demo.
11. Straight Back Cornrows
Cornrows man 👨 natural hair 💇‍♂️😊
It's hard to think of a look that's as classic and iconic as straight-back cornrows. These simple braids are a staple look and are one of the first braided styles that most people learn. First, add a sprinkle of dry shampoo or texturizing spray to your hair.
Next, separate your hair into even, vertical rows. Starting with the furthest section, braid the hair flat against your scalp. As you move back, keep feeding hair into the braid to create a cornrow.
Keep braiding until you run out of loose hair, and tie a small rubberband around the end so it doesn't come unraveled. Once you finish the section, move on to the next one until you run out of hair.
Cornrows don't last as long on straighter hair textures as they do on curlier ones. However, you should still be able to get a few days out of this look. Ready to try these cornrows out for yourself? Simply follow this convenient tutorial.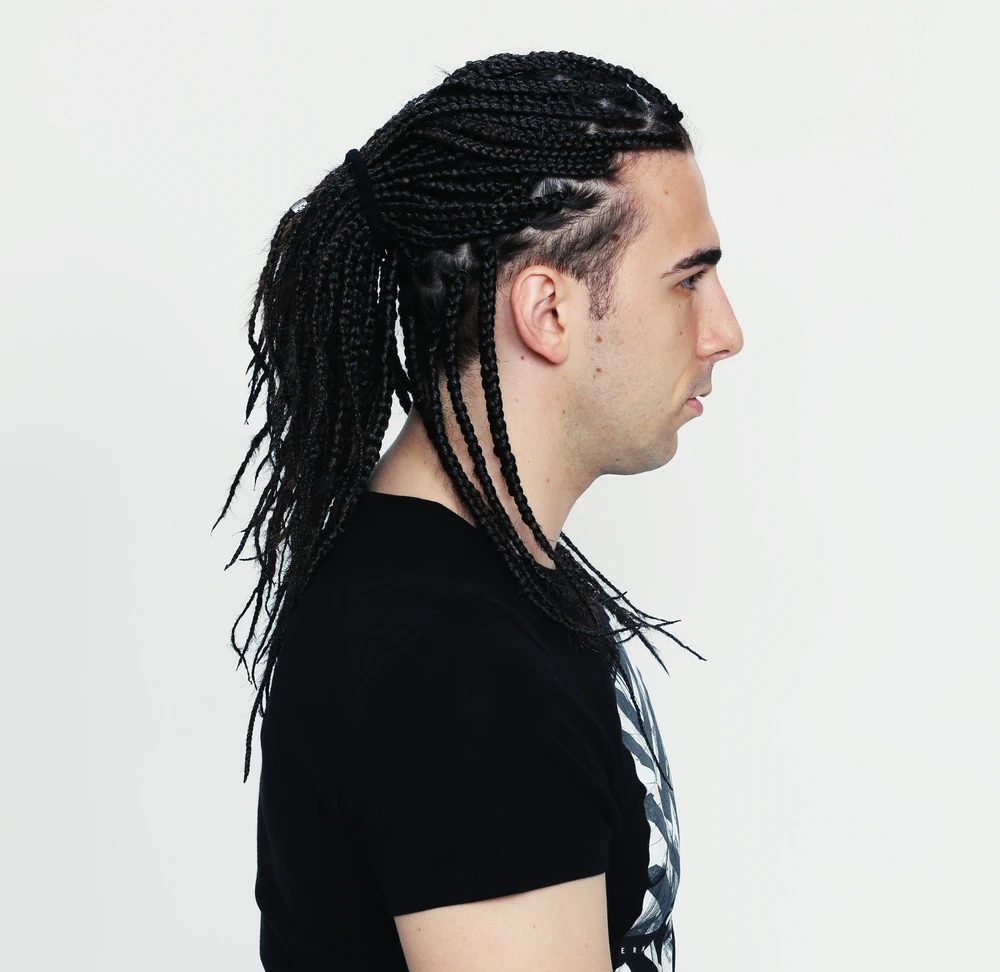 12. Stitch Braids
How to do stitch braid (Satisfying stitch braid video)
These braids prove that "simple" doesn't have to mean boring. Stitch braids are a flat, braided style in which your plaits fall tight against the scalp.
While stitch braids may look like cornrows from a distance, once you're up close and personal, you'll see what makes these braids unique. They have sharp, horizontal lines interwoven throughout the braids.
The result is a crisp, geometric design that elevates the braids and transforms them into a one-of-a-kind look. Stitch braids can be hard to pull off for beginners, so we recommend going to a stylist with plenty of experience.
But if you want to go about it yourself, you can follow this simple tutorial!
13. Criss-Cross Cornrows
Braids on Caucasian / White hair | CRIS CROSS #shellyarellahairtv #menscornrowbraids #mensdesigns
Ready to upgrade your braid game? Criss-cross cornrows are an excellent way to breathe new life into your usual cornrowed hairdo. The interwoven, crisscrossing rows of cornrows give you plenty of room to play around with a variety of interesting and unique patterns and geometric designs.
You can keep things simple with just a few accent braids or go crazy and create a texture explosion. Another great thing about crisscross cornrows is that they look expensive.
So get ready for all your friends and family to ask you where you got your hair done. There's a lot to love about this style, but we still haven't gotten to the best part.
Although criss-cross cornrows look complex, they are actually one of the most accessible braided styles for beginners to master! Don't believe us? Check out this quick tutorial. It contains all the tools you'll need to pull off this incredible look.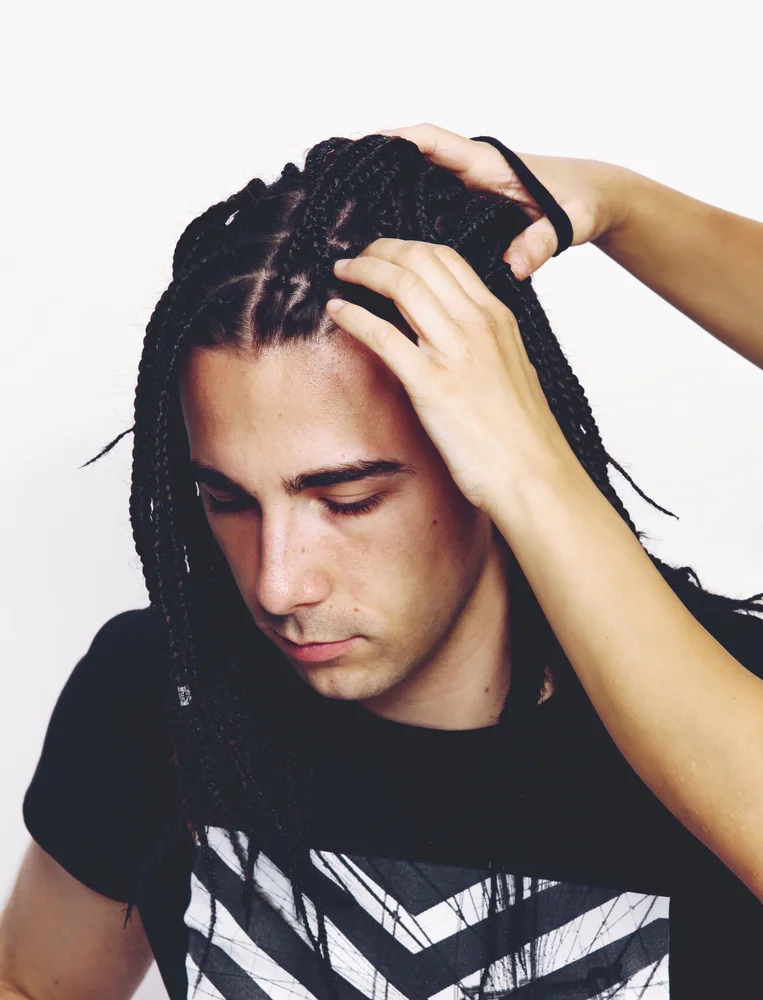 14. Viking-Inspired Braided Half Updo
For the BRAVE - Viking hairstyle Tutorial
This great-looking braided hairstyle incorporates multiple looks in one. A Viking-inspired braided half updo is a sharp combination of a half updo and long braids.
It's best suited for men with medium to long hair since your hair has to be long enough to pull back. Incorporating braids into your half updo gives it a more structured, tailored vibe.
It also creates a slick contrast that imparts a masculine feel to what could easily be mistaken for a women's hairdo. To create this style, you'll first have to tie the upper portion of your hair back into a ponytail. Then, add two braids on either side.
When you finish, go back and throw your ponytail into a chunky braid. And that's it! Despite looking intricate, this style only takes a few minutes to pull off. Don't believe us? This video has all the information needed to turn you into a pro.
15. Rope Twists
Despite being relatively simple, rope twists have a look you'll remember. They have a sleek, shiny texture that perfectly highlights your natural texture. And the installation process is refreshingly straightforward.
Like box braids, you'll start this look off by separating your hair into small, box-shaped sections. But instead of braiding the hair, you twist it from root to end. Once you reach the end of the twist, secure it with a small rubber band.
If you're after a more subtle look, use a rubber band that closely matches your natural hair color. Or, you can take the opportunity to play around with color and pick a more vibrant shade. Repeat the process until you run out of sections, and that's it!
Depending on how you care for them, your rope twists should last for a few days.
Getting your rope twists just right will rely entirely on your twisting technique. Fortunately, there are plenty of tutorials, including this one, to help.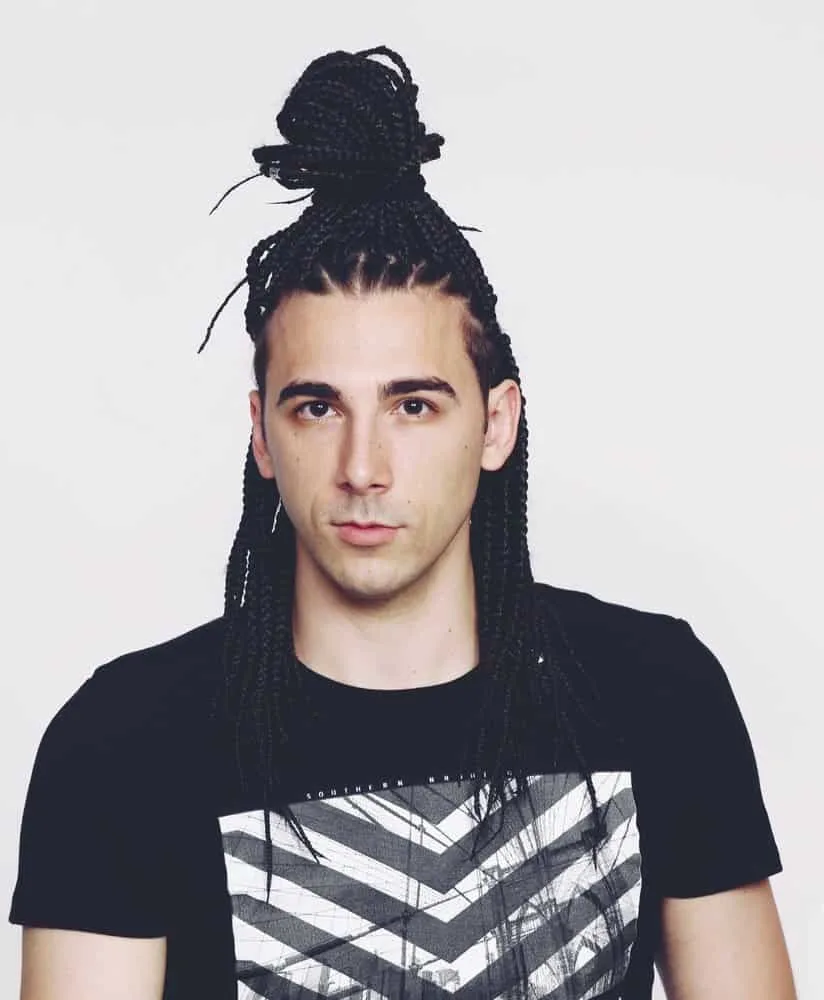 16. French Braid Undercut
Easy Viking Hair for Men - Bjorn's French Braid Undercut Style
Do you prefer to keep your hair longer on top? If so, you might want to check out this French braid with an undercut. It pairs a thick French braid in the center of your head with sleek, shaved sides.
Shaving the sides of your head helps keep the focus on your braid by getting rid of any potential distractions. French braids have an element that sets them apart from other similar-looking styles.
When you do French braids, you'll start at the crown and continuously feed hair into the braid until you reach your nape. That simple change creates a waterfall effect that makes it look like your hair is cascading down your back.
And we haven't even gotten to the best part. As seen in this video, this stunning hairstyle couldn't be easier to master!
Avoid Cultural Appropriation
Cultural appropriation is the adoption of elements of one culture by members of another culture. In terms of hairstyles, this often involves members of a dominant culture wearing styles traditionally associated with minorities or marginalized cultures.
While braided styles can be seen as fashionable and fun, it's important to recognize that these hairstyles have deep cultural roots and were not meant for anyone to wear simply as a fashion statement.
To avoid cultural appropriation when wearing braided styles, it's important to research and understand the history behind the hairstyle you are wearing.
Additionally, be aware of where the style originated and what it means to the culture, and make sure you give proper credit when possible. Lastly, don't forget to respect the cultures from which these beautiful hairstyles originate.
So there you have it! White boy braids come in all different shapes, patterns, and lengths. But remember, braided hairstyles put a ton of tension on your strands. That can lead to hair breakage and widespread hair loss if you're not careful.
So, never install your braids too tightly, and give your hair a break between braiding sessions. And with that, we hope our article today has helped give you some inspiration on the types of braids white guys should try!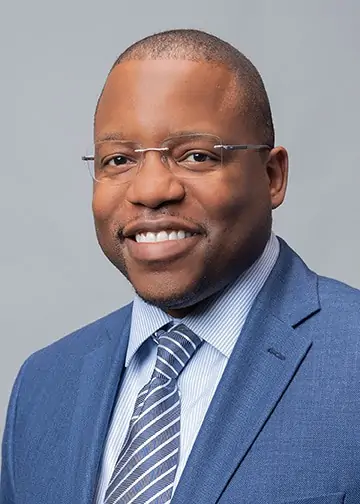 Kenneth Byrd holds a BS in Accounting and Management Information Systems and an MBA from the University of Alabama at Birmingham. With over 15 years of experience, Kenneth has been dedicated to hair care since 2008, when he co-founded Curl Centric® and Natural Hair Box alongside his wife. As a team, they promote healthy hair care practices through their comprehensive platform, Curl Centric. Curl Centric is a website operated by a husband and wife team that encourages healthy hair care. At Curl Centric, we aim to help our readers take control of their hair care journey and make good decisions about products, hairstyles, and maintenance techniques. We also have strict editorial integrity; here's an explanation of our editorial guidelines and how we make money.