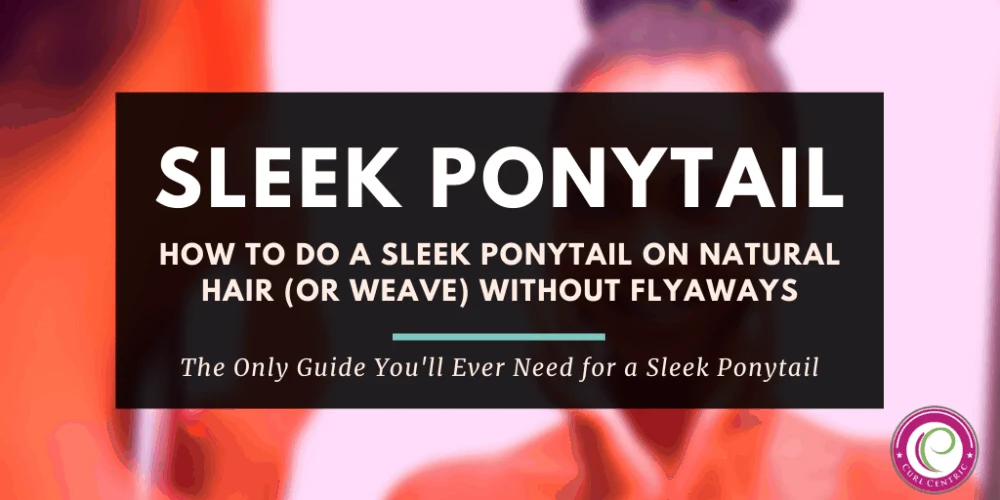 If you are looking for an easy, chic hairstyle to highlight your beautiful facial features, look no further than the sleek ponytail. Not only is it the go-to style for any busy-yet-stylish modern woman, but it allows you to put off wash day for just a little longer.
Sometimes curly hair can be wild and voluminous, making it difficult to sleek down. So, if you want to learn how to do a sleek ponytail on natural hair, follow the instructions, tips, and tricks in this article.
Get Your Products, Supplies, and Accessories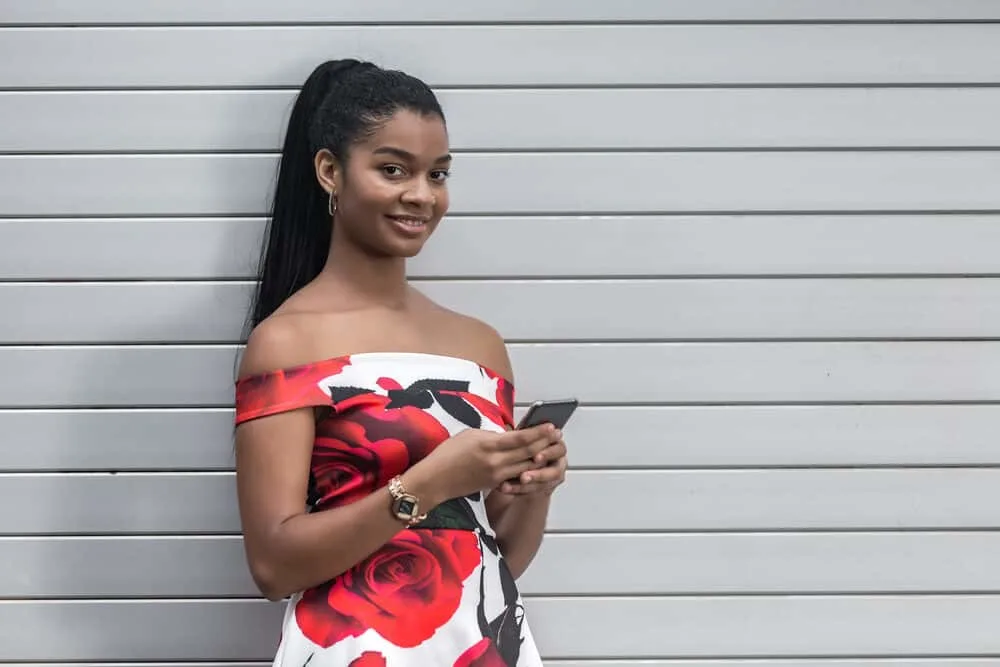 The first step is to gather your tools and supplies. These tools will help you achieve the smoothest, sleekest effect without breaking off or damaging your natural curls.
You will need:
How to Prepare Your Hair for a Sleek Ponytail
BEST METHOD: DEEP SIDE PART PONYTAIL ON THICK 4A/4B/4C NATURAL HAIR
To get a clean, sleek result, we advise against starting with dry, dirty hair. Follow the below steps to get your hair ready for styling.
Wash, Condition, & Moisturize
Wash your hair with a sulfate-free shampoo to remove dirt and debris. Apply your conditioner and detangle your hair thoroughly with a wide-toothed comb.
After rinsing out the conditioner, apply your moisturizing cream. Now your hair is ready for styling!
Determine How You Want Your High Pony to Look
It's time to decide how you want to wear your ponytail. Do you want a side part, middle part, zig-zag part? Would you prefer a high or low ponytail?
Should the ponytail be situated in the middle or to the side? Do you want to add extensions? You've got decisions to make.
Create Your Sleek Ponytail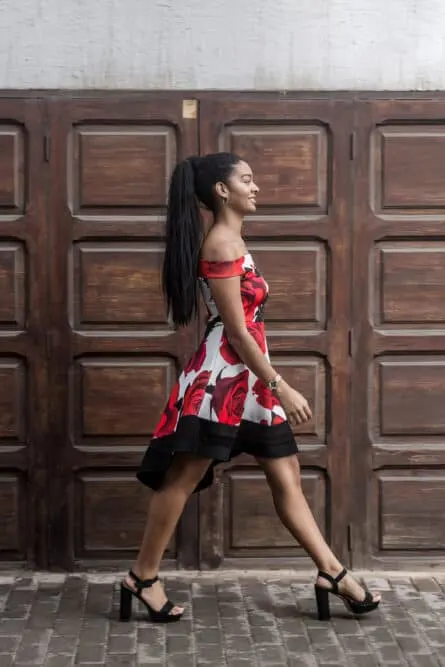 Now that you have got your hair all prepped and ready, let's get to the nitty-gritty of how to make this sleek ponytail as smooth and glossy as possible.
With these tips, it will appear as though it was created by a professional hairstylist.
Step 1: Create Your Part – Part your hair wherever you'd like it (middle, side, etc.). Apply some gel or edge control around the part to define it.
Step 2: Section Your Hair -To smooth your curly hair down, it's essential to work in sections. While your hair is still damp from the wash, part it from ear to ear so that you have two equal sections (top and bottom).
Step 3: Form Your Ponytail – Add some styling gel to the roots of the bottom section of hair and then brush it in the direction that you want it to lay. For a low ponytail, brush it down, and for a high ponytail, brush it up.
Step 4: Brush and Secure –Brush all of your hair in the direction you want your ponytail to sit to make sure that it's sleek. Use your hands to smooth your hair as your brush. Then add your scrunchie to secure.
Step 5: Tie It Down (Optional) – This step is optional but highly recommended. To get your hair super-flat, tie a silk scarf around your roots for at least an hour (maybe even overnight). This will set your hair in place and prevent flyaways.
Step 6: Edge Art – With your edge control and edge brush, begin to style your baby hairs. You can do a subtle swoop on each side or go all out with spirals and waves. Well-styled edges can also make your forehead appear smaller if applicable.
Step 7: Add extensions (Optional) – Braid your natural hair down to the ends, wrap it into a bun, and secure it with a bobby pin or two. Wrap the extension ponytail around the bun and secure it with the included clip. Pull a small section of extension hair out and wrap it around your hair tie to hide it. Braid the extension hair or leave it as is, and you're ready to go!
How to Do a Sleek Ponytail on Straightened Hair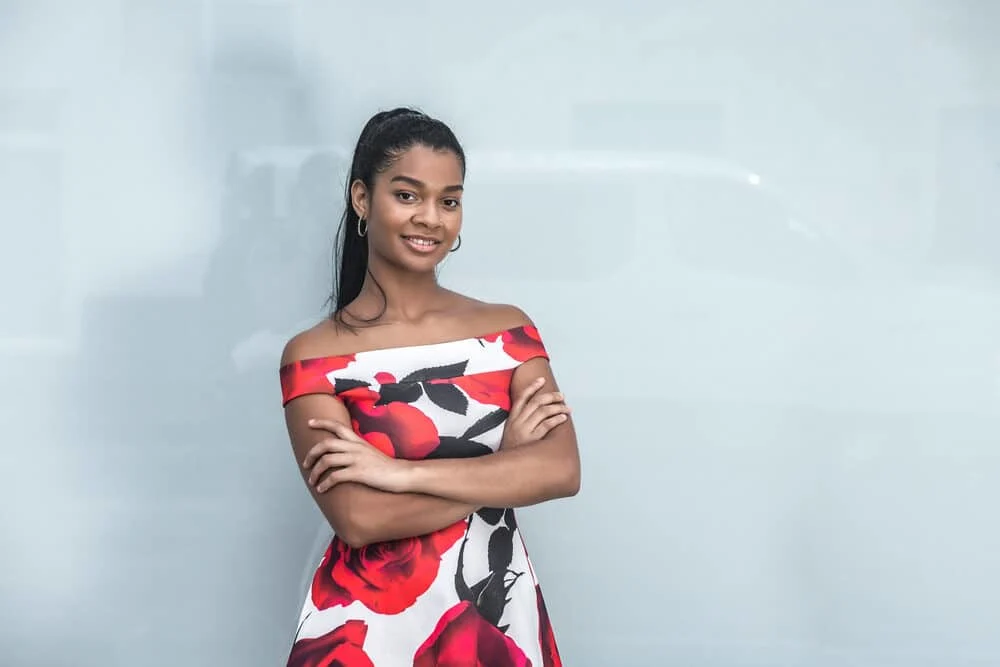 To bring the sleek factor up a notch, you can straighten your hair beforehand. Below are the steps you should take to do a sleek ponytail on straightened hair.
Supplies you Need
A sleek ponytail with straightened hair isn't as challenging as you might think. It can be done with simple tools that you probably already have.
Here's what you need:
How to Prepare Your Hair for the Style
Follow the same steps as above to prep hair for a sleek ponytail. Wash, dry, condition, and moisturize your hair, as outlined in the previous section.
Apply a heat protectant, blow-dry, and straighten your hair. You could use a hot comb around your hairline to get your edges straight.
Note: We always recommend using heat protection to prevent damage to your hair.
Do Your Sleek Ponytail on Straightened Hair
There are some details that make a masterfully made sleek ponytail. We will share our experience with creating this hairstyle with already straightened hair, including how to preserve it for the longest time possible.
Step 1: Establish a Foundation – If you want a part, use a comb to do it now. Then apply some gel around the part and smooth it in with a brush. Make sure that the gel you use won't revert your hair to its curly state.
Step 2: Form Your Ponytail – Use a fine-toothed comb to comb your hair in the direction that you want it to lay.
Step 3: Secure Your Ponytail – Hold all of your hair in one hand. Add a bit of gel and brush your hair to make it sleek before gathering it all into a ponytail.
Step 4: Add an Extension Ponytail (optional) – Pin in a ponytail or braided ponytail extensions for some added length and flair. Pull a small section of extension hair out and wrap it around your hair tie to hide it.
Step 5: More Edge Art – Don't forget to give some love to your edges. Apply edge control and use an edge brush to slay those baby hairs.
Step 6: Set It – Spray your roots with holding spray to hold your hair in place. Tie a silk scarf around the roots so that it's flat against your scalp. Leave the scarf on for at least 10 minutes. When you take it off, you're ready to go!
Pros and Cons of the Sleek Ponytail
No hairstyle is perfect, and the sleek ponytail is no exception. Let's take a quick look at the pros and cons of this style.
Pros
The style is quick and easy to do once you get the hang of it.
Celebrities like Kim Kardashian and Kylie Jenner rock the style often, meaning it's very much on-trend. It can be worn anywhere, including at parties, work, and casual events.
The style accentuates your facial features and keeps your hair out of your face.
The style can last 4-8 weeks.
Cons
Styling your edges can lead to thinning and breakage.
It's easy to do the style too tight, and this can lead to headaches.
Straightening your hair to get it sleek can cause heat damage and breakage.
When the style is worn too frequently, you can experience traction alopecia.
For many, the pros outweigh the cons of this style. But you'll have to be the judge!
Dos and Don'ts of the Sleek Ponytail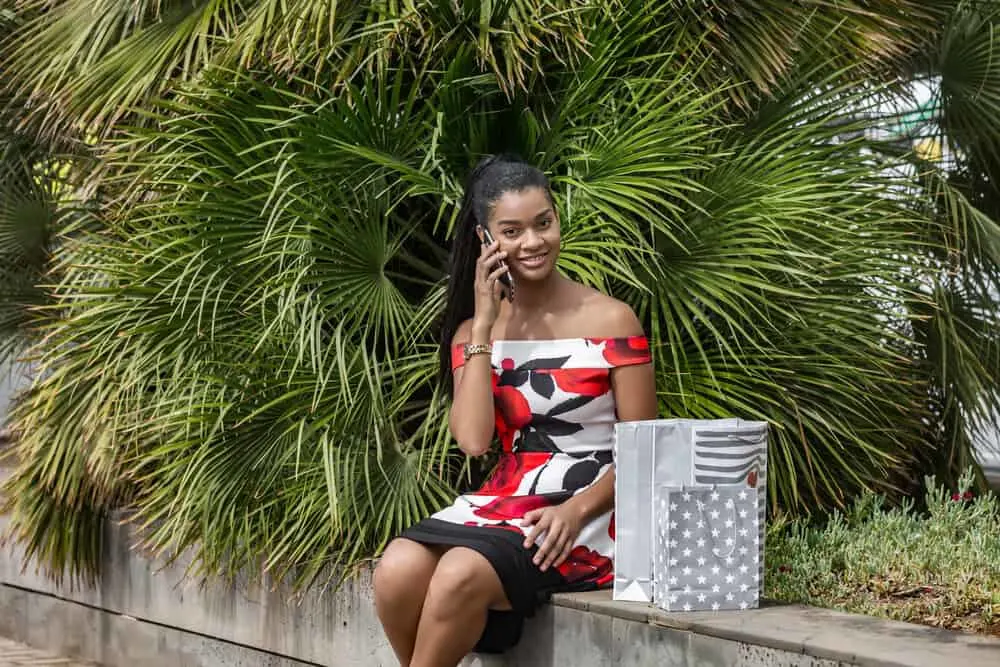 If you want to avoid some of the cons and help ensure the style comes out right, follow the below dos and don'ts.
Dos
Be gentle during the styling process to minimize breakage.
Start with clean hair to prevent a dirty-looking final result.
Detangle your hair while it's coated in conditioner – this will make the process much easier.
Moisturize your hair before you gel it down.
Set your hair with a scarf to minimize flyaways.
Don'ts
Don't use a rubber band for your hair, as this can cause breakage at the roots.
Don't make your ponytail too tight.
Don't do a sleek ponytail on tangled hair.
Frequently Asked Questions
How To Preserve Sleek Ponytail at Night Black Hair
It's typical to protect your ponytail at night with either a silk or satin scarf (or bonnet) at night. The scarf or bonnet prevents damage and keeps the hairstyle looking neat, making it easy to recreate the sleek ponytail the next day with minimal effort.
What Gel To Use for Sleek Ponytail?
Whether you are looking to control your flyways or style your hair in a sleek ponytail, the ECO Styler Professional Styler Gel is a great choice. You can wear many different styles with the gel's stronghold, but it is also flexible enough to create various hairstyles without having to change products.
What Can I Use for a Sleek Ponytail?
To achieve a sleek ponytail, use the following: brush or comb, heat protectant spray, flat iron, hair ties or elastics, hair spray, silicone-based serum, and bobby pins. These can be combined to smooth out tangles and knots, protect from heat damage, smooth out frizz and flyaways, hold the style in place, add shine, and secure loose strands.
How Long Does a Sleek Braided Ponytail Last?
The longevity of a sleek braided ponytail depends on the quality of the braids, the hair type, and the level of maintenance, but with proper care, they can last up to two weeks. To extend their lifespan, it's important to keep them moisturized, avoid excessive heat styling, and sleep with a satin or silk scarf to prevent friction and breakage.
How Long Does a Sleek Ponytail With Weave Last?
A well-installed and well-maintained sleek ponytail with weave can last anywhere from 4-8 weeks. The key to making it last is to follow the same care instructions as a normal sleek braided ponytail: keep it moisturized, don't use heat to style, and sleep with a scarf that's silk or satin to protect it from friction and breakage.
What Kind of Hair Do You Use for a Sleek Ponytail?
For a sleek ponytail, you can use human or synthetic hair. Human hair offers a more natural look, can be styled with heat, and is washed like one's own hair. Synthetic hair is a less expensive alternative, but it may not withstand high heat and can tangle and mat easily. Either way, use high-quality hair for a long-lasting style.
How Many Bundles Do I Need for a Sleek Ponytail?
Generally, most people will use 2-3 bundles for a full, natural-looking, sleek ponytail. However, if you have a longer or thicker hair type, you may need 3-4 bundles to achieve your desired look. It is always best to consult a stylist to determine the exact number of bundles you need to achieve your desired style.
The sleek ponytail is one of the most popular hairstyles around, and for good reason. It's a simple, but elegant look that anyone can do!
Now you know all about how to do a sleek ponytail on your natural hair, whether it's curly or straightened. We hope that this article is helpful to you in creating red-carpet-worthy ponytails.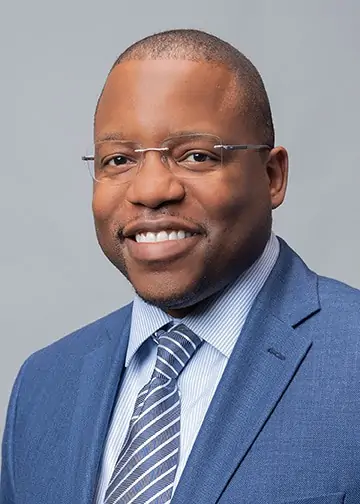 Kenneth Byrd holds a BS in Accounting and Management Information Systems and an MBA from the University of Alabama at Birmingham. With over 15 years of experience, Kenneth has been dedicated to hair care since 2008, when he co-founded Curl Centric® and Natural Hair Box alongside his wife. As a team, they promote healthy hair care practices through their comprehensive platform, Curl Centric. Curl Centric is a website operated by a husband and wife team that encourages healthy hair care. At Curl Centric, we aim to help our readers take control of their hair care journey and make good decisions about products, hairstyles, and maintenance techniques. We also have strict editorial integrity; here's an explanation of our editorial guidelines and how we make money.