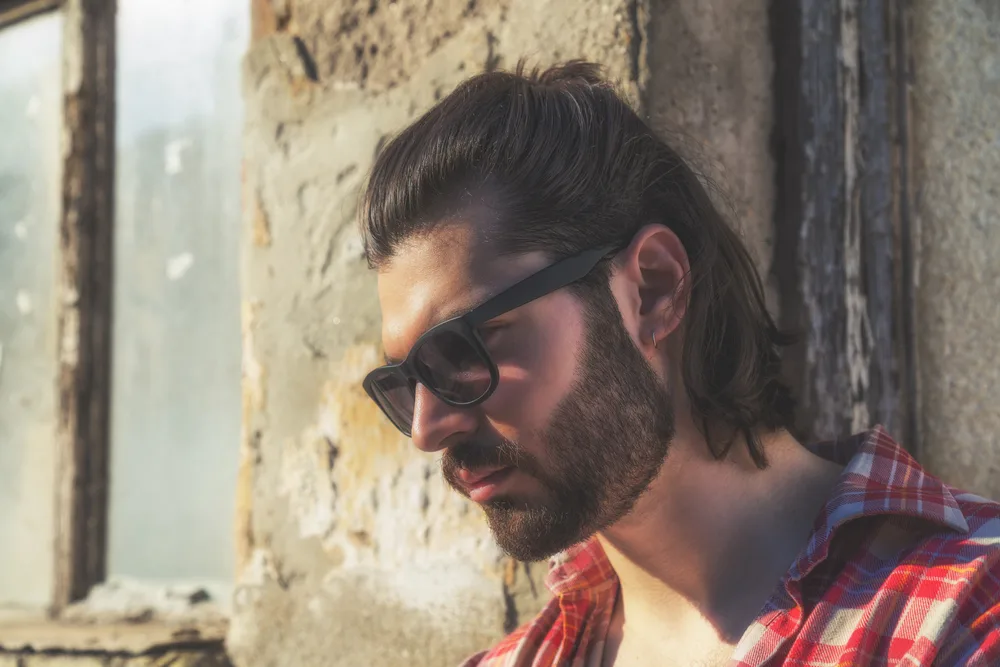 We're not sure if you've heard, but retro fashions are super mainstream. So naturally, it was only a matter of time before the Mexican mullet made a comeback.
While the thought of trying out such a bold look may feel intimidating, there's a Mexican mullet taper fade out there for everyone!
So today, we'll check out some of the best Mexican mullet hairstyles that we've come across. We'll walk you through the cuts themselves and give you some tips on how to style each one. Let's get right to it!
1. High-Tapered Mullet with Textured Crop
Our first Mexican mullet taper fade is perfect for guys who want their hair to make a high-impact statement. It features a high taper fade on the sides and back of the head while leaving your hair long and textured on top.
MODERN HIGH Taper MULLET with a EDGAR TEXTURED CROP | Barber Tutorial
Then, the hair is cut in a textured crop with choppy, messy layers. The tousled, casual texture helps give the hairstyle a modern, edgy feel that contrasts nicely against the structure of the cut.
To get the look, cut your hair short on the sides and back and gradually increase the length as you make your way toward the front. Next, go back in and create choppy layers.
When it's time to style your mullet, simply apply a small amount of texturizing product to damp hair, then use your fingers to tousle and shape the hair into the desired style. Here's a tutorial that'll give you more information on achieving a high-tapered mullet with a textured crop.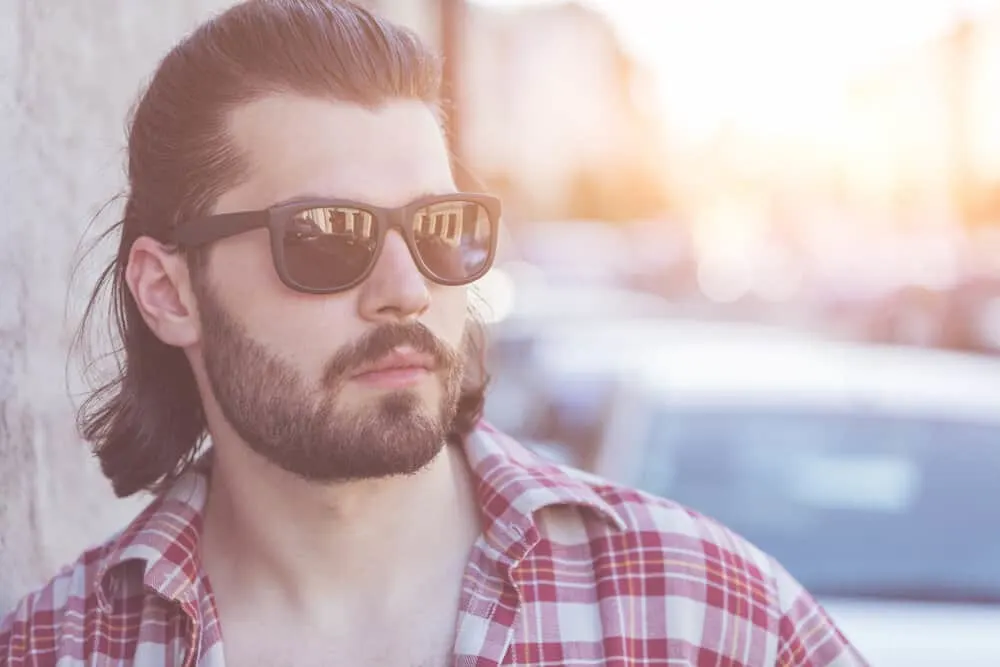 2. Modern Mullet
Because mullets are such an edgy cut, it's easy to forget that they originated back in the 70s. But it's important to note that the contemporary mullet has been given a much-needed makeover. Today's mullet has a much tighter profile.
Step By Step Modern Mullet Tutorial 2021 UPDATED | Pt. 2 Tacuache Cuh
So, despite having the same basic shape as the classic cut, the modern mullet is taken in at the sides. The result is a much more disjointed cut that better accentuates the wild and crazy back.
To create a modern mullet, take the front and top of your hair in until it's between one to two inches long. Gradually blend in the hair on top.
When it's time to work on your hairline, you'll have a few different options. You can either fade or taper it, depending on how bold of a haircut you're after. This video demo will walk you through everything else you'll need to know.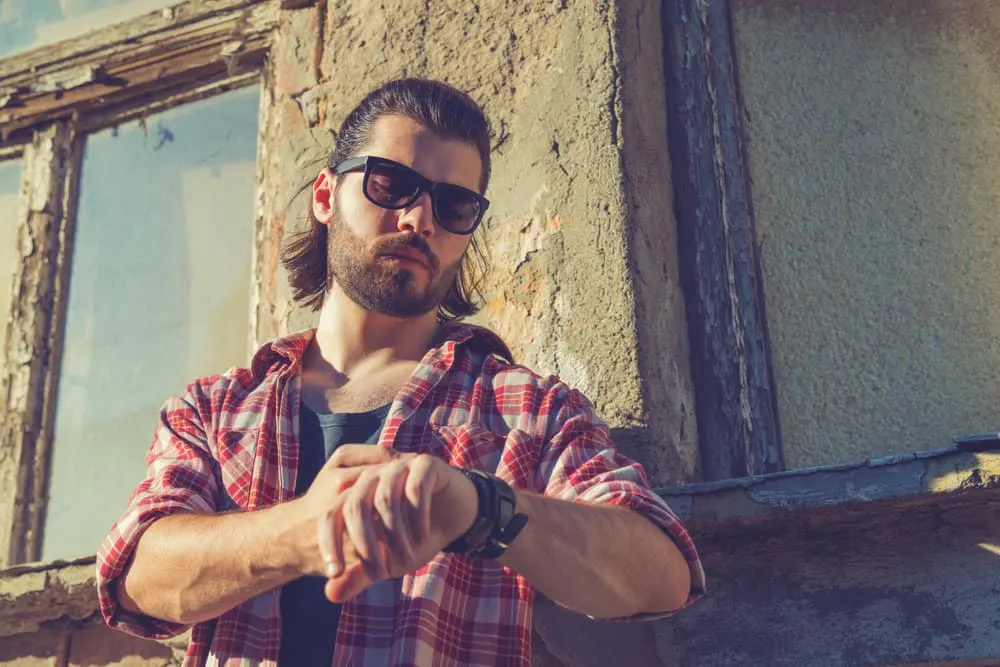 3. Crop Top Mullet
There's a reason why a classic crop top is quickly becoming one of the most popular men's haircuts around. Crop tops are cut straight across at the bang to create a bold, blunt line that cuts off your forehead.
FLOWN OUT TO L.A. To do a MULLET Haircut | Johnny B. Brand Collab | Tutorial
The rest of your hair is styled forward at the crown, with the sides shaved. When combined with a mullet, it becomes the crop top mullet, which pairs that blunt top section with a long and luxurious back.
It's an exaggerated take on a mullet that fully plays up the cut's "business in the front" nature and creates more of a contrast between the two halves. The great thing about styling a crop top mullet is that the cut does most of the work!
Simply apply a small amount of styling product to damp hair and brush the top of your hair forward. Then, finish the job by using your fingers to lift and define small pieces of hair. Check out this tutorial for more information.
4. High Taper Mullet
If you prefer a little more drama in your mullet, you'll want to pay close attention to our next look. It refreshes and contemporizes a classic mullet by combining it with a high taper.
🔥HIGH TAPER MULLET BY @NEU.LV
That means your hair is taken in on the sides and gradually gets shorter as you make your way down. High tapers start at your temples, making them one of the most dramatic versions of the cut.
In addition to having a high taper and mullet, this look also features a line-up. That means your hairline is cut in a crisp, boxy shape all the way around. With so much emphasis on precision, you'll have to keep your cut high and tight.
So if you aren't comfortable cutting your own hair, make sure you leave it to the professionals. Thinking about going about it on your own? This demo will show you how to recreate this sensational style.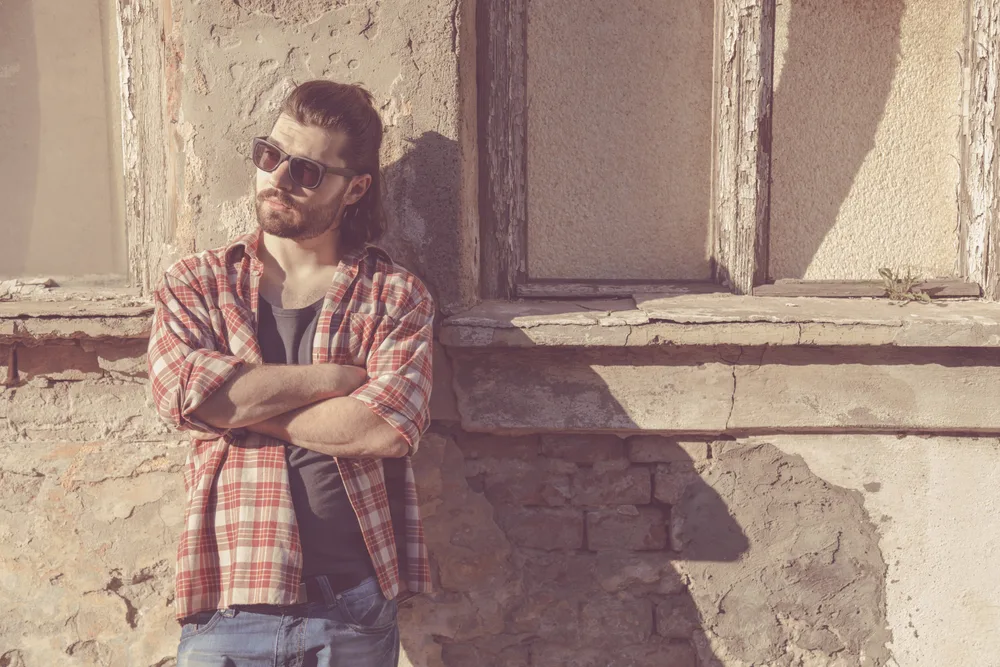 5. Flat Top Mullet
A flat top mullet is genuinely a style like no other. It combines the disconnected layers of a mullet with the volume and shape of a 90s flat top. Flat tops are a retro style in which the bulk of your hair sits on top of your head.
💈 ASMR BARBER - The HAIRCUT that has it all: FLAT TOP, MULLET, POMPADOUR
They're completely flat on top, giving your hair a voluminous, boxy shape.
The sides and back are then tapered, with the hair getting progressively longer toward the back of the head. Then in the back, there's an explosion of long, textured layers.
Although this look isn't for the faint of heart, it's perfect for anyone who wants their hair to make a statement. Just keep in mind that, unlike some of the other looks we've gone over, this cut requires a lot of styling.
You'll likely have to use hair product and a blowdryer daily, so avoid this cut if you're after something low maintenance. Now that we've gotten that introduction out of the way, this Youtube video will teach you the rest.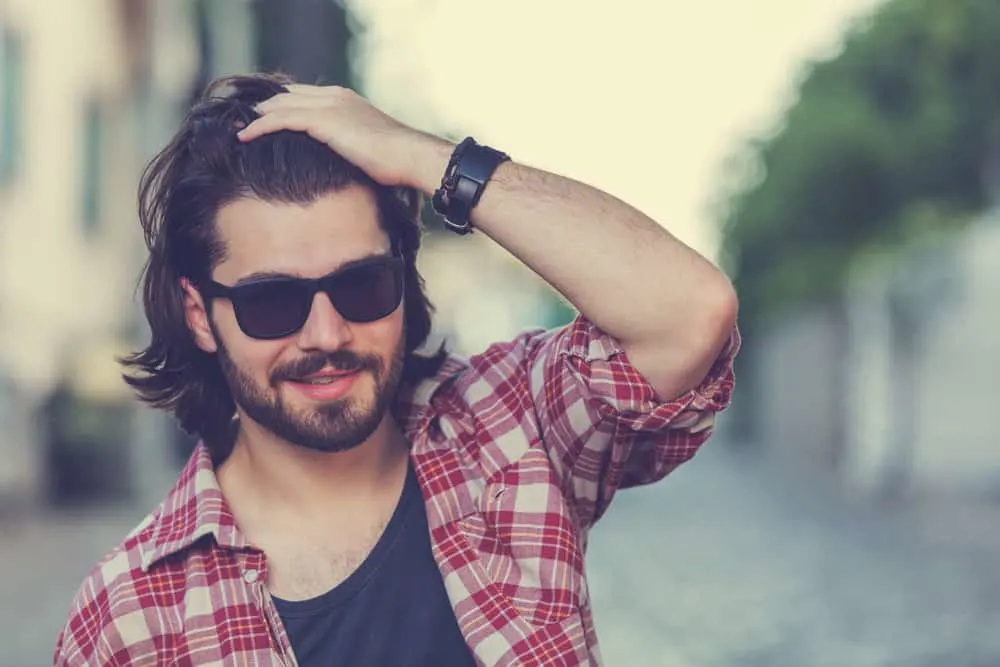 6. Mohawk Mullet Crop Top
With a mohawk, mullet, and crop top, this look has everything you could ask for! And despite combining so many different looks in one, it's a surprisingly cohesive style.
Mohawk Mullet Crop Top 🔥 How to Barber Tutorial
Both the crop top and the mohawk bring structure to the soft, organic shapes of the mullet. The result is an edgy, textured cut that's super easy to wear and style.
Simply smooth a texturizing pomade over your longer top, and use your fingers to create lift and definition. Go back in with a comb, and ensure that everything is falling into place. And that's it!
Because this style is kept super short on the sides, styling it is a breeze! Are you ready to tackle the cut by yourself? Watch this tutorial to learn how to do a mohawk mullet crop top.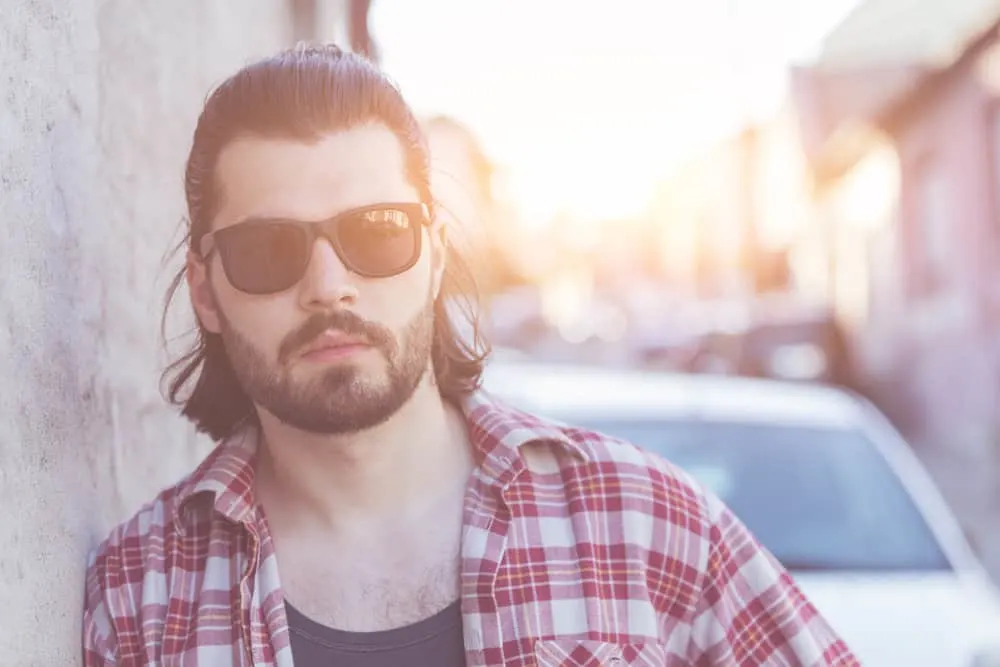 7. Burst Fade Mullet
The burst fade mullet lives up to its name by creating an eye-catching burst of color. It is achieved by creating a curved line around the ears and separating the longer hair on top from the shorter hair below.
HOW TO DO A BURST FADE MULLET (voice over tutorial) 🔥💈
The longer hair on top is typically styled with the traditional mullet shape, while the hair beneath the line is cut short.
Then, around the ears, your hair is taken down to your skin. The sudden glimpse of skin creates a striking burst of color that adds more depth and dimension to your cut.
Burst fades are a bold and modern choice that's perfect for guys who want a mullet taper fade with a little more edge. When styling your burst fade mullet, pull your hair up and back.
That will expose your faded sides and ensure that all of your barber's hard work is fully displayed. Here's a beginner-friendly video demo to walk you through everything else you'll need to know about getting the perfect burst fade mullet.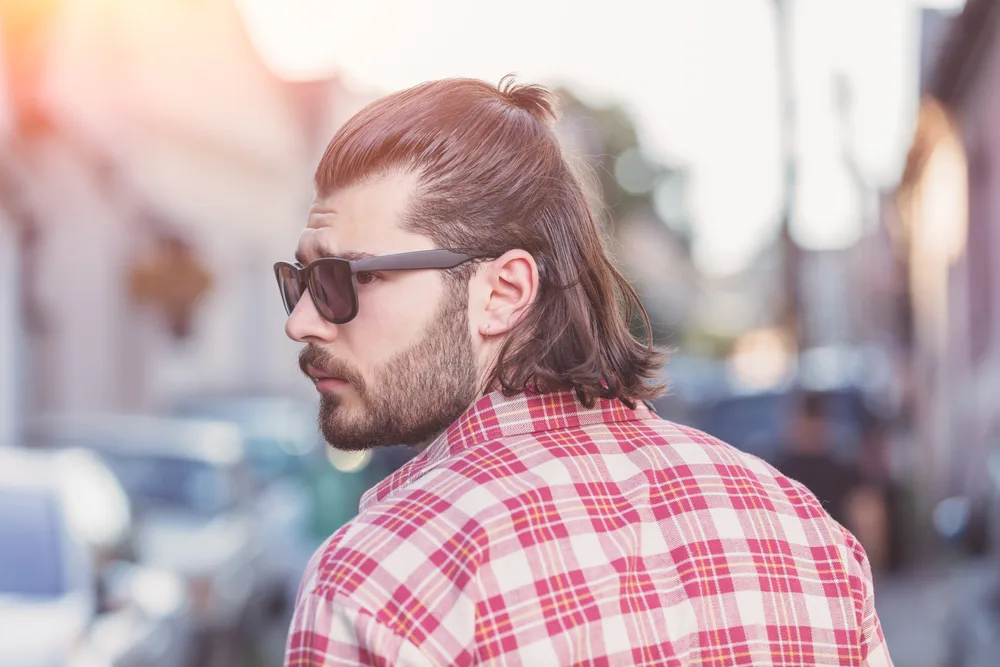 8. Blunt Fringe Faded Mullet
If you're looking for an easy way to enhance your Mexican mullet fade, consider adding a blunt fringe to the mix! A blunt fringe is essentially a short bang that's cut across your forehead in a straight line.
ทรงผม มัลเล็ต Mullet Hair Style | HRBB
It's a more structured take on a mullet that gives your hair a boyish charm. Blunt fringes work exceptionally well for men with fine or thin hair, as they can make your hair appear significantly fuller.
To style, start by washing and conditioning your hair as usual. Then, use a brush and blow dryer to shape your crop, directing the hair forward so the fringe falls towards your face.
Once you've created your basic shape, rub a small amount of wax or pomade between your hands. Work the product through your hair to distribute it evenly, then use your fingers to style your fringe until it falls how you want it to. Ready for more tips and tricks? Then take a look at this helpful video demo.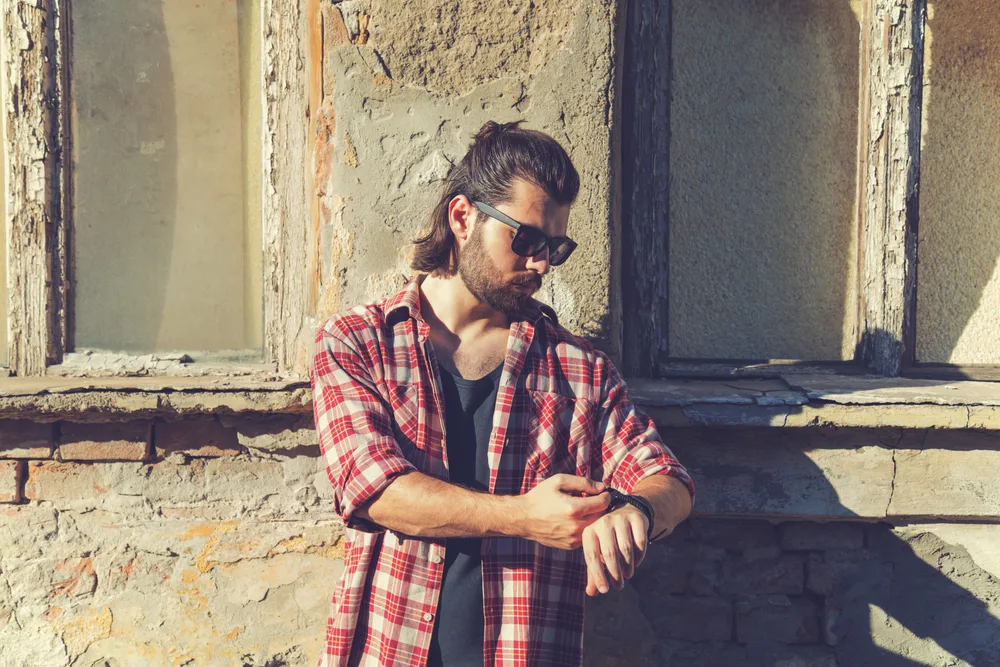 9. Mid-Taper Mullet
Not sure if a mullet is right for you? That's just because you probably haven't seen our next look before. A mid-taper mullet is one of the best iterations of a mullet and is a great way to ease your way into the controversial hairstyle.
MID TAPER MULLET | STEP BY STEP TUTORIAL
The cut is boxy around the hairline, which gives the mullet a clean, crisp precision. And unlike high tapers, mid tapers begin just above your ears. They're a much more subtle look, although they retain plenty of the bold edge.
If you want to try out a mid-taper mullet, begin by cutting the hair on the sides and front of your head to a medium length. Then, soften your cut by blending everything together.
When you finish your cut, it's time to get to work on the mid-taper. Starting just above your ear, use a pair of clippers to taper your back and sides to your desired length. Here's a video tutorial showing you how it's done.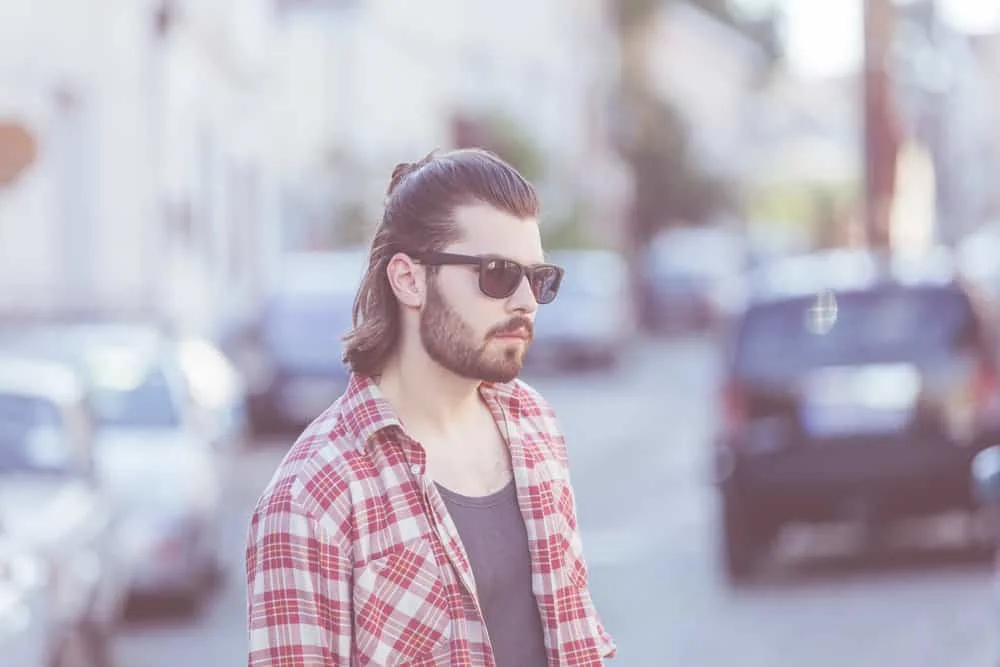 10. Two-Block Mullet
This Korean-inspired hairdo takes the classic mullet to an entirely new level. The front half of the cut is a traditional two-block mullet and features a short back and sides, contrasted against a longer top.
ทรงผม Two Block x Mullet | HRBB
The top is then cut into two distinct layers, with a long blocky top and short bottom. And despite sounding like it has a lot going on, this contrast gives the two-block mullet an ultramodern, effortlessly cool vibe.
When it comes to styling a two-block mullet, it's best to stick to the basics. Just apply a smoothing serum to freshly washed hair, and use a blow dryer and brush to shape it.
Lastly, smooth a lightweight pomade over your 'do to keep it looking sleek all day long. If you're still on the fence about this cut, you just need to see it in action. So watch how this skillful barber brought their two-block mullet to life in this video.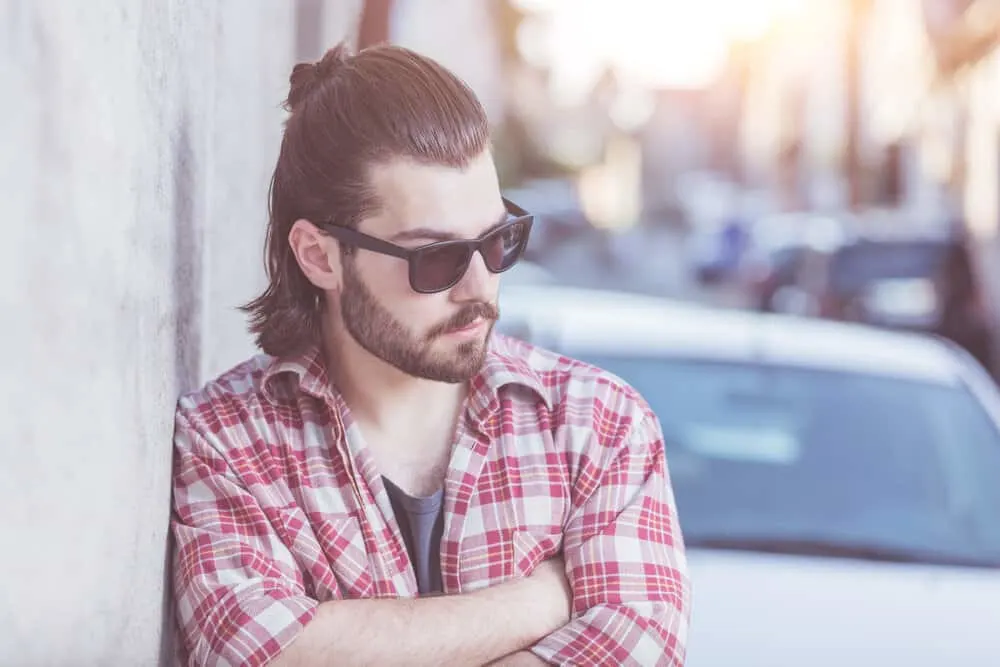 11. Spiky Mullet
While some of the other Mexican mullets we've covered today focus on the cut, this one is all about how you style it. A spiky mullet takes inspiration from the punk scene and features sharp, well-defined spikes.
ทรงผมสุดคูล Spiky Mullet สไปกี้มัลเล็ต | HRBB
The cut itself is a standard mullet with a short choppy front and longer back. But instead of blending the various layers, leave them somewhat rough to give your hair more texture.
When it comes to styling a spiky mullet, it's better to start with damp, freshly washed hair. Apply a small amount of gel to your hair and use your fingers to lift and roll your hair into little spikes.
Be careful not to disturb your hair while it dries, or you may ruin your definition. Want to bring even more rock and roll edge into your cut? Try pairing it with eye-catching colors and line designs, just like the talented barber in this video did.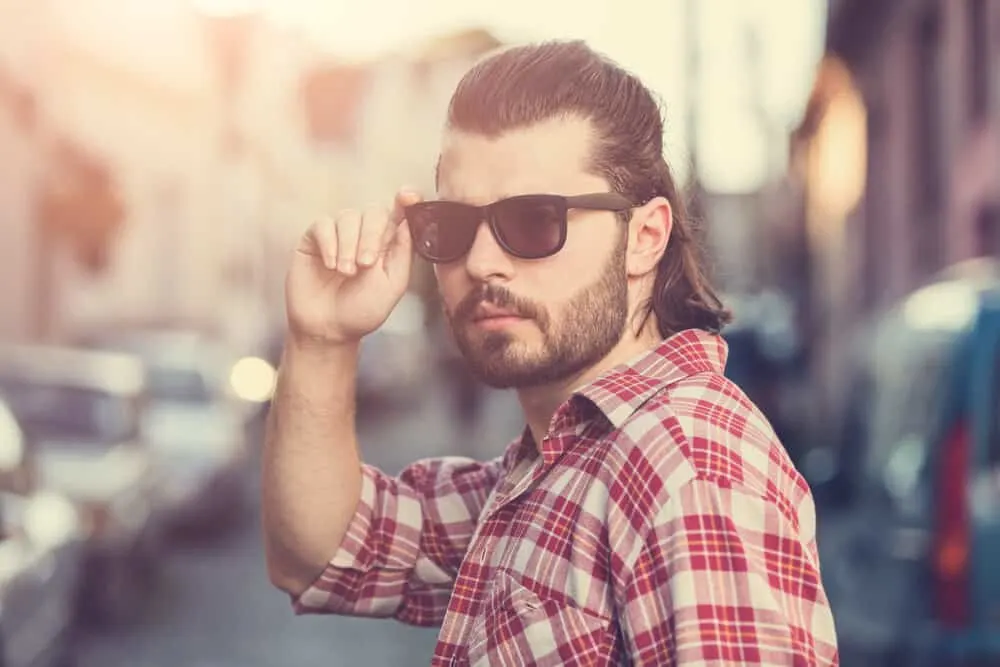 12. Low Taper Mullet
As you can see, a mullet and a low taper fade are a match made in heaven. This style, which is affectionally nicknamed "siete" (the number 7 in Spanish), is a more natural-looking variation of a faded mullet.
2023 Modern Mullet with Low Taper: Haircut & Consultation
Instead of starting at the temples, low tapers begin at the temple and gradually fade down toward the nape of your neck. They take off less hair than both high and mid-tapers, making them more subtle and understated.
And because they start so low, a low taper mullet is one of the lower maintenance cuts. Instead of getting your hair touched up every one to two weeks, you'll be able to go three to four weeks between trims!
That makes this style the perfect choice for guys who prefer to keep their styling routine simple. Learn how to recreate this look on your own by taking a look at this simple video demonstration.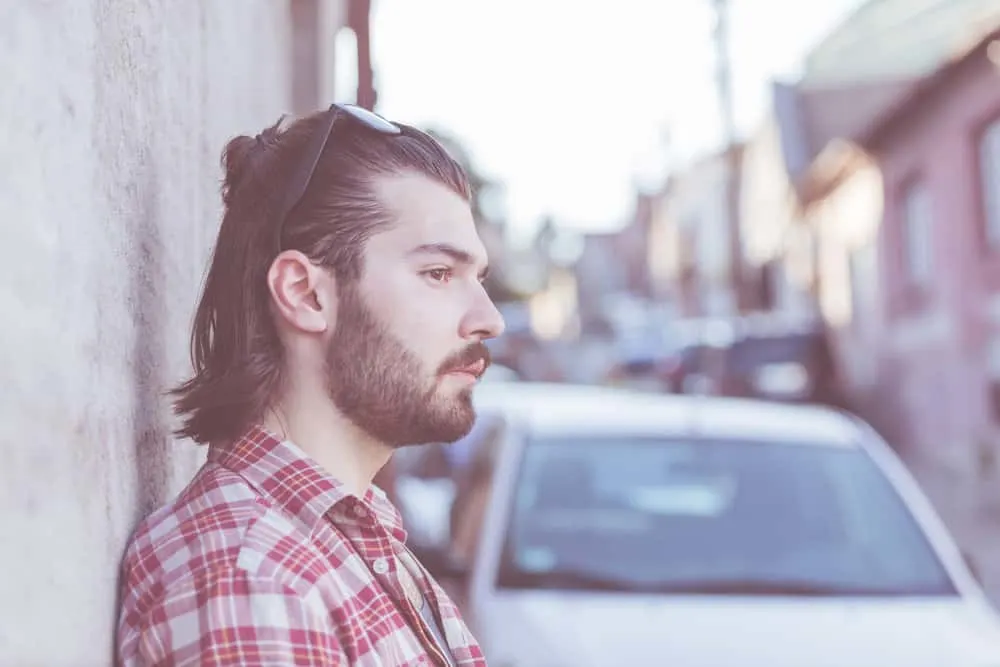 13. Textured Taper Fade
A textured taper fade is a surprisingly understated take on the iconic style. It's similar to a basic mullet, with a super short front contrasted against a lengthy back. But while the sides of your head are faded, the top and back are full of long, tousled texture.
How To Cut and Style: Short Textured Mullet and taper with George Coady
That helps bring a softness to the harshness of the cut and makes the style infinitely more wearable. The difference in length will cause some pieces to lift and stick together and give your hair that natural, bed-head finish.
Then, apply a texturizing product like pomade, wax, or spray to your strands and finger-style. If you're having a hard time getting the right texture, try styling day two or three hair rather than freshly washed strands.
Perfecting a textured taper fade mullet can be tricky for beginners. So, we encourage you to watch this tutorial and practice to get the technique right.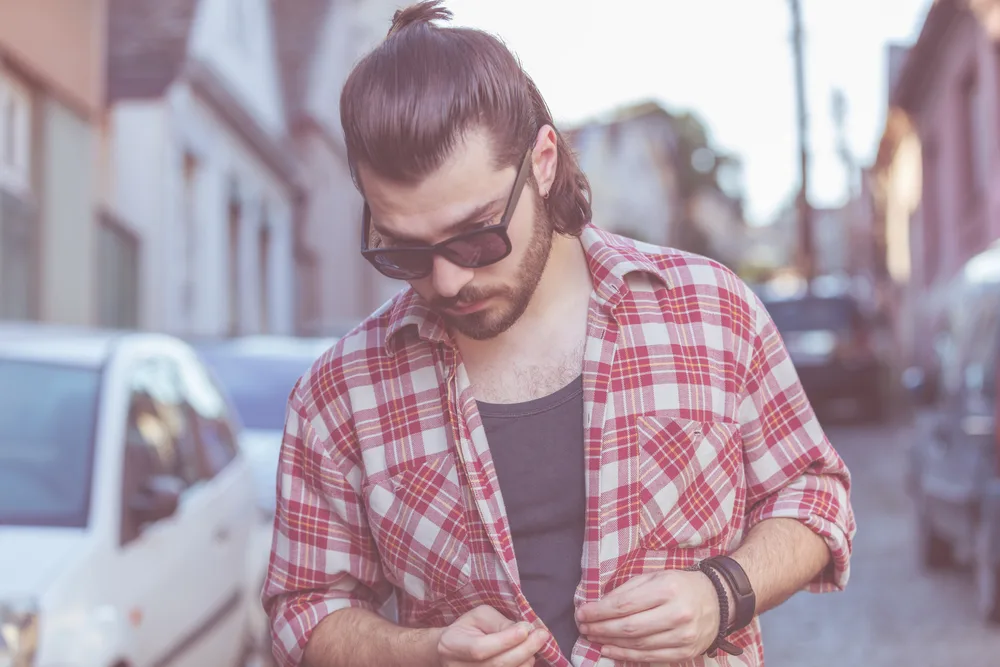 14. Modern Disconnected Mullet
Need a mullet that works in a professional environment? If so, a modern disconnected mullet might be just what you need! Like some of the other looks, we've gone over today, a modern disconnected mullet pairs a traditional mullet with sleek sides.
How To Cut a Mullet - Modern and Disconnected
But instead of gradually decreasing in length like tapers and fades, disconnected cuts feature an abrupt change. To style your modern disconnected mullet, the emphasis should be on definition and texture.
So if you're starting with freshly washed hair, apply plenty of texturizing spray, gel, or pomade. Then, use a brush or comb to shape your strands. Make sure you bring them up and back to show off those disconnected sides.
Once satisfied with your hair's overall shape, gently rake your fingers through your strands to encourage definition. This video demo will help break things down in more detail.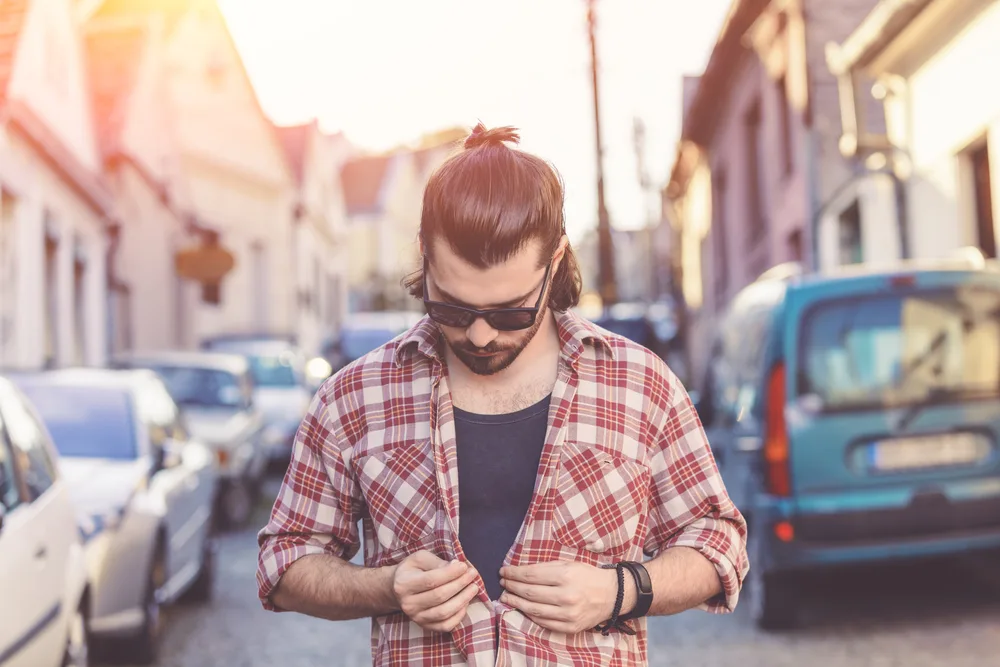 15. Slicked Back Mullet Fade
Even though mullets aren't generally thought of as a sleek and polished style, our final look proves that couldn't be further from the truth! A slicked-back mullet fade is a voluminous, classic style reminiscent of a pompadour.
tagalog/haircut Tutorial /MULLET #MULLET #FADE
It has a high, voluminous top and slick, short-cut sides. Then the top of your hair is styled straight back to create a bold, one-of-a-kind 'do. When styling a slicked-back mullet, work a medium hold gel, mousse, or cream into freshly washed hair.
Then, use a round brush and blow dryer to bring your hair up and back. Finally, smooth a pomade over your 'do for some added luster. This video tutorial will show you everything else you could possibly need to know.
And that concludes our list of Mexican mullet taper fades. As you can see, there's a ton of diversity among the various Mexican mullet hairstyles. So have fun experimenting until you find the ones that work for your and your hair.
And if you ever end up with a style you don't like, just wait for your hair to grow out and start all over again! We hope the looks we've shared in this article are just what you need to shake up your hairstyling routine.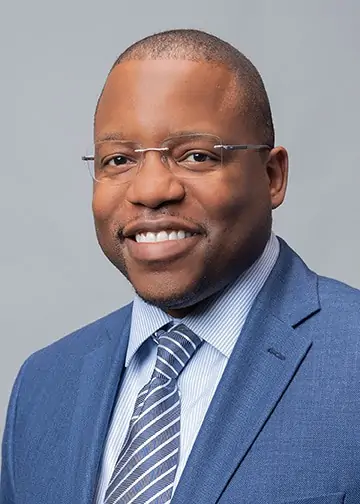 Kenneth Byrd holds a BS in Accounting and Management Information Systems and an MBA from the University of Alabama at Birmingham. With over 15 years of experience, Kenneth has been dedicated to hair care since 2008, when he co-founded Curl Centric® and Natural Hair Box alongside his wife. As a team, they promote healthy hair care practices through their comprehensive platform, Curl Centric. Curl Centric is a website operated by a husband and wife team that encourages healthy hair care. At Curl Centric, we aim to help our readers take control of their hair care journey and make good decisions about products, hairstyles, and maintenance techniques. We also have strict editorial integrity; here's an explanation of our editorial guidelines and how we make money.