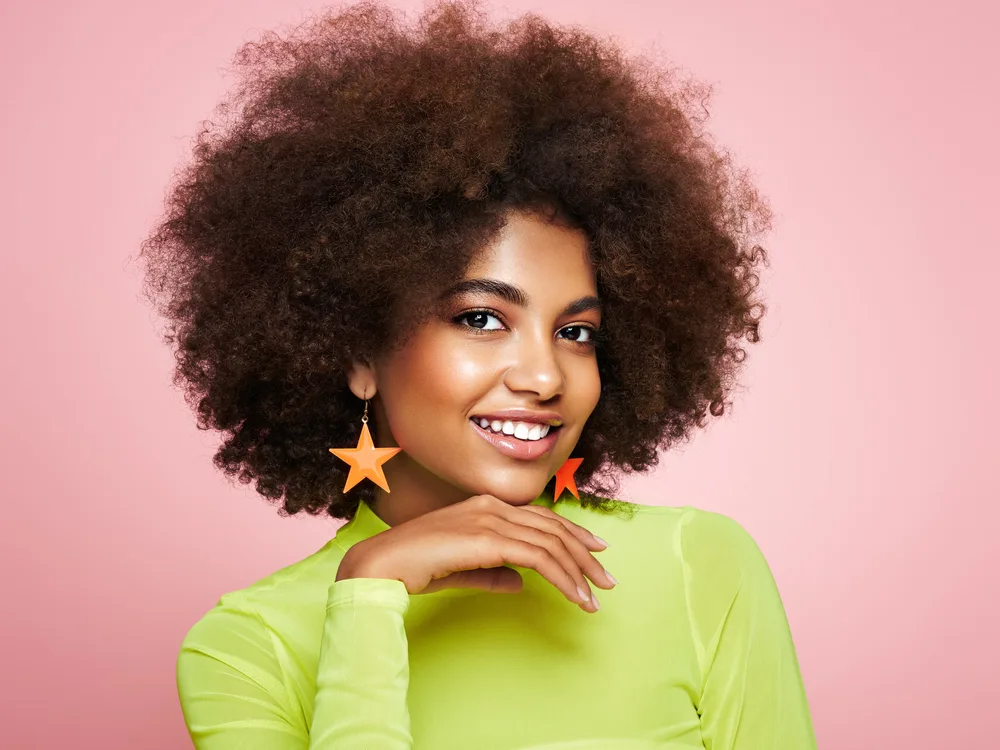 From pencil-thin eyebrows to glitter eyeshadow, the early 2000s are officially back! In the past few years, Y2K-inspired fashion has moved back into the forefront, and that includes the good, the bad, and the "so ugly it's cute."
If you're looking for some Y2K hairstyles to try out, we can help. In this article, we'll walk you through 20 of the best Y2K-inspired hairstyles that will leave you saying: that's hot.
1. Beaded Braids
Nothing says Y2K fashion like bling, and this look has plenty of it. If you grew up wearing beads at the end of your braids, you're already familiar with this trending style.
Make this style your own by playing around with beads of various materials, colors, shapes, and sizes. And the creativity doesn't have to end there!
Try matching your beads with your outfit, or creating a fun pattern, like stripes or a rainbow!
Beaded braids are a great way to spice up your look as you sashay down the halls or hang out with friends. You can learn how to recreate this super cute hairstyle here.
2. Butterfly Clips
Cute butterfly clip hairstyles
Butterfly clips are a super cute and easy way to add visual interest to your favorite 'do while you're out at a festival or on-location snapping a few selfies. These easy-to-install hair clips give any hairstyle an instant dash of early 2000s flair.
Here's a video to inspire you on how to rock this adorable look!
This style offers a ton of versatility, and you can place your butterfly clips throughout your hair however you like. While most butterfly clips in the early 2000s were neon or glittery plastic, there are way more options today.
One of the most popular takes on the butterfly clip trend is to use hair clips that look like real-life butterflies. Regardless of which clips you choose, just make sure you remove them carefully. Yanking on them can cause breakage, particularly if you have dry or fragile strands.
3. Flipped Ends
Like bandanas, flipped ends are a charming combination of 60s retro and early 2000s glam. They're the perfect style for a night out on the town and can even make your hair look fuller and thicker.
Although they work best on straight or straightened hair, flipped ends can add dimension to virtually any hairstyle, including ponytails, loose locks, half updos, and pigtails.
Try pairing your flipped ends with a bob, like this creator did, for a funky, fresh take on vintage-inspired hair. While most people flip their ends with a blowdryer, flat iron, or curling wand, you can skip the heat and use hair rollers to get the look.
Either way, make sure you take anti-frizz precautions with serums or hair spray.
Frizz will wreck the shape of your flipped ends and make them look more like a rat's nest than anything. Also, use a heat protectant if you decide to use a heat styling tool.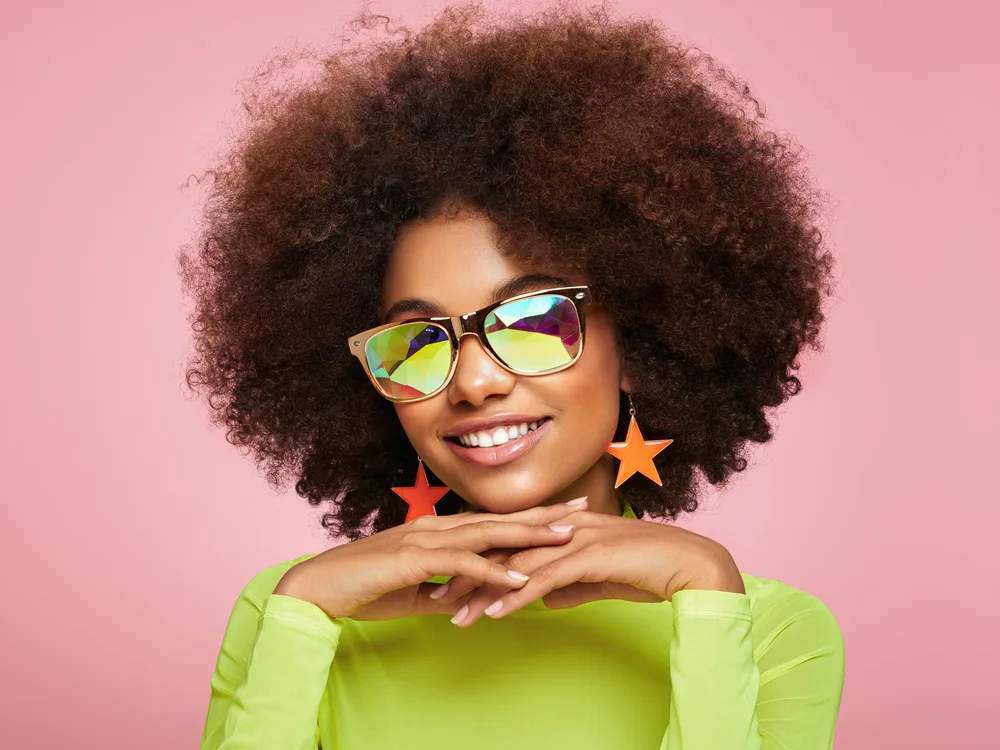 4. Antenna Bangs
CELEBRITY HAIRSTYLIST TEACHES: 90's Antennae/Whispy Bangs
Antenna bangs are another Y2K style that's recently made its way back onto the red carpet. These thin, face-framing bangs are a sleeker take on tendril bangs.
They're much more delicate and add a chic twist to any pulled-back hairstyle, whether it's formal or casual. They're also incredibly easy to do!
First, separate two tiny sections of hair in the front, and pull the rest of your hair back. Or, you can take a look at this easy-to-follow video demonstration.
While antenna bangs are usually worn on straightened hair, there's no reason why you can't try them out on curly and wavy hair. Just use a little curl-defining gel or cream to enhance your coils and make your antennae bangs pop!
5. Clip-in Colored Extensions
Instant Highlights Clip In Extensions | Blonde Highlights on Natural Silk Press
In the early 2000s, teens and twenty-somethings everywhere were experimenting with temporary color. And it doesn't get more temporary than clip-in extensions!
While some people, like this content creator, went with classic blonde, others took it as an opportunity to experiment with electric blues, pinks, yellows, and greens.
Clip-ins can be dressed up or down, although bright colors are a fantastic way to add some pizzaz for a special event. You can either buy your colored extensions in the shade you want or try dyeing your own for a custom creation.
Keep in mind that colored clip-in extensions usually come with straight hair. If you want to match your natural waves or coils, you'll have to style them yourself.
Not all extensions are heat safe, so check before using a flat iron or curling iron to give your clip-ins some texture. You can use colored hair extensions to add a few pops of color to your favorite 'do or try out a new shade before you commit to it completely.
6. Pigtails
Y2K Side Part + Pigtails (INCHEZZZ) ft BeautyForeverHair
Pigtails are an easy and oh-so-cute way to hop on the Y2K fashion train. They're adorable, youthful, and super easy to create!
Simply part your hair straight down the middle and gather it into a slick ponytail on both sides of your head. You can wear your pigtails high or low, but high pigtails were especially popular in the early 2000s.
You can either stop there or braid your pigtails to add some more visual interest. You can also flip the ends for another on-trend twist!
Watch this helpful tutorial if you want to find out more!
Pigtails look great on any hair length and texture, making this the perfect look for anyone who wants to add some turn of the millennium flair to their locks.
7. Pixie Cut
LEARN HOW TO CURL HAIR LIKE HALLE BERRY
Short, spiky pixie cuts were all the rage in the early 2000s. The feathery texture is super chic and all about letting your features shine! Pixies put your face on display, so they aren't for the faint of heart.
If you decide that you want to give this look a try, make sure you head to the salon for a professional cut. Already got a pixie? Here's a video showing you how to style your pixie cut in true, early 2000s fashion.
8. Claw Clip Updo
EASY CLAW CLIP HAIRSTYLE// LAZY HAIRSTYLES WOC
In terms of Y2K hairstyles, the claw clip updo is one of the most straightforward styles to recreate. It's the perfect go-to style when you're short on time and want to try something other than a messy bun.
All you have to do is pull your hair back, twist it upwards, and use a chunky hair clip to keep everything in place. You can pull out a few face-framing pieces, like this creator did, to give it a casual, romantic look.
9. Bubble Braids
HOW TO: Bubble Braids / Poddle Puffs w. Marley Hair | VERY DETAILED TUTORIAL FOR BEGINNERS!
Bubble braids are a fun, fresh way to take your boring ponytail to the next level.
Instead of falling straight down, bubble braids have rounded ball-like sections that run down the length of the ponytail. They're easy to create and even easier to dress up or down!
All you have to do is pull your hair into a sleek ponytail. Then, put small elastic bands all the way down until the end of your ponytail. Gently tug at the sides of each section until it creates a bubble.
As shown in this tutorial, bubble braids are easy to do with or without extensions. Want to make it even more Y2K inspired? Play around with brightly colored elastic bands.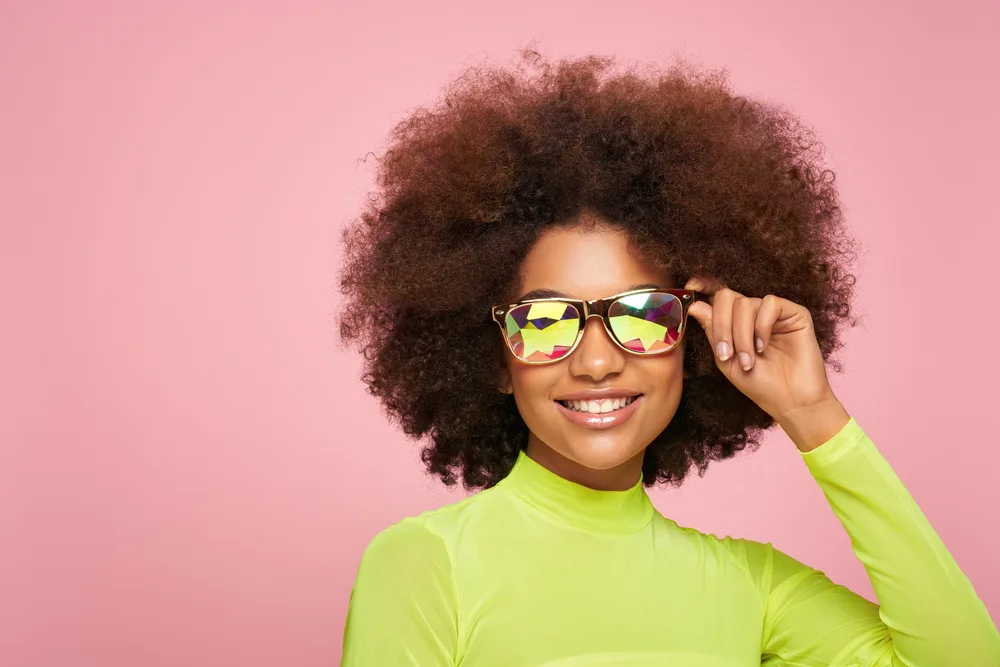 10. Chunky Highlights
chunky highlights | Y2K aesthetic hair
If there's one style that the early 2000s is notorious for, it's chunky highlights. From female popstars to boybands, the chunky blonde streaks were everywhere. And they've come back with a vengeance!
Today's version is a little more subtle and a far cry from the orange, frazzled highlights of the past. Although chunky highlights are most closely associated with straight, flat ironed hair, curly girls everywhere are using them to make their curls pop!
Chunky highlights work great with any hair color, whether you're adding them to brunette strands or a fire engine red 'do. You can either go to the salon or brave it out with a home highlight kit. Here's a video tutorial to help get you started.
11. Crimped Hair
Judging from its popularity in the 80s, 90s, and 2000s, crimped hair is proven to have some serious staying power. And it's no wonder why!
Zig-zagging, teeny tiny waves are the perfect way to play around with texture. They're also a refreshingly laid-back alternative to perfectly coiffed curls and ringlets.
You can crimp your hair all over or add a few textured pieces to your favorite hairstyle for a more subtle look. Although you can get crimped hair with a flat iron or curling wand, it's much easier if you already have a crimping iron.
A lot of crimping tools come with crimping plates in a variety of sizes, so you can customize your look however you want. Create crimps that are all the same size, or mix and match different sizes to add even more visual interest.
Wear your crimps as is, or comb through them with a wide-tooth comb for a messy, frizz-proof style. Want to know how to do it? Just watch this video demonstration.
12. Zig-Zag Parts
Step to the side, middle parts! The zig-zag part is back, and we hope it's here to stay. This iconic look is all about crisp lines and edgy geometrical shapes.
It can take a little time to master the technique, but all you have to do is carve a sharp zig-zag part with a comb.
Alternatively, you can watch this tutorial to learn how to recreate it. The best part? You can pair a zig-zag part with all types of hairstyles for an immediate trendy twist.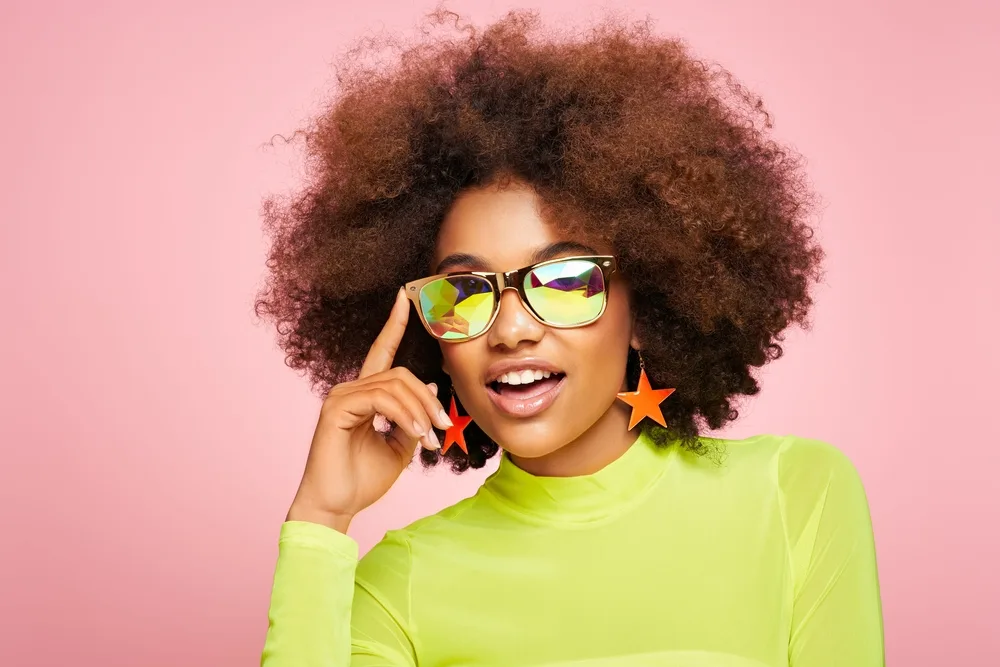 13. High Ponytail with Swoops
How To : High Ponytail | Mid Ponytail | Extended Ponytail
The high ponytail is back, but to be honest, we're not sure it ever went away. This ultra-sleek style is simple but effortlessly glamorous enough to wear to even the most sophisticated function. It also couldn't be easier!
Comb your baby hairs forward, spritz a little hairspray onto the rest of your strands, and brush it straight back. Tie your hair into a tight (but not too tight) ponytail and ensure everything is tucked neatly into place.
Style your baby hair in swoops for some 90s flavor. Then, mist on a little more hairspray to lock everything in place, and that's it! More of a visual learner? Watch a convenient tutorial like this one to find out more.
14. Chunky Barrettes
11 EASY Ways to Style HAIR CLIPS for Short Hair (Braidless)
For many people, Y2K hairstyles mean taking it back to your playground days. Take a walk on the nostalgic side with this childhood-inspired hair accessory that's perfect for hanging out with friends or taking a trip to the beach.
There are tons of different styles of barrettes available, and you can add them to pretty much any hairstyle you like! Here's a video to help get you inspired. As a bonus, the barrettes keep your hair from getting in the way as you stroll around the local mall.
15. Micro Braids
I DO MY OWN CURLY MICRO- BRAIDS FOR THE FIRST TIME!
Micro braids have been a go-to for black women for hundreds of years. In the early 2000s, they saw a sharp resurgence in popularity thanks to celebrities like Brandy and Raven Symone.
You can wear your micro braids straight or curl the ends for some added fun.
As long as they're installed and maintained correctly, micro braids are a protective style. They're an excellent way to protect and grow out your natural hair and look cute while you're doing it!
Instead of braiding them all the way down, leave the ends of your micro braids loose for max styling freedom. Micro braids are similar to box braids, although they are significantly smaller.
They also have a lot more movement than regular box braids, giving the look a fresh new twist. Watch this video demo to learn how to get the job done on your own.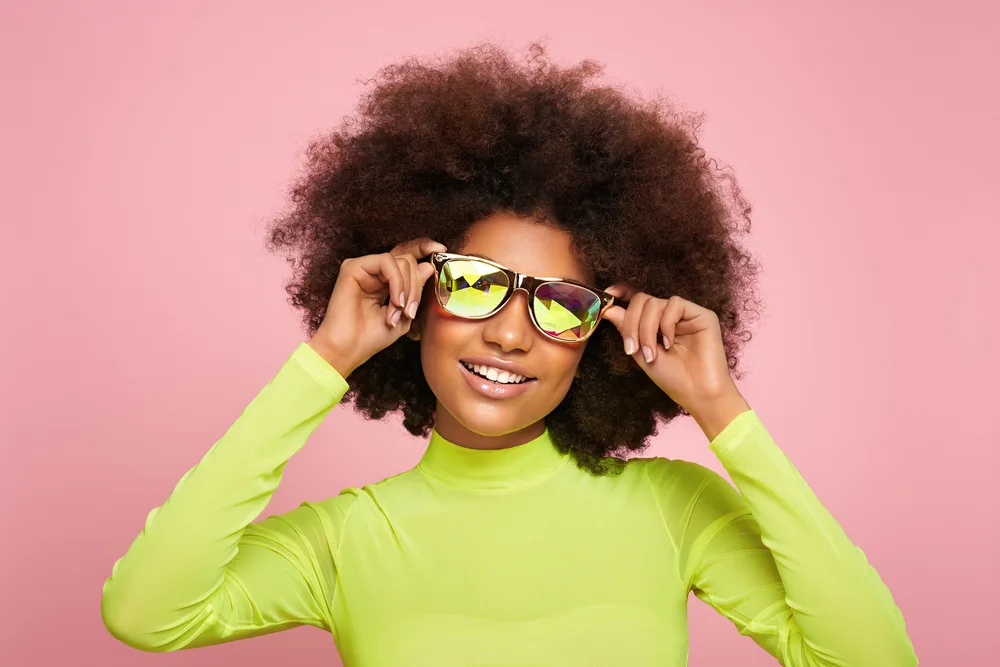 16. Bleached Bangs
Bleached bangs have recently had a resurgence in popularity thanks to celebrities like Beyonce and Kylie Jenner. This daring look involves bleaching the front portion of your hair, creating a face-framing chunky highlight effect.
Bleached bangs are often paired with a middle part and radiate early 2000s energy. You can learn more about bleaching your bangs here.
Bleach is extremely harsh on your strands, so avoid lightening your hair if it isn't in good condition. Still, want to try it? Use bleach blonde clip-in extensions instead!
17. Spiky Buns
Y2K SPIKED BUNS + ZIG-ZAG PART | SHORT HAIR TUTORIAL
Spiky buns are a playful, punk-inspired twist on the classic, messy bun. They're the perfect low-effort updo with a futuristic vibe. There's no wonder they're taking over social media feeds and red carpets.
It's best to start your spiky bun with straight hair and gather your hair into a neat ponytail. Then, twist your hair around the ponytail's base, with the ends pointing up and outwards.
Secure your bun with a hair tie or scrunchie and use a few bobby pins to take care of any stray hairs. Gently pull some small sections of hair out of your buns to make the spikes more pronounced.
You might want to style the ends of your hair by straightening them further or adding some texturizing pomade to make them even spikier. Want more information? Just click on this simple tutorial!
18. Space Buns
How to: SPACE BUNS + Baby Hair | Natural Hair | TheyCallMe DEEZY
Space buns are a cute, casual style that you can rock for any casual occasion. While they look amazing on every hair type, they're especially great for curls, kinks, and coils.
Your natural texture enhances the overall look.
And the best part is that you don't have to do anything special to get it! To create space buns, just put your hair into two pigtails and wrap the length of your hair around the ponytail's base.
Secure the ends with a bobby pin, and that's it! You can wear your buns high or low, but the traditional Y2K style is all about sky-high buns. Once you see this style, you'll want to try it out immediately. Here's a video demo showing you how to get the look.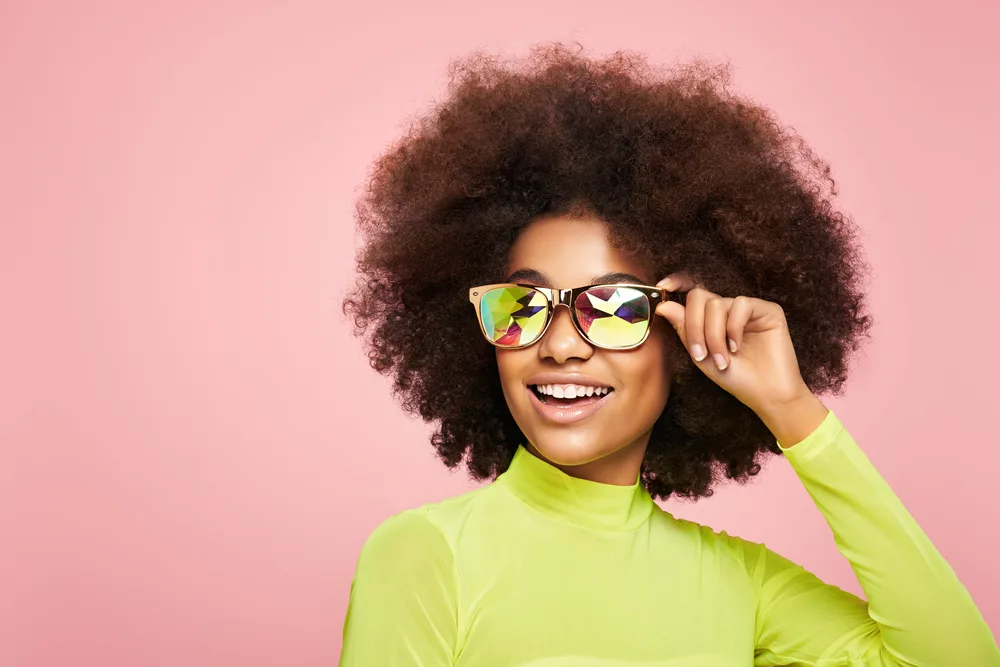 19. Half Up Half Down
FLIPPED ENDS 90's HAIRSTYLE! HALF UP HALF DOWN! Super Easy!! | CashLiani
The half-up, half-down hairstyle gives you the best of both worlds. This look can be glam or casual, depending on how you style it.
It also looks great on any length and texture of hair! To get the look, separate the top half of your hair and gather it into one or more ponytails at the crown of your head.
You can style your updo however you like, whether that means ponytails, bubble braids, twists, or spiky buns.
You can also add some pizazz to your half down, half updo with barrettes, butterfly clips, and more. There are a ton of tutorials online, like this one, to help get you started.
20. Bandanas
Y2K Bandana Hairstyles | Early 2000s
Part 50's pinup, and part Y2K realness, bandannas are one of the most versatile hair accessories around. Bandanas add a pop of color and some visual interest to whatever hairstyle you wear.
There are also a ton of ways to wrap your bandana, some of which you can learn about by clicking here. Bandanas are also super practical; they're an excellent way to protect your hair from the sun or hide unwashed strands.
Which Y2K Hairstyles Should You Choose?
If one hairstyle is speaking to you more than the others, give it a try! But who says you have to choose just one? Experiment with mixing and matching different styles and come up with something that's undeniably you.
The main thing to keep in mind is that Y2K hairstyles are all about self-expression, creativity, and trying something new. So, remember to have fun with it – no sweat! We hope this article has given you the inspiration you were looking for!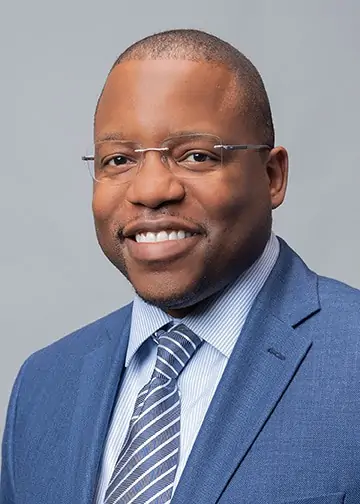 Kenneth Byrd holds a BS in Accounting and Management Information Systems and an MBA from the University of Alabama at Birmingham. With over 15 years of experience, Kenneth has been dedicated to hair care since 2008, when he co-founded Curl Centric® and Natural Hair Box alongside his wife. As a team, they promote healthy hair care practices through their comprehensive platform, Curl Centric. Curl Centric is a website operated by a husband and wife team that encourages healthy hair care. At Curl Centric, we aim to help our readers take control of their hair care journey and make good decisions about products, hairstyles, and maintenance techniques. We also have strict editorial integrity; here's an explanation of our editorial guidelines and how we make money.