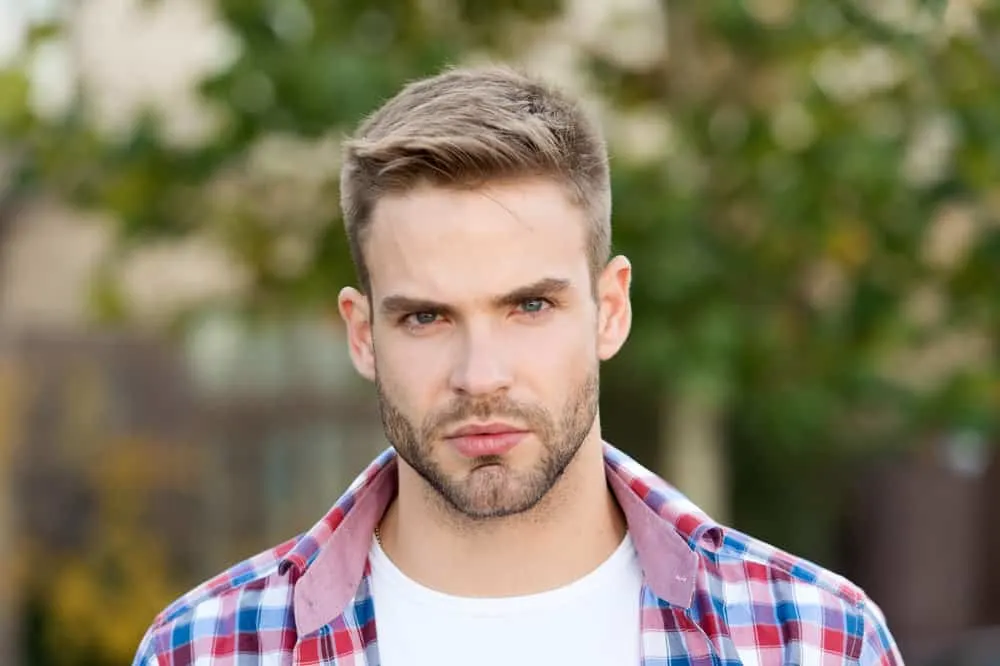 Having an oversized forehead is one of those things that can ruin your whole aesthetic. The good news is that with the right hairstyle, you can transform a big forehead from an eyesore to a thing of beauty.
So, are you wondering which hairstyles have this positive effect?
Well, read on because this article will highlight some of the best hairstyles for men with big foreheads. We'll also include looks that work with a variety of hair lengths and textures, so everyone can find something they love!
Hairstyles for Men with Big Foreheads
In the next section, we provide a comprehensive guide that showcases how different hair types, from thick hair to medium hair, can be styled to make any facial feature, especially a big forehead, attractive. Expect detailed instructions on how to style hair, be it a straight fringe or a spiky hairstyle, and tips for the appropriate use of hair products like hair cream.
Whether you fancy a classic crew cut, a choppy crop top fade, or a short hairstyle with a cropped fringe and a slightly messy finish, there's something for everyone.
You'll even find haircut ideas tailored to your head shape, tips for clean shaves versus full beards, and advice on making your entire forehead a focal point if you have a bald head or wear glasses.
1. Side Swept Fringe
We'd like to start off our list of hairstyles for guys with big foreheads with one of our favorite looks. A side-swept fringe is a simple style that pairs long, side-swept hair on top with shorter sides.
Modern Sweeping Haircut Tutorial - TheSalonGuy
The sides give your hair a clean and polished look, while the longer top covers your forehead in a flattering, face-framing fringe. The bang creates a more symmetrical appearance and draws attention away from your forehead and hairline.
Because the cut does most of the work, styling a side-swept fringe is surprisingly simple. Just work a smidge of smoothing or texturizing product through your strands and brush them over to one side.
Once you're happy with the overall shape, give your hairdo a light mist of holding spray. See? We told you that it was easy! But if you need a bit more help, feel free to check out this short demo.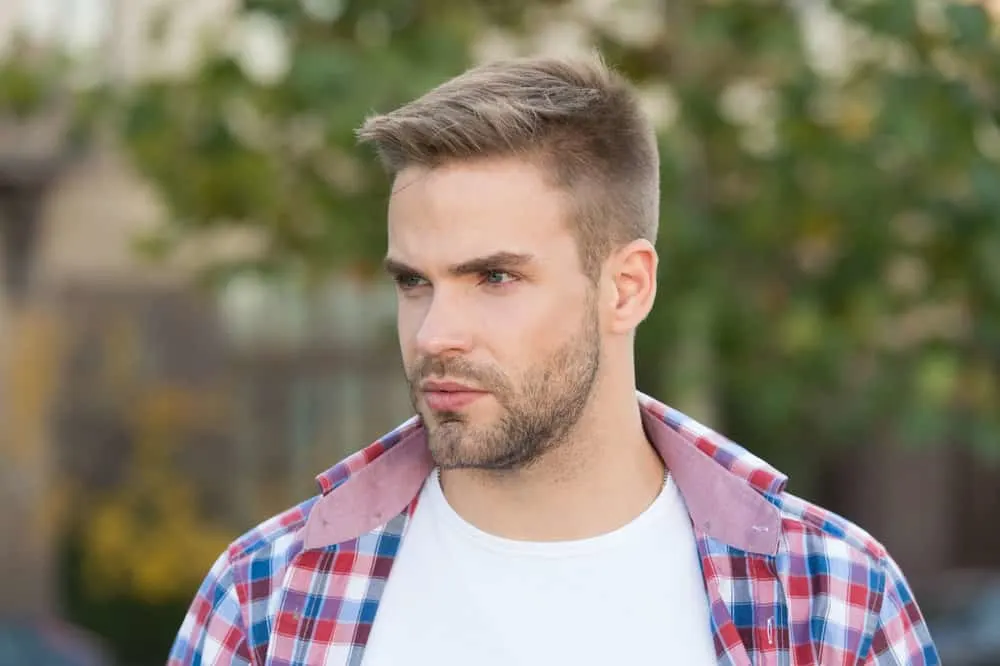 2. Comb Over
A comb-over style is one of the easiest ways to create the illusion of a more symmetrical face and draw attention away from a prominent forehead. The slick and professional style consists of shorter hair on the back and sides, with a slightly longer center.
Professional Undercut Comb Over Fade Hairstyle | The Best Side Part Haircut | Easy Hair For Men
The longer top is then parted on either side and brushed or combed in the opposite direction. By bringing your hair over to one side, a comb-over adds volume and fullness to the top of your head.
That lengthens your features and draws attention away from your forehead.
The best thing about combovers is that they're exceptionally easy to style. Just create a deep part on either side and brush each half to the side. Rub a dollop of wax, pomade, or gel between your palms and smooth them over your hair.
And voila! Combovers are one of the easiest hairstyles to master. But if you need more help, this tutorial has all the tools you'll need to become a pro overnight!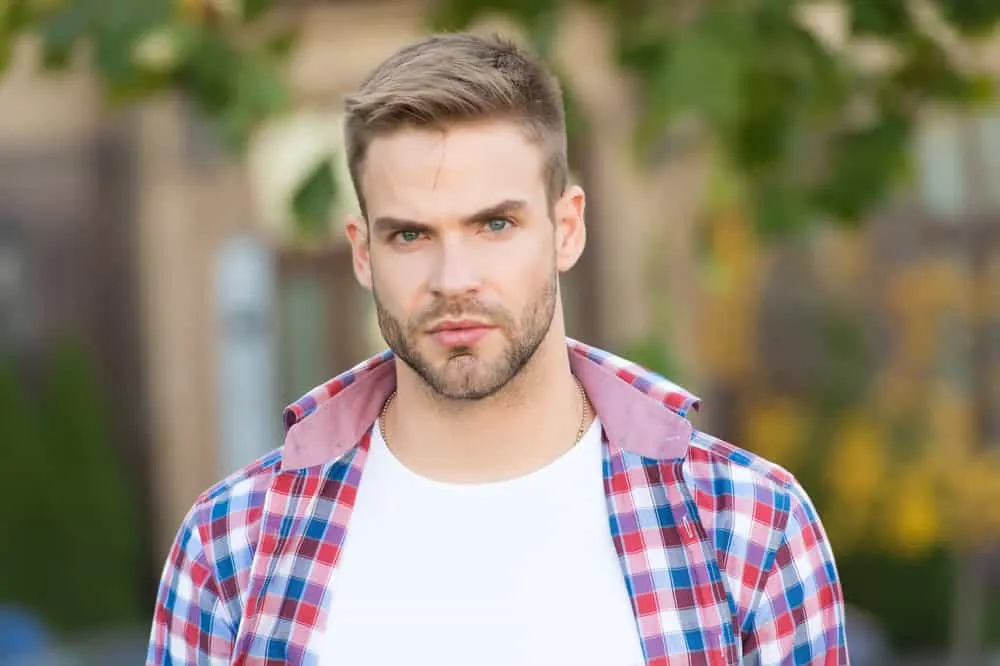 3. Two-block Haircut
While most of the looks we've covered so far are classic and timeless, our next look is for those guys who prefer a fashion-forward hairdo. A two-block haircut is an increasingly popular Korean-inspired cut featuring long hair in the center and front of your head, with a sleeker back and sides.
K-Pop Two Block Haircut - TheSalonGuy
It is usually styled into a messy, textured look, which adds height and volume to your hair. The increased volume accentuates the top of your head, so people's eyes are drawn up rather than down.
Additionally, two-block haircuts feature long bangs, which you can comb forward to obscure a wider forehead and balance out your facial features. The key to styling your two-block hairstyle is to avoid overloading your hair with product.
That way, your hair won't become limp and stringy. Ready to give this bold and edgy hairstyle a try? Here's a video tutorial that shows you how to create the perfect two-block haircut.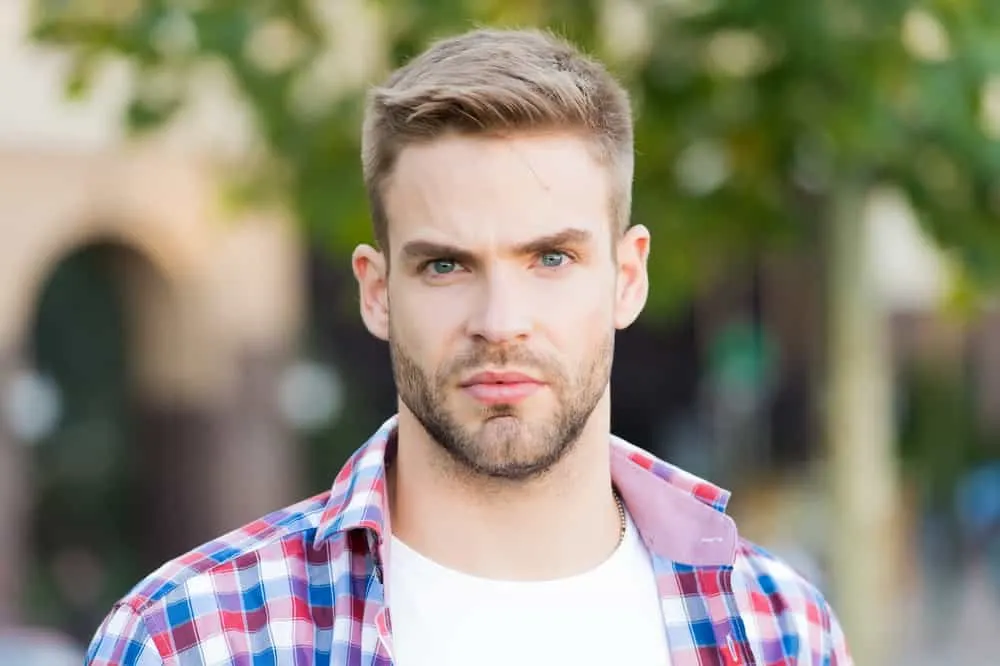 4. Faux Hawk
Do you want a hairstyle that's bold and edgy but still polished enough for the workplace? If so, we'd love to introduce you to the faux hawk. As you can probably tell from the name, a faux hawk is a less extreme version of a mohawk.
Men's Haircut Tutorial - Fohawk Haircut Fade - TheSalonGuy
On top, it has a ton of volume, length, and texture.
But faux hawks have shorter hair in the back and on the sides instead of shaved sides. Keeping the height and volume on just the top of your head balances out a large forehead by drawing people's eyes upward.
The key to getting this forehead-flattering effect is styling your faux hawk correctly. To do that, apply a medium hold gel, paste, or pomade to damp, freshly washed hair.
Rake your hair up and back until you're satisfied with the volume.
Once you've blocked out your basic shape, ruffle through your strands to encourage clumping and definition. If you've decided this eye-catching style is for you, watch a video demo like this one for more styling tips.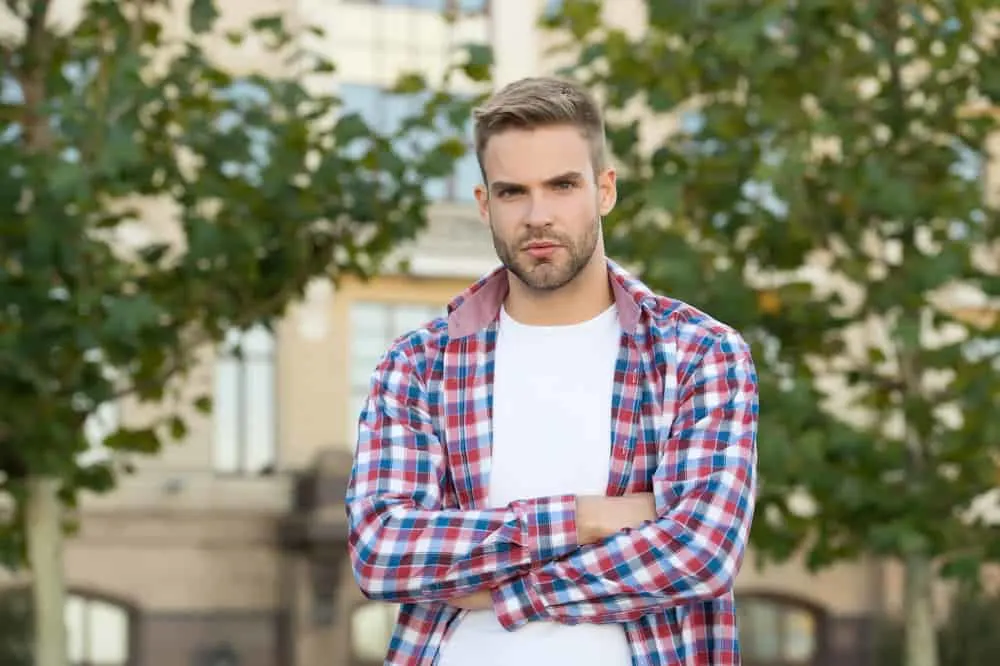 5. Slicked Back
Looking for a hairdo that oozes sophistication and class? A slicked-back hairstyle is the epitome of refinement and involves slicking your hair straight back. It's simple, high impact, and looks positively dapper.
Slicked Back Hair Styled with Gel and Pomade Tutorial
And that brings us to the best part: slicked-back hairstyles can work wonders on a large forehead. They add height and volume to the hair, which can make your forehead look smaller by comparison.
To create a perfectly polished slicked-back hairdo, get the back and sides of your hair cut slightly shorter than the top. Next, apply a medium hold gel or pomade to damp hair and brush it back.
Let your hair air dry for a while before applying more product to keep your hairdo in place and add a megawatt shine. Finally, use a comb to smooth flyaways and give your hair a glossy finish.
Want even more tips on how to recreate this sleek, slicked-back look? This video tutorial will guide you through the process step-by-step.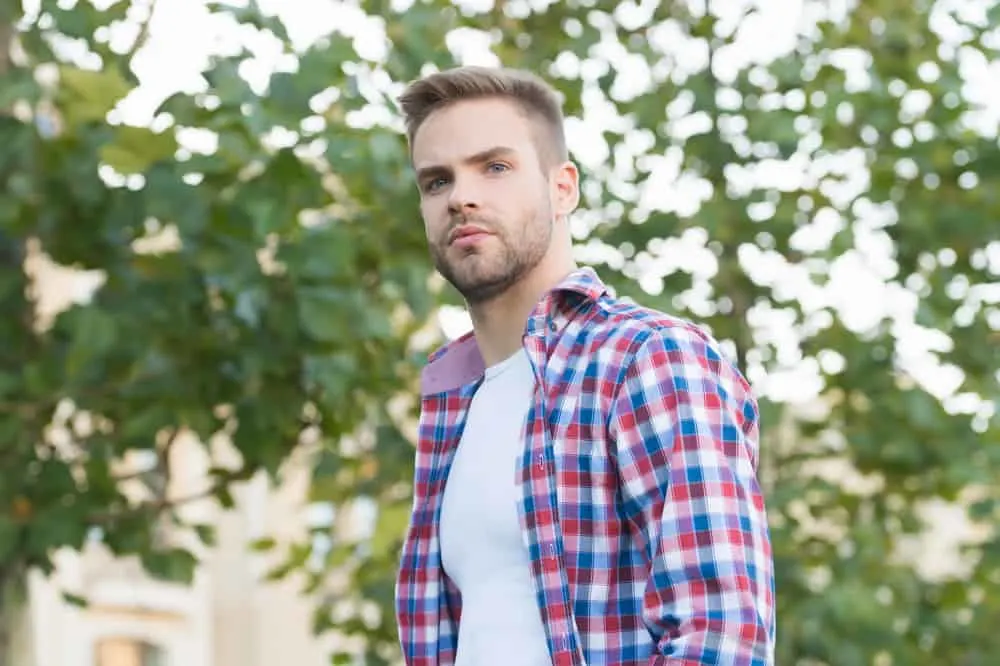 6. Textured Quiff
Our next big forehead-friendly haircut is an oldie but goodie. A quiff is a short haircut in which the sides and back of your hair are cut slightly shorter than the top.
Men's Step by Step Faded Haircut | Modern Quiff Hairstyle for Summer
They have a ton of fullness and texture on top, which creates a dramatic contrast against the sleekness of the sides. Additionally, this top-heavy fullness highlights the center of your face while drawing people's eyes away from your forehead.
The best thing about textured quiffs is that the cut does most of the hard work. To style it, simply work a little pomade, wax, or gel into your hair and brush it in your preferred direction.
Then, use your fingers to pinch and roll small sections of hair. That will give your hair a soft, slightly tousled texture. Need a little more inspiration? This tutorial shows you how to create a trendy and stylish quiff that's perfect for virtually any occasion.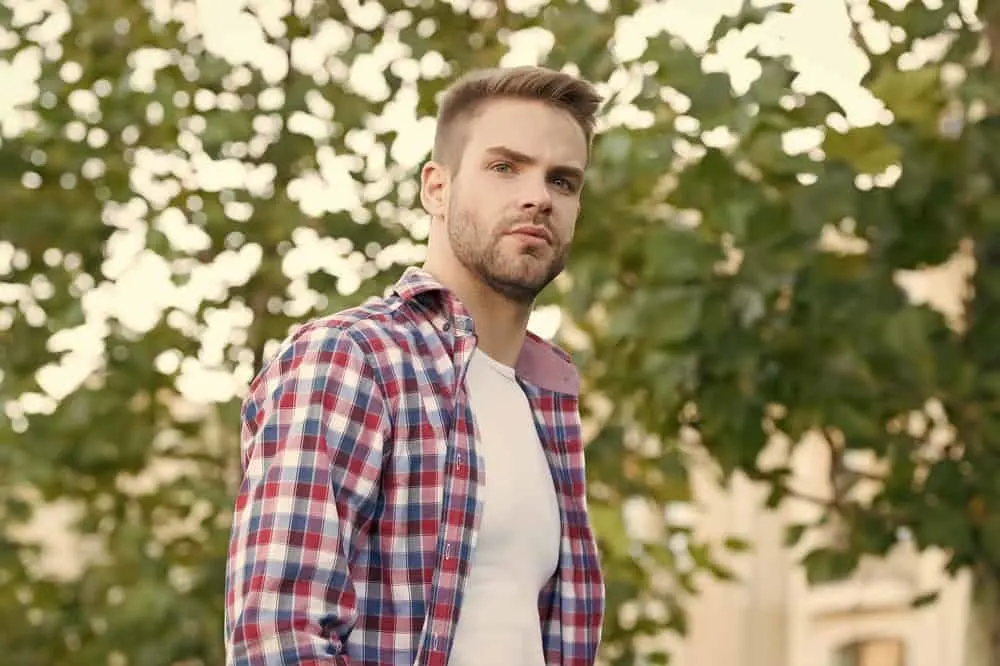 7. French Crop
One of the best short haircuts for a big forehead is a classic French crop. A French crop is a short style with textured hair on top and short sides.
French Crop "Edgar" Men's Hair Trend 2023
They're an incredibly low-maintenance cut that can help balance out a large forehead by giving the illusion of a more symmetrical appearance.
To create a French crop, ask your barber to take all your hair down to one to two inches. Then, have them take in the back and sides.
Depending on the length of your hair, you can either style your French crop by brushing it all forward or pushing your strands to either side. Either way, you'll love how quick and easy your hair is to style in the mornings. Check out this helpful tutorial for more information.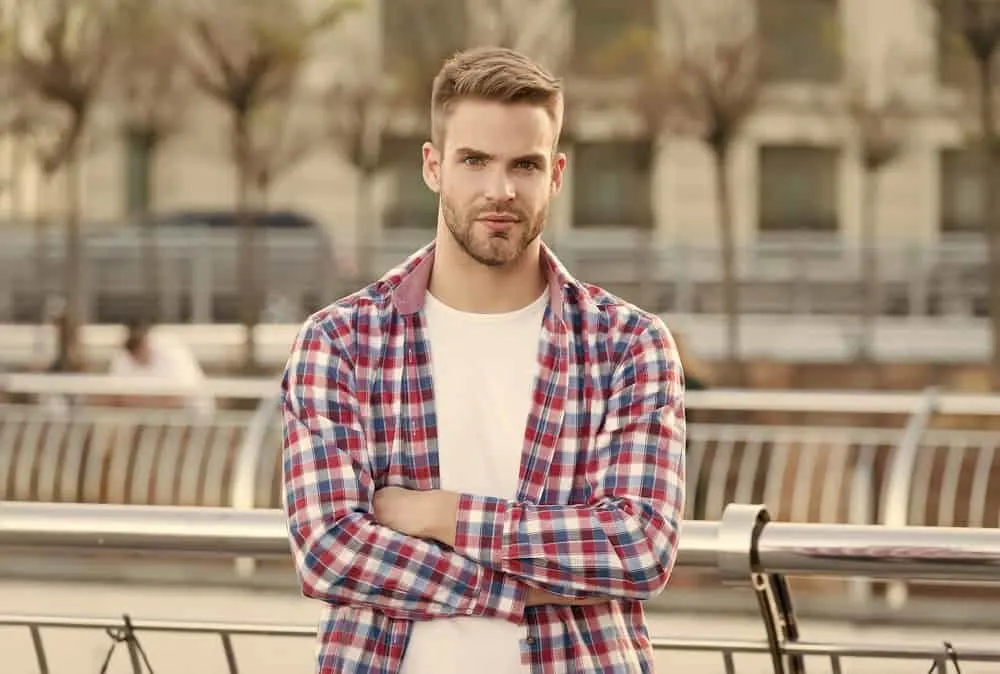 8. Messy Bun
Wondering what to do with your long locks? Well, don't worry because we didn't forget about you! Messy buns are a great way to draw attention away from a large forehead. And unlike sleek buns, messy buns have a ton of movement and volume.
3 Easy Bun Hairstyles: Man Bun Tutorial
That can balance out the width of your face and give the illusion of a smaller forehead. Messy buns are also great at keeping your strands from falling into your face, making them an excellent option for men who are always on the go.
For an even more forehead-flattering look, try sweeping some of your hair over your forehead before you gather it into a bun. Just keep in mind that your hair will have to be long enough to pull into a full ponytail.
And as a result, this look is only for guys with medium to long hair. But if your hair is long enough to pull off a messy bun, you can watch this tutorial for tips on how to get it just right.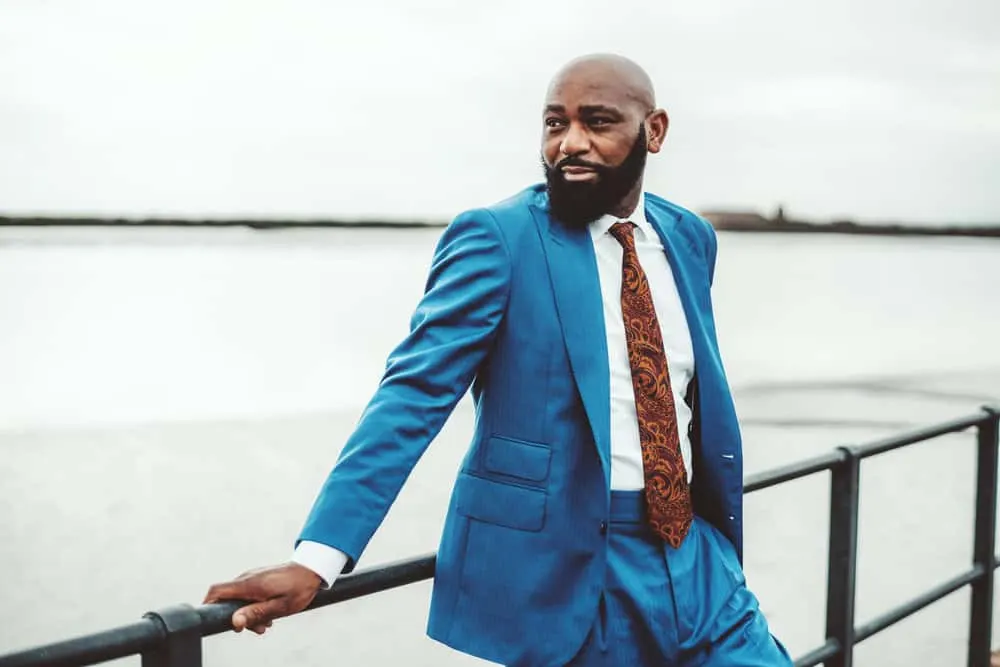 9. Buzz Cut
Haircuts don't get any simpler or more classic than a simple buzz cut. A buzz cut is a low-maintenance cut that works well for men with large foreheads.
Pro Barber Teaches Amateurs How to Shave Their Heads | GQ
They're cut the same, short length, all the way around the head, which creates a more symmetrical appearance and helps highlight your handsome face.
Buzz cuts also soften the delineation between your forehead and hairline, which makes your face appear smaller and more proportionate.
To create a buzz cut, use a pair of clippers to cut your hair to one-fourth of an inch long. Then, when you're ready to style it, smooth a pea-sized amount of oil or pomade over your head.
Buzzcuts are super short, which makes daily styling a breeze. The key to getting a great hairstyle is to focus on your cut. Don't know where to start? Watch this video tutorial to learn how to cut the perfect buzz cut.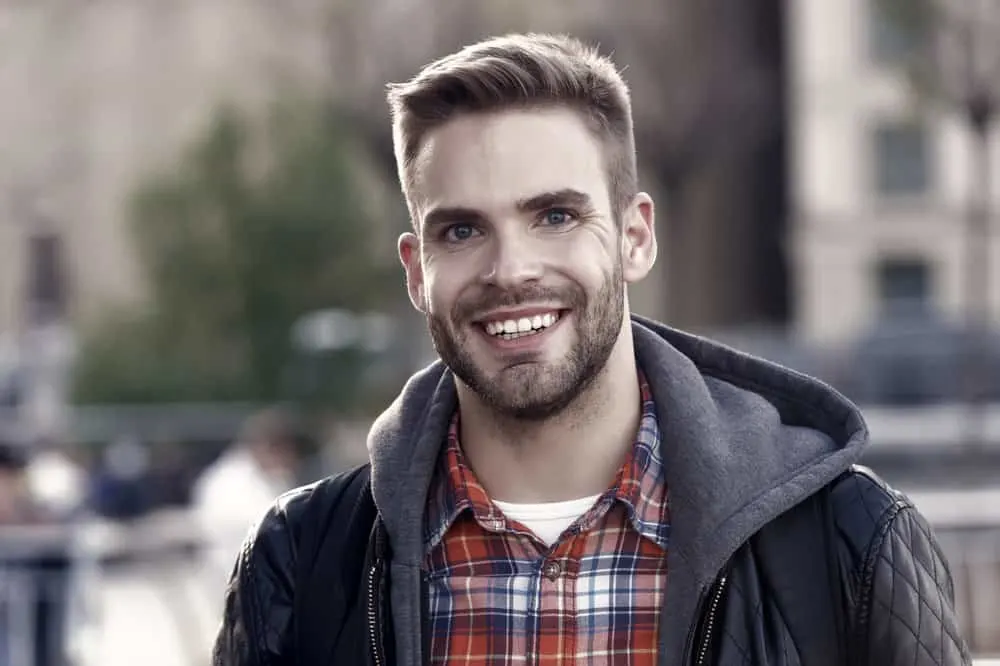 10. Crew Cut
If you're looking for a low-maintenance and practical haircut that's ultra-flattering and easy to style: look no further. A crew cut is a short and simple military-inspired haircut that features short hair all the way around your head.
The American Crew Cut: A Timeless Men's Hairstyle
However, the hair on the very top of your head is left slightly longer, creating a balanced, proportional look that flatters a wide range of face shapes.
And despite being one of the shorter haircuts, crew cuts can be versatile.
You can wear them with a side or middle part or add some texture with some styling product. Either way, crew cuts are perfect for guys who want to draw attention toward the center of their face without spending hours getting their hair just right.
To style your hair in the morning, all you'll have to do is smooth a little product onto your hair. And that's it! Take a look at this video if you'd like to learn more.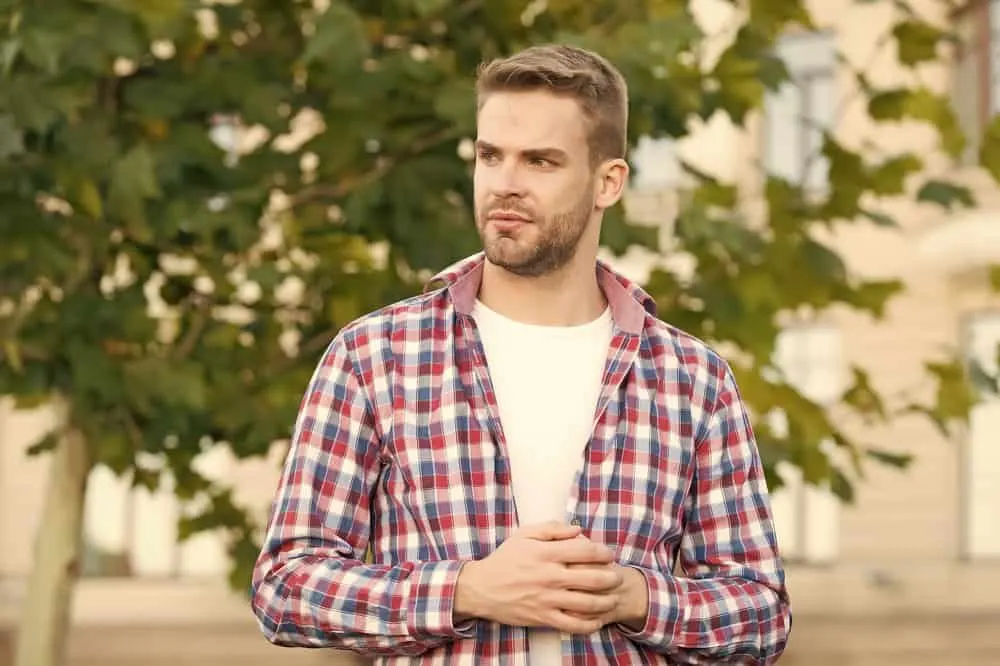 11. Side Part
Even small tweaks to your hair can instantly make it more big forehead friendly. Side parts can help to create the illusion of a more symmetrical face and draw attention away from a large forehead.
Messy High Part Hairstyle | Quick & Easy Mens Hair Tutorial
And since this hairstyle centers around a part, it's nearly effortless to pull off! Just create a deep side part with a comb, and comb your hair to the side. Then, smooth a pomade over your hairdo to slick everything down.
It's important to note that repeatedly parting your hair the same way each day can lead to thinning and a loss of volume.
So make sure that you switch up your part every month so your hair never has a chance to get used to your part. Ready for more styling help? This video demo shows you how to create a sleek and modern side part that's perfect for any occasion.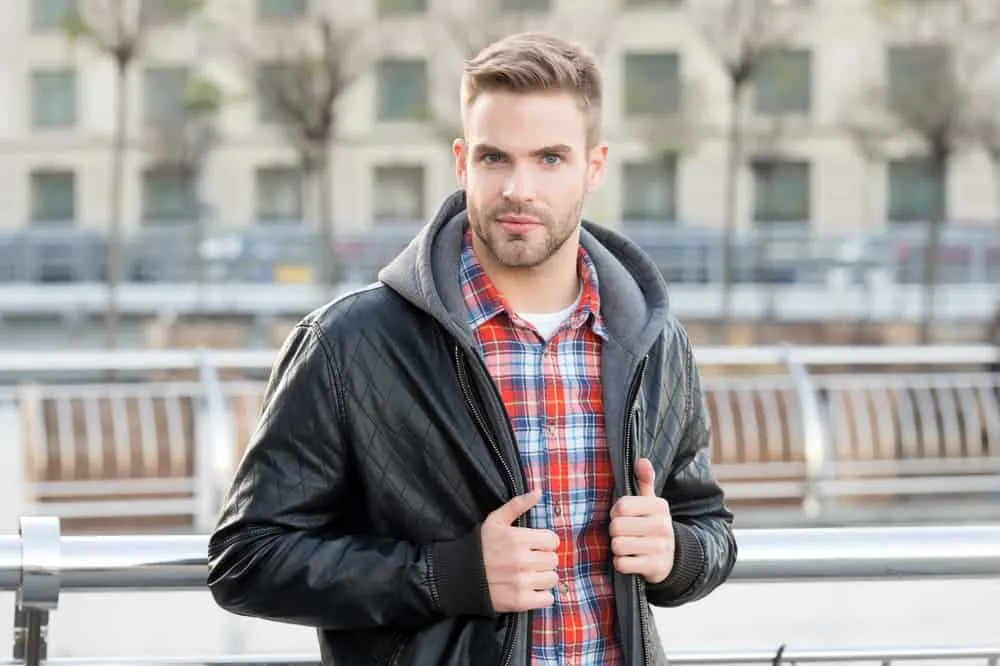 12. Textured Crop
This haircut is perfect for guys who want a sophisticated, polished look that still feels modern and on-trend. A textured crop is a simple cut that has short sides and longer hair on top.
Textured Crop Tutorial and Complete Lockdown Restyle
They add significant texture and volume to your profile, which helps balance out an ample forehead. The most important thing about a textured crop is getting your hair perfectly tousled.
To do that, apply a texturizing spray or paste to damp, freshly washed hair.
Next, use your fingers or a comb to pull your hair into place. Once you've blocked out your basic style, gently ruffle your hair until you're satisfied with the texture.
Finally, finger-style your hairdo to ensure that everything is falling perfectly in place. Here's a demo providing detailed information on how to recreate this textured crop.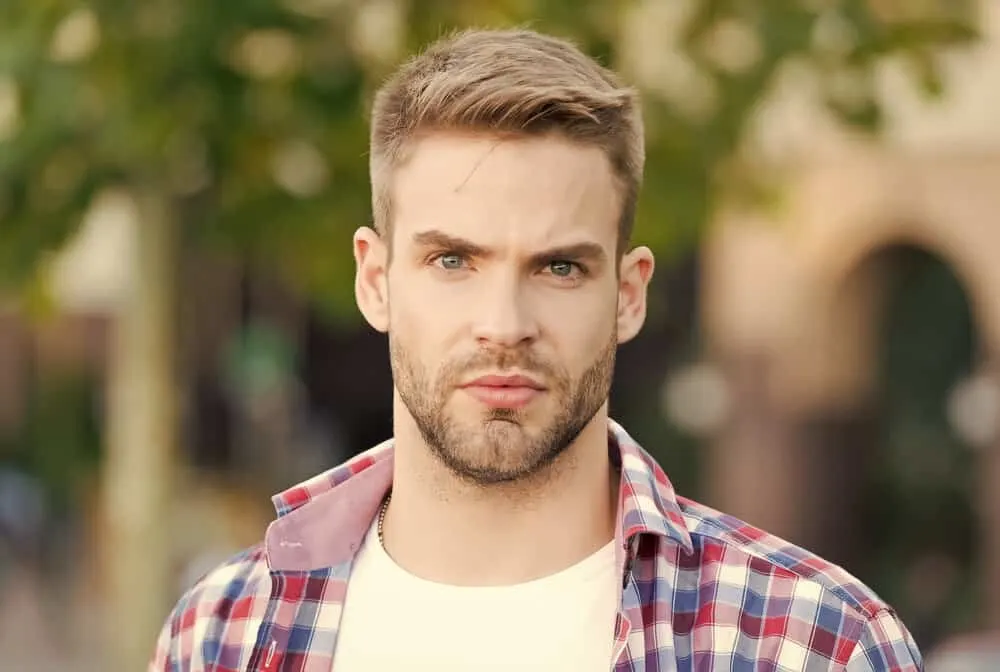 13. Pompadour
A pompadour is another classic men's hairstyle that works well for men with large foreheads. A pompadour features short hair on the sides and back of the head, with longer hair on top.
How to Style a Pompadour Hairstyle | Carlos Costa
The hair on top is typically styled up and back, creating a high-volume retro-inspired look. By adding height and volume to the top of your head, a pompadour draws attention away from the forehead and towards the center of the face.
Starting with clean, towel-dried hair, apply a small amount of pomade or cream to your locks. Next, use a blow dryer and a round brush to lift your hair upward and away from your head.
Once you have the desired shape and volume, use your fingers or a comb to apply a bit of gel or pomade and smooth your hair back.
Finish the style with a light mist of hairspray to hold everything in place. This pompadour might sound hard to pull off, but with this video tutorial, you'll be able to recreate it in no time.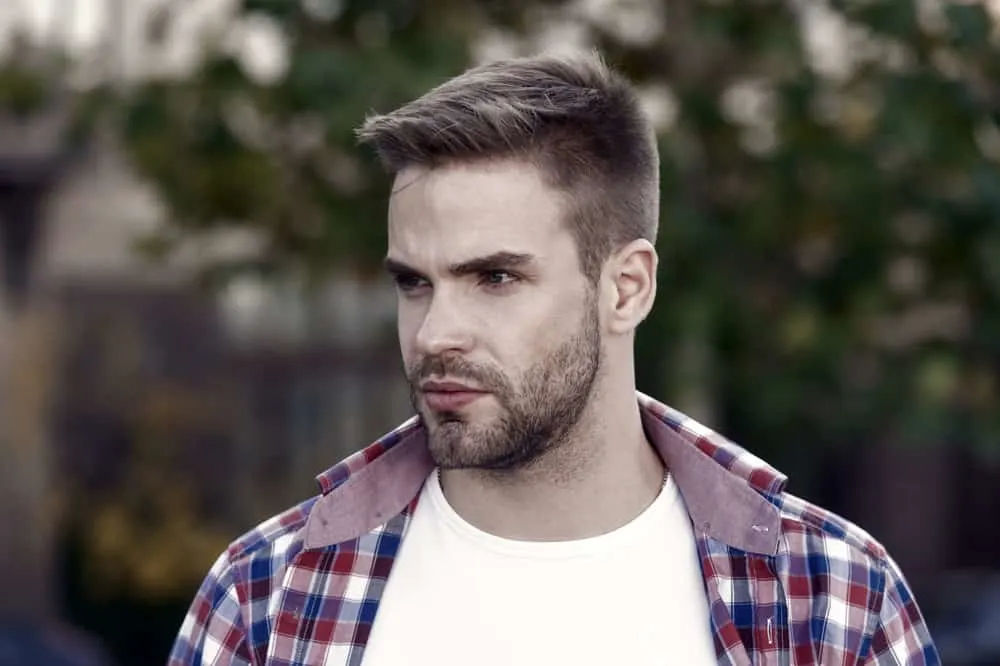 14. Long Waves
Although most of the hairstyles that flatter big foreheads are short to medium length, there are a few that are perfect for longer locks. A long, wavy hairstyle can add volume and texture to your hair and helps balance out a large forehead.
How to style long, wavy hair | ASOS Menswear grooming tutorial
To make your long waves more flattering, shampoo and condition your hair as usual. Towel dry your hair and brush through it to ensure it's thoroughly detangled.
Then, work a curl-defining product into your hair, and create a deep part. Using a blow dryer with a diffuser attachment, gently dry your hair. While you work, twist or scrunch small sections of hair to encourage your natural waves to develop.
After your hair dries, smooth a little gel over your hairdo to prevent frizz and keep your waves soft and shiny. If long waves sound like the right hairstyle for you, check out this helpful video demo for more tips and product recommendations.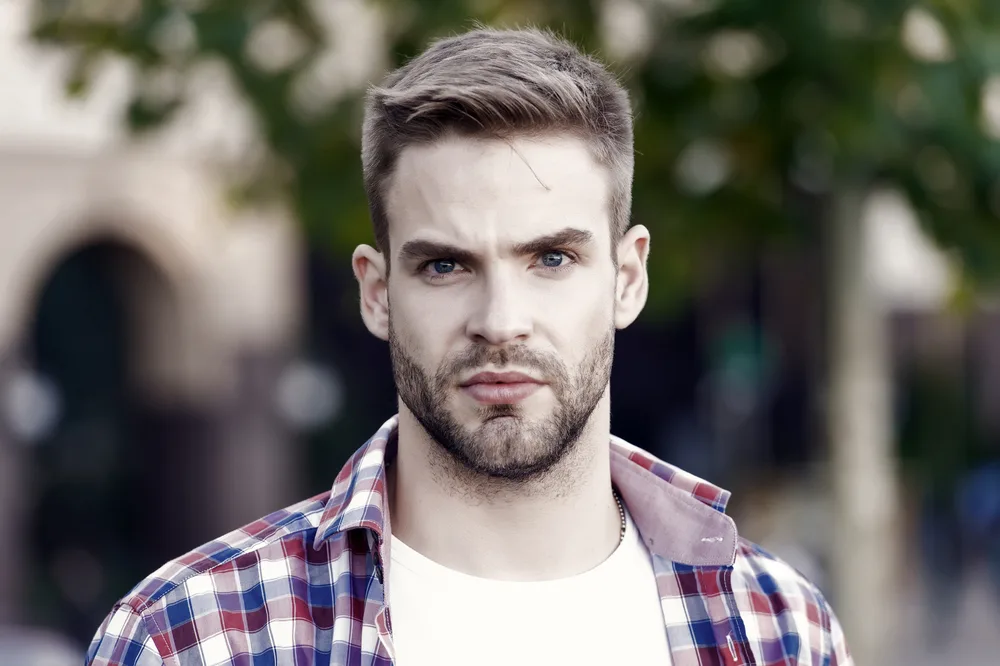 15. Blunt Fringe
Our final hairstyle recommendation for guys with a large forehead is the classic, blunt fringe. Also known as a straight-across fringe, a blunt fringe is a chic men's hairstyle featuring a straight, blunt line of hair that sits just above the eyebrows.
Straight Textured Fringe Haircut For Men | 2019 Hairstyle
The fringe helps to shorten your face, which emphasizes your eyes and creates an overall more balanced look. Keep in mind that this cut only works for men with short to medium-length hair. For longer locks, opt for a side-swept fringe instead.
To style a blunt fringe, blow dry your freshly washed hair straight down using a round brush. Finish your 'do with a small amount of pomade or wax to add texture and hold.
That's all there is to it!
The one caveat to this easy-to-style look is that it can be high maintenance. A blunt fringe is all about clean precision, so you'll have to get your hair trimmed regularly. But if we haven't scared you away, here's a video that further breaks down the cut.
And that concludes our list of hairstyles for men with big foreheads. Big forehead or not, you should never let it limit your hairstyle choices. After all, plenty of cuts and styles look great with a prominent forehead.
From two-block haircuts to textured quiffs, the possibilities are vast!
So have fun experimenting, and take your time finding your perfect hairstyle. That said, we hope that the hairstyles we've covered today are just what you need to shake up your routine and elevate your style!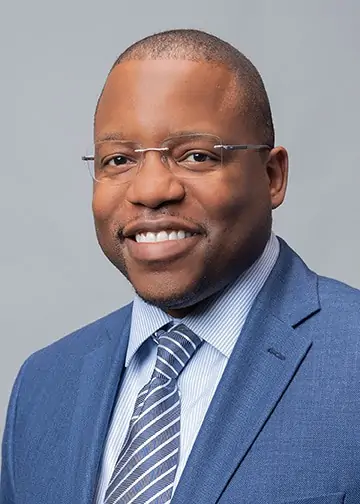 Kenneth Byrd holds a BS in Accounting and Management Information Systems and an MBA from the University of Alabama at Birmingham. With over 15 years of experience, Kenneth has been dedicated to hair care since 2008, when he co-founded Curl Centric® and Natural Hair Box alongside his wife. As a team, they promote healthy hair care practices through their comprehensive platform, Curl Centric. Curl Centric is a website operated by a husband and wife team that encourages healthy hair care. At Curl Centric, we aim to help our readers take control of their hair care journey and make good decisions about products, hairstyles, and maintenance techniques. We also have strict editorial integrity; here's an explanation of our editorial guidelines and how we make money.