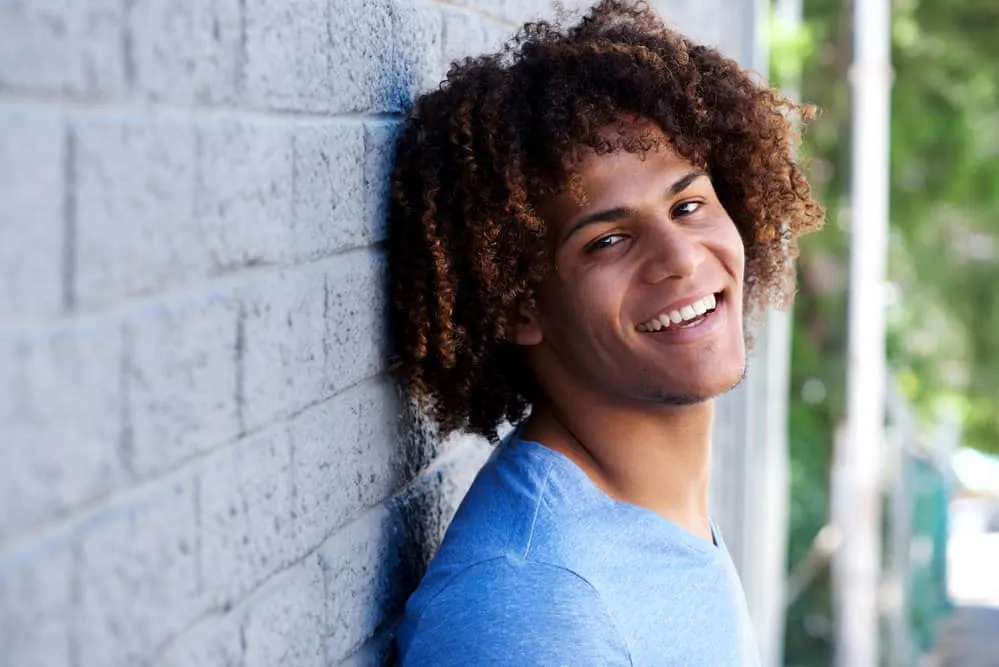 As time goes on, more and more men are experimenting with long hairstyles instead of short cuts. Perhaps it's the fact that long hair is versatile, eye-catching, and relatively low-maintenance.
If you've been thinking about growing your hair out and want to get an idea of your hairstyle possibilities, this is the article for you. In it, we'll showcase 8 long hairstyles for men. Let's get right into it!
Long Hairstyles for Men
Step into the modern world of men's long hair, where versatility and style are paramount. This article will provide an insightful guide to choosing the perfect long hairstyle, whether you have thick hair, thin hair, coarse hair, or a natural wave.
Learn how to navigate between a men's ponytail, a messy bun, or letting your longer strands flow naturally. Discover how sea salt spray can help achieve maximum volume in heavy hair and how regular trims are essential for managing long, straight, and wavy hair.
From dealing with hair loss to finding a universally flattering haircut, like Brad Pitt's disheveled hair, or medium-long hair with light layering, we've got you covered.
Then you'll discover hair products that help control excess frizz in very long hair and how blow drying can assist in creating modern twists to classic long men's hairstyles.
1. Man Bun
The man bun is a popular go-to style for men with long hair. As you might expect, it's essentially a bun worn by a man, and it's no different from a woman's bun. To get a man bun, you'll start by washing, conditioning, detangling, and air-drying your hair.
HOW TO GET A MAN BUN 2021 | Men's Long Hairstyle Tutorial
After you've done all of that, you'll then add your moisturizer and/or gel around the perimeter of your hair. Smooth your hair back into a ponytail and secure it with an ouchless elastic.
Then wrap the remaining hair around the base of the ponytail and secure it with another elastic or a few bobby pins. When you're all done with that part, you can wrap a silk or satin scarf around your head to flatten everything out.
Take it off in about 5 to 10 minutes, and you're all done.
The key to getting a good man bun is to smooth your hair down like it's your job! Use a boar bristle brush to ensure you're not ruining your hair.
The product you use matters a lot too! You'll need a non-flaking strong-hold gel or a pomade with all-day hold capability. Only then will your man bun last.
You'll need at least 10 inches of hair for a good man bun. Watch this video to see how a YouTube creator does his man bun.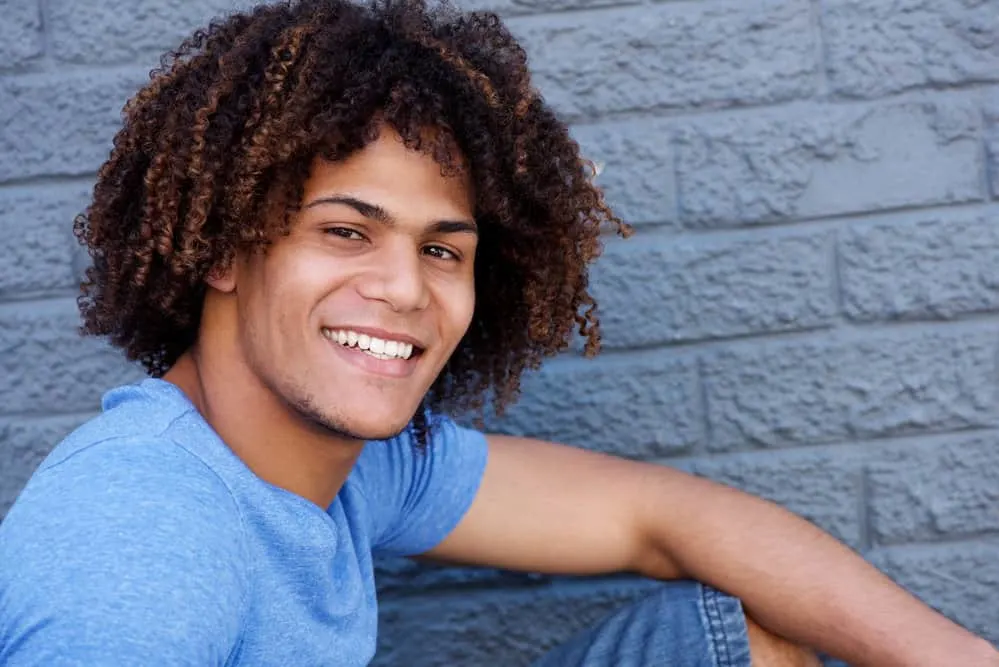 2. Long Wavy Hair
Just because you're a guy doesn't mean you can't wear your hair wavy and down your back. The look is just as eye-catching on men as it is on women, and we're sure you agree.
To get long waves that don't make you look feminine, focus on achieving a tousled texture rather than super-defined waves. To get natural waves, you'll start by washing, conditioning, and moisturizing your hair.
Ideally, you will have detangled your hair during the conditioning process when your hair was coated in a hair product. It's never a good idea to detangle your hair without some type of detangling product on it–and water, of course.
Once your hair is ready for styling, follow the steps below:
Apply the styler of your choice. Shea Moisture, Maui Moisture, and Design Essentials all have great stylers for wavy hair. You'll apply the product from roots to ends, unless your roots tend to get flat. In that case, you'll stop applying the product about an inch from your roots.
Scrunch the product in with your hands. You can do so while your hair is hanging down in front of you; bending over will get your hair in the right position.
Blow dry or let your hair air dry.
Finger-style as necessary.
HAIR CARE FOR MEN | My hair care routine | Jorge Fernando
Watch this video to see a YouTube creator style his natural waves.
For those who don't have natural waves, you can get some tousled waves by following the below steps:
Separate your clean, dry hair into two to five sections. The number of sections you make will depend on how loose you want your waves to be. The more twists you make, the tighter your waves will end up.
Apply some moisturizer or styler to the first section.
Twist that section from the roots to the ends.
Repeat the previous two steps on the rest of your hair.
Allow your hair to dry completely before taking down all the twists or braids you made.
Your hair may be a little stiff after the take-down process, so scrunch the hair upwards to break up the product cast.
Finger-style as needed.
Do your ends look frayed and dry? That's a sign that it's time for a haircut. Take a trip to your local barbershop for a trim. Unless your hair is severely damaged, the barber won't have to take off much more than a quarter of an inch of hair.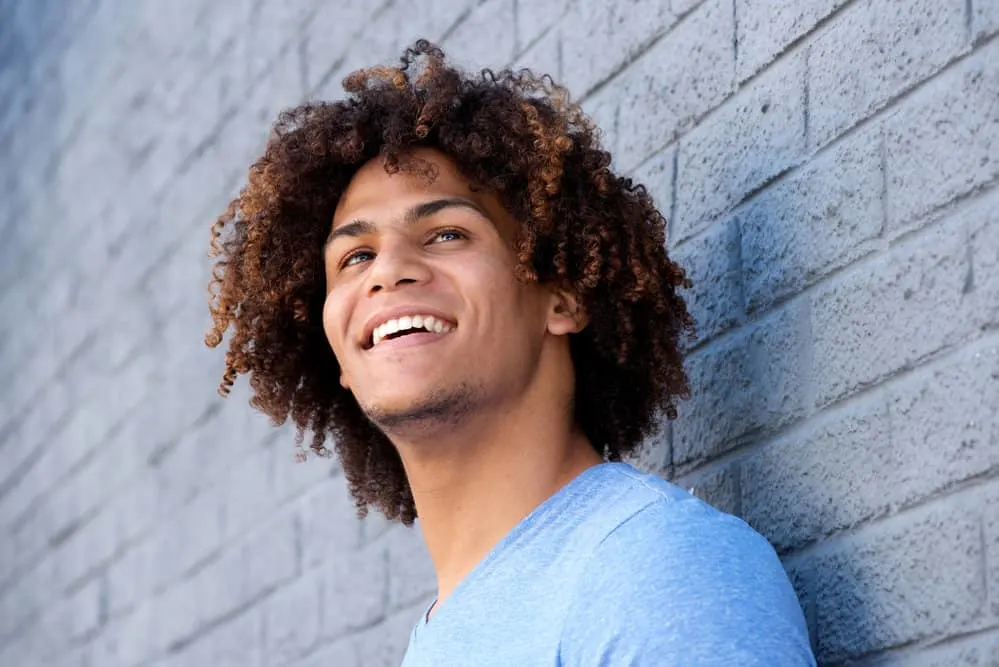 3. Big and Curly
Big, curly hair is growing in popularity among men with naturally curly hair. If you're in the curly hair community, this is the style for you. It'll showcase your natural texture and push your uniqueness factor through the roof.
The best part is that it works for all occasions and most face shapes. Unless your face is incredibly slender and your hair is ultra-voluminous, you won't have any issues with this style.
Getting big and curly hair is all about encouraging volume during the styling process. Here's how to make it happen:
Wash, condition, detangle, and moisturize your hair.
Smooth the styling product of your choice through your strands. Rake it in and then smooth it through.
Wait for the hair to dry.
Pick out your hair at the roots with a styling pick (optional). This step lifts the hair up and away from your scalp to make it appear bigger. You can pick as little or as much as you'd like, but be gentle. If you aren't, you could rip out strands of hair or cause split ends at your roots.
Curly Hair Routine | Men Routine
You may need to tweak your styling routine to fit your unique hair, so don't be afraid to veer from the instructions above. You can also watch video tutorials for some additional help.
Just like with long and wavy hair, if you want your big, curly hair to look good, your mane should be free of split ends and damage. If it isn't, you should definitely see a stylist and ask them to trim away any damage.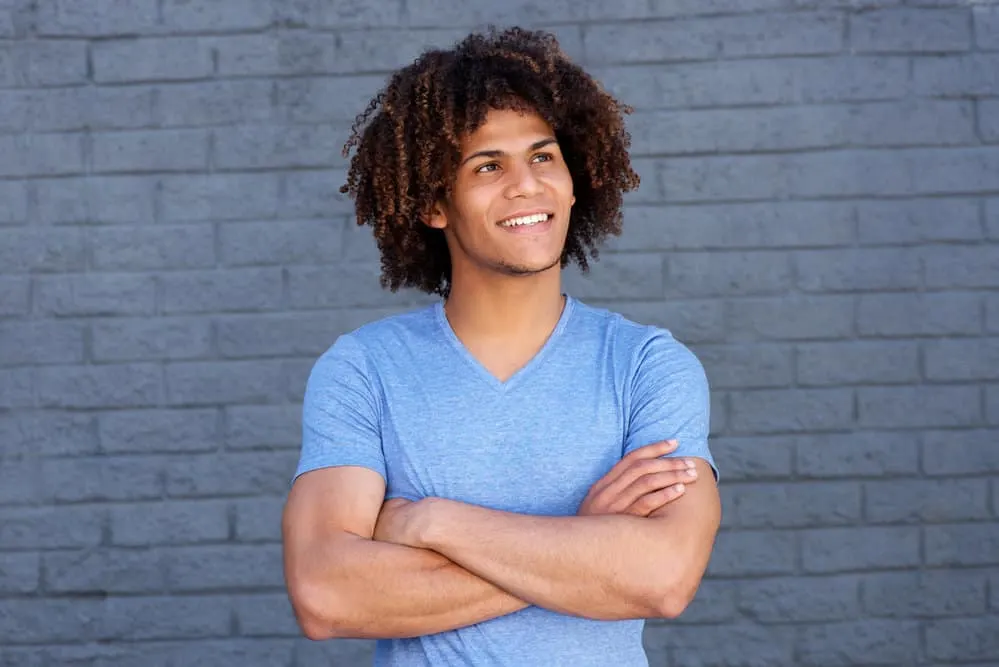 4. Shoulder Length Hair with a Side Part
If you're looking for a style that's more on the relaxed side, a simple side part may really appeal to you. This style simply requires you to use a comb to create a side part and then style your hair as usual.
The style takes a few minutes tops and has a very low-key vibe that resonates with many guys. For those who are not used to styling long hair in this manner, here's a condensed set of instructions to help:
Part your freshly washed and conditioned hair on the side. A comb is the best option if you want your part to be clean, but you can get away with using your fingers.
Apply a moisturizing or styling product to your hair.
Comb the product through your hair for even distribution.
To enhance your natural texture, gently scrunch the ends of your hair up toward your roots. Do this all over your head.
Let your hair air-dry.
Classic Side Part | Men's Hair | My Hairstyles | Ruben Ramos
If you want the look to be straight, you can use a blow dryer and round brush to dry your hair after washing it. Then use a serum to smooth your hair backward and away from your part.
You may also need to use a holding spray or pomade to make your part stand out. Watch this video for a visual demonstration.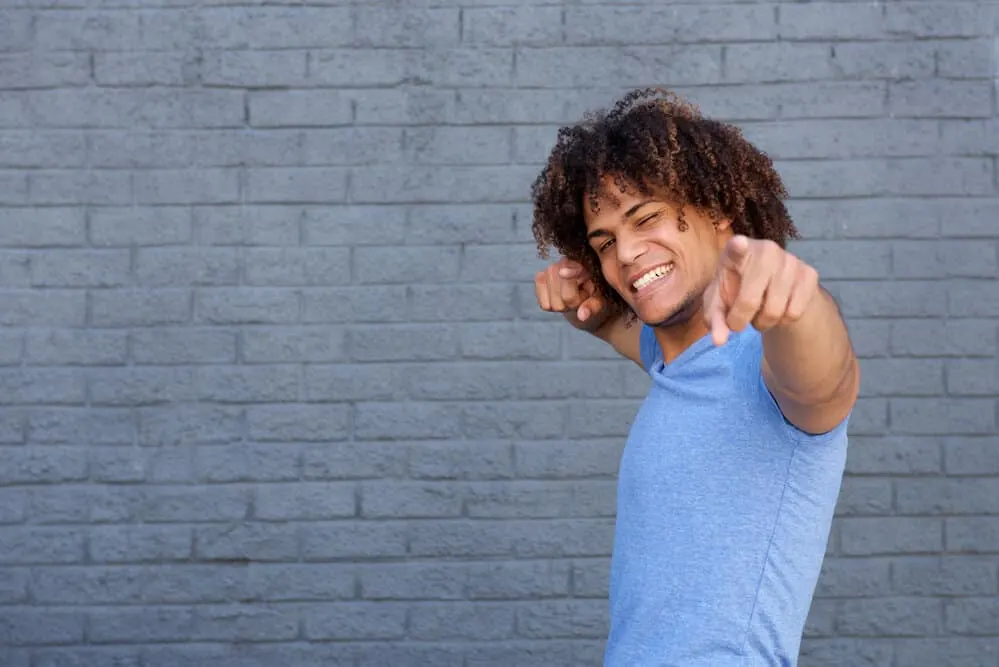 5. The Leonardo DiCaprio
The Titanic film broke many hearts when it premiered in the late 90s. One of the main characters we fell in love with was Jack, played by Leonardo DiCaprio. The unforgettable character had a head full of luscious locks that were voluminous and parted slightly to the side.
If you want to channel your inner DiCaprio, try this style!
To get the look, you'll need at least 8 inches of hair in the front to make up the DiCaprio fringe. The hair on the side should be around 4 inches long (the sides are tapered, so some of the hair will be shorter than this).
In the back, the hair will be about 6 to 7 inches at the longest. There should also be many choppy layers, as well as tapering along the sides and near the nape.
We strongly urge you to get a professional cut to recreate this look. Without a precise cut, the final result won't be true to the film. When you go into the barbershop or salon, take several pictures of Jack's hair to help the stylist/barber get a clear idea of what you're looking for.
Once you get the cut, it's time for styling. With your hair still wet from the washing and conditioning process, take the following steps:
Dispense some leave-in conditioner into your hands and rub them together.
Run your fingers through your hair to apply the product.
Spray your hair down with heat protectant and comb it through.
Blow dry your hair straight using a blow dryer and a brush. Direct the hair downward.
Dispense a pea-sized amount of your favorite hair wax or pomade into your hands and rub them together.
Apply the product to all of your hair.
Use your fingers to finish styling your hair to look like Jack's.
Men's Hair | Leonardo DiCaprio Inspired Hairstyle Tutorial
Do you learn better with visual demos? Watch this video to find out more about the styling process. Maintenance is easy with this style. Just go back to your stylist to get a trim every few weeks to a month.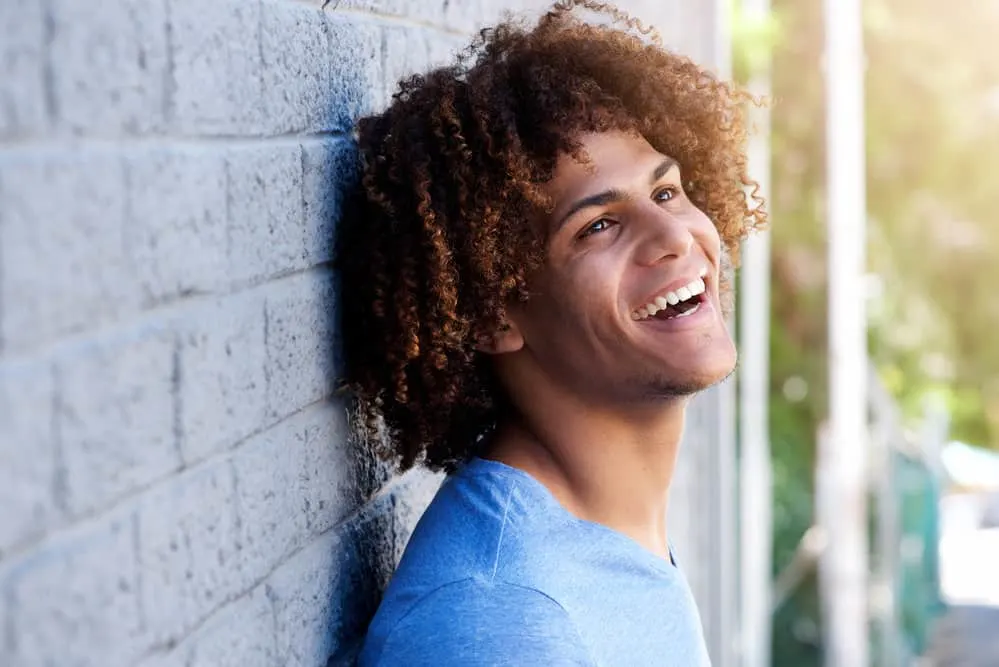 6. Viking Half-Up Half-Down
The Viking hair trend is alive and well among men with long hair. Styles like these usually incorporate hanging hair, ponytails, and braids. The Viking half-up, half-down style has all of these elements.
The front portion of the style incorporates a couple of cornrows and braids in addition to a ponytail. The back is left to hang downward. The look in itself is rugged in a peculiar kind of way and pairs well with thick facial hair.
TRY THIS LONG BRAIDED VIKING HAIRSTYLE FOR MEN | TUTORIAL | INDIA
To do this style, you should know (or be willing to learn) how to do cornrows and three-strand braids. If you don't execute this right, the style may look a little messier than it should. Here's a good video tutorial to show you step-by-step how to pull the style off on straight hair.
Note: Don't be discouraged if you don't have the skills or time to perform this hairstyle yourself. You can always go to your local hair stylist or barbershop to get the look professionally done. You shouldn't pass up on this hairstyle simply because you can't do it yourself.
As a forewarning, there are many who aren't used to seeing fantasy-like hairstyles on others. So, you may get some interesting looks if you wear this hairstyle out and about.
You should be prepared for this prior to deciding on this style. Depending on your personal motivations, you may decide that you want the attention. Otherwise, this could be an issue.
This Viking hairstyle is for the guy who wants to style his hair and not worry about it for a few days. If you sleep with a silk or satin scarf or bonnet, you may be able to get the style to last for a while.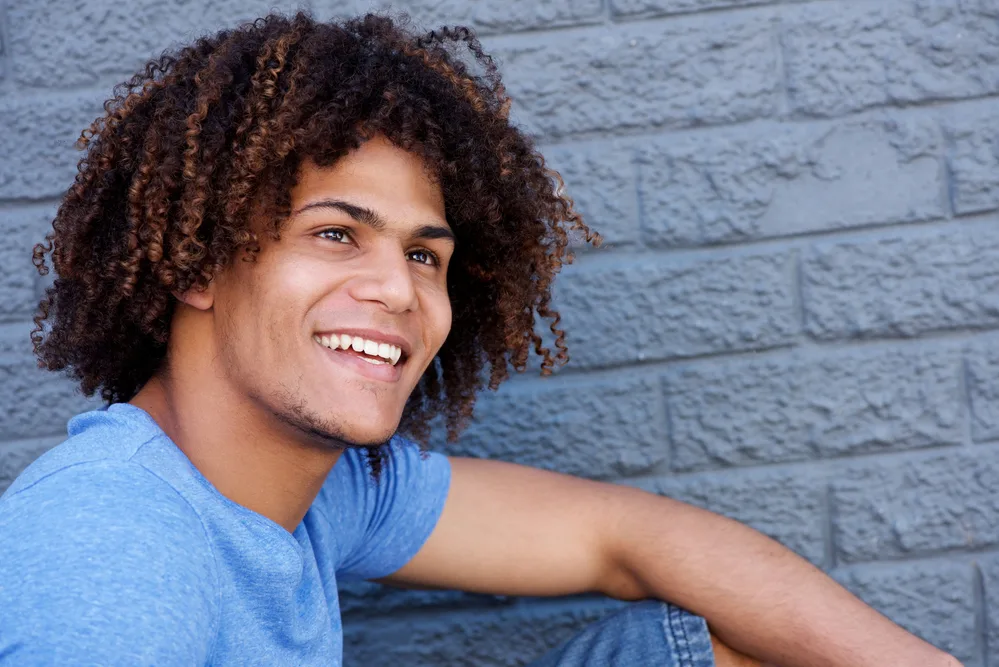 7. Hanging with Layers
Layers are a fantastic addition to any long mane. They add dimension, personality, and volume to the look for a bigger overall impact. The best part is that you don't have to sacrifice any length to get them.
This particular look is versatile and carefree. There are no super-defined areas, and you don't have to worry if there's a hair out of place here and there. The hair simply hangs down in cascading layers.
Wondering if this look is for you?
It's a great option for anyone who wants a look that's naturally disheveled. It will need daily styling, but you don't have to be meticulous about it.
All you'll need to do is spray your hair down with a leave-in conditioner or water, scrunch your hair up a bit or finger-style, and then let it air-dry. You can also add a little bit of oil to lock in some moisture for the day.
To get layers that complement your face rather than overwhelm it, your best bet is to see a stylist or barber in your area. They know how to tailor your style to your unique facial shape, preferences, hair length, and more.
But you can also test your skills with an at-home DIY cut.
Long Layered Mens Haircut Tutorial
Just make sure you reference a good video tutorial to carry you through the process. Doing so will help you avoid an undesirable result.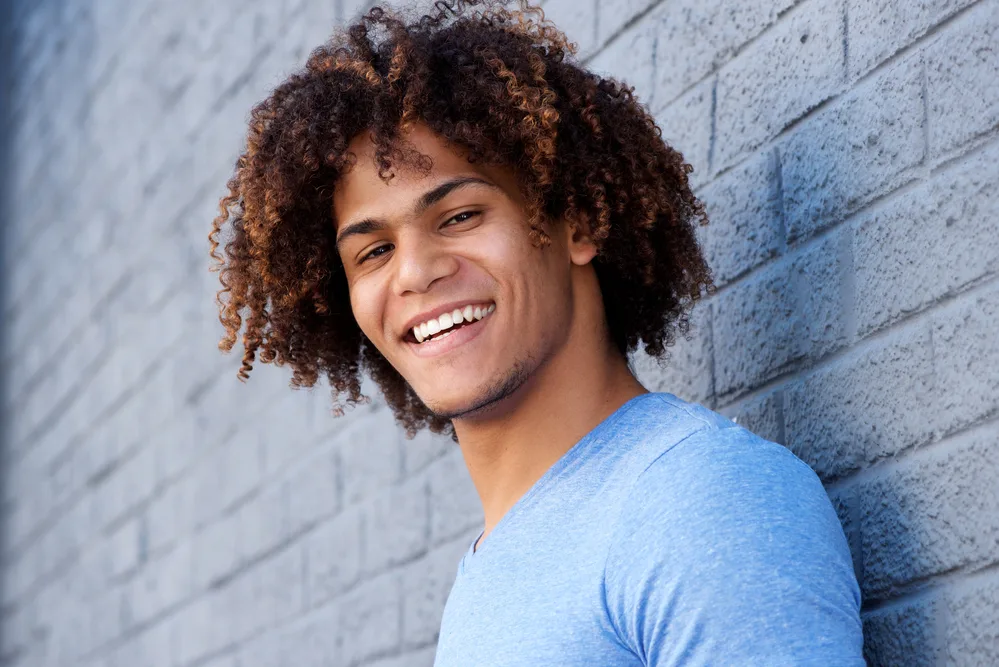 8. Wolf Cut
Looking for something ultra-trendy? The wolf cut went viral in 2021 and is still mega-popular today. The wolf cut takes cues from both the mullet and the shag. It's the reverse of what you'd usually expect from a man's haircut: long layers in the back and sides and short layers in the front.
The finished look is voluminous, edgy, and almost animalistic.
The wolf cut looks great on people with long hair and virtually any face shape. Your hair type doesn't matter, either. The cut looks best on loose curls or waves, but if you know how to finesse it, you can get the look on even the curliest locs.
As you may expect, your hair will not look the same as the classic wolf cut (which is usually done on looser hair textures). Getting the wolf cut right is difficult for most untrained at-home DIYers.
That's because there's a very thin line between a good wolf cut and a bad wolf cut. You must strike a balance for the layers to work.
Wolf Hair Cut Tutorial & Styling
If you're going to try DIYing the wolf cut, we recommend finding an informative video tutorial that shows you every step.
After your initial cut, you'll have to style your hair to keep it looking good. But it's a no-sweat process for looser hair types. It involves scrunching product into your towel-dried hair and then drying it further.
If you have tight curls, you'll have to spend time detangling, smoothing product into your hair, sealing it in with an oil, and allowing your hair to air-dry. It may seem like a lot at first, but once you get into a predictable routine, styling your wolf cut will become second nature.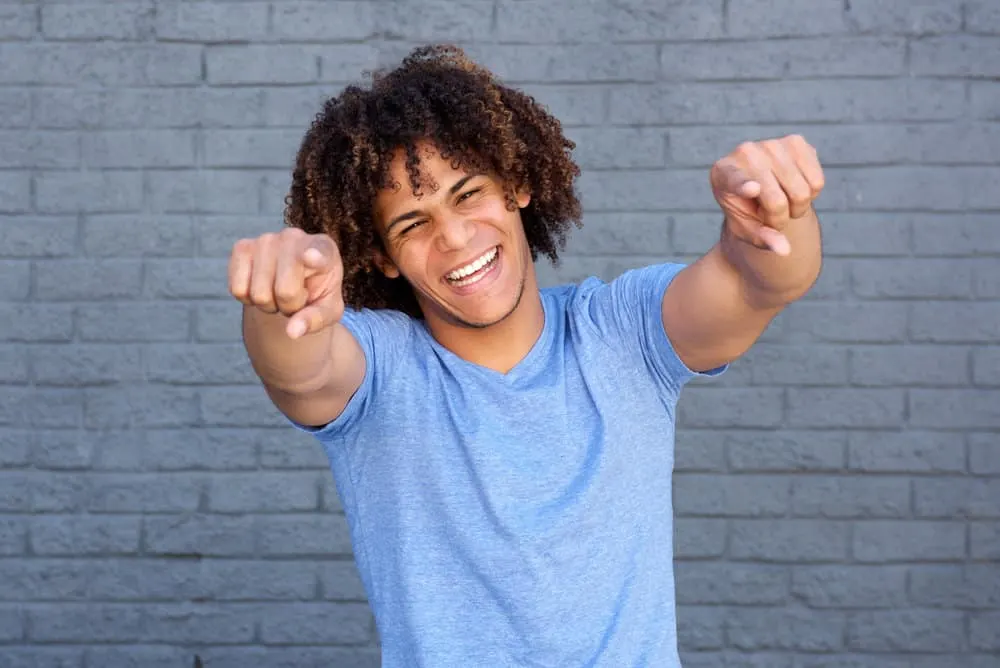 9. Straight and Hanging
Want to showcase all of your length? Go silky and straight! Your hair will fall down to your shoulders and back and blow in the wind. When it gets really long, you'll feel like a hair model 100% of the time.
Wearing your hair long and straight is a no-brainer if you have naturally straight hair. You won't have to worry about chemically processing or heat-styling your hair to straighten it or maintain the look.
But if you don't have straight hair, you've got some work to do.
For guys with wavy or curly hair, the way to achieve this look will depend on how long you plan on wearing your hair straight. If you're thinking about wearing this style for only a few days to a week at a time, you can straighten your hair.
Curly to Straight Hair Tutorial | Hermela
Here's a demonstrative video for that. To minimize damage, try to spread straightening sessions out as far as you can. The less you straighten your hair, the healthier it will be!
For permanent straightening, you can get a relaxer. A relaxer is a permanent chemical treatment that eliminates your curls or waves. You may still need to straighten your hair, as no treatment is perfect.
As your new hair grows in, you'll have your natural hair texture to deal with in terms of straightening. We recommend seeing a professional stylist for a relaxer.
So, there you have it–9 ways to style long hair. We hope you found a longer hairstyle or two that interest you, and we wish you the best with your impending hair change!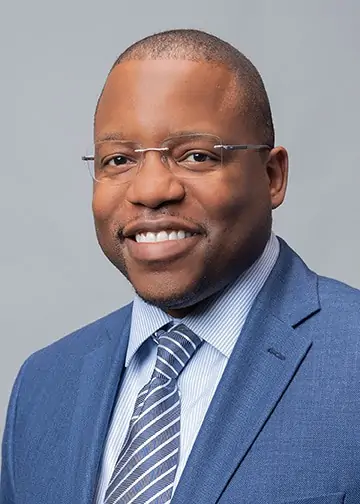 Kenneth Byrd holds a BS in Accounting and Management Information Systems and an MBA from the University of Alabama at Birmingham. With over 15 years of experience, Kenneth has been dedicated to hair care since 2008, when he co-founded Curl Centric® and Natural Hair Box alongside his wife. As a team, they promote healthy hair care practices through their comprehensive platform, Curl Centric. Curl Centric is a website operated by a husband and wife team that encourages healthy hair care. At Curl Centric, we aim to help our readers take control of their hair care journey and make good decisions about products, hairstyles, and maintenance techniques. We also have strict editorial integrity; here's an explanation of our editorial guidelines and how we make money.