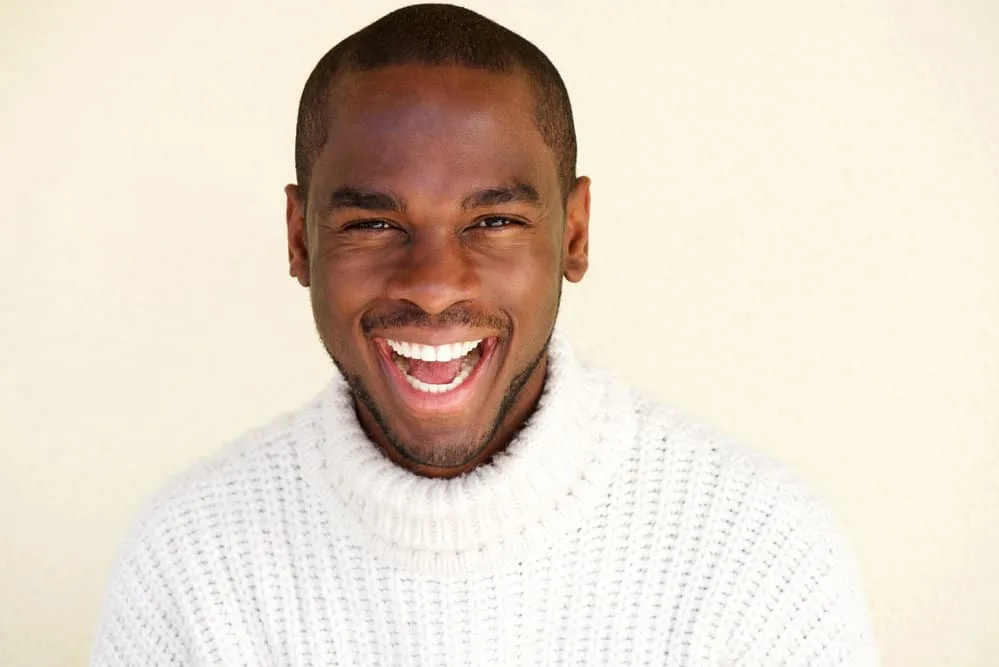 The military buzz cut has stood the test of time and remains a widely popular hairstyle for both on-duty military personnel and everyday civilians.
At first glance, the untrained eye may determine that all military buzz cuts are the same, but that's definitely not the case. There are many types of military buzz cut fades available, and we'll go over them in this article! Let's get right into it!
Military Hairstyles: Buzz Cut Fade Designs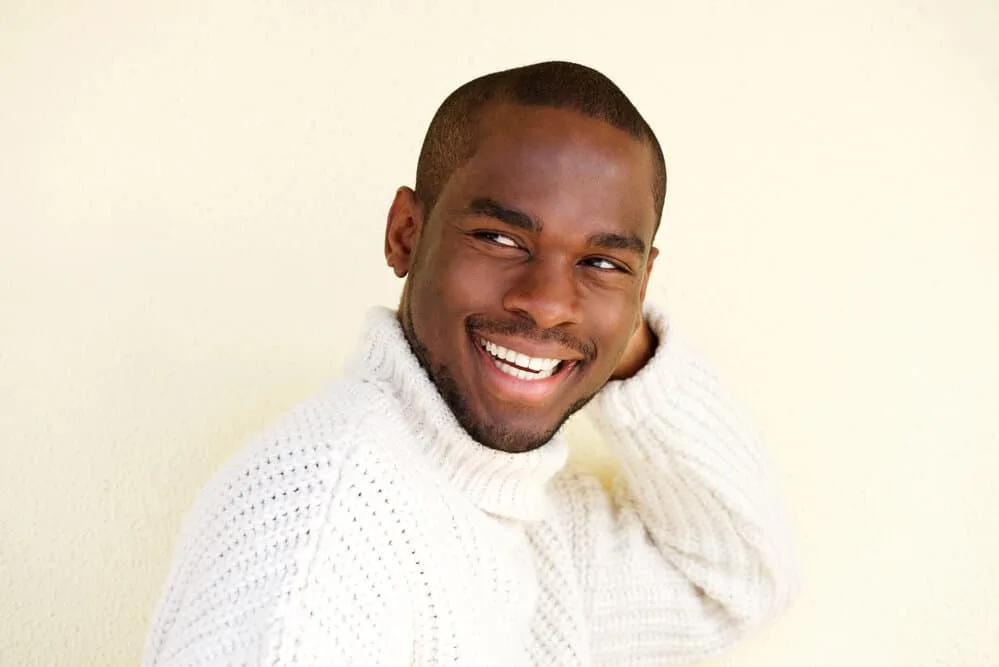 If you're looking for a stylish and attention-grabbing haircut, a military-inspired high and tight haircut might be the perfect choice for you.
In this article, we'll showcase 8 of the most unique and trendy medium-length military haircuts for men that will make you stand out from the crowd.
From subtle variations to more daring looks, these buzz-cut fades will inspire you to take the leap and confidently rock your unique style!
1. Traditional High-Fade Buzz Cut
The traditional high-fade buzz cut is your starting point. Like typical haircuts, the top is the longest, the bottom is the shortest, and there's a fade starting at the temples to add interest and give the cut a clean silhouette.
FLAWLESS HIGH FADE BUZZCUT HAIRCUT TUTORIAL!
Due to its wearability and no-frills aesthetic, the traditional high-fade buzz cut is a great option for the average guy. It'll work with whatever outfit you've got in mind and for virtually any occasion.
You won't have to worry about it ever looking out of place, so it's a safe bet.
But that's not it! The cut features some hard, crisp lines that help to frame your face and make you look more attractive.
Want to try this look out? You've got a couple of options: (1) you can do it yourself, or (2) you can go see a barber for a professional cut.
The first option may save you money, but it's important to realize that your cut may not turn out as good as imagined unless you have considerable experience and skills. For many, making an appointment and getting it done professionally is better.
Your chances of getting the exact look you were going for increase considerably this way. But if you feel like DIYing the cut, watch a good tutorial first. This video should help.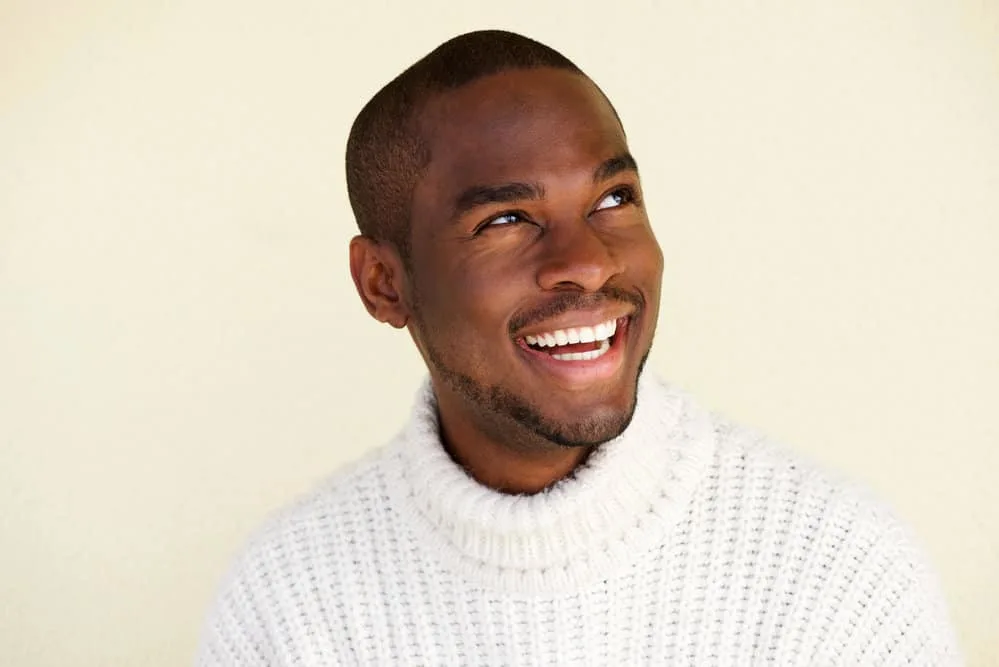 2. Buzz Cut with Mid-Fade
The buzz cut with a mid-fade is almost identical to the previous cut, but the main difference is where the fading starts. In this case, the cut starts below the temples and results in a more rounded silhouette when looking at it straight-on.
SUPER CLEAN MID FADE BUZZCUT HAIRCUT TUTORIAL!
Since the cut is a little less angular than the high-fade version, you may find that it doesn't look as striking. This may be a good thing if you're looking for something low-key. But don't think that the mid-fade buzz doesn't have its perks!
The cut doesn't require any styling; it works for just about any occasion and looks pristine! And all of this holds true for every face shape.
Virtually every barber knows how to execute the cut with precision, so you can walk into almost any barbershop, request the cut, and go on with your day.
For those who like to DIY their haircuts, all it takes to learn how to do a mid-fade buzz cut is to watch a few good video tutorials. That way, you can see step-by-step what you need to do to bring the cut to life.
3. High and Tight
The high and tight is another choice if you want a military-style cut. It's a buzz cut that leaves the top portion of your hair considerably longer than the hair on the sides, which are connected to the top by way of a high fade starting at the temples.
High & Tight Skin Fade Textured Top w/Hard Part Simple To Follow Haircut Tutorial (HD)
The result is a super angular cut that's as clean as can be. If you gravitate towards this style, you're one of many. The cut is a sure stunner, and the best part is that anyone can wear it, from kids all the way up to the elderly.
If you have a little extra weight on your face, the cut will help to elongate your face and make you look more attractive. With a high and tight, you'll be ready to tackle whatever life throws at you.
You can dress up the cut with some slacks and a formal top or a suit and tie. But at the same time, you can dress it down with an urban jumpsuit. And the benefits just keep on coming.
This is a style that only requires a little maintenance if any. You may find a hair out of place every once in a while, but that's nothing a 5-second brushing session can't fix.
If you don't want to do any styling at all, you can keep the top portion of your hair as short as possible. Then, you'll have nothing to worry about on the styling front.
To get this style, ask for it by name at virtually any barbershop. You can also experiment with your own hair and some video tutorials if you're daring.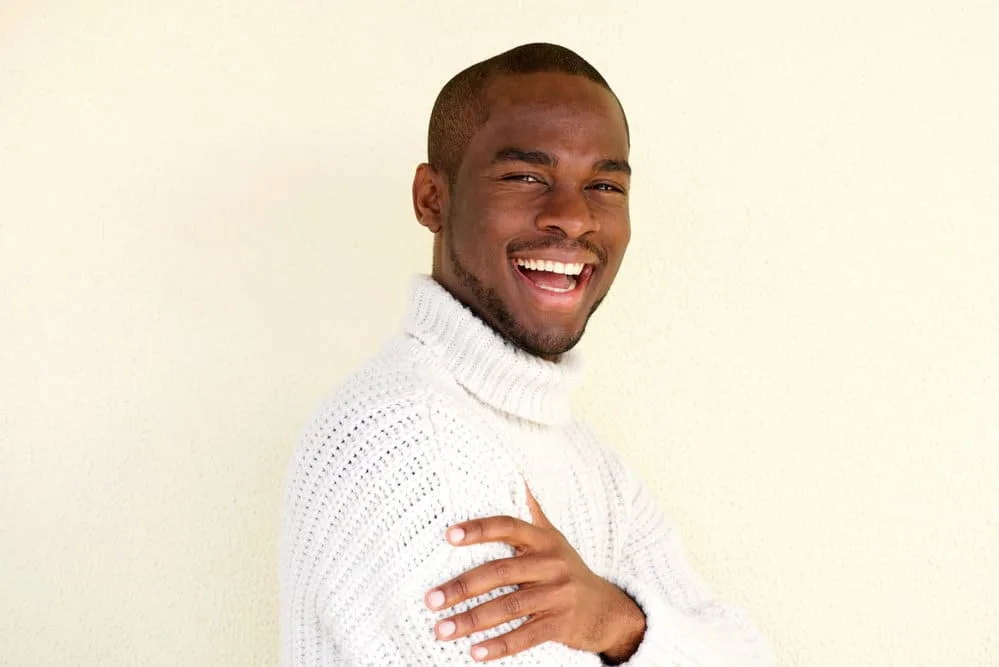 4. Jarhead Buzz Cut
You may not have heard of a jarhead buzz, but chances are you've seen someone with the cut. It's an interesting look that has a whisper of length at the top with a quick fade to the skin above the temples.
JARHEAD MILITARY BUZZ CUT HAIRCUT
The differentiating quality of the jarhead buzz cut is the contrast it creates along the sides of the head.
When it comes to the jarhead buzz cut, you either love it or hate it. If you do love it, we say go for it! Just keep in mind that if you have a long, slender head, the cut can accentuate that and make your head appear longer.
This won't be a problem for the majority of people, but it's worth thinking about before jumping on the jarhead bandwagon. It can be difficult to achieve the jarhead buzz cut on your own hair.
That doesn't stop people from trying, and if you feel like you can turn it out, give it a try! Just watch this video first. It'll show you how to go about it and help stave off a haircut disaster.
Of course, you always have the option to reach out to a barber in your area to do your jarhead buzz cut for you.
5. Short Brush-Up Buzz Cut
For those wanting a little more length up top while still looking put-together, the short brush-up will work like a charm. The cut features short hair on the sides and in the back, along with a much longer top.
Short Choppy Haircut | Mens Textured Fade Haircut For Short Hair
The cut also incorporates a skin fade for a stronger overall finish.
The short brush-up is one of the most popular haircuts among men. It can be worn for its face-framing and elongating qualities, or it can be used to cast a shadow on thinning or balding hair.
Its versatility keeps it on all the hairstyle lists. Since this is a military style, the longest portion of the cut will not be left too long.
Military cuts are supposed to be polished, but if you don't mind veering a little from strict military principles, you can make this haircut your own by adding a little length at the top. Your choice!
Just like with all the other haircuts on this list, you can try DIYing the brush-up cut. You should be well on your way with the right materials and a good instructional video.
But don't be mistaken; you probably won't get the same results you expect from a professional barber. If you can get in a stylist chair, we say to do so.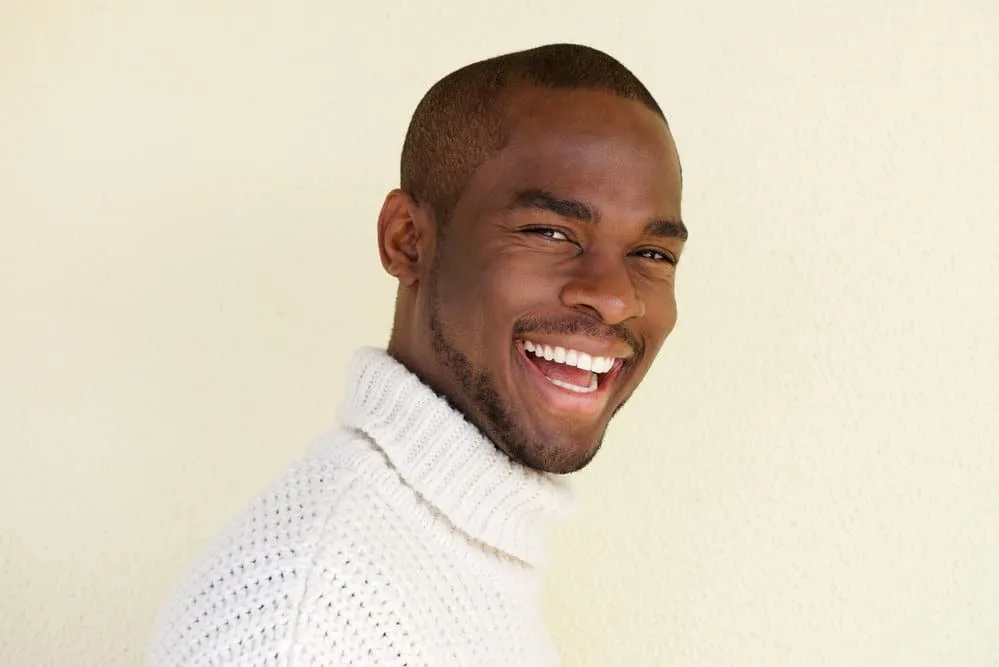 6. Low-Profile Pompadour Buzz Cut
Do you like a little extra up top? A pompadour might be just your speed. This low-profile pompadour cut is made up of short hair around the sides and in the back and much longer hair in the crown.
HOW TO CUT A Skin Fade POMPADOUR
You could go several inches long with the pompadour section (in the crown), but if you want to stay true to the military aesthetic, it's not the best idea to go that route.
In addition, you've got the fade to concern yourself with. Go with a high fade if you want the cut to look strong and angular, or a medium fade for a little more roundness.
A low mid-fade is an option but could result in too little contrast between the hair on your sides and the pompadour up top. A big part of the pompadour cut is styling it after the cutting is done.
You can get a shiny, voluminous pompadour that stays put all day with a non-greasy gel or some hairspray. You don't want to go out without a holding product, or your pompadour will surely fall.
If you want a crisp cut with a smooth fade and a perfectly done pomp, go to a professional. If you're okay with things not being perfect, you can definitely try DIYing the cut. Who knows?
It may turn out a lot better than you think. Just ensure you've got a good-quality video tutorial online to make the process as easy as possible.
7. Military Slick-Back Buzz Cut
If you've never tried the military slick back, you're missing out. This is no ordinary slick-back; it's a structured, clean slick-back worthy of military personnel but not too rigid for civilians.
Slicked Back Skin Fade Haircut
The military slick-back is longest on the top and shortest on the bottom.
The top is left relatively long because you need enough hair up top to slick back with gel, pomade, hair spray, or a combination of these. You can elevate this cut with whichever fade type you want, but a high fade will give you the most masculine overall look.
Since the cut leaves quite a bit of hair up top, you'll need to be willing and able to brush, comb, or otherwise style your hair to keep it looking nice and put together.
Though it can be a drag to style your hair every day, if you're committed to the look, we're sure you'll find it's worth it. When it comes to the initial cutting process for the slick-back military cut, you'll find that it's rather forgiving.
If you don't get the cut just right at the top, it doesn't matter much. You'll be combing or brushing that part back anyway. What's really important to nail with this style is the fading on the sides.
If you've faded hair before or are willing to learn from the ground up, you can make it happen! Watch this video first to brush up on your skills or learn from the ground up. You'll be glad you did.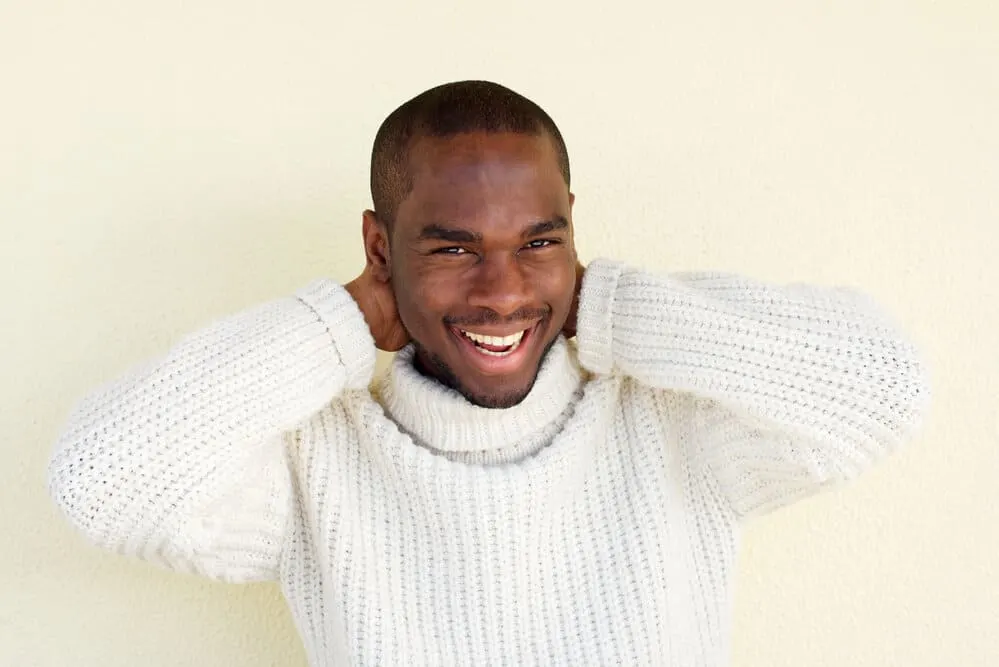 8. Ivy League Buzz Cut
The Ivy League is an interesting cut, as its name suggests. It's got low sides and a low back with a higher top. What makes it different from other buzz cut fades is that it's mostly done with scissors, whereas most other buzz cuts are done with clippers.
How I Cut, Style & Maintain My Hair (Men's Ivy League Crew Cut 2020)
Since part of the cut is done with clippers–the fade and perhaps the sides and back–this one counts as a buzz cut.
You may look at the Ivy League cut and think it couldn't possibly be a military cut. But if you shorten it up a bit, you'll be right in line with the military aesthetic.
To get this cut, you have to leave just enough hair at the top to be able to style lightly.
The fade portion of the cut is not typical of military cuts, either. It's very low and not the tightest, but if you take the faded portion in further, you'll still get the Ivy League essence.
This cut is trickier, so we don't recommend that most people do it themselves.
But who knows? After you watch this video tutorial, you may be able to pull it off without a problem. If you want to guarantee a good-looking Ivy cut practically, a barbershop visit is in order!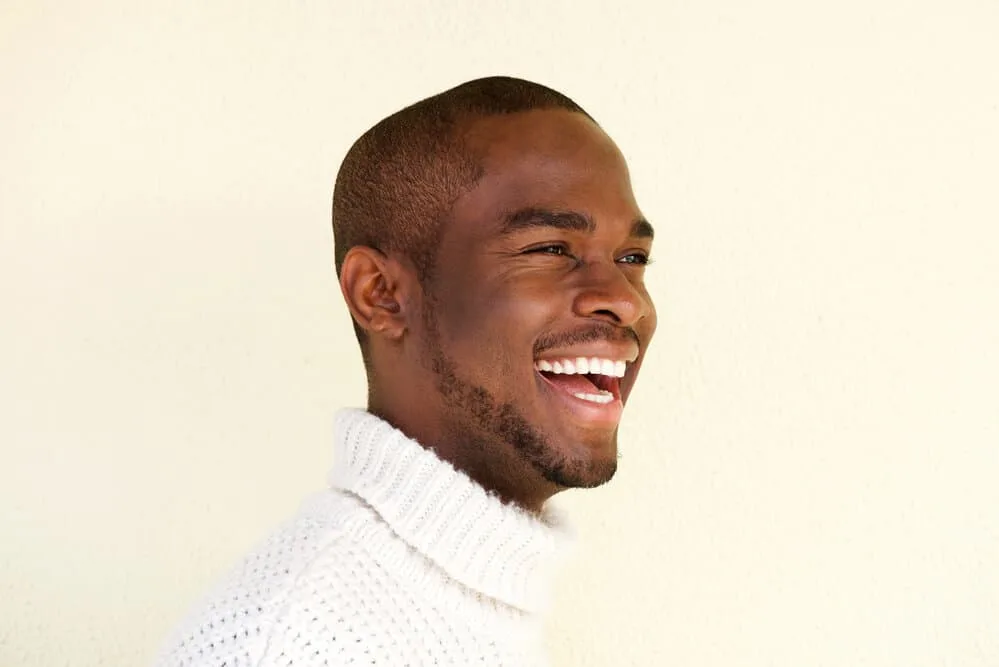 Why are Military Cuts so Popular?
What lends military haircuts an edge over regular haircuts is their high level of cleanliness and the hard vibe they exude. When you go for a military cut, you're going for a cut that will put you in the best light, make you look disciplined and mature, and pay homage to our great military. Considering this, it makes total sense that people want to rock military styles, even as civilians.
Which Buzz Cut Should You Choose?
Choosing the right buzz cut for you requires one thing – trial and error. Often, people think they can choose a cut based on how it looks on someone else.
Until you try the cut for yourself, there's no way to know whether it will actually mesh with your facial structure, personal preferences, and style.
So, we urge you to try cuts that interest you, and if they don't work, you can try another. When deciding which cuts to try, use your own judgment and talk to your barber as well.
Should You Get a Fade with a Buzz Cut?
Getting a fade with a buzz cut is a great idea if hardness is what you're going for. But not just any fade will give you that sharp, polished look.
The best fade for a military buzz cut is usually a high one starting around your temples. It imparts a boxier, more angular overall look reminiscent of the military.
Of course, as you read earlier, there are other fade options to consider and try out. But when going for a lower fade, you'll want to keep things much shorter. Lower fades leave you with a very rounded look, which isn't typical of military cuts.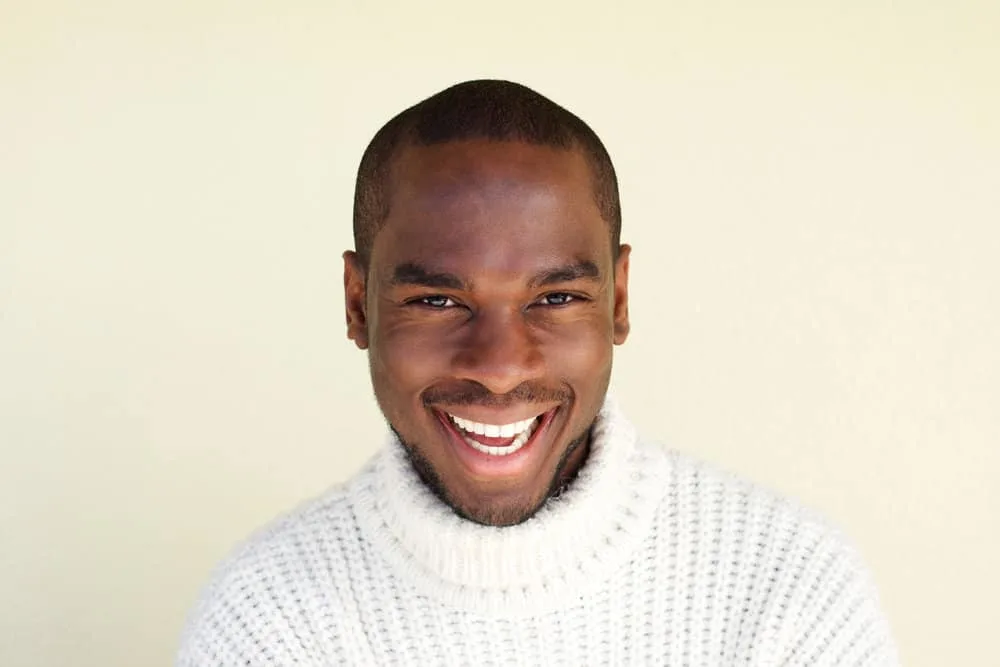 How to Ask for a Military Haircut
Asking for a military cut is usually easy, especially if you live near a military base or want one of the most popular haircuts. But what's important is communicating where you want your fade to start, how long you want the hair at the top to be, and how long you want the sides and back to be.
With all that information figured out, you'll be able to explain the look you want.
If you have the time, we recommend that you familiarize yourself with haircut numbers and their lengths to enhance communication with your barber.
Of course, this isn't a non-negotiable, and barbers don't expect you to know the haircut numbers. So, this is an extra thing you can do if you have time.
Pictures are very helpful during any barber consultation. Allowing your barber to see a picture of the cut will enable them to confirm exactly what you want. There are few things more reliable than a visual reference.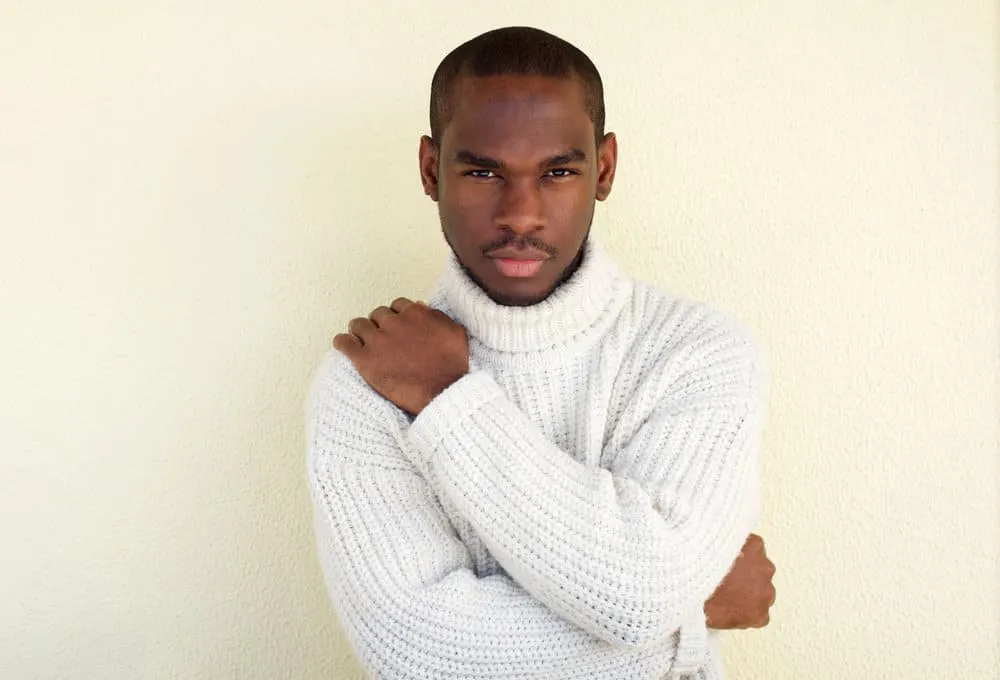 Can You Mess Up a Buzz Cut?
You can 100% mess up a buzz cut, and the most detrimental way to do so is to cut a portion of it too short. If that happens, you'll either have to deal with a portion of the cut being too short or cutting the surrounding hairs to that same length to camouflage your mistake.
You can usually save a buzz cut if you don't mind adjusting things on the fly. Accidentally cutting down to your scalp will result in you having to cut your whole head bald, though.
It's for this reason that we recommend going to a professional if you're not experienced in doing buzz cuts on yourself. Even if you've done the cut on many other people, you'll quickly realize that cutting your own hair is a whole different ball game.
So, there you have it–8 military buzz cut fades you should consider. We hope that at least one of these styles has piqued your interest, and we wish you the best of luck as you update your look with a military-inspired cut!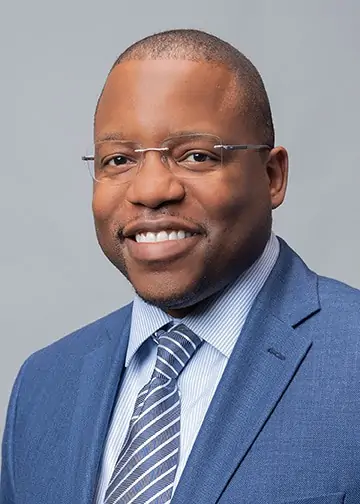 Kenneth Byrd holds a BS in Accounting and Management Information Systems and an MBA from the University of Alabama at Birmingham. With over 15 years of experience, Kenneth has been dedicated to hair care since 2008, when he co-founded Curl Centric® and Natural Hair Box alongside his wife. As a team, they promote healthy hair care practices through their comprehensive platform, Curl Centric. Curl Centric is a website operated by a husband and wife team that encourages healthy hair care. At Curl Centric, we aim to help our readers take control of their hair care journey and make good decisions about products, hairstyles, and maintenance techniques. We also have strict editorial integrity; here's an explanation of our editorial guidelines and how we make money.