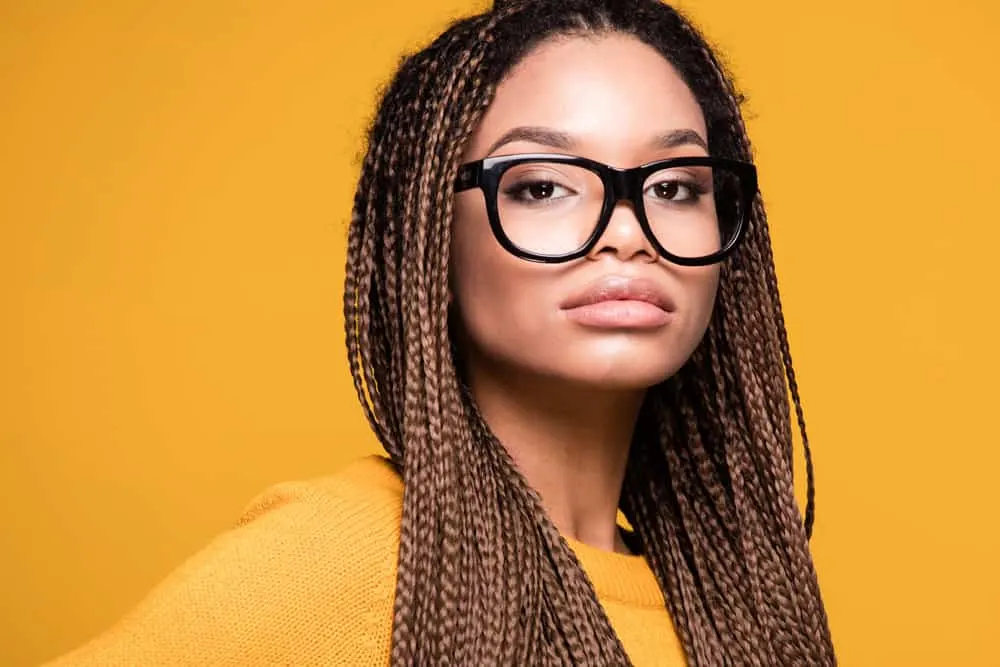 As we've seen with celebrities like Rhianna and Tyra Banks, big foreheads can be absolutely stunning. However, they can also be a source of insecurity or make finding the right hairstyle incredibly difficult.
Plus, sometimes, you just want to switch things up!
How to Hide a Big Forehead With Braids
If you're looking for braided hairstyles that flatter or hide prominent foreheads, you're in the right place! In this article, we'll teach you how to hide a big forehead with braids.
Get Bangs
While most people don't typically associate bangs with braided hairstyles, they are an excellent way to hide a prominent forehead (e.g., curtain bangs). Braided bangs look fantastic with many different types of braids, including cornrows, box braids, french braids, and microbraids.
Trying Out Yara Shahidi Beaded Bangs Recreation | Type 4 Hair | Loaferette
You can either braid your bangs or keep the hair loose to create an interesting mix of textures. Just make sure you keep your bangs eyebrow length or longer.
Tiny baby bangs will draw attention to your forehead rather than hide it.
Adding colorful beads to the ends of your braided bangs can also give the look some extra flair and help draw even more attention away from your forehead.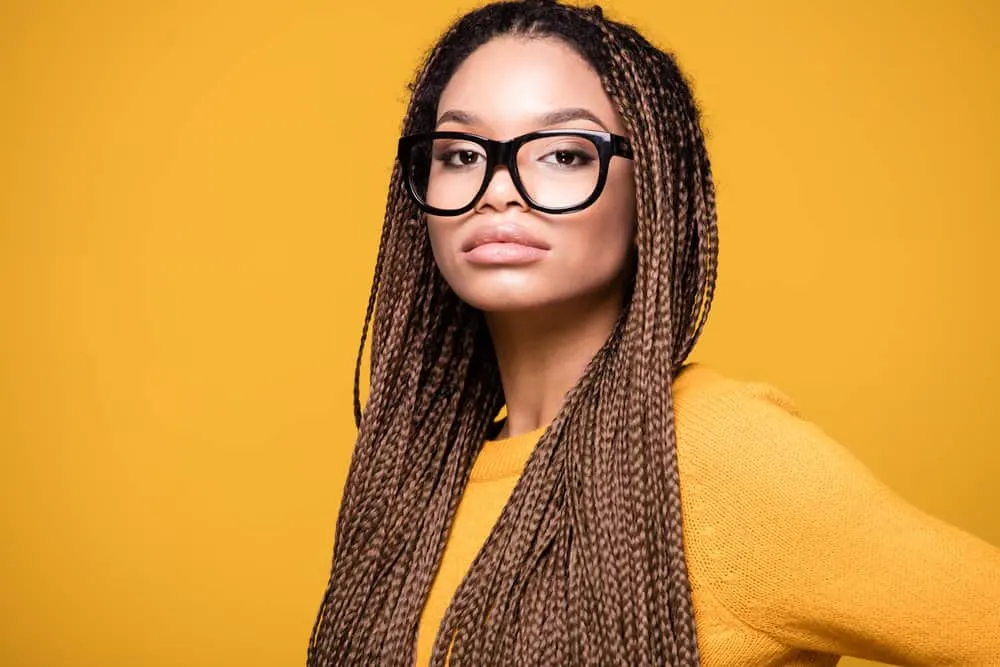 Swoop Your Bangs
Swooped bangs are one of the most well-known and effective ways to hide a bigger forehead, and braided styles are no exception. The best part?
You don't need to have bangs to get the look.
Tutorial:3 Different Ways To Wear Swoop Bang W/ Braids | Lonni's Dollhouse
Simply make a deep part on either the left or right side of your hair. Then, pull the braids forward and swoop them across your forehead.
Tuck the length of the hair behind your ear and secure it with a hair clip. And that's it! You can style the rest of your hair however you like. You can leave it down, add some curls and waves, or pull it up into a chic updo.
Although this style looks great on pretty much anyone, it can exacerbate acne-prone skin. So, if you're prone to breaking out, try limiting the amount of oil and product you use on your bangs.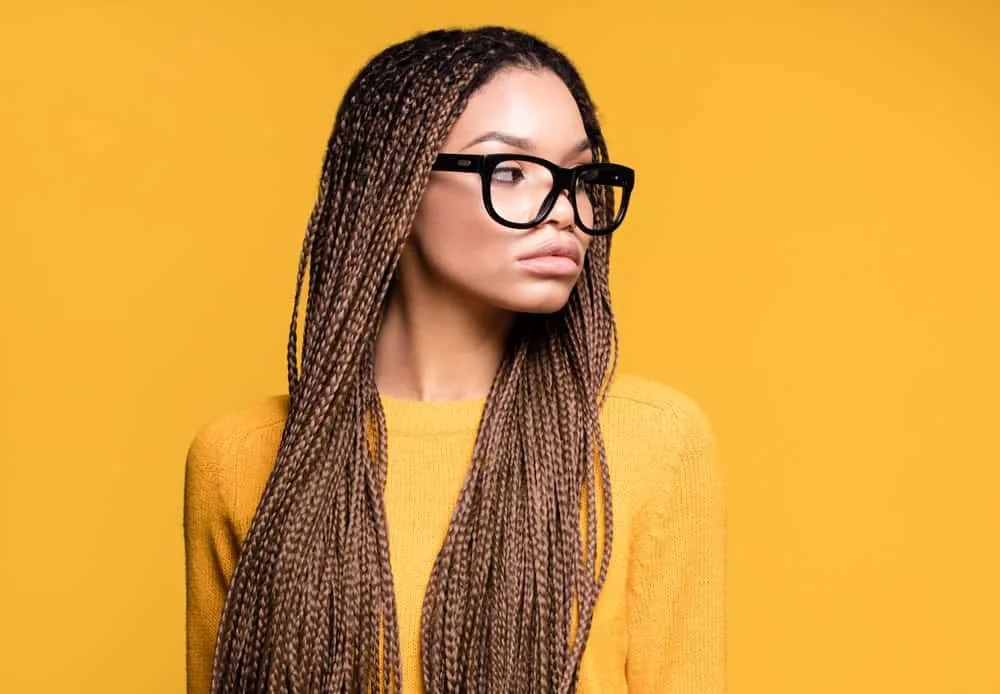 Avoid Middle Parts
When you have a large forehead, the way you part your hair significantly impacts where people's eyes are drawn. Middle parts accentuate your forehead, especially if your hair is falling flat.
On the other hand, side parts bring your hair forward and over your face. That means less of your forehead is revealed, and attention is drawn toward your eyes rather than your brow.
Off-center parts soften your forehead and help make it look shorter. Just make sure you let your bangs fall naturally and avoid tucking them behind your ears.
If you're set on making a middle part work, try to keep your hair pulled forward.
Use the two sections of hair to narrow down the width of your forehead and keep people's eyes drawn toward the center of your face.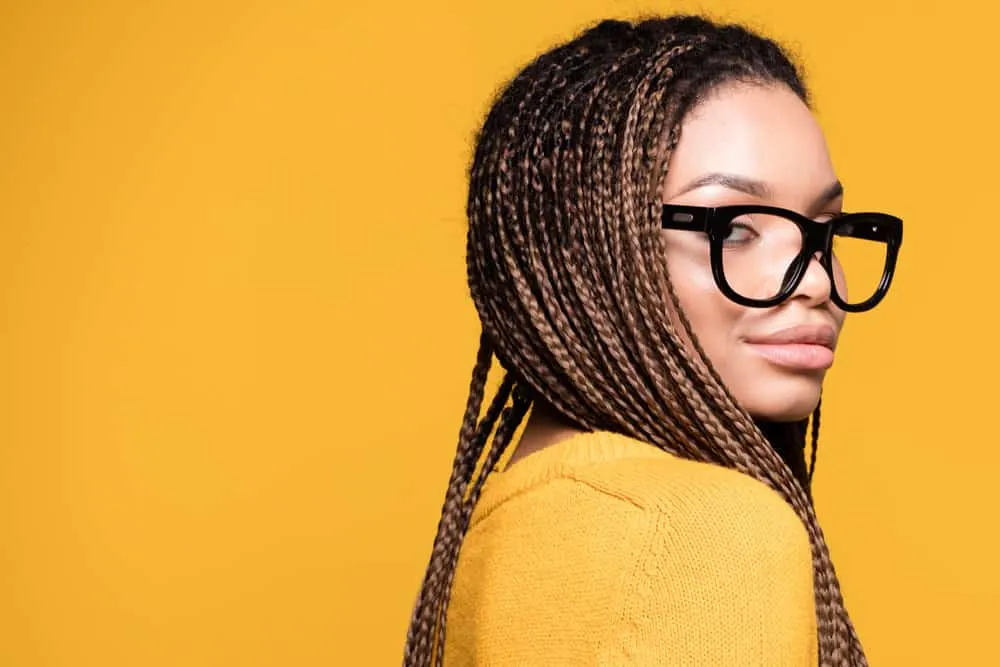 Add Height to Your Hair
The bigger and more voluminous your hair is, the smaller your forehead will look in comparison. You can make your hair look fuller by adding more artificial hair to your braids (e.g., fishtail braid) or styling your hair in a way that brings your hair up and out (e.g., messy side bun).
Half Up Half Down FEED IN BRAIDS | DETAILED
One hairstyle that is great for adding volume to braids is a half-up, half-down 'do.
If you want to give it a try, make a part across the crown of your head and separate the top portion of your braids. Gather them into a high ponytail and secure them with a hair tie, clip, or bobby pins.
Then, let the ends of your braids cascade down, so they add more height and width to your style. Half updo's work perfectly with all different types of bangs, so feel free to pair your style with swooped or braided bangs.
Alternatively, you can pull a few face-framing braids out of the ponytail to soften the look and keep more of your forehead covered.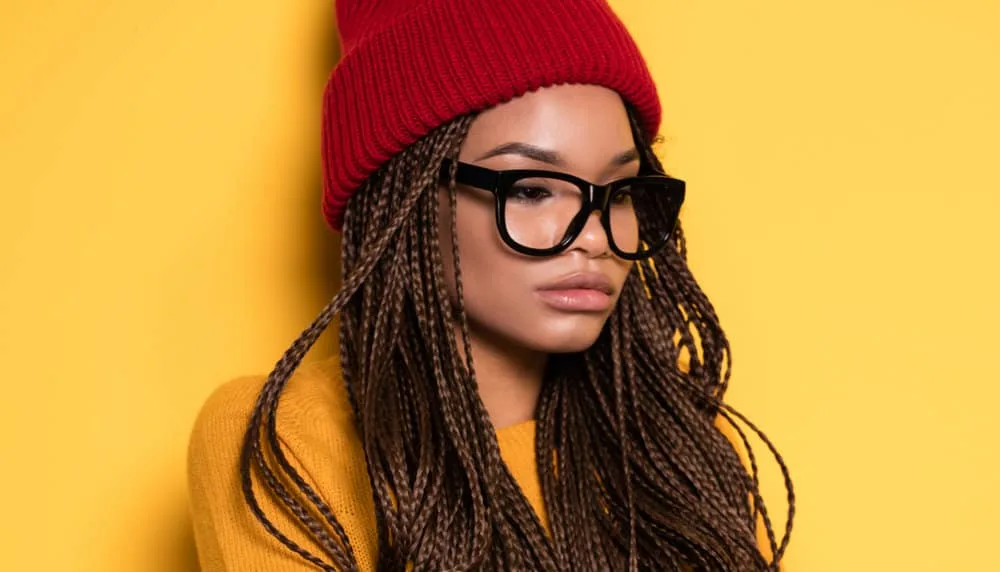 Wear Hair Accessories
Another easy way to hide a large forehead is to incorporate hair accessories into your braided styles. Cute head scarves, hats, or bandanas can add a fun pop of color to your hairstyle and help draw attention away from your forehead.
They can also be used to cover up your forehead in a way that looks natural, rather than like you're trying to hide something.
Just make sure you wash your hair accessories after every few wears.
They can absorb oil and excess products and cause issues like dandruff, acne, and greasy hair. You should also switch up your accessories to avoid falling into a rut.
Wearing the same hairstyle or accessory every day can cause breakage or hair thinning.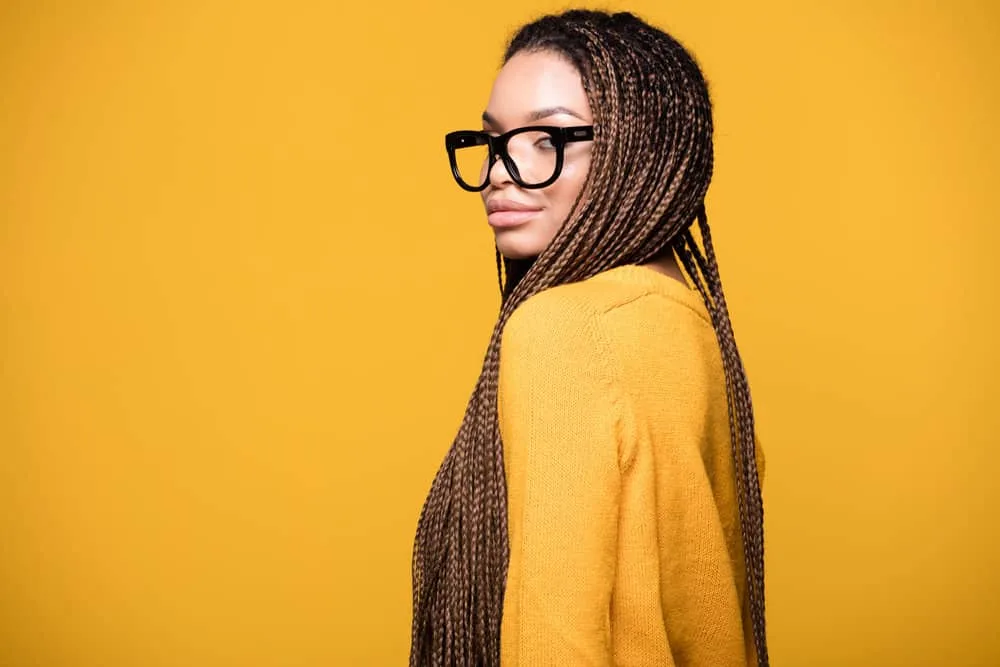 Put on a Lace Front Wig
If you haven't gotten your braids installed yet, wigs might be the solution you've been looking for. Lace front wigs come in various styles, including some stunning braid 'dos.
You can either braid your favorite wig or purchase a pre-styled, braided lace front wig. When installing your wig, shift it down slightly past your hairline to cover the upper part of your forehead.
Then, lay down the wig's baby hair to recreate the look of your edges.
Easy Start To Finish Undetectable Lace Wig Install For Big Foreheads the GOODHAIR Deep Curly Wig
In addition to hiding your forehead, pulling your wig down further will help protect your delicate hairline. Since your adhesive is applied to your skin rather than your hair, you can avoid potential side effects like thinning edges and hair loss.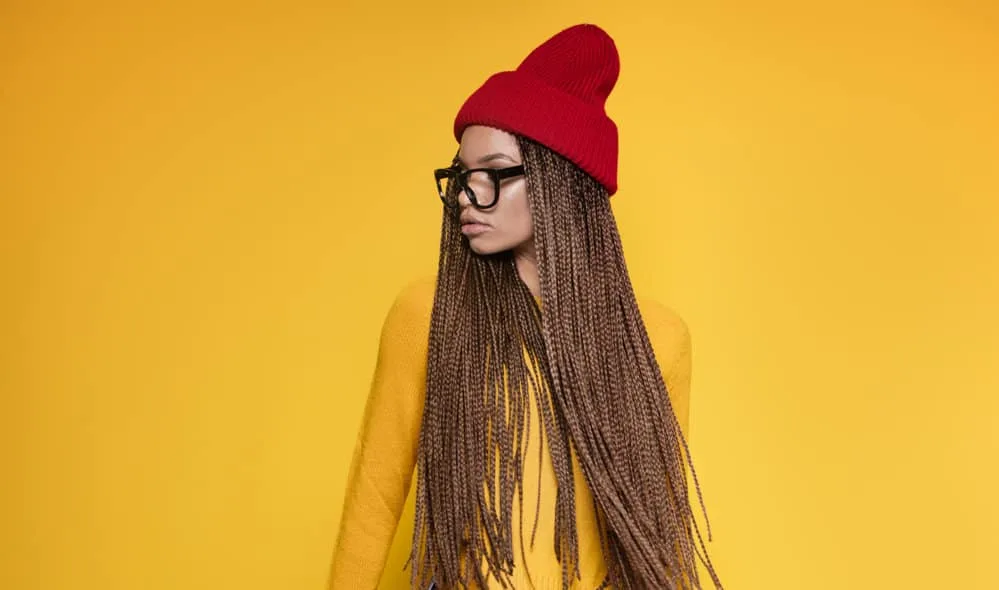 Slick Down Your Edges
Edges, also known as baby hairs, are an effective way to make your forehead look smaller. They frame your face and can narrow your forehead by as much as an inch or two.
To get the look, comb your baby hairs forward and pull the rest of your hair back.
Spritz your baby hairs with water and apply a small amount of gel or edge control to your hairline. Use a small boar bristle brush or toothbrush to flatten and swoop your edges.
How To Lay Your Edges W/ Braids
You can choose any design you prefer, but make sure you're brushing your baby hairs forward if your goal is to make your forehead look smaller.
Less tends to be more, so try not to overload your edges with hair product.
Once you've got the basic shape of your edges set, it's time for the final touches. Use the pointed end of a rattail comb to define your edges further and ensure everything looks nice and neat.
After you finish styling your edges, carefully tie a silk scarf around your hairline. That will keep them in place while your hair gel dries.
Leave the scarf on for at least 15 minutes, so everything has enough time to set. Make sure you remove your scarf as slowly and carefully as possible, so you don't mess up your hard work.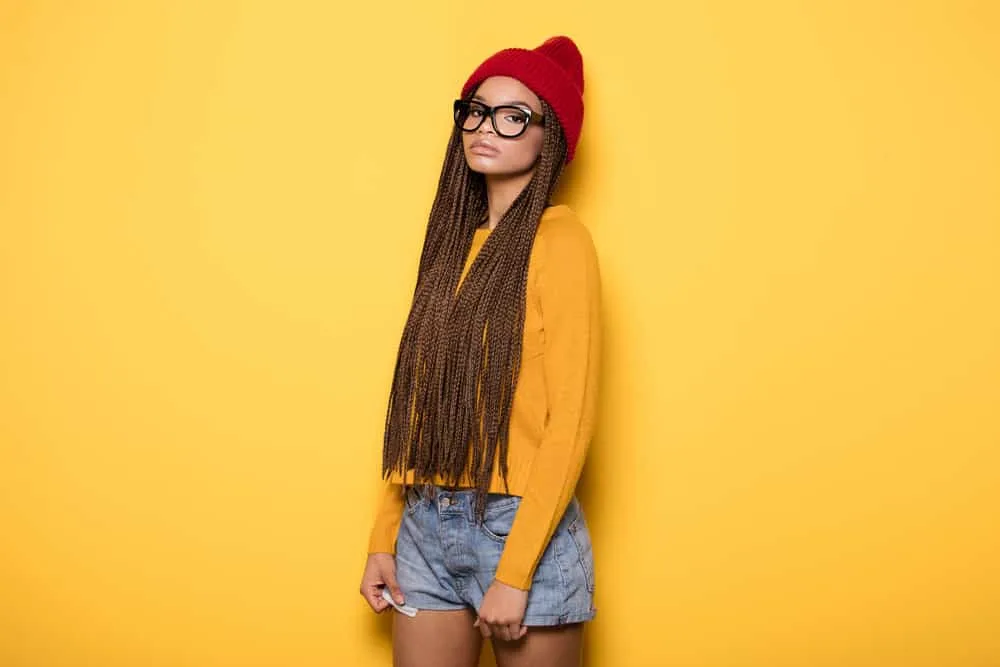 Try a Braided Bob
Bobs are a short to medium-length haircut that falls slightly below your jawline and perfectly frames your face. They are an excellent way to make a large forehead less noticeable (e.g., hide big forehead) and help draw attention toward your other gorgeous features.
BRAIDED BOB | KNOTLESS WITH CURLY HAIR
Additionally, shorter haircuts make your hair look more voluminous, which can help shrink your forehead even more. Want to make your forehead look even smaller?
Pair your braided bob (e.g., curly bob, shaggy bob) with some eyebrow grazing bangs to hide your forehead and help draw attention to your eyes and mouth.
There are a bunch of different ways to hide a broad forehead, but one of the best things to do is learn how to embrace it!
Still, if you do want to make your forehead look smaller, the most important thing to remember is to draw people's attention away from it. We hope this article has helped you learn how to do just that!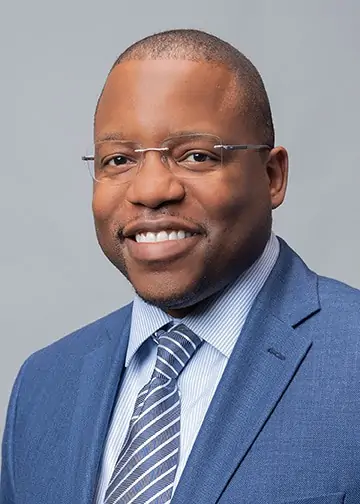 Kenneth Byrd holds a BS in Accounting and Management Information Systems and an MBA from the University of Alabama at Birmingham. With over 15 years of experience, Kenneth has been dedicated to hair care since 2008, when he co-founded Curl Centric® and Natural Hair Box alongside his wife. As a team, they promote healthy hair care practices through their comprehensive platform, Curl Centric. Curl Centric is a website operated by a husband and wife team that encourages healthy hair care. At Curl Centric, we aim to help our readers take control of their hair care journey and make good decisions about products, hairstyles, and maintenance techniques. We also have strict editorial integrity; here's an explanation of our editorial guidelines and how we make money.