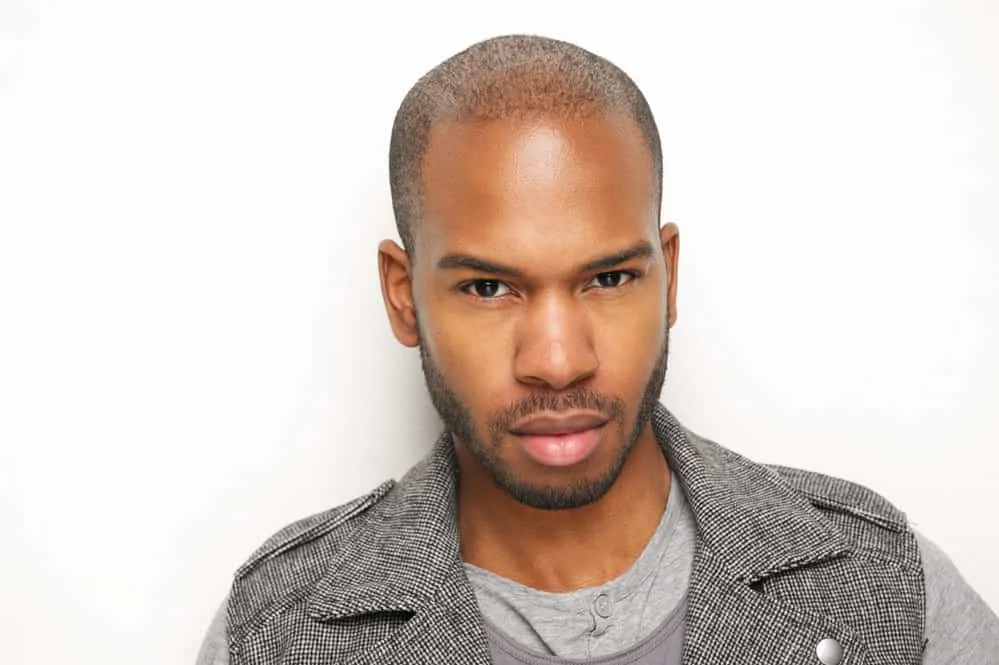 Is your hairline lacking in the fullness department? Due to male pattern baldness, more than 70% of men are destined to lose their hair. It's an unfortunate truth, but that doesn't mean there's nothing you can do about it.
The first place men begin to lose their hair is along their hairline, and when that happens, it's time to switch up your style.
With all the options out there, it can be difficult to decide which style will (1) fit your personal style and preferences and (2) camouflage your thinning hairline in a believable way. In this article, we'll introduce you to 12 of the best haircuts for receding hairlines. Let's get right into it!
Best Male Haircuts for Thinning Hair and Receding Hairlines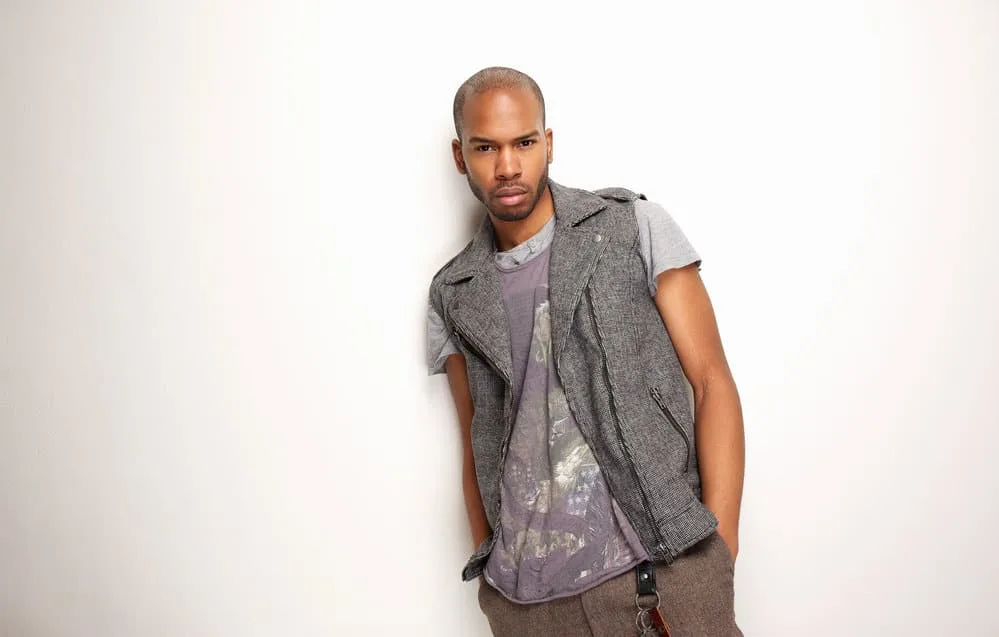 A receding hairline and a widow's peak can be a source of concern for many men, but with the right haircut, it's possible to minimize the appearance of these common hair loss patterns.
From buzz cuts to textured crops, a variety of hairstyles can help balance the hairline and create the illusion of a fuller head of hair. This article will showcase the best male haircuts for a receding hairline and a widow's peak.
Whether you're after a low-maintenance look or something with a little more edge, we've got you covered with a range of styles that will help you look and feel your best. Get ready to discover the most flattering haircuts for your hair loss patterns.
1. Bald
Going bald is a thought many men have when their hairlines begin to recede, but it's a choice many hesitate to make because of how drastic a cut like this is. After all, it does require you to shave all your hair off down to your scalp.
In case you weren't aware, a bald head comes along with some amazing benefits.
First, if your hairline has receded severely and you have more scalp showing than hair, shaving the remainder of your hair off instantly erases your receding hairline and can shave years off your appearance.
Another benefit is that you don't have to make any effort to camouflage your receding hairline anymore. So long as you keep your head shaven, there's no hairline to worry about.
Our advice is to think long and hard before shaving off all your hair. It's a big decision to make, and even though hair does grow back, the fact remains that it takes a long time to do so.
If you've decided this is the style for you, here's a video you can use to get the look at home. There is a right way and a wrong way to shave your head, and this video will show you the right way.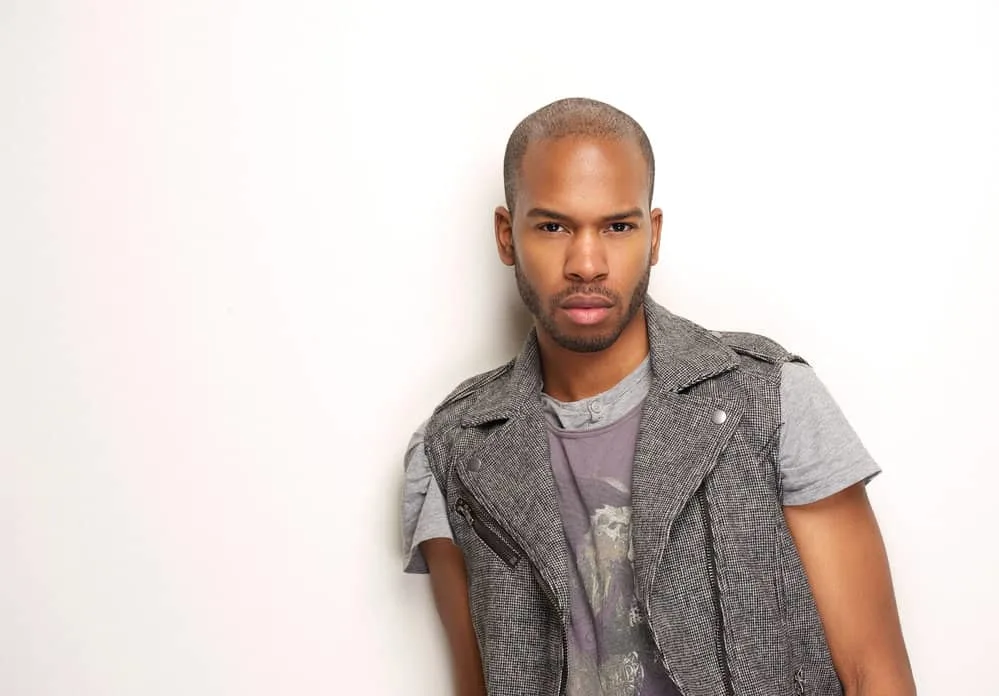 2. Mohawk/Fauxhawk
Do you dance to the beat of your own drum or laugh in the face of danger? If so, then you definitely have a rebellious streak that pairs well with this style: the mohawk.
For this style, you'll need a few inches of hair and an attitude of nonconformity.
To create this look, a barber will separate your hair into three sections–two along the sides and one strip down the center of your head from front to back.
Once this is done, the hair on the sides will be cut close to the scalp, and the rest will be trimmed down to your desired length.
You can leave it very long or have it cut down further depending on your personal preferences. To cover up your receding hairline, it may be advantageous to keep the middle portion longer rather than shorter.
Want to learn more? Watch this YouTube video for an in-depth understanding of the process.
3. Long and Layered
The longer your hair is, the more possibilities you have when it comes to camouflaging your receding hairline. With well-placed layers, your hair will suddenly become more voluminous, which helps even further.
Of course, there's the universal appeal of long hair that'll work for you. Guys who let their hair grow out are viewed as more attractive to some than those who keep their hair short.
Before you opt for a long hairstyle, you should know no hair looks good when it's unhealthy. With a hairstyle like this, you'll need to take extra steps to keep your hair looking and feeling its best.
That means you'll have to invest in hydrating shampoos and conditioners, a deep conditioner (if your hair tends to be on the drier side), and styling aids to keep frizz under control.
You'll have to keep your hair clean and style it daily, in addition to keeping your ends trimmed to keep split ends in check. Make sure you're up for this level of ongoing hair care before opting for a long haircut.
Cutting layers on yourself can be difficult, especially if you're not used to doing your own hair. We recommend consulting a barber or stylist in your area for this cut. Still, it won't hurt to see how it's done beforehand.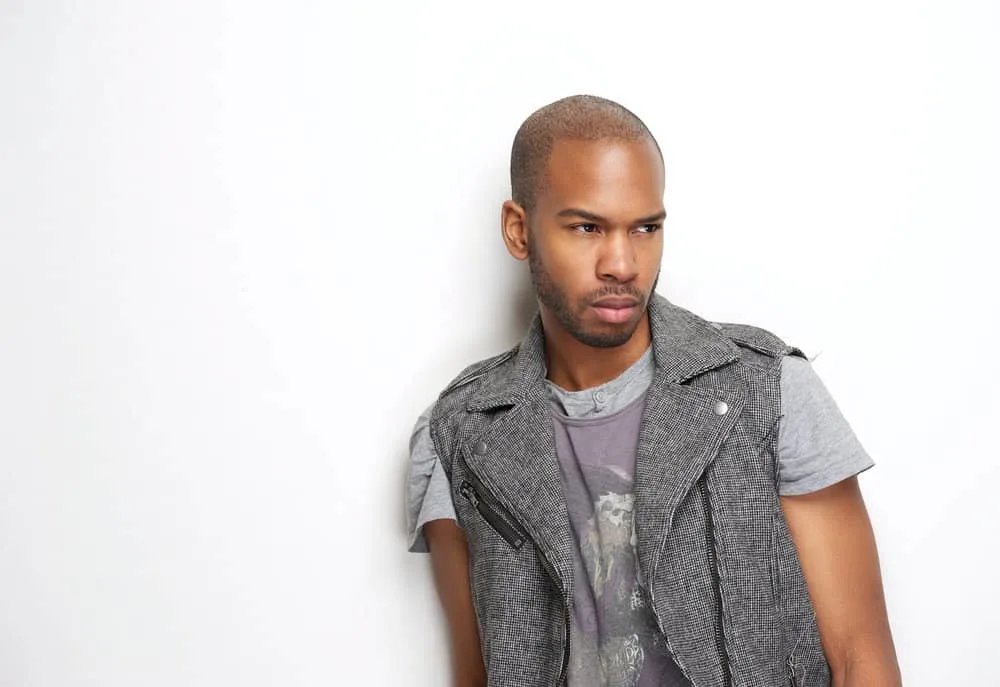 4. Slick Back
You might have thought slicking your hair back away from your hairline might be counterproductive when hiding a receding hairline, but that's not the case.
When your hair is all slicked back, there won't be as much contrast between the hair on the sides of your head and the portion that's receding.
The ideal cut for a slick back style is one with a couple of inches of length at the top with a taper on the sides and at the back. The exact length of the style is up to you.
That being said, if your hairline recession is severe, slicking all your hair back won't do you any favors; it may even accentuate your hair loss.
When done right, a slick back cut can be a real stunner. Check out this YouTube video to see the cut up close and learn how to achieve it.
5. Comb-Over
The comb-over has gotten a really bad rep over time; for many, those of the Donald Trump variety comes to mind. It's for this reason that most people don't even consider trying a comb-over.
But if you give it enough thought and get it done professionally, you may quickly find this is the perfect style to use to hide your receding hairline.
For those who aren't aware, the comb-over is a style where either side of your hair in the front is combed over to the other side to hide a receding hairline or bald spot.
When done correctly, a comb-over is indistinguishable from other short haircuts. But when it's done incorrectly, you can spot it from a mile away. For that reason, we recommend that you see a professional to do your comb-over.
But if that's not an option, we understand and encourage you to watch this video to get some pointers to ensure your comb-over turns out as intended.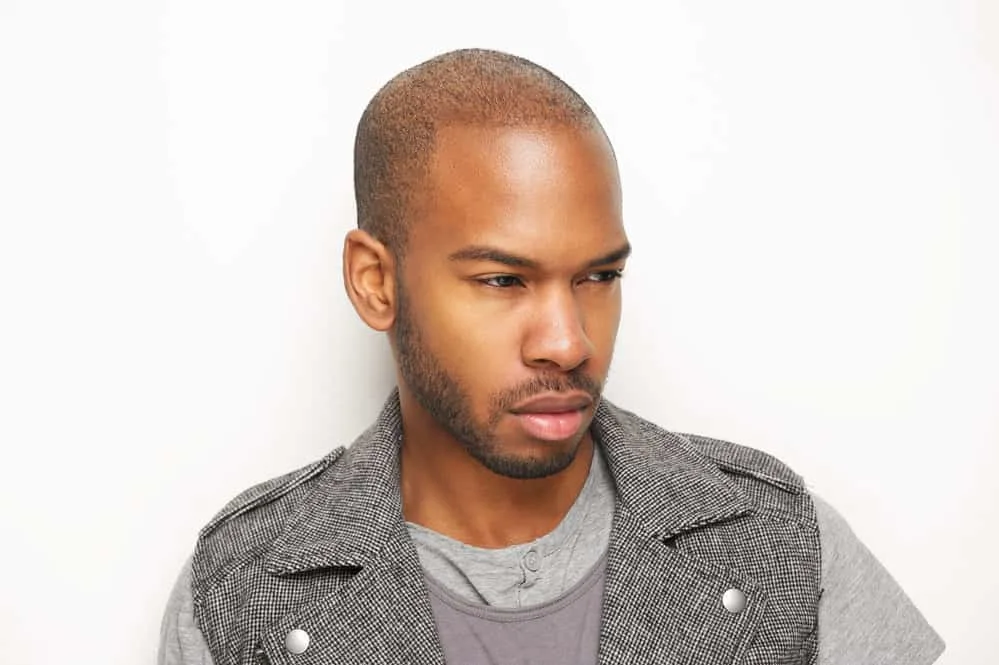 6. Buzz Cut
When your hair is missing in action, sometimes the best way to make it look better is to buzz it all to a super short length.
With your hair short, more of your scalp will be showing throughout your head, blurring the line between your receding hairline and the rest of your hair.
The great thing about a buzz cut is that you can customize your buzz in several ways to better fit your aesthetic and personal tastes.
You can leave a little more length at the top for some contrast, add a hard part for an air of sophistication, or incorporate a line design to up the ante.
Your possibilities are limited only by your imagination. Want to see how a buzz cut is done? Watch this YouTube video to find out more.
7. Quiff Cut
If you've never heard of a quiff cut before, you're one of many. A quiff cut is a cut where the sides and back of your hair are short, and the hair at the crown is left significantly longer. It's up to you how long you want your quiff to be.
Wondering why you would opt for a quiff? It's not only attractive to the ladies but can be used as a tool to detract from or completely hide your receding hairline. Once your initial cut is done, you can style your quiff however you'd like.
You can sweep it off to the side, curl it over your forehead to cast a shadow on thinning areas, or fluff it up to steal attention entirely.
Most quiffs have well-placed layers to enhance their volume or lend a choppy quality to their overall look. A skilled stylist will know just how to style your quiff to match your face and make you feel more confident. Here's a video showing the same.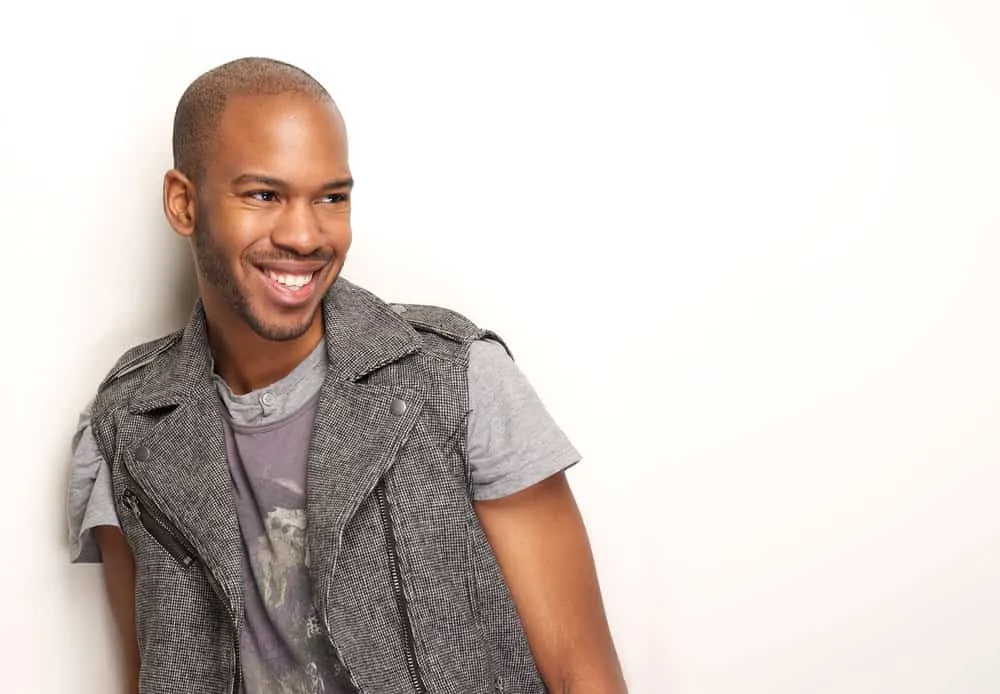 8. Pompadour with a Mid-Fade
Similar to a quiff, a pompadour can make your receding hairline less noticeable. The purpose of such a cut isn't to cover up your hairline but to act more as a distraction.
As a plus, it adds some height to your frame and makes you look more sophisticated.
A pompadour is essentially a mound of hair on top of your head. For this style, the pompadour would be paired with a mid-fade. Like with most cuts, the sides and back of the cut will be much shorter than the crown of the head.
One thing you should be aware of with this style is that it pairs well with a specific aesthetic. Upscale sophistication is the ideal look to pair a pompadour with, as it may look out of place when worn with jeans and a t-shirt.
To see a full demo of this cut, we recommend taking a few minutes to learn more in this video.
9. Edgar Cut
The Edgar cut is making a big splash on social media. Like most modern cuts for men, it features hair that's longer at the crown than on the sides and the back.
The peculiar thing about the Edgar cut, though, is that it's a marriage between a Caesar cut and a high fade.
The reason that the Edgar cut works for people with receding hairlines is that the front portion of the cut goes forward past the hairline. Any thinning areas will be covered up by the hair in that area.
To make things even better, there are tons of Edgar cuts to choose from–fluffy, long, short, and more–so there's an Edgar for everyone.
Here's a video showcasing the fluffy Edgar cut. It's got a lot of volume as well as some length, which gives you a lot to work with when it comes to camouflaging or hiding a thinning hairline.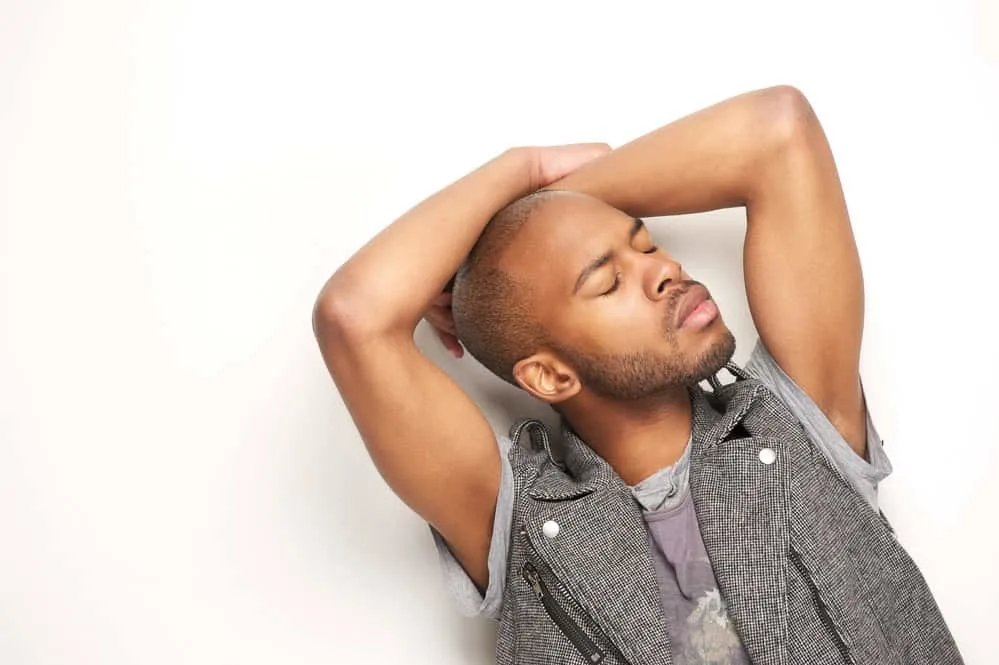 10. Side Brush-Up with Fade
The side brush-up with fade works for receding hairlines in a way similar to how a comb-over would. The side brush-up cut leaves the hair at the crown and temples relatively long.
The rest is faded according to your preferences. Once the cut is done, the barber or stylist will brush the sides up toward the crown, hiding some of the thinning along your hairline in the process.
This cut is not as common as some of the others on this list, but it can go a long way towards combating your hair thinning issues along your hairline. Check out this video to see how a barber executes this look.
11. Middle Part Cut
If you've ever wanted to try a middle part, this is the perfect time to try it out! When parted in this matter, the hair on each side of the part can be used to cover up the most receded areas of your hairline.
Though it may seem you don't have much versatility with a simple middle part, you can straighten or curl your hair to fall in a way where you never have to worry about thinning parts being exposed.
You can also use products to increase volume for even more possibilities.
Middle parts are usually reserved for guys going for more of a classic look than a modern one. If you have a round face, you'll really love the way it balances out roundness by elongating the face.
Full disclosure, though: if your face is noticeably asymmetrical, this cut will make that fact more obvious. So, keep that in mind.
Middle-part cuts may incorporate any of many hair-cutting techniques according to your preferences, so you can take your pick of the techniques and cutting styles that make you feel most attractive.
You can pair your middle part with an undercut, a fade, or a taper.
Not sure which will look best on you? Talk to a barber in your area about your concerns and desires, and they should be able to help you out with that.
To learn more about this cut and get a feel for how professionals tackle it, watch this video!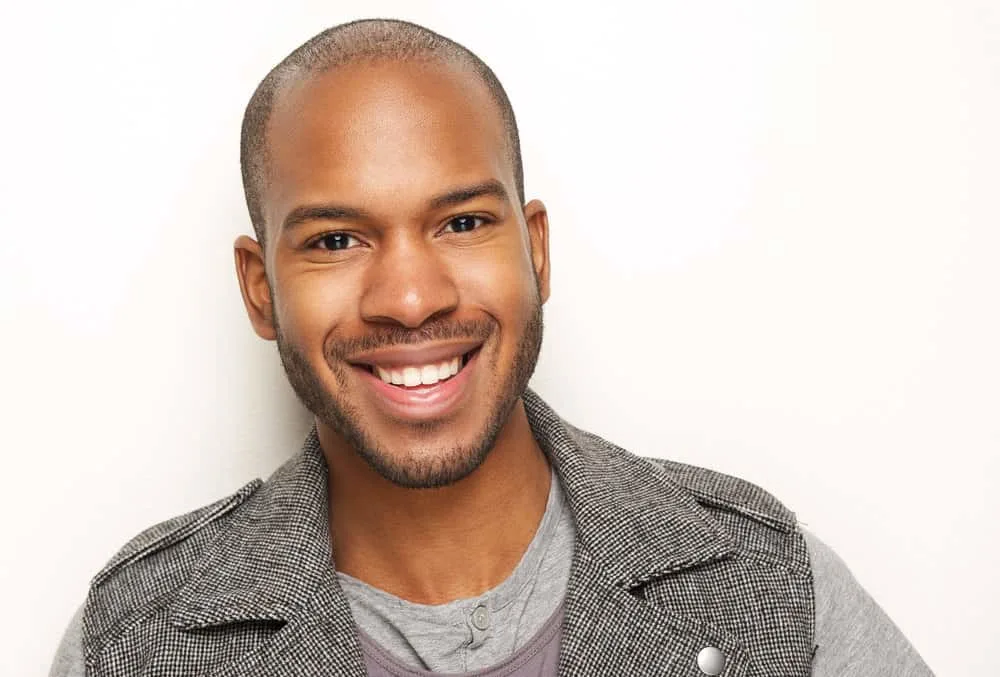 12. Business Cut
Do you often find yourself in formal situations? Maybe you work at a corporate office or as a manager. In that case, the business cut will complement your look without highlighting your receding hairline.
For anyone who doesn't know, the business cut is a haircut featuring a taper with a few inches of hair at the crown of the head. Usually, there's enough to part and comb to either side, but it may be shorter.
When you do style the hair at the crown, you can manipulate it in a way that disguises your receding hairline. Watch this video to find out how!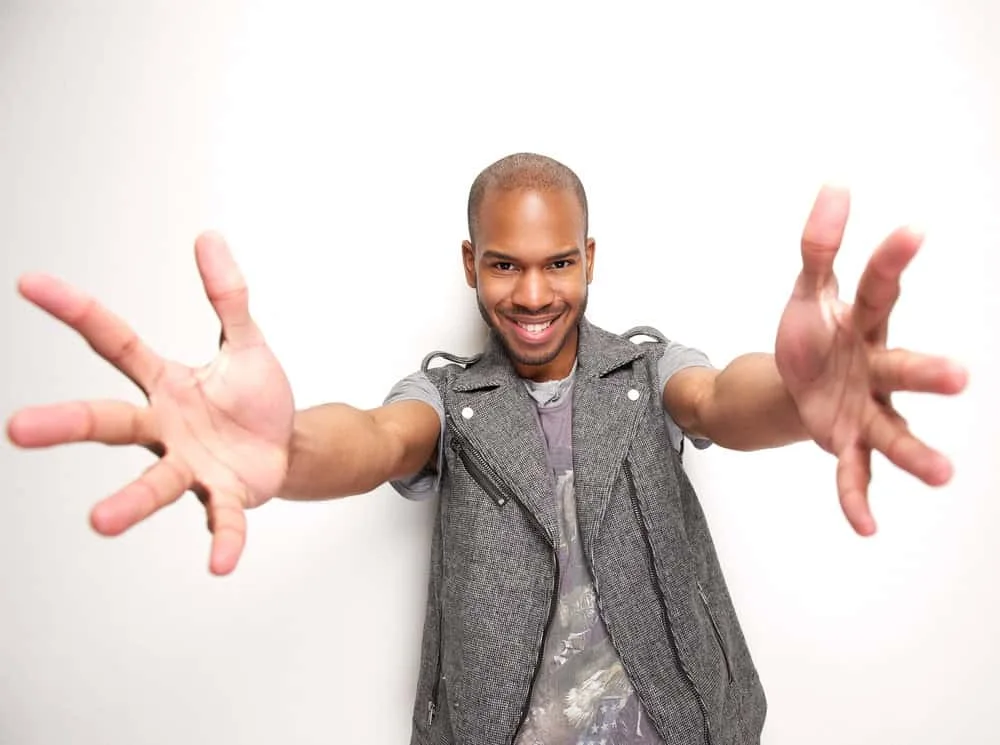 Frequently Asked Questions
In addition to haircut inspiration, many people are at a loss as to what to expect as they lose their hair, learn to cope, etc. Here are some frequently asked questions people have on this topic. Keep reading for some interesting information you can use.
Can a Barber Fix a Receding Hairline?
Unfortunately, a haircut is not a fix for a receding hairline. Though the right style can make a receding hairline less noticeable or hide it completely, the best remedies for receding hairlines often include medications (topical and oral) and hair restoration treatments and surgery.
If you're serious about stopping hairline recession at the root, we recommend seeing a dermatologist at your earliest convenience. They'll tailor your treatment to your individual hair issue, lifestyle, desires, and more.
You could also look into hair restoration services to see what your treatment options are. With recent technological advancements in the hair restoration space, you could see full restoration of your hairline after a single surgery or hair treatment.
Is Short or Long Hair Better for a Receding Hairline?
Both short and long hair can work for a receding hairline but in different ways. Cutting your hair short levels the playing field, so your receding hairline isn't as noticeable as it used to be. Longer styles work to cover up or cast a shadow on the thinning areas to make them less noticeable. Longer styles with volume can bring the attention away from your hairline and focus it on your hair instead.
Can a Receding Hairline Grow Back?
Receding hairlines don't usually grow back on their own unless the hair loss is due to issues like stress, an unhealthy diet, or chemicals, and you fix the issue. But in cases where the hair loss is due to male pattern baldness, genetics, or a medical condition, the hair is unlikely to come back without medical interventions. Your best bet in those cases would be to reach out to a professional for consultation and treatment.
So, there you have it–12 haircuts specifically for people with receding hairlines. We hope you found this article to be helpful and that one of the haircuts featured in this article will enhance your confidence.
If any of the styles speak to you, we recommend that you try them out. If you hate it, you can always change it. Try several until you find your next go-to cut. We wish you the best of luck!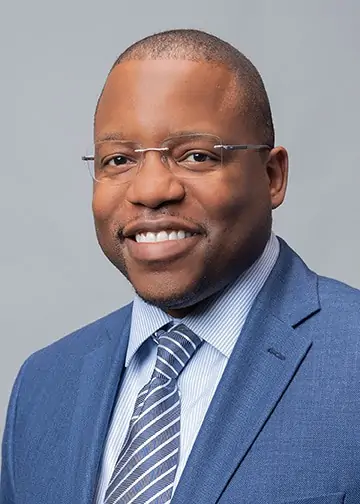 Kenneth Byrd holds a BS in Accounting and Management Information Systems and an MBA from the University of Alabama at Birmingham. With over 15 years of experience, Kenneth has been dedicated to hair care since 2008, when he co-founded Curl Centric® and Natural Hair Box alongside his wife. As a team, they promote healthy hair care practices through their comprehensive platform, Curl Centric. Curl Centric is a website operated by a husband and wife team that encourages healthy hair care. At Curl Centric, we aim to help our readers take control of their hair care journey and make good decisions about products, hairstyles, and maintenance techniques. We also have strict editorial integrity; here's an explanation of our editorial guidelines and how we make money.