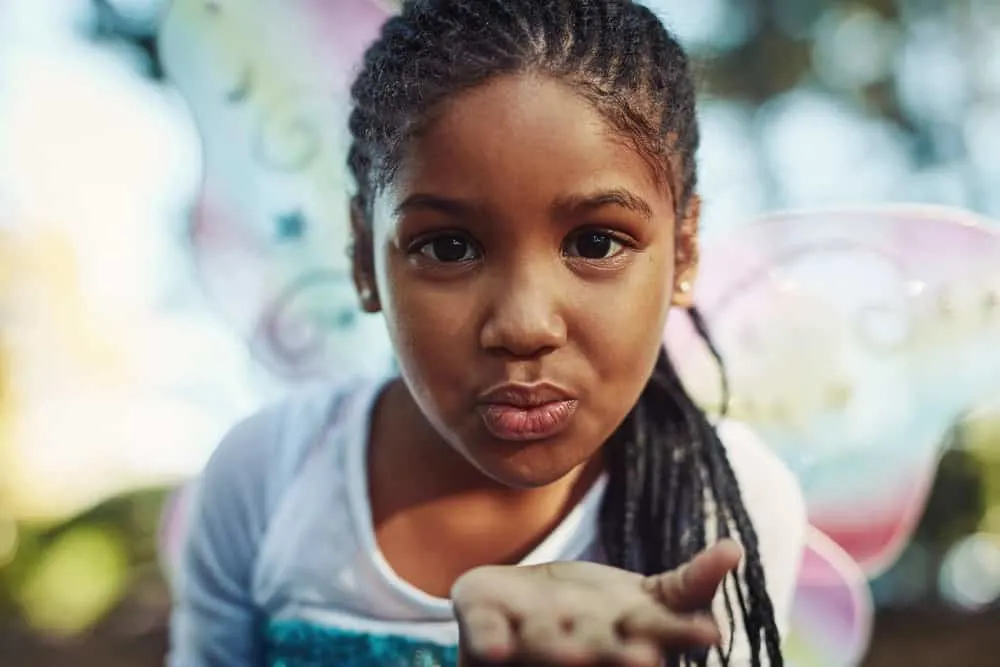 Thinking about getting some cute box braids for your little one? As you may already know, box braids come in a variety of amazing styles. If you're looking for some inspiration, you've come to the right article!
Today we're going to take a look at some great examples of box-braid hairstyles for kids. We'll shed some light on what makes them kid-friendly and give you plenty of tips on styling them. Sound good? Read on!
Box Braids for Kids
Box braids can be a stylish, practical, and protective hairstyle for kids, providing a fun and creative way for them to express their personalities. They're versatile, relatively low maintenance, and are an excellent choice to protect children's delicate hair from damage.
In the next section, we'll delve into the wonderful world of box braids for kids, offering step-by-step instructions, maintenance tips, and style inspiration for your little ones.
1. Natural Box Braids
BOX BRAIDS On Natural Hair WITHOUT Extensions | JaiChanellie
Box braids are single plaits broken up into neat, box-shaped sections. They're one of the most common braided styles and are exceptionally customizable. These days, most box braids have braiding hair added to them.
While the extensions help make your little one's hair longer, fuller, and more resilient, they aren't always the best choice. Braiding hair can be heavy and add too much weight to their hair and scalp.
It can also cause allergic reactions in more sensitive wearers. The good news is that you don't need to add hair to box braids.
As this talented creator proves, box braids look just as good when done on your little one's natural hair. As a bonus, leaving the extension out of the braids helps keep the style age-appropriate, so your little one still looks like a kid.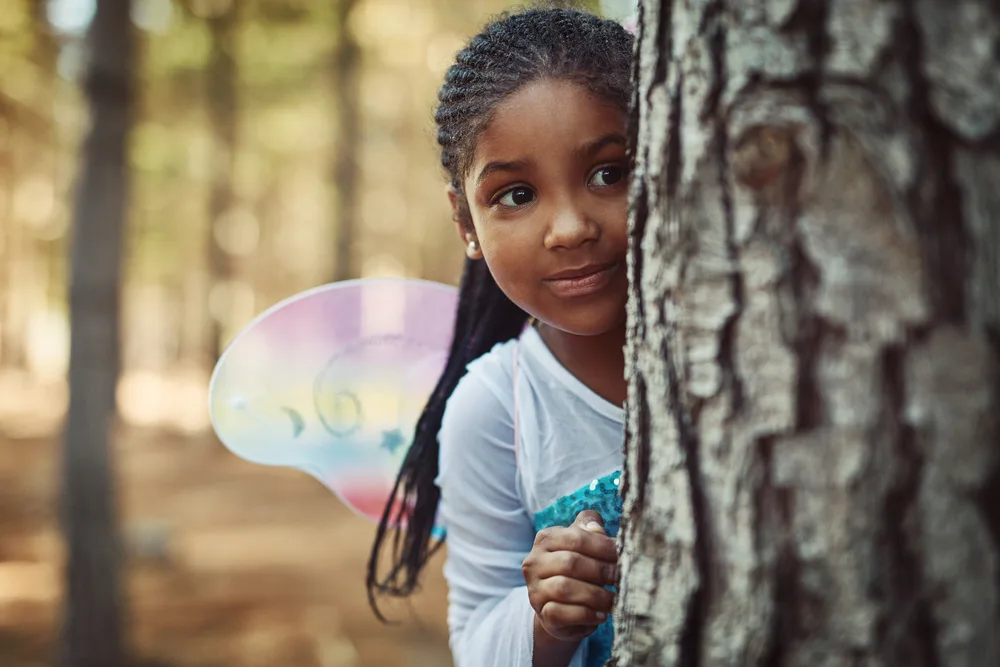 2. Jumbo Knotless Braids
KIDS Jumbo Knotless BOX BRAIDS | Quick & Easy | Artryssa Glam Tresses
Knotless braids are similar to box braids but are done with a different braiding technique. Instead of incorporating all braiding extensions at once, they're slowly spread out down the braid.
In addition to being adorable, knotless braids are super gentle on your little one's hair and scalp. And we still haven't gotten to the best part!
Since the braids are significantly larger than regular knotless braids, they'll take a fraction of the time to install! Just part your hair into large, square sections. Remember to keep the sections large since these are jumbo braids.
Start to braid each section as usual. After half an inch or so, start incorporating small sections of hair down the length of each braid. Work your way through the rest of the sections until you run out.
As a final touch, carefully lower the ends of the braids into a pot of hot water. We get that not everyone learns the same way, so if you're having difficulty picturing it, you can learn more by checking out this video.
3. Box Braid Bun
KNOTLESS BOX BRAID TUTORIAL! 2020! | Very Detailed | Box Braid Parting | Kid Friendly!
Box braids are great on their own, but they look even better when pulled into a bun. A box braid bun is the perfect go-to hairstyle for those mornings when you're in a time crunch.
Since they keep your child's braids piled on top of their hair, they do a great job of keeping them from getting in her face. To get the look, pull your child's braid back into a high ponytail.
Twist the braids from top to bottom and loop them around the ponytail's base to form a knot. Then, tuck the ends into the hair tie to secure them.
If your bun is too loose, it may come undone, so to give it more staying power, slide a few bobby pins into the base. Want to try this stunning look out on your little one? Here's a tutorial to help you get things just right!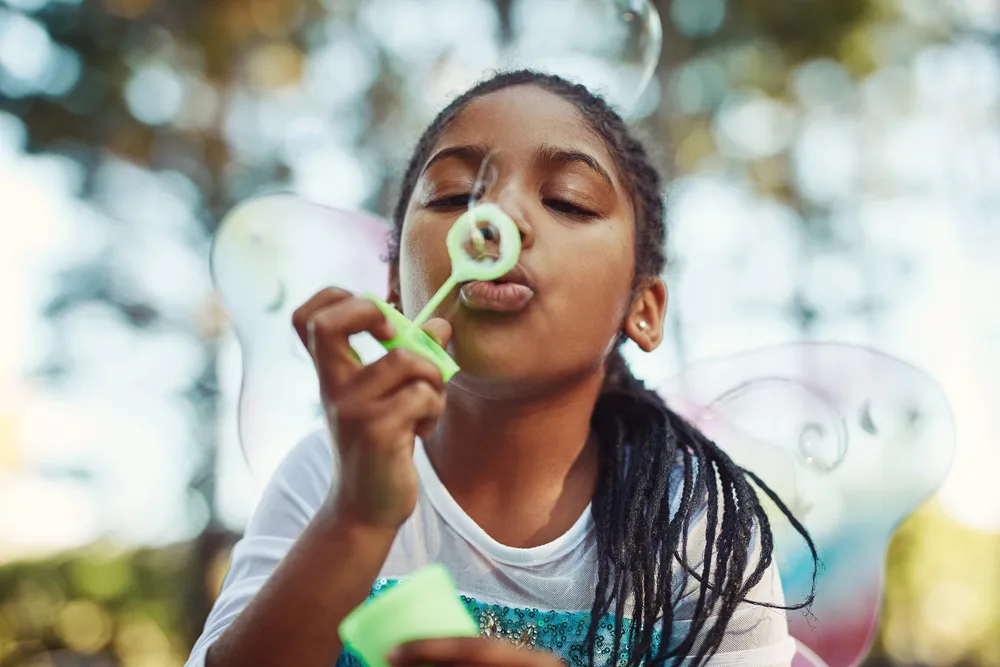 4. Criss-Cross Knotless Braids with Beads
Crisscross knotless braids for kids w/beads | Beyond Edges Collection Braid Gel
The following entry on our list features crisscrossing braids that amp up this style's wow factor and make it a look that your kids are sure to love! The knotless braids in the back mean that you'll be able to pull her hair into a variety of adorable ponytails, buns, and updos.
Does this sound like something you want to try?
First, make a part around the middle to create a back and front section. Section off the back and braid it into knotless braids. Break the front half into two rows of square sections. Wrap a small rubber band around each to create a tight ponytail.
To add a fun pop of color, try using bold, brightly colored rubber bands instead of black or brown. Cross each section over the next to form an X and wrap it around the base of a knotless braid.
Repeat the process until you finish all the crisscrossing braids. You can follow the steps we've listed or check out this simple tutorial.
5. Half-Up, Half-Down Knotless Braids
Cute Kids Half Up Half Down Feed In Braids +Knotless Box Braids
This next hairstyle combines two different types of braids in one stunning look. The frontmost portion of your child's hair is braided back in thick, neat cornrows.
Once the rows reach their crowns, the ends are finished straight down so your little one can throw them into a high bun or ponytail. In the back, the hair is braided in knotless braids.
The combination of styles is a more versatile take on regular cornrows.
And since the braids are knotless, you can rest assured knowing the braids aren't putting too much tension on your little one's hair and scalp. Not sure if your braiding skills are enough to pull this adorable look off? Don't panic! Instead, watch this tutorial to become a braiding pro.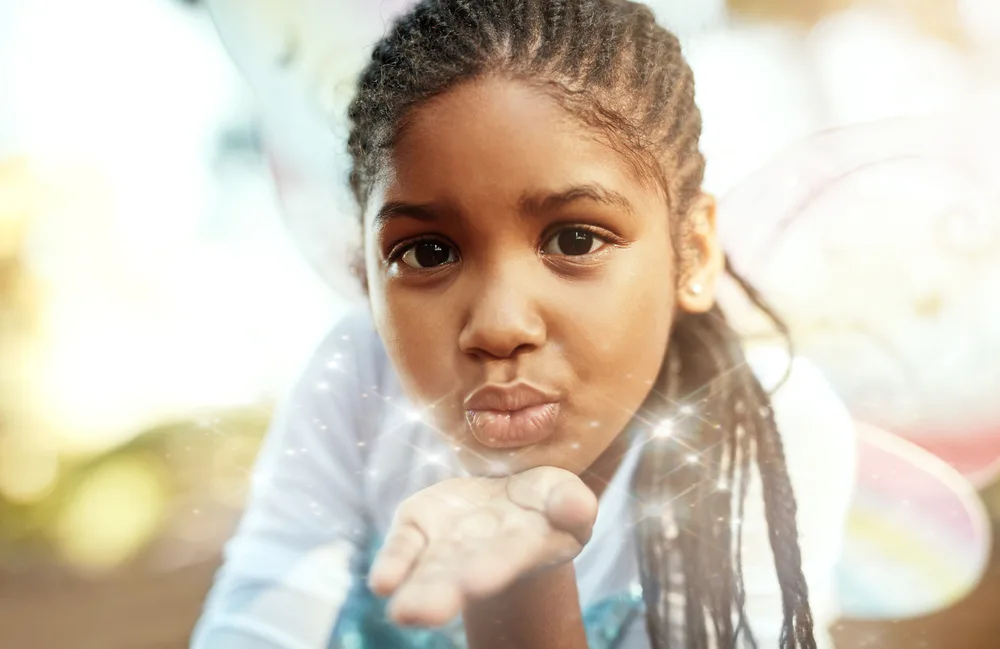 6. Unicorn Braids
KIDS Feed Ins w/ Unicorn Color Braids | Kids Natural Hair | Kids Salon Visit | MANETAMED Studio
It's no secret that kids love bright colors. And lucky for them, this look has plenty of them! Unicorn braids are a fun and exciting look that incorporates colored braided hair into the plaits. They are a smash hit with pretty much any kid that sees them.
After all, who wouldn't want to have rainbow hair? The braiding process itself is straightforward and closely mirrors that of regular box braids.
But as you move from braid to braid, change the shade of the braiding hair that you use. You can use whatever color your child likes, so have fun incorporating their favorite shades into the mix.
If you're after a typical unicorn look, use cool colors like purple, blue, gray, and light pink. This video contains all the info you'll need to pull off these awesome braids.
7. Knotless Braids with Curls
Our next look proves that even simple changes can have a significant effect. Curling the ends of your child's knotless braids is a quick and easy way to enhance them. The curls add a little more sweetness to the style and give them an extra pop of texture.
When you install knotless braids, most people seal the ends by dipping them in a bowl of hot water. That causes the fibers to stick together so the braids don't come unraveled.
Instead of dipping them straight in the water, wrap them around small hair rollers first. The heat will set the curls and ensure they last.
While box braids last for weeks, your child's curly ends won't.
To keep the style fresh, wrap the ends of their braids around hair rollers before they head off to sleep. Want to learn how to create this style from start to finish? Here's a video tutorial showing you how it's done.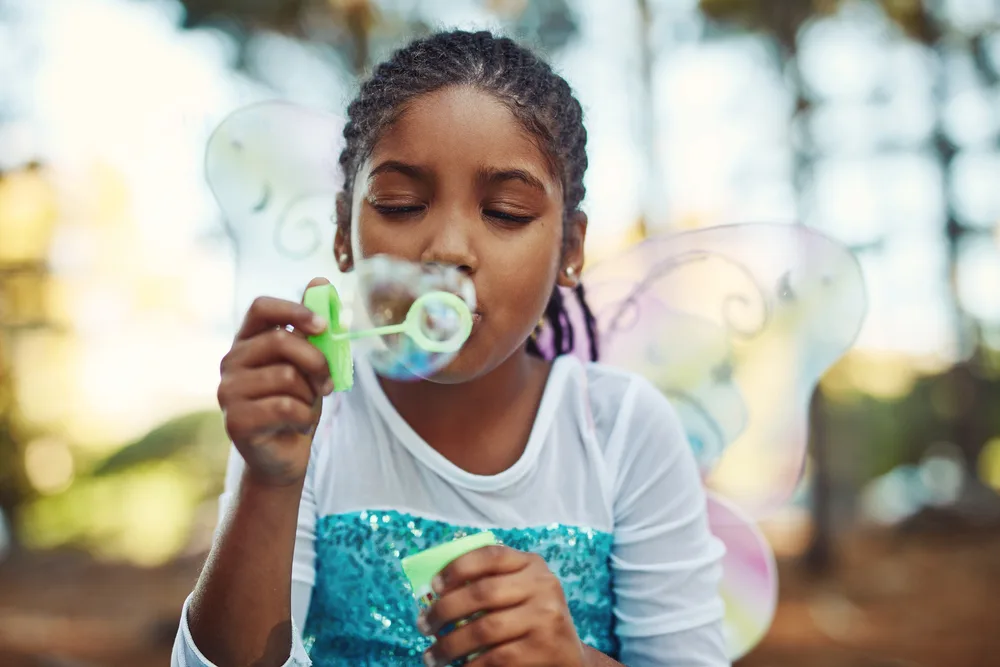 8. Box Braid Half Updo
TODDLER KNOTLESS BOX BRAIDS || CUTE KIDS HAIRSTYLES ||
Who said you had to decide between pulling your child's hair up and leaving it down? This two-in-one hairstyle proves that sometimes, not deciding is the best decision of all! A box braid half updo is a super sweet style that your little one will love.
It helps keep hair out of their face, while the loose braids in the back give you plenty of styling options. To get the look, use your fingers to create a part around your child's head.
Pull the top section towards the center of their head and gather it into a ponytail.
The high ponytail is this look's statement piece, so try playing around with the placement. You can put it in the center of the head or move it to either side for a more quirky take. Want to glam the braids up even more?
Add a few brightly colored hair clips after you pull the braids up. Now that you have a general overview, here's a video tutorial showing how to recreate a box braid half updo.
9. Space Buns
SPACE BUNS|box braid edition
Space buns are the ultimate cute but quirky hairstyle! They're two large, high buns on either side of the head. If that sounds simple, it's because they are! While space buns are usually done on loose hair, they look just as good when you do them on box braids.
In fact, the braids add a chunky, intricate look to the buns that transforms the simple style into a standout 'do. Want to try out this adorable look for yourself?
First, part your child's hair straight down the middle. The part will be visible, so take your time getting it neat. Gather both halves of her hair into two separate ponytails. Take one of the ponytails and twist the length of it around.
Then, wind it around the base until you reach the ends.
Tuck the ends into the corresponding base and repeat the steps on the next half. This video will provide more tips and tricks on how to get your space buns just right.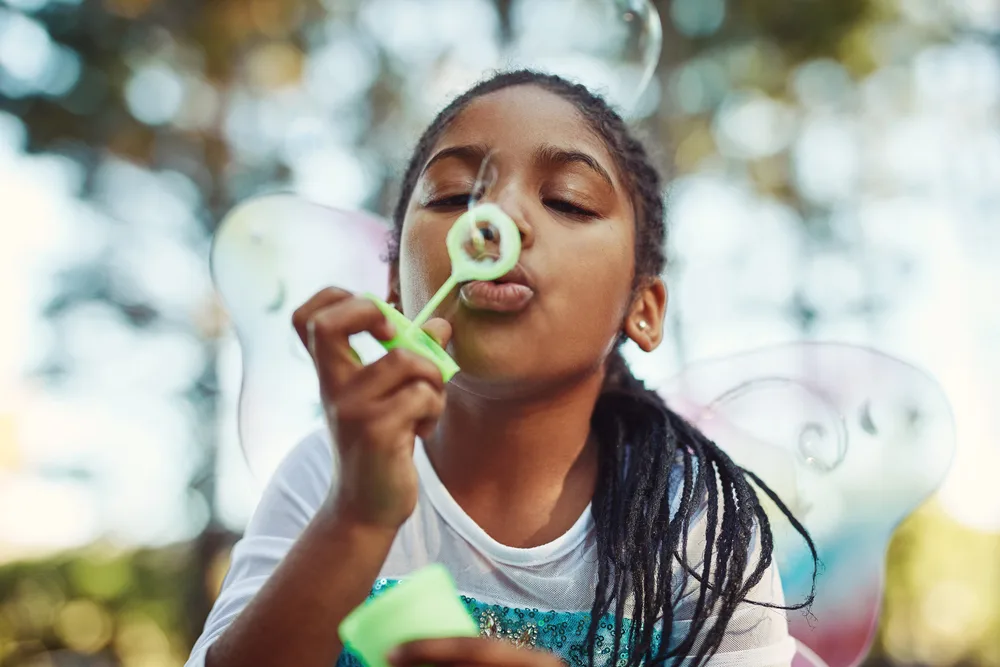 10. Boho Braids
VIRAL BOHO BRAIDS TUTORIAL ON NATURAL HAIR
Get ready to fall in love, because our next entry is one of the cutest hairstyles we've ever seen! Boho braids are a stylish and ethereal take on basic box braids.
Although they have the same basic shape as box braids, boho braids have soft curls interwoven throughout, giving them a looser, more charming vibe. Want to know the best part?
Installing boho braids isn't much more complicated than regular box braids!
They start pretty much the same way, but as you make your way down the braid, you'll add loose, curly strands into the plait. Because of the loose hair incorporated in them, boho braids only last for two to three weeks on kids.
And while boho braids look fantastic with extensions, they aren't necessary.
For a child-friendly option, try installing boho braids on their natural hair. Wonder how you're supposed to do that? Here's a tutorial showing you how to recreate this sensational style.
11. Cotton Candy Pink Box Braids
#5 Box braids Using Coloured Braids On Straight Hair (1c) | Kids Hairstyles@JANEILHAIRCOLLECTION
Does your little one love the color pink? If so, she'll absolutely love our next look. These bright and colorful braids are installed with pink braiding hair rather than boring black or brown.
Keep in mind that unless your child has pink hair, their natural color will peak through the braids. Now that you know the basics, you're probably wondering which shade of pink you should opt for.
Soft pastel shades are better suited for fair skin since they play up pink and blue undertones. But if your child has medium or dark skin, opt for a more pigmented shade like hot pink or magenta to prevent the braids from washing them out and ensure their skin looks warm and glowy.
Watch this video demo to see how to bring these cotton candy pink box braids to life!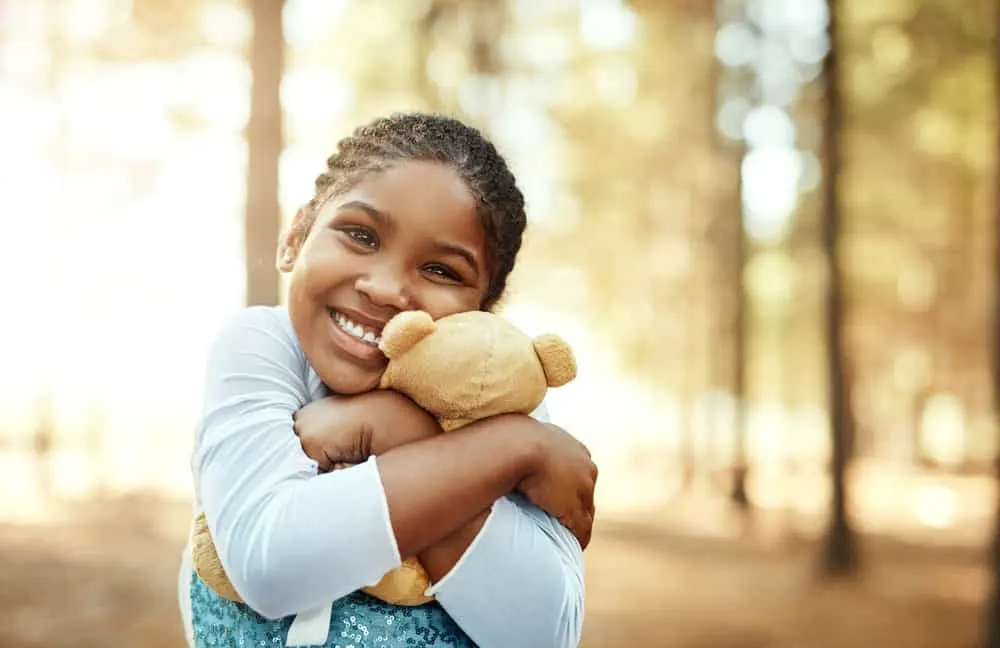 12. Braided Bun with Knotless Bangs
BRAIDED BUN WITH KNOTLESS BRAIDED BANG HAIRSTYLE FOR KIDS
This next look has a little something for everyone. It combines beads, braids, bangs, and a bun in one gorgeous look! Despite having so much going on, it looks cute rather than too busy.
As a bonus, your little one should be able to keep their braided bun with knotless braids in for three or more weeks! To create this style at home, use a comb to separate a section of hair for the bangs.
Then, cornrow the rest of the hair towards the center of the head to create a braided ponytail. Once you reach the center, braid the rest of the cornrows straight up or down to create loose braids. Pull the braids into a ponytail and secure it with a hair tie.
Next, it's time to go back and style the bangs.
Divide the hair into three or more rows and create knotless braids. Trim them to length, and add a selection of fun beads to the ends. Want to try creating this style yourself? If you still need more information, you can watch this easy-to-follow video!
13. Knotless Braids with Triangle Parts
Kids Knotless Box Braids with Triangle parts/added extension
By this point in our list, you already know how amazing knotless braids are. They're gentle and long-lasting, and the box-shaped sections give the braids a stylish, organized quality.
But instead of boring old box-shaped parts, these have fun triangular sections! The sharp angles create a detailed, geometric look that makes these braids funkier.
The best part is that they aren't too much more complicated than doing regular braids! When making your parts, you'll simply do them at an angle rather than straight across.
Then, braid each section straight down like you would normally. Ready to tackle this hairstyle on your own? Watch this beginner-friendly tutorial to learn more.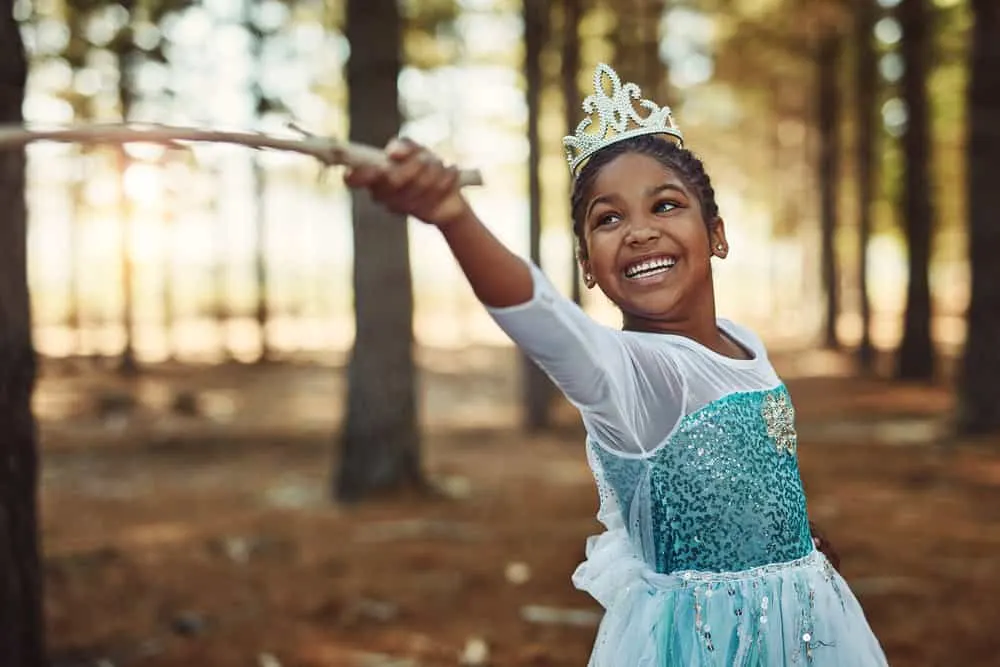 14. High Bun
1 MIN KNOTLESS BRAIDS TOP BUN TUTORIAL | ALLTHINGSSOMMERLY
Is your little one always on the go? If so, the high bun might be the style of your dreams. A high bun keeps your child's braids piled on top of their head so they don't get in the way.
That can help keep them safe and prevents them from tugging on or messing with the braids. In addition to being an excellent option for active children, high buns are exceptionally easy to create!
To make a high bun, gently pull your child's braids upward toward their crown.
Tie a soft, stretchy ponytail holder around the braids to gather them into a ponytail. Next, wrap the length of the ponytail around itself to form a bun. Tuck the ends into the ponytail holder to secure them.
You can also wrap another larger ponytail holder around it to make it even more secure. Want to know even more styling tips and tricks? Check out this video to learn how to create the perfect high bun.
15. Sleek Ponytail
box braid bun hairstyle for kids
You might not think box braids and sleek ponytail belongs in the same sentence. But our final look proves that these two hairstyles are a match made in heaven.
Ponytails are one of the most popular go-to styles for girls and women, and it's easy to see why! They're quick, easy, and keep your little one's hair off their face!
To create a sleek ponytail, gather all of your child's hair back into a ponytail.
You can make your pony high or low, depending on your preferences. Remember, you don't want the ponytail to be too puffy or fall apart.
Make sure you make a couple of loops with the hair tie so the ponytail will be secure enough to last the day. Want to learn how to install this box braid ponytail from start to finish? Just take a look at this helpful tutorial!
And so concludes our list of box braid styles for kids. For the most part, kids can wear the same braided styles as adults. But if you want to keep them age-appropriate, you may have to make a few adjustments to each look.
For example, you'll need to limit the length and the amount of hair you include in the braids so they don't overwhelm your child's small frame. We hope one of the looks we've covered today is just what you and your little one were looking for!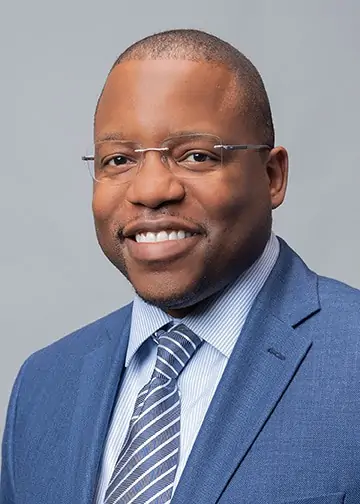 Kenneth Byrd holds a BS in Accounting and Management Information Systems and an MBA from the University of Alabama at Birmingham. With over 15 years of experience, Kenneth has been dedicated to hair care since 2008, when he co-founded Curl Centric® and Natural Hair Box alongside his wife. As a team, they promote healthy hair care practices through their comprehensive platform, Curl Centric. Curl Centric is a website operated by a husband and wife team that encourages healthy hair care. At Curl Centric, we aim to help our readers take control of their hair care journey and make good decisions about products, hairstyles, and maintenance techniques. We also have strict editorial integrity; here's an explanation of our editorial guidelines and how we make money.