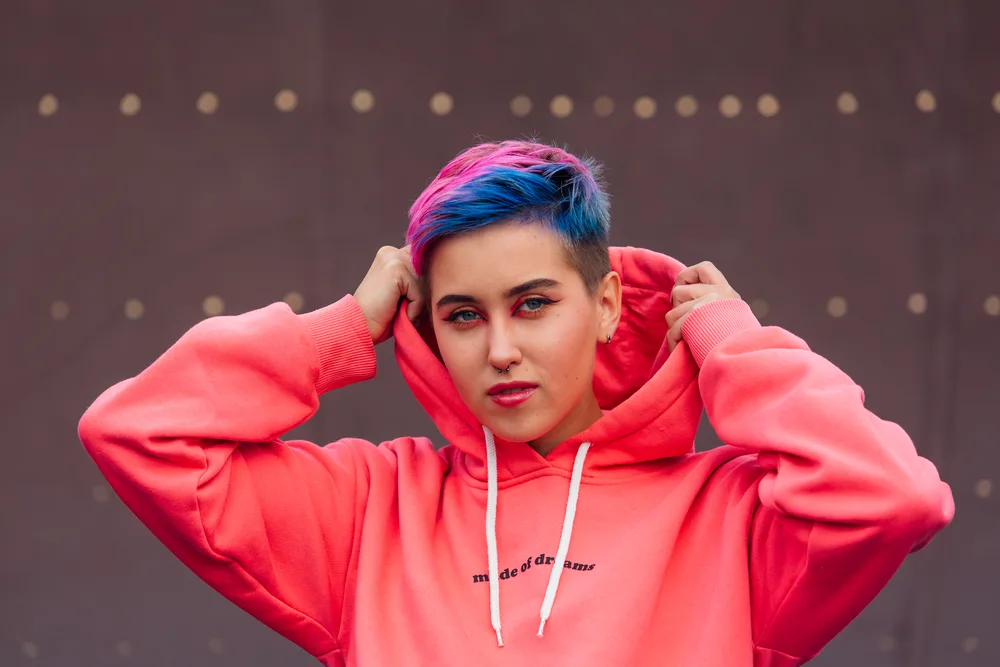 Nonbinary people come in all different shapes, sizes, ages, and ethnicities. So naturally, enby haircuts are as diverse as they are great-looking! But we get it; it's easy to get into a rut and fall back on the same hairstyle day after day.
If you're looking to shake things up, this is the article for you! We'll take a look at great haircuts for every they, them, she, and he out there! We'll also give you a few tips on how to make each look your own.
So sit back, relax, and get ready to find your new favorite enby hairdo!
How to Create Cute Enby Haircuts: Step-by-Step
These step-by-step video tutorials include gender neutral haircuts and androgynous hairstyles for all face shapes, different hair textures, and facial features. There is something on this list for people with short, long hair and for wanting to highlight masculine and feminine elements.
1. Short 'N Sweet Shag
It's hard to imagine a hairstyle with more spunk and personality than a shag. Shags are a type of short-to-medium-length haircut. They have tons of choppy, uneven layers that give the look a decidedly punk vibe.
how i do my hair bc y'all don't quit (shag/wolfcut androgynous hair tutorial)
The ends are slightly feathered, which helps soften and draw attention to the disjointed layers. It also gives your hair a good deal of flow and movement.
Shags are a great way to accentuate and highlight your natural hair texture and look great with and without curls or waves.
There are also hundreds of different takes on a shag ranging from classic and conservative to punk and edgy. The key to a good shag is getting the right cut, so here's a video showing how this creator brought their shag to life.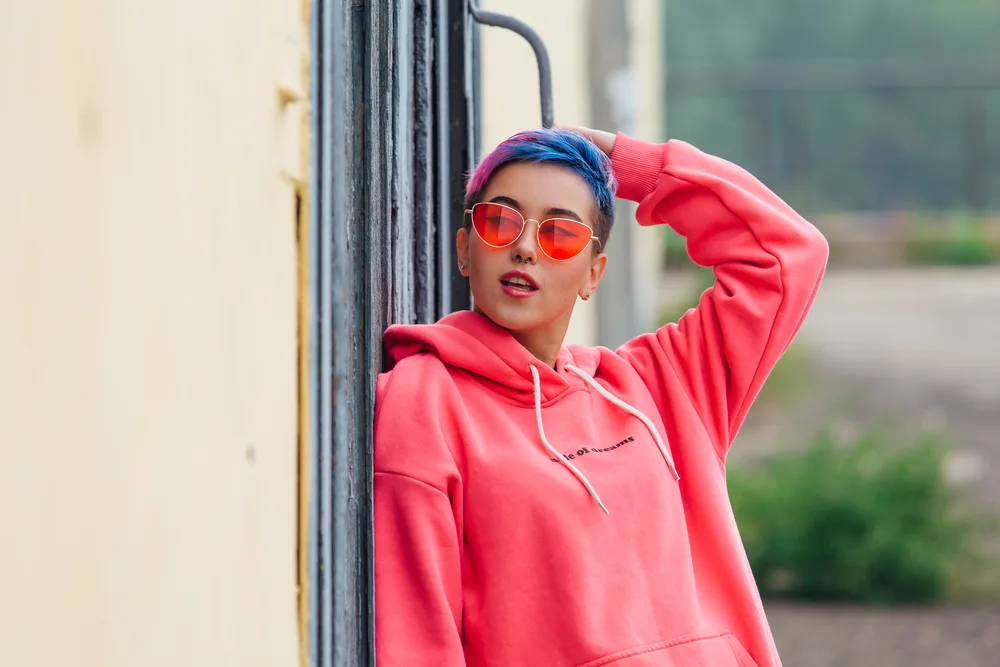 2. Bowl Cut
For years, the bowl cut has had the distinct honor of being the least sought-after and most loathed haircut. But now, the bowl cut is in the spotlight for all the right reasons! It's important to note that this isn't your grandma's bowl cut.
Texture Pixie BOWL CUT | Instagram @EnhanceByLynette
While the look still has the characteristic blunt bangs and even length, the modern bowl cut takes a much more subtle approach. It has much thinner ends and soft layers to help take the edge off the blunt shape.
Bowl cuts are easy to maintain, although the blunt ends mean you'll have to get regular trims. That way, your haircut will retain its shape and not become shaggy. As a bonus, a bowl cut is one of the most accessible cuts for beginners to pull off!
Just make sure you have a mirror handy to keep the back and sides even. You should also watch this short tutorial before you pull out the scissors. That way, you'll know exactly what to expect.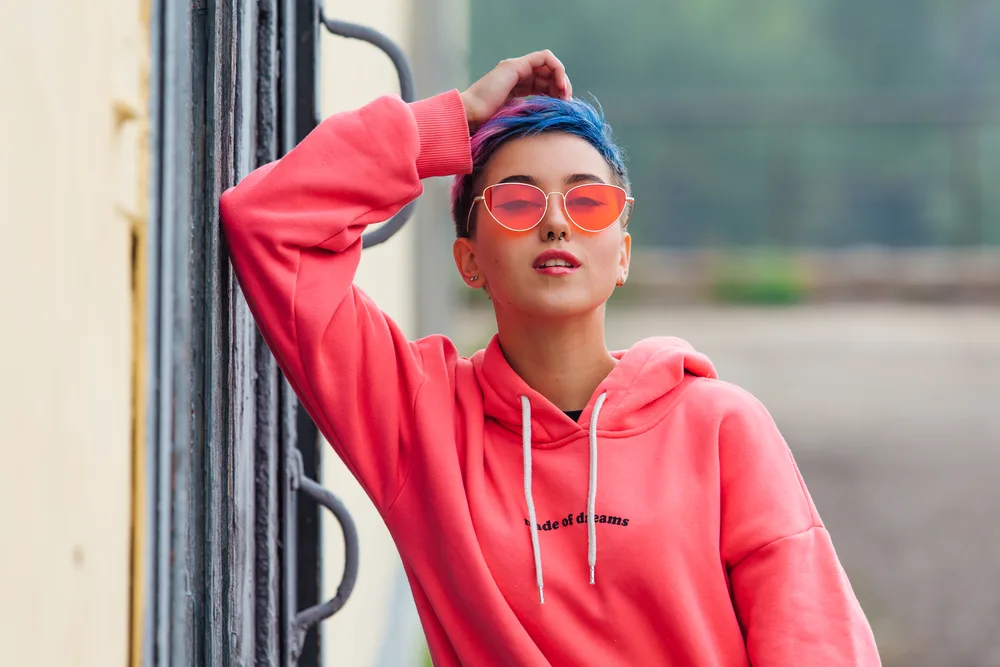 3. Bixie Cut
Looking for something a little longer than a pixie but shorter than a bob? Look no further, because you're about to fall in love with our next entry! If you haven't figured it out by now, a bixie cut is a daring combination of a bob and a pixie cut.
How to Cut and Style a Bixie
A bixie has the volume of a pixie while keeping the length and flexibility of a bob.
The in-between length makes it a universally flattering cut that works well with all different facial and hair types. And since a bixie is longer than most other short haircuts, it's versatile, low maintenance, and easy to style.
When done right, a bixie manages to give you the best of both a short and medium-length cut. Check out this informative tutorial if you want to find out more.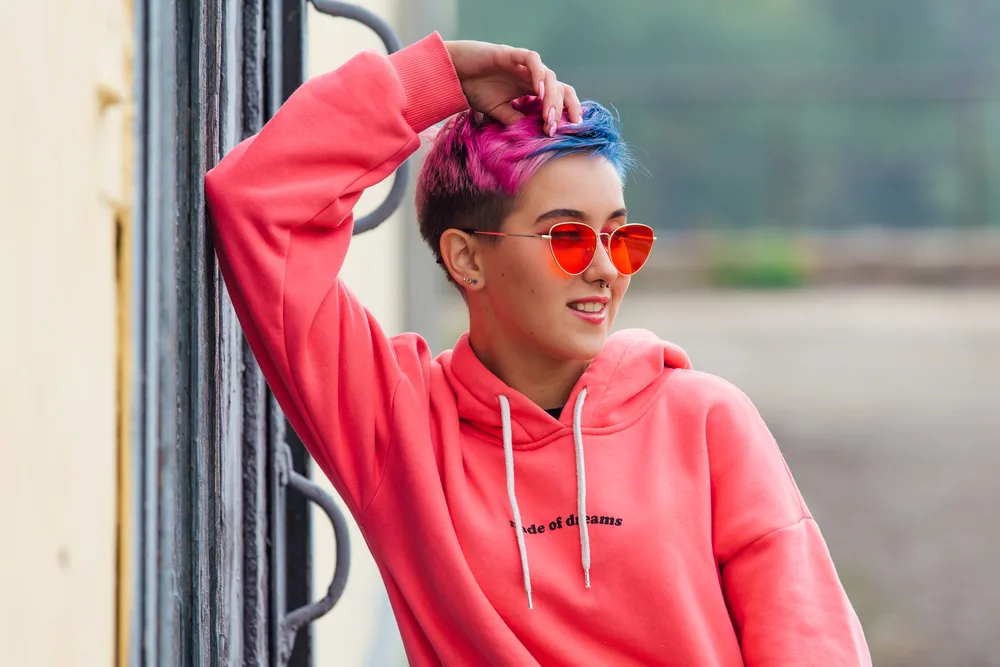 4. TWA
A TWA is an acronym that stands for teeny weeny afro. It's also the next entry in our list of enby haircuts. An afro looks great at any length, but keeping it short helps you play up the androgyny.
🍂TWA ,SHORT and AWKWARD LENGTH hairstyles 🌱🦋//2021compilation✨🌻
Whether you want to grow your hair out or you're ready for a big chop, a TWA is at the perfect in-between length. In order to qualify as a TWA, your hair will have to be less than three inches long.
The super short length makes them virtually effortless to style and care for.
All you'll have to do is work your favorite styling product into freshly washed hair. Rake your fingers through your curls to encourage clumping, and you're done!
While teeny weeny afros are short, they're long enough to show off all your gorgeous kinks, curls, and ringlets. Check out this video for more TWA styling inspiration.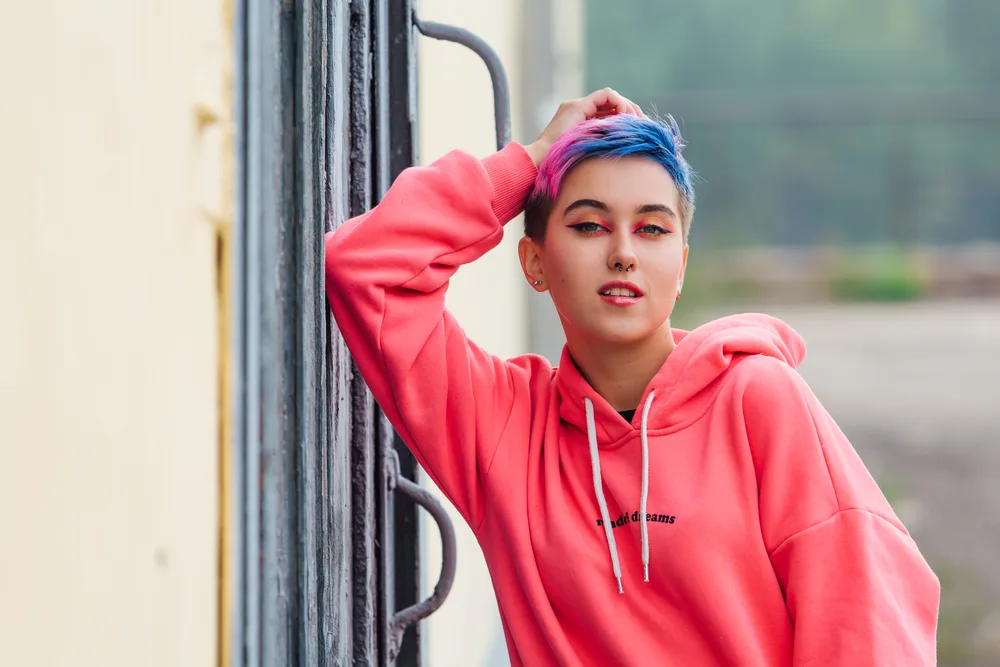 5. Long Layers
No one said that enby haircuts have to be short. If you'd prefer to rock a long, flowing mane, you might want to check out this next enby haircut! A layered haircut arranges your hair into distinct layers, with the shortest one on top.
NEW HAIR + how to style layers
The graduated cut gives the illusion of increased length and volume. In addition to looking great, layers serve a more practical purpose.
Layers remove the excess bulk from your mane and help improve your hair's body, flow, and movement. They also accentuate your natural texture, which can cut down on styling time and difficulty.
The key to getting great layers is their placement, so make sure you go to a professional stylist for your cut. Then, you can learn how to style your new layers by watching this helpful YouTube video.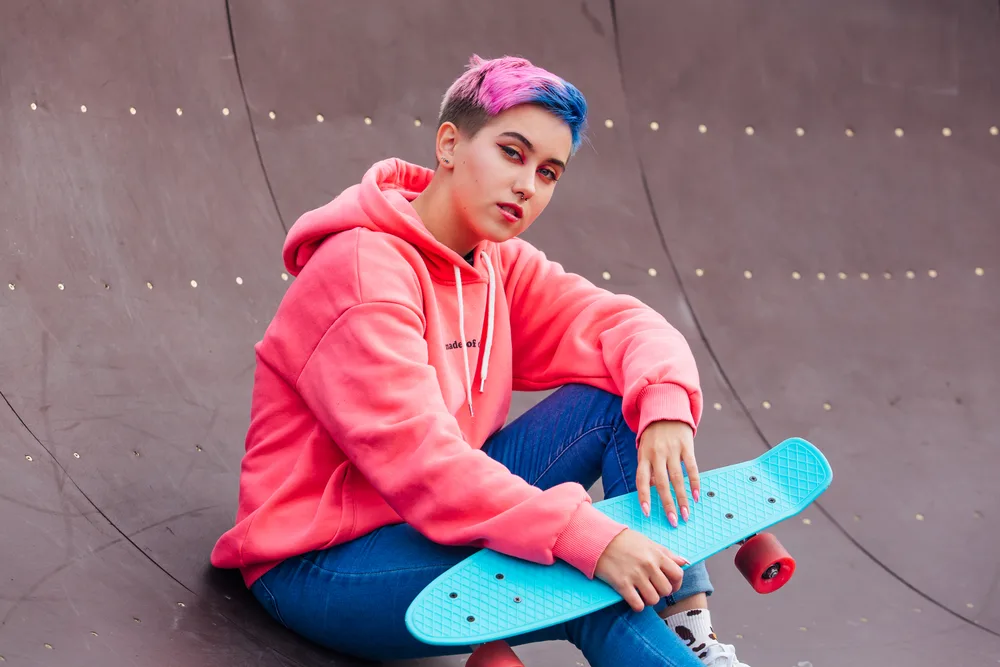 6. Tapered Faux Hawk Afro
A tapered faux hawk is basically the more conservative and wearable version of a mohawk. It has a similar profile, with a short back and sides paired with an extended center.
How to Cut a Tapered Faux Hawk on 4B/4C Natural Hair | BEAUTYCUTRIGHT
However, the tapered faux-hawk has a slightly less pronounced difference in length. Instead of transitioning straight into shaved sides, it gradually gets shorter.
As a result, a tapered faux-hawk remains highly wearable while still retaining plenty of that mohawk edge. Faux hawks look great with a variety of textures, but they're exceptionally great with naturally kinky or curly locks.
There's an appealing contrast between the softness of the curls and the more structured taper. Take a gander at this helpful video demonstration to find out more information.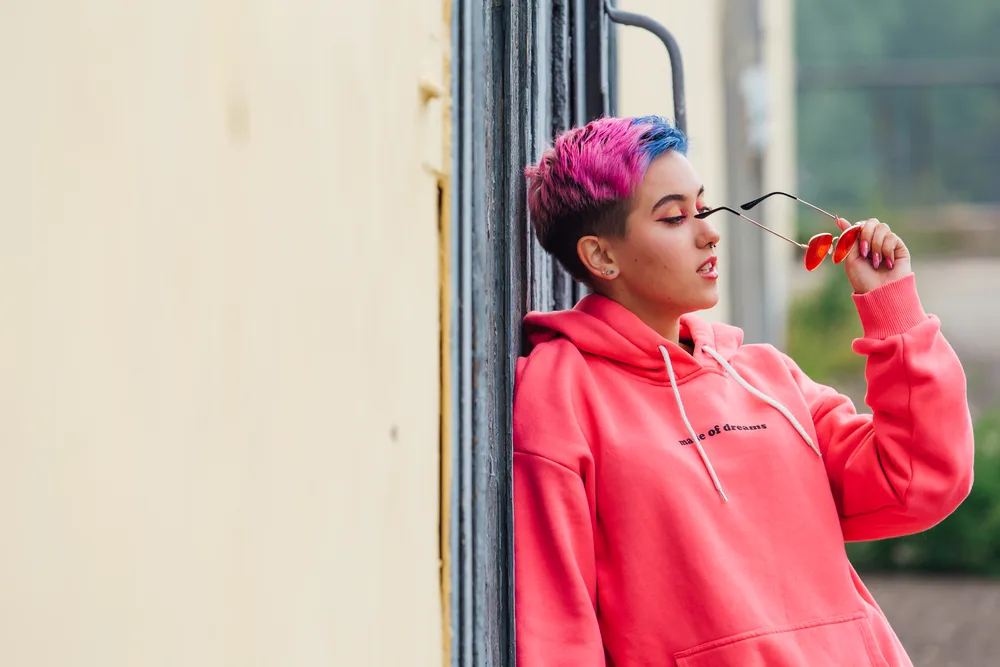 7. Pumped Up Pompadour
The next entry on our list shows that sometimes, less is more. A pumped-up pompadour is a short, relatively simple cut. It has a similar silhouette to a mohawk, with a voluminous top and sleek sides.
Styling my pixie is a pompadour/ faux hawk #pixiehair #fauxhawk #pompadour
But since your back and sides are slicked back rather than shaved, it looks significantly less harsh. Pompadours are exceptionally wearable and prove that haircuts can be both professional and fun.
Because the key to this look is an ample top, your hair will have to be at least six to eight inches long. Pompadours are also reasonably quick to style. All you'll have to do is blow dry your freshly washed hair with a round brush.
Brush the top of your hair back and up so it sits away from your scalp.
Once you get the shape right, smooth some balm, gel, or pomade onto your sides to slick them down. It literally couldn't get any easier. Watch this tutorial to see how you can make your pumped-up pompadour look absolutely perfect.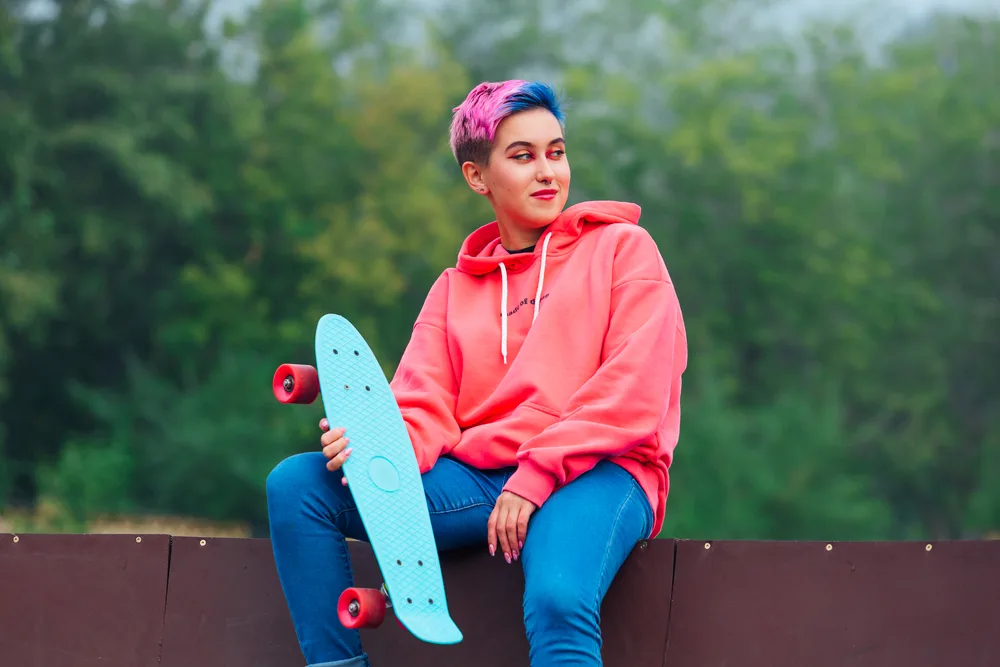 8. Low-Tapered Fade
Although fades are best known as a men's haircut, this charming cut is done in a way that prevents it from looking too harsh and masculine. Taper fades, like this one, are a type of short haircut that gradually gets shorter as you move down toward your nape and neck.
HARD BARBER TUTORIAL LOW FADE HAIRCUT
Low tapered fades start at the ears, which creates a subtle spotlight effect that puts all the emphasis on your stunning face. It also makes your cheekbones and jaw look more prominent, so it's great for anyone who wants to give their features more structure.
Another great thing about a low-tapered skin fade is that it almost always looks sleek and tidy. This is because the style brings the sides and back of your hair inwards, so you don't have to worry about frizz and flyaways.
This video should provide you with all the information that you'll need to know.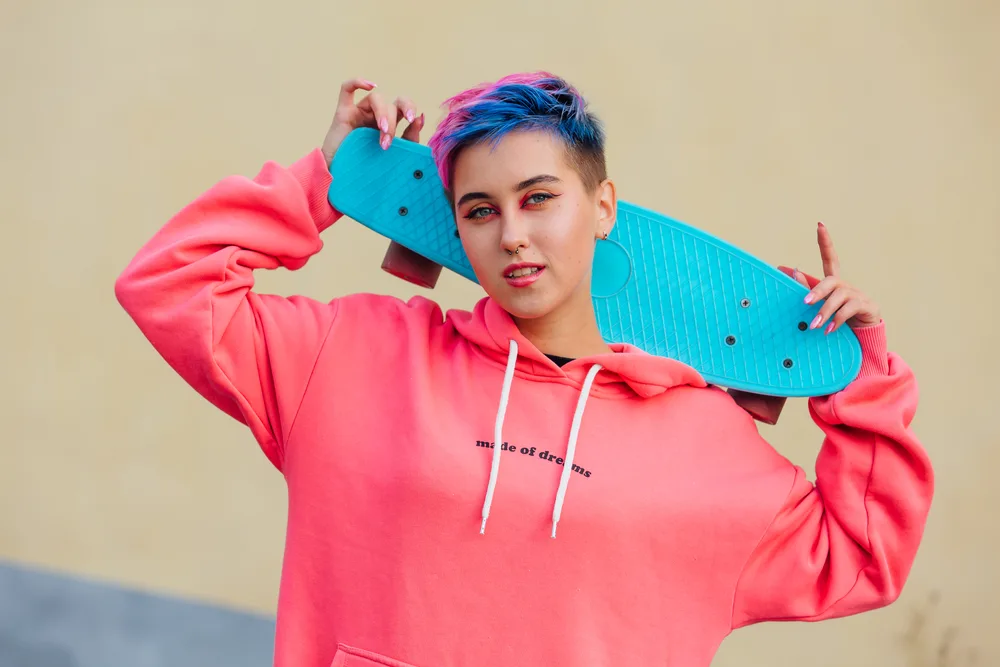 9. Mixie
A mixie is yet another short, sweet, and ultra-chic fusion haircut that combines elements of a mullet and pixie cut. Mixies are a little longer than a standard pixie, but they retain loads of volume and punk rock texture.
Cute & Stylish Mixie Haircut Ideas " The Mullet Pixie"
They also have the characteristic mullet shape, with a shorter front and long, choppy back. The unique shape gives the look a retro 60s vibe, while the length and texture bring it into the twenty-first century.
Another great thing about mixies is that they're pretty easy to style. Simply work a bit of texturizing balm into the various layers, and use your fingers to lift and define them.
And that's it! Because the cut does the heavy lifting, it'll look like you spent hours getting your hairdo just right. Unsure whether the mixie cut is right for you?
Check out this short video for more style inspiration.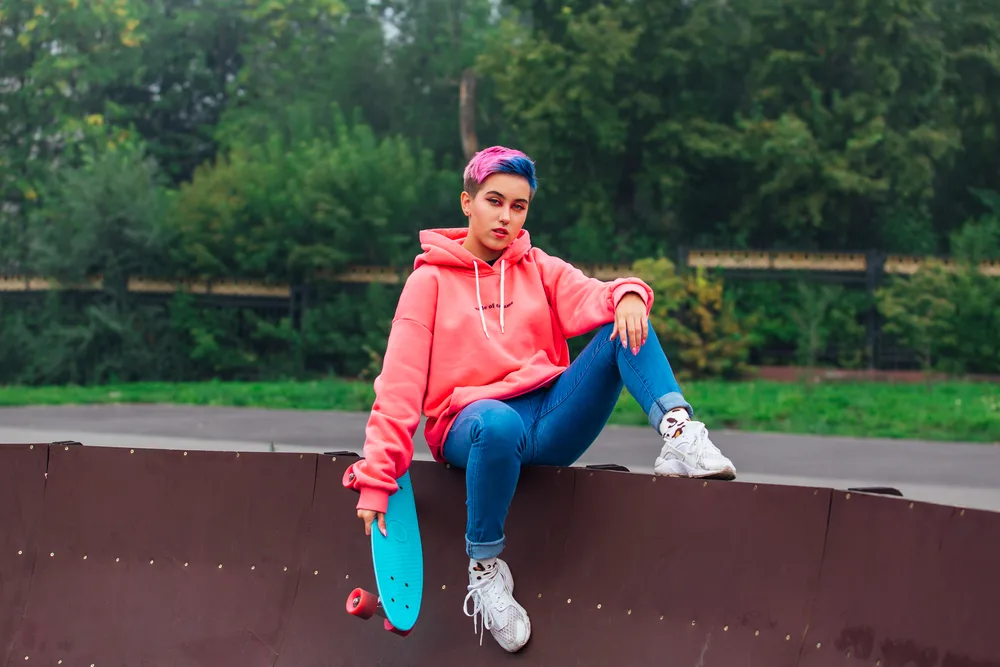 10. Androgynous Wolf Cut
Unless you've been living under a rock for the past five years, you've probably heard of the wolf cut. A wolf cut is halfway between a shag and a mullet and contains lots of face-framing layers and edgy texture.
Hairdressers Guide To Cutting A Wolf Cut/ Shag And Not Ruining Your Hair
They keep the bulk of the volume towards the top of your head by creating short wispy layers. Then, the cut transitions into longer, choppier layers as you move down the sides and back.
Wolf cuts look amazing on all hair lengths, but if you're looking for a more androgynous cut, you should keep things on the shorter side.
Despite being relatively simple, wolf cuts seamlessly blend the wild and chaotic with the soft and romantic. Wolf cuts are all about achieving the perfect shape, so here's a video tutorial to give you a little more information on this incredible hairstyle.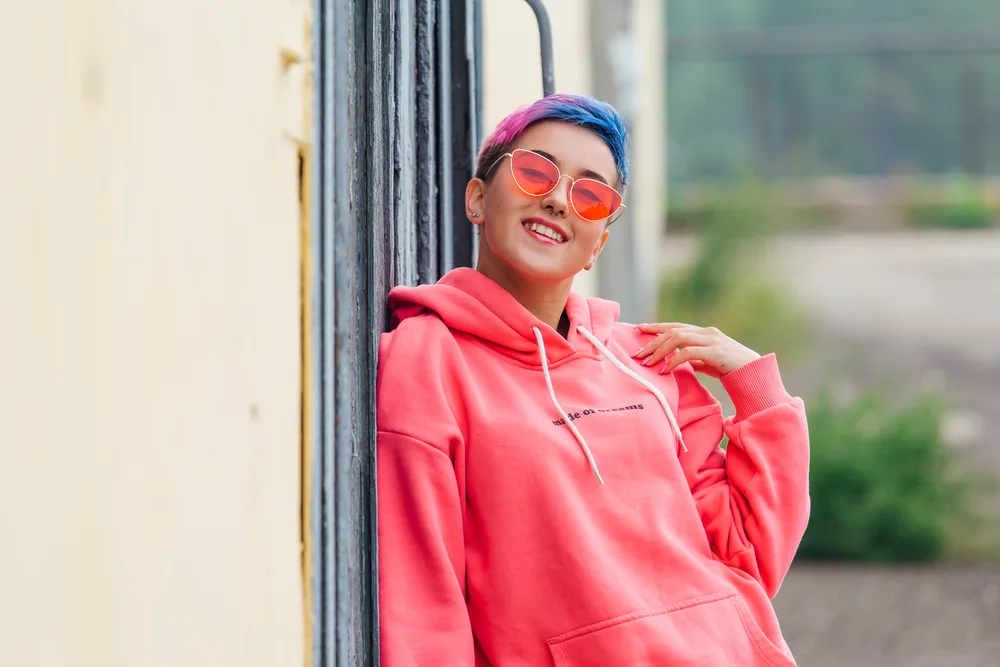 11. Angled Pixie Cut
An angled pixie cut is a popular choice for nonbinary folks due to its manageability and edge. They're put together enough for even the most demanding workplaces while remaining fun, youthful, and stylish.
How to Create a Long Pixie/Short HairCut on Episode #43 of HairTube© with Adam Ciaccia
The sharp, asymmetrical angle gives this look a more masculine edge.
It also helps draw attention to your jaw and cheekbones, which can slim down rounder facial shapes. The cut also does the vast majority of the work, so your hair will be quick and easy to style.
Unfortunately, it's not all good news. This cut contains uneven lengths that can limit your styling options. That means this look is slightly less wearable than some of the other entries on this list. But don't worry.
This cut looks so fantastic on its own that you probably won't even notice! Watch this YouTube tutorial to see how you can style your angled pixie cut like an expert.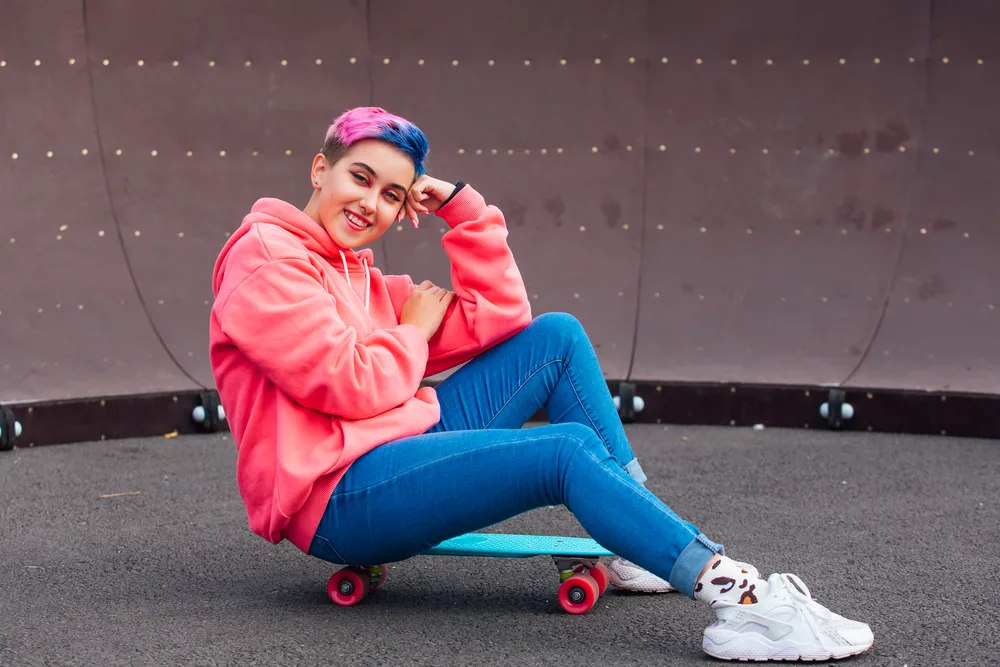 12. Side-Swept Undercut
A good nonbinary haircut bridges the gap between feminine and masculine styles. While there are many ways to do this, one of the best is to combine hard and soft elements in one look.
Mens Hair | Modern Side Swept Haircut & Style Tutorial 2019
And that's precisely where this stunner comes in. A side-swept undercut combines the structure and rigidity of a shaved head with the soft flexibility of a longer top.
Despite being a shorter cut, this look is surprisingly versatile. You can wear your hair down or pull it up into a topknot to show off your shaved back and sides.
Want to elevate it even more? Try adding some line designs or an unexpected pop of color to your undercut. Here's a video showing a few different ways to rock your side-swept undercut.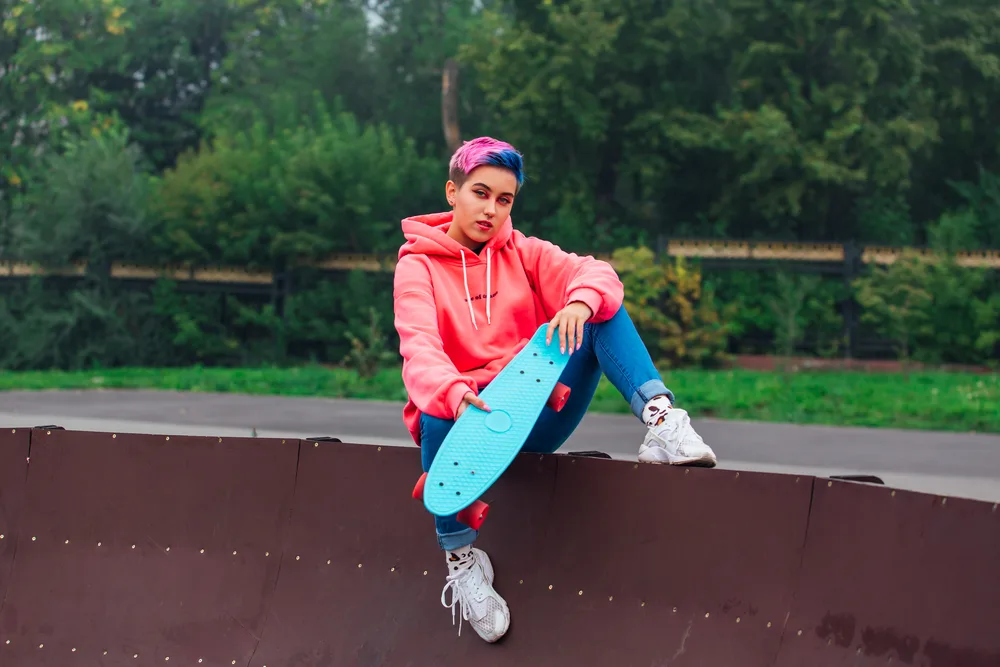 13. Slicked Back Bob
This look is proof that haircuts don't have to be complicated to make a statement. Slicking your bob back automatically updates it and gives it a fresher, more modern vibe.
How to Slick back Short Hair (only 3 Steps)
It's a perfectly understated look that manages to be both edgy and simple at the same time. And because this looks keeps your hair off your face, it's excellent for enbys that like playing around with makeup.
Try pairing your slicked-back bob with a statement-making makeup look. Keep in mind that we still haven't even gotten to the best part. This look is super quick and easy to pull off!
Simply saturate your hair with water and product, and brush it straight back. Then, coat your strands with gel so your hair stays picture-perfect all day long. Or, you can use hairspray just like this talented creator did.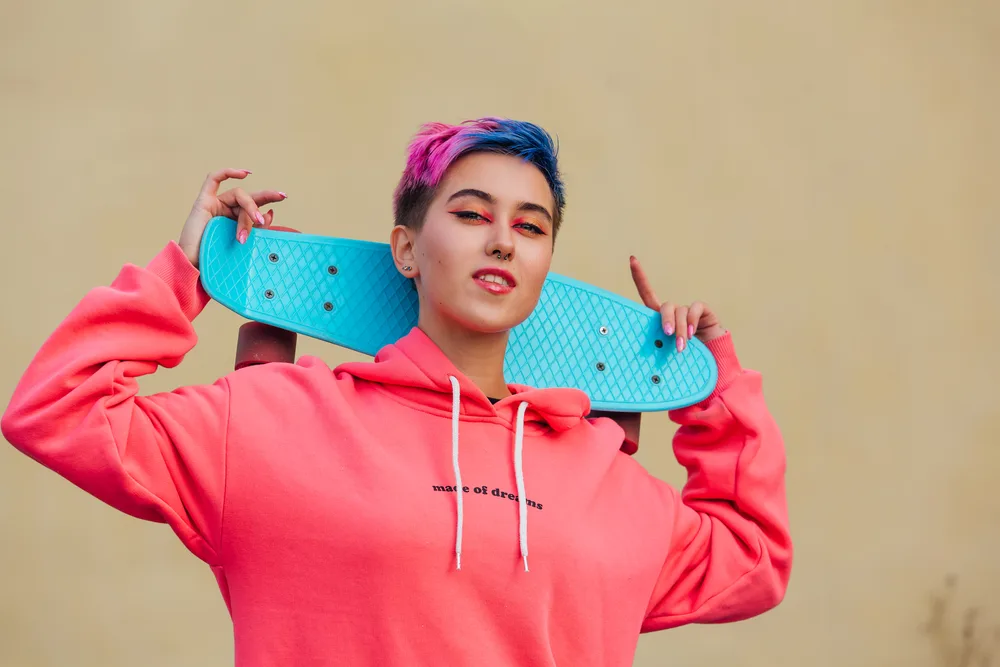 14. Buzzcut
When it comes to androgynous haircuts, the buzz cut is at the very top of the list. It's short and low maintenance and helps keep the attention on your gorgeous face.
How To Do Your Own Buzz Cut | Hair Refresh Pt 1
When you get a buzz cut, you or your stylist will use a pair of hair clippers to take your hair down to a quarter of an inch long or less. Haircuts don't get too much shorter than a buzz cut, so they definitely aren't for the faint of heart.
But if you're looking for an enby friendly haircut, it's hard to think of anything more iconic. And don't worry if you still want your hair to have plenty of pizazz.
Despite the lack of length, you can customize your buzz cut with various hair dyes, accessories, and line designs. So what do you think? Are you ready to give a buzz cut a try? If so, check out this helpful tutorial.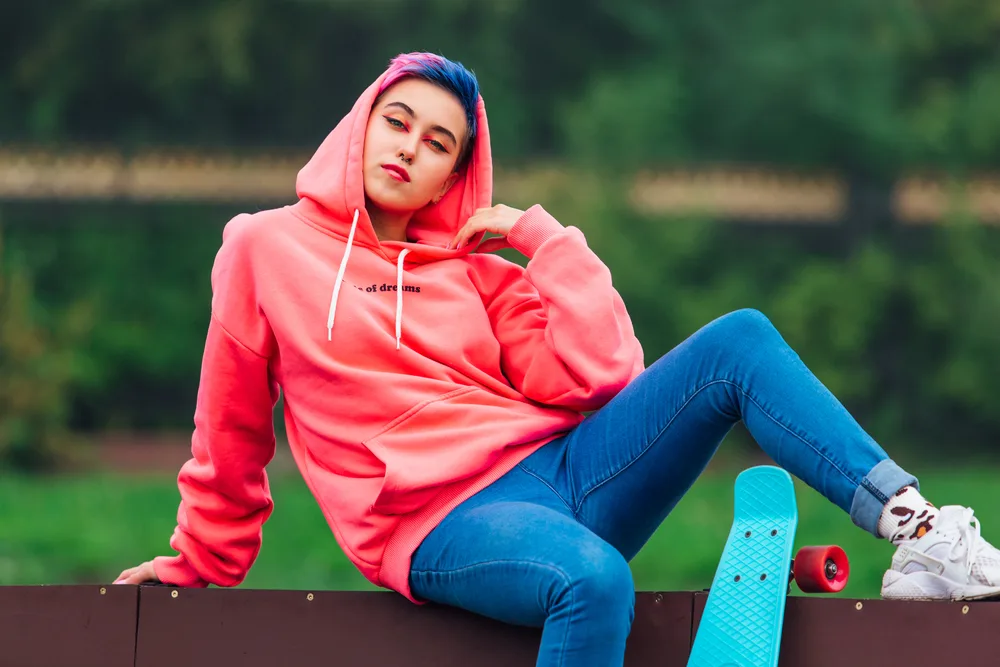 15. Curtain Bangs
Bangs are definitely a hairstyle that people either love or hate. But this great-looking fringe will convert even the most stubborn bangs haters. Curtain bangs are a long-to-medium length fringe that gets shorter as you move towards the center.
How To Cut and Style Curtain Bangs
On the sides, they're long and flowy with a soft edge that melts into the rest of your strands. Curtain bangs frame your face, much like curtains frame a window. And unlike some other styles of bangs, curtain bangs require minimal care!
They're long and shaggy, so you won't have to trim them out often. You also won't have to go through any awkward phases when you decide to grow them out.
Try pairing your curtain bangs with a short cut like a bob or bixie, or combine them with long layers. Either way, adding curtain bangs to your hairdo will instantly upgrade it. But don't take our word for things.
Watch this video to see how curtain bangs can refresh your look.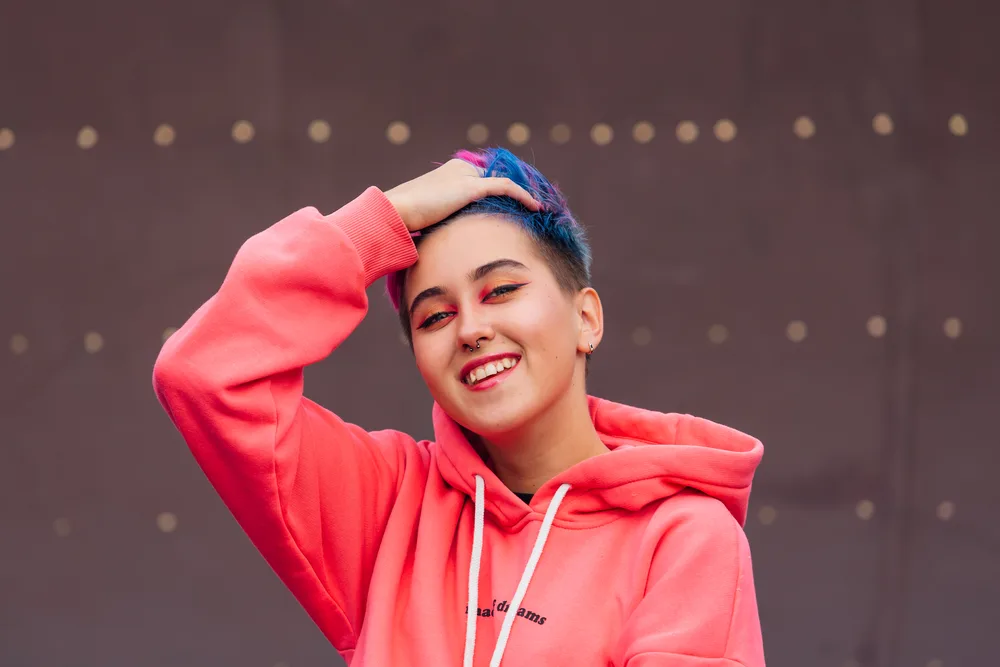 16. Modern Mullet
Although the mullet was once known as one of the tackiest hairstyles of all time, it's been given a fashion-forward makeover in the last few years. The classic mullet is short and choppy on top and sides, with a much longer back.
✂️ how to cut a Mini Mullet for Short Hair ?
It's an androgynous cut, making it perfect for any theys and thems out there. It's also important to note that the modern mullet looks slightly different from its 1980s counterpart.
The updated cut is a little more relaxed, with a more loosely defined shape. While the retro mullet has disconnected layers, the modern version is much more sleek and restrained.
And as a result, it's become a much more wearable style. Mullets look fantastic with any hair texture, whether it's bone straight or full of luscious curls. Just watch this short video to learn how.
Related Articles
Enby haircuts come in all different shapes, sizes, and lengths. But remember, it doesn't matter if a haircut is geared toward women, men, or whatever. What matters is that you like it and feel comfortable wearing it.
So always feel free to go off script and rock whatever haircut you want! That said, we hope that one of the enby-friendly haircuts we've gone over today is just what you were searching for.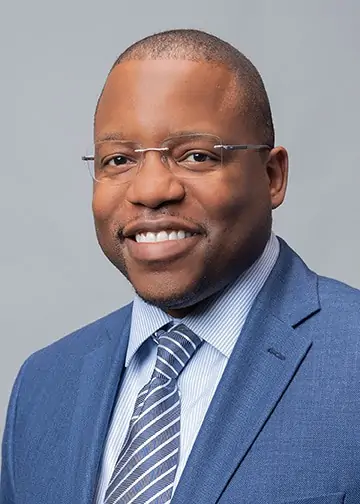 Kenneth Byrd holds a BS in Accounting and Management Information Systems and an MBA from the University of Alabama at Birmingham. With over 15 years of experience, Kenneth has been dedicated to hair care since 2008, when he co-founded Curl Centric® and Natural Hair Box alongside his wife. As a team, they promote healthy hair care practices through their comprehensive platform, Curl Centric. Curl Centric is a website operated by a husband and wife team that encourages healthy hair care. At Curl Centric, we aim to help our readers take control of their hair care journey and make good decisions about products, hairstyles, and maintenance techniques. We also have strict editorial integrity; here's an explanation of our editorial guidelines and how we make money.