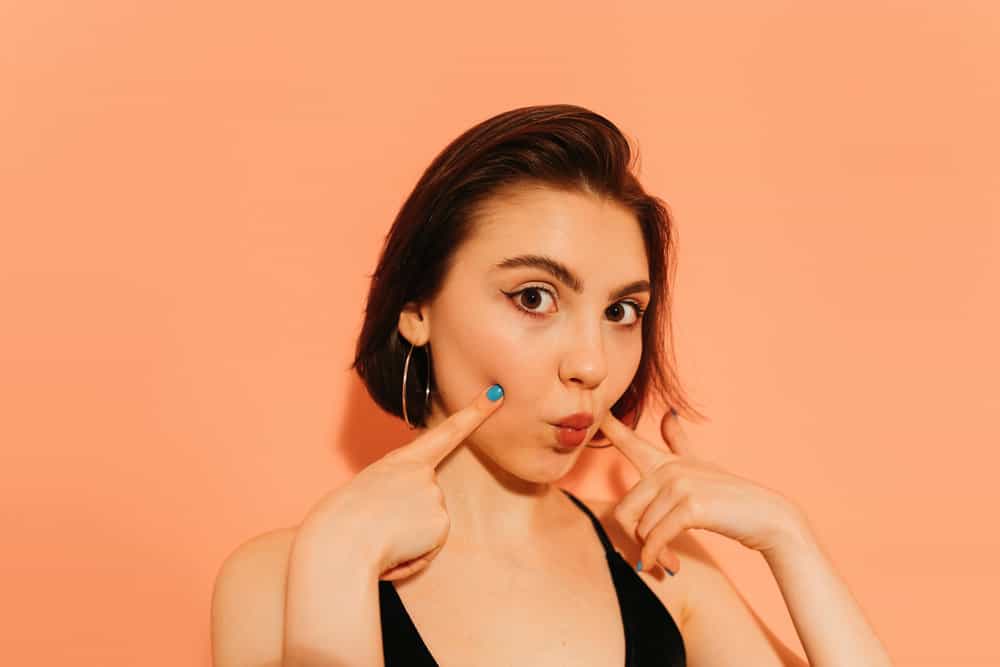 One of the best things about bobs is that they're incredibly versatile. But we'll bet no one told you how difficult they can be to style. Whether you've just gotten your bob or have had it for a while, this article will be super helpful.
In it, we'll teach you how to style a bob step-by-step. Let's get right into it!
How to Style a Bob: Step-by-Step
Within this article, we'll teach you how to create a sleek and silky look using a high-quality flat iron, creating beachy waves with different heat tools like flat irons, curling irons, and curling wands, and opting for heatless methods such as braid-outs, twist-outs, and roller/rod sets.
We also emphasize the importance of using the right tools and products and proper hair preparation and offer step-by-step guidance for each styling method to ensure the best results. Let's get started.
Sleek and Silky Bob
If you want to wear your bob sleek, straight, and fabulous, this is the styling method you should focus on. Straightening your bob with a flat iron is super easy when you get the hang of it.
BLUNT BOB || SLEEK & STRAIGHT hair tutorial
Here are the steps to follow for the best results:
1. Get Yourself a High-Quality Flat Iron
Some of the best flat irons are those that have ceramic plates, a temperature dial, and a no-snag design. But if you have super thick or curly hair, you may need to go with tourmaline or titanium. These metals are a bit more heavy-duty and will get your hair straighter in less time than a ceramic iron would.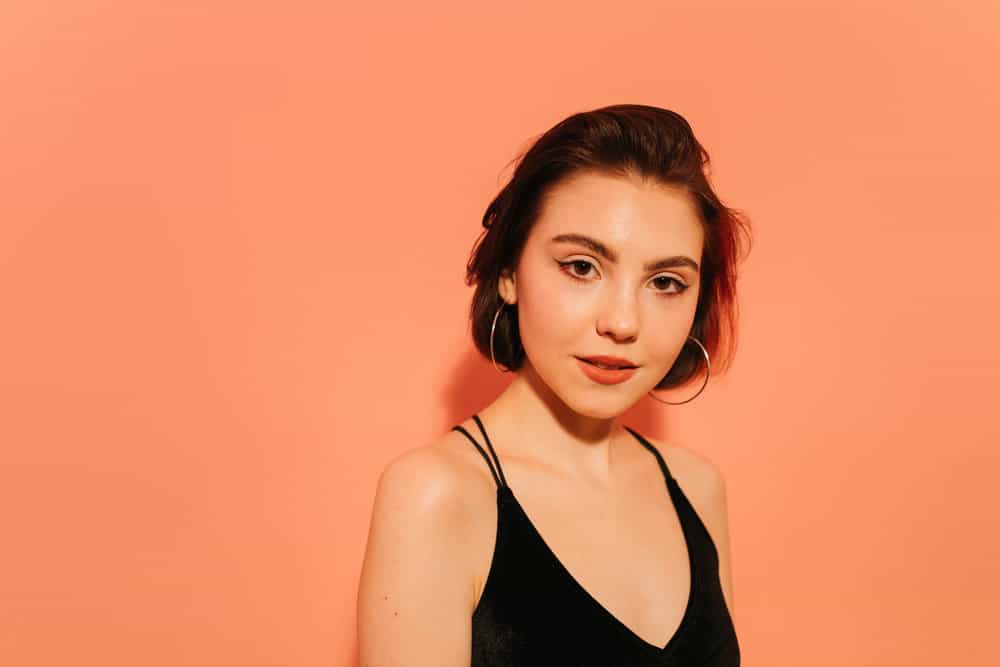 2. Power on Your Flat Iron and Set Its Temperature
It can be tempting to crank the temp to the max, but we advise against this. For most people, a temp between 350 and 400 will work just fine, and the higher you set your flat iron temperature, the higher your risk of heat damage. Give your flat iron a few minutes to heat up.
3. Wash, Condition, and Dry Your Hair
Apply your favorite shampoo to your hair. Focus it on your roots and scrub your scalp with the pads of your fingers for about a minute. Rinse your hair and apply your conditioner to your mid-lengths and ends.
Smooth the product on and use a wide-tooth comb to detangle your hair and distribute the product. Rinse the conditioner out.
4. Dry Your Hair Completely
At this point, you can allow your hair to air dry or use a blow dryer. If your hair is curly, we strongly recommend taking the time to blow dry your hair. In order to get your hair as straight as possible, you'll need to blow dry it almost straight before you flat iron.
The best way to stretch your hair with a blow dryer is to use a blow dryer with a comb attachment.
With the attachment on the blow dryer, you'll be able to comb through your curls, effectively stretching them as you dry them. Before you start blow drying your hair, apply your leave-in and a heat protectant spray and ensure that your hair is 100% dry.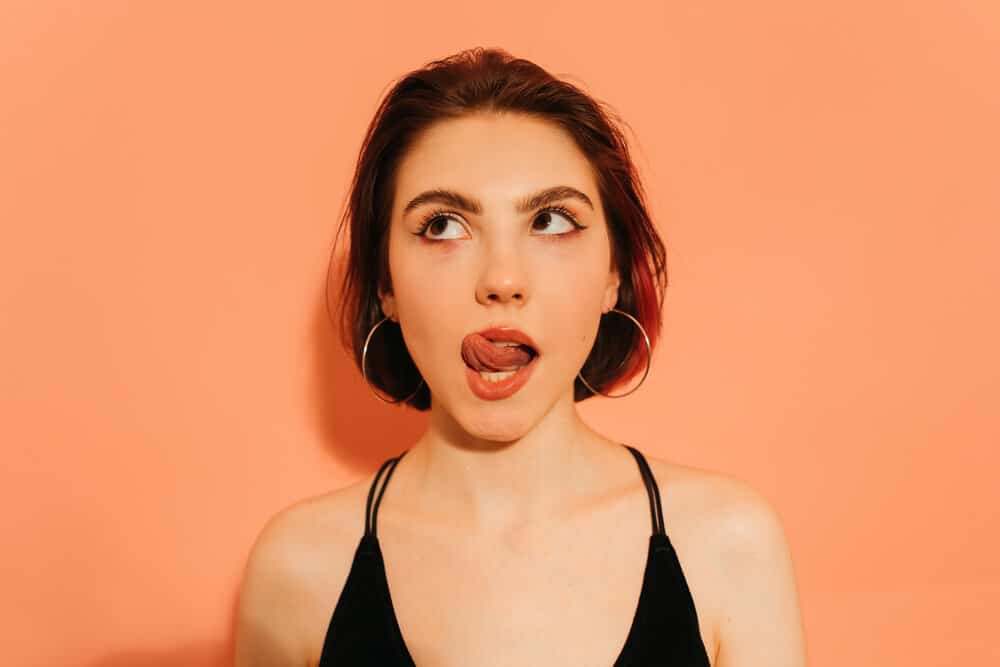 5. Part Your Hair Into at Least Four Sections
Doing so will make your hair super easy to work with. Put an elastic band around three of the four sections to keep them separate.
Starting with the section you didn't put an elastic on, part out a ½ inch section of hair, gently detangle it with a narrow tooth comb, clamp the flat iron down on the roots of the hair, and then gently pull the flat iron down the section.
If you want your hair to come out even straighter, put a rat tail comb through the section right in front of the clamped-down flat iron, and then pull the flat iron down the section. Don't stop mid-pass, or else you'll create unsightly kinks in your hair. Use one continuous motion with every pass.
Undo the rest of the sections and flat iron your hair in small sections.
Note: If you turn your wrist ever so slightly right after clamping the iron on your roots, you can create some volume at the roots.
Beachy, Wavy Bob
Beachy waves stun all year round. Their texture and personality enhance virtually anyone's aesthetic. If you want to get beachy waves on your bob, here's how to do it.
WAVES FOR SHORT HAIR *Bob Styling Tutorial Using A Curling Iron* // @ImMalloryBrooke
1. Grab Your Tool of Choice
There are several ways to get beachy waves on a bob – you can do them with a flat iron, a curling iron, or a curling wand. Choose whichever one works for you – we'll include instructions for each of these tools.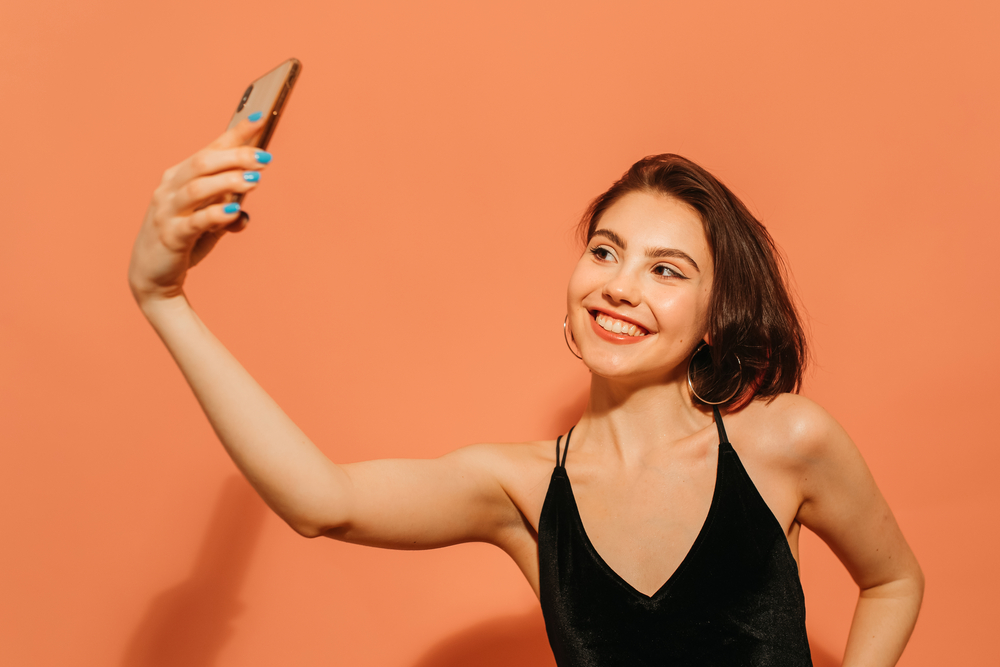 2. Wash, Condition, Dry, and Flat Iron Your Hair
Use the instructions we gave in the following section to get your bob straight. If you want to minimize heat, you can skip the flat ironing part, but you will lose some of the sleekness if you go that route. Turn on your heat styling tool.
3. Put the Top of Your Hair in a Ponytail
Secure it with an elastic band, and apply a heat protectant if you haven't yet done so.
4. Part Out a Vertical Section of Hair
Part out a vertical section of hair in the back and create a wave: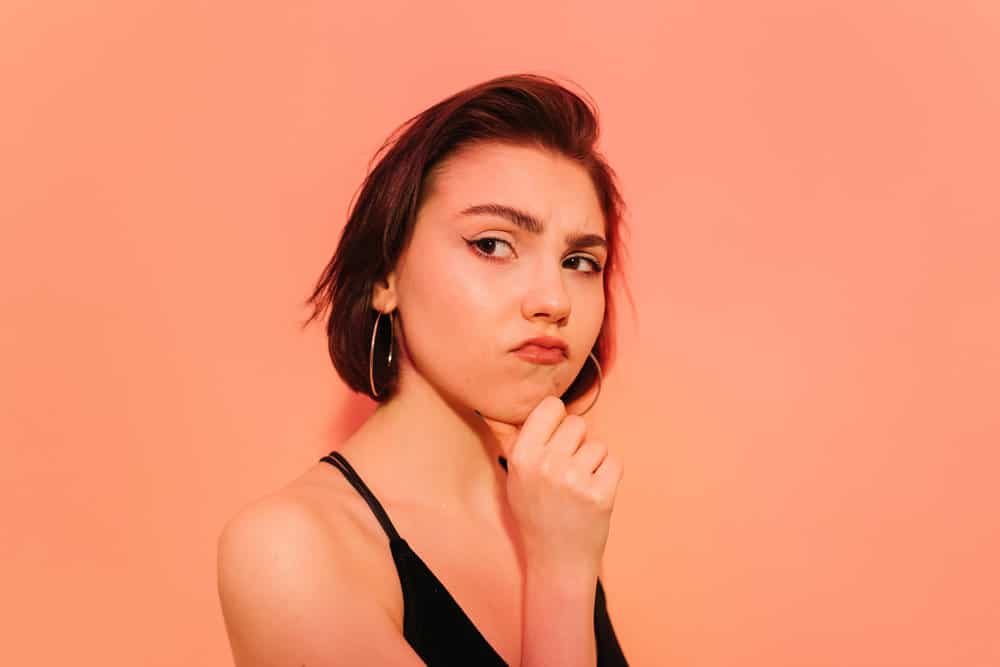 For Flat Irons: Hold the top of the flat iron toward the floor and clamp down on the roots vertically. After that, turn your wrist to either side to create the wave. The iron should still be pointing down as you turn your wrist. Immediately after turning your wrist, pull the flat iron straight down through the section. You'll be left with a loose wave. Repeat this method all over your head.
For Curling Irons. You'll need a 1-inch barrel curling iron or larger. Clamp the iron down on the ends of a vertical section of hair, twist the curling iron until you get near your roots, and then hold it there for a few seconds (up to five). Then push the lever and pull the iron downward to release the wave. It'll look more like a curl than a wave, but stick with it. Repeat this method on the rest of your hair.
For Curling Wands. Go for a 1-inch barrel curling wand or larger. Hold the curling wand so that the smallest end of it is facing downward or sideways – whichever feels more comfortable to you. Place the wand close to your roots and begin wrapping a section of hair around it, starting at the widest part of the curling wand. As you wrap your hair around the barrel, move further and further down the barrel. The more stretched out the curl is, the more wavy the section will be as opposed to curly. Do this all over your head.
5. Spray Your Hair with a Flexible Hold Spray
After spraying your hair with a flexible hold spray, run your fingers through your waves. Doing so will give them a little more body and make them look more like waves instead of curls.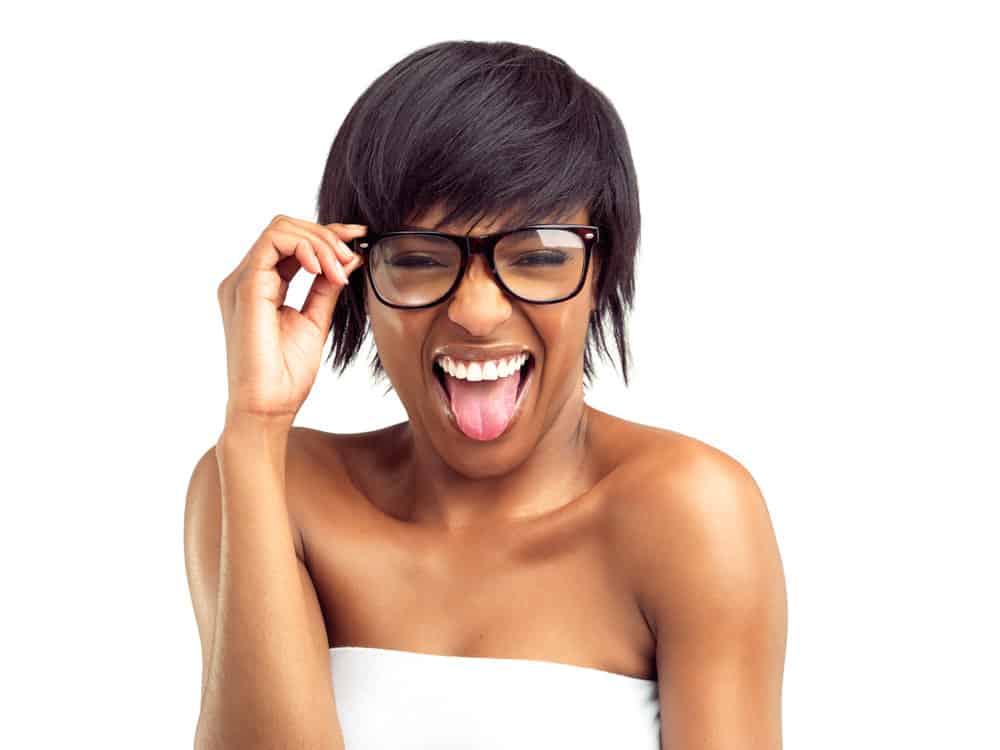 Heatless Kinks and Waves
You don't have to apply a ton of heat to style your bob. There are several ways to do it without going anywhere near a heat tool.
In this section, we'll introduce you to a few styles you can do with your bob sans flat iron, curling wand, curling iron, or blow dryer. Braids outs, twist outs, and roller/rod sets can give your bob some textured flair.
Prep Your Hair
No matter which heatless style you decide on, the prep steps will be similar. You'll wash your hair with a hydrating shampoo, condition, or deep condition, and then towel dry your hair so it isn't dripping all over the place.
Once you've done all of that, you're ready to move to the next step, depending on the look you're going for.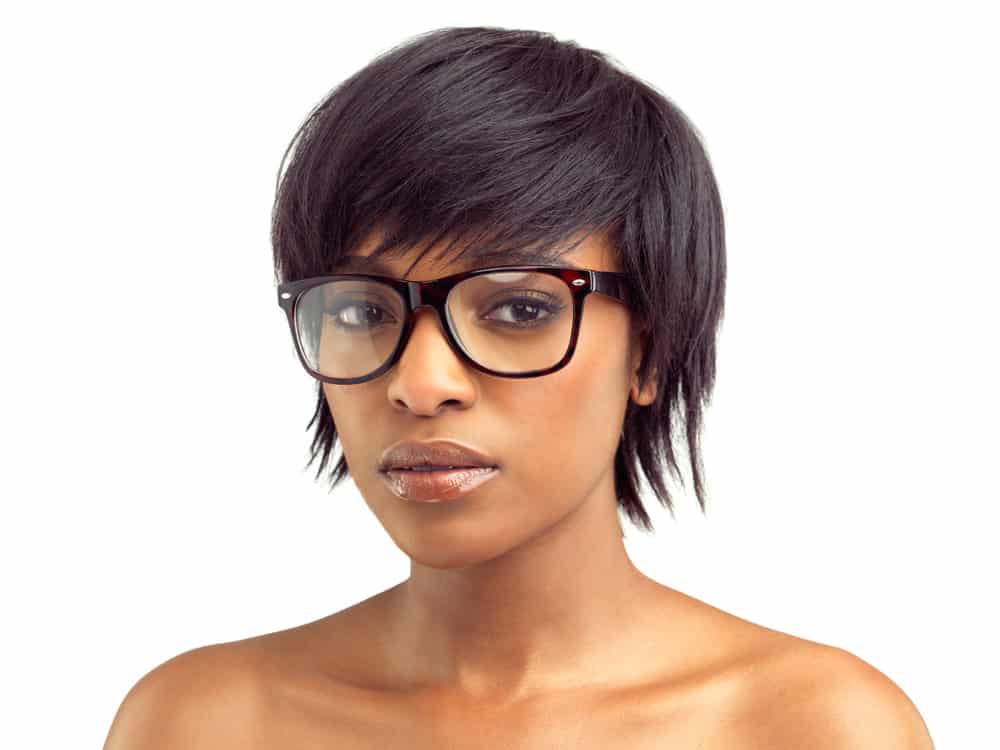 Choose Your Heatless Style
When it comes to heatless styles, you've got a few options to consider. The list below will outline a few heatless bob styling methods you have to choose from:
Braid-Out
The PERFECT Braid Out For LENGTH & DEFINITION | ft. En love Beauty
A braid out is created by putting your wet or dry hair in braids and then taking them out to reveal waves, kinks, and a load of texture.
The larger the braids, the looser the resulting waves will be. To get barely-there waves, make your braids really big – do only 4 for your whole head. For small, defined kinks, make smaller braids.
Twist-Out
THE PERFECT TWISTOUT TUTORIAL on Natural Hair| EASY & DETAILED | 2023
Twist-outs are similar to braid-outs, except for the fact that twist-outs result in softer kinks and sometimes curls. You'll put your damp hair in several twists, allow your hair to dry, and then take them out.
Roller and Rod Sets
HOW TO GET THE PERFECT PERM ROD SET EVERY TIME! *IN-DETAIL* PERM ROD 101 SERIES EP 1
For roller and rod sets, you'll buy rollers or rods, put them in your damp or dry hair, and then take them out when your hair is dry (or, in the case of dry hair, after a few hours). The result will depend on the type of rod and how large it is. You have loads of possibilities with roller and rod sets.
How to Cut a Bob (coming soon)
Mastering the art of bob maintenance is crucial for keeping your sleek, silky bob, beachy, wavy bob, blunt bob, choppy bob, or bob with bangs looking fresh and stylish. By focusing on the top and bottom layers of your hair, you can create various looks and textures to suit your style.
Whether you're enhancing the choppy look, maintaining a sleek blunt bob, or taming your bangs, the tips provided in this article will help you achieve and maintain the perfect bob haircut.
Remember, experimenting with different styling methods and paying attention to each layer of your hair will ensure that your bob remains the star of your overall appearance.
So, there you have it – everything you need to know about styling your bob. We hope you found all the information you were looking for. Good luck!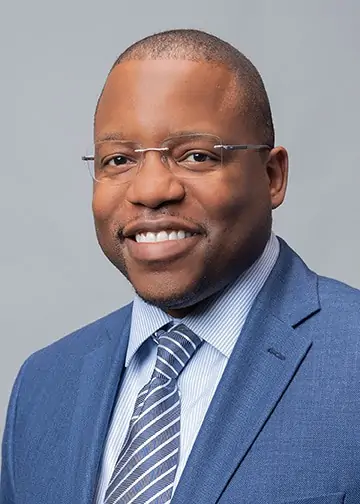 Kenneth Byrd holds a BS in Accounting and Management Information Systems and an MBA from the University of Alabama at Birmingham. With over 15 years of experience, Kenneth has been dedicated to hair care since 2008, when he co-founded Curl Centric® and Natural Hair Box alongside his wife. As a team, they promote healthy hair care practices through their comprehensive platform, Curl Centric. Curl Centric is a website operated by a husband and wife team that encourages healthy hair care. At Curl Centric, we aim to help our readers take control of their hair care journey and make good decisions about products, hairstyles, and maintenance techniques. We also have strict editorial integrity; here's an explanation of our editorial guidelines and how we make money.