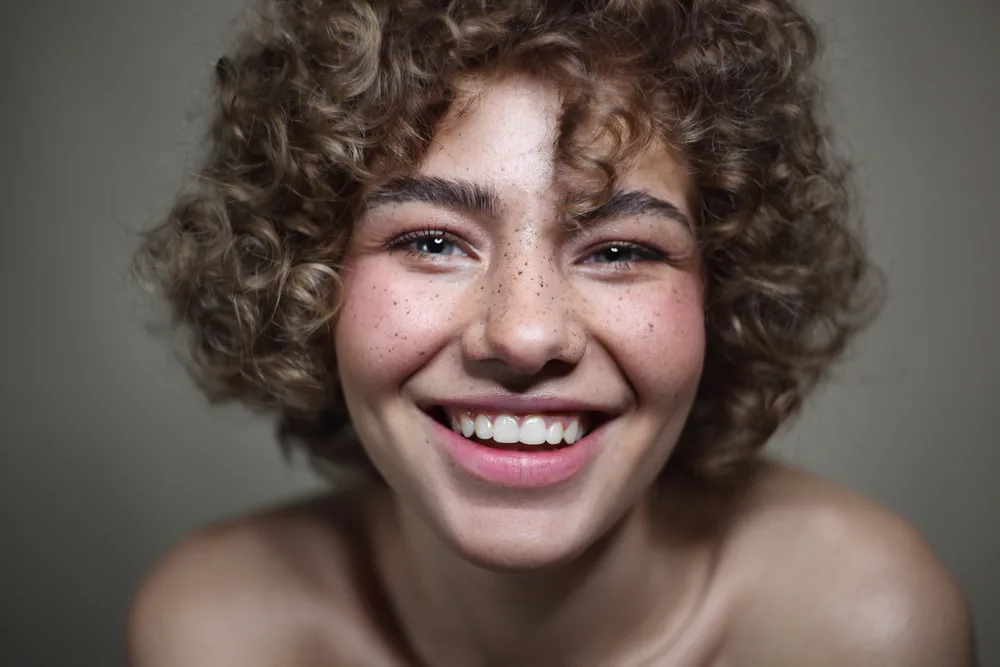 Bangs are incredibly polarizing, especially in the curly hair community. Some rock them proudly and can't imagine wearing their hair any other way, and others struggle to make them work.
But the truth stands; curly hair with bangs can look amazing, and we'll prove it to you in this article. Keep reading as we reveal 9 of the best curly hairstyles that feature bangs.
Curly Hair with Bangs, Layers, and Highlights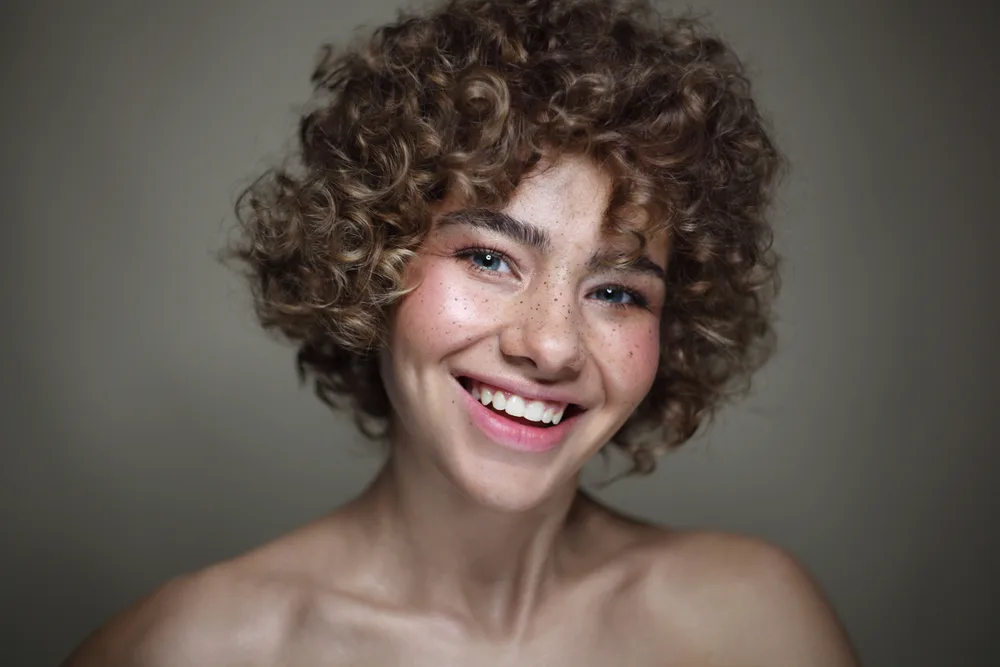 These tutorials include curly curtain bangs, wispy bangs with loose curls, side-swept bangs, choppy bangs, and much more for ladies with naturally curly hair.
Women with straight hair can also wear these styles with a few modifications. If straight bangs aren't your thing, you can use a curling iron to wear curly hair. Without further ado, let's get into the tutorials.
1. Curly Bun with Faux Bangs
Perhaps one of the most daunting things about bangs is that true bangs require you to break out your cutting shears and go to town. But not if you choose a curly bun with faux bangs!
Faux bangs on curls #curlyhair #curlyhairroutine #curlyhairstyles
This style features a messy high bun and seemingly real bangs in the front – but the secret (which you already know) is that the bangs aren't real and didn't require any cutting.
To create the look, you'll pull ¾ of your curls up into a bun, leaving a small triangular portion out in front and a rectangular portion just behind it. Then, pull the rectangular portion back and pin it upwards to add a little volume right in front of the bun.
This will give your bun some more oomph. To finish things off, fold the front portion (your faux bang) onto itself, pin it up, and conceal the pins with a fabric headband.
If you're more of a visual learner, check out this YouTube Short showing a creator executing this style from start to finish. Literally, anyone with curls can do it!
2. Curly Bob with Bangs
If you like bobs and want to try them with a twist, you'll be relieved to know that you can! You can rock your curls in a curly bob with bangs, and demand stares everywhere you go.
CURLY LAYERED HAIRCUT TUTORIAL
The curly bob with bangs features a basic layered bob with luscious, weighty bangs in the front. There's a disheveled quality to this style that just can't be ignored, and we're living for it.
The key to this look, of course, lies in the cutting process.
If you have tight curls and plan to wear this look with your hair in its curly state all the time, you should definitely cut your hair curl by curl (dry) to bring the look to fruition.
You'll sculpt the back portion of the look with haircutting shears until you're satisfied with it – the hair should be shortest in the back and gradually get longer as you make it around the head and to the front. The bang should be cut to your liking and to a length that best flatters your face.
If your curls are on the looser side, the process is nearly the same.
Though, you'll probably find that cutting your curls in their damp state works best. To see how to cut your hair into a curly bob with bangs, watch this video tutorial from an expert.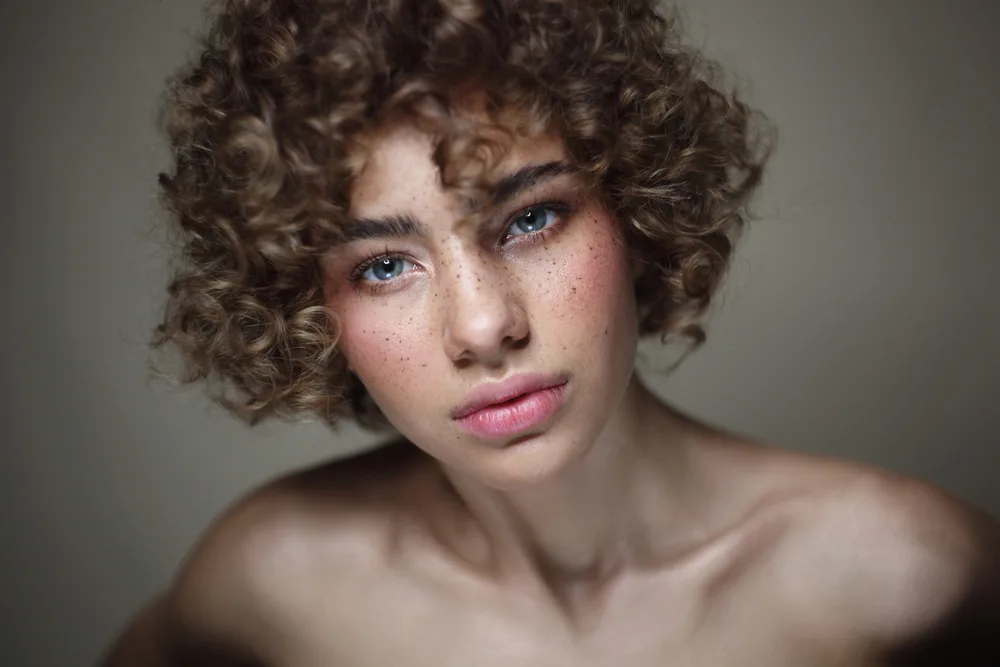 3. Curly Shag with Bangs
We all know that the curly shag has taken the hair world by storm as of late. Though the style previously reached peak popularity in the 70s, we love it just the same today. Thank goodness beauty trends are cyclical.
Curly Shag Haircut Tutorial
This look features big, choppy layers and heavy bangs that start at the apex of the head. The result is a look that will make you stand out in the best way.
It's a great look for those of us who have looser curls or don't mind pulling out the curling wand now and again (with a heat protectant, of course).
The best thing about this look is that you don't need a lot of hair to pull it off. Curls as short as neck length will work. To get the look, you'll create choppy layers from front to back, leaving the front section alone at first to cut individually later.
When you do get to the bangs, don't be afraid to leave them a little blunt – it adds to the drama of the look. For a visual demo of the shag and bang cutting process, watch this tutorial. It'll show you step-by-step what you need to do to bring this look to life.
4. Curly Pixie with Bangs
Few styles are as spunky-looking or easy to maintain as a curly pixie with bangs. We love it for its minimalist silhouette and its subtle sense of rebellion. The look features a close crop along the nape of the neck and above the ears.
Curly Pixie Haircut Tutorial
The hair gradually gets longer as you get to the top of the head. And to add some interest and flavor to the look, you have the bangs in the front, tailored to your taste.
To get a curly pixie with bangs, you'll take the majority of your hair short all around – a couple of inches at most. Then, you'll take the hair at your nape and above your ears even shorter.
You can even fade them into the longer hair above.
Leave the hair at the top of your head noticeably longer than the rest. Then, cut and style your bangs to your liking. Start off with a longer bang and gradually take it shorter until you find a look you like – it can be side swept or centered. Make it how you like it.
Cutting a curly pixie might seem easy, but most will need a bit of guidance here and there to pull it off. If you do, you'll very much appreciate this video tutorial.
5. Curly Updo with Bangs
The next style on our list is much more formal than the previous styles we've highlighted. Here's the curly updo with bangs, a great choice for anyone who wants to play up their feminine side for a formal event.
90's Messy Curly Updo Tutorial with Bangs | ** No Glue Needed** |PROM 2023 HAIRSTYLES
This look will require you to pull out the hot tools, so only give it a try if your hair is in good condition and you have a heat protectant on hand.
This particular look features a 90s-esque high bun with cascading tendrils and long center-part bangs in the front. It's great for date nights, graduations, weddings, and any other occasion where you want to look angelic and girly.
To get this look, you'll part out a section for your bangs and then curl the rest of your hair with a curling wand or curling iron. If your hair is really curly, you'll flat iron all of your hair first to prep it for the curling process.
Once your hair is curled, you'll pull it into a high bun, allowing some curls to cascade down. Finish the look up by parting, styling, and curling the bangs. Here's a video tutorial to help you get it done.
Note: This tutorial does involve extensions. If you aren't using them, ignore those parts.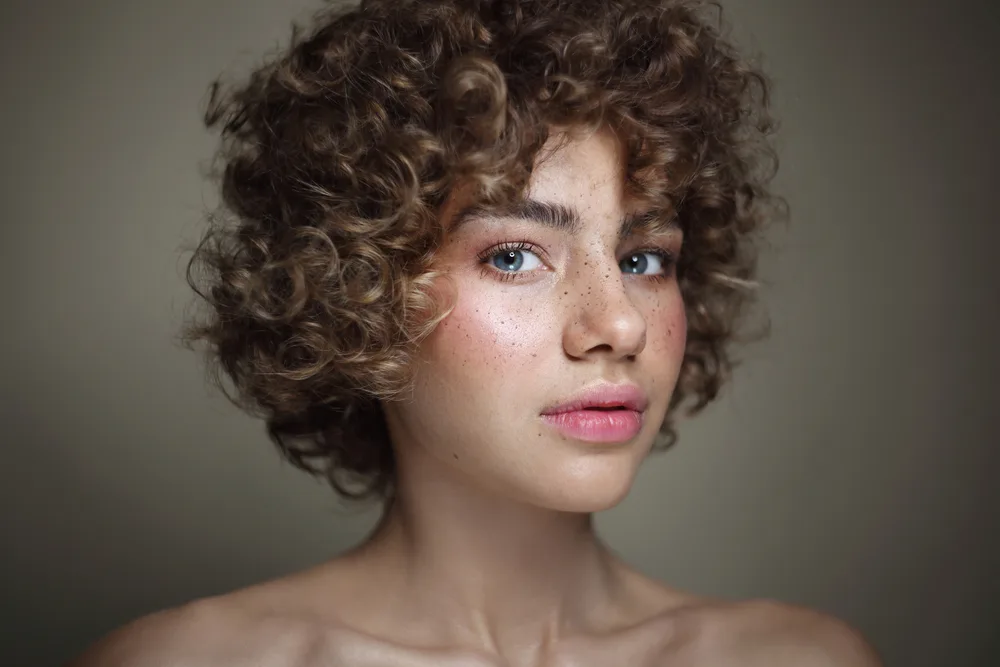 6. Curly Ponytail with Side Bangs
This style is a testament to the fact that you don't need to do too much with your hair to make it gorgeous. The curly ponytail with side bangs thrives on contrast – you have the sleek hair going back into a ponytail and long, cascading curls falling down the back and along one side of the face.
EASY PONYTAIL AND SIDE BANG TUTORIAL *BEGINNER FRIENDLY* | Ywigs Hair ♥️
There's something aesthetically pleasing about this look, and we're not the only ones who think so. Whether you're going to a party with your girls, a dinner date with your partner, or literally anywhere else, this style will fit the occasion like a glove.
And getting the look doesn't have to be complicated by any means.
Just determine whether you want to rock your natural curls or not. If you want to go the natural route, begin by parting out the part you'll use as your bangs.
Then, dampen your hair, add a curl-enhancing product to your roots, and brush the rest of your hair back. Secure that ponytail with an elastic, and then define your bangs with a curl-defining product. Let your hair air dry, or use a diffuser.
If you want to up the sleekness, you can blow out or straighten your hair (or both) and style your hair with heat tools. To see how to do it step by step, watch this video tutorial.
7. Curly Mohawk with Bangs
Do you gravitate toward unorthodox styles? Then the curly mohawk with bangs will be right up your alley. This style features a mohawk of curls and bangs that fall down at about eyebrow level. This is not a look for the faint of heart.
Curly Mohawk On Natural Hair | Pony Hawk
We love this style because it's not more of the same – it's different, and you can use it to showcase your individuality. It also displays your curls in a silhouette many aren't used to seeing.
This look is best for casual occasions, but if you pull the curls in the back upward, you can transform this style into a much more formal updo. Talk about versatility!
To create a curly mohawk with bangs on natural hair, you'll begin by slicking back and pulling your hair into large ponytails down the middle of your head from front to back.
You can then define your curls with some curl-defining cream and water or set your hair with some rollers and mousse – it depends on the look you're going for. Once your hair is dry, you'll separate and fluff your curls.
Style the ones in the front so that they fall onto your forehead, giving the illusion of bangs. If your hair is too long for the bangs to fall above your eyebrows, you can fold the roots upward and pin them with bobby pins to shorten them.
Want to see how this look is done? Watch this video tutorial. It shows how to get a curly mohawk on roller set curls.
8. Low Bun with Curly Tendrils
The quintessential bun is 100% cute and convenient, perfect for those days when you don't want to do too much to your mane. But you'd be surprised at just how elevated you can make the usual bun with some curly tendrils.
Easy, Elevated Bun Hairstyle for Curly Hair ➰
It makes the look ideal for work, a fancy get-together, or anywhere you want to look put together. To get this look, you'll first define your curls – the more definition, the cleaner this look will turn out in the end.
Once your curls are defined and dry, you're ready to style.
Creating this look is surprisingly easy. You'll simply pull your hair back into a low bun with minimal brushing. You can do so with a middle, side, or deep side part if you'd like.
After securing your bun, you'll pull out and define a few tendrils to frame your face. Twirl a few curls around your finger here and there. And that's it!
You can achieve this style on literally any curl pattern, but it works better if you have longer natural hair.
Though, if you know your way around extensions, you can fake it til you make it! To see how the style is done on natural hair only, watch this video. It'll bring everything together for you.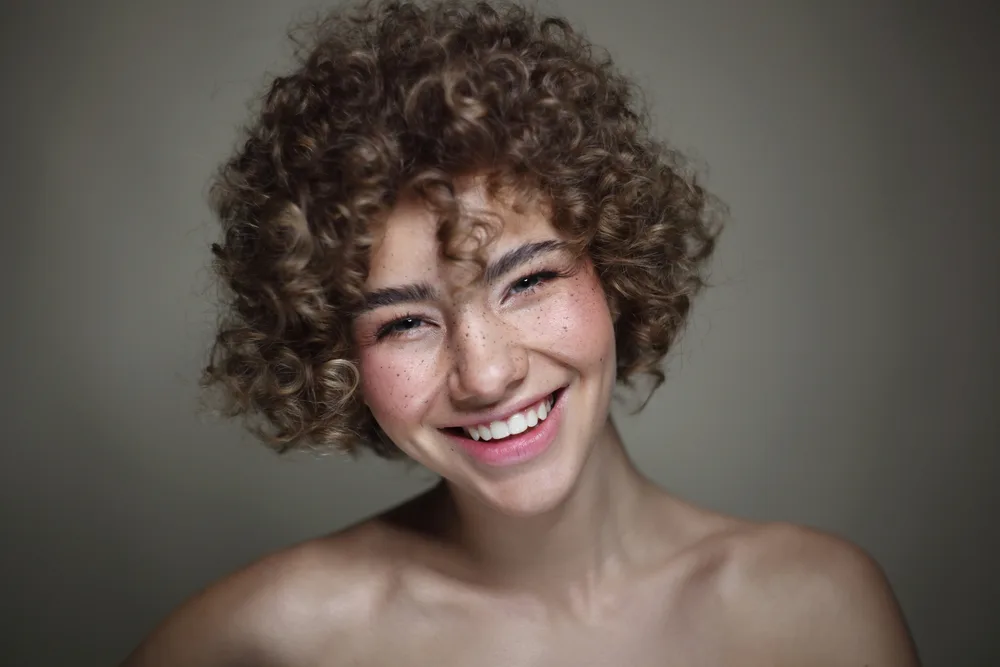 9. Crown Braid with Bangs
For a heavy dose of sophistication, the crown braid is a no-brainer. And when you add bangs to the mix, you give the style a romantic vibe.
Quick Halo Braid for Beginners!
The style features a continuous cornrow that goes around the perimeter of your head with no obvious beginning or end. Then, you have the bangs in front to frame your face and add a sultriness that you're sure to love.
This is one of those styles that you can wear absolutely anywhere, no matter the occasion. But there's no denying that it looks best when worn with chic, semi-formal, or formal outfits.
Now, onto how to achieve the look. If you don't know how to braid, the time to learn is now. Braiding is a skill that you'll need to practice a ton to develop. But that isn't necessarily a bad thing. Once you get the hang of the technique, you'll never have to go through the learning process again.
How To Cornrow Braids To Scalp | Beginner Friendly | Cornrow Tutorial
So, we encourage you to watch this video to learn how to cornrow your hair – you can use this technique to braid your hair around the perimeter of your head.
Make sure you leave some of your own hair out in the front for the bangs. After you've completed your crown braid, you can pin in some bang extensions or style your own natural bangs however you'd like.
Not a braider? Watch this video for an in-depth tutorial on how to achieve the style with pre-braided extension hair.
Should I Try Bangs on My Curly Hair?
Trying bangs on your curly hair is something you should definitely do once, especially if you personally like the look of curly bangs. Unless you're going to a professional for styling, you'll want to do a lot of research before cutting your bangs – once that hair is cut, it's gone for a while.
One of the main things to remember when cutting bangs is that it's easy to cut too much off of curly hair; it draws up and looks shorter as it dries. So, don't cut your curls while they're wet. Dry cutting gives you the most control over your final result.
If you don't like the idea of cutting bangs on your curly hair, you don't have to. Go for faux bangs instead – we mentioned how to create them earlier in the article.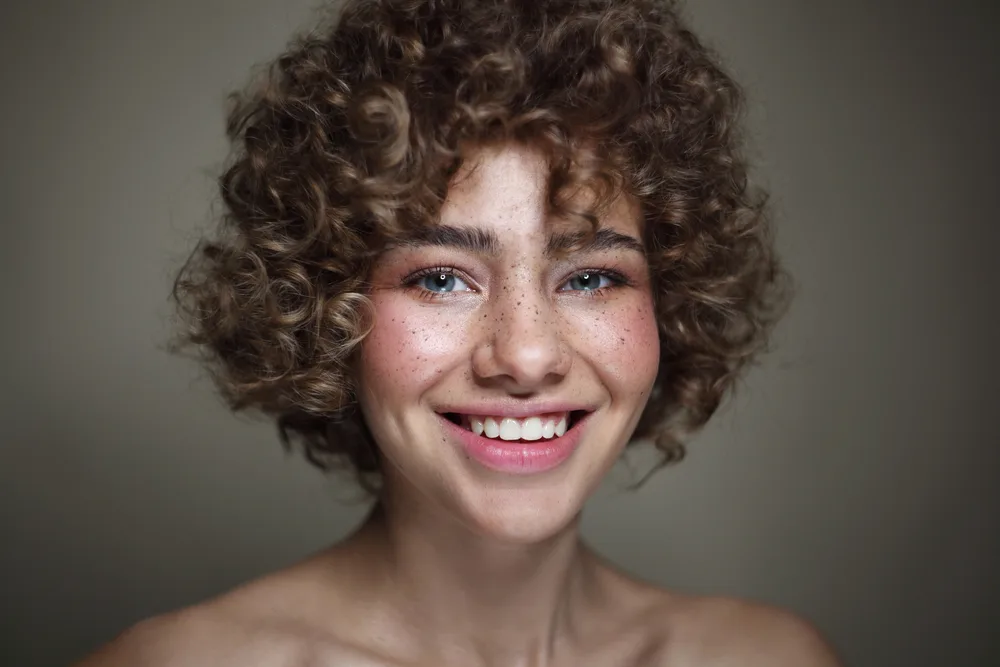 How Do You Keep Bangs in Place with Curly Hair?
Keeping bangs in place with curly hair can prove to be a feat. But it's possible with the right tools and products. Here are a few methods to keep in mind:
Finger style your bangs with a curl definer that has holding power.
Spritz your finished style with a flexible holding spray.
Use bobby pins underneath your bangs to anchor them.
Experiment with one, two, or all three of the methods for the best results. Whatever you do, though, remember that your curls have a mind of their own – it's in their nature to be wild and free. So, try not to stress too much about a strand or two being out of place.
How to Maintain Curly Bangs
If you've cut your curly bangs into a defined shape, you will need to do some maintenance to keep them looking crisp and clean. Most curly girls find that they need to cut their curly bangs once every month or so – 6 weeks on the high end.
Whatever your hair trimming frequency is, make it a routine.
And take a close look at your bangs now and again – they may develop split ends quicker than the rest of your hair since they often require the most styling and manipulation. When split ends are left to travel up the hair shaft, you could experience breakage and hair loss.
So, there you have it – our favorite curly hairstyles with bangs. As you can see, you've got a lot of options to choose from, and they're all gorgeous. We hope you found all the information you were looking for, and we wish you the best as you explore your curly hair styling options!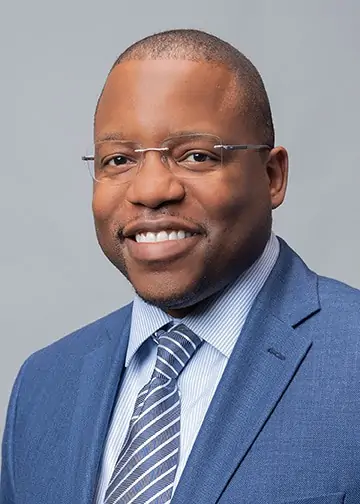 Kenneth Byrd holds a BS in Accounting and Management Information Systems and an MBA from the University of Alabama at Birmingham. With over 15 years of experience, Kenneth has been dedicated to hair care since 2008, when he co-founded Curl Centric® and Natural Hair Box alongside his wife. As a team, they promote healthy hair care practices through their comprehensive platform, Curl Centric. Curl Centric is a website operated by a husband and wife team that encourages healthy hair care. At Curl Centric, we aim to help our readers take control of their hair care journey and make good decisions about products, hairstyles, and maintenance techniques. We also have strict editorial integrity; here's an explanation of our editorial guidelines and how we make money.