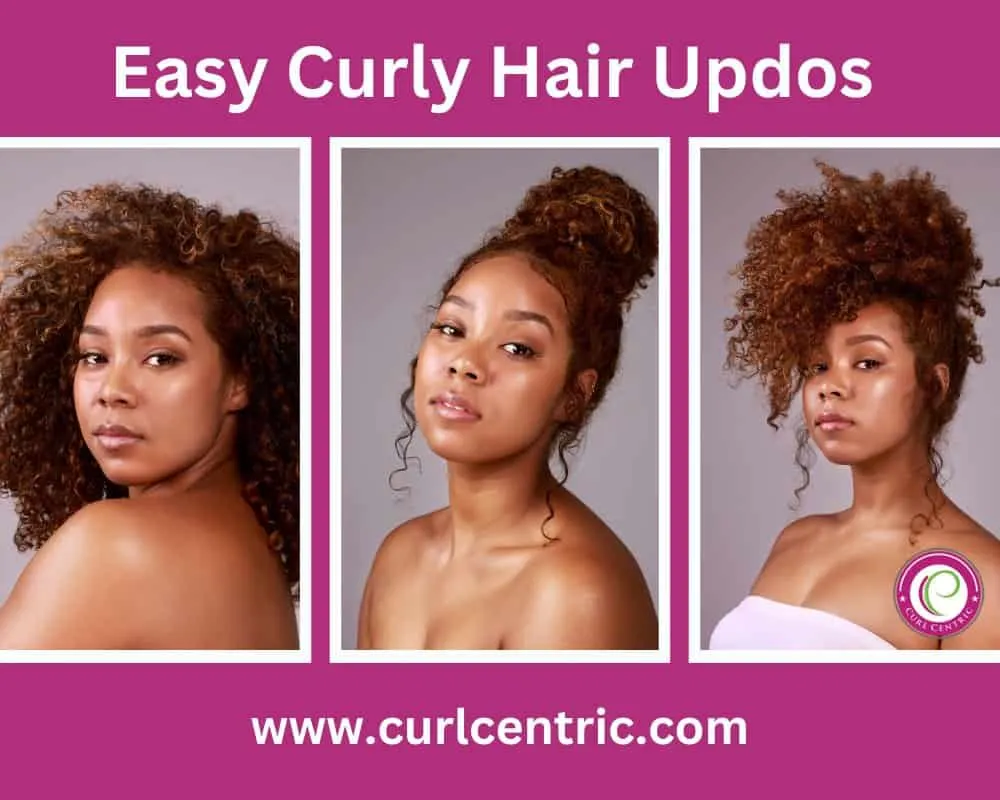 Looking for a formal or semi-formal hairdo for a touch of extra sophistication? You don't have to go to the salon to get it. There are tons of curly hair updos that you can do at home that look just as good or better than professional ones.
Don't believe us? Just keep on reading. In this article, we'll showcase 9 easy curly hair updos you'll absolutely love!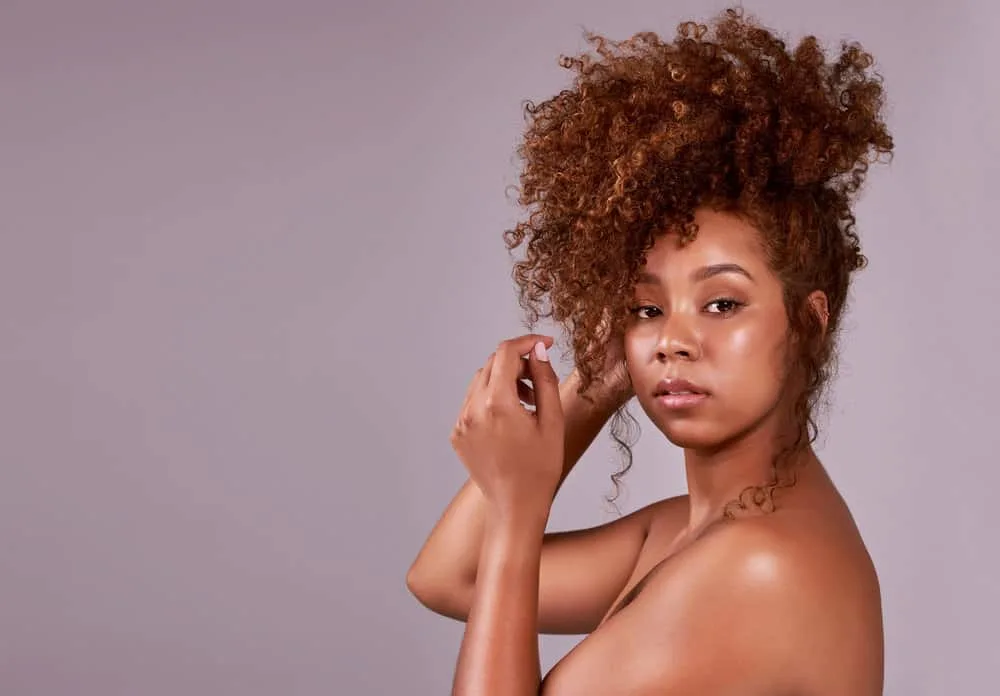 Big High Puff on Long Curly Hair
To kick off our list, allow us to introduce the tried-and-true high puff! It's exactly what it sounds like – a puff situated high on your head. The great thing about this style is its versatility.
HIGH PUFF ON NATURAL 4C HAIR TUTORIAL | BEGINNER FRIENDLY | CHEYENNE V.
You can dress it down with a T-shirt and jeans or dress it up with some dainty accessories and a formal dress. The possibilities are endless.
To do a high puff, you'll follow the below instructions:
Put some gel or edge control around the perimeter of your hair.
Brush the gel or edge control towards the crown of your head.
Put an oversized elastic band just in front of your hairline and then slide it onto your hair.
Slide the elastic band upwards until you've reached the crown of your head.
Finger-style your puff to your liking.
This style works best with short, thick hair. If your hair is too long or too fine, you won't get the volume the high puff is known for.
If you're thinking about trying this style out, know that the tightness of the elastic band can make or break this style. A loose elastic won't hold your puff securely, and a tight one could cost you your edges.
We recommend this extra-long hair tie for most people, but you may have to shop around for a different size if it doesn't work.
Have you decided that you want to try this style? Watch this short video to see for yourself how to do it.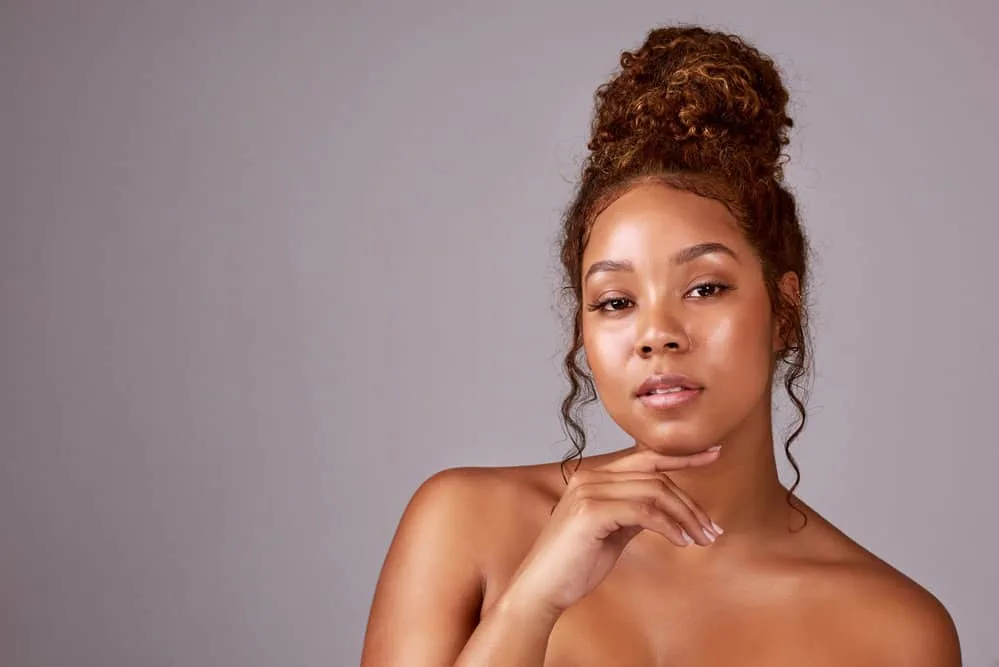 Messy French Twist with Curls
If you like ultra-feminine updos, this one will be your go-to. It's a classic French twist with a twist – it's messy in the best way. The hairdo features cascading ringlets and a small middle part bang.
Rock this look to a formal get-together, a graduation, a wedding, or a romantic date. You're sure to make an impression.
HOW TO: Easy Updo with Bangs and Curls | Messy French Twist W Curls
The best thing about this French twist is that virtually any adult can do it, given that you know how to use a curling iron and blow dryer. There's no braiding involved, so no worries there. Here's how to pull this look together:
Start off with clean, blow-dried hair.
Spray on a heat protectant and then straighten your hair with a flat iron.
Separate out a small section of hair in the front and secure it with an elastic. It'll act as your bangs later.
Make medium-sized ringlets throughout the rest of your hair with a 1-inch curling iron. Curl medium to large sections – the curls should be chunky.
Make a French twist in the back by pulling all of the hair to one side (and pinning it to secure) and then rolling it to the other side (pinning again to secure). For some messiness, leave a few pieces out of the roll before you start rolling and pinning.
Take down the section in the front, part it down the middle, and make a spiral curl on each side (curling away from your face).
When you're done, you'll have a delightfully disheveled style that'll make you feel more beautiful than ever! One thing to be aware of, though, is that if you want to wear this style for multiple days, you'll either have to sleep in rollers or re-curl your hair every day.
This could become tiring, but if you're up for it, make sure you use a heat protectant every single time. And even then, try not to go too crazy with the heat if you want to keep your natural curls.
If you want to give this hairstyle a try, here's a video tutorial showing you the process step-by-step! Note that this style can be easy worn by women with naturally pin straight hair strands. It's not exclusive to curly girls with a long hair length.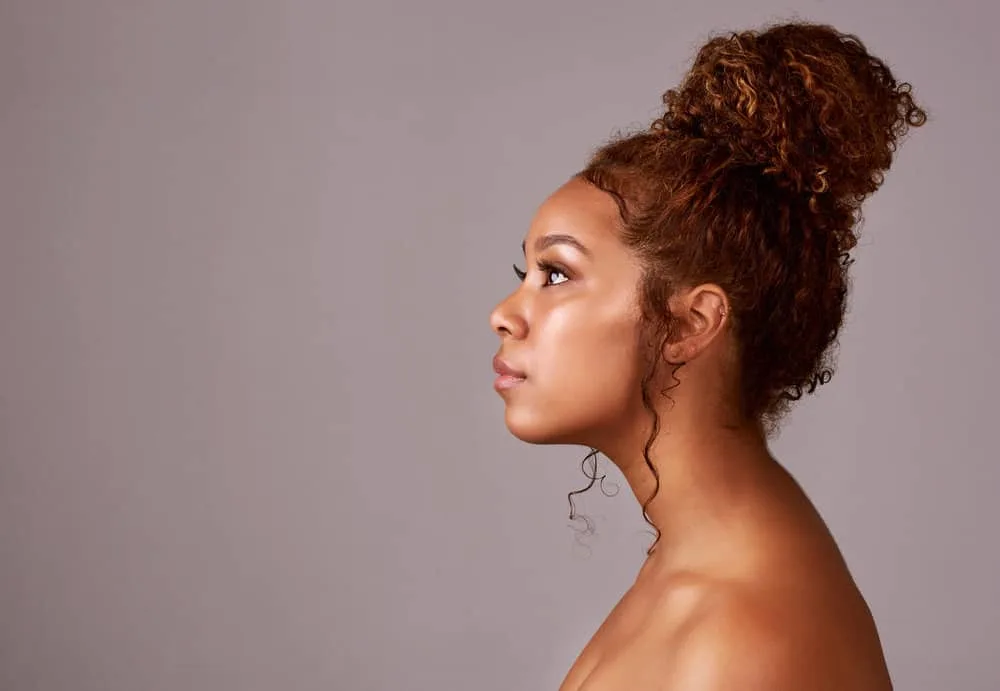 Curly Low Bun Updo
Want to get your updo done in just a couple of minutes? This is the hairdo for you! It's a curly low bun updo that keeps your hair tucked out of the way and your face on full display. What's more it only requires your hands, a couple of elastic bands, and some bobby pins.
Curly Updo for the Holidays | Easy Curly Hairstyles
Ready to find out how it's done? Keep reading.
Start with a wash n' go. It doesn't matter whether it's fresh or old.
Do two flat twists – one on each side. Twist your hair very loosely to keep things soft and airy.
Secure each twist at the nape of your neck with a large clip and let the rest of the hair hang free.
Gather the ends of the twists together into a low ponytail and use an elastic to secure it.
Add an elastic band to the ends of the hair as well.
Flip the ends of the ponytail under and pin them at the nape of your neck.
Add a hair accessory if you'd like.
Though this style is shown on a relatively loose curl pattern, know that you can also do it on tighter curls – even type 4. The key is to define your curls beforehand using the wash n' go technique of your choice. Once that's done, your hair will be primed and ready to pin-up.
This style won't usually last longer than a day, but we guarantee you that you'll be in love with it every single minute. If you love this style and want to give it a try, this video will show you exactly what to do!
Cross Over Low Puff Updo
Just because a style is easy to achieve doesn't mean that it has to be boring! This cross-over low puff is a looker, to say the least – it features crisscrossing twists at the back, a low puff, and a few free pieces for a little romantic flair.
Easy Updo for curly hair | type 3 curls
With this style, you'll look fabulous running errands, going to school, or attending a fancy banquet or upscale wine tasting. So, if you like this style, we say give it a try! Here's how:
Define your curls with conditioner, a creamy leave-in, or a curl-enhancing cream.
Gather the top portion of your hair (from temple to temple) in a ponytail.
Part the roots of the ponytail in half to make a hole.
Flip and pull the ends of the ponytail down through the hole.
Twist a large section of hair on one side of your hair and pin it at the midpoint, right over the ponytail you previously made.
Do the same on the other side, pinning it right over the last section.
Repeat the last step two or more times to create a zigzag effect.
Twist the rest of the hair and pin it to secure it. Use only a couple of pins because you want to achieve a rounded puff – not a bun.
Style the front as you see fit. You can pull out a few strands on each side for an ethereal vibe. You can also slick back or add swoops to your baby hairs, based on your preferences.
This style shouldn't take any more than 10 minutes to complete, and it's 100% stunning. So, trying it out is a no-brainer! Watch this quick video to see how it's done.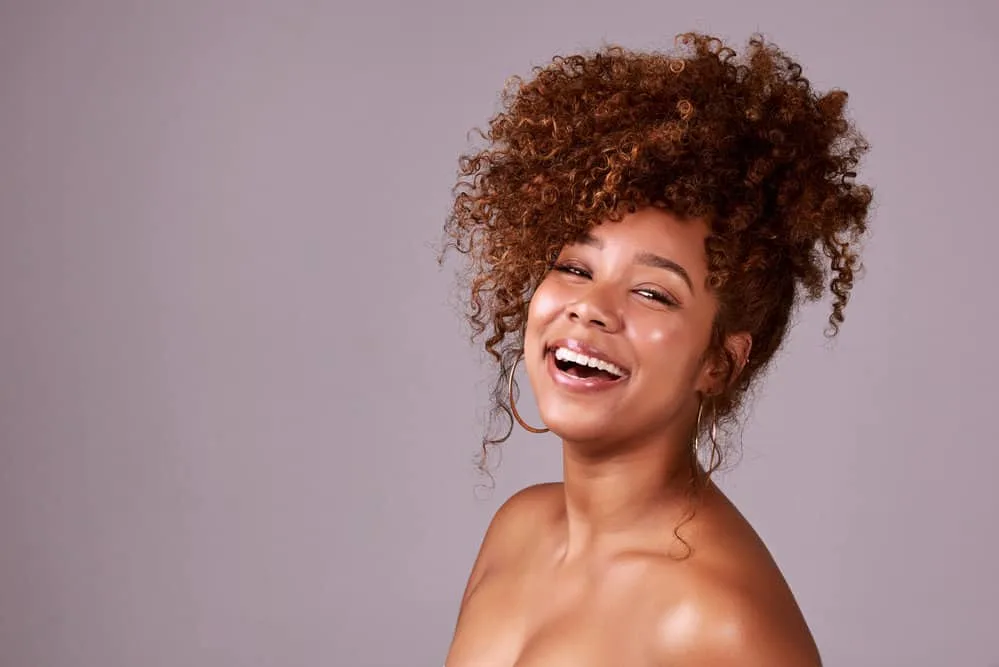 High Puff with Bangs
Curls are so beautiful on their own that you don't have to do much of anything to make them look great. And this style is the proof.
It's a high puff with bangs, which is pretty self-explanatory; it features a high puff near the crown of your head and bangs in the front.
How to do High Puff w/ Bangs for Natural Hair
Though the look is very easy to create, there's no denying how beautiful and soft it is. If you gravitate toward this style, we say, "Go for it!" Here's how to bring this style to life at home:
Pull your defined curls upward, leaving some hair out in the front for bangs.
Use a double comb hair clip to secure the puff. Each side of the clip should be inserted along the sides of your head and dragged right under the puff. It may take a couple of tries to get it right, but anyone can do it.
Finger-style your bangs however you desire.
Add gel along the nape of your neck as needed for flyaways.
That's it! Wear this style wherever you'd like – you're guaranteed to look cute!
We love this style, especially because it can be worn on short curly hair. Whether you've just done the big chop or simply like to wear your hair short, this hairdo will work like a charm.
Ready to give this updo a try? Watch this video to see how a talented creator pulled the look together step-by-step.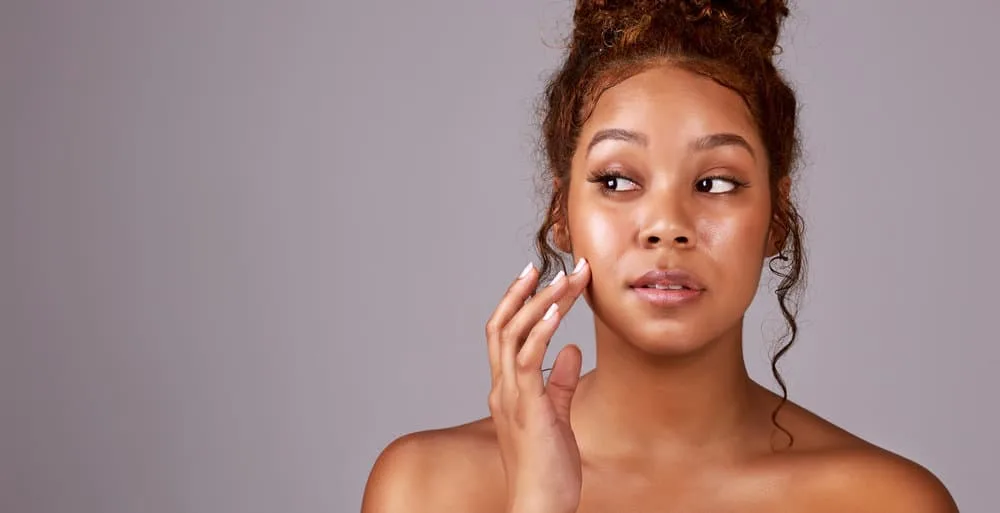 Large Curly French Roll
Looking for a deceptively simple style for a wedding or formal gathering? Consider the large curly French roll. It's got regalness for days and will make any woman look and feel gorgeous.
The Curly French Twist | Easy Curly Hairstyles (Tutorial)
You'll create this look with a roll, a tuck, some bobby pins, and pearl hair pins. Here are some step-by-step instructions for how to achieve the style:
Pull all of your hair to one side – about ¾ of the way and pin it in place vertically.
Pull the hair from the other side in the opposite direction, tuck, and pin it slightly off-center in the back. You should now have a French roll going down the middle of your head.
Add some pearl hair pins to the hair wherever you'd like.
Define any hairs left out of the French roll with water and some curl-defining cream.
Though you can wear this style for any formal occasion, you'll love that the style can also be worn for less-formal occasions. Just take out the pearl hair pins, and you're ready to go.
To get this updo, you'll need at least 6 inches of hair. If your hair is too short, the style will take on a much lower profile and won't look as carefree and boho. Want to create this look at home? Watch this short YouTube video to see how it's done.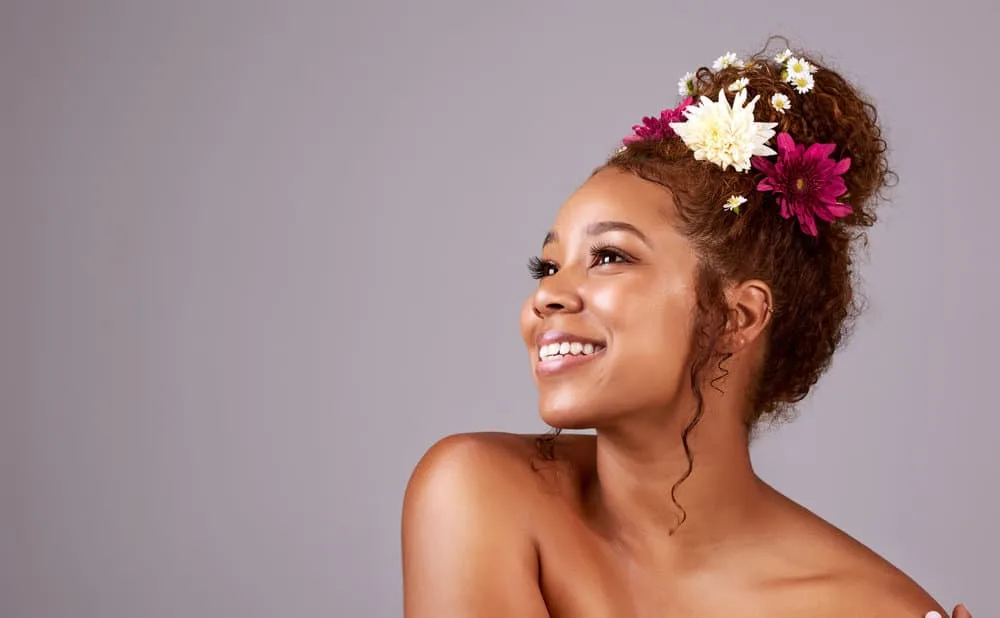 Twisted Updo with Pompadour
Do you have a big personality? Then, you need an updo that plays that up! This twisted updo with pompadour demands a double-take; it looks super unique and will have people asking, "Who did your hair?"
If that's what you're going for, this updo will soon be your go-to style.
Twisted Pompadour | Roll, Tuck & Pin Updo on Natural Hair
This style is created with a couple of cornrows, a few twists, and some bobby pins. Ready to find out how to get this look at home in 10 minutes? Here are some step-by-step instructions to help you out:
Separate some hair out at the crown (from temple to temple) with an elastic.
Part the rest of your hair in half and cornrow each side to the back. Braid all the way down to the ends.
Cross the ends of the braids over each other and pin them to the sides of the cornrows.
Release the top half of your hair and put it in several loose twists.
Cross and pin each of the twists to create a pompadour. It could take several tries and a little bit of patience to get the shape right, but you'll get it.
After you've completed the style, you can take things a little bit further and accessorize with clips, flowers, gems, and more. Have fun with it!
The instructions given earlier should be enough for you to create the style, but if you are more of a visual learner, you'll benefit from a visual demonstration.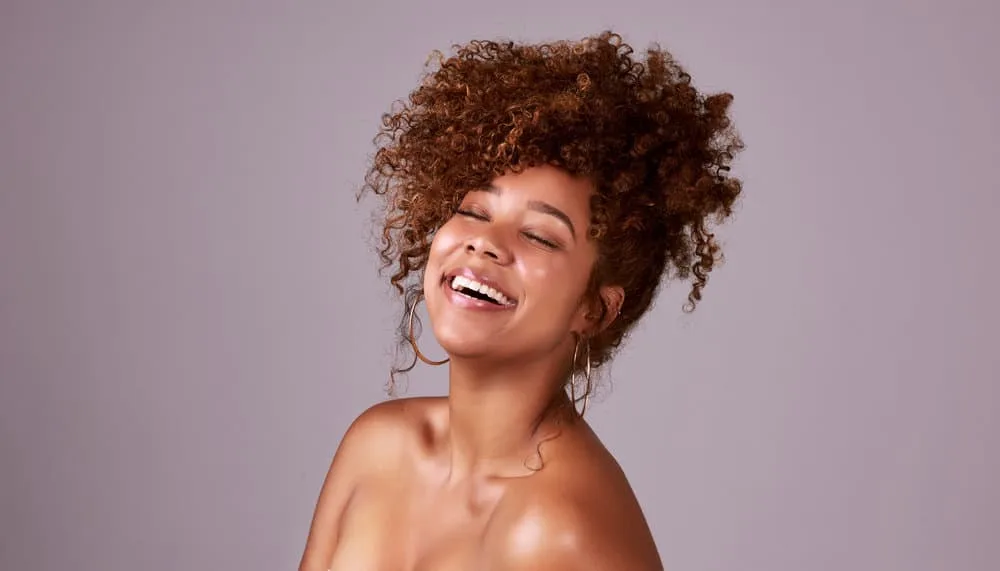 French Braided Curly Updo
This is a peculiar updo unlike any you've ever seen. It features cornrows braided up into a high bun and big, voluptuous curls in the front that resemble a side bang. The look is regal and eye-catching, making for a grand entrance wherever you go.
FRENCH BRAIDED CURLY UPDO ➟ Natural Hair Tutorial
When you first look at this hairstyle, you might think that it's difficult to accomplish. But that couldn't be further from the truth. You can bring this style to life all by yourself in less than an hour.
In a nutshell, you'll complete the following steps:
Apply heat protectant to clean, detangled hair, and blow dry.
Separate out your bangs and secure them with an elastic.
Part the rest of your hair into 4 sections, with each going toward the top of your head.
Cornrow each section towards your crown, but don't braid to the ends.
Put a rubberband on each of the cornrows once you run out of hair to add to the braid. Let the excess hair hang loose.
At this point, you should have 4 cornrows that meet at the top of your head.
Use the loose hair to make a bun at the top of your head and secure it with bobby pins.
Take down the hair you'll use for bangs and generously apply mousse to it.
Take sections of hair and wrap them around large rollers.
When the hair is dry, take the rollers out and fingerstyle as needed.
Though this may seem like a lot of steps, they are steps that anyone can complete with the help of this in-depth video tutorial.
The great thing about this style is that you can put a scarf on it, and it'll last for several days or even up to a week. And if the bangs start to look less-than-polished, you can re-set them with rollers to freshen up the entire look.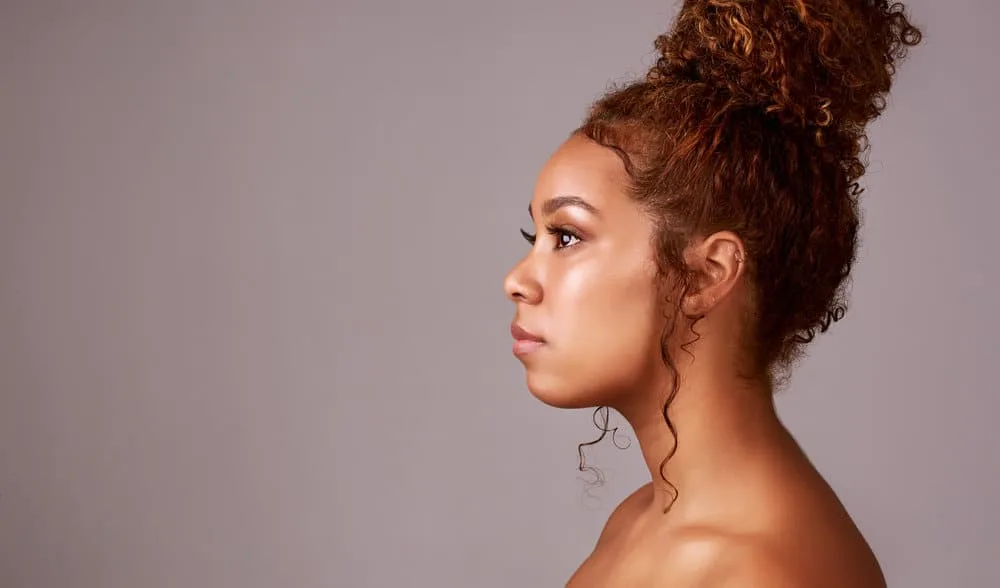 Middle Part Updo with Drawstring Ponytail
Many of us want a voluminous updo but don't have the natural hair thickness or length to achieve it. If that's your dilemma, don't worry; you can easily achieve a gorgeous updo with a curly drawstring ponytail.
EASY Curly Updo Using Drawstring Ponytail | Protective Natural Hairstyle + Claw Clip Ft.BetterLength
If you've never used one before and are feeling leery about it, rest assured that they are super easy to use. And the rest of the style won't take you longer than 10 minutes and doesn't require any braiding.
What we love about this style is that it doesn't look like every other updo out there – it features a middle part rather than a side one. It also has a ton of volume in the crown, which adds inches to your height and visually slims down your face.
To get the look, take the following steps:
Part out a horizontal section of hair at the front of your head.
Part that front section in half and use clips to secure each one.
Put the back portion of hair in a sleek mid bun – not too low, not too high.
Slick the front sections of hair down and pin them up so that they go toward your mid bun.
Attach your drawstring ponytail by placing it over your mid bun and then tightening the drawstring.
Use bobby pins to style the drawstring ponytail, leaving a few strands out here and there for character.
Use gel or edge control to style your baby hair (optional).
Before you get started, watch this video tutorial so you can see the styling process for yourself.
Frequently Asked Questions
Can You Do Updos With Short Hair?
Updos are achievable with short hair, though the styles may be limited due to the length of your hair. Creativity plays a crucial role in forming a hair updo for short curly locks, and using a comb and bun can help keep the hair neat while understanding the unique challenges of short hair. You can also consider using hair extensions to provide more hair length.
Can You Do Updos With Hair Extensions?
Hair extensions are a versatile option for creating updos, adding length and volume to any hairstyle. Curly updos can be enhanced with extensions, making it easier to create various styles while keeping your natural curls intact.
What Is the Best Hair Length for Updos?
The best hair length for updos is typically medium to long hair, as this length offers more versatility in styling. With medium to long curly hair, it is easier to create intricate styles, such as curly updos, braids, and buns, that showcase your curly locks.
Do Updos Damage Hair?
Curly updos, when done correctly, do not damage your hair. However, it is essential to be gentle when handling natural curls, using a wide-tooth comb to avoid breakage and frizz. Maintaining good hair care practices will help ensure your curls remain healthy and strong. You can also use ouchless hair accessories (e.g., a bobby pin) designed for curly tresses.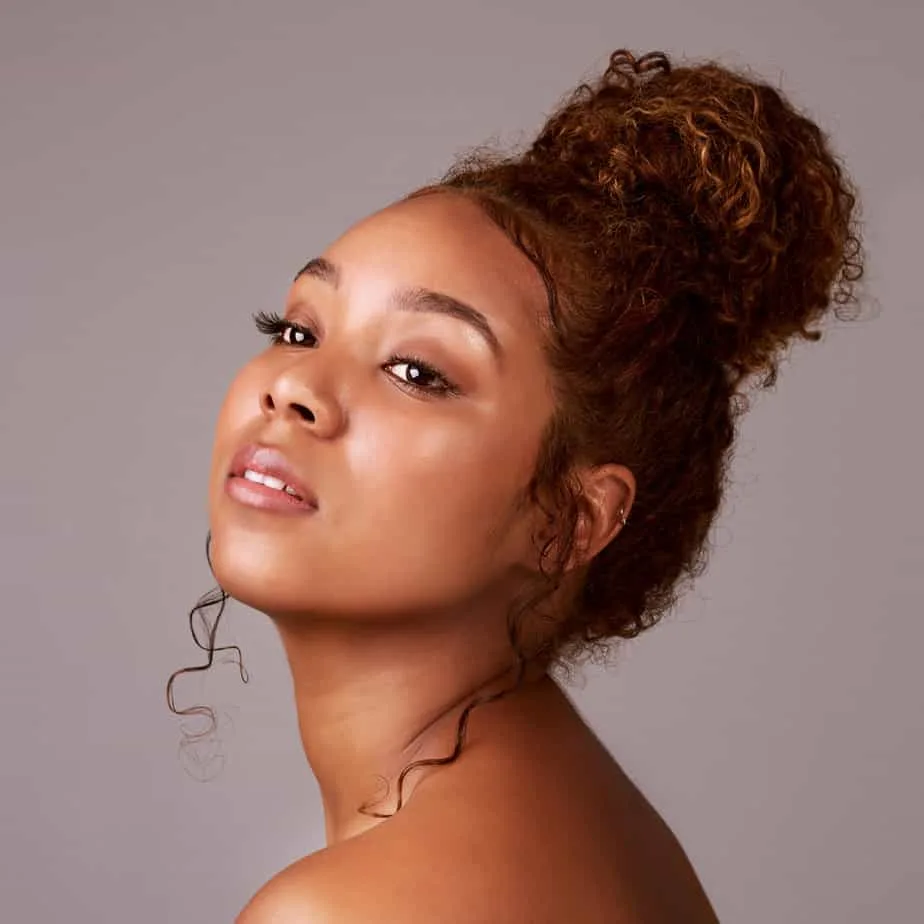 What Are the Best Products to Use for an Updo on Curly Hair?
The best products for an updo on curly hair are those that provide hold and manage frizz. Gels, creams, and mousses that are specifically designed for curly hair can help keep your curly updo looking polished while maintaining your natural curl pattern.
Can You Create an Updo for Curly Hair Without Having to Straighten It First?
Creating an updo for curly hair without straightening it first is possible. Embracing the natural texture of your curls can lead to unique and stunning hairstyles that showcase the beauty of curly hair while avoiding potential heat damage from straightening.
How to Do Updos for Curly Hair?
To create updos for curly hair, start by moisturizing and detangling your curls. Next, experiment with different styles, such as braids, twists, and buns, using hairpins and elastics to secure the updo. Finish with a frizz-fighting product to keep your curly updo looking polished.
How to Do an Updo With Wavy Hair?
For an updo with wavy hair, begin by adding texture to your waves using a curl-enhancing product. Then, choose a style such as a braided crown, a twisted chignon, or a half-up half-down look. Secure the updo with hairpins, and finish with a light-hold hairspray for lasting hold.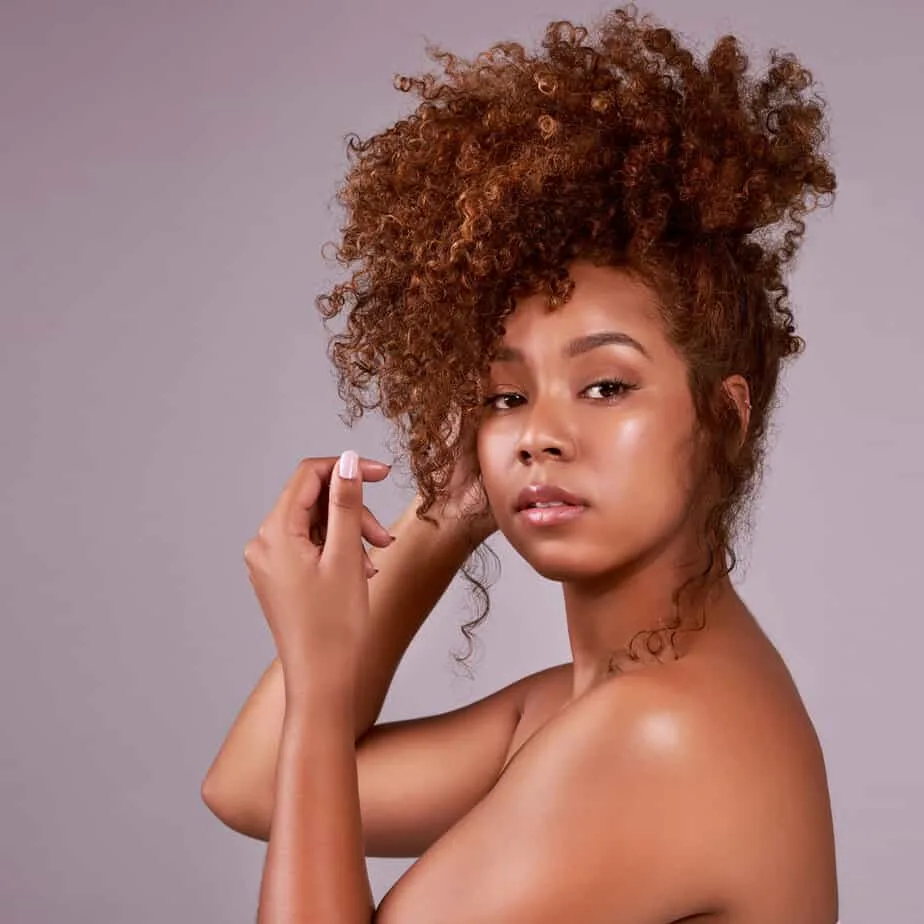 How to Do a Messy Bun With Curly Hair?
To create a messy bun with curly hair, gather your curls into a loose ponytail at your desired height. Then, twist the ponytail and wrap the ponytail around the base to form a bun. Secure with hairpins or a hair tie, and gently pull at the bun for a more effortless, messy appearance.
How Do You Put Curly Hair Up Without Messing It Up?
Putting curly hair up without messing it up requires gentle handling and the right hair care techniques. Detangle your hair with a wide-tooth comb, and then gather your hair into your desired style, such as a pineapple, ponytail, or bun. Use hairpins or a hair tie to secure the style, and finish with a frizz-fighting product to keep your curls looking their best.
Despite the challenges posed by different hair lengths and textures, various updo styles can be achieved, including those for short hair and hair with extensions. The ideal hair length for updos is medium to long, as it offers greater styling flexibility.
Updos don't inherently damage hair, although you should be gentle when handling natural curls to avoid breakage and frizz. Embracing the natural texture of curly hair allows for unique and stunning updos without the need for straightening your curls.
Key steps in creating updos for curly hair include moisturizing, detangling, experimenting with styles like braids and twists, and securing the updo with hairpins or elastics. Adding texture and utilizing various styles like braided crowns and twisted chignons can result in beautiful updos for wavy hair.
Creating a messy bun with curly hair involves gathering the curls into a loose ponytail, twisting and wrapping it around the base, and securing the bun for an effortless appearance.
Finally, putting curly hair up without messing it up requires gentle handling, proper detangling, and frizz-fighting products to keep curls looking their best.
So, there you have it – 9 easy curly updos you can do at home today! We hope that you found some helpful inspiration for your next formal event. Happy styling!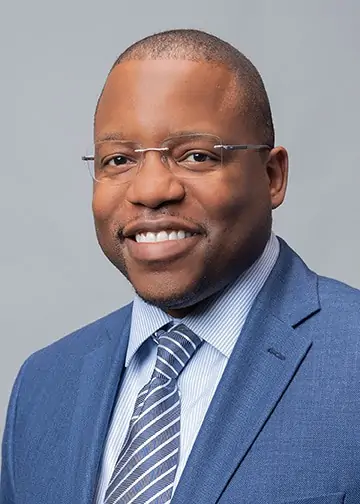 Kenneth Byrd, with a BS in Accounting and Management Information Systems and an MBA from the University of Alabama at Birmingham, has over 15 years of experience and is a recognized authority in hair care. Co-founder of Curl Centric® and Natural Hair Box, Kenneth has dedicated himself to promoting ethical and scientifically-backed hair care practices. Rigorous editorial guidelines, industry recognitions, and features in numerous media outlets evidence his expertise. Kenneth's commitment to transparency, quality, and empowerment has positioned him as a trusted voice in the field, empowering readers to confidently embrace their natural beauty.