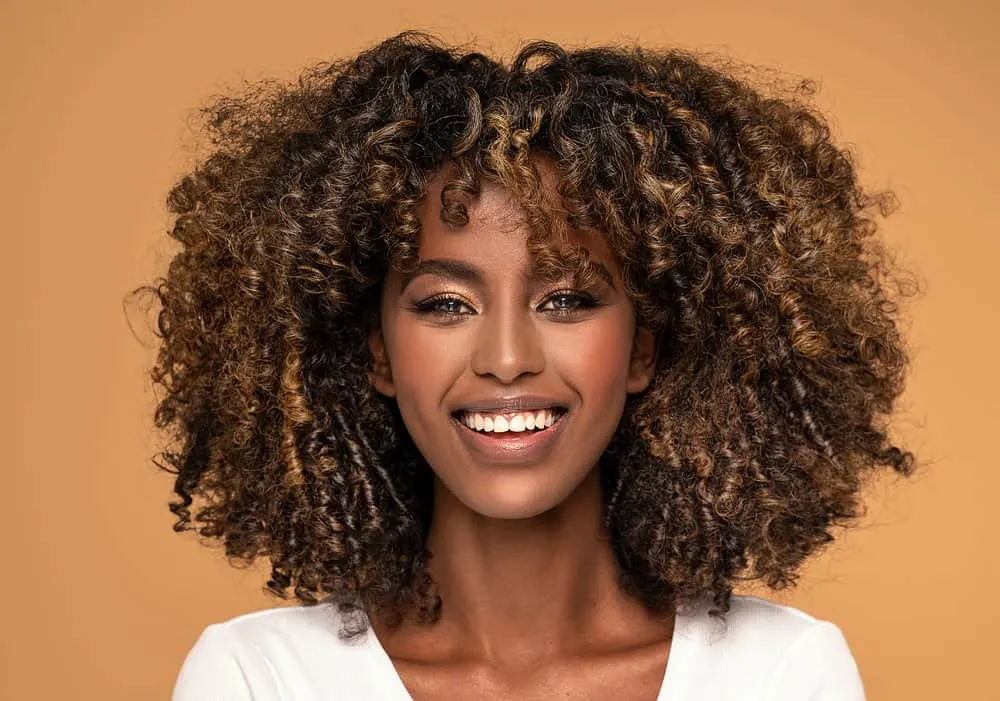 From micro bangs to a swooping side fringe, bangs are one of the most popular ways to add some oomph to your look. In your search for fringe inspiration, you may have come across the latest hairstyling trend – bottleneck bangs.
If you're wondering what they are and whether you should give them a try, we've got good news! In this article, we'll walk you through everything you need to know about bottleneck bangs, including how to cut and style them.
What Are Bottleneck Bangs?
Bottleneck bangs are a trendy bang type that falls halfway between a full fringe and curtain bangs. Instead of being cut straight across, they fall at an angle and make a face-framing inverted V shape.
Because they're shorter in the middle and get longer as you move towards the sides, they create an incredibly flattering silhouette that works with various facial features and shapes.
In terms of texture, bottleneck bangs are choppy and open slightly in the middle to create a subtle center part.
They are chic, casually rebellious, and leave you looking effortlessly cool. Despite being relatively new to the scene, they have a slight '70s feel that makes them simultaneously retro and modern.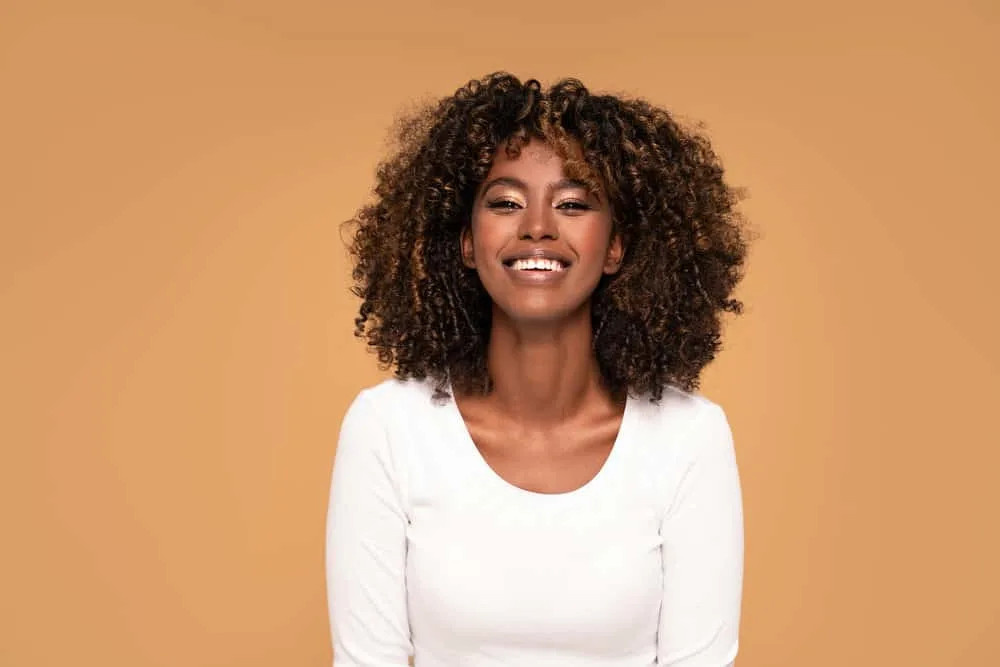 Where Did Bottleneck Bangs Originate?
Although bottleneck bangs are an updated version of other classic bang styles, the term is relatively new to the scene. Celebrity hairstylist Bryce Scarlett created the now-iconic look for Margot Robbie's August 2021 Vogue cover.
Although Scarlett came up with the cut, a London-based hairstylist named Tom Smith coined the name "bottleneck" because of the way the bangs fall onto your face.
Bottleneck bangs have a streamlined shape that becomes narrower as you move into the center. The unique shape perfectly mirrors the slim neck of a glass bottle.
Bottleneck bangs also have a slight opening in the center, which recreates the bottle's mouth. Since their Vogue cover unveiling, bottleneck bangs have been soaring in popularity thanks to social media sites like TikTok and Instagram.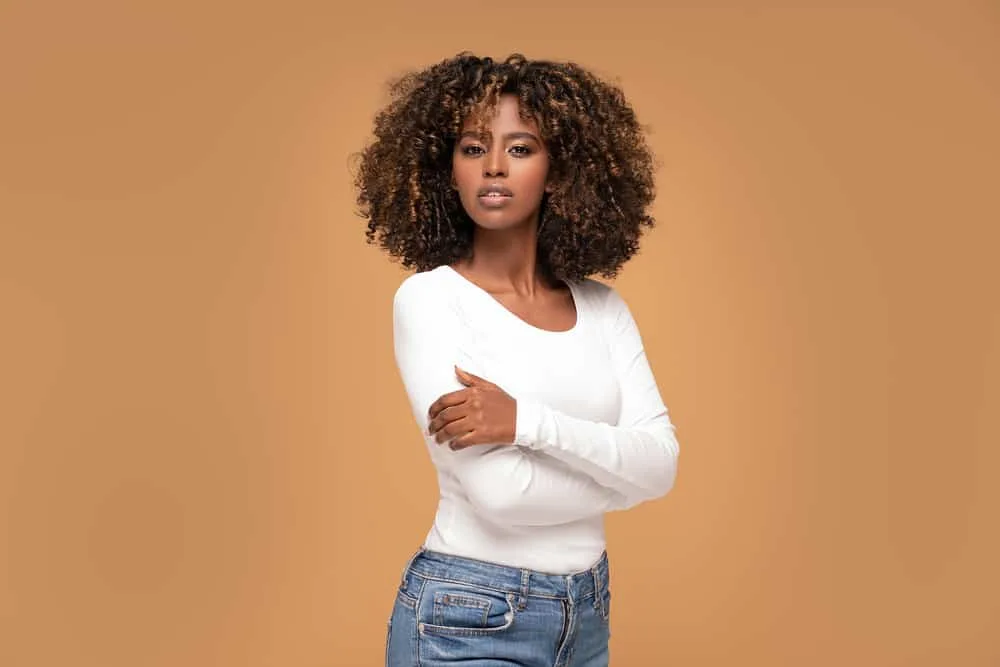 How to Cut Bottleneck Bangs
If you want to get this ultra-chic style, we have great news! In this section, we'll walk you through step-by-step instructions on how to get the perfect bottleneck bangs.
How to cut and style Layer Bangs | Bottleneck Bangs Haircut Tutorial
Gather Your Supplies
Before you start, set yourself up for success by grabbing everything you're going to need.
Separate the Bangs
Make a center part and figure out how far back you want your bangs to start. Then, use your comb to mark out how much hair you want to include in your bangs.
To do this, make an angled part that goes from the middle of your head to the sides of your hairline. When you finish, you should be left with a triangle shape, with the highest peak directly in the middle of your head.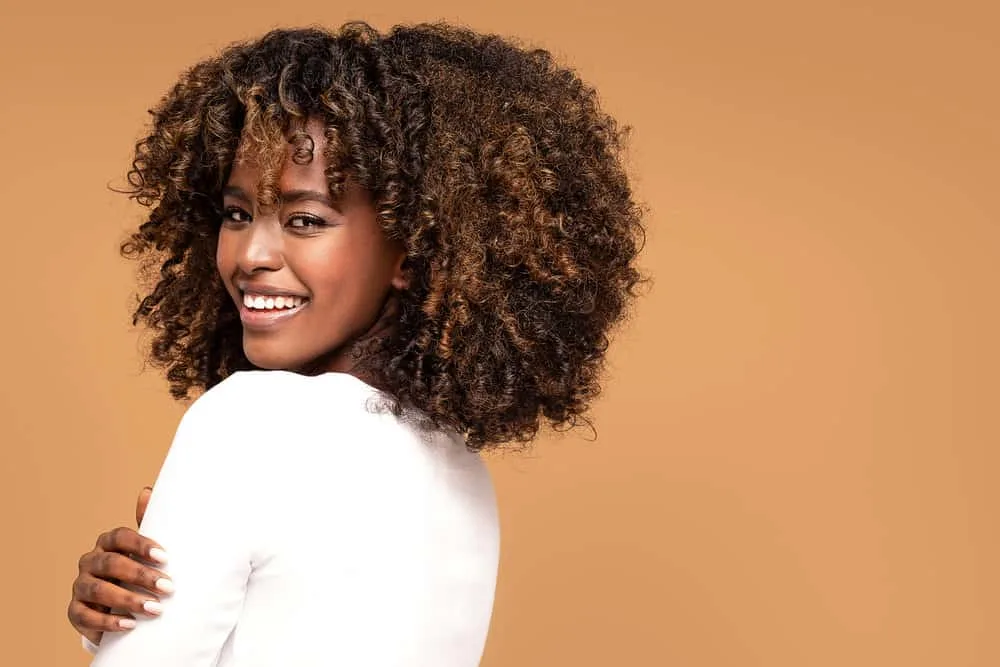 After you've carved out your bangs, comb them to the front and secure them with a hair tie. Then, brush the rest of your hair back and gather it into a ponytail.
Once your hair is secured, remove the hair tie holding your bangs and comb the hair to the front so it falls straight down onto your face.
Cut the Middle of Your Bangs
Check your bangs to make sure you're okay with the amount of hair you've included and how it falls. If you're satisfied, start by removing the length from the middle.
Typically, the center of bottleneck bangs falls just below your eyebrows.
For straight and wavy hair, pull the hair taut with one hand and use the other to make tiny, even cuts until the middle section is just a little bit longer than you want.
When cutting curly hair, let the curls fall like they usually do, and try not to disturb your natural curl pattern as you snip.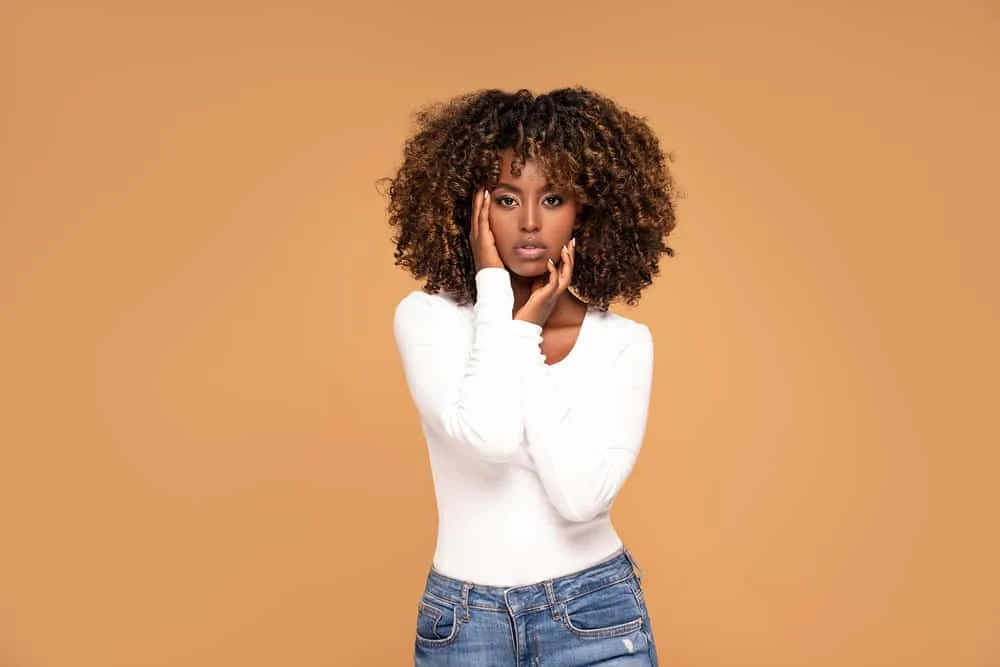 While cutting, make sure you leave your bangs a little longer than you want them to be in the end. That way, you'll have a safety net if you change your mind later. Plus, you can always go back and shorten your bangs at the end.
Once you've finished cutting the center portion, take a step back and examine your work. Decide how long you want to leave the sides before you move on to cutting them.
Cut Both Sides
After cutting your middle section, go back to the center of your bangs. Start with either the right or left section and make your way over to the side. Once again, pull straight and wavy hair taut with one hand as you cut with the other.
Similarly, cut your natural curls and coils as they are. As you make your way to the side, angle your scissors downward. Remember you want your bangs shorter in the middle and much longer on the sides.
Try to create a gradual slope, so your fringe doesn't come out too blunt or choppy. Keep cutting until you've reached your desired length, and then repeat the process on the other side.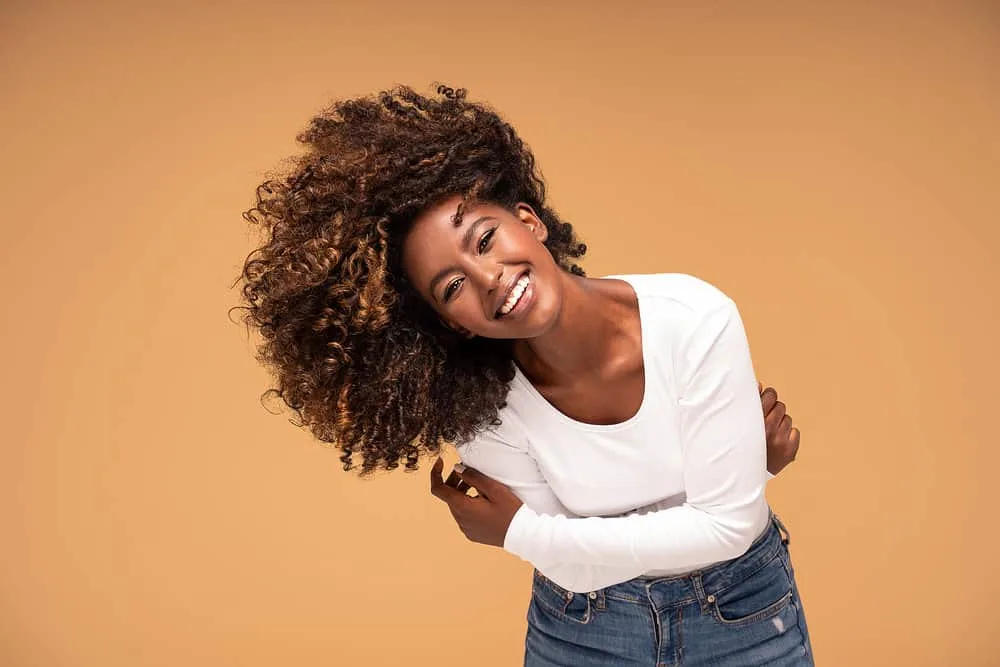 Do the Finishing Touches
Once you're satisfied with your cut, tousle your bangs with your fingers. Pull them to both sides and check for missed hairs.
Next, it's time to soften the look and give your bottleneck bangs their signature texture. To do this, you're going to feather the ends with a sharp pair of hair shears.
Feathering the ends helps soften the edge of your fringe, so they don't look like they were chopped with craft scissors.
Hold your scissors at a 90-degree angle and make small, vertical snips into the ends. Pause after every few cuts to examine your work, and stop once you're happy with your final result.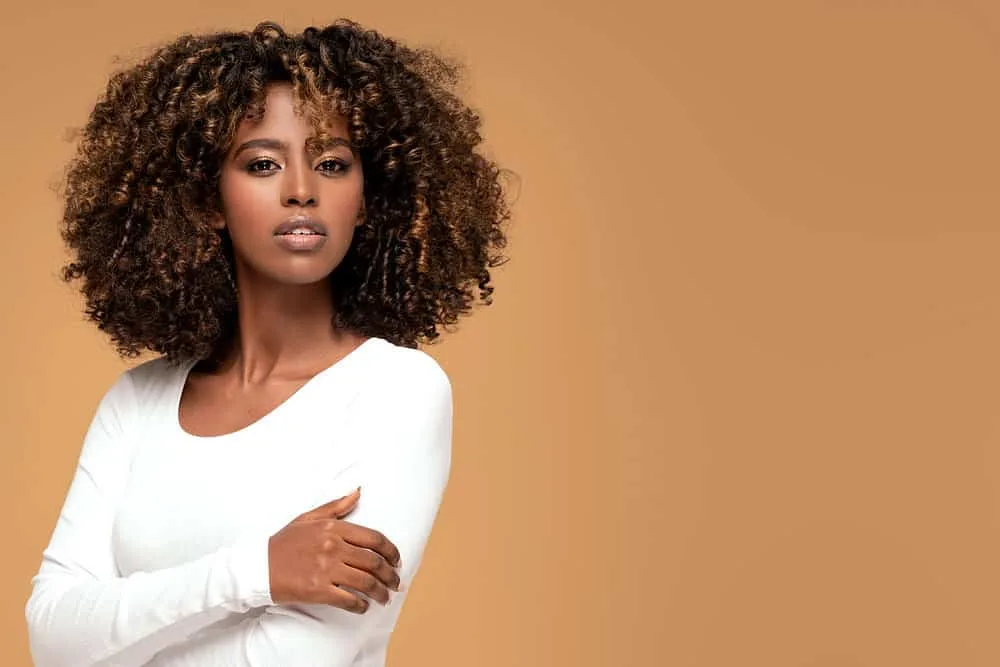 How to Style Bottleneck Bangs
Are you ready to style your new fringe? Because the soft, choppy cut does most of the work, styling your new bottleneck bangs will take minimal effort. Keep reading to find out how.
On Straight Hair
cutting fringe bangs ! Easily hidden bangs tutorial | GABBY HUA
Heat styling is the best way to keep bangs from falling flat on straighter hair. It'll also give your straight strands some sultry texture.
First, spray a heat protectant onto your damp hair and comb out any knots or tangles. Create your part and pull your round brush underneath one side of the bangs.
Point your blowdryer downwards so your fringe comes out extra smooth and glossy. Make sure the brush is gripping as much hair as possible, and gently twirl it to the side.
Keep blowdrying until the section is completely dry. Gently pull your brush away and check to see if the bangs are falling the way you want them to.
If you're satisfied, repeat the process on the other side. After you've finished, examine your new 'do. Does everything look good?
If not, use a flat iron to make any necessary adjustments. Once you're done, lock everything in place with a light mist of hairspray.
On Wavy Hair
How to cut & style curly bangs | Vivi König
If you have wavy hair, you can let your natural texture do all the work! Your waves will give the bangs plenty of volume and soft, romantic texture.
Start with damp hair to coax out your natural waves. Apply a pea-sized amount of defining cream or serum to your bangs and gently wind them around your fingers.
Pull them away from your face and to the sides to create a side-swept effect.
Slowly pull your finger out of your hair and leave the curl alone. Repeat these steps on the opposite side and wait for your hair to air dry. After that, gently comb out your bangs with a wide-tooth comb.
Use your fingers to style, and voila! Effortlessly gorgeous bangs!
Want to switch up your look?
Try adding a middle, side, or off-center part to see which one flatters your face the most. You can also use a flat iron or hair curler to fine-tune your bangs and leave them looking picture-perfect.
On Curly Hair
HOW TO CUT BANGS ON CURLY WAVY HAIR
Bottleneck bangs will look a little different on curly hair, depending on how tight or loose your natural curl pattern is. The good news is that you'll have plenty of natural volume to play around with!
When it comes to styling bottleneck bangs on curly hair, the less you do, the better.
Apply a small amount of your favorite curl-defining product onto damp hair and use your fingers to separate each curl. In addition to preventing frizz, that will help keep your bangs smooth, defined, and shiny.
Gently wind your coils around your finger to help them hold their shape and release. Then, let your hair air dry or use a blowdryer with a diffuser attachment.
Are your curls not falling into place?
Sometimes curly hair has a mind of its own, so feel free to use a curling wand anytime your bangs need a little more definition.
Once your hair dries, you can play around with parting or break your curls apart to create more texture. If you struggle with humidity like most curly girls, apply a little spray or serum to your strands to keep them looking polished.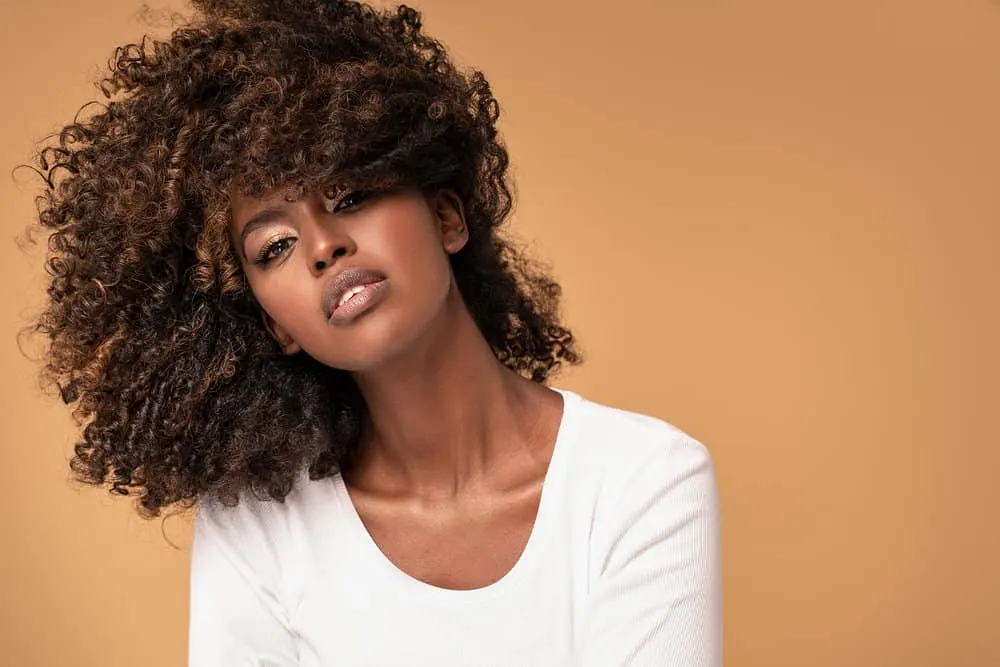 Pros and Cons of Bottleneck Bangs
Not sure if bottleneck bangs are right for you? Bangs are a major commitment, so in this section, we'll take a look at some of the pros and cons.
Use the information we've included to help you decide if you want to give bottleneck bangs a shot.
Pros
There's a reason bangs are a go-to option for many women. Here are some of the advantages of getting bottleneck bangs.
They are relatively low maintenance compared to other bang types.
Bottleneck bangs pair well with various haircuts, making them highly versatile.
This style of bangs is universally flattering and works with virtually all face shapes and features.
Your bangs will still look good even when they start to grow out.
Bangs can make you look more youthful.
Bottleneck bangs are on-trend and can even be a conversation starter.
Cons
Although bottleneck bangs are an excellent option for some, they won't work for everyone. Here are some downsides to consider before taking the plunge.
Bangs can cause acne flareups as the strands brush up against your skin.
You won't be able to tuck your bangs behind your ears when they're in the way.
Bangs are a commitment, and the growing-out period can be frustrating.
You may have to heat style your bangs, which can lead to heat damage.
Because bangs get oily quicker than the rest of your hair, you'll have to wash them more often.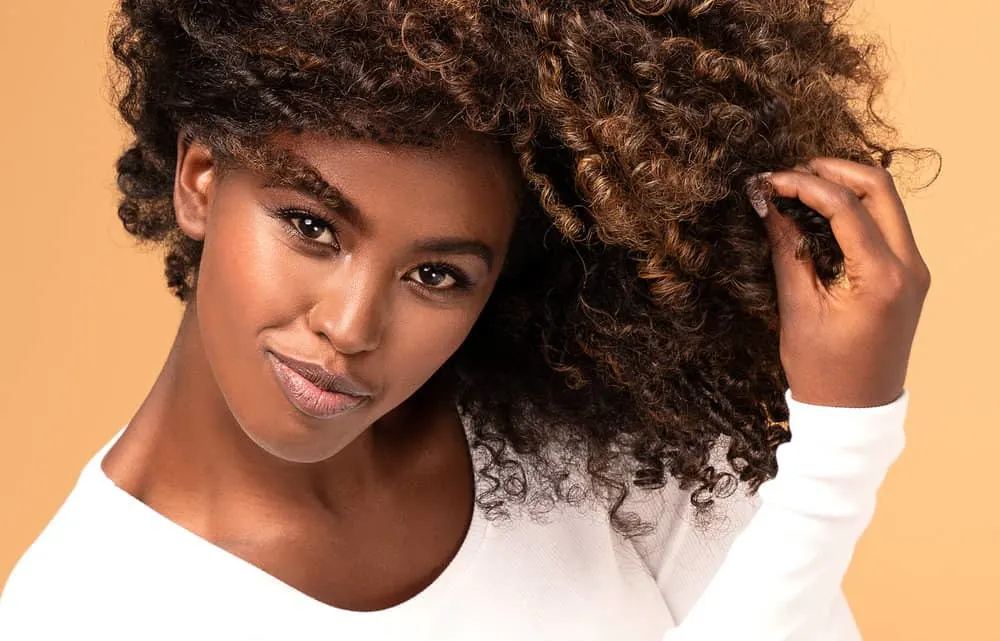 Dos and Don'ts of Cutting Bottleneck Bangs
If you've decided bottleneck bangs are right for you, there are a few things you should keep in mind. The following is a list of dos and don'ts that'll help to ensure that your bangs come out looking the way you want them to.
Dos
Follow this list of dos to stay on the right track as you craft your bottleneck bangs:
Do get your hair cut by a professional if you don't have experience cutting your own hair.
Do hold your scissors at a 45-degree angle to prevent your bangs from coming out too blunt.
Do plan out how much hair you want to include in your bangs.
Do soften the ends of your bangs by cutting them vertically.
Do look at plenty of pictures to get an idea of how you want your bangs to fall.
Do hold your bangs taut so you can get an accurate cut.
Don'ts
Now that you know the dos, it's time to dive into some things you should steer clear of. Keep this list of don'ts in mind to avoid a bang fail.
Don't cut your hair while it's damp unless you have experience doing so.
Don't cut too much hair off at once – you'll quickly regret it.
Don't forget to take your hairline and any cowlicks into consideration.
Don't get bangs if there's a chance you'll change your mind in a few days.
Don't cut bangs into curly hair while it's straight.
Don't cut your hair while it's dirty.
Who Do Bottleneck Bangs Look Best On?
The great thing about bottleneck bangs is that they look good on pretty much anyone who tries them. However, they are incredibly flattering on people with wavy hair.
Your natural texture gives the bangs a casual wind-swept look that works perfectly with the edgy, relaxed cut. Bottleneck bangs also look great on people with long, square, and wide faces.
The way the fringe falls onto your face softens your features while giving you a sultry, peekaboo effect. Although bottleneck bangs can work with all hair types, people with type 1A, 3C, and 4 hair may have more difficulty styling their bangs.
While 1A hair falls flat and has difficulty holding onto texture of any kind, curly and coily strands have the opposite problem.
People with curly hair may struggle with getting and maintaining definition or have trouble getting their curls to fall the way they want them to.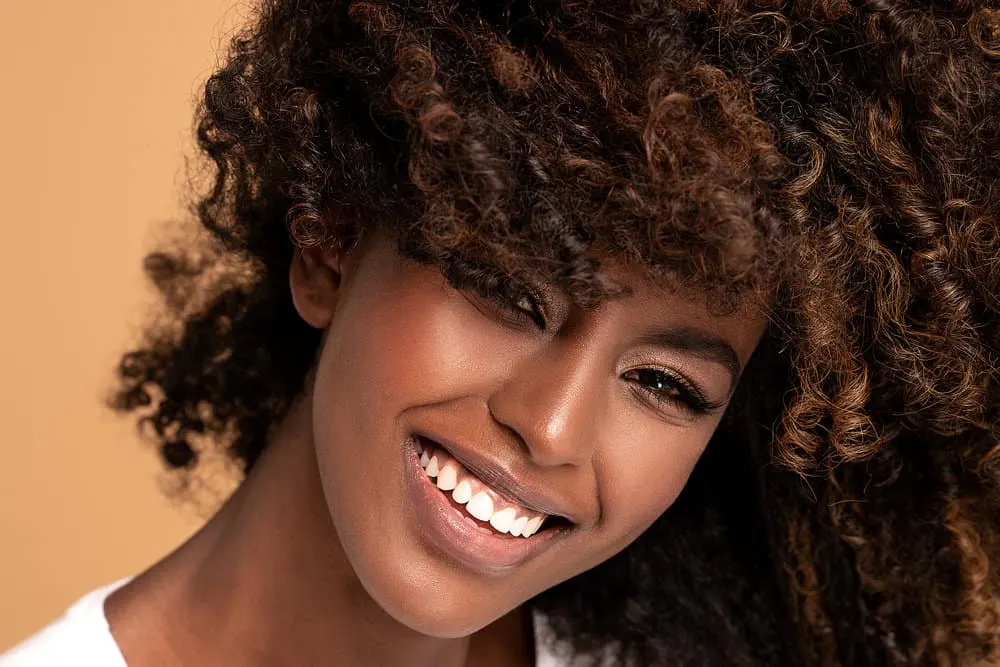 Should You Try Bottleneck Bangs?
The question remains, "Should you try bottleneck bangs?" The answer is not so straightforward. But bottleneck bangs are great for most people. They're super on-trend and long enough to give you some wiggle room if you decide you want to go shorter.
The answer is a little more complicated for anyone who's not sure about whether they're ready to get bangs.
Why?
Bangs are considered high maintenance, and it's for a good reason.
They must be washed, trimmed, and styled more often than the rest of your hair. They can also irritate your skin and eyes.
Ultimately, only you can determine if you should try bottleneck bangs, but we think they're an excellent option for any bang-lover.
Are Bottleneck Bangs for People with Curly Or Coily Hair?
Bottleneck bangs look great on curly and coily hair! They may take a little more work to style, but your natural volume and curls create a fun, youthful look.
Keep in mind that you'll have to cut your bangs a little longer than you want them.
Curly hair shrinks as it curls, so cutting your fringe to the exact length you want it may lead to a too-short result. Another thing to keep in mind is that cutting curly hair is a little more challenging than cutting non-textured locks.
Each curl has its own unique pattern, and your coils and ringlets may be completely different in various sections of your head. Additionally, there are special tools and techniques that are used for cutting textured locks.
If you can, get your bangs cut by someone who has experience working with and cutting curly hair. Doing that will help ensure your fringe comes out the way you envisioned it.
We hope this article has explained what bottleneck bangs are and given you all the tools you need to get the look on your own.
Although bangs aren't for everyone, bottleneck bangs are one of the most universally flattering bang types around. If you decide to go for it, we wish you the best of luck!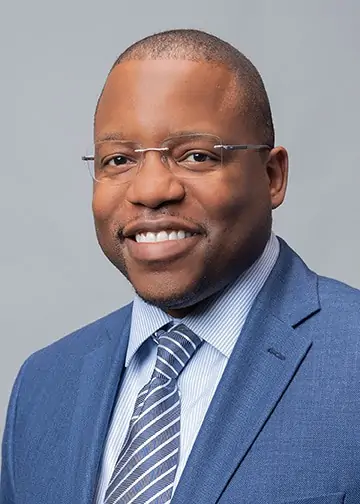 Kenneth Byrd holds a BS in Accounting and Management Information Systems and an MBA from the University of Alabama at Birmingham. With over 15 years of experience, Kenneth has been dedicated to hair care since 2008, when he co-founded Curl Centric® and Natural Hair Box alongside his wife. As a team, they promote healthy hair care practices through their comprehensive platform, Curl Centric. Curl Centric is a website operated by a husband and wife team that encourages healthy hair care. At Curl Centric, we aim to help our readers take control of their hair care journey and make good decisions about products, hairstyles, and maintenance techniques. We also have strict editorial integrity; here's an explanation of our editorial guidelines and how we make money.