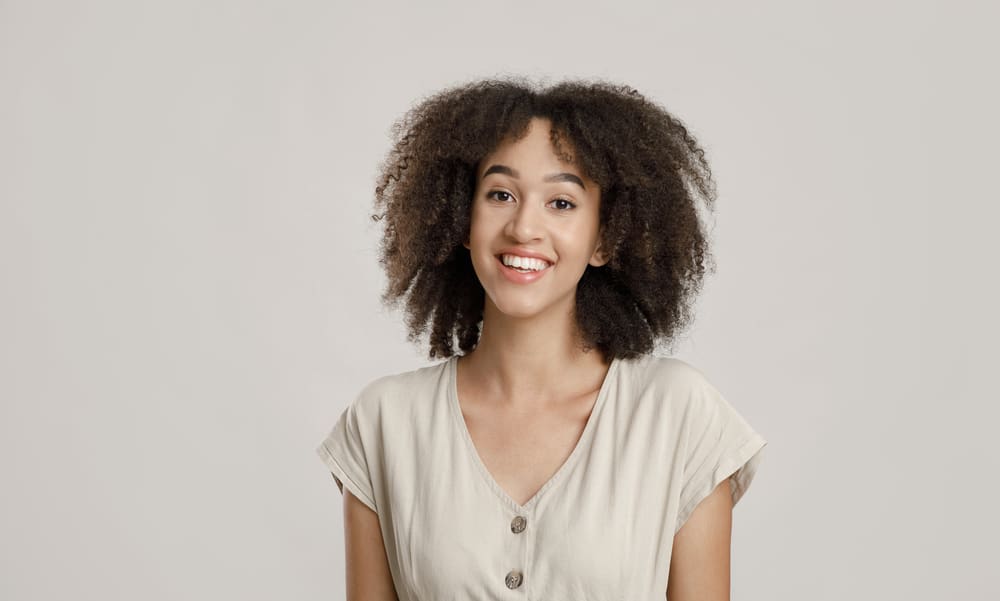 We have all been there at one point or another, looking at ourselves in the mirror, scrunching and bunching our hair, thinking: "Should I cut my bangs?" The answer is "Of course!"
Curtain bangs are a gorgeous hairstyle that's simple to DIY and frames any face. In this article, we'll give you step-by-step instructions for how to cut curtain bangs.
What Are Curtain Bangs?
Curtain bangs are a tapered fringe (or bang) that is worn with a center part and resembles the look of open curtains. The bangs, which are sometimes called a curtain fringe, typically flow outwards towards either side of your face. The bangs can be worn on both straight and curly hair.
These tapered bangs add volume and shape to your hair and are super easy to camouflage should you get tired of them.
Trendy Yet Historical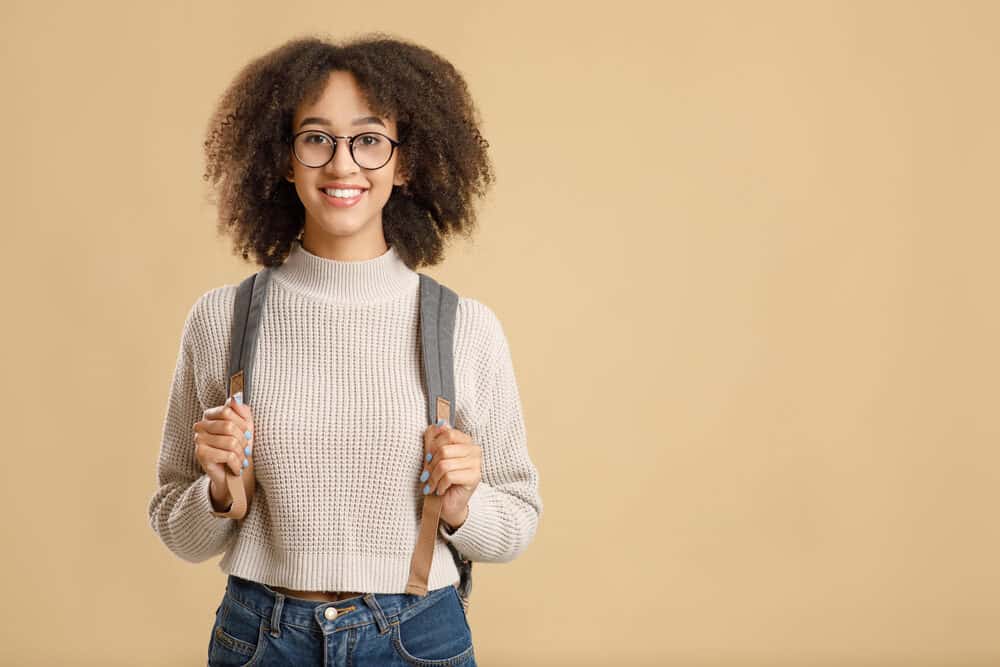 Everywhere we look, social media is blowing up with celebrities and influencers rocking this cheek-grazing, face-flattering new style. It's safe to say this is the hottest new trend within the curly girl community.
But, while these face-framing bangs are getting more popular by the day, they are nothing new.
The vintage fringe takes its inspiration from 1970's fluffy, layered hairstyles worn by celebrities like Farrah Fawcett, Jennifer Lopez, Ariana Grande, Alexa Chung, Brigitte Bardot, and Jaclyn Smith.
If you don't have access to a celebrity hairstylist like Justine Marjan, there's no need to worry; let's discuss how to cut your own bangs.
How To Cut Curtain Bangs on Curly Hair
HAIRSTYLISTS GUIDE TO CUTTING YOUR OWN CURTAIN BANGS ON CURLY HAIR
Curtain bangs are a perfect fit for curly hair, but doing them on this hair type can be challenging without the right tools and information. Follow the below steps to cut perfect curtain bangs.
Supplies for DIY Curtain Bangs on Curly Hair
Before you get started, get your hands on the following supplies:
Hair shears
Clips or elastics
Rattail comb for parting
Pre-Style Your Hair and Let It Dry
Before cutting curly hair, you should always make sure it's styled and 100% dry. Cutting curly hair while it is wet is always a game of chance – when it dries, it can shrink up to 70% and leave you with itty-bitty micro bangs.
To avoid this, make sure that you give your hair plenty of time to dry before you start snipping your hair strands.
It's also helpful to style your hair in the way that you'll typically wear it before you start cutting. If you usually wear your hair in a wash n' go, style your hair that way and then let it dry before you cut it. Doing this will make it easier to create a look you'll love.
Create a Triangle Part
Once your hair is dry, part a section of your hair into a triangle. The base of the triangle should run from the outer corner of each of your eyes and extend up toward the crown of your head.
Find the point where your head begins to slope forward to your forehead and use this spot as the highest point for your triangle.
The further back you place this topmost point of the triangle, the thicker your bangs will be. So, it's better to start small, especially if you have a naturally short face.
It's best not to make the base of the triangle wider than the span of your eyebrows either; it will make your forehead look larger.
Once you have found the perfect triangle for your face shape, secure the rest of your hair out of the way. You don't want to accidentally snip something that you shouldn't!
Cut the Bangs
Once you have sectioned off the area of hair you would like to cut and secured the rest of your hair out of the way: it's time to cut!
Let the triangle of sectioned hair fall naturally.
Part the section down the middle so that it falls equally on either side of your nose.
Take a single curl from the center of your forehead. Find the length you would like, add a little extra (just in case), and take a snip.
Now repeat with the curls on either side, adding a little more length as you go. Keep checking as you go to compare each side of your face, and make sure that the bangs taper equally on both sides. Compare the middle-most and outer-most pieces of hair from each side to make sure the lengths are equal.
Look at your bangs closely. If you think you need to cut more or want shorter bangs, wet the bangs and allow them to completely dry to see where the hair falls naturally. If you're not happy with the final look, trim a little more once it's completely dry. Always cut dry hair, since cutting wet hair can lead to unpredictable results.
How To Cut Curtain Bangs on Straightened Hair
Cut and Style Curtain Bangs Like a Professional Hairdresser | DETAILED HAIR TUTORIAL | ARIBA PERVAIZ
Curtain bangs are not just for people with curly hair – straight-haired beauties often sport this versatile hairstyle. If you don't mind styling your bangs in the morning to give them a little 'oomph,' this look is for you.
Supplies for Curtain Bangs on Straightened Hair
Pick up the following supplies before you get started:
Rattail comb
Hair scissors
Round brush
Blow dryer
Prep Your Hair for the Cut
If you often wear your hair straight, we recommend that you straighten your hair before cutting. That way, your bangs will look symmetrical and blend well with the rest of your hairstyle.
Complete your regular wash-day routine – wash, condition, and deep condition as you usually would.
After conditioning, apply a heat protectant spray to all of your hair and blow-dry it until it's almost entirely straight. Then pull out your flat iron and straighten small sections of hair until all of your hair is straight.
Cut the Bangs
Before you start, make sure that you have sectioned off the triangle of hair that you will be cutting and secured the rest of your hair out of the way. The base of the triangle section should run from the outer corner of each of your eyes and extend up toward the crown of your head. The larger the triangle, the thicker your bangs will be, and vice versa.
Let the triangle of sectioned hair fall naturally around your face and gently part the hair in the middle so that it falls equally on either side of your nose. Take a strand from the center of your forehead, find the length you would like, and add a little extra. Remember that when the hair is styled, it will curl away from the face and be slightly shorter, so it's always best to leave a little extra length. Each face is different, so there is no one way to style it. But as a general rule, cheekbone height or just below is a great place to start.
Rather than cutting straight across the strand of hair, try to hold the scissors pointing upwards and use small snips to point-cut the bangs. This technique will result in a gradual blended taper rather than a blunt slant.
Starting from the middle of the forehead, slowly make your way towards your earlobe. Add length to each strand as you move away from the center and toward the outer edge of your face.
Make sure that you take time to stop throughout and examine your bangs. Make sure that the bangs taper away at a symmetrical length on both sides. If your bangs are too long in any area, use this opportunity to correct the unevenness. A common mistake is creating bangs with a longer side, so you'll want to avoid this potential issue.
How to Style Curtain Bangs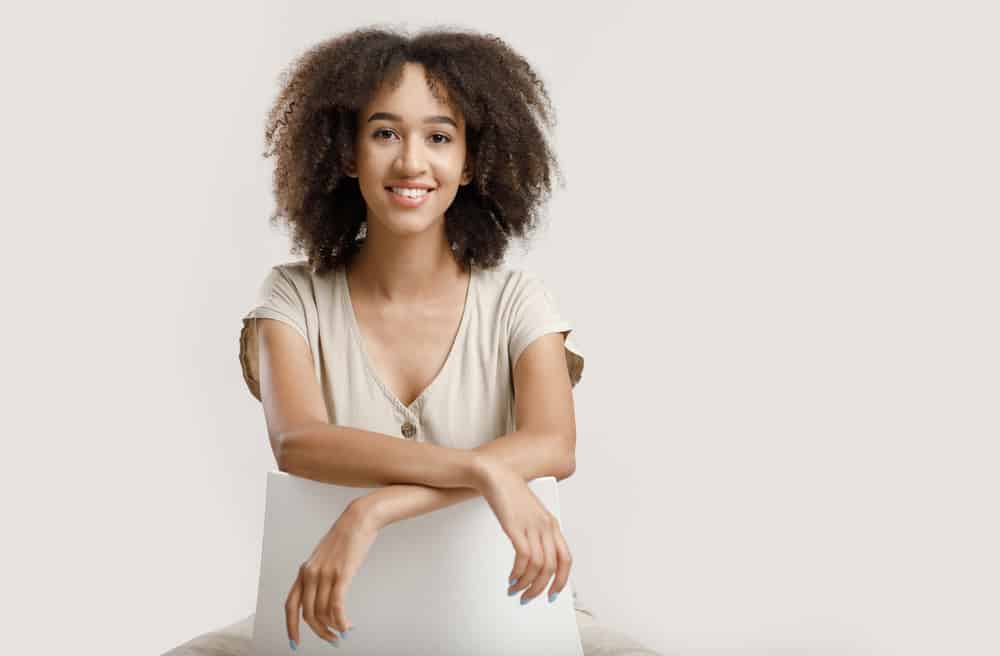 For curly and coily hair types, these bangs are a breeze. Just add a little water, styling cream, or oil, give them a scrunch, and you should be good to go!
For straight hair, you have multiple options. You can use a round brush and blow dryer or a large barrel curling iron.
Round Brush
With the round brush underneath the bangs and the blow dryer pointed downward, dry and curl the bangs. When your bangs are 90% dry, brush them out to the side using the same technique to create a swoop.
Curling Iron
If you would prefer, you can use a large barrel curling iron and finger comb your bangs. No matter which technique you use, don't forget to use a heat protectant before adding heat to your hair.
Wash-and-Go (or Wash n' Go)
If you have curly hair, a wash-and-go with curtain bangs is a great option. Wash, condition, and deep condition your hair. Then add some scrunching gel or curling cream and define your curls with your fingers or a Denman brush.
Low Ponytail
Classic and simple, the low ponytail with curtain bangs showcases the curtain bangs and keeps the focus on your face. The curtain bangs add a touch of romance to an otherwise basic look.
This look is best for long hair: pull your hair back into a ponytail at the nape of your neck, leaving your curtain bangs free. For curlier hair, use gel to slick back the sides and tame flyaways.
Curtain bangs are also worn with various high ponytails as well.
Messy Bun / Top Knot
These cute face-framing layers easily elevate a messy bun or a curly top knot. For straight hair, section out your curtain bangs and pile the rest of your hair on top of your head. Twist the hair around into a bun and secure it with a hair elastic.
For curly hair, section out your curtain bangs and brush your hair up toward the crown of your head. Secure the hair with an elastic and then wrap the hair into a loose bun. Secure the bun with bobby pins if necessary. Release your curtain bangs, and you're done!
Half-up, Half-Down
A half-up half-down look with curtain bangs is absolutely gorgeous. Section the top half of your hair away from your bangs.
Pull it back into a messy bun, a soft ponytail, or even a playful pigtail, leaving the rest of your hair hanging down.
For an elegant curly-haired look, slick the sides of your hair up with a styling cream or gel to keep it in place and frizz-free all day. Try adding clips and barrettes for a feminine touch.
Big Curls
Stay true to the 70's inspiration for these curly bangs and use a large barrel curling iron to feather your hair into a Farrah Fawcett style.
Style your straight bangs as indicated in the "Style Your Curtain Bangs" section. Then, using a large-barrel curling iron, curl large sections of your hair away from your face.
After all of the curls have cooled, run your fingers through the curls to break them up and create a voluminous look. Spray generously with hairspray to keep your hair looking big and voluminous all day long.
Pros and Cons of Curtain Bangs
When deciding whether curtain bangs are the right style for you, it's essential to know the pros and cons. Let's jump right into them below:
Pros
Appearance: Curtain bangs have a face-framing quality that looks great on everyone.
Versatility: They are long enough to comfortably tuck behind your ear, pull back into a high ponytail, or hide under a headband on days when you don't want to style them.
DIY: Curtain bangs are easy to style, making them a great DIY style for beginners.
Cons
High maintenance: Unless you have very wavy hair, curtain bangs will take some styling to get them looking the way you want. Also, you will have to trim them every few weeks to keep them in shape.
Annoyance: If it's been a while since you last had bangs, you may have forgotten the hassle of having them constantly in your face.
Grow out process: While these bangs are incredibly versatile, once you're tired of them, you will have to go through the long process of growing them back out to your regular hair length.
Dos and Don'ts of Curtain Bangs
If you've decided that you want to try curtain bangs, that's great! But before you start, review the below dos and don'ts.
Do
Find a reference image to guide you. Search online for a photo of a model with your hair type and face shape reference as to what the outcome might look like and use it as a guide to where you should section your hair.
Leave the hair a little longer than you think you want it: Not only might the curls shrink after they've been cut, to truly rock this style, you want the bangs themselves to be long and tapered.
Detangle: To fight frizz and keep your curls defined, you'll want to use a detangler or smoothing cream to keep your curtain bangs looking their best.
Accessories: When the time comes to grow them out, use cute accessories like headbands and hair clips to hide the grown-out bangs.
Don't
Cut the bangs too blunt: The gentle taper that frames your face is the calling card of the curtain bangs. Great curtain bangs need to be blended unless you want to end up with a bowl-cut look! This is one of the primary reasons newbies often use a stylist the first time they wear curtain bangs.
Use craft or kitchen scissors on your hair. There is a reason that hair cutting shears and salon-quality hair trimming scissors were specially designed for cutting hair. Since curtain bangs require regular trims having quality shears is critically important.
Make the bangs too thick or wide. Bangs that are too thick or wide can overwhelm your face.
Don't start too short. You can always cut off more hair, but you can't add it back!
Now you are prepped and ready to cut and style your curtain bangs on curly or straightened hair. If you're concerned about cutting your own curtain bangs, consider hiring a professional stylists. It's really the best thing you can do to ensure you're getting the perfect bang style.
These bangs are so cute that you will have heads turning without a doubt since the bangs really accentuate the front of your face. They look great on short hair and longer lengths.
Unfortunately, the style isn't low maintenance, but it's a great way to show off your beautiful facial features. Be prepared for friends and family to ask, "Wow, who did your hair?"