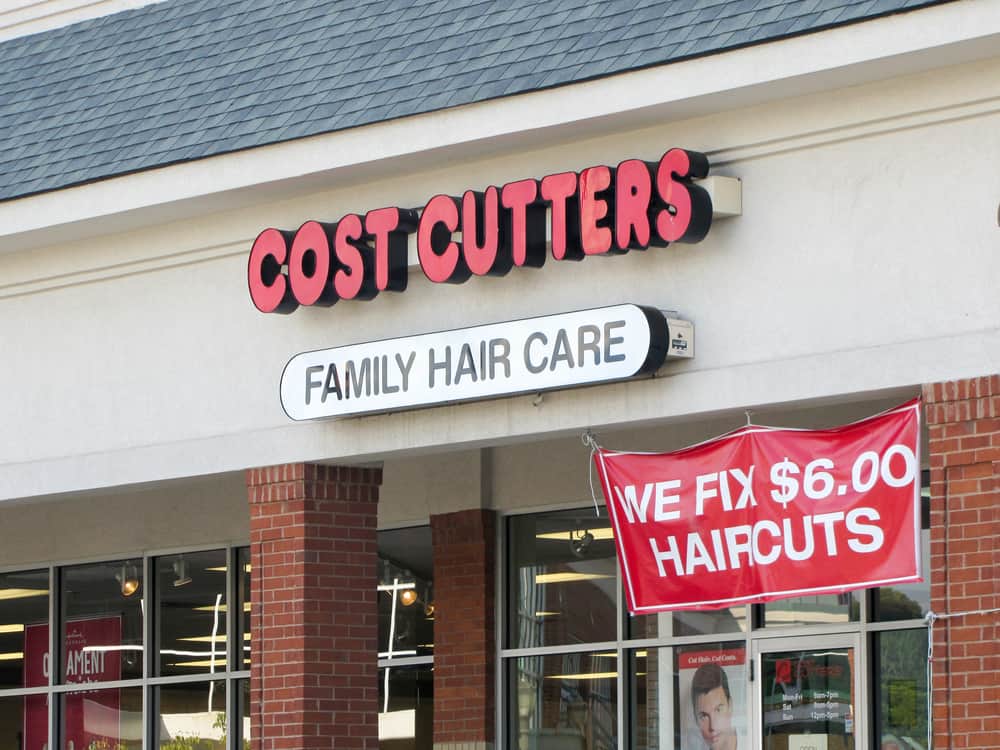 Cost Cutters salons are well known for providing a wide variety of hair services at everyday low prices. If you're wondering what else they have to offer, this is the article for you!
We'll take a look at what sets Cost Cutters apart, inclusive of Cost Cutters' prices, and what you can expect on your first visit. By the end, you'll know whether the salon may be worth your time and money. Let's get right into it!
About Cost Cutters
Cost Cutters is a full-service line of hair salons that was founded in 1982 by Joe Francis. It is based in Minneapolis, Minnesota, and was created to provide a value-focused salon experience for the whole family.
Eventually, Cost Cutters was purchased by the multibillion-dollar Regis Corporation and turned into a franchise business. There are currently more than 700 Cost Cutters franchises across the United States.
Cost Cutter Hours of Operation
Cost Cutters salons are usually open from morning until early evening. But hours vary depending on the location, so check with your preferred salon before your visit. Here are their typical hours of operation:
Monday – 9 am to 7 pm.
Tuesday – 9 am to 7 pm.
Wednesday – 9 am to 7 pm.
Thursday – 9 am to 7 pm.
Friday – 9 am to 7 pm.
Saturday – 9 am to 5 pm.
Sunday – 10 am to 4 pm.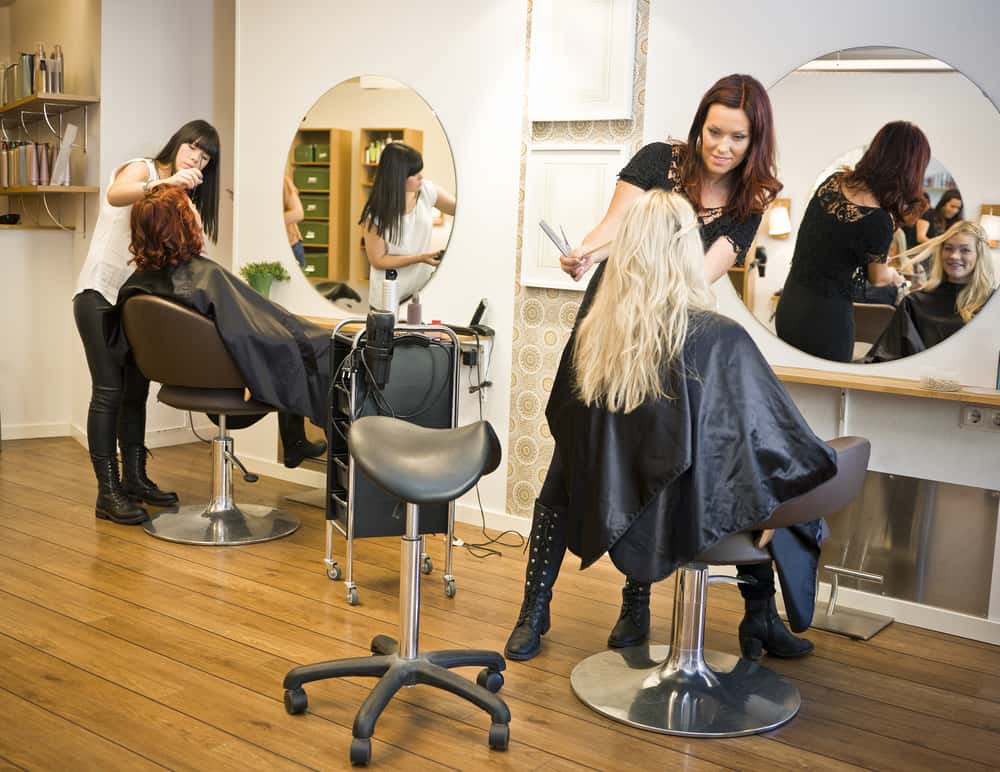 Is Cost Cutters Closed on The Holidays?
Each Cost Cutters salon sets its own schedule, so you will have to contact your local salon to find out if they're open on a particular holiday.
Cost Cutters salons might be closed or have shortened hours on certain holidays like other businesses. Here are the holidays usually observed by Cost Cutters salons.
Thanksgiving
Easter Sunday
Christmas Day
Many Cost Cutters locations are open a day or two beforehand to keep their clients looking great on the holidays. They are also open on several holidays when other salons are closed. Here are the holidays where most Cost Cutters salons are open:
Independence Day
Martin Luther King Day
Mother's Day
Father's Day
Presidents' Day
Memorial Day
Labor Day
Veterans' Day
Halloween
Black Friday
Christmas Eve
New Year's Eve
New Year's Day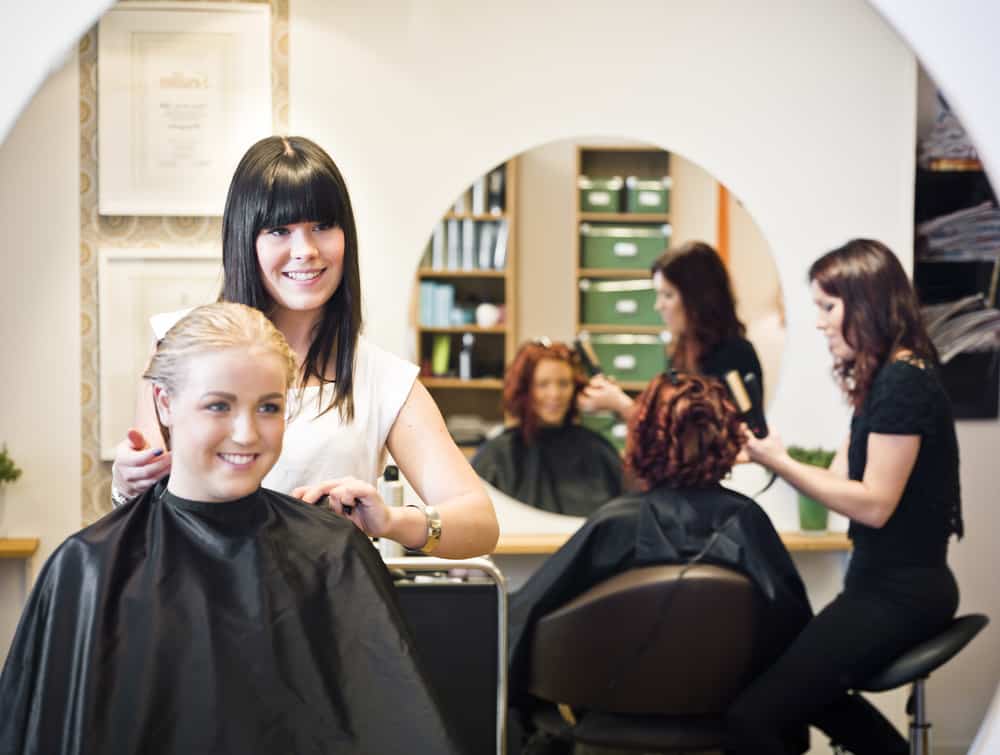 Cost Cutters Prices
The cost of each service varies by the salon, so your local Cost Cutters' prices may be significantly higher or lower than what you'll find below.
For that reason, we have provided you with a range of prices that reflect the low and high end of what you will probably find at your local salon:
Adult haircut: $13.95 to $18.95
Kid's haircut: $11.50 to $14.95
Shampoo and conditioner with haircut: $15.95 to $25
Shampoo and hairstyle with haircut: $24 to $32
Shampoo and blow-dry: $13 to $17
Deep conditioning treatment: $10 to $14
Tea Tree Experience: $6 to $14
Bang trim: $5 to $7
Beard trim: $5 to $7
Formal style: $25 to $55
All-over color: $35 to $55
Foil highlights: $35 to $75
Cap highlights: $40 to $55
Camo color (gray blending): $24 to $29
Perm and haircut (for short hair): $40 to $70
Perm and haircut (for medium length hair): $50 to $80
Perm and haircut (for long hair): $64 to $90
Spiral/specialty perm: $75 to $105
Relaxer: $50 to $55
Retexturizer: $50 to $55
Waxing: $9 to $11
How Much is Cost Cutters' Senior Discount?
Cost Cutters offers seniors over 55 years old a 10% discount on all hair services and salon products. The minimum age may vary by location, so call your local salon to determine their requirements. You don't need a coupon to receive the discount; just mention it to your stylist when they check you out.
Does Cost Cutters Have a Discount for First Responders?
Participating Cost Cutters locations offer first responders a 10% discount on salon services and products. The amount may vary at different salons, so call ahead of time to find more information.
You may be required to show proof of service. This discount is available for current and former police officers, firefighters, military personnel, veterans, and EMTs.
Should You Tip Cost Cutters?
Although it's not mandatory, tipping is expected at most salons, including Cost Cutters. You should typically plan on tipping 15% to 25% of your total spent. If you received better than average service, try to tip on the higher end.
What Payment Methods Do They Accept at Cost Cutters?
Cost Cutters salons accept all usual forms of payment, including cash, debit, and credit cards. They take all major credit cards, like MasterCard, Discover, Visa, and American Express, but they do not accept prepaid debit or credit cards. Other accepted payment options vary by location.
Does Cost Cutters take Apple Pay?
Some Cost Cutters salons accept Apple Pay. However, this is not the case at every location. To find out if your local salon takes it, check online or give them a call.
If you can't find out before your visit, bring a secondary form of payment. That way, you will be covered even if they don't accept Apple Pay.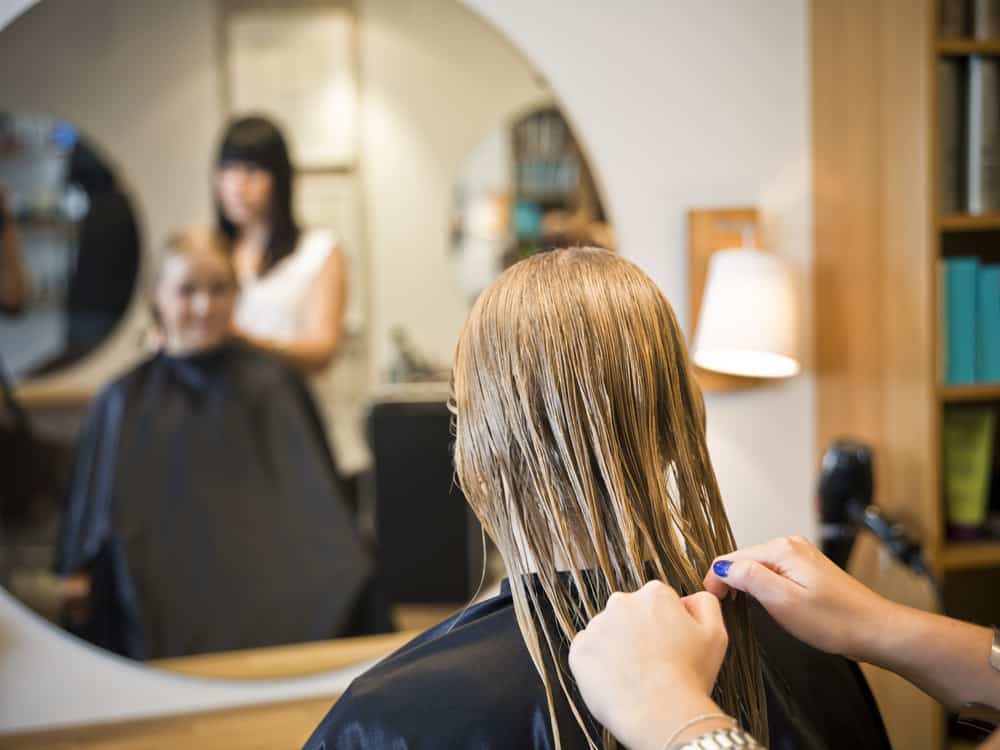 What Services Does Cost Cutters Provide?
Cost Cutters offers a comprehensive selection of hair-related services at affordable prices. This section will walk you through each service and what you can expect.
Haircutting Services
Cost Cutters stylists offer haircuts for women, men, and children. They range from basic quick cuts to full-service packages. Here are the haircut services offered by Cost Cutters salons:
Adult haircut – The adult haircut is an express cut, meaning your stylist will cut your hair without shampooing or styling it.
Haircut and shampoo – Your stylist will wash and condition your locks for this service. Then, they will give you a haircut. This service does not include a style.
Kid's haircut – This service is typically available for kids twelve and under, although the minimum age requirement may vary. It includes a simple haircut without any styling afterward.
Kid's haircut and shampoo – A kid's haircut and shampoo starts with a shampoo and conditioning treatment. It is typically reserved for children twelve or younger, although the maximum age will be lower in some locations. After their stylist washes their hair, they'll receive a haircut. This service doesn't include styling.
Bang or beard trims – The stylists at Cost Cutters will help keep your beard or bangs looking their best by giving them a quick touch-up between substantial cuts.
Hairstyling Services
The stylists at Cost Cutters can create a plethora of classic or trendy hairstyles. Regardless of which service you choose, your stylist will work with you to determine which look works best with your hair texture and features.
Here are some of the hairstyling services offered by Cost Cutters salons:
Haircut, shampoo, and basic style – This package begins with a shampoo and conditioning treatment. Next, the stylist will cut your hair into your chosen hairstyle. After the cut, they will blow dry your hair and give you a quick style with a brush.
Haircut, shampoo, and full style – This service starts with an invigorating shampoo and conditioning treatment. Then your stylist will blow dry your locks and give you a beautiful style with a flat iron or curling iron.
Blowouts – A blowout is a way to go if you want straightened strands with plenty of frizz-free volume and shine. Your stylist will start the service with a luxurious shampoo and conditioner. After that, they will smooth and style your hair with a blow-dryer and brush.
Formal/special occasion styling – This service is perfect for anyone who has a big event coming up. The stylists at Cost Cutters will help you get picture-perfect by giving you a stunning new 'do. The price may increase depending on the complexity of your desired style. You can choose from elaborate hairstyles like chignons, updos, or French twists.
Hair Coloring Services
Cost Cutters provides a range of hair coloring services, from simple all-over color to cutting-edge hair coloring techniques. Whether you want to enhance your natural hue or go for a complete color change, Cost Cutters can make it happen.
The specific services may vary at your location, so call or check online before your visit. Here are the hair coloring services offered at most Cost Cutters:
All-over color – Your stylist can use all-over color to enhance your natural color or change it completely. The experts at Cost Cutters will finish the service with shampoo, a conditioning treatment, and a quick blow-dry so you can check out your final shade. When you choose all-over color, you will have a few different types of hair dye to choose from. We'll break them down below.

Permanent: Permanent hair dyes penetrate your strands and deposit pigments deep inside. They leave you with super long-lasting color that defies fading for months. Your stylist can use permanent hair color to cover stubborn grays or make your natural shade lighter or darker.
Semi-permanent: Unlike permanent hair dye, semi-permanent dyes deposit color onto the outside of your strands. This means that this dye type is extraordinarily gentle – but at the same time, the color won't last longer than a few weeks. Semi-permanent hair color is perfect for anyone who wants to experiment with color without committing to it 100%.

Specialty color – Specialty color includes bold techniques that create a unique, show-stopping look. You can take your pick of various on-trend coloring techniques like balayage, color blocking, color melting, and rainbow effects. Regardless of which method you choose, the service will end with a shampoo, conditioner, and blow-dry style.
Full highlights – For full highlights, your stylist will use 16 or more foils to lighten your hair and create a drastic color change. You will be left with multi-dimensional highlights and lowlights. This service ends with a shampoo, conditioning treatment, and blow-dried style.
Partial highlights – This service includes 6 to 15 strategically placed foils. Your stylist will lighten key areas of your hair to create multi-dimensional color with plenty of dramatic or natural-looking highlights and lowlights. After your color, your stylist will give you a shampoo, conditioner, and blow-dry style.
Mini highlights – The stylists at Cost Cutters will use 1 to 5 foils to create subtle, face-framing highlights. This service is quick and great for people who want to give highlights a try for the first time. Once they've finished your highlights, your stylist will end the service with shampoo, conditioner, and a blow-dry.
Cap highlights – The cap highlights service starts with your stylist fitting a plastic cap over your head. Your stylist will then pull thin sections of hair through small holes in the hat and apply a lightener. After they finish lightening your hair, it will be shampooed, conditioned, and blow-dried. Cap highlights create a subtle, natural-looking effect.
Gray blending – This coloring technique will help reduce the appearance of grays without covering them up completely. After your color service, the stylist will shampoo, condition, and blow-dry your hair.
Hair Texture Services
Chemical texture services at Cost Cutters help to add texture to straighter strands or alter the pattern of curlier locks. Here are the texture services your local Cost Cutters salon may offer:
Relaxers – A relaxer is a chemical treatment that permanently smooths and straightens your hair by loosening your natural curl pattern. It can help cut down on frizz and is ideal for anyone who prefers to wear their hair straight. After your relaxer, your stylist will shampoo, condition, and blow-dry your locks. Relaxers can cause severe damage to your hair, so speak with your stylist to make sure it's a good idea for your hair.
Texturizers – Like relaxers, texturizers are a chemical treatment that permanently softens and restructures your natural curl pattern. After a texturizer, your curls will be looser, but they will still retain plenty of texture. Texturizers can reduce frizz and make your hair more manageable. The service ends with a shampoo, conditioning treatment, and blow-dry.
Perms – A perm, also called a permanent, is a chemical process that adds curls and waves to your hair. First, your stylist will wrap your hair around rollers and apply a chemical solution. Small rollers will create tight ringlets, and larger rollers will create fuller curls. After your stylist rinses the treatment out, your hair will be shampooed, conditioned, and blow-dried.
Not every Cost Cutters salon offers all of these texture services, so check with your preferred location to see if they provide the specific treatment you want.
If you have your heart set on a particular color, hair texture, or style, bring a picture of the look to your appointment so the stylist can recreate it.
Waxing Services
Cost Cutters salons can help eliminate unwanted facial hair via their waxing services. Typically, Cost Cutters offers the following waxing treatments:
Eyebrow waxing – An eyebrow wax will clean up the shape of your brow and open up your eyes by improving your natural arch. It will also exfoliate your skin and help your makeup go on more smoothly.
Facial waxing – Your stylist will get rid of unwanted hair along your chin or lip line for this service.
Deep Conditioning Services
Deep conditioning treatments can help undo some of the damaging effects of heat and chemical services. If your strands desperately need some TLC, here are the deep conditioning services available at your local Cost Cutters.
Basic conditioning treatment – If you get the basic conditioner, your stylist will apply a deep conditioning treatment from one of the many professional product lines carried in Cost Cutters salons.
Specialty conditioning treatment – For the specialty conditioning treatment, the stylist will assess the current state of your strands. Afterward, they will select a targeted treatment that will either repair, smooth, or moisturize your hair.
Malibu deep conditioner – The Malibu is a 2-step treatment that starts with a deep- cleanser. After your hair is squeaky clean, the stylist will apply an intense reconstructing conditioner to help strengthen and hydrate your parched strands.
Does Cost Cutters Do Fades?
Cost Cutters stylists are well-versed in popular haircuts. So, most locations will be able to do fades of all kinds. However, the quality of the cut will depend on your specific stylist.
We advise that you call the salon ahead of time to see if the stylists have experience with fades. Most locations will be able to give you a fade with no problem.
Does Cost Cutters Trim Beards?
Most Cost Cutters salons offer affordable beard trims. You can choose from a quick touch-up or a more involved cut for a higher cost. Some salons may offer different services, so call or check your location's website to make sure they provide beard trims.
Does Cost Cutters Do Eyebrows?
The stylists at Cost Cutters can wax your eyebrows. They receive training on enhancing your natural brow shape and the look of your eyes.
In addition to brows, your stylists can wax your chin or lip line. Unfortunately, Cost Cutters does not provide beauty-related services like brow threading, microblading, or plucking.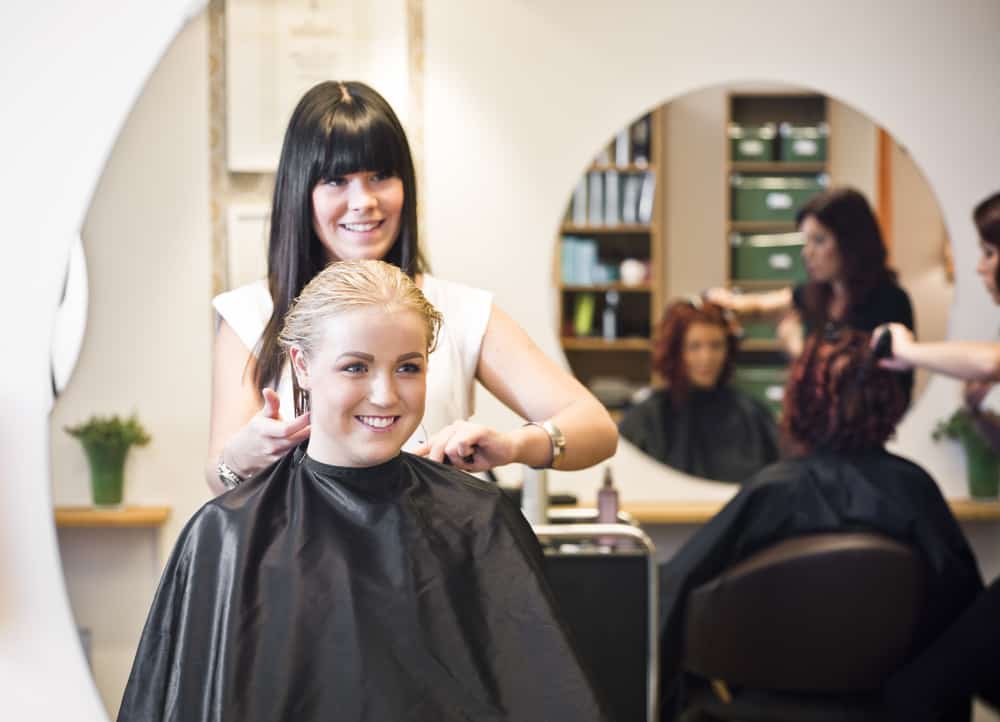 Can You Make Appointments at Cost Cutters?
Cost Cutters salons allow you to make an appointment via a few different methods. You can call or use the Cost Cutters website or app. First, you will find your local salon using the Cost Cutters salon locator on their site to book an online appointment.
After you select your preferred salon, you will be able to choose your date, time, services, and stylist. You can make a reservation for the same day or up to three days before your desired date.
Does Cost Cutters Take Walk-Ins?
All Cost Cutters salons accept walk-ins. After you enter your preferred salon, a staff member will inform you of your expected wait time.
Once your stylist is free, they will walk you to their station and begin your service. Cost Cutters prioritizes appointments over walk-ins, so call or check-in in advance if you want to avoid a potentially long wait.
More About the Cost Cutters Mobile App
Cost Cutters' mobile app is available for download in the Apple App Store and on Google Play. The app allows you to book your appointment up to 3 days in advance, save your preferred stylists and services, and set reminders for future services. You can also enroll in the Cost Cutters rewards program and track your reward points as they grow.
Does Cost Cutters Donate Hair?
Many Cost Cutters locations offer free or reduced prices for hair donations. Not all salons participate in the program, so reach out to your local Cost Cutters to see if hair donation cuts are available.
Although Cost Cutters will cut your hair, you will most likely have to mail the donation yourself. Each hair donation organization has a unique set of requirements, so check them before scheduling your cut.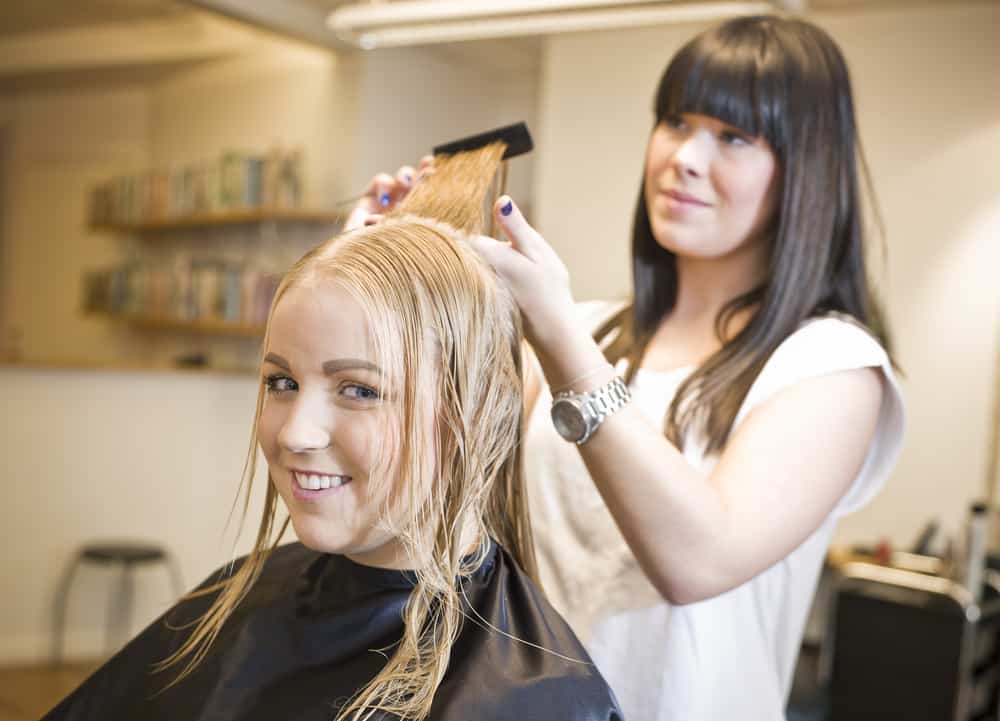 What Hair Products Do They Use at Cost Cutters?
Despite their low prices, each Cost Cutters salon carries a variety of professional, nationally recognized product lines.
Although the specific products carried may vary by location, here are the professional hair care products and brands typically used at Cost Cutters salons.
Blossom Pure Haircare
Amika
Redken
Biolage
Bedhead
Total Results
Moroccanoil
It's a 10
Farouk
Sexy Hair
Paul Mitchell
DESIGNLINE
MITCH
Kenra
Does Cost Cutters Have A Rewards Program?
Cost Cutters has a rewards program that helps you turn your salon visits into savings. Once you reach 100 points, you can redeem them for a discount on your next service or hair product purchase. To participate in the rewards program, you will have to download the Cost Cutters mobile app for Android or iOS.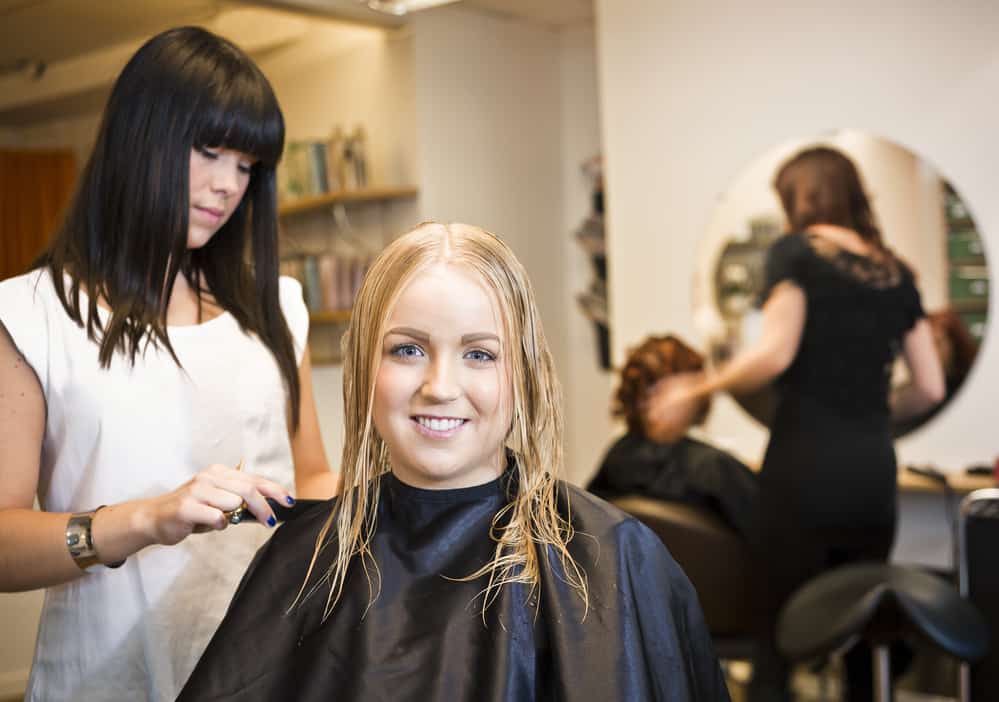 What are the Customer Reviews for Cost Cutters?
Checking the online reviews for a new salon can help give you insight into how your visit might go. With so many different review sites and reviews on the web, sifting through them can feel overwhelming.
That's why we've saved you the hard work and provided you with a summary of what real visitors are saying about their trips to Cost Cutters. We'll go through the good, the bad, and the ugly.
The Good
The customer reviews for Cost Cutters are relatively favorable. Most visitors love the low prices and say the services they received were excellent, particularly for what they paid. Many people find a stylist they love and visit them regularly.
The Bad
Some unhappy customers experience subpar customer service and a lack of professionalism. In many cases, visitors had an issue with one stylist in particular.
Negative customer reviews stress the need to pick your stylist carefully. Other complaints stem from unsatisfactory haircuts or chemical services.
The Ugly
It has been reported that some customers suffered chemical damage after getting relaxers, color, or heat styling services.
Because Cost Cutters is a franchise, each location has a different owner. As a result, your experience depends on which salon you visit.
To find out what your local salon is like, check the online reviews for that specific Cost Cutters. Then, you can see what people in your area are saying about their visits.
On most review sites, customers will name their preferred stylists. If you see repeated glowing reviews for a particular stylist, try to book them. That way, you can increase the chances of having a great visit. Similarly, you can avoid stylists that get bad client reviews.
Is Cost Cutters Good for Kids?
Cost Cutters is an excellent salon for children due to their reduced prices for kid's services and patient staff. Their family-friendly atmosphere will help your child relax, so they feel comfortable and well taken care of.
Additionally, the stylists at Cost Cutters are familiar with a variety of kid-friendly haircuts that will leave you and your little one content.
Can Cost Cutters Cut Black People's Hair?
Unfortunately, it's hard to say whether Cost Cutters can cut Black people's hair. It ultimately depends on who is working at the salon. Black hair has a specific set of needs that not every stylist can meet.
To find out if your local Cost Cutters can cut Black people's hair, give them a call and ask if they have a stylist who has experience working with Black or ethnic hair.
If you can, request that stylist specifically. You may need to set your appointment ahead of time to make sure they are the one who works on your curls.
Alternatively, you can also check the reviews for your local Cost Cutters salon to get an idea of their clientele. Look for reviews from Black people in your area and see what they are saying.
So, there you have it! Cost Cutters is an affordable salon with services designed to meet the needs of your whole family. Regardless of which location your visit, call ahead or check online to view specific information like hours of operations, prices, or services offered.
We hope this article has answered all of your questions about Cost Cutters and shown you all they have to offer. The franchise is a solid option for anyone looking for quality hair care/styling that won't break the bank.