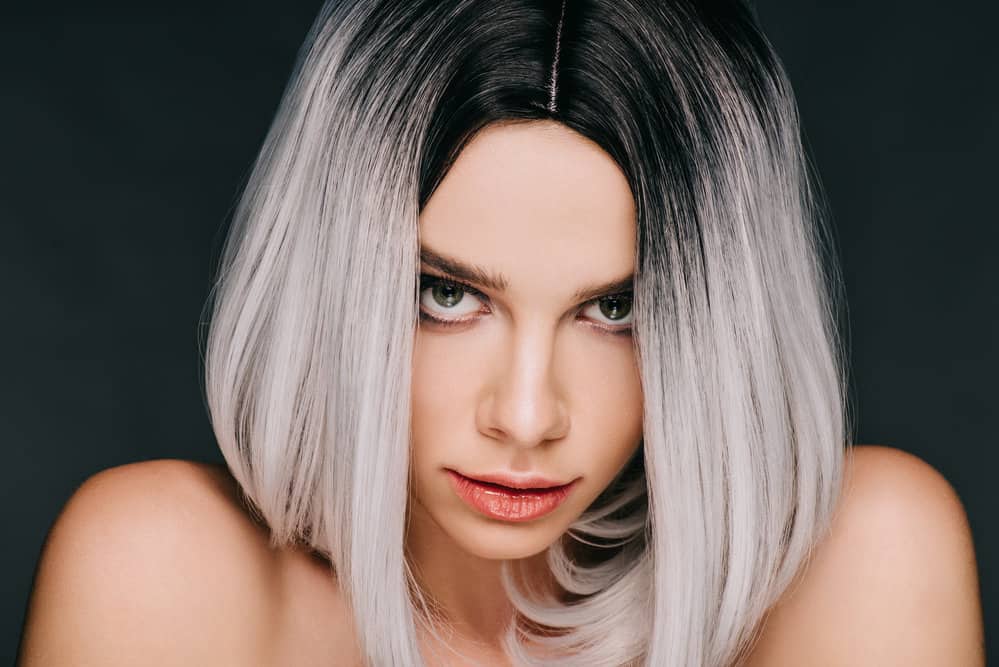 The iconic Narcissa Malfoy hairstyle is popping up all over social media due to its distinct look and vibe. It practically demands to be imitated, and if you've seen it, we're sure you agree even if you're not a Slytherin.
But where do you start?
This article has all the information you've been looking for! We'll walk you through the ins and outs of the Narcissa Malfoy hairstyle and help you achieve this magical look in the comfort of your home.
What Is Narcissa Malfoy Hair?
Narcissa Malfoy is a minor character in the Harry Potter universe. She's the mother of one of the series's earliest antagonists, Draco Malfoy.
While most of the other members of the Malfoy family have icy blonde hair, Narcissa's hairdo is a stunning half-black, half-blonde clavicle-length lob paired with side-swept, eyebrow-framing bangs.
The hairstyle is unique to the cinematic universe because in the book, Narcissa sports long, platinum blond locks. Either way, this undeniably edgy look, dubbed the Narcissa for short, is perfect for any aspiring Slytherin.
Why Is Narcissa's Hair Black and Blonde?
Fans of the Harry Potter universe may wonder why Narcissa is one of the only characters with two-toned hair. While there's no concrete explanation, a few popular theories have arisen.
One is that Narcissa's black and blonde (or white) hair represents both sides of her ancestry. The platinum blonde identifies her as part of the Malfoy family, while the black portion is a nod to her Black family heritage.
There's also some speculation that the change is supposed to be a nod to another classic movie villainess, Cruella Deville. While Ms. Deville's half black, half blonde look is split straight down the middle, Narcissa's is a much more wearable horizontal split.
The final theory is that the black hair is indicative of her growing disillusionment with Voldemort and the notion of pure-blood supremacy.
This theory is supported by her drastic change of heart towards the film's end.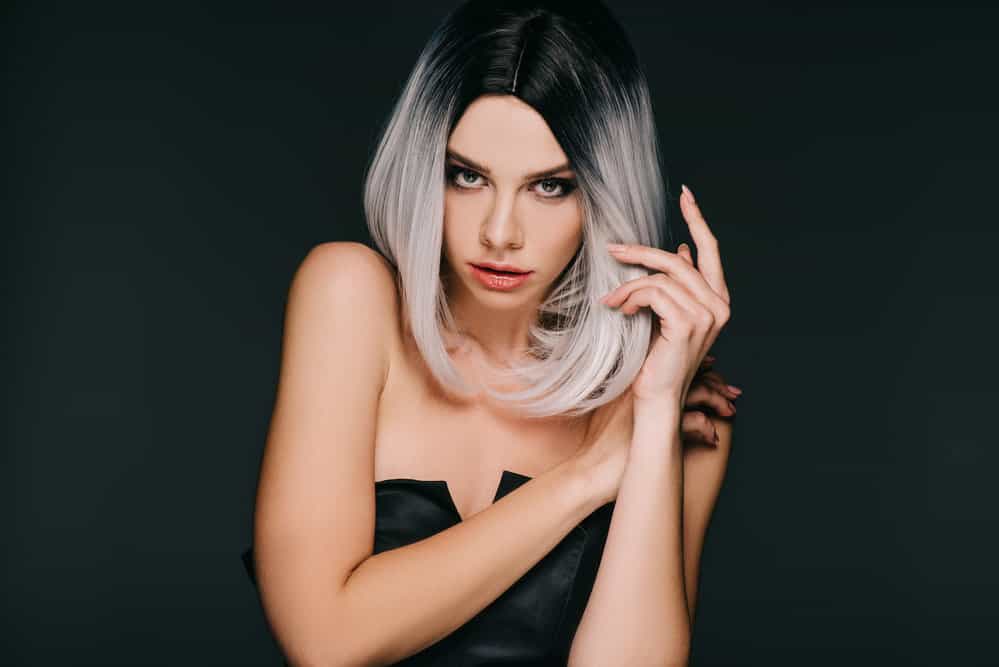 Dye Type to Use for Narcissa Malfoy Hair
The type of dye that you use to recreate the Narcissa Malfoy look is entirely up to you! Although permanent dye lasts longer, semi and demi-permanent dyes are much gentler to the hair.
Semi-permanent dye is also much easier to apply and is an excellent choice for dyeing your hair darker. When trying to decide, think about the health of your hair and whether or not you want to keep up with maintenance.
How to Do the Narcissa Malfoy Hair Dye Job
Now that you're all caught up on the basics of the Narcissa Malfoy hairstyle, it's time to learn how to recreate it!
In this section, we'll give you step-by-step instructions on how to get the perfect Narcissa Malfoy dye job. Let's jump right in!
how to dye your hair like narcissa malfoy | dark brown to silvery white streaks
Get Your Supplies
It's time to gather everything you need to achieve the Narcissa. Hair dye is time-sensitive, so make sure you have the below supplies ready to go before you get started:
Part Your Hair
The top of Narcissa's hair is jet black, and the back and sides are an icy platinum blonde. Based on your personal preferences, you can make a very small portion of the back and sides blonde and make the rest black.
You can also err more on the blonde side.
Decide how much of your hair you want to keep dark, and use the end of your rattail comb to part and section that part off.
Secure that section into a tight bun to keep stray strands from falling into the bleach. After you're satisfied with how you've parted your hair, it's time to move on to coloring it!
Mix the Bleach
Once you've sectioned off your hair, you're ready to bleach the bottom portion. Mix your bleach according to the directions.
Typically, you'll be instructed to mix your bleach powder with a developer using a 1:2 ratio. The type of developer you should use varies, depending on the color you're starting with.
Vol 20 – This volume can only lift your hair by 2 or 3 levels. While this is enough for hair that is already blonde or light brown, it won't be enough to make darker strands platinum blonde.
Vol 30 – Vol 30 developer can lift up to 3 to 4 levels of hair color, although you may need to do multiple bleaching sessions to get the exact shade you want. It can cause significant scalp irritation, so make sure you follow the recommended time limits.
Vol 40 – Vol 40 developer gives you a high lift and can lighten your hair by 4 to 5 shades. But it's incredibly damaging. If you decide to use it, try limiting the time it stays on your hair to around 10 to 15 minutes.
Related Articles
Bleach the Bottom
Put on your gloves and apply your mixed bleach to the bottom section of your hair. Work in small sections starting about an inch from your roots. Once you've finished the mid-lengths and ends, go back and apply the bleach to the roots.
Now, it's time to wait.
The length of time varies, so make sure you check the instructions on your particular bleach and developer. Wait for the recommended time, and then rinse the bleach from your hair.
Here's a quick cheat sheet on how long different hair types need to process bleach.
Fine hair – 10 to 15 minutes
Thick or dark hair – 30 to 45 minutes
Relaxed or chemically treated hair – 20 to 30 minutes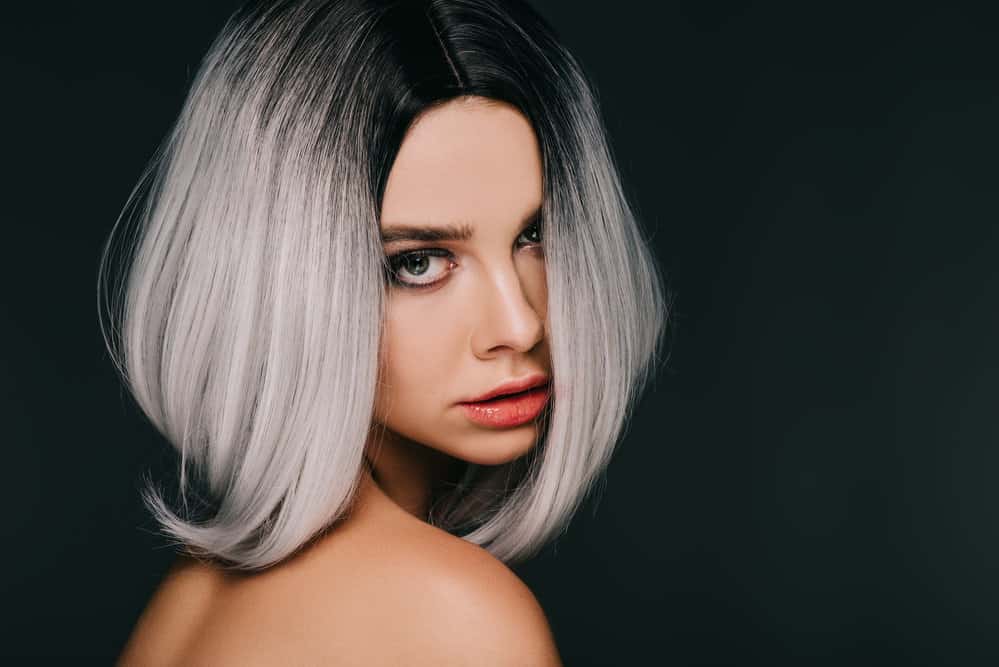 Touch Up Your Lightened Hair
Now it's time to go back and perfect the bleached section of your hair. Notice any brassy or uneven color?
You can either bleach it again after a few days or neutralize the yellow and orange patches with a toner or purple shampoo.
Purple shampoo is incredibly straightforward to use. Just apply it to your blonde hair and work it into a lather. Let it sit for two to three minutes before rinsing well.
If you decide to go with toner, the process is a little more involved. First, you'll have to mix the toner with a 10 or 20-vol developer in a 1:2 ratio.
Then, use an applicator brush to apply the mixture to your hair and wait for a maximum of 45 minutes. Once time is up, rinse the toner from your hair with cool water and give it a quick wash using your favorite hydrating shampoo.
Dye the Top Half of Your Head
Do you have naturally dark brown or black hair? You can skip this part! If the top of your hair is light, you'll have to darken it with black or dark brown dye to recreate the look.
We'll walk you through two different coloring methods below.
Semi-permanent dye

Spread a thin layer of petroleum jelly along your hairline.
Apply your semi-permanent color to your clean, dry hair and wrap each finished section in hair foil. Don't skip the foil – you don't want the black dye to ruin your blonde strands.
Wait for 15 to 30 minutes and rinse well with cool water.

Permanent dye

Put on your gloves and spread a thin layer of petroleum jelly along your hairline.
Mix 20 volume developer with your preferred permanent dye in a nonmetal bowl in a 1:1 ratio.
Start applying your dye to the mid-lengths and ends of your hair. Once you finish each section, cover it with hair foil to keep the color from rubbing off on your bleached hair.
Go back and apply the dye to your roots.
Wait for the recommended time, which is typically between 30 to 45 minutes.
Rinse with cool water until the water runs clear.
Apply a Deep Conditioning Treatment
Once your hair is colored, apply a conditioning hair mask to help restore moisture and repair some of the damage done by the bleach and dye.
Just make sure you use a color-safe conditioner, as you don't want to fade the top half of your hair. Let the treatment sit for at least 30 minutes before rinsing with cold water.
Do the Cut
Take a minute to examine your new, two-toned color. If you're happy with it, it's time to decide if you want to go all the way and get the Narcissa Malfoy haircut.
It's a long bob with full, eyebrow grazing bangs.
We recommend going to a stylist since they'll be able to tailor the cut to your exact features and hair texture. Want to do it yourself?
Wait for your hair to dry and recreate the cut with a sharp pair of hair scissors.
Make small, even cuts, and hold your scissors at a 45-degree angle to keep the ends from looking too blunt.
You can't regrow hair instantly once it's cut, so remove length slowly. Once you're satisfied with your new cut, the only thing left to do is snap a few selfies!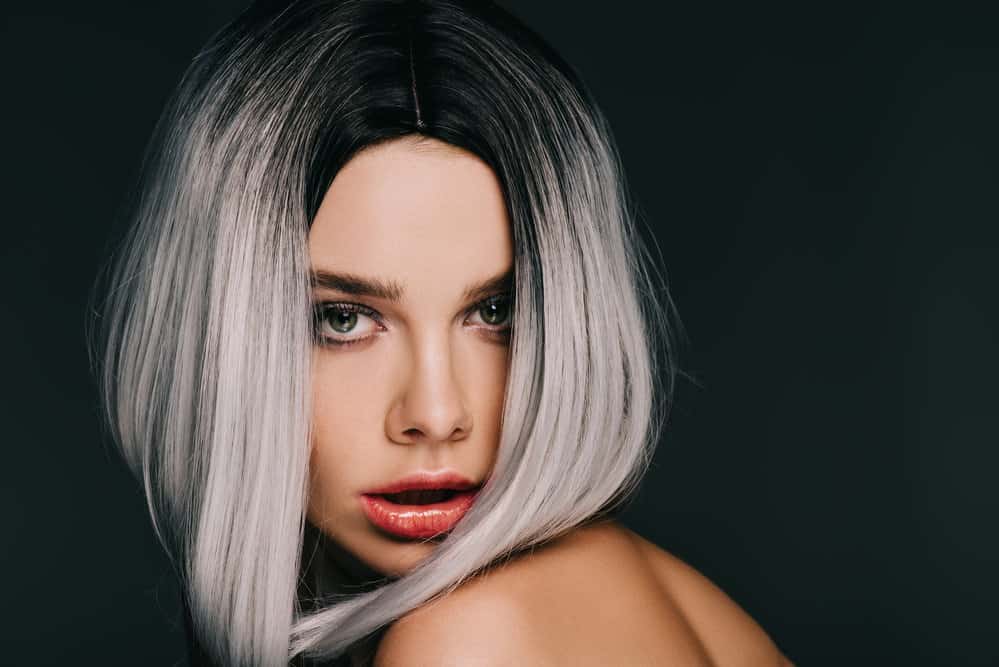 Dos and Don'ts of Narcissa Malfoy's Hair Color
The two-tone dyeing process can quickly go awry, and many make mistakes at some point or another. So, we'd like to provide you with a list of dos and don'ts.
Keep them in mind while coloring your hair, and the process will go smoothly.
Dos
Do go to the salon for professional color if possible.
Do follow all of the directions on your bleach and dye kit as closely as possible.
Do switch over to hair care products that are made for colored hair.
Do make sure the room you're in has adequate ventilation.
Do start by applying color to the mid-lengths and ends of your hair since they take longer to process than your roots.
Do recreate the look with wigs or extensions if you don't want to risk the health of your hair.
Do use the lowest effective level of developer.
Don'ts
Don't attempt this style on damaged hair.
Don't bleach or color freshly washed hair.
Don't wear clothes or use towels that you care about.
Don't rush through the coloring process.
Don't shampoo your hair within the first 72 hours after dyeing.
Don't use hot water to rinse your hair.
Don't use craft, kitchen, or fabric scissors to cut your hair.
Pros and Cons of the Narcissa Malfoy Dye Job
Still not sure if the Narcissa Malfoy dye job is right for you? It's a big commitment that you shouldn't take lightly.
Here are some pros and cons for you to consider before taking the plunge.
Pros
The look is edgy and on-trend.
Having two different shades of hair color means you have versatile styling options.
You can customize the colors and placement to fit your features.
Two-toned hair color can help camouflage thinner strands and give the illusion of fuller hair.
This look works on all different hair types, textures, and lengths.
Cons
Both bleach and hair dye can damage your hair.
The Narcissa Malfoy hairstyle could go out of style at any point.
Black hair dye is extremely difficult to remove.
This style will be challenging for people who don't have a lot of experience coloring their own hair.
Should You Use Bleach for the Narcissa Malfoy Look?
Whether or not you should use bleach depends on the color of your natural hair. If your hair is already light, you can skip the bleach and use a blonde permanent hair dye instead.
Permanent hair dye can lift your hair by up to 4 levels. However, if you want to create a drastic lightening effect, you'll have to use bleach.
Dangers of Bleach vs. Dye
Both bleach and permanent dye can damage your hair. When you lighten your hair, harsh chemicals enter your strands and destroy the natural pigments contained inside.
Although bleach and permanent dye use the same oxidization process to lighten your hair, bleach lifts, and damages your cuticle to a higher degree.
How to Determine Whether You Should Use Dye or Bleach
Whether or not you use dye or bleach should depend on the condition of your hair and how many levels you want to lighten it. Bleach is much stronger than hair dye and lifts your hair by up to 12 shades.
On the other hand, permanent color can only lighten your hair by a maximum of 4 levels. Either way, going from extremely dark to platinum blonde will require a high level of developer or multiple dye sessions.
Since you probably want to avoid unnecessary damage, you should use permanent dye if your hair is already blonde or light brown and only needs to be lifted by a few more shades.
It's also the better choice if your hair is damaged or you're concerned about keeping your hair healthy.
However, if you have extremely dark locks or are looking for a drastic change, bleach is your best bet for achieving platinum blonde. Just make sure that you give your hair plenty of TLC to help it recover.
Will Narcissa Hair Look Good on You?
Several things affect how Narcissa's hair will look on you, including your hair type and texture, facial features, and complexion. Black and blonde are two of the most difficult shades to pull off, and this look has both.
The haircut itself is much easier to pull off. The side-swept bangs are perfect for oval, round, and square faces, while the clavicle length cut is flattering on virtually anyone who tries it.
If you want to know for sure if the Narcissa will look good on you, we recommend you use all the tools at your disposal.
There are apps that let you upload a selfie and play around with different hairstyles and colors. You can also play around with various social media filters to see if you can find one that looks similar to Narcissa's look.
As we mentioned before, this style is a huge commitment, so you want to be sure before you bleach, dye, or cut your hair.
How to Personalize the Narcissa Malfoy Hair Dye Job
The best way to personalize the Narcissa Malfoy dye job is to analyze your features and see if there are any tweaks you can make to make it more flattering.
For example, if you have a warm skin tone, stay away from blue-based blacks, and opt for a warm dark brown instead. While ashy blondes work better with cool skin tones, people with a warm complexion will likely find golden blondes more flattering.
The amount of hair you keep dark vs. blonde is also entirely up to you. You can opt for half and half color or a more subtle peekaboo effect.
Take some time to look at what other people are doing with the look to get some inspiration. While some people stay true to the movie look, others branch out and use it as loose inspiration.
Keep in mind that the customization isn't just limited to color!
You can also change the length of the bangs or leave them out altogether. Although the clavicle length cut is universally flattering, you can keep the 'do longer or make it shorter, depending on your preferences.
The main thing to take away is that there are a ton of different ways you can personalize the Narcissa Malfoy haircut and make it work for you.
Two-toned hair is tricky, even for experienced home coloring enthusiasts. If possible, head to a professional stylist if you want to wear the new Narcissa Malfoy hair trend.
Show them a few pictures so they know exactly what you're looking for. That said, we hope the information we've gone over in this article has given you everything you need to tackle this edgy style on your own!