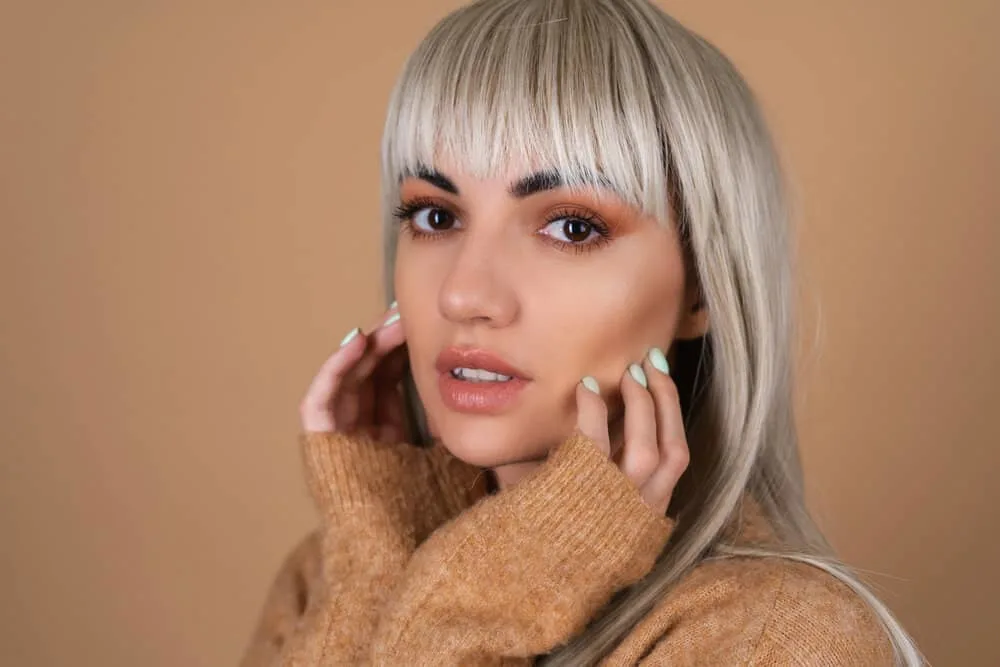 Fashion trends come and go, but bangs are here to stay. They completely refresh your look, flatter your features, and can even make you look years younger!
But what happens when you're in the mood for a change?
If you're wondering how long it'll take to grow your bangs out, this is the article for you! We'll take a look at how long bangs take to grow out and give you a few pointers on how to style bangs while you wait.
How Long Does It Take for Bangs To Grow Out?
Most people's hair grows at a rate of about half an inch each month. So, depending on your starting length and how fast your hair grows, it'll take about three to four months to grow out your bangs. Keep in mind that this is for mid-length bangs. If you have micro bangs, it may take as long as five to six months.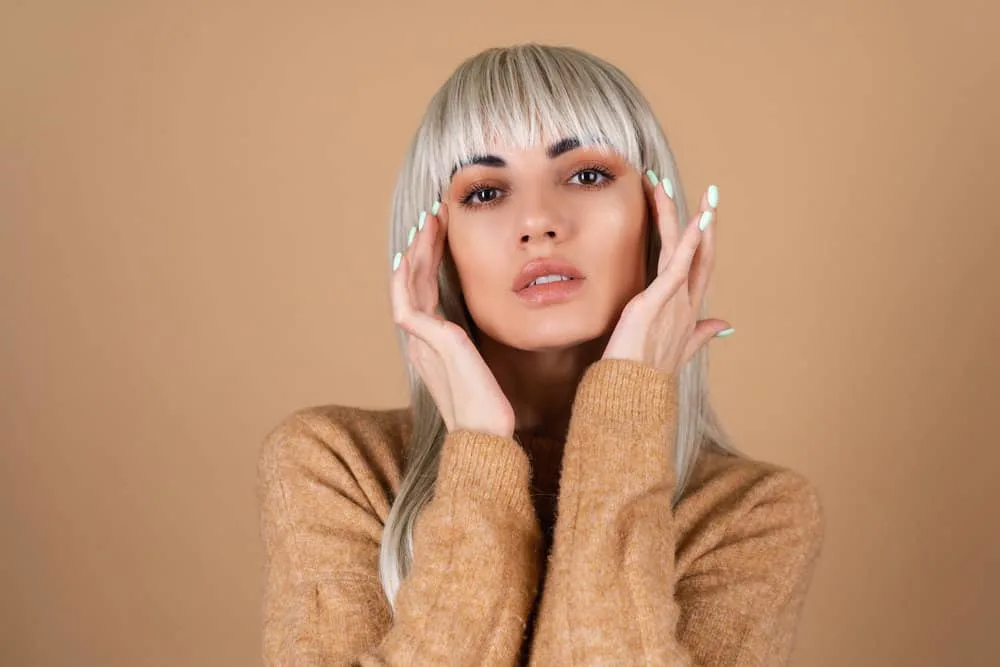 How Can I Make My Bangs Grow Out Faster?
Whether you're maintaining them or growing them out, there's no doubt that bangs are a commitment. We get it. No one wants to be stuck with bangs that they hate.
Especially not for months at a time. So, in this section, we'll review a few ways you can encourage your bangs to grow out faster.
Massage your hairline – One of the easiest–and cheapest–ways to get faster hair growth is to give yourself an invigorating scalp massage. Scalp massages increase blood and oxygen circulation. And the more blood and oxygen your hair follicles have, the better they'll be able to grow new hair. Want to give it a try? Once or twice a day, apply a little bit of hair growth-boosting oil to your fingertips and press them into your hairline. Move your fingers in small, circular movements for three to five minutes.
Take hair growth-boosting supplements – One of the most popular ways to increase hair growth is to take hair-boosting supplements. While they are most effective for people with nutritional deficiencies, there is some evidence suggesting certain supplements can make your hair grow more quickly. After speaking with a trusted medical provider, consider adding a few of the following hair growth-boosting vitamins and minerals to your haircare regimen.
Work on your diet – Although supplements help improve growth, they cannot replace a nutritious, well-balanced, healthy diet. Hair growth starts internally, so the better your diet, the more you'll see (up to about a half inch per month). Avoid highly processed fat and sugar-laden foods, and instead, incorporate plenty of fresh fruits, veggies, and proteins into your diet.
Avoid damage – Growing your bangs out is only half of the battle. You'll also have to retain your growth and prevent the hair from breaking off. Because bangs are front and center, most people tend to over-style them. So, while you're waiting for your fringe to grow out, cut down on your use of heat, color, and drying styling products. Instead, incorporate hydrating conditioners, creams, and oils into your haircare routine.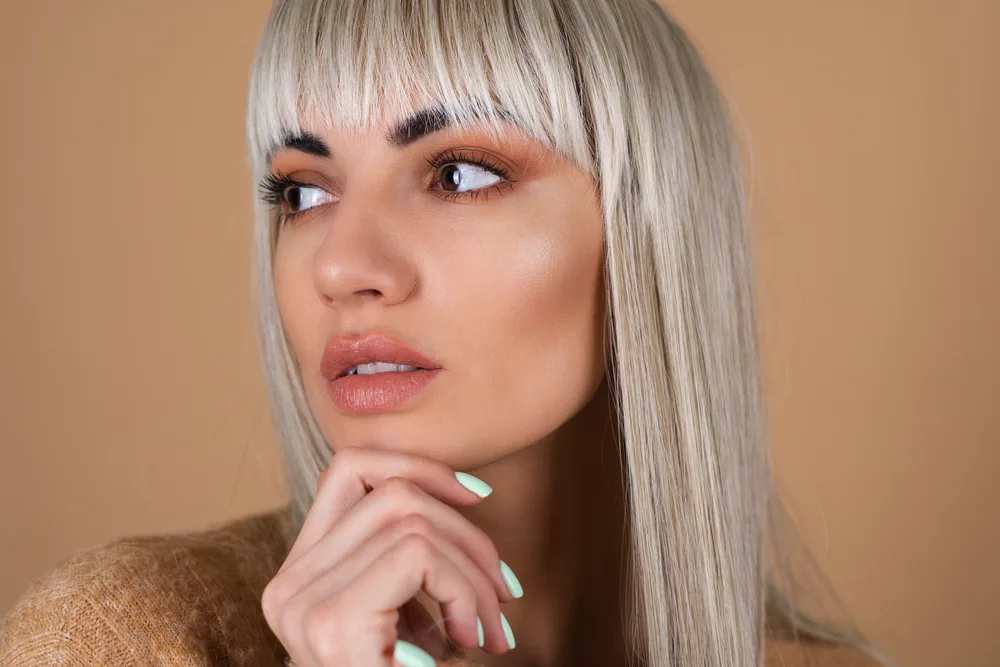 How Do I Style My Bangs as They Grow Out?
Growing out your bangs can be a long process. So, if you're wondering how to style them in the meantime, this section is for you! We'll share some of our favorite styling options for grown-out bangs below.
Pull Them to the Side
The easiest way to camouflage your grown-out bangs is to sweep them to the side. A side-swept fringe is incredibly flattering and can make growing your bangs out completely painless!
To start, spritz a lightweight holding spray onto your hair.
That will eliminate frizz and flyaways and keep your bangs perfectly smooth. Then, create a side part and brush both halves to the side. Once you're satisfied with how your bangs look, use a stylish hairpin or two to keep them in place.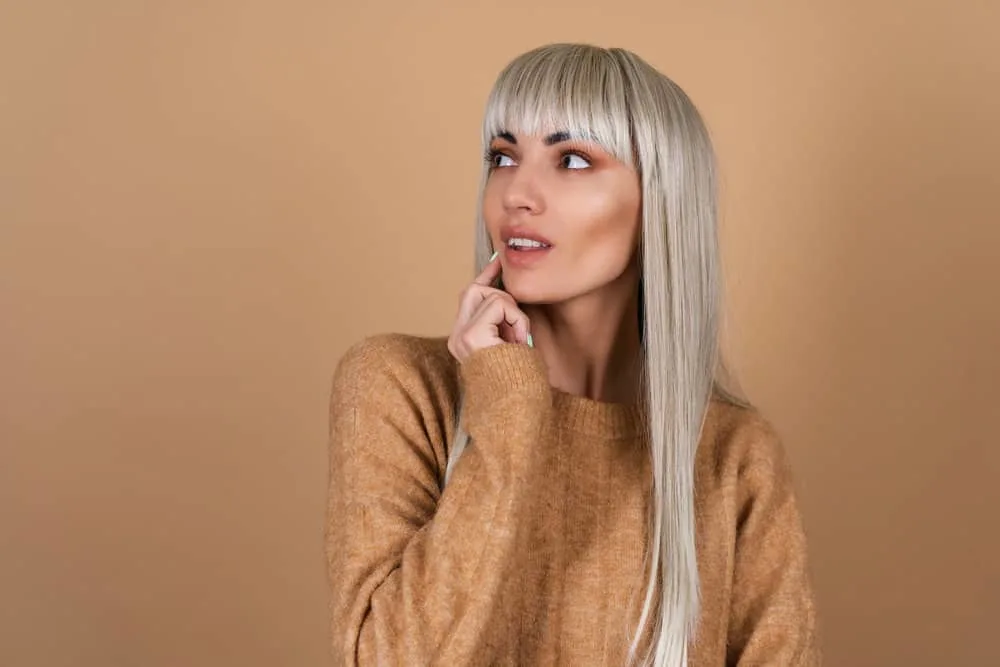 Fake It Until You Make It
Did you know that you can get perfect bangs in a matter of seconds? While hair extensions are best known for making your locks longer, thicker, and more luxurious, you can also use them to get gorgeous bangs.
Clip-in hair extensions are an easy and inexpensive way to get the fringe you want without having to wait for your hair to grow out. You can buy regular extensions and trim them, or get a set of perfectly styled clip-in bangs!
If you're after a natural look, just make sure you choose clip-ins that match your hair's color and texture. That way, they seamlessly blend into the rest of your strands.
Pump Up the Volume
Looking for a way to keep your bangs out of your face while you wait for them to grow? Giving your bangs more body and volume will lift them above your brow bone.
That will create a more flattering length without shortening the actual strands.
One of the best ways to do this is with a blow dryer and round brush. Just remember to blow dry your bangs in the opposite direction to give them more lift.
Straighten Them
One of the best ways to make your bangs appear longer, and more grown out, is to straighten them. Straightening your hair with a flat iron or blow dryer helps ensure that every last centimeter is showing.
And it can transform your too-short bangs into a more flattering length.
Even if your hair is already primarily straight, straightening it further can add a bit more polish to your mane. Just remember, your ultimate goal is to grow your bangs out. So take preventive measures against heat damage to keep them healthy.
Some of our favorite ways to protect against heat damage include:
Use a high-quality thermal protectant before using heat
Never use heat more than two or three times weekly
Turn your hot tools to a lower heat setting
Clean your hot tools regularly
Avoid using hot tools on dirty, unwashed hair
Throw on a Headband
When growing out your bangs, headbands will quickly become your best friend. Headbands pull your bangs back and hide them in the rest of your strands. You can opt for a simple headband or choose one that's glitzy and ultra-glam.
Either way, a perfectly styled headband will make you forget you even have bangs in the first place. Did we mention that they're also exceptionally easy to use?
Just line it up on your hairline, and push it straight back.
And if your bangs are too short or need a little more hold, you can smooth some hair gel onto them before you pull them back.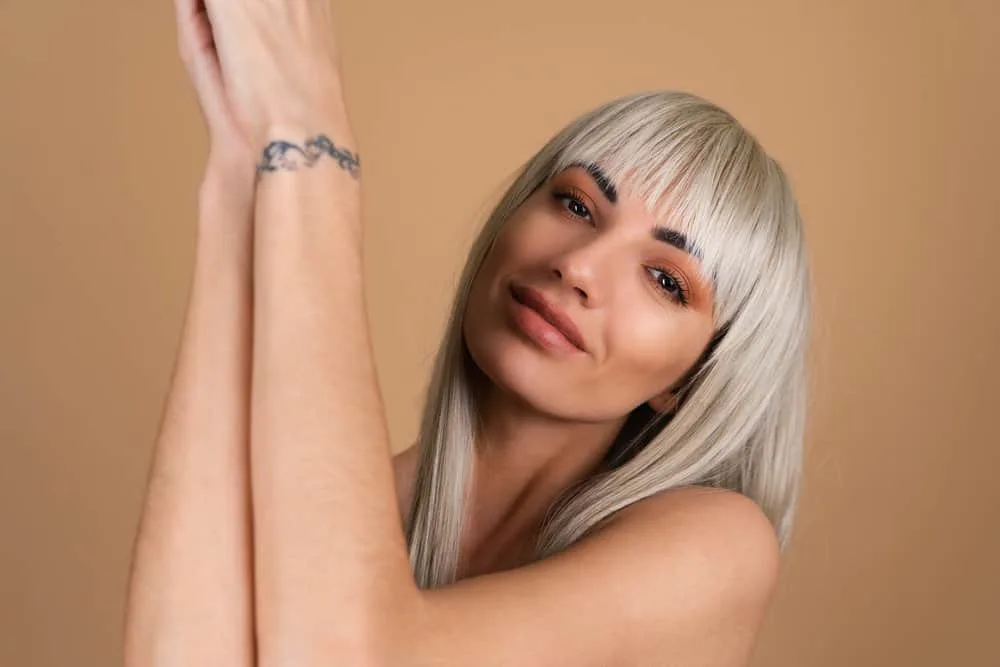 Are Bangs Hard to Grow Out?
Growing out bangs is somewhat tricky since they're constantly changing length. Even if your bangs grow out a little bit, the way that they frame your face will change. And unfortunately, not every length is flattering.
Growing out your bangs will require a ton of patience as you wait for them to catch up to the same length as the rest of your strands. Styling may also be more difficult or time-consuming and will probably require some creativity.
How Long Will My Bangs Grow in 2 Weeks?
On average, your bangs will grow 1/4 inch every two weeks. This is due to the average hair growth rate being approximately 1/2 inch per month or about 6 inches per year.
To sum things up, growing out your bangs will probably take a few months. While this doesn't sound like a long time, growing out bangs can be unflattering and make styling your hair tricky.
The good news is that you'll have a ton of styling options to get you through those awkward stages. We hope this article has helped you figure out how long your bangs will take to grow out and give you some insight on what to do with them in the meantime.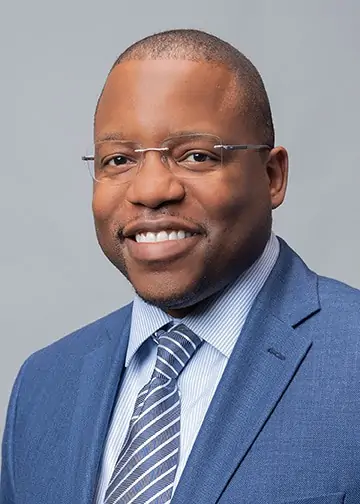 Kenneth Byrd holds a BS in Accounting and Management Information Systems and an MBA from the University of Alabama at Birmingham. With over 15 years of experience, Kenneth has been dedicated to hair care since 2008, when he co-founded Curl Centric® and Natural Hair Box alongside his wife. As a team, they promote healthy hair care practices through their comprehensive platform, Curl Centric. Curl Centric is a website operated by a husband and wife team that encourages healthy hair care. At Curl Centric, we aim to help our readers take control of their hair care journey and make good decisions about products, hairstyles, and maintenance techniques. We also have strict editorial integrity; here's an explanation of our editorial guidelines and how we make money.