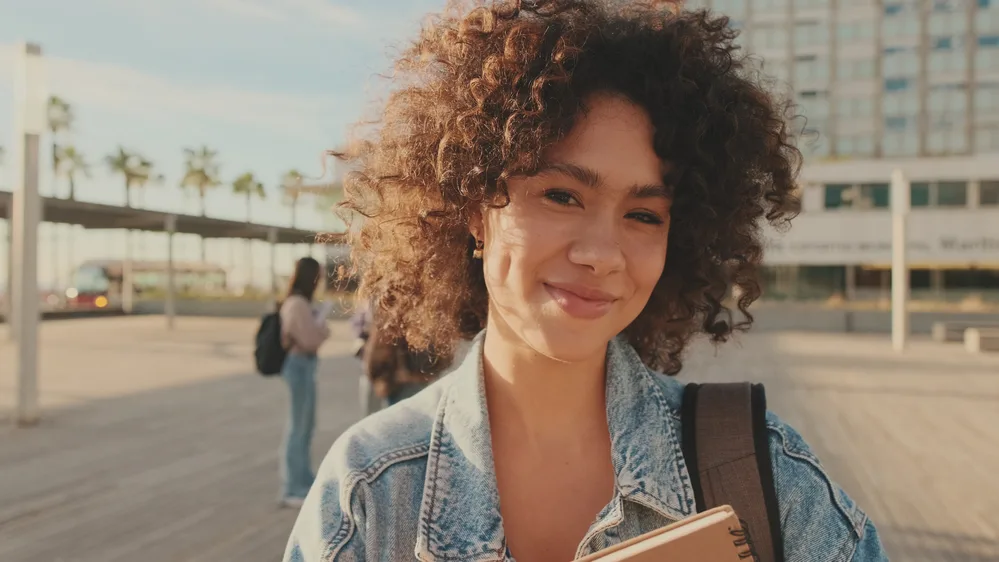 Every now and again, we get the urge to transform. And one of the easiest ways to do that is to switch up our hair style. Curly hair extensions have a bold appeal and can give you much more hair to work with so you can achieve luxe, elaborate styles you wouldn't normally be able to.
But one thing is for sure, if you don't choose high-quality curly extensions, your style is sure to fall flat. But which extensions are the best? That's what we will address in this article. By the end, you'll have several great extension options to choose from.
Best Curly Hair Extensions
Before we get into all the nitty-gritty about the best curly hair extensions, let's make things easier for you. If you're pressed for time or just looking for some quick recommendations to keep your curls looking fabulous, check out this handy list of our absolute favorite hair extensions:
Best Curly Hair Extensions for Curly Hair
Best Curly Hair Clip-ins for Curly Hair
Best Curly Hair Extensions for Wavy Hair
Ainimiu Brazilian Curly Human Hair Extensions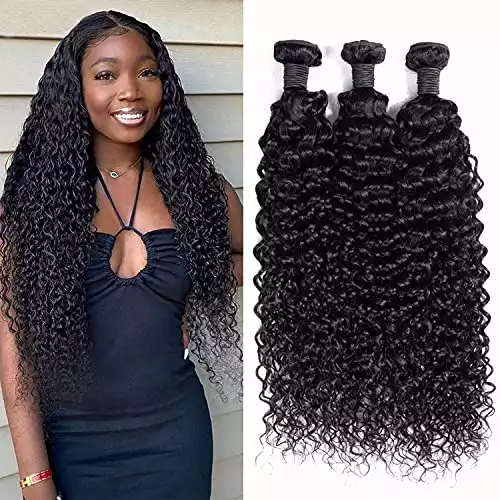 Are you looking for curly hair extensions with a tight wavy texture? Then, these just might be the extensions for you!
Overview
For starters, these are 100% 12A Brazilian human hair extensions in a natural black color. The curl pattern can be likened to a Jerry curl but can be combed out to achieve more volume and an afro-like texture.
Construction
Now, let's get into the construction of these extensions: the human hair is attached to a double weft, which is designed to limit shedding. The wefts are machine sewn to enhance their durability. When you receive the bundles, they will be rolled up and secured to limit tangling in transit.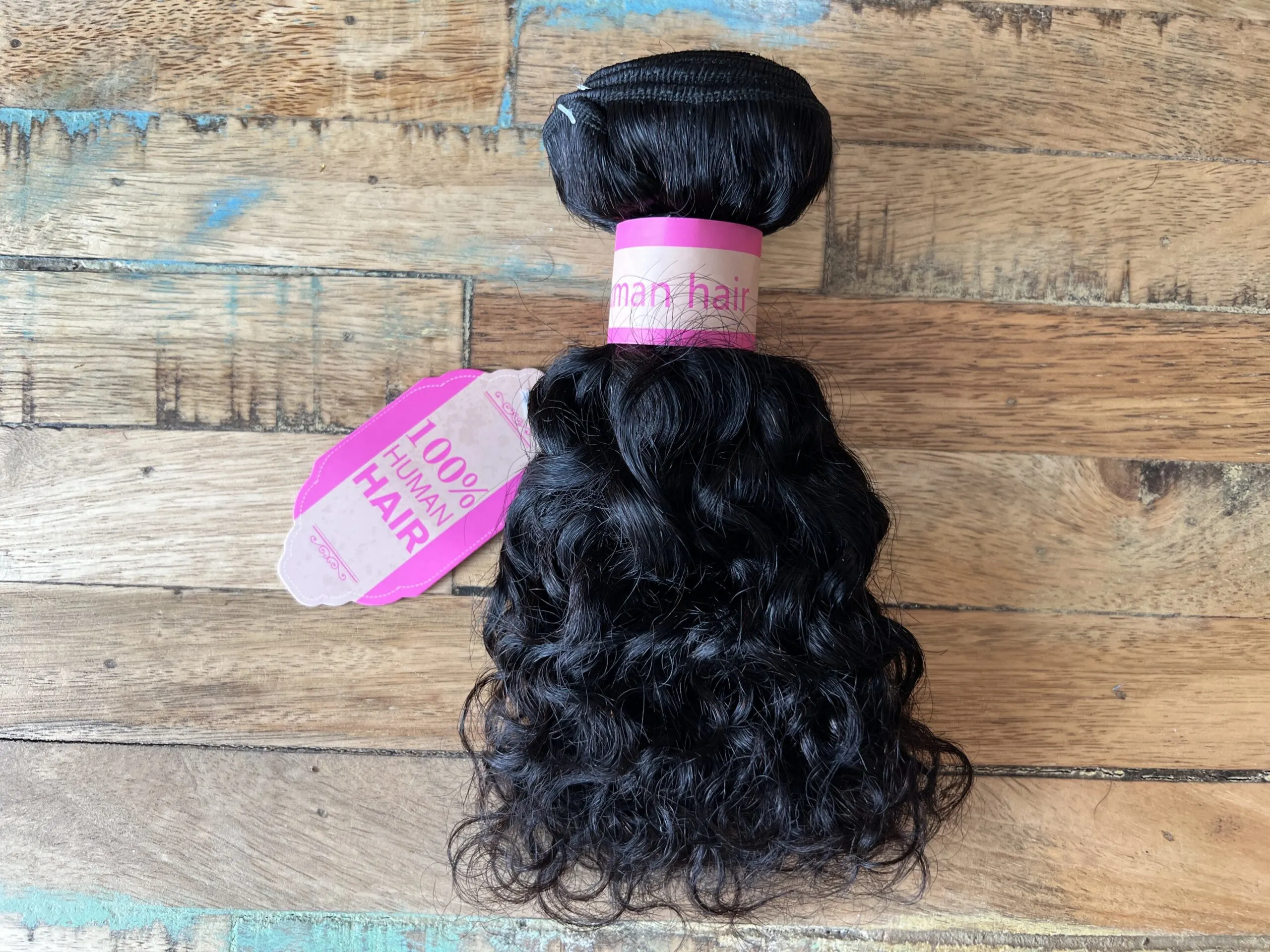 Hair Quality
For the low price of these bundles, the hair is surprisingly high-quality. One of the biggest indicators of extension hair quality is the thickness of the hair at the ends. When you look at these extensions, one of the first things you notice is that the ends aren't see-through – far from it.
The thickness is largely uniform from roots to tips.
What's more is, the hair is true to length, so you're sure to get your money's worth. And if you find that you're not satisfied with your order, the seller is known for providing excellent customer service.
What You Get in a Package
There are multiple variations of these curly extensions available online, but the specific listing we are referencing is a three-bundle pack, where you get 95 g of hair in total. That's enough hair to cover the average head with a leave-out.
If you want a closure as well, you'll have to purchase that separately.
Pros and Cons
You've got a general understanding of these curly hair extensions, now let's get into the good, bad, and ugly. Knowing all you can about the extensions prior to purchase can help you make the right decision for you.
Pros
You get three full bundles of hair for less than $50. This is hard to find, especially for higher-quality hair.
The bundles are made of 100% human hair.
The curl pattern can look incredibly natural, depending on how you style it.
Shipping is fast.
The hair is soft to the touch.
The hair's cuticles are aligned to allow for easy detangling and tangle prevention.
Cons
The hair goes through many wash sessions and chemical processing, which can shorten the longevity of the bundles.
Customer Ratings
The vast majority of customers who try these bundles are overjoyed with the quality and aesthetic. And the proof is in the pudding.
Negative reviews on this hair are very few and far between, but some of the issues mentioned are shedding, stiffness, and tangles. Taking these comments with a grain of salt might be best, considering that the vast majority of reviews are overwhelmingly positive.
Should You Try These Extensions?
When determining whether these extensions are for you, it's essential to consider the quality, the cost, and your level of experience styling your hair with extensions.
The quality is on the higher side, though it's not as high-quality as virgin hair extensions (e.g., virgin Indian Remy hair), you're getting a lot of value for the price.
But there is one thing to consider, and that's that you will need to either glue or sew the wefts onto your own hair or use them to make a wig. Either way, you'll need to have some degree of technical skill.
And if you don't have it, you'll need to develop it by doing a ton of research and practicing either on yourself or others. But all in all, these curly extensions are a fantastic choice for most extension users.
UrBeauty Kinky Curly Clip-in Extensions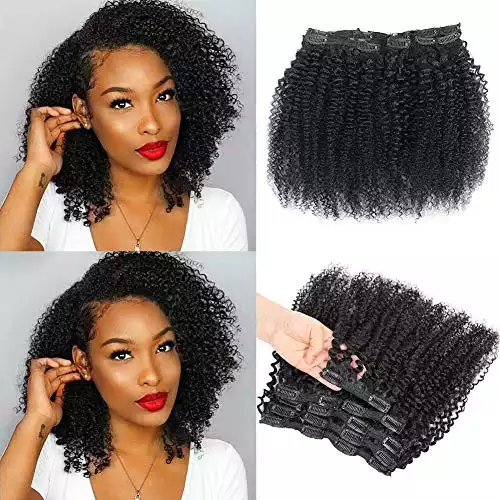 If you have kinky curly hair and want to match your extensions to your natural texture, then you need clip-in extensions like these. They are undeniably natural-looking – so much so that you could possibly fool your family and friends.
If you like the way the texture looks, and you like the idea of not having to deal with glue or sewing, keep on reading so you can get the rundown.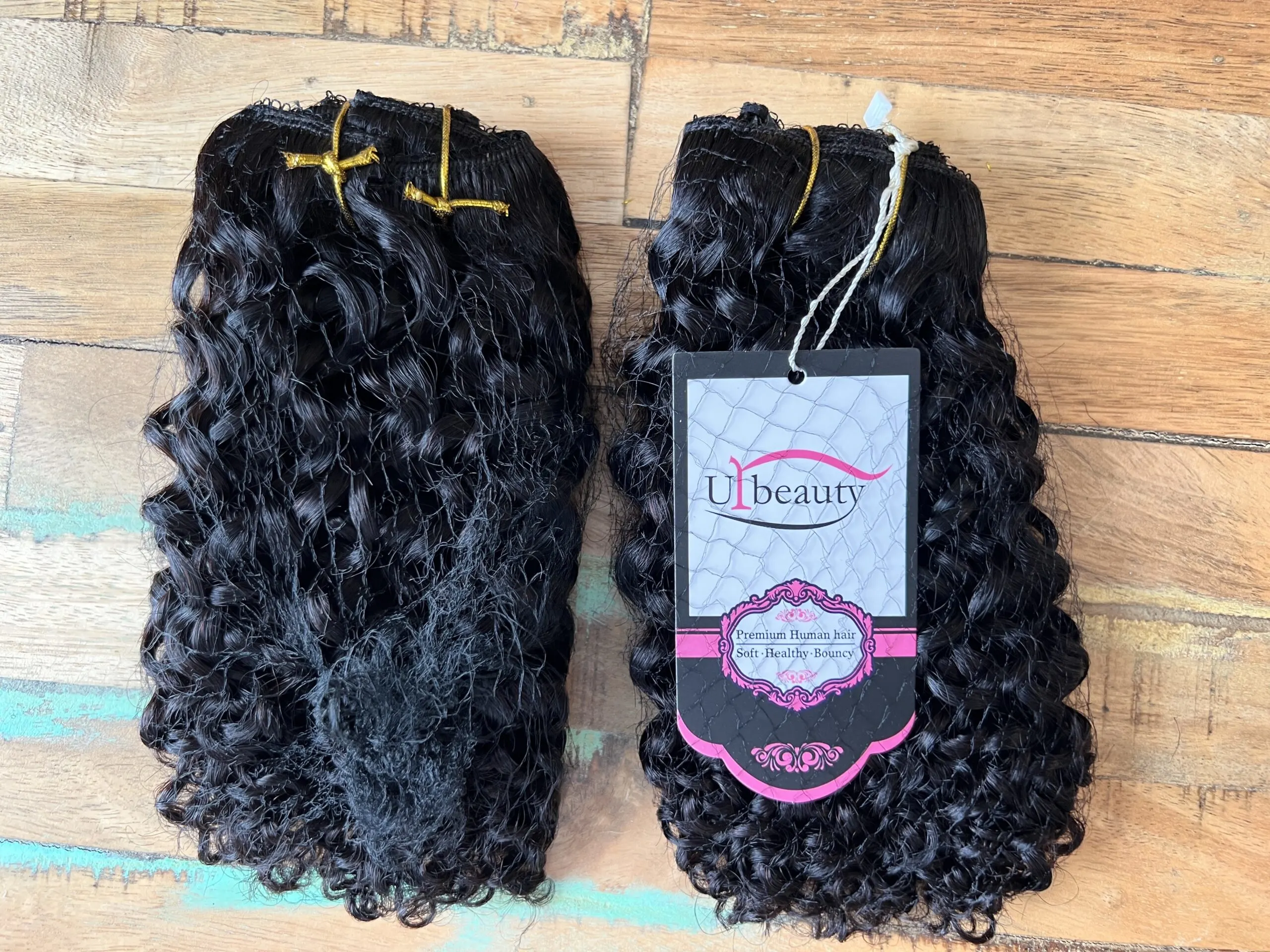 Overview
These are kinky curly clip-in hair extensions for black women. They are made of 100% human hair wefts and attached to clips for easy, quick installation whenever you want. The hair texture is similar to hair types 3C and 4A but can be combed out to blend with 4B and 4C hair.
These extensions are produced by a factory that's been open for 27 years and has an after-sales team to handle any customer service-related questions or requests you have.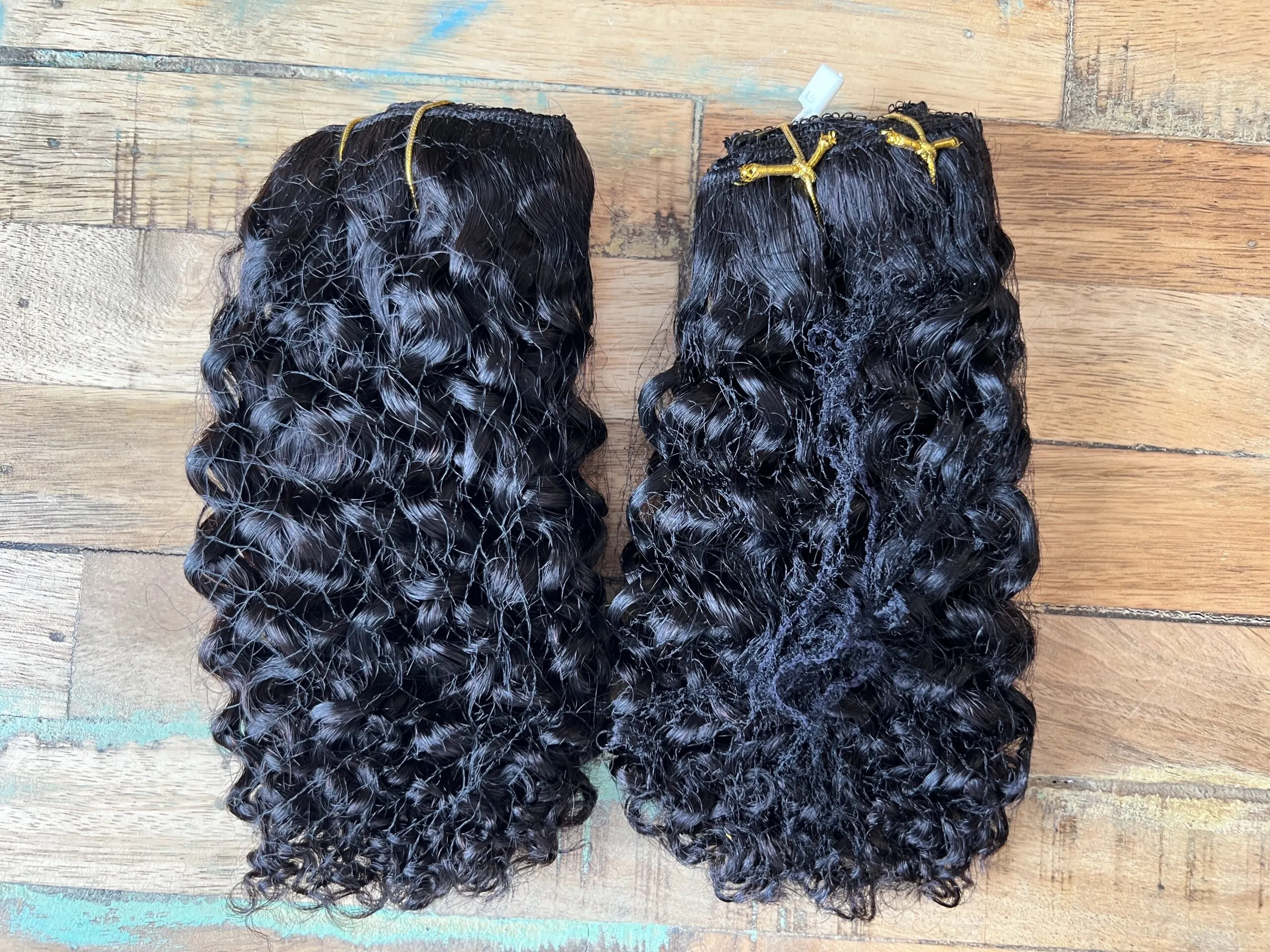 Construction
These clip-ins are very well-made, with a triple lace weft clip. This is a thoughtful design that enables you to wear your clip-ins with confidence, knowing that your hair isn't going anywhere. And to ensure the integrity of your hair, each of the clips is silicone-lined.
This lining helps to keep the extensions in place without harming your natural hair.
Each of the clips has nine teeth and is made of steel, so you can rest assured that your clips won't come out unless you want to take them out.
Hair Quality
As for the hair quality, it is true human hair in good enough condition to be altered by you. You can dye it to match your natural hair color if needed, but it comes in an off-black color that suits most black women's natural hair hue.
These clip-in extensions are not thin or cheaply made. They are soft and luscious from weft to tip.
What You Get in a Package
In one package, you'll get one bundle of clip-in extensions. According to the manufacturer, the shorter the bundles are, the more pieces you get in your bundle. Altogether, no matter what hair length you choose, you get 120 g of hair.
120 g of hair is just enough to add a bit of volume to your existing natural hair. But if you're going for a more luxe look with a ton of volume and personality, you'll want to get two or three bundles.
Pros and Cons
Right now, you may be thinking that these extensions are right for you, but it's wise to take a look at the pros and cons before continuing. We'll do that now.
Pros
Clip-ins allow you to switch up your look quickly and without damaging your natural hair. You also don't have to use glue or harsh adhesives to adhere the extensions to your skin or natural hair.
Triple lace weft gives you more hair per weft than single or double weft.
The hair texture is believable, similar to natural Black hair, making it easier to blend with your hair.
The clip-ins are made of human hair and have a durable construction.
The extensions come in several lengths, so you can select the length that best fits you.
True to length.
Thick wefts give you the fullness you desire.
Cons
This is not Remy hair; there could be some tangling.
Depending on your hair texture and scalp oil production, the clips may not hold as well as you hope.
Customer Ratings
As far as ratings go, these curly hair extensions have earned high marks online. Negative reviews are scarce, so it's safe to say that people generally love their extensions.
The happiest customers say that the hair looks beautiful, feels very soft, and is easy to manage. They also say that the curls were true to the 3C/4A hair texture and blended well with their own natural hair.
There were very few negative reviews; some people stated that they received their hair in faulty packaging or complained that it tangles easily and sheds too much. Keep in mind, though, that these reviews are very few.
Should You Try These Extensions?
If you're on the fence as to whether you should try these extensions, this section can help. These extensions are for people who want to play up their natural hair texture or try out an entirely new texture.
They make for a great wash n' go and respond well to your normal natural hair styling products. On top of that, the price is really affordable at less than $50 for 120g of hair.
Just know that you will have to buy multiple packs of hair if you want full curls. Otherwise, one pack will give you just a little extra volume.
Also, if your hair texture is very different from the Kinky Curly clip-ins, you'll need to either do a braid out or perm rod set or heat-style your hair to match the clip-ins. If you're ever thinking of going with heat styling, don't forget your heat protectant.
VADES Body Wave Bundles
If you're looking for a looser curl pattern to give you bombshell curls that demand stares, these body wave extensions could be exactly what you're looking for.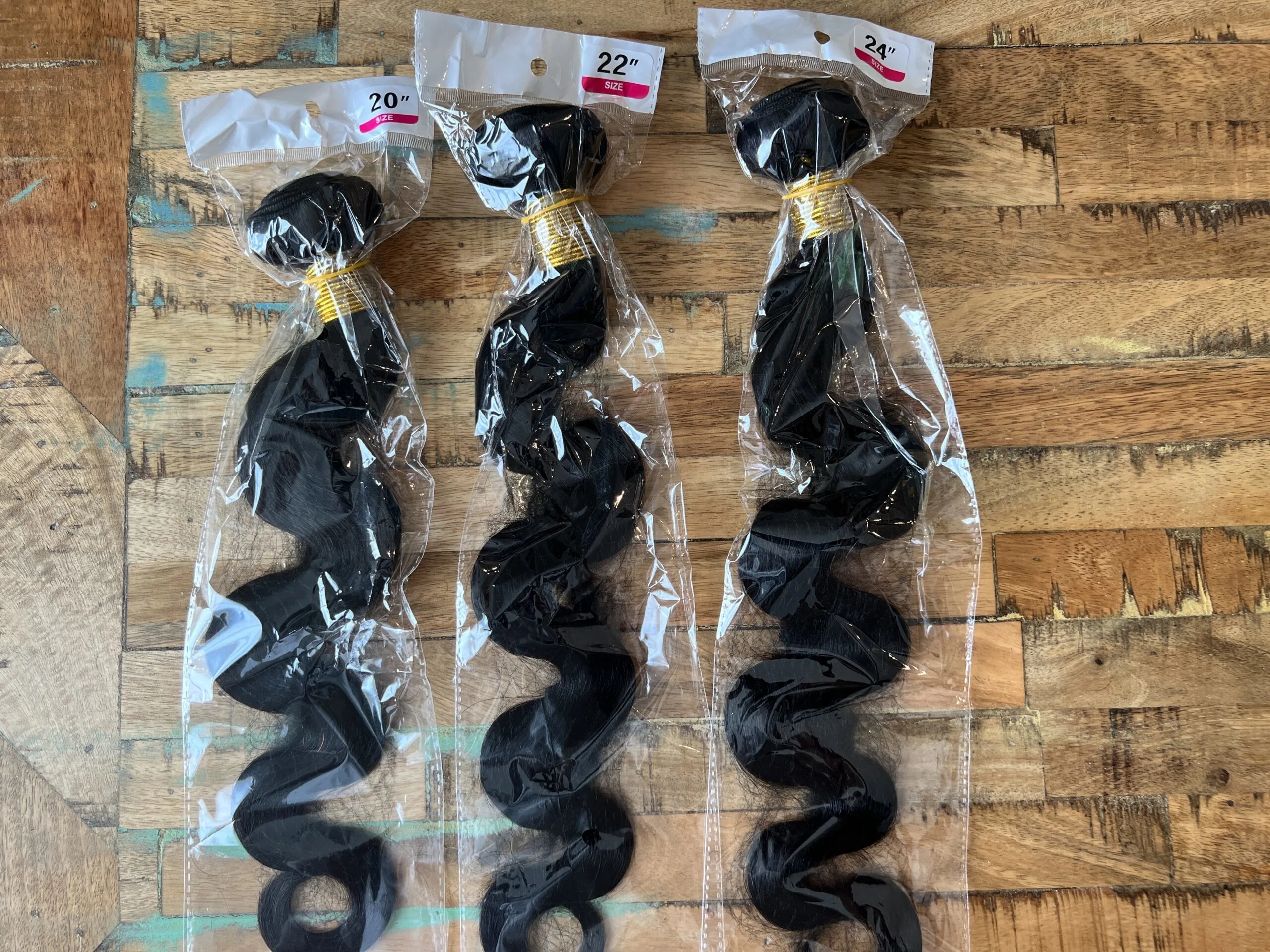 Overview
These are 100% human hair extensions that come in a pack of three bundles in your preferred length. They come in a natural black color. These gorgeous curls are looser than most black women's natural curl patterns and will require some styling on your part for blending, but the final look will be more than worth it.
These extensions are perfect for just about every occasion you can imagine, including partying with the girls, going out to a fancy restaurant with your partner, or attending a graduation.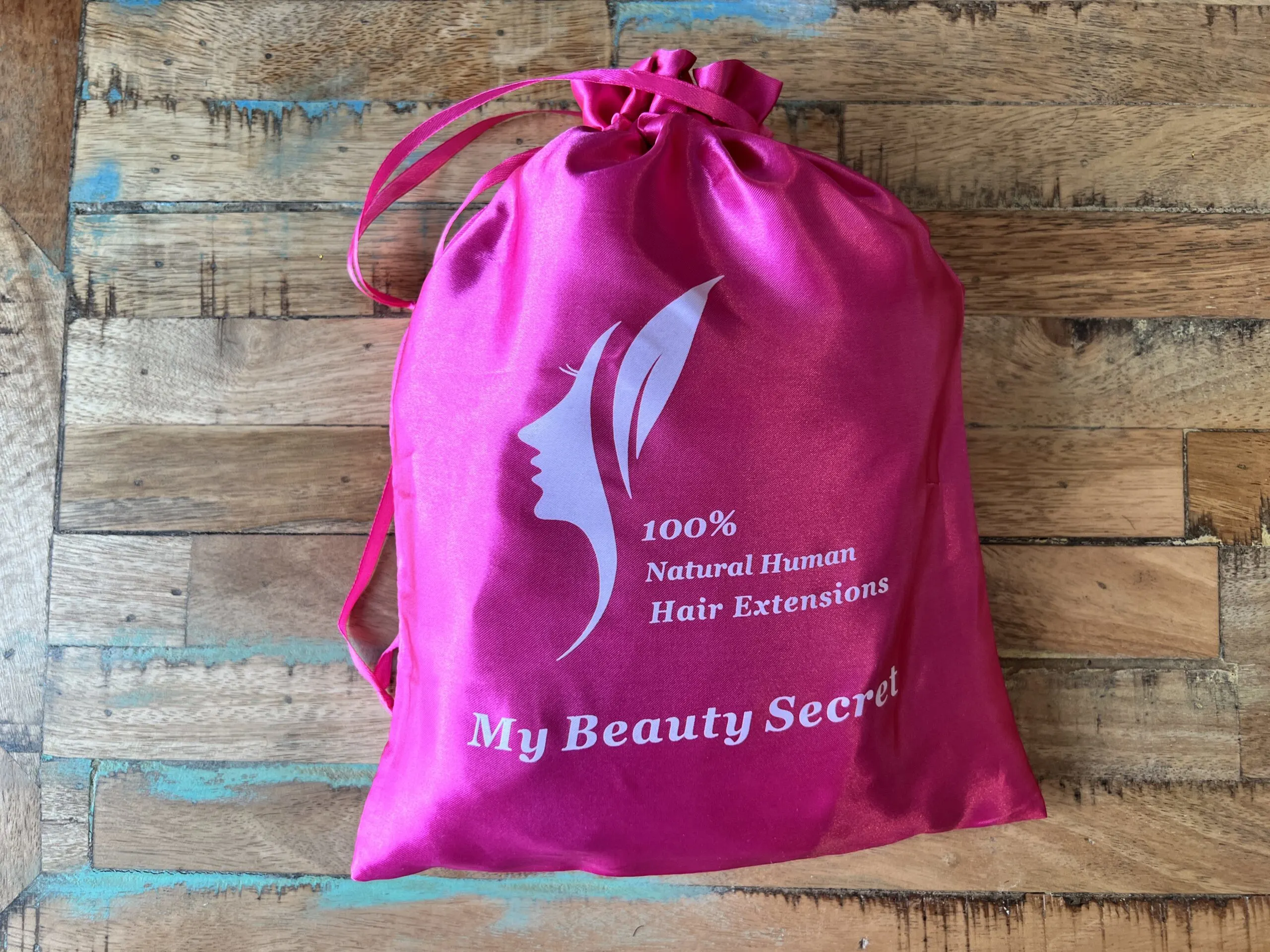 Construction
These extensions are composed of human hair attached to a double weft to minimize shedding. The wefts are machine sewn, so you won't have to worry about them staying put. You can attach clips to the wefts and use them as clip-in hair extensions or glue or sew them into your hair or on a wig cap.
You'll receive the extensions rolled up individually and secured with a rubber band or ribbon.
Hair Quality
This extension hair is 10A grade, meaning that it is authentic human hair that was unprocessed and collected from one donor. Usually, with this quality of hair, you don't have to worry about the hair looking or feeling brittle or split.
This hair quality is among the best you can get on the market.
Per the manufacturer, the bundles are full and weighty, true to length, and tangle-resistant. The hair also goes through a process to ensure that it's free of a chemical smell. They also claim that the hair hasn't gone through any chemical processing prior to collection.
All of these things are great for the longevity of your extensions.
What You Get in the Package
If you purchase your extensions through this seller, you'll receive three body wave bundles, which is enough for your entire head. But it's important to know that the longer the hair is, the thinner it may be. So, if you're going for a super long mermaid look, you should order some extra bundles.
Pros and Cons
With the basics down, let's get into the pros and cons of these extensions. You might be surprised by what you read.
Pros
The quality of the hair is very high, being that it's raw unprocessed human hair. The hair can be dyed and bleached according to your liking. This isn't the case with all hair extensions.
The hair looks and feels silky and healthy, and since its cuticles are intact, there isn't much tangling.
The weft is strong and sewn by a machine, so you don't have to worry about much shedding.
The bundles are thicker than you get with some hair extension sellers. You will definitely get your money's worth.
Delivery is quick, within 1 to 3 days.
The seller offers online service 24 hours a day.
Cons
You may not be able to talk to a human on the phone if you have an issue. Customer service is only provided online.
Customer Reviews
The customer reviews on these extensions are immaculate. The hair has garnered an average rating of 5 out of 5 stars online. This hardly ever happens, especially with hair extensions.
Many of those who have tried the extensions emphatically state that it's the best hair they've ever used. People rave about the hair's softness, body, texture, and manageability. On top of that, they say that the hair barely sheds and smells great right out of the package. What more could you ask for?
Should You Try These Extensions?
Though the customer reviews are perfect on these extensions, that doesn't mean that they are suitable for every single person who wants curly extensions. For instance, some people may not like the looseness of the hair texture and prefer something tighter.
If you see this hair and you like the way it looks, and you don't mind styling your natural hair to match the extensions or going through the extension installation process, then we say try them!
Most customers absolutely love this hair, and chances are you will too.
Which Hair Extensions Should You Choose?
Though all three of these hair extension choices are fantastic, you'll have to do some soul-searching to determine which one is best for you. Here are a few things to consider:
The texture of the hair – If you prefer tight curls, go with either the Brazilian curly human hair or the Kinky Curly human hair extensions. The body wave hair extensions won't work in this case.
Customer reviews – Out of all the hair extensions on this list, the body wave hair extensions got the highest customer rating – 5 out of 5. if you're purely looking for hair extensions that other people love, the choice is a no-brainer; go with the body wave extensions.
Ease of use – Are you a beginner when it comes to hair extensions? If you're not into the lengthy installation process for bundles of hair, you can go with clip-in extensions, which you can simply clip onto your roots and go. Otherwise, you can choose any of the other extension options covered in this article.
Budget – It's always a good idea to consider how much you want to spend on your hair extensions. The most expensive option on our list is the body wave bundles. The other options are $50 or less. Just remember that you get what you pay for in most cases.
Considering the above factors will ensure that you choose the right extensions for your styling endeavors and goals.
So, there you have it, the top 3 best curly hair extensions. Choosing any of the extension options on this list would be a good decision.
We hope you found all the information you were looking for in this article, and we hope that one of the hair extension picks covered in this article will soon become your fave.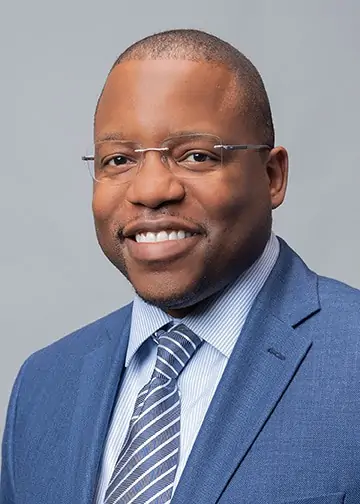 Kenneth Byrd holds a BS in Accounting and Management Information Systems and an MBA from the University of Alabama at Birmingham. With over 15 years of experience, Kenneth has been dedicated to hair care since 2008, when he co-founded Curl Centric® and Natural Hair Box alongside his wife. As a team, they promote healthy hair care practices through their comprehensive platform, Curl Centric. Curl Centric is a website operated by a husband and wife team that encourages healthy hair care. At Curl Centric, we aim to help our readers take control of their hair care journey and make good decisions about products, hairstyles, and maintenance techniques. We also have strict editorial integrity; here's an explanation of our editorial guidelines and how we make money.