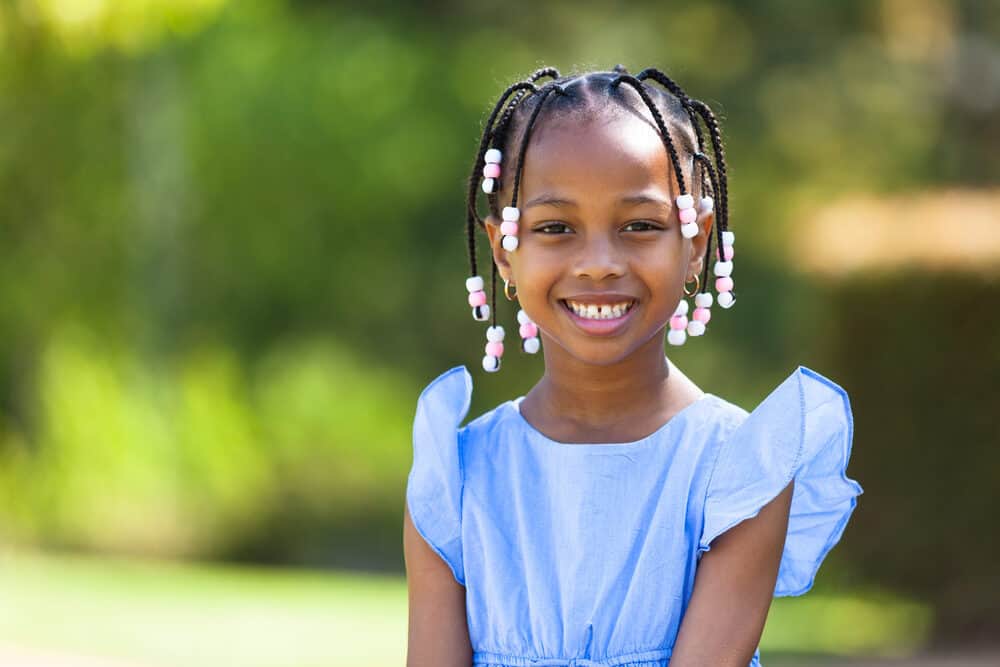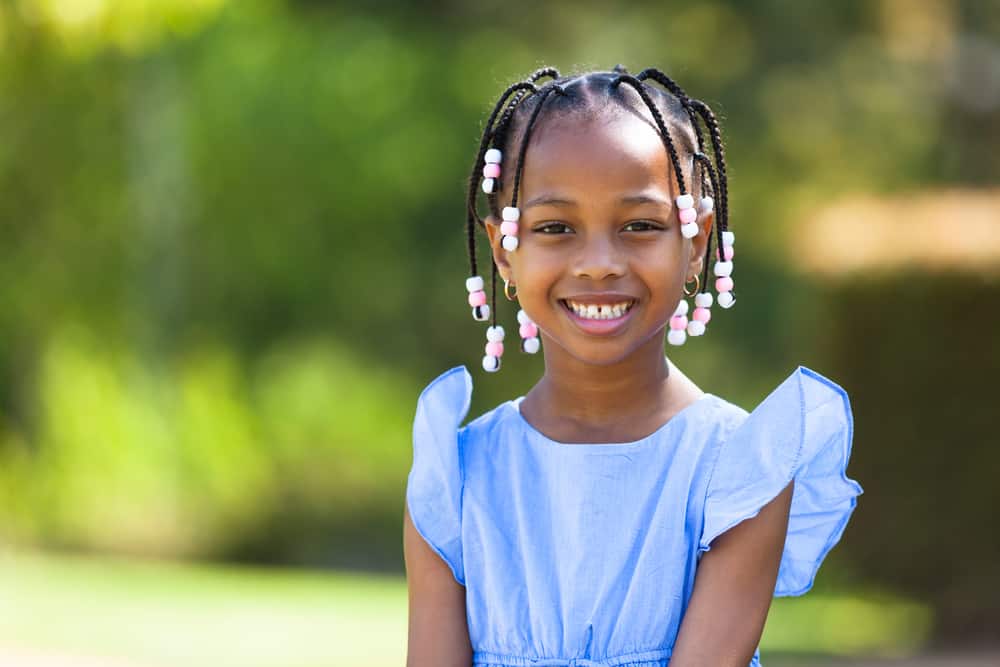 Whether you're rocking box braids, Senegalese twists, bantu knots, or dreadlocks, you can spice up your style with beads.
Hair beads come in various colors, shapes, patterns, and materials, so they're a great way to make your style unique. Although beads are most commonly used for little girls, they look great on adults, too!
This article will teach you how to put beads in your hair using a variety of methods. We'll also include some helpful tips and tricks. These methods are so simple and fun that you'll want to add beads to all of your styles.
How To Put Beads in Your Hair
There are only a few supplies needed to add beads to your braids or twists, but it's essential to make sure you have the necessary tools before you begin.
Gather Your Supplies (or Hair Bead Styling Kit)
Beads or hair jewelry of your choice. Make sure that they aren't too large or small for your hair. There are hair-specific beads available for purchase, although some women use craft beads also.
Tool of your choice (or you can use your hands):
Beading tool
Latch hook
Bobby pin
Rubber band or thin elastic headband
String
Thread
Floss
Small rubber bands or another tool/accessory to secure the beads.
Choosing the Right Beads for Your Braids
When choosing beads or hair jewelry, there are a few factors to consider.
First, you must select the correct size. The openings in beads can range from 4 mm to 10 mm. If you've already braided or twisted your hair, be sure to choose beads that aren't too large or small for your braid.
Or, if you have a specific bead or piece of hair jewelry that you want to use, be sure to braid your hair accordingly so that the accessory will fit your hair well.
Often, loc beads, hair ornaments, and other accessories are meant to be added to the hair without being secured by a string or tool.
So, you'll want to make sure you choose one with a small enough bead hole that it will fit securely on your hair strand without sliding around.
And of course, you should pick out hair jewelry that will match your desired style, making you feel confident and beautiful!
Adding Hair Beads to Your Braids
Once your hair has been washed, conditioned, moisturized, and styled into braids, twists, or locs, you are ready to add your beads. Keep reading to review the many different bead installation methods and find the one that is right for you.
How to Put Beads on Braids with a Beader
How to add Beads to Hair | DIY
With the beader method, you'll add beads to your braids using a beading tool. The tool is often provided with hair beads, but if you don't have one, you can easily find one online.
Below, we'll explain to you how to add beads with the beader:
Add several beads to your beading tool. The first bead you add to your tool will be the bottom bead once they are in your hair. Push them all the way down below the beader's opening.
Put your braid through the opening in the beading tool.
*Tip: Fold the end of your hair when pulling it through the tool. Doing this will make this step much quicker and easier.
Push the beads upwards past the opening of the beader and pull the beader downwards. The beads should now be on your braid.
Slide the bottom bead down to the end of the braid, folding the very end of the braid upwards around the side of the bead. Secure the end by wrapping a rubber band several times around your hair and the folded-up end, right above that bottom bead. Keep wrapping until the bead is tightly secured.
Slide the rest of the beads down into place.
*Tip: If you don't have a beader tool, this same method can be done with a latch hook. The only catch is that the latch hook may be too large to use (i.e., hook part of the tool) with smaller beads. But if your beads are large, you should not have a problem.
How to Put Beads on Braids with a Bobby Pin
How to Add Beads to Braids using a Bobby Pin | Entertaining Hair Tutorials and Children Lullabies
With the bobby pin method, you'll use an approach similar to the beading tool method above. The difference is that, instead of using the beader, you'll use a bobby pin.
This option is perfect for speeding up the beading process if you don't have any other tools on hand.
Use the following steps to put beads on with a bobby pin:
Put the end of your braid through the bobby pin.
Add the desired number of beads onto the bobby pin.
Push the beads up the bobby pin and onto the strand as you pull the bobby pin out of your hair.
Secure the end of the braid around the last bead with a rubber band, as described above.
How to Put Beads on Braids with Bands
The band method is an excellent "DIY" beading method. This time, you'll use a ponytail holder or thin elastic headband to install your beads.
Below are step by step instructions for how to use bands to put beads on your braids:
Fold a crease into your ponytail holder or headband.
Load the desired number of beads onto the band, creating a loop at the top.
Put the end of the braid through the loop you just created.
Push the beads up the headband, past the loop, and onto the braid.
Secure the end around the last hair bead with a rubber band, as described previously.
How to Put Beads on Braids with String
Adding Beads With A String
This method is similar to the rubber band method listed above; however, instead, you'll use a piece of string in its place.
Use the steps below to make the process easy:
Fold your piece of string in half.
Load the desired number of beads onto the string at the crease. Leave some space above the beads to create a loop with the string.
Put your braid through the loop that you just created.
Push the beads up the string and onto the braid while pulling the string away.
Secure the end around the last bead with a rubber band, as described previously.
How to Put Beads on Braids Without a Beader
If you don't have any of the above tools or supplies on hand but still want to add beads to your hairstyle, this method is for you. It may be slightly more difficult and tedious without a tool, but the result will still be gorgeous if you have the patience.
Fold the end of your braid upward.
Push the bead onto the folded end and up the braid.
Repeat until the desired number of beads has been added to your braid.
Secure the end around the last bead with a rubber band, as described previously.
How To Secure Beads Without a Rubber Band
NATURAL HAIR HACK - Secure Beads to Braids WITHOUT Rubber Bands! NO BREAKAGE!
Although securing beads in your hair with a small rubber band is arguably the easiest and most secure method, some naturals find that these rubber bands can damage their hair. If you're looking for an alternative, you can also use bail fold-over connectors like these – they are often used in jewelry-making.
To use this tool, wrap your ends around the connector several times, fold it down to secure your ends in place, and slide the bead down over the connector. Just make sure that the opening in your bead isn't too large, or the connector will slide right through, and your beads will fall out of your hair.
Here's a video demonstration for securing beads with bail fold-over connectors.
How To Braid Beads Into Your Hair Using Floss
If you want to go for an edgier look, you can distribute beads throughout the length of your hair by braiding them into your hair.
Follow the below steps to braid beads into your hair using floss or a piece of thread:
Take a section of hair that you will be braiding and divide it into three smaller sections.
If you'd like the beads to be near the end of your hair, then braid a little bit before you begin adding beads.
Tie floss around the section of hair you'll be braiding.
Add a bead to the floss. Slide it up to where the floss has been tied around your hair.
Continue braiding a little further down your hair, incorporating the floss into one of the three strands when braiding. Then repeat to add another bead.
Continue until you've added the desired number of beads or you've reached the end of the braid.
Cut the excess floss and secure the end of your braid with a rubber band or another tool.
How to Put Loc Beads onto Your Braids
How to Add Beads to Box Braids Locs & Twists | Jorie Hair
If you've got dreadlocks or simply want a fun, new way to accessorize a braided or twisted hairstyle, there are so many different types of loc jewelry out there to choose from.
Many loc accessories, such as this braid jewelry, are easy to install by simply sliding the bead or accessories up the loc or braid to the desired location. Other accessories clamp directly onto the braid.
Maintaining Hairstyles with Beads
You don't need to take beads or hair jewelry out of your hair when you sleep. You can wrap your hair up in a silk scarf or bonnet as you usually would and sleep with your beads or hair jewelry in your hair.
However, if you've only got a few accessories in your hair that are easy to add and remove, it might be more comfortable to take them out before you go to sleep.
You should remove beads or other hair accessories before washing your hair. The only exception to this is if you have dreadlocks, as loc accessories don't need to be removed.
Pros and Cons of Adding Beads to Your Braids
If you're not sure whether you want to add beads to your hairstyles, be sure to review this list of pros and cons – it will help you decide.
Pros:
Adding beads to your hairstyle is a great way to accessorize your look and express your style and personality.
If you're only adding a few beads to your hairstyle, such as around your face, they can be quickly and easily added and removed.
If secured properly, the beads will not move or fall out of your hair until you take them out.
Cons:
Adding many beads to your braids will add another tedious step to a hairstyle process that may already be lengthy. It might even be too much to complete in one day.
If you're not careful when choosing your beads, certain ones may not be good for the health of your hair, such as wooden beads that aren't sealed properly and have splinters on the inside.
If you are thinking about putting beads in your child's hair, it is vital to consider the risks if one falls out when you aren't looking. They may swallow or choke on the bead or even put it in their nose. It is a good idea to double-check that the beads are secure or wait until they are old enough that it is no longer a hazard. Unfortunately, this is a common occurrence in young African American girls, as many young black girls wear hairstyles with beads. This issue is also common in daycare centers.
Before adding beads to your hair, be sure to review this list of do's and don'ts to make sure your style turns out beautifully.
Do:
Take extra care to secure the beads in place properly so that they won't move or fall out.
Be sure to hide the rubber bands underneath the beads for a seamless look.
Experiment with colorful beads or materials for a unique look. You can find a hair bead styling kit at many retailers to provide some variety.
Try out different methods of adding beads to find which one comes easiest to you.
Don't:
Don't rush. When styling too quickly, you can snag your braid with the beading tool, cause unnecessary frizz and hair damage. Some people use tin foil (aluminum foil) instead of purchasing a beading tool and latch hook. If you can afford it, we recommend purchasing the proper tools to complete these hairstyles. You can easily damage your hair or scratch your head and scalp with DIY tools, like aluminum foil.
Don't add large beads on small sections of hair, as this can add tension to your hair and scalp.
Hopefully, this article gave you the information you need to feel confident about accessorizing your next hairstyle with some beads.
It's an easy way to add a little extra cuteness to protective styles for any hair texture. Use our helpful tips, tricks, and video tutorials to take your styles to the next level.
For more ideas, including color options, beading products, and other hair accessories, check out this Amazon page. Pinterest, Instagram, and YouTube are also fun sites to visit for additional hairstyles.