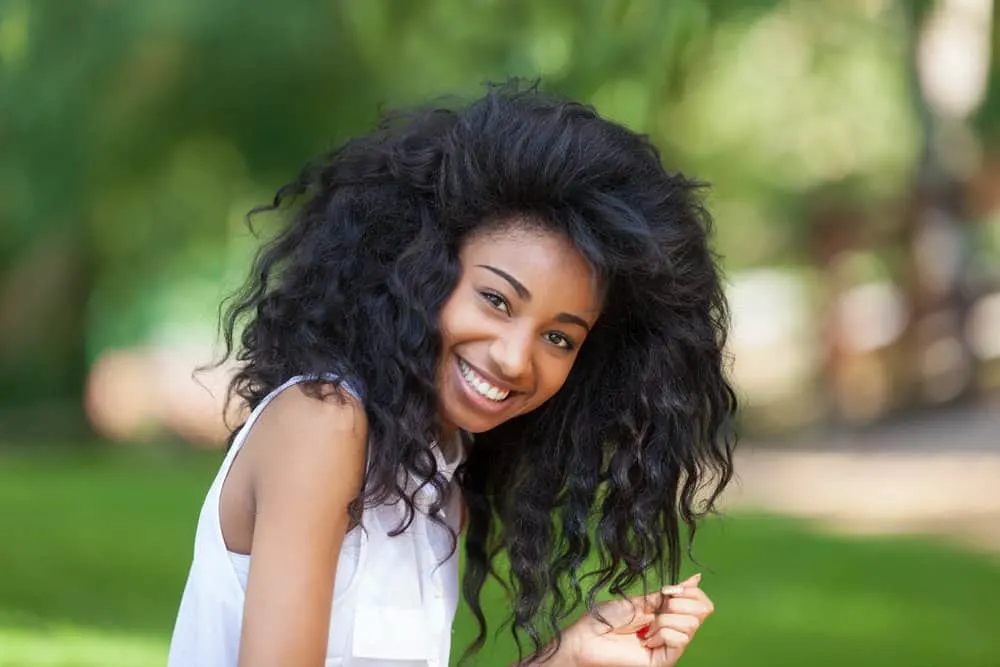 We're happy to say that more black girls than ever are embracing their natural kinks and curls. And there's no better way to show off that gorgeous texture than with a brand-new signature hairstyle.
So if you've come in search of some styling inspiration, you're in the right place! In this article, we'll share some examples of the best hairstyles for 13-year-old black girls to try. We'll also give you tips on how to make each look your own, so make sure you read down to the end!
15 Cute Hairstyles for 13-Year-Old Black Girls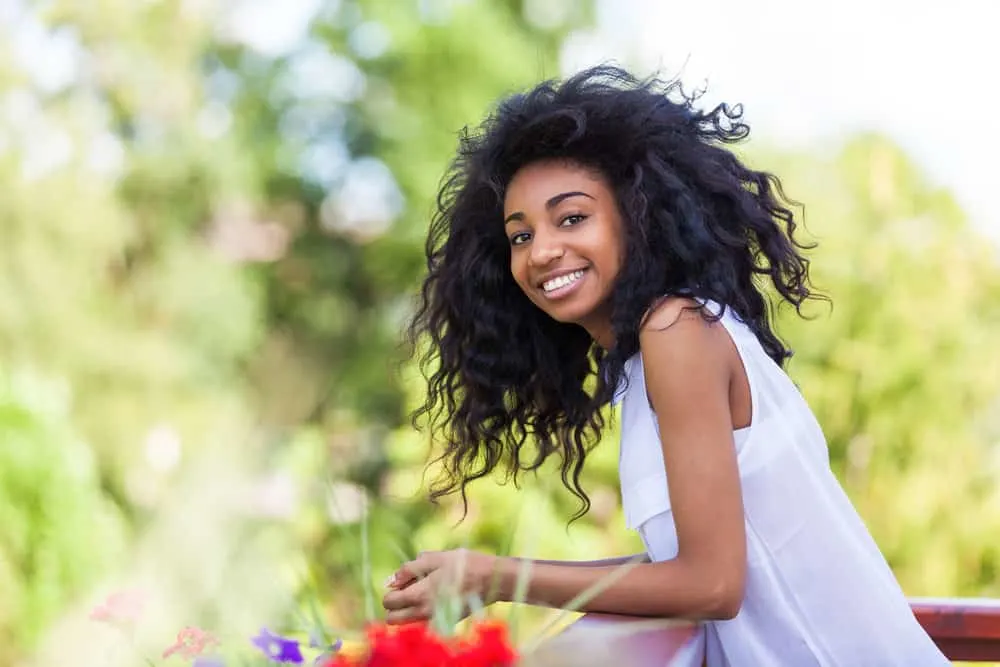 We've included braided hairstyles, styles that use human hair extensions, updo hairstyles, jumbo box braids, a sleek ponytail, and much more.
1. Rubber Band Braids
Not that great at braiding? While you might think braided styles are outside your reach, they don't have to be! This look uses rubber bands to create braid-like groupings of hair.
They're cute, highly customizable, and super easy to install! Simply separate an inch-long section of hair around the perimeter of your hairline. Break it up into box-shaped sections, and wrap a rubber band around each one.
Now that you've created your base, you can pull your rubber band braids into several different styles. Try pulling them straight back or crossing them over each other for a unique, crisscrossed style.
Once you finish with your rubber band braids, moisturize your back like usual.
Then, you can either wear it out or pull it into a cute bun or ponytail. Another great thing about rubber band braids is that they're easy to jazz up!
While using rubber bands close to your natural hair color gives you a subtle look, you can also use brightly colored ties like these creators did to add a pop of color.
2. Stitch Braid Space Buns
Our next entry incorporates several different hairstyles into one charming look. It combines braided bangs with space buns and stitch braids.
Each style brings an additional element to the look and gives it a ton of visual interest, meaning your hair will always look stunning, no matter the angle! And despite having so much going on, this style is relatively easy to recreate.
First, separate a one-inch wide section of hair around your hairline. Cornrow straight down to create your braids. Next, part the rest of your hair into vertical sections to form your cornrows.
Try switching up the sizes of the braids to create an even more exciting style. Cornrow the bottom half up and the top half back, so they meet at your crown.
Once you reach your crown, finish the braids straight down.
After you finish your braids, wrap the ends into two braided buns. Want to make your braids look even more glam? Embellish your braids with gold hair cuffs, just like this talented stylist did.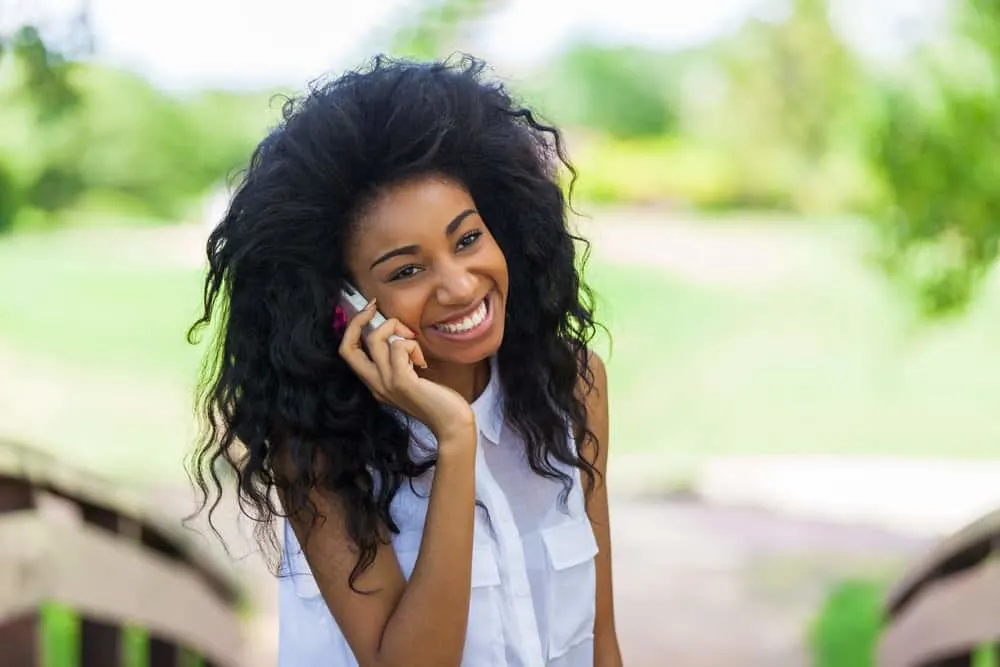 3. Boho Braids
We didn't think it was possible to make box braids look even better, but this next look proves us wrong! Boho braids are a chic and effortlessly cool take on box braids, but instead of a flat, smooth surface, they have curly extensions woven throughout them.
You can also do boho braids on your natural hair for an even cuter, more wearable look. Ready to learn how? Begin by applying a curl-enhancing mouse to damp hair.
Divide your hair into box-shaped sections and braid each one straight down.
After you complete three or four passes on a braid, take out a thin section of hair. Put the hair to the side, and continue finishing your braid.
Move on to the next section and repeat the steps until you've run out of free hair. Take a look at this easy-to-follow video demo to find out more.
4. Box Braid Bob
While most people use box braids to play around with long hair, they look just as good when you keep them short! A box braid bob is a chic and easy-to-care-for style that can instantly upgrade your look.
And since the braids are short, caring for them will be a breeze! Just wash and condition your hair once or twice each week.
Hydrate your hair with a cream, leave-in, or moisturizing spray. Gently massage your moisturizer into the braids, so they're able to reach your natural hair. Not sure how to style your new braided bob?
As this talented content creator proves, there are a ton of different ways to rock your braids. You'll just need to have creativity and plenty of gorgeous hair accessories!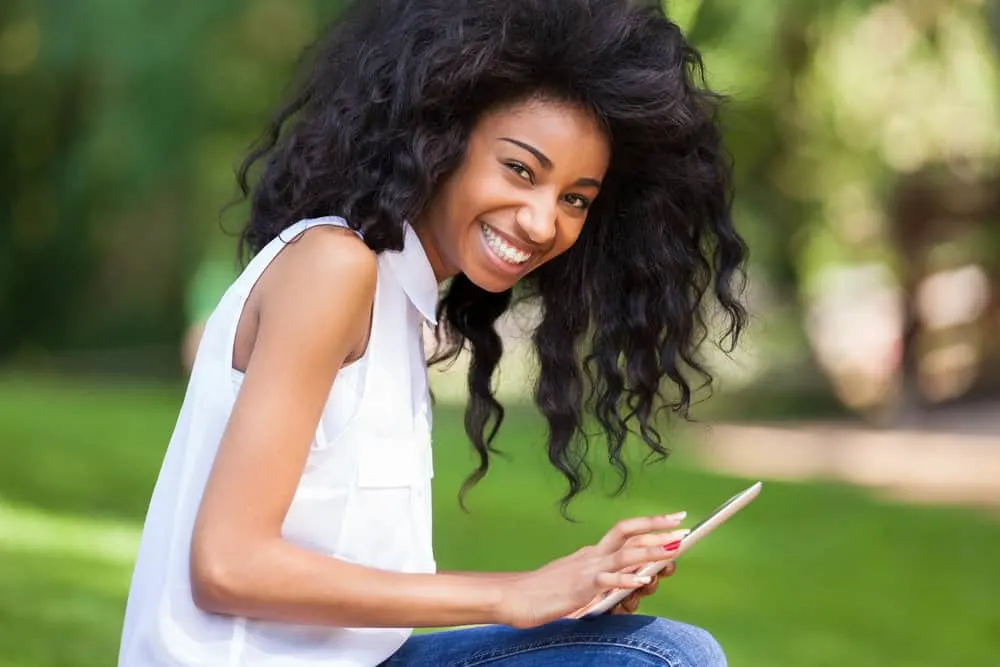 5. Ghana Braids
You might have seen our next look before. Ghana braids are a type of tribal braid that looks similar to cornrows. But unlike cornrows, Ghana braids always have hair extensions added to them to create a chunkier, bolder braid that looks absolutely amazing!
As long as you wrap your hair at night, you'll be able to keep your Ghana braids in for two to five weeks! Are you wondering how to get this great-looking style?
All you have to do is part your hair into neat, even rows.
Add braiding hair to the front of each section and cornrow it straight back. When you reach your nape, finish the braids straight down, so they hang and flow like loose hair. And that's all there is to it!
Ghana braids are a simple, elegant hairstyle that anyone can try, even if they don't have a ton of braiding experience. This video will show you everything else you need to know.
6. Jumbo Twist Updo
Hate having hair in your face? If so, you'll love the jumbo twist updo. It piles all of your hair on top of your head, so you don't have to worry about it falling into your face while you go about your business.
And on top of that, it looks absolutely stunning!
To create a jumbo twist updo, pull your hair into a sleek high ponytail. If your hair is thin or short, you can give it more bulk by wrapping a sock or foam block around it.
Next, grab a section of braiding hair and twist it from top to bottom.
Wrap the finished twist around your ponytail, and tuck the ends in with a bobby pin or two. And, as shown in this tutorial, you can dress up your jumbo twist updo by adding a few chic accessories!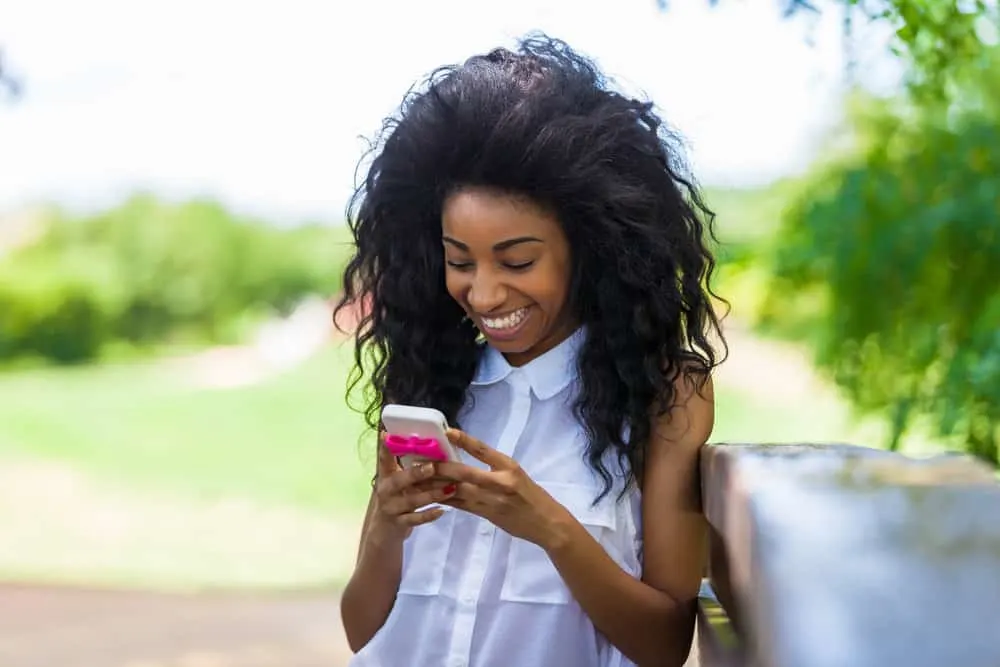 7. Halo Braid
Can you think of anything more sophisticated than a halo braid? A halo braid is a thick, jumbo braid that's wrapped around your head. Pull your natural hair into a super sleek low ponytail and wrap it around itself to form a bun.
Use a pack of braiding hair to create a thick, long braid. When you reach the end, tie a small rubber band around it to keep it from coming undone.
Use a rubber band to attach one end of the braid to your natural hair and wrap it around your head. Then, use another rubber band to secure the last end.
Give your braid more staying power by spritzing it liberally with holding spray.
As long as you wash your hair gently and wrap it at night, you should be able to wear your halo braid for a few weeks! Want to give this look a try? Check out this helpful video demo!
8. Braided Bantu Knots
From hanging out with friends to school dances, braided Bantu knots are perfect for any occasion. Bantu knots are a centuries-old hairstyle that came from the Zulu peoples of South Africa.
They're adorable spiral-shaped knots placed all around your head, and our next look somehow manages to revamp regular Bantu knots by transforming them into chic, braided buns.
Do you want to get the look?
To start, part your hair into neat, small sections. Then, braid each section straight down. Try adding a bit of braiding hair to each one for even more length and boldness.
After you finish your braids, wind each one around its base to form a knot. So what do you think? Are these braided Bantu knots right for you? Take a look at this tutorial to learn more.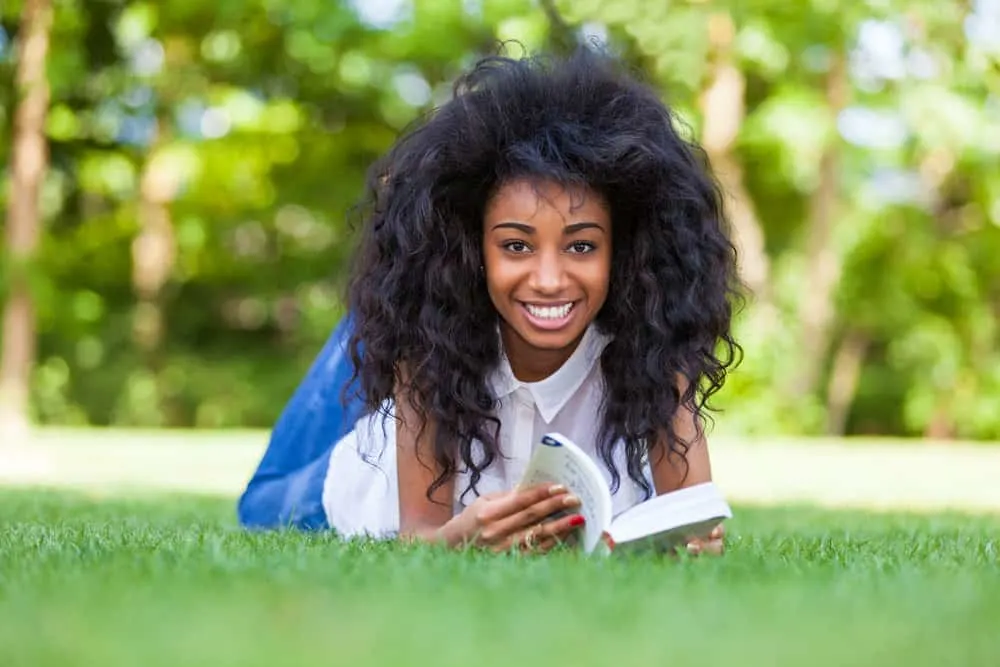 9. Double Afro Puff
An afro puff is one of the best ways to show off your natural kinks and curls. And you know the only thing better than one afro puff? Two of them!
This simple style is a more relaxed take on a simple ponytail and lets your natural texture shine. The best thing about these puffs is that they're super easy to make, even if you're a total hairstyling beginner.
Just apply a hydrating cream to your hair and part your hair straight down the middle.
Brush both sides up toward your crown. Then, wrap a hair tie around each one. You want your ponytails to be sleek, so you may have to wrap the hair ties around them a few times.
Once you're satisfied with your ponies, fluff up the curls.
As a finishing touch, you can apply gel to your edges and slick them down with an edge brush. Do you wish you had a little more info? Here's a video tutorial showing you how to achieve flawless afro puffs!
10. Braid Out
The curlier your hair is, the more it shrinks. If you want to play around with longer looks, you'll have to stretch it out. The good news is that there are a couple of different ways to do this.
One method is to use hot tools, like blow dryers, curling, and flat irons, to straighten your curls and change your hair's shape. Or, you can use heatless methods, like braid outs, to loosen your curls.
They're gentle on your strands, leave you with soft waves, and help ensure that all of your hair's length is showing.
To give yourself a braid out, apply a curl-defining product to damp, freshly washed hair. Then, braid all of your hair in neat, even plaits.
Wait until your braids are 100% dry before you unravel them. After that, the only thing left is to fluff and style your hair! This video will answer all of your other braid-out-related questions.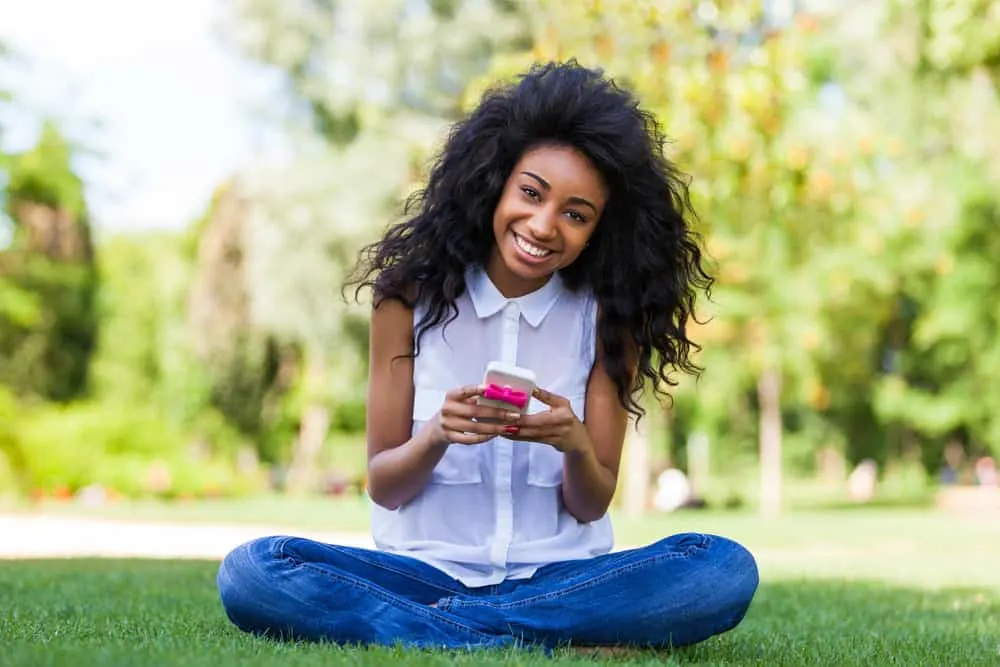 11. High Puff with Twists
If you're always on the go, you'll love our next look! A high puff with twists looks so adorable you'll never want to take it down, and despite looking so effortlessly chic, a high puff with twists is deceptively simple.
It's the perfect go-to style when you're in a rush! Just section off your bangs, and pull the rest of your hair back into a high ponytail. Apply a bit of curl-defining product to your puff, and use your fingers to fluff and accentuate your curls.
Then, go back to your bangs and section them into small, even sections.
Twist each section straight down, from root to end. You can either stop there or clamp a few gold cuffs around your twists to add a fun pop of color. And there you have it!
You can find more high puff with twist styling tips in this helpful video tutorial.
12. Flexi-Rod Set
What's better than soft, fluffy curls? Flexi-rods are a type of hair roller that transform your natural curl pattern into perfectly uniform curls. Want to give them a try?
Apply a curl-defining cream or gel to damp, freshly washed hair.
Divide your hair into small sections and wrap each one around a separate Flexi-rod. Tuck the ends of the rods inwards to lock them in place. It'll take your hair a few hours to dry, so it's best to do this style overnight.
Just remember to wrap a silk scarf around your hair before you go to sleep. When you wake up, carefully unroll each rod. Then, use either your fingers or a wide-tooth comb to fluff and style your brand-new curls!
Try wearing them down in a big curly 'fro. Or use a few accessories to create another beautiful style. Ready to learn how to do Flexi-rod sets like a pro? Check out this video demo!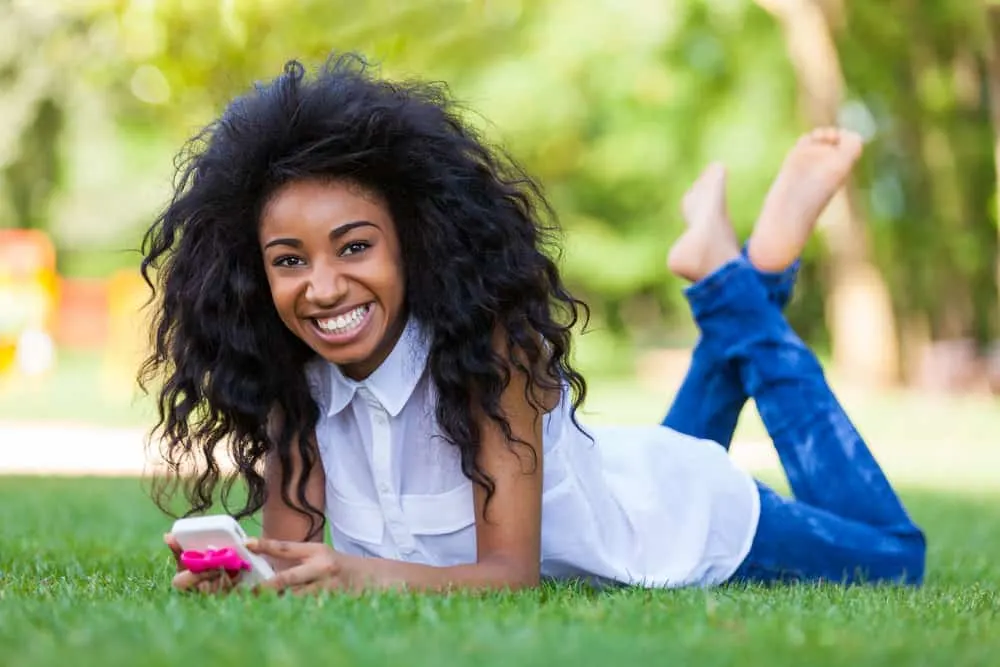 13. Bubble Ponytail
Do you want to learn how to take a basic ponytail to the next level? A bubble ponytail is a fun and exciting twist on the class look. Rather than letting your ponytail fall as is, they have puffy round balls going down their length.
Apply a liberal amount of gel to the perimeter of your hair and use a boar bristle brush to brush it all backward. Gather it into a high ponytail, and secure it with a hair tie or rubber band.
After finishing the base, you can start creating your bubbles.
If you want your bubbles to be bigger and bolder, you can attach braiding hair to your ponytail before you make your bubbles! Alternatively, you can also do this look on your natural hair.
Place another rubber band about an inch to an inch and a half below your pony's base.
Then, repeat the process until you reach the ends of your braid. Or you can watch this YouTube tutorial. It will teach you everything else you need to know.
14. Wash and Go
A wash-and-go is one of the most important hairstyles for black girls to learn. It's a simple go-to style that helps accentuate your natural texture. Ready for the best part?
A wash-and-go only adds a few minutes to your daily styling routine! All you'll do is shampoo and condition your hair like usual. After you step out of the shower, apply a nourishing leave-in conditioner to your strands.
Follow it up with your favorite curl-defining product. For even more definition, smooth a dollop of gel onto a small section of hair and slowly rake it down each curl.
There are a couple of different options for drying your hair.
You can let it air dry or speed up the process with a blow dryer diffuser. Here's a how-to video that shows you how to get the perfect wash-and-go.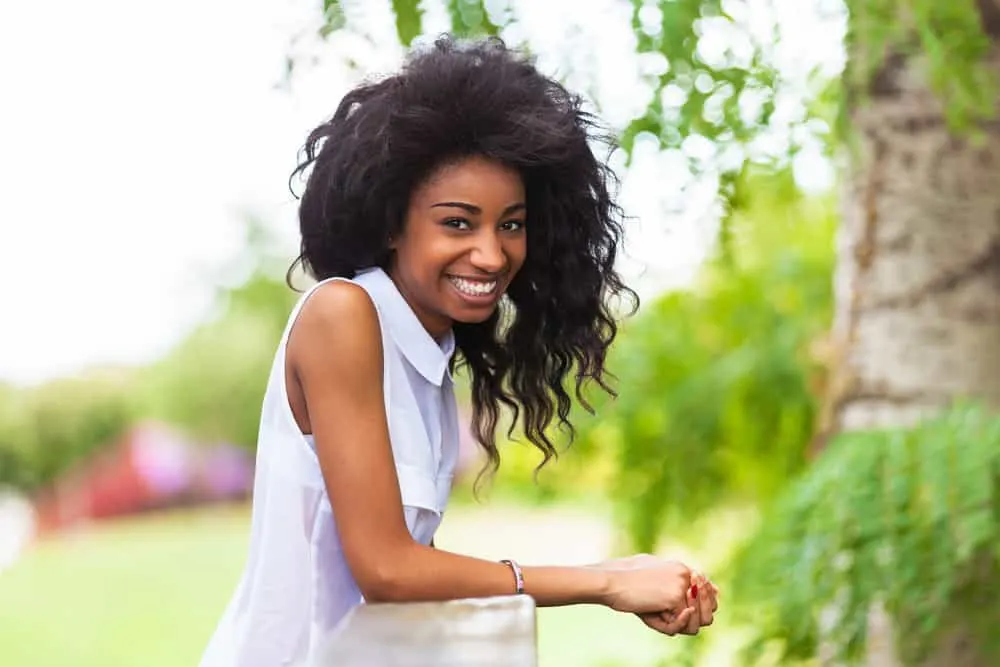 15. Jumbo Knotless Braids
Jumbo braids are a super cute, low-maintenance style perfect for black teenage girls! They're versatile and long-lasting and only take an hour to install!
Simply part your hair into large, box-shaped sections.
Start with one of the boxes in the back of your head and braid the hair down about half an inch. Then, grab a small portion of hair and add it to the braid.
After three or four passes, add another section of extensions to the braid.
Repeat the process until you've reached your desired length. Trim the excess and dip the ends of your finished braids into a pot of hot water. That will seal them and make them even more long-lasting.
Hot water is dangerous, and you don't want to worry about burns and spills.
So if you can, get an adult to help you. And that's it! As you can see, jumbo knotless braids are super simple. But if you need more help, take a look at this beginner-friendly tutorial!
Black girl hairstyles are just as beautiful and diverse as black hair, so have fun experimenting and trying out new things! Just remember, the healthier your hair is, the better your style will look.
So make sure you're taking care of your hair and giving it everything it needs.
As long as you do, your hair will look great for years to come! And that concludes our list of 13-year-old black girl hairstyles. We hope the styles we've gone over today are precisely what you were looking for!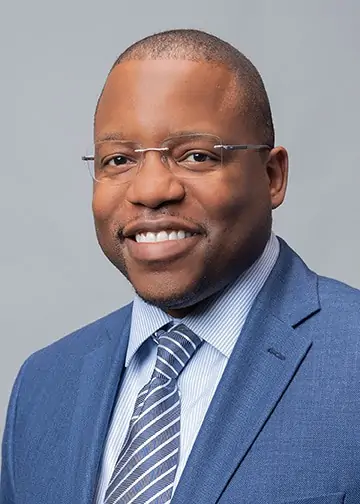 Kenneth Byrd holds a BS in Accounting and Management Information Systems and an MBA from the University of Alabama at Birmingham. With over 15 years of experience, Kenneth has been dedicated to hair care since 2008, when he co-founded Curl Centric® and Natural Hair Box alongside his wife. As a team, they promote healthy hair care practices through their comprehensive platform, Curl Centric. Curl Centric is a website operated by a husband and wife team that encourages healthy hair care. At Curl Centric, we aim to help our readers take control of their hair care journey and make good decisions about products, hairstyles, and maintenance techniques. We also have strict editorial integrity; here's an explanation of our editorial guidelines and how we make money.