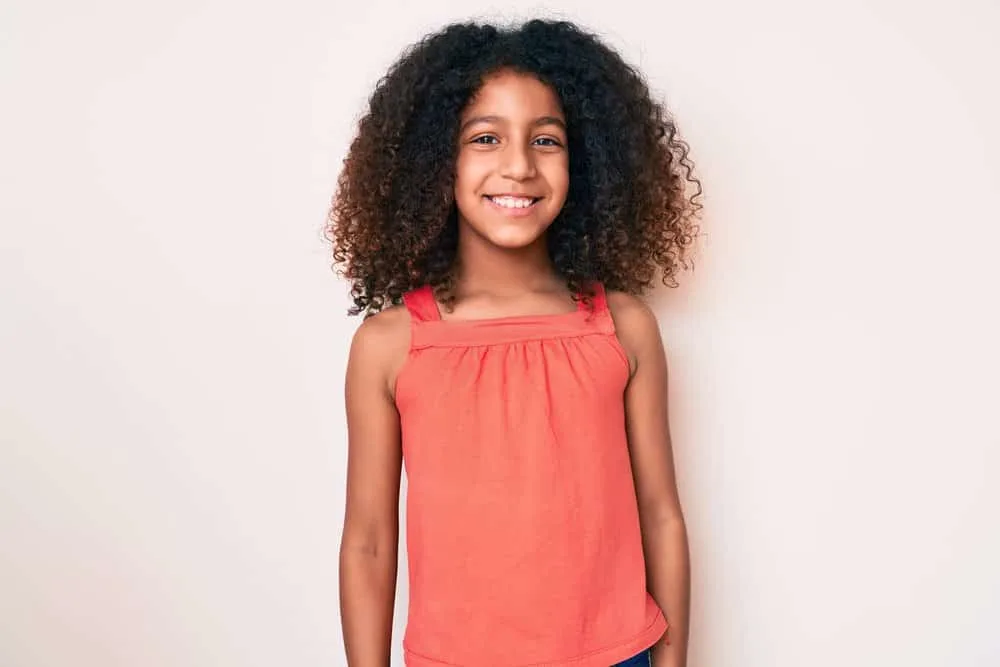 Styling a ten-year-old girl's hair can be a challenge. You'll need a hairstyle that's cute and easy but also age appropriate. So what's a mom supposed to do?
Well, if you've decided to add some new cute hairstyles to your repertoire, you've come to the right place! This article will walk you through the best hairstyles for 10-year-old black girls to wear. So what are you waiting for? Read on to find you and your ten-year-old's new favorite look!
15 Easy Hairstyles for 10-Year-Old Black Girls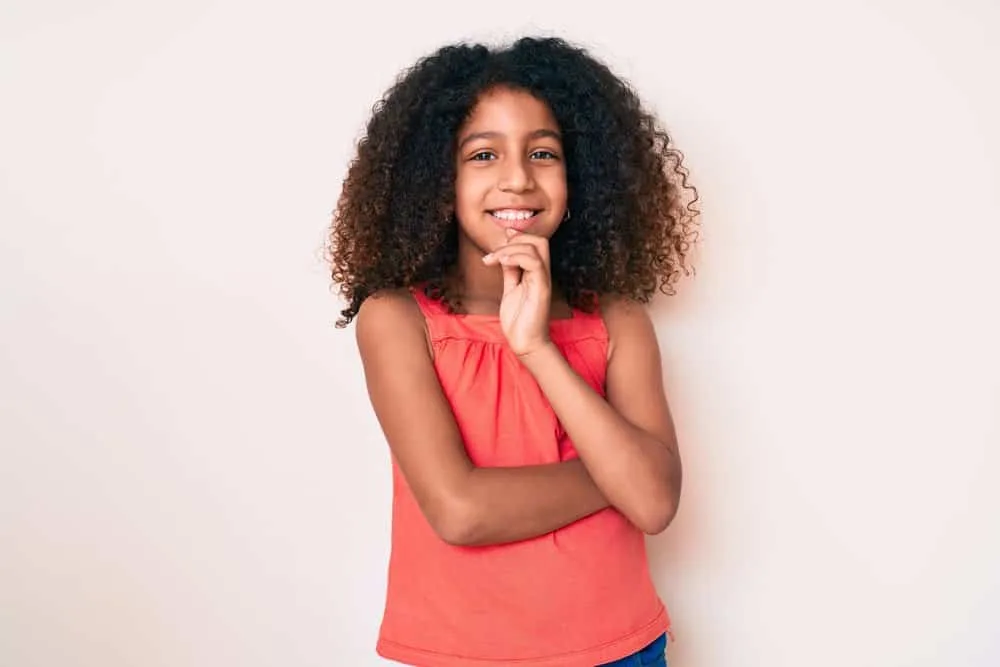 This article includes a variety of natural hairstyles and other curly styles that include human hair extensions, like knotless box braids, braided pigtails, jumbo twists, and much more. These beautiful hairstyles are explained in detail and include a step-by-step video tutorial.
1. Half-Up, Half-Down Wash and Go
Our first look is so cute that you'll forget it only takes a few minutes! A wash-and-go is when you wear your natural curl pattern without manipulating it with braids, heat, or styling tools.
And this beautiful style manages to improve a simple wash and go by combining it with a half updo. Every wash-and-go starts by, as you can probably guess, shampooing and conditioning your child's hair.
While her hair is still damp, smooth a dollop of curl-enhancing product onto her hair and rake it through her curls. Starting from right behind her ear, part your ten-year-old's hair horizontally.
Split the front section in half, and cornrow both sides toward the closest ear. As soon as you reach your part, switch from cornrows to loose braids.
Wrap a ponytail holder around the braids and twist them to form two small buns. Want to learn more about how to get the perfect wash and go? Then take a look at this convenient tutorial.
2. Beaded Two-Strand Twists
Beaded hairstyles aren't just for toddlers. Your ten-year-old will love shaking their head and listening to the beads clack against each other. And you'll love how easy and long-lasting this style is!
Two-strand twists are a basic hairstyle in which two sections of hair wind around each other. They're exceptionally versatile, so they're perfect for any girl who likes to change her hair daily.
Try throwing her twists into a half updo or wrapping them into a bun.
To get two-strand twists, separate your child's hair into small, even sections. For a classic look, make them square-shaped. But if you want to add a little more oomph to their hairdo, try incorporating triangle or even heart-shaped parts.
After you finish each section, wrap a small rubber band around it and twist it from top to bottom. To finish the look off, add a few beads to the end of each twist. Watch this video to see how it's done.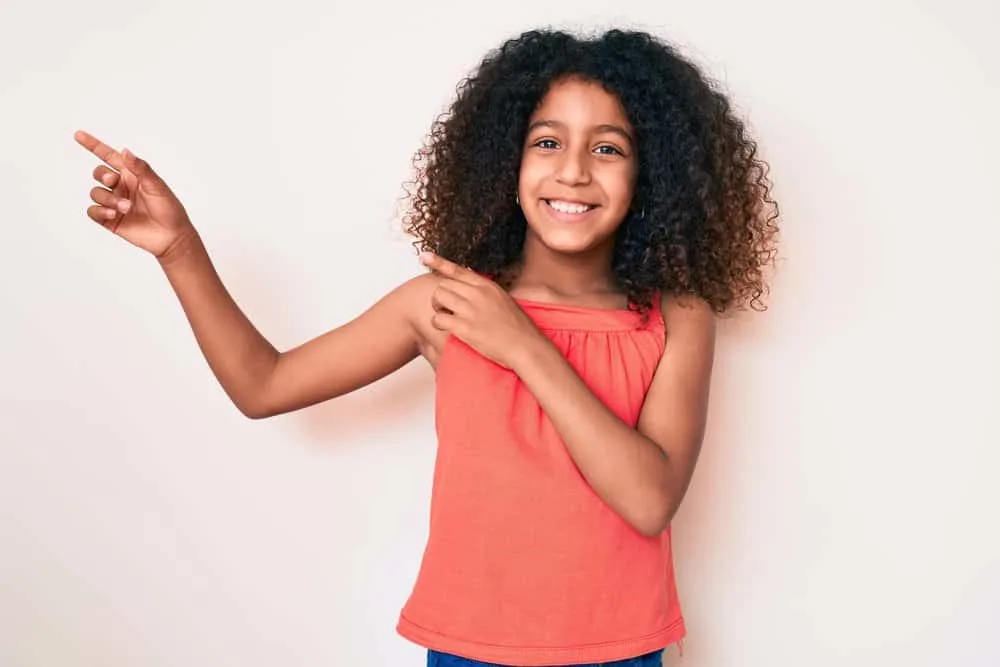 3. Three-Layer Braids with Beads
Our next look is a fun and refreshing take on a classic. As the name suggests, three-layer braids are created by making three neat layers of cornrows. The beads help add an extra layer of fun and dimension to the various layers of braids.
Ready to try it out?
Start your thee layer braids by parting your child's hair into three sections, with one on top and two in the back. Part the top section in half, and divide it into horizontal rows.
Next, cornrow each row straight down. Split the back section into an upper and lower portion and create another set of vertical rows. Cornrow the sections straight down until you reach the start of the final part.
Then, switch to loose hanging braids.
Repeat the same process on the last section. As a finishing touch, add a variety of beads to the end of their braids. Look at this video demo to learn how to create the perfect three-layer braids with beads.
4. Crisscross Buns
Looking for a style that's perfect for those hot summer months? Crisscross buns are an adorable hairstyle that keeps your ten-year-old's hair pulled up off her face and neck. Additionally, the sleek buns and braids are virtually frizz-proof.
They're a more dressed-up take on space braids and use crisscrossing braids to create a little more interest. To get the look, divide your ten-year-old's hair into four even quarters.
Wrap a small rubber band around the two in front, and braid the hair from root to end.
Criss-cross the braids to the opposite loose section, and use another rubber band to hold them together. Next, twist the ponytail around itself to form a bun. Tuck the ends, and repeat the steps on the other side.
When you finish, apply a little bit of gel to any loose curls to give the style an extra pop of texture. And that's all there is to it! Here's a tutorial to help break things down in more detail.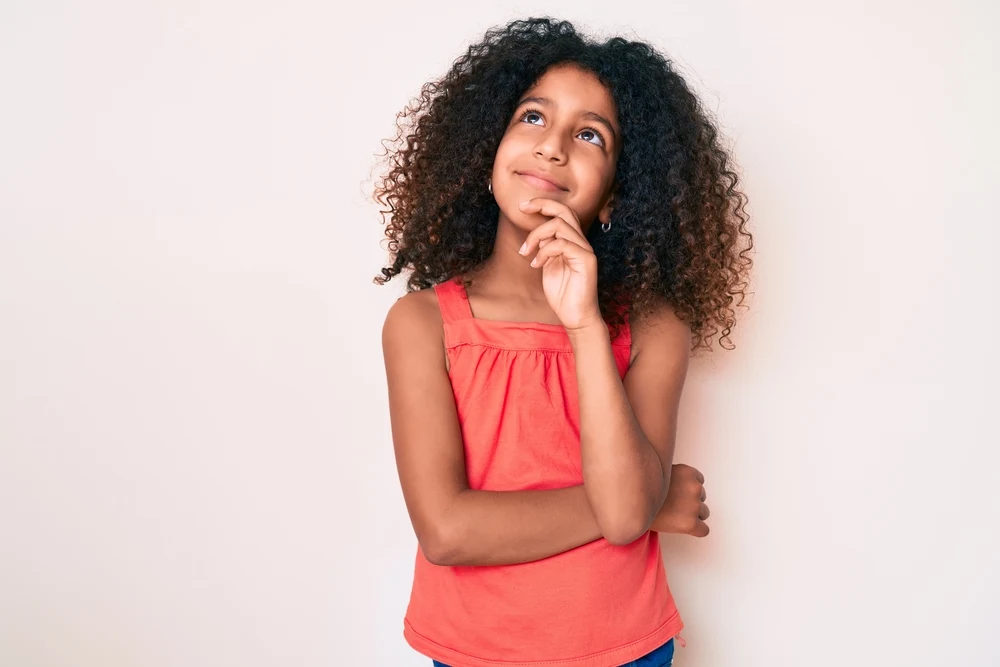 5. Triangle Single Braids
Styling a ten-year-old's hair can be a challenge. While they've probably grown out of kiddie styles, they aren't ready to dive into the world of mature hairstyles.
However, these triangle single braids are sure to please even the pickiest preteen.
The sharp, triangular sections give the look an edgy, geometric quality that helps age it up a bit. Start your triangle single braids by parting your ten-year-old's hair into even, triangular sections.
As you part, wrap a small rubber band around each one.
When you finish, braid their hair straight down. Add colorful beads to the ends of the braids to give the look a little more fun.
As long as she isn't too rough on them, your ten-year-old's braids should last for about a week or two before you'll have to take them down. You can learn more about triangle single braids here.
6. Bubble Braids
Whether you're looking for a back-to-preschool look or just want to change things up, you'll love our next hairstyle. They're colorful, age-appropriate, and super adorable!
Bubble braids are similar to regular braids but have ball-like sections going down their length. And since bubble braids don't require any actual braiding, this look is super quick and beginner-friendly!
First, make sure you have a pack of brightly colored, hair-friendly rubber bands.
Part your ten-year-old's hair into even sections and tie a small rubber band around them. Move down the hair about half an and apply another rubber band. And there you have it! Your first bubble braid is complete!
Keep adding rubber bands until you reach their ends, and move on to the next section.
Once you finish your braids, gently pull each bubble from the top and bottom to fluff them up. Watch this video for more information on how you can create these adorable bubble braids.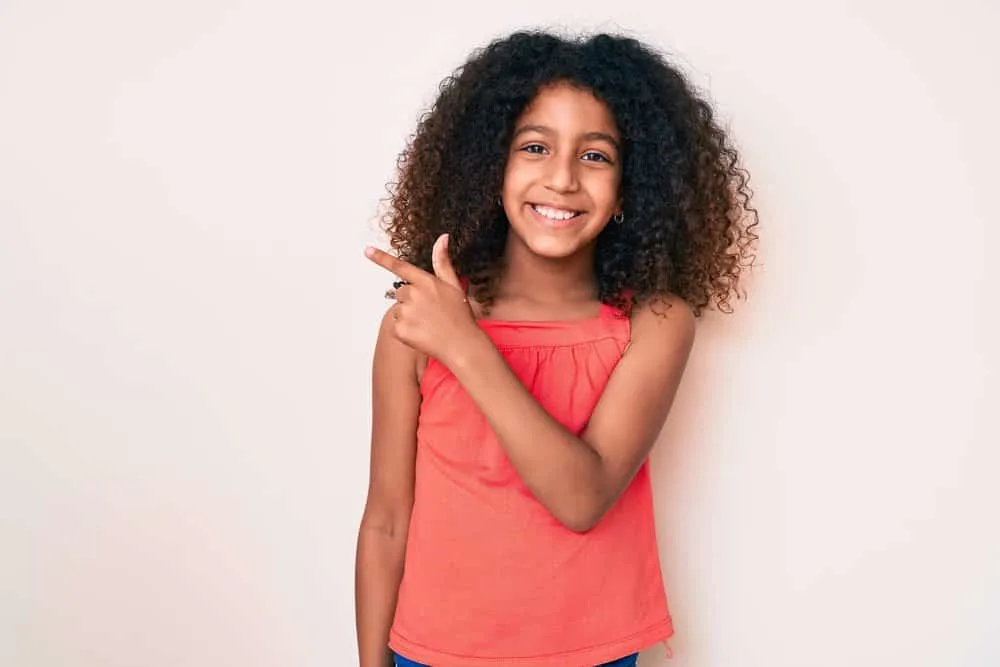 7. Jumbo Tribal Braids
Tribal braids are a family of braided hairstyles that are deeply rooted in traditional African hairstyles. They come in all different designs and sizes and make an excellent protective style.
Tribal braids last for an average of four to six weeks.
During that time, her hair will get a break from sources of stress like brushing and combing. As a result, her hair will have the potential to grow longer and stronger.
Ready to learn how to make them?
Starting at the center of her ears, separate a section an inch-wide section of hair around her hairline. Then, break each half into two equal sections and cornrow each half straight down.
Once you've finished, carefully gather the braids and lower them into a pot of hot water. Pat them dry with a towel, and your ten-year-old's jumbo tribal braids are ready to go! You can watch this helpful video demo to learn more.
8. Rubber Band Pigtails
Your ten-year-old will be ready to impress with this next gorgeous style. Rubber band pigtails are a bright and colorful take on the classic style.
The rubber bands give the simple ponytails more texture and interest, while the pigtails help keep your ten-year-old's curls from getting tangled.
Do we have you on board yet? Simply part her hair straight down the middle.
Then, make an angled part to create your first section.
Wrap a rubber band around it, and separate another angled section of hair. Use a second rubber band to join it with the first ponytail, and repeat the process for three or four more rows.
Once you reach the center of her head, gather all of the loose hair into a tight ponytail. Fluff up her curls, and you're done! You can learn more about bringing your new rubber band pigtails to life with this helpful YouTube video.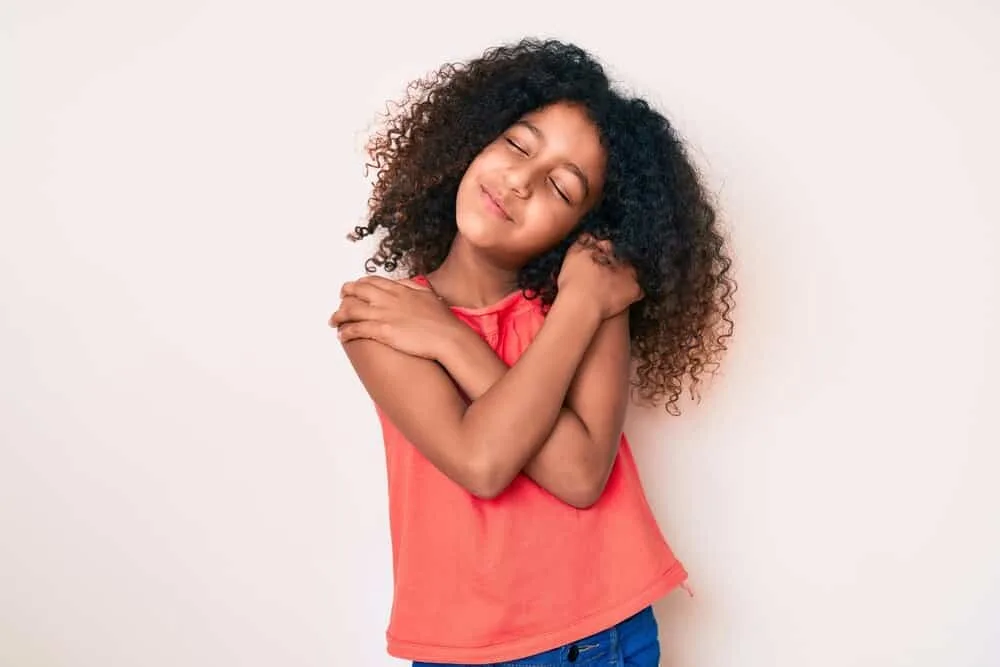 9. Ponytail Cornrows
There's something magical about these ponytail cornrows. Because they're raised away from the scalp, the braids look like they're floating in mid-air. Kids and moms alike will wonder how you pulled such a unique style.
But don't worry; we're about to tell you how!
Split your ten-year-old's hair straight down the middle and make even rectangular sections down both halves. Make sure the boxes are all lined up, and gather each one into a tight ponytail.
Next, braid all the individual sections about a quarter of the way.
When you finish, use the loose hair to cornrow the braids together. When you reach the ends, wrap a small rubber band around them to hold everything together.
Add an accessory or two to their cornrows for an extra pop of cuteness. And that's it! New to braiding? Here's a video that will help break down cornrowing a little further.
10. Criss-Cross Cornrows
Do you have a burgeoning fashionista on your hands? If so, you'll need a look with a little more sass and personality. Luckily, these crisscross cornrows have plenty of both!
It's an incredibly intricate style that's sure to please even the pickiest ten-year-old.
For this look, you'll need to start by parting your child's hair from ear to ear and creating box braids on the back section. When you finish, move back to the front, and create box-shaped sections.
Wrap a small rubber band around each section to form a small ponytail. On the sides, cross each section over the other to form an X-shaped pattern.
To complete the look, braid your remaining sections at an angle to create your crisscrossing cornrows. Did you get all of that? This hairstyle requires a lot of steps, so here's a tutorial to help break things down further.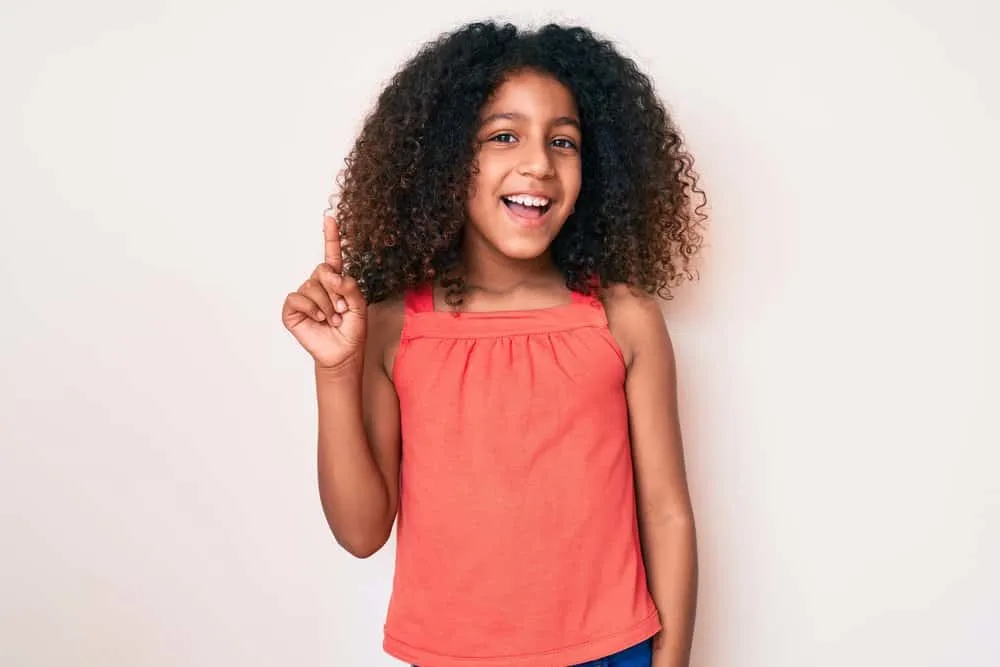 11. Two-Strand Twisted Mohawk
This hairstyle is perfect for little girls who hate getting their hair done. In addition to looking great, a two-strand twisted mohawk can last for two to six weeks!
And your ten-year-old will love how exciting and distinctive this punk-inspired style is.
To create a two-strand twisted mohawk, part your ten-year-old's hair into three vertical sections. On the side sections, flat twist both halves of their hair straight back.
That will create sleek sides and give the mohawk its characteristic shape.
When you reach the middle section, split it into even, square-shaped boxes. Twist each section straight down to create smooth, free-flowing two-strand twists.
To style her twisted mohawk, you'll have a few options.
You can pull them all back to accentuate the sleek sides. Or, try swooping them over the sides to give the look a fun, asymmetrical shape. Now that you get the idea, you can watch this convenient tutorial to learn more.
12. Braid Out
A braid out is one of the most critical hairstyles for a young natural to master. It's a simple, heat-free styling method that creates soft, fluffy waves. There are a couple of different approaches to braid outs.
You can either cornrow their hair or braid it in single plaits.
Either way, the steps you take are the same. Apply your favorite curl-defining product to your ten-year-old's damp, freshly washed hair.
Then braid their hair from root to tip. Let her rock her braids for a while, or wait until the hair is completely dry. Then, spread a little oil onto your fingertips and take the braids down. And that's all there is to it!
Try throwing her new curls into a cute half updo or letting her wear them down. Looking for more tips? Take a look at this video demo to learn more about doing a braid out.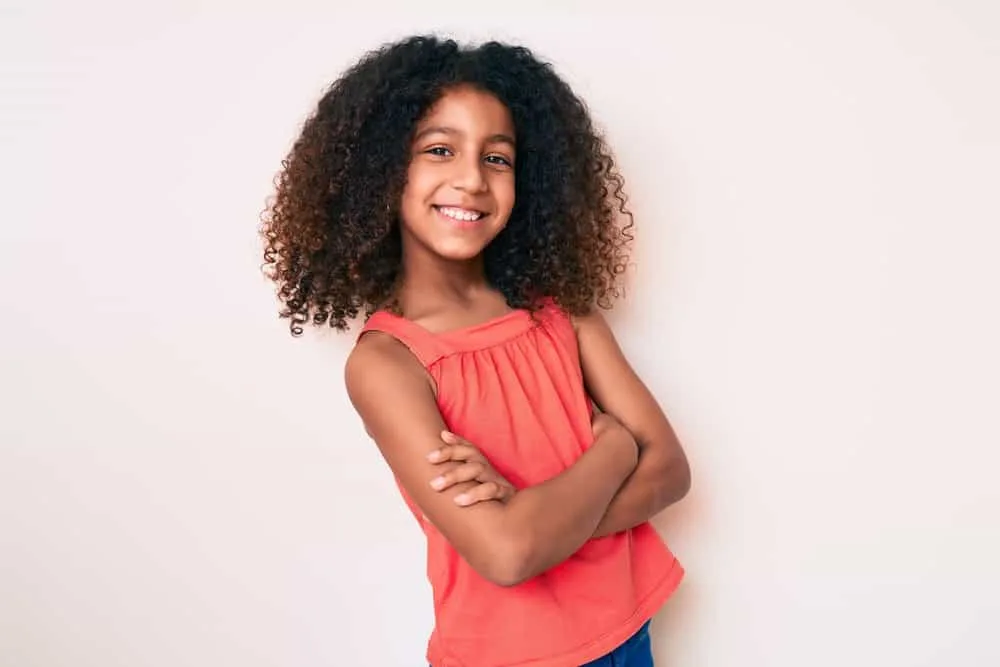 13. Knotless Box Braids
Does your ten-year-old like switching up her hairstyle often? If so, she'll want a style that has plenty of versatility. And that's precisely where knotless box braids shine!
Knotless braids are neatly free-flowing braids that have extensions added to them. And they're just as versatile as loose hair!
You can wear them down or throw them into a ponytail, updo, or bun. You can even braid some of the tribal braids together to give them an even chunkier look.
To get the look, use a comb to part your child's hair into small, square-shaped sections. Braid each section down about half an inch. Then, grab a small amount of braiding hair extensions and incorporate it into the braid.
Repeat the process until you've reached your desired length.
Then, work your way through the rest of their hair. As a final touch, carefully seal her ends and towel dry. New to braiding with extensions? Take a look at this informative tutorial to become a box braiding pro.
14. Jumbo Twists
Do you wish your ten-year-old's twists had more length and volume? Jumbo twists are chunky, two-strand twists that are usually done with extensions. To create them, part your child's hair into a grid-like pattern.
Split one of the sections in half, and line up a large chunk of braiding hair against it. Roll both halves in the same direction to create a rope twist. Once the hair is secure, twist both halves of the hair extensions together.
Keep twisting until you reach the hair's end. Work your way through the rest of the sections. To seal the ends, gather the twists and submerge them in a pot of hot water.
After a few minutes pass, remove the braids and towel dry.
Jumbo twists are versatile and long lasting, making them an excellent choice for ten-year-old girls. And, as seen in this video, they look even better when you add a pop of color to them!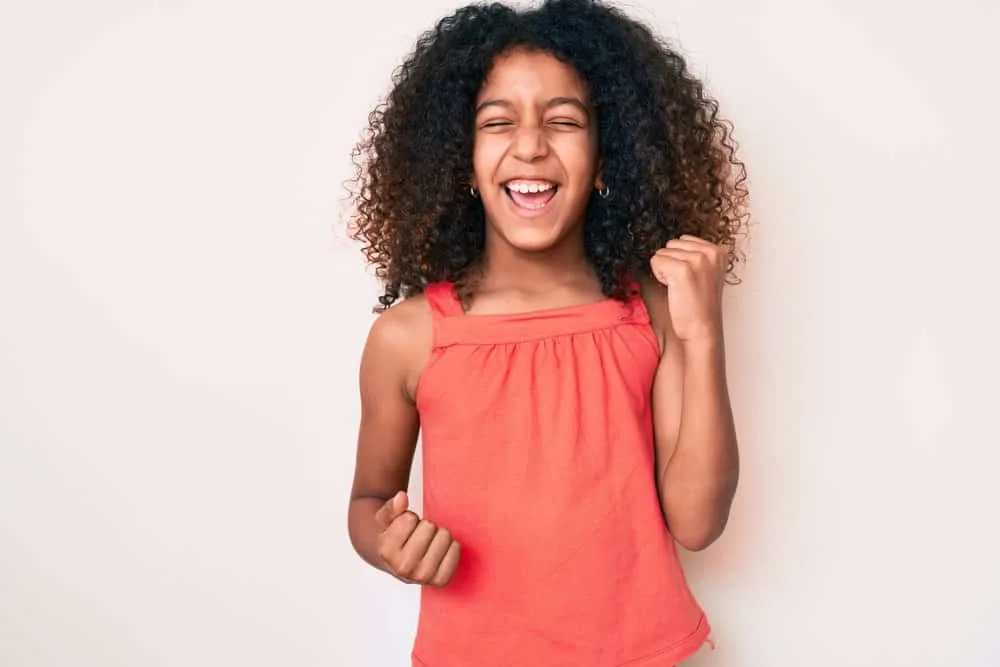 15. Braided Zig-Zag Pigtails
Looking for a way to add a little pizzazz to your daughter's usual pigtails? This look uses hair extensions to transform typical pigtails into full, lush braids. And the fun, zigzagging part braids them an extra dose of pizzazz.
To create braided zigzag pigtails, part your ten-year-old's hair down the middle to make two sections. But instead of doing a regular straight part, move your comb from side to side to create one that zig-zags.
Apply an alcohol-free gel to their hair and pull both halves into sleek ponytails. Grab a small amount of braiding hair and attach it to the braid with a small rubber band.
Then, gather the hair and split it into three even sections.
Braid the ponytail from top to bottom and secure the end with another rubber band. Tie a heavy barrette around the ends to weigh it down, and encourage her braid to fall. Watch this video demo for more tips on getting the perfect braided pigtails.
Styling a ten-year-old's hair can be tricky at times, but it doesn't have to be! Just experiment with a bunch of different styles until you find some that work for both of you.
And once you get the basics down, go off script and make each look your own. After all, you never know when you'll stumble across her next favorite hairdo. We hope that the hairstyles we've gone over today were just what you were looking for!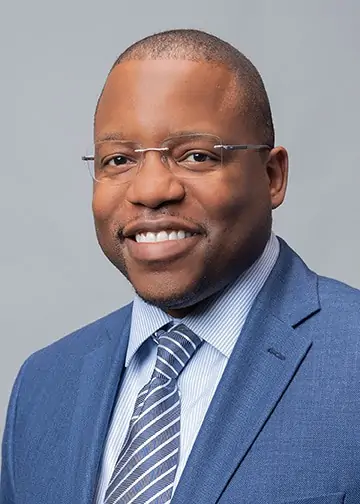 Kenneth Byrd, with a BS in Accounting and Management Information Systems and an MBA from the University of Alabama at Birmingham, has over 15 years of experience and is a recognized authority in hair care. Co-founder of Curl Centric® and Natural Hair Box, Kenneth has dedicated himself to promoting ethical and scientifically-backed hair care practices. Rigorous editorial guidelines, industry recognitions, and features in numerous media outlets evidence his expertise. Kenneth's commitment to transparency, quality, and empowerment has positioned him as a trusted voice in the field, empowering readers to confidently embrace their natural beauty.