Although they're beautiful, protective, and long-lasting, getting braids installed can be an expensive and time-consuming process. So naturally, most people want to know how long their investment will last.
Just how long can you keep braids in? That's precisely what we're going to dive into in this article. We'll also give you some of our top tips for extending the life of your braids, so make sure you read all the way to the end.
How Long Can You Keep Braids In?
When it comes to braided hairstyles, there is no shortage of gorgeous styles. Below, we'll explain how long some of the most common braids last. Keep in mind that the exact length of time your braids last will depend on the specific style, your natural hair texture, and how well you take care of the style.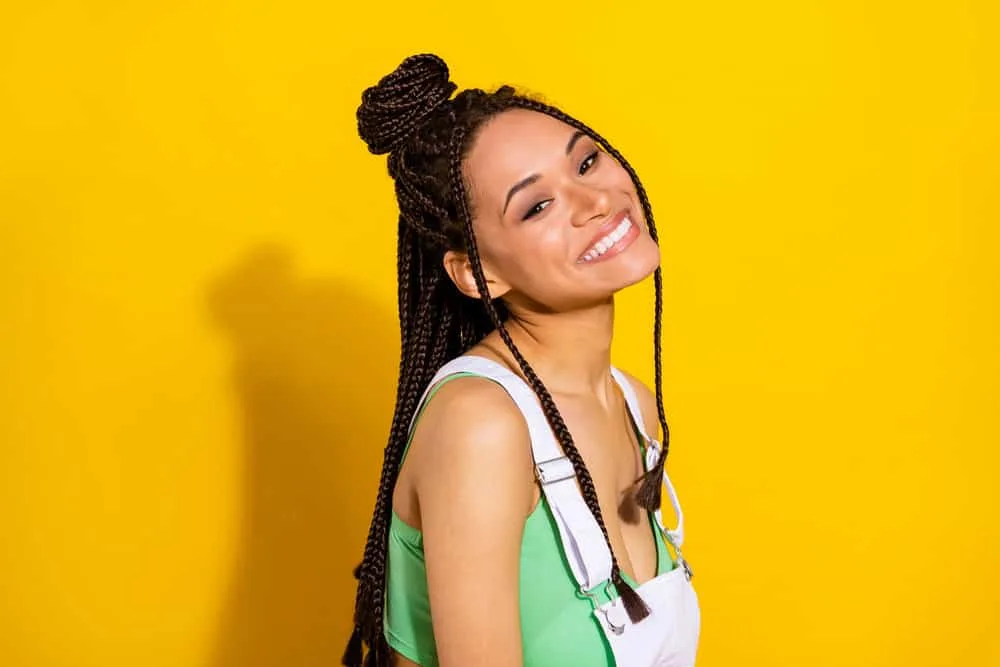 Box Braids
Box braids are a type of braided hairstyle in which your hair is parted into a boxy, grid-like pattern. Then, each section is braided straight down, with or without hair added to it.
Box braids are one of the most popular braided styles due to their versatility and protective nature.
On average, box braids last for a maximum of ten weeks. You might even be able to stretch it out to twelve weeks if you get the braids around your hairline touched up.
Cornrows
Cornrows are rows of braids that are anchored to your scalp. Because of this, they aren't as versatile as some of the other styles on this list.
So, you'll have to think carefully about their placement because once your hairstyle is finished, you're stuck with it.
Although cornrows are usually braided in straight lines that run from the front of your head to the back, you can get them in any size, shape, pattern, or direction.
Cornrows can last up to ten weeks with proper care but are only neat for around three or four.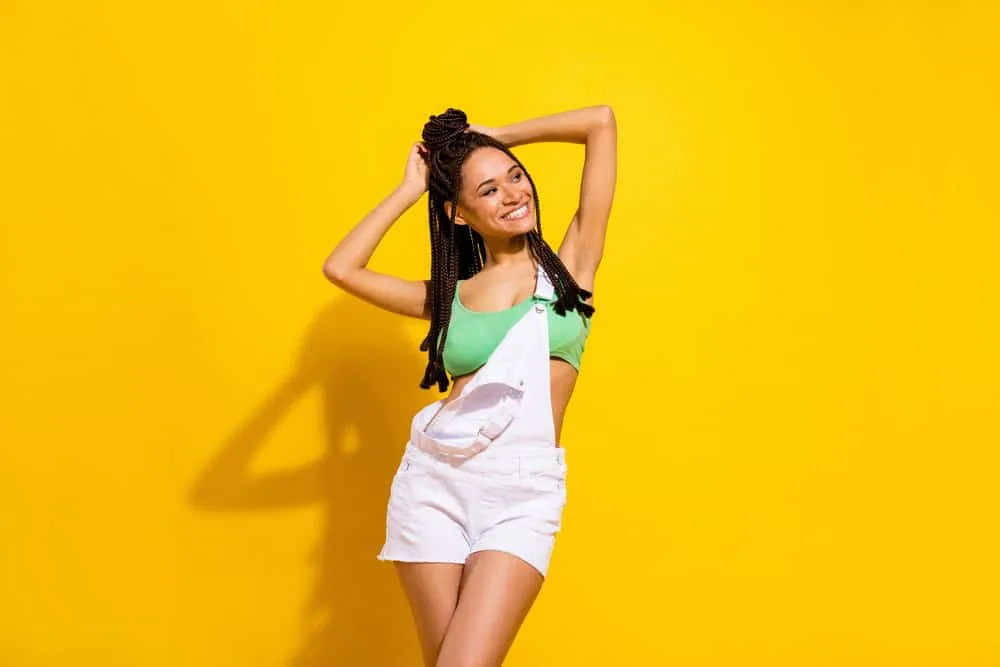 Ghana Braids
Ghana braids look incredibly similar to cornrows. They're straight back and anchored to your scalp. However, Ghana braids are typically larger than cornrows and have braiding hair interlaced throughout your natural hair.
That gives them a much more 3-dimensional shape. Due to their size, Ghana braids frizz up faster than smaller braids.
As a result, Ghana braids usually last for only two to three weeks. But with exceptional care, you may be able to preserve your 'do for as many as six weeks.
Micro Braids
Microbraids are similar to box braids; they're just done on a much smaller scale. In fact, micro braids are so small that they can look like loose hair from a distance!
While microbraids take several hours, their long life span makes up for it.
Unlike their larger counterparts, micro braids typically last an average of eight to twelve weeks. This is because micro braids don't restrict your ability to care for your scalp.
Additionally, their small size limits frizz along the length of each braid and makes your new growth more difficult to see.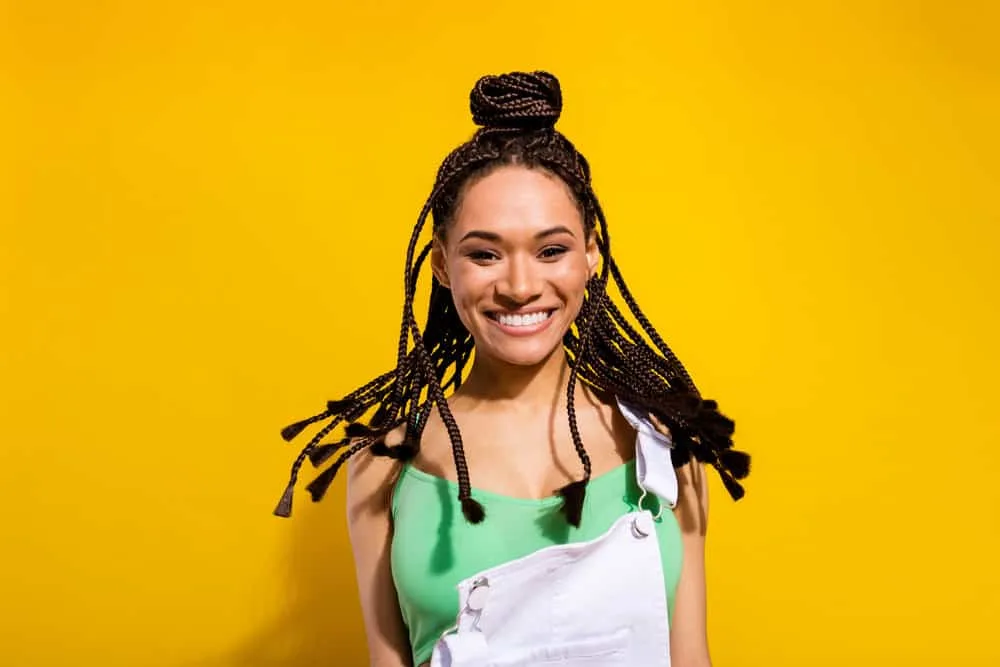 Senegalese Twist Braids
Unlike the other hairstyles on this list, Senegalese twists aren't technically braids. Instead, they're a twisted hairstyle. First, your hair is parted into a grid.
Then, braiding hair is added to each section and twisted from root to end.
Senegalese twists can be styled like your regular hair, making them one of the more versatile braided hairstyles. Depending on the texture of your hair and the braiding hair, Senegalese twists last for about six to ten weeks.
Knotless Braids
From a distance, knotless braids are virtually indistinguishable from box braids. They're long, loose, and have braiding hair added to your natural locks.
However, knotless braids are unique because of the way that your stylist installs them.
Regular box braids have a small knot where the extensions meet your own hair; knotless braids are seamless – no knots.
The no-knot look is aesthetically pleasing to some, but it results in decreased style longevity. Since there's very little braiding hair at the root, your natural hair peeks out after a short time.
Knotless braids last from 4 to 8 weeks on average due to frizzing at the roots.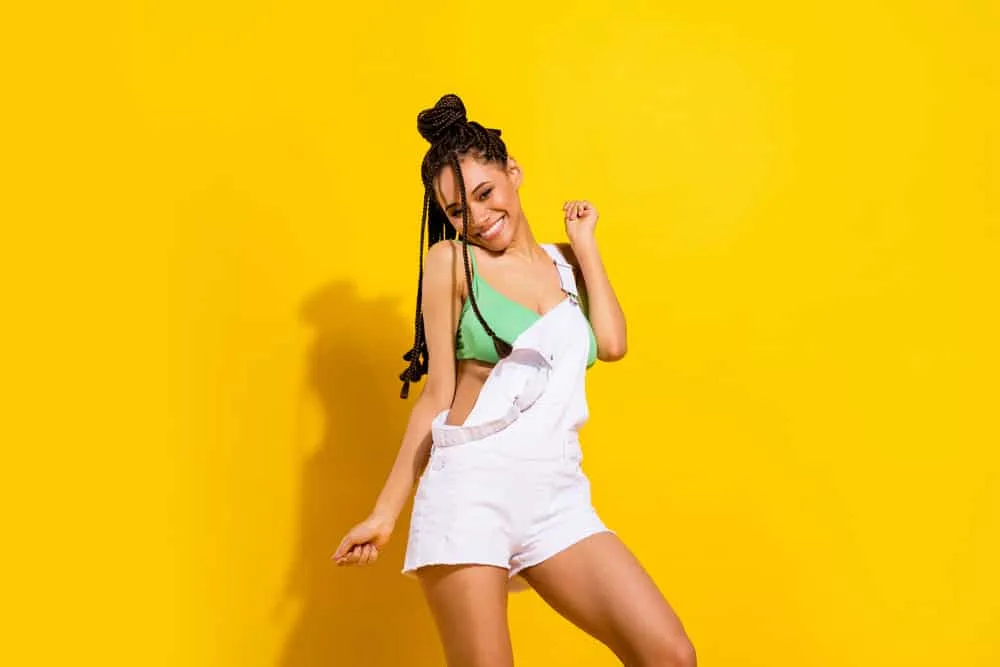 Fulani Braids
Fulani braids are a type of braided hairstyle that is well known for its stunning, intricate design. They include a mixture of cornrows and free-flowing braids and can be installed in any number of patterns. There's no doubt about it – Fulani braids are gorgeous. However, they don't last as long as other popular styles.
On average, Fulani braids only last three to five weeks with proper care. If you keep your braids in any longer than that, they'll frizz up and lose their neat appearance.
How Long Can You Keep Braids in White Hair?
The length of time your braids will last in white hair largely depends on your style and how well you take care of your hair. If you're wearing extensions, we don't recommend leaving the braids in your hair for more than three to four weeks.
How to Make Your Braids Last Longer
Braids tend to last for weeks, but they can start showing signs of wear after the first few days. Here are some of our favorite ways to keep braids looking fresh for weeks.
Wear a Scarf or Bonnet When You Sleep
Protecting your hair at night is probably one of the most important but overlooked aspects of preserving a braided hairstyle.
When you sleep on a traditional cotton pillowcase, the rough fabric sucks moisture from your strands. It can also lead to frizz. Cover your hair with a silk scarf or bonnet at night for the best results.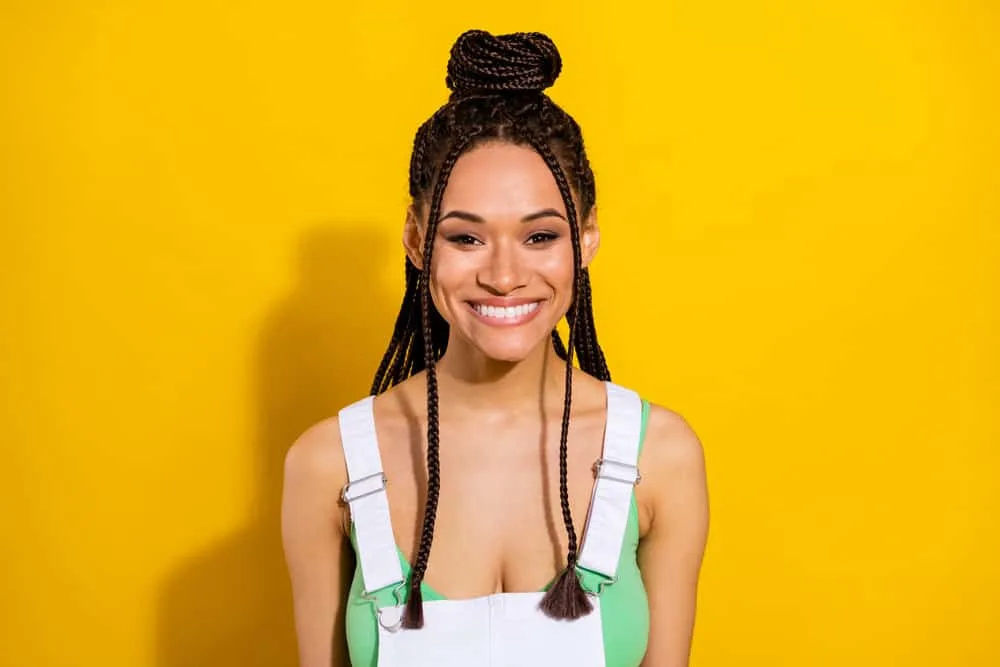 Moisturize Your Hair
The healthier and more moisturized your hair is, the better your braids will look. It may even help you squeeze out an extra week or two of wear. Additionally, moisturizing the braiding hair will help keep it soft and supple.
Wash Your Hair Less Often
Washing your braids too often will leave them looking fuzzy. However, you still want to ensure that your hair and scalp are clean.
Try a balance between washing your hair enough but not too often. For most people, this means washing their braids every couple of weeks.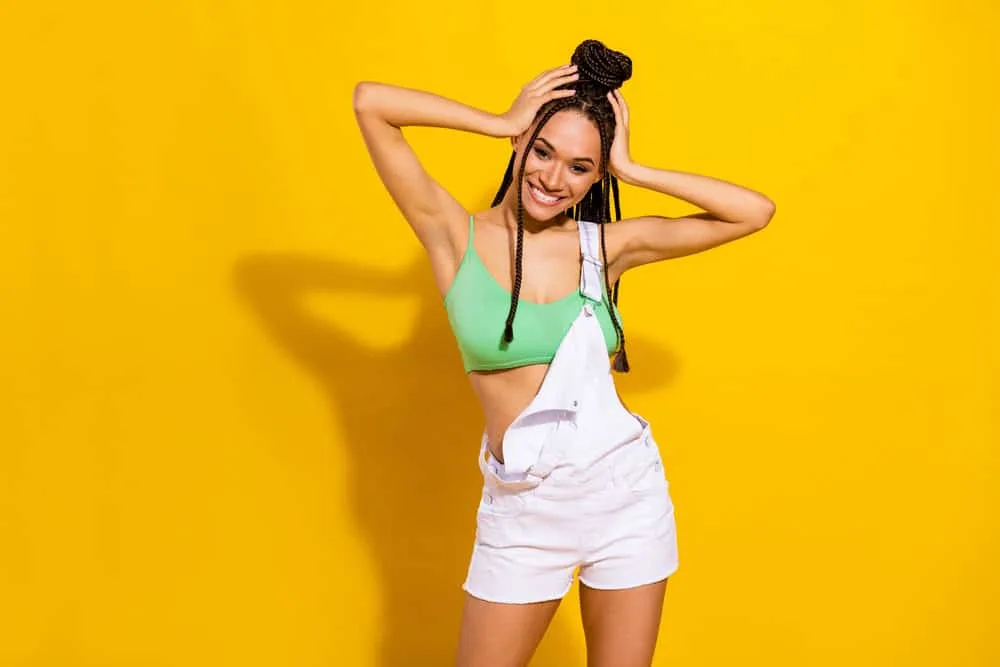 Get Your Braids Professionally Installed
We get it – who doesn't want to save a few hundred dollars by doing their braids on their own? While DIY braids are okay, getting your braids done by a professional can dramatically increase their lifespan.
Braiders can get a better grip on your hair as they braid it.
They are also highly experienced, so their braids come out tighter and neater. Just be aware that tight braids can cost you your hair. If a braider does your hair too tight, speak up at the moment and tell them to braid with a little less tension.
What Happens When You Keep Your Braids in Too Long?
Braids are one of the more durable hairstyles, but they don't last forever. While some people think squeezing a few extra weeks or months out of their style will help their hair grow, that couldn't be further from the truth.
The longer you leave your braids in, the more likely they are to become matted.
If you leave them long enough, they might even start to lock up! Matted hair can take hours to detangle and may even become so bad that you consider cutting your hair off.
To prevent this, make sure you only wear your braids for the recommended length of time. You can also visit your stylist after a few weeks to see if there's anything they can do to refresh the style.
So, there you have it! While the lifespan of braids varies depending on the specific style, most of them are incredibly long-lasting.
Your braids may last for more or less time, depending on the type of braids you choose, your hair type, and how well you care for them. And with that, we hope that you were able to find the answers to all of your questions today.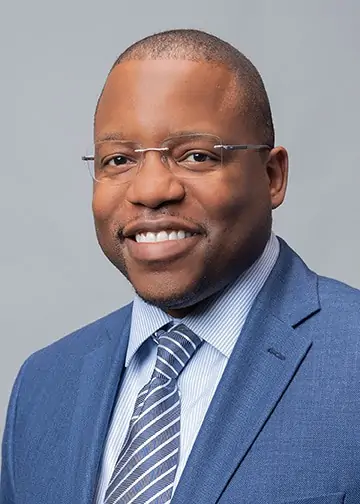 Kenneth Byrd holds a BS in Accounting and Management Information Systems and an MBA from the University of Alabama at Birmingham. With over 15 years of experience, Kenneth has been dedicated to hair care since 2008, when he co-founded Curl Centric® and Natural Hair Box alongside his wife. As a team, they promote healthy hair care practices through their comprehensive platform, Curl Centric. Curl Centric is a website operated by a husband and wife team that encourages healthy hair care. At Curl Centric, we aim to help our readers take control of their hair care journey and make good decisions about products, hairstyles, and maintenance techniques. We also have strict editorial integrity; here's an explanation of our editorial guidelines and how we make money.