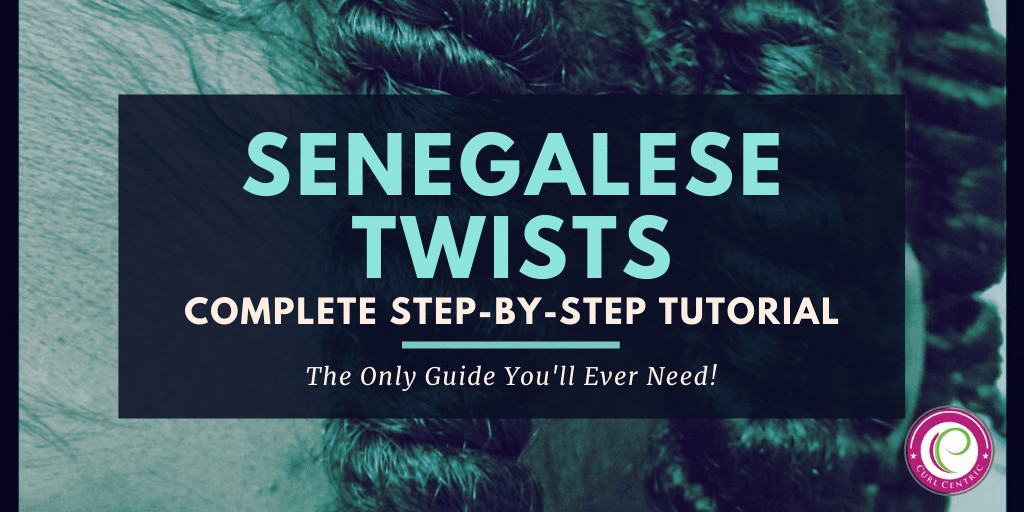 Senegalese twists, also frequently called rope twists, are a beautiful protective style that's extremely popular in the natural hair community. Chances are you've seen the long, flowy twists on a relative, friend, or even on the red carpet.
If you've been itching to try the style but realized that you have no idea where to start, this article is for you. In this article, we will tell you exactly how to do Senegalese twists (i.e., rope twists).
Overview of Senegalese Twists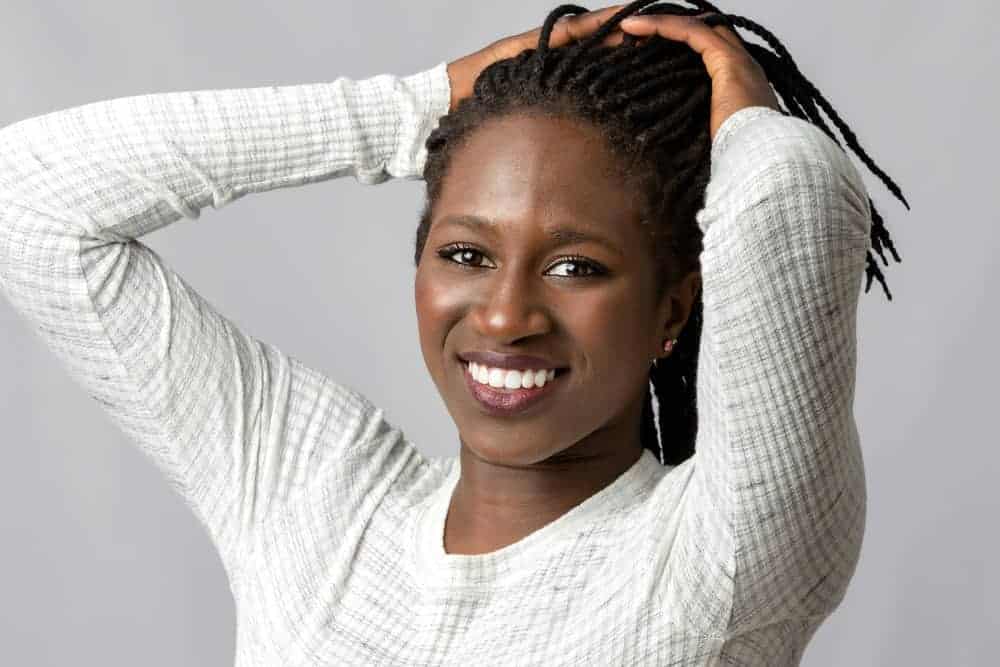 While there are many reasons someone may decide to go natural, some people attribute this movement to the resurgence in braided hairstyling options.
While ladies can do Senegalese twists without weave, it's common for women to wrap extensions around the root of their natural hair and twist the extension hair into each section.
Don't worry if that all sounds confusing. We provide step-by-step tutorials within this article.
What Do You Need for Senegalese Twists?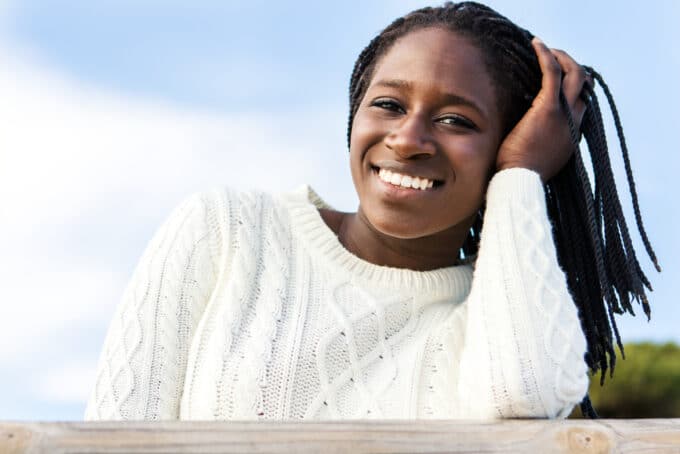 The first step in doing Senegalese twists is to gather all of the supplies you'll need during the hair prep and styling processes. See the below list for the necessary supplies:
Shampoo
Conditioner
Deep conditioner (optional)
Rattail comb
Wide-toothed comb
Hair extensions (i.e., braiding hair)
Edge control
Styling mousse
Rubber bands (optional)
Hot water for sealing
Denman Brush
Scissors
What Type of Braiding Hair Should You Use for Senegalese Twist?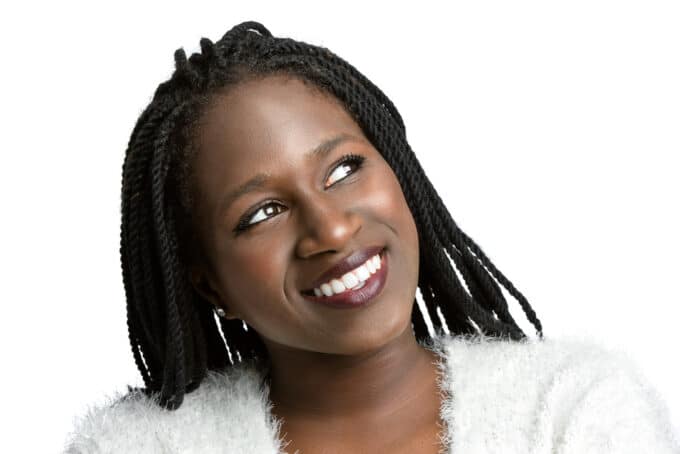 When it comes to Senegalese twists, you have several extension hair options to choose from. You can use synthetic hair, like kanekalon hair for silky twists, or go with bulk human hair for a more textured look.
Most people need about 5-8 packs of kanekalon hair or 3-5 bundles of human hair for a full head of Senegalese twists.
The number of bundles/packs you'll need will depend on how full you want the final look. For example, jumbo twists will use more braiding hair than a twist hairstyle with thinning twists.
How to Prepare Your Hair for Senegalese Twists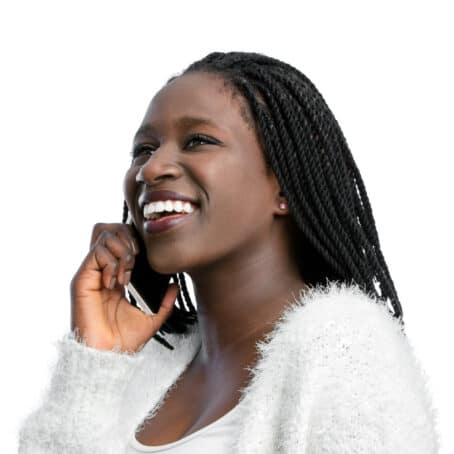 Before doing a long-term protective style, like Senegalese twists, you should always prepare your hair. This is a step that people in a rush often skip, but without prep, your twist style won't look as neat and clean or last as long.
This section will fill you in on how to prepare your hair before doing Senegalese twist styles.
Cleanse Your Hair Thoroughly
Some people believe that washing your hair before styling it is an option; it's not advisable to do a protective style on dirty hair.
This is because dirt and product buildup may be visible after the style is complete, and it's near-impossible to moisturize dirty hair. So, save yourself the headache and cleanse your hair.
We recommend that you refrain from using a harsh shampoo with sulfates, as they clean too well, leaving your hair completely stripped of moisture.
Instead, use a shampoo formulated with non-sulfate cleansers that are gentle to the hair and scalp.
You can find sulfate-free shampoo at your local beauty supply store, a department store, or online. Apply the shampoo and focus it on your scalp before bringing it to the ends of your hair.
Condition or Deep Condition Your Hair
Break out the conditioner immediately after shampooing your hair because you will need to replenish the moisture lost during that shampoo session.
Choose a conditioner with nourishing ingredients that will coat the hair strands and give your hair lasting moisture.
Glycerin, aloe vera leaf juice, and avocado oil are great ingredients to look for in conditioners. The conditioning step is crucial, as you won't be able to condition your hair thoroughly while it's in the Senegalese twists.
If your hair is in an extremely dry state, it may need more moisture than a standard conditioner can provide. In this case, you should deep condition your hair.
Apply the deep conditioner to your hair (separate your hair into a few sections first if your hair is thick) and comb it through with a wide-toothed comb to ensure that all of your hair is covered.
Leave the deep conditioner on your hair for the amount of time indicated on the product label, and then rinse it out.
Detangle your hair while it's covered in the conditioner – its slipperiness will make it easier for the comb (or your fingers) to glide through your hair.
Give Your Hair an Extra Dose of Moisture
For people with curly hair, hair dryness is often a big problem. But even if you don't have chronically dry hair, you could still benefit from moisturizing your strands before styling, as you won't be able to adequately moisturize your hair once it's in the Senegalese twists.
Apply a moisturizing cream or oil to your strands and distribute the product with your hands or comb it through with a wide-toothed comb.
Stretch Your Hair
Once your hair is clean, conditioned, and moisturized, you're onto the stretching step. If your hair is naturally coarse and curly or kinky, your hair will not blend in with synthetic extension hair.
There are many ways to stretch your hair – you can take your pick from the below methods.
Banding: For a heat-free stretching session, you can use ponytail holders. As soon as you're done moisturizing your hair, part it into four sections and wrap a ponytail around each section. Then wrap more ponytails around each of the four sections of hair from roots to tips. Once your hair is dry, remove the ponytail holders and comb out your hair.
Blow-drying: Another method of stretching your hair is blow-drying. While your hair is still damp, begin to blow dry your hair. Brush through your hair with a Denman brush while you blow-dry it so that it will start to stretch out.
Braiding: After moisturizing your hair, separate it into two or more sections and braid each section down to the ends. Once your hair is dry, take the braids down and comb through your hair gently.
*The stretching step is unnecessary if you plan on doing your Senegalese twists with kinky bulk hair (i.e., creating jumbo twists).
Feather the Extension Hair
Often, synthetic extension hair comes with the ends blunted, making it difficult to braid the hair down to the ends. If you open the extension hair and the ends are blunt, you'll need to feather the hair to prep it for the style.
To feather extension hair, take it out of the package, hold one end of the hair in one hand, and then use your other hand to pull up small sections of hair.
After doing this repeatedly for a couple of minutes, hold the extension hair in the middle and run your fingers through the hair. Now, the hair is ready to use.
How To: Senegalese Twists FOR BEGINNERS! (Step By Step)
Install Your Senegalese Twists
Now that your natural hair is prepped, it's time to install your Senegalese twists (or rope twists). Follow the below steps:
Use a rat tail comb to part out a section of your natural hair – this will be the base of your first Senegalese twist. Make the part a bit larger than you'd like your twist to be.
Apply oil to the parts to moisturize your scalp.
Apply edge control around the borders of the section.
Separate your natural hair so that you have two side-by-side sections.
Take a section of extension hair to add to your natural hair. Make sure it's a bit thicker than your natural hair.
Lay the center of the extension hair at the base of the section of hair you're working on. Ensure that both sides of the extension hair line up with your natural hair sections.
With your left hand, twist the left side of the extension hair together with your natural hair. Repeatedly twist the section to your right.
With your right hand, twist the other end of the extension hair together with the other natural hair section. Repeatedly twist the section to your right.
Once the extension hair is secure, cross the right section over the left.
Twist both sections of hair to the right and overlap the right section over the left.
Repeat the previous step repeatedly until you've twisted the hair to the ends.
Do steps 1-11 all over your head to complete the style.
Rubber Band Method
If you want to try a twisting method that puts less stress on your scalp, you can try the rubber band method. Here are the steps:
Part out a section of natural hair and apply oil to your scalp.
Apply edge control around the borders of the section.
Put a rubber band around the section, being careful not to wrap it too tight.
Grab a section of the extension hair and place it above the rubber band.
Begin three-strand braiding your hair with the extension hair, using your natural hair as one of the braiding sections.
Braid the hair down about an inch and then begin to twist the rest of the way down. You will need to separate one section in two and join it with the other two sections. Twist to the right and overlap the right section over the left.
Twist the hair repeatedly until you get to the ends.
Repeat the previous steps for the rest of your hair.
Seal the Ends of the Twists
If you want to be carefree with your twists without worrying about unraveling, you'll need to seal the ends. This will require you to boil some water and dip your braids.
Boil some water on the stove and then transfer the boiling water into a heat-safe container.
Put a towel around your shoulders.
Dip a few braids at a time into the boiling water, ensuring that they are entirely saturated before pulling them out.
Use the towel to dry the braids immediately after pulling them out of the water.
*This does not need to be done if you used bulk human hair, as it will remain secure on its own.
After you're done dipping and sealing your braids, use the scissors to cut away any stray hairs from the ends of the twists. After that is complete, apply the styling mousse from roots to ends, and then you're done!
How Long Do Senegalese Twists Last?
The longevity of Senegalese twists will vary from one person to the next. However, for most people, the style could last between a few weeks to two months.
How long the style will last depends on the following:
How well the twists were installed.
Whether you protect your hair at night.
Whether you constantly touch your hair.
How to Maintain Senegalese Twists
Senegalese twists are easy to maintain, which is one reason why the style is so popular. To keep your twists looking fresh, cover your hair up at night with a silk or satin bonnet.
Whenever your scalp looks or feels dry, apply some oil to rehydrate it. Lastly, if the twists around your edges begin to look too frizzy or unkempt, you can take out and redo those twists to make the style last longer.
Pros and Cons of Senegalese Twists
Senegalese twists come with several pros and cons, but many believe that the pros far outweigh the cons. You'll have to be the judge.
Pros
The style is protective, leading to increased length retention for most wearers.
There are many different ways to style Senegalese twists.
Anyone can do Senegalese twists.
The style is low maintenance, only requiring protection at night and occasional scalp oiling sessions.
Cons
The style can be costly when done professionally.
When twisted too tightly, the style can lead to hair loss around the edges.
The twists can be heavy, especially if too much extension hair is used in each braid.
Installation can take four or more hours in most cases.
Dos and Don'ts of Senegalese Twists
After reading the pros and cons of Senegalese twists, you may have decided that the style is for you. But before you do the style on yourself, take a look at the following dos and don'ts.
Do
Do take your time during installation.
Do regular maintenance on your twists to ensure that they last.
Do take your twists down after two months or risk hair loss and matting. This can often lead to thinning edges (i.e., baby hairs).
Do be careful with water while you're wearing twists, as water weighs your hair down and can increase frizz.
Don't
Don't add too much hair to each section. Keep in mind that long Senegalese twists (or jumbo twists) require a bit more hair than thin twists (or shorter style).
Don't twist your hair too tightly, as this can lead to headaches and hair loss.
Save Time by Using Crochet Braiding Techniques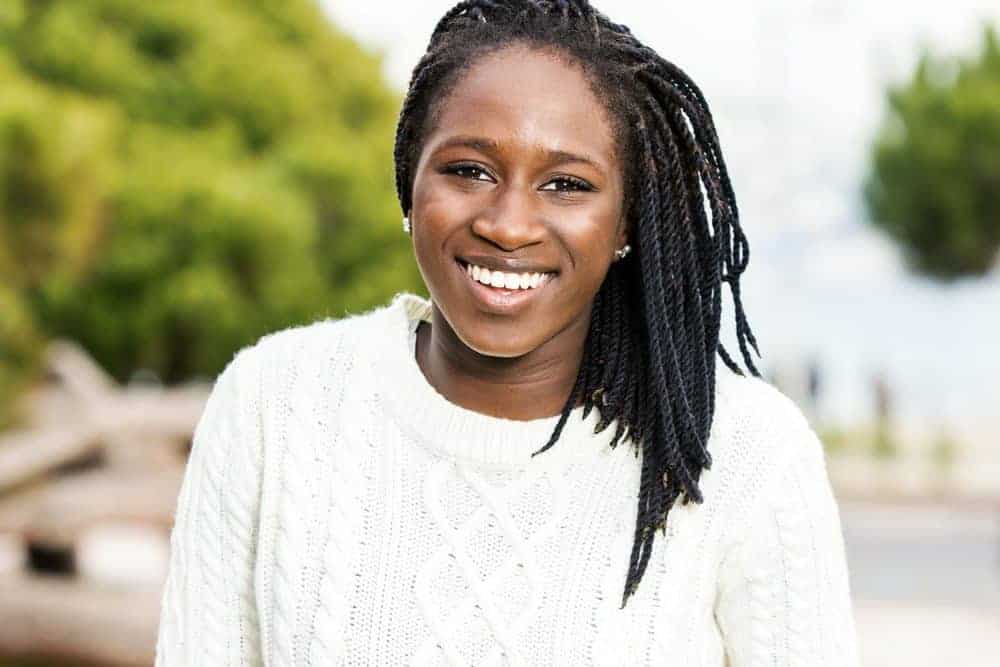 One common complaint about Senegalese twists is the amount of time required to install the braids. We often hear about six-to-eight hour installations, which can be a deterrent for some women.
One way to shorten the install time is to use the cornrow technique from the equally popular crochet braids hairstyle. This cornrow installation method has been adopted by the curl girl community.
When using this technique, Senegalese twists are called Crochet Senegalese Twists. The modified installation process reduces the installation time to approximately three hours (or less).
Senegalese Crochet Twists: Step-by-Step Guide
https://youtube.com/watch?v=rqM-f2RQpFc%3Frel%3D0%26amp%3Bshowinfo%3D0
India Davis, from My Natural Sistas, provides a tutorial on installing Senegalese crochet twists. This hairstyle is a great protective style, but it also looks very natural even though extensions are often used. Plus, India Davis uses a braiding pattern to create a high bun or a pineapple updo style easily.
It's also important to note that India uses pre-twisted hair, which is also a substantial time saver compared to traditional twisting methods. The products and supplies used include a crochet hook, needle, thread, and Kanekalon crochet braid hair.
Make sure that your hair is spaced out properly. You need to space your hair closely together in the front, in order to hide the cornrows, but don't overdo it when working in the back.
Best Practices That Will Improve Your Styles
Wash and Moisturize Your Hair
Make sure that your hair is clean and properly moisturized before you install the twists. Since you're not going to have direct access to all of your hair for at least the next month, you need to make sure that it gets moisturized thoroughly.
Use Simple Braiding Patterns
It's not necessary to create an elaborate braiding pattern if you decide to use the crochet technique. You can use straight, front-to-back cornrow braids, and the hairstyle will still look just as good.
If Time is Important, Use Pre-Twisted Braiding Hair
Since the time that it takes install Senegalese twists can often be a deterrent, the process is much faster if you purchase pre-twisted hair and use crochet braiding techniques.
You're Likely to Need Between Six to Eight Packs of Hair
On the other hand, if you are twisting the hair yourself, then the process is going to take a lot longer to accomplish. Thinner twists are going to require more packs of hair, while thicker twists are going to require fewer packs of hair.
As a general rule of thumb, eight packs of hair is a safe starting number. If you have thicker twists, you might get by with only a half-dozen packs, but eight packs are more likely if you fall on the thinner side.
How to Install Chunky Senegalese Twist
https://youtube.com/watch?v=LFGwDWothPk%3Frel%3D0%26amp%3Bshowinfo%3D0
Forever Cryssy does a fantastic job on YouTube creating easy-to-follow hairstyle tutorials, and this beginner-friendly chunky, jumbo Senegalese twists tutorial is no exception. It's very detailed and perfect for first-timers.
Senegalese Twist Hairstyles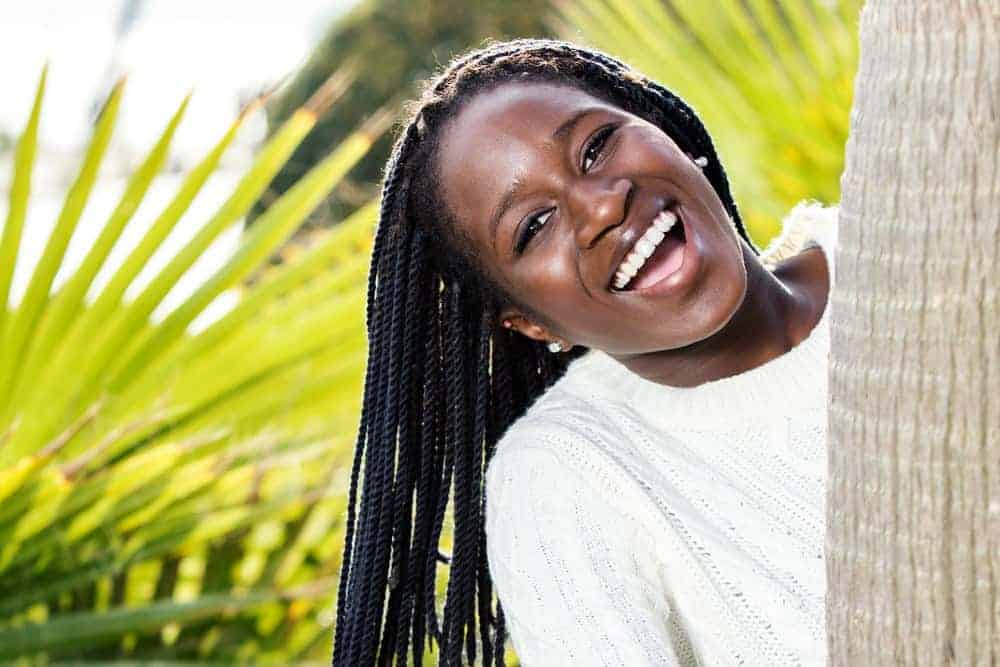 Senegalese twists are a favorite hairstyle of many black women. This gorgeous look and do-it-yourself convenience are two big reasons for the hairstyle's popularity. The following are several of our most-loved Senegalese twist hairstyles from popular Instagram pages.
Jumbo Senegalese Rope Twist on 4c Natural Hair
If you'd like to try twists that are above average, jumbo Senegalese is a good way to start. Massive spirals won't take as much time, and you can even try out hair colors that might be otherwise cumbersome to upkeep. Once your hair settles, play around with your parting for a while. Some experimentation can create the perfect look.
EASIEST PROTECTIVE STYLE | JUMBO SENEGALESE ROPE TWIST On 4C Natural Hair | RUBBER BAND METHOD
Trendy Short DIY Senegalese Twist Hairstyles
Short hairstyles are definitely in right now, so the fact that short Senegalese styles are showing up all over the place is pretty cool. Bob-length cuts are precise and clean looks, but the blunt edges are quite trendy. Try glamming them up using metal cuffs.
*Short Senegalese Twist* on short/medium natural hair
Mohawk Braids
Initially, the Mohawk served as a symbolism of rebellion, but it's also now a modern staple in the larger collection of hairstyles of African-American women. The Mohawk gets even bolder when the sides are shaved. By doing this, you can enjoy a style which is both feminine and fierce.
https://youtube.com/watch?v=jVVvx7JbWb8%3Frel%3D0%26amp%3Bshowinfo%3D0%26amp%3Bstart%3D36
How long do Senegalese twists take?
Six, seven, or eight hours is a common timeframe for installing Senegalese twists, and that length of time certainly deters some ladies from wearing the twist style. Using Crochet Senegalese Twists is one way to speed things up.
This modified process of installation cuts the time in roughly half. You can expect Senegalese twist hairstyles to last you a month or two, although it does depend on the installed hair quality, the braid pattern intricacies, and of course, your individual maintenance routine.
Given that braids should be a longer-term protective style, stay mindful that you must continue to care for your natural hair too.
We're confident that you are now well equipped to do pro-level Senegalese twists (or rope twists)! We hope that this article is helpful to you in your styling endeavors.