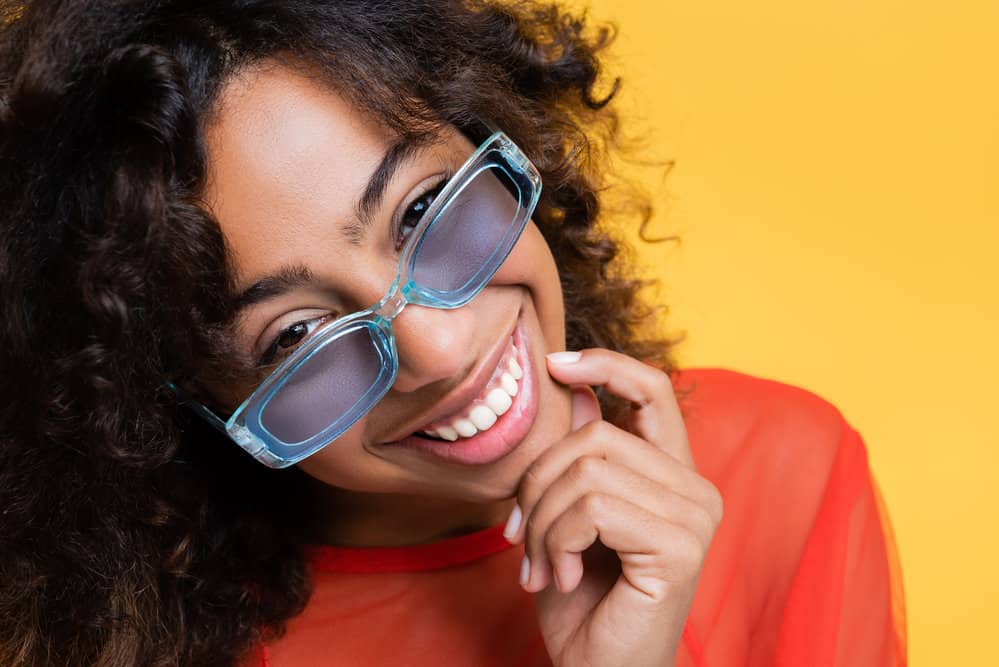 When you've got a straightened hairdo, water is your worst enemy; it can ruin your hair instantly. And although you can completely avoid water most of the time, you still have to deal with it whenever you step into the shower.
Luckily, there are several things you can do to keep your hair dry in the shower, and that's what we'll be exploring in this article. Let's get right into it!
How to Keep Your Hair Dry in the Shower
Taking a shower is a great way to unwind before or after a long day. But how relaxing can it be if you're worried about keeping your hair dry the whole time?
To help put your mind at ease, here are some reliable tips you can use to keep your hair dry in the shower.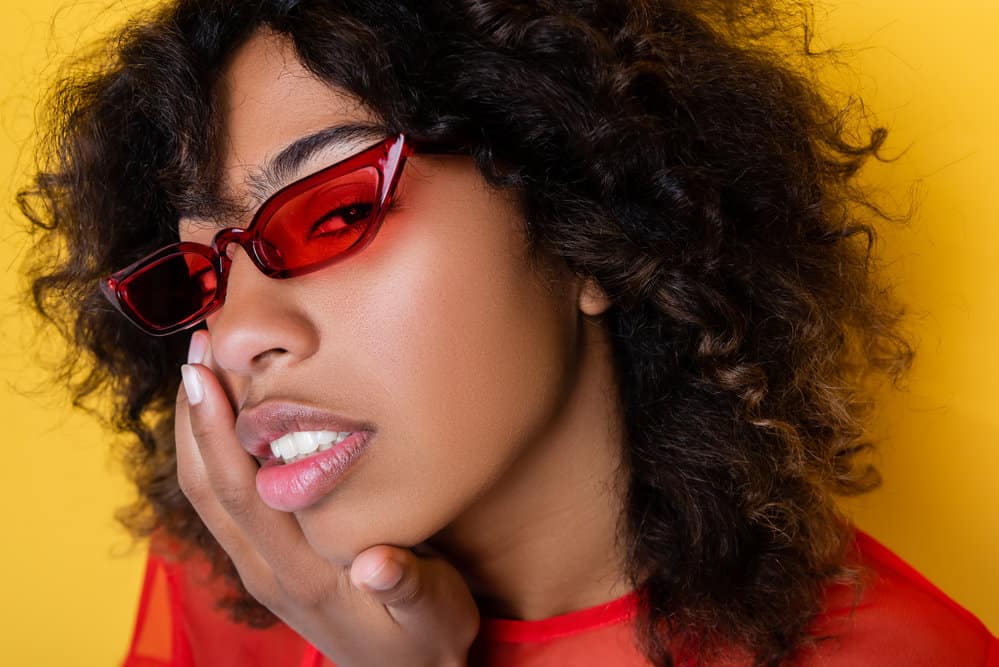 Wear a Shower Cap
One of the most effective ways to keep your hair dry during your shower is to protect it with a shower cap. Most shower caps are a type of waterproof, tight-fitting cap that provides a physical barrier between your hair and water.
They can also help block out steam and wick away sweat, depending on the material they're made of. You can choose between plastic disposable shower caps and reusable ones made from a sturdier material.
Note: Some ladies opt for wearing a plastic grocery bag (aka cheapie shower caps) to ensure that their hair remains dry when showering.
Turn Down the Heat
The hotter your shower is, the more steam it will generate. Even if you keep your hair away from the water, your hair will react to moisture in the air and start to frizz.
Keeping the temperature of your shower low will help reduce steam production. And the benefits don't stop there! Cold showers are excellent for your skin and leave you with a gorgeous, healthy glow.
Adjust the Angle of Your Showerhead
Another way to keep your hair dry while you shower is to adjust the angle of your showerhead. When your showerhead is aimed at your head, it's much more challenging to keep your hair out of the line of fire.
Instead, keep the showerhead angled towards your chest or lower.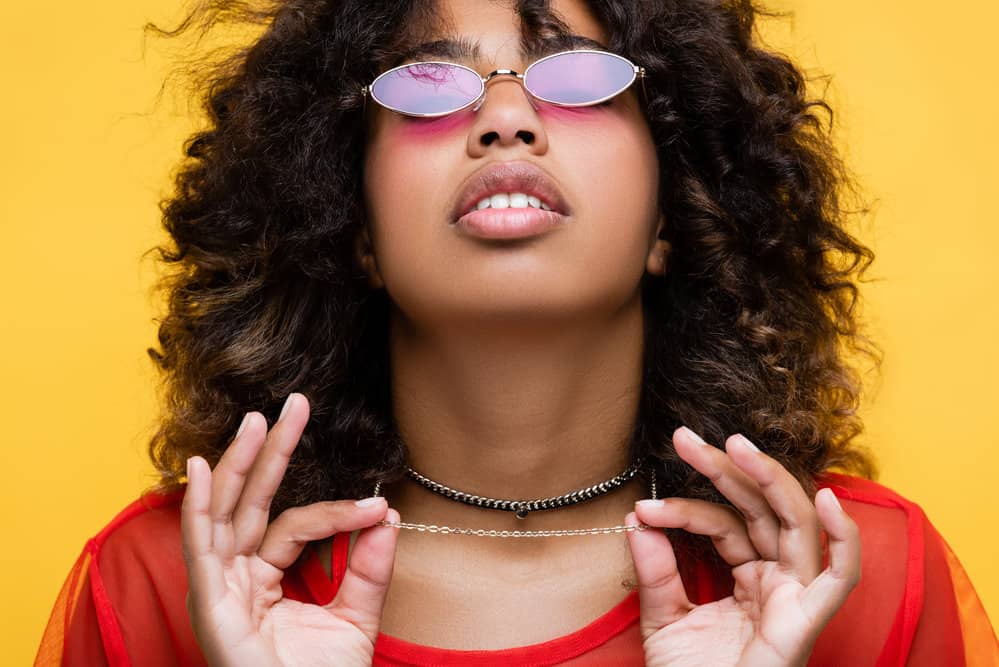 Take a Bath Instead
If keeping your hair dry is a top priority for you, consider opting for a bath instead of a steamy shower.
Baths don't create as much damp air as showers do – they also don't expose your hair to a steady stream of water. If you have long hair, just make sure you pull your hair up and off your shoulders, so your ends won't fall into the water.
Use a Handheld Showerhead
When it comes to keeping your hair dry during a shower, sometimes the most straightforward solution is also the most effective. Handheld showerheads help you direct water where you need it and keep it away from areas you don't want to get wet.
They're also super convenient and can make rinsing hard-to-reach areas a breeze.
You don't have to be an experienced plumber to upgrade your shower. You can install most handheld showerheads in a matter of minutes!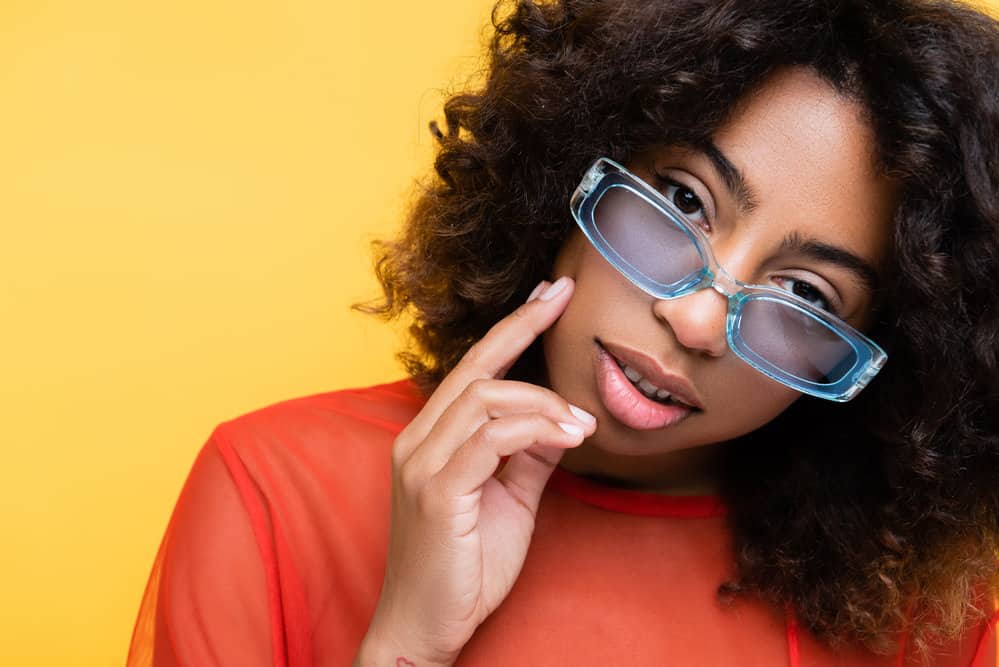 Make a Makeshift Shower Cap
Don't have a shower cap on hand? We've got you covered! In a pinch, wrap a towel or plastic shopping bag around your hair.
Both will protect your hair from the water and help your keep your strands dry.
However, they don't create a water-tight seal, so you may have to touch up parts of your hair when you finish.
Put Your Hair Into a Top Knot
This simple method doesn't require any special tools or equipment, making it perfect for when you're traveling or in a rush. A top knot limits the amount of hair exposed to the damp air and makes it easier to keep your hair away from the stream of water.
To give this method a try, all you have to do is pile all of your hair onto the top of your head, create a bun, and secure it with a hair tie.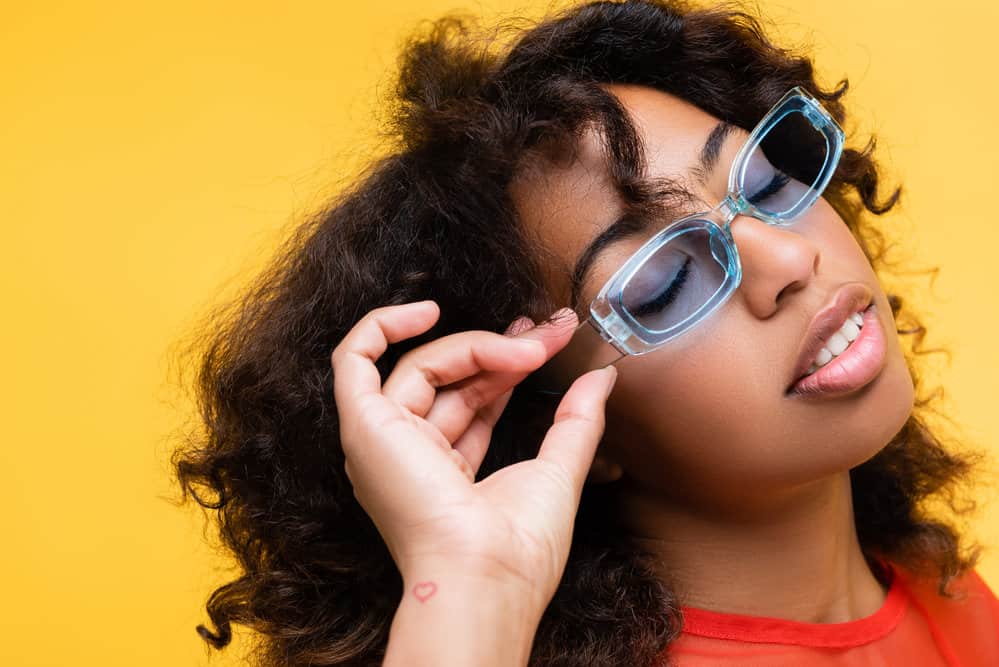 Open a Door or Window
While keeping your hair from going under the stream of water is simple, avoiding humidity is a more significant challenge.
You can stop your bathroom from getting foggy by ensuring adequate ventilation. Open a door or window so the moist air can escape rather than build up.
3 Best Shower Caps for Shower-Proofing Your Hair
A high-quality shower cap will keep your strands dry and help preserve your style. Don't know where to find one?
Here are our recommendations for the three best shower caps for shower-proofing your hair.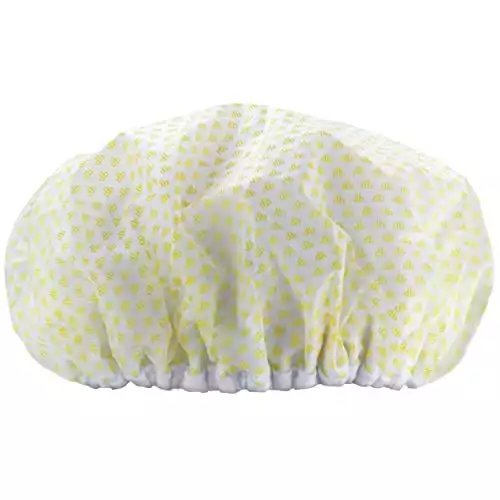 Drybar's the Morning After Shower Cap has a waterproof outer shell that stops water in its tracks. It also features a luxurious terrycloth lining that absorbs moisture and steam.
The extra large-cap is roomy enough to accommodate long or voluminous hair, and the cotton-lined, strong elastic band provides a comfortable but firm fit.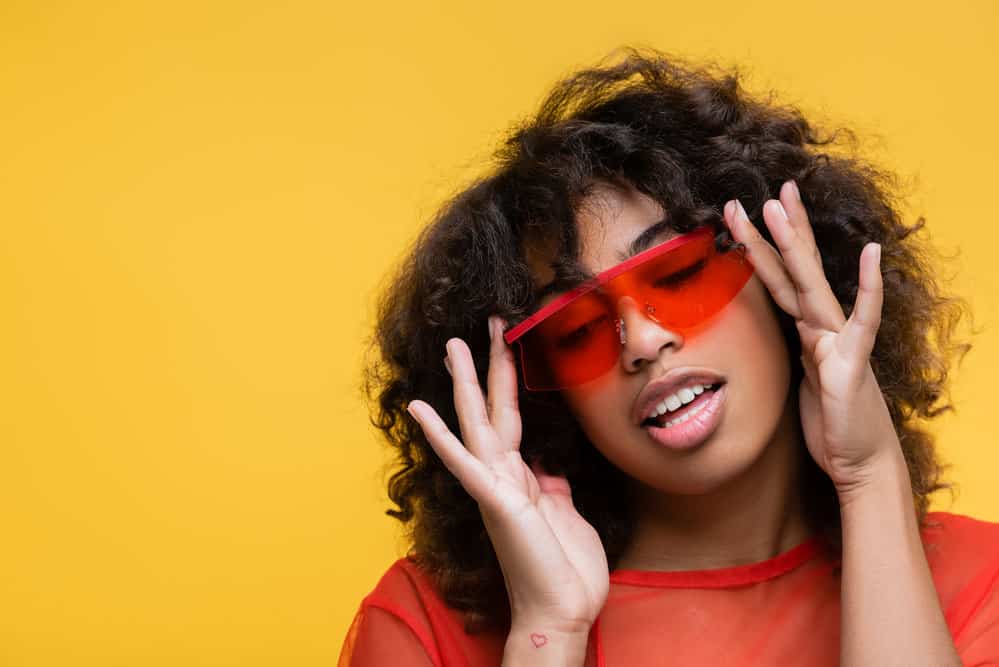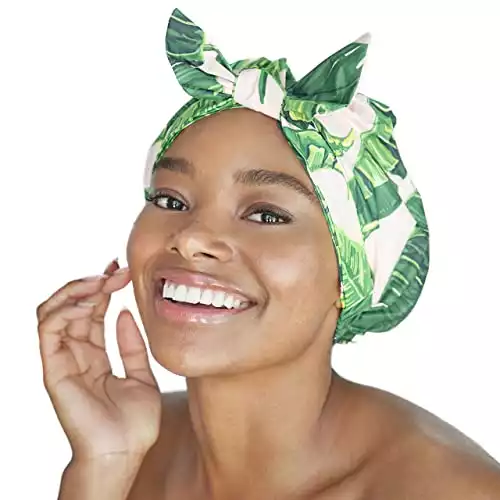 This ultra-cute shower cap looks so good that you won't just want to wear it in the shower. It's comfortable, waterproof, and stretchy enough to fit most head sizes and accommodate most hair lengths.
The no-slip silicone grip keeps your cap in place, while the protective outer layer keeps your locks dry and well protected.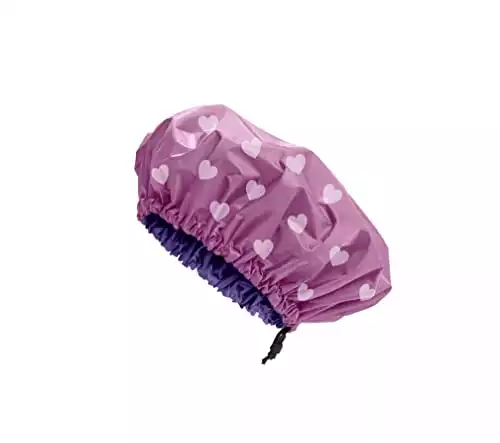 This lightweight shower cap has a soft, satin lining that protects your hair. The adjustable drawstring means you can create a comfortable fit regardless of your hairstyle, thickness, or length.
The best part? This cap is reversible!
Flip it inside out, and you can use the waterproof outer layer to lock in moisture during a conditioning or coloring treatment.
Top 3 Handheld Showerheads to Keep Your Hair Dry
Are you searching for a new handheld showerhead? If so, we thought we'd save you the trouble of pouring over hundreds of different options.
Here are our picks for some of the best handheld showerheads available.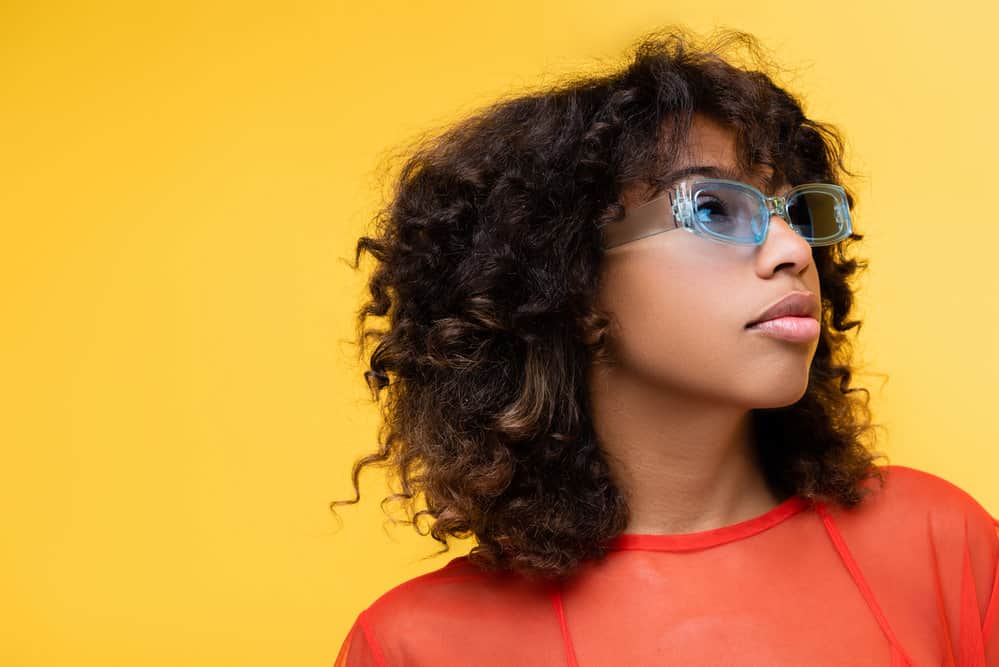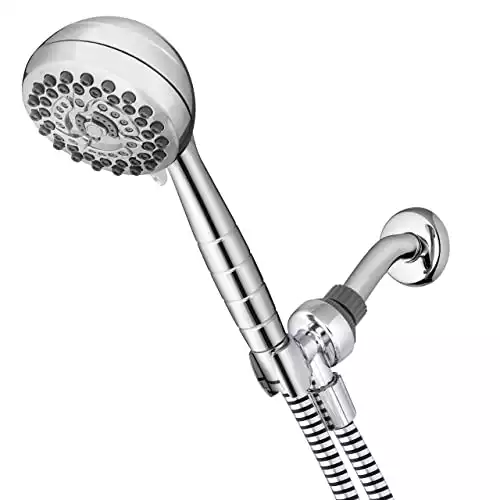 The Waterpik PowerPulse is clinically proven to soothe muscle tension, promote a good night's rest, and improve your flexibility. It gives you a luxury shower experience while keeping your hair as dry as possible.
This showerhead requires minimal installation and includes seven spray modes for a fully customizable shower experience.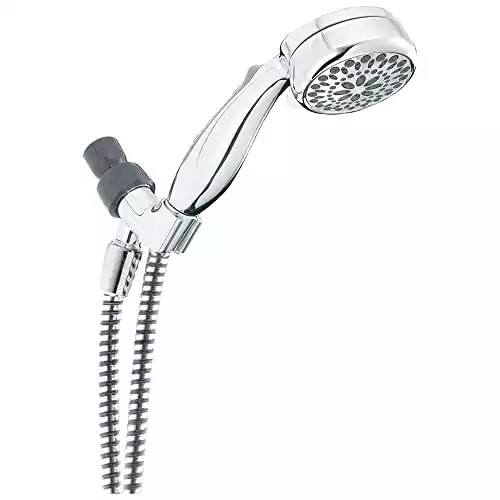 This stylish and affordable showerhead has over seven spray settings, so you can control precisely how much water you use.
The 60-inch hose means you can maneuver the showerhead to get those hard-to-reach areas while keeping your strands perfectly dry.
The easy-to-clean shower head lets you quickly wipe away calcium and lime buildup. No soaking or harsh chemicals are necessary!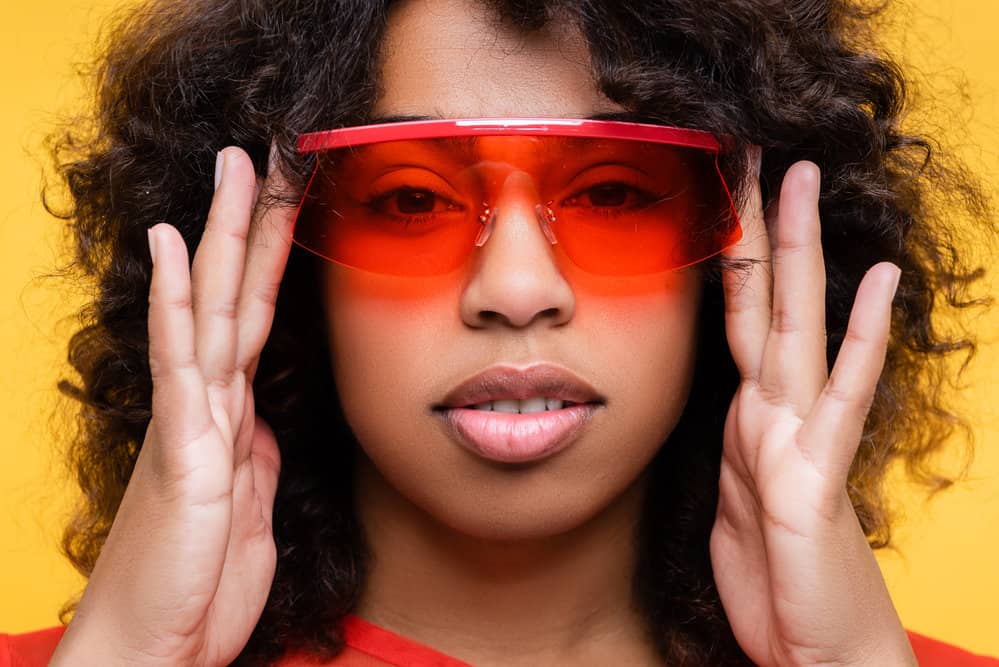 This easy-to-install hand shower has a 75-inch hose so that you can comfortably direct water away from your hair. Using its 6 spray settings, you get to shower on your terms, whether that means you want a powerful water massage or a gentle trickle.
As a bonus, the filter removes drying chlorine, heavy metals, and minerals before they have a chance to settle on your strands. With regular use, you'll notice healthier hair and skin.
You can't go wrong with any of the above picks!
Now that you know how to keep water off of your strands, you can stop worrying about your hair and focus on enjoying your showers.
While each of the methods we've discussed is effective on its own, combining two or more will give you even better results! We hope the information we've covered was exactly what you were looking for to keep your hair dry while you shower.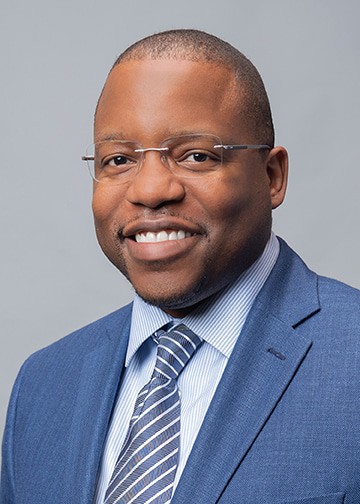 Kenneth Byrd holds a BS in Accounting and Management Information Systems and an MBA from the University of Alabama at Birmingham. He is a serial hair blogger that has been writing about hair care since 2008, when he co-founded Curl Centric and Natural Hair Box. Curl Centric is a website operated by a husband and wife team that encourages healthy hair care.