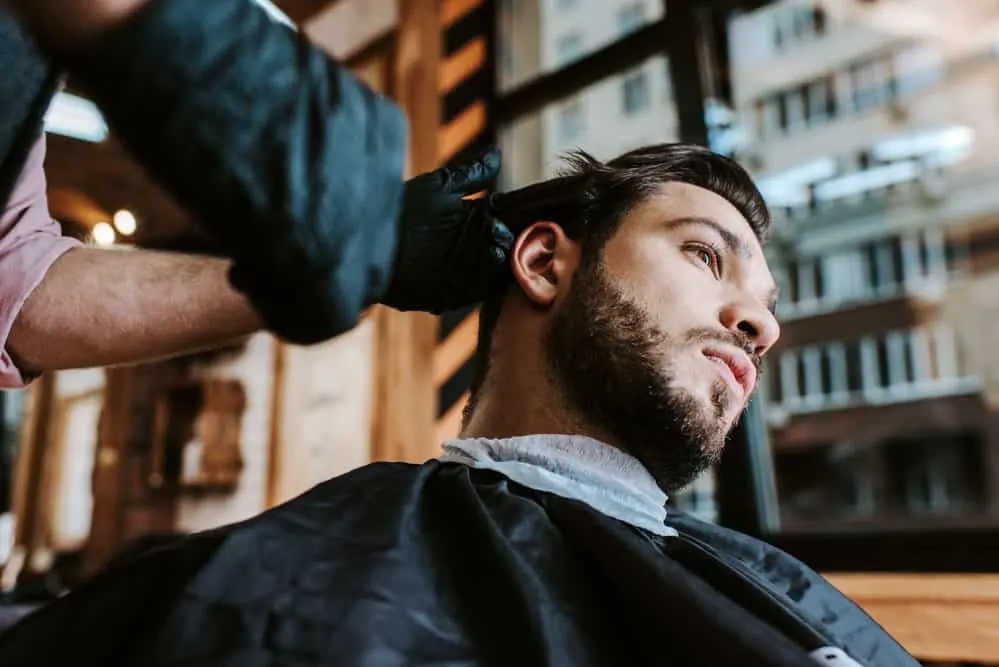 When searching for a new haircut, it only makes sense to start with what's trending. From fades to buzz cuts to mohawks, you've got lots of options to choose from.
But one cut type stands out amongst the rest: the Edgar cut.
It's an interesting cut that resembles the shape of a bowl and features a close crop on the sides and in the back. If you're interested in learning about this cool cut and the many ways you can wear it, this article is exactly what you need.
Keep reading for 12 Edgar cut styles to transform your entire aesthetic!
12 Edgar Cut Styles With Step-By-Step Tutorials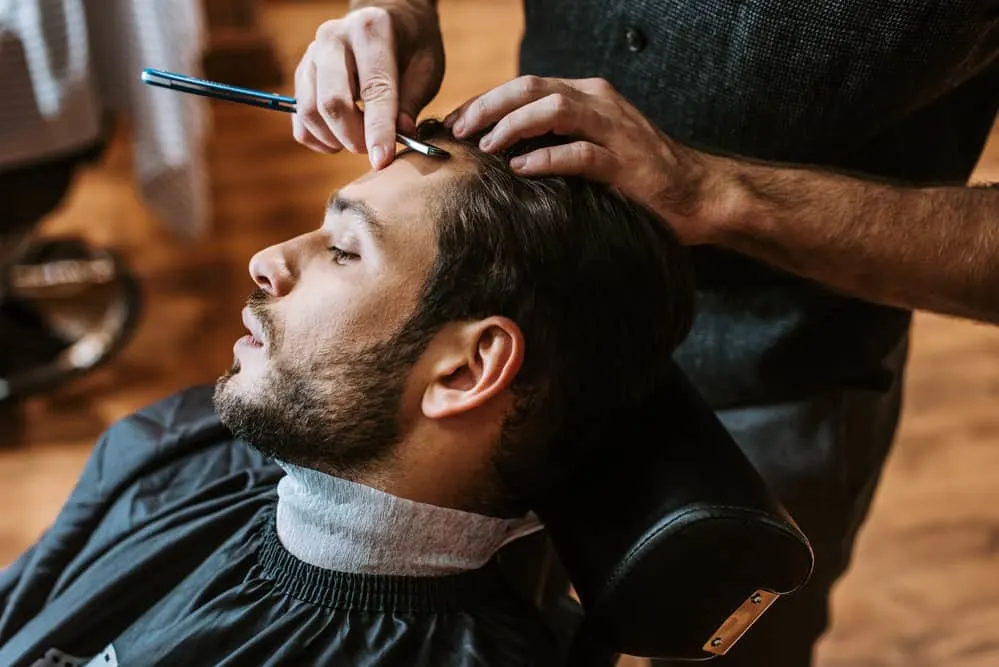 We've always been fans of Edgar haircuts because it's a classic short style with clean lines for young men. Although, there are a few styles on this list that are ruggedly handsome without hard-defined lines. This list includes several classic Edgar haircuts for men but also a few new ones that are sure to turn heads.
1. Traditional Edgar Cut
If you like the look of the quintessential Edgar cut, then the traditional Edgar cut is right up your alley. The hairline is crisp, clean, and straight, and the sides and back are faded seamlessly into the higher top.
The main appeal of this cut is that it's so short that it doesn't require a ton of daily styling; no matter where you go, you'll be ready with a cut to fit every occasion.
The classic Edgar cut is often worn by Mexican teens, though you don't have to be part of this demographic to rock it. Just be aware that it works best if you have super thick hair.
If you want to give this look a try, first take a look at this video to get an up close and personal look at how it's done.
2. Edgar Cut with Drop Fade
Is your hair on the straighter side? Go with an Edgar cut with a drop fade. The cut has the typical features of a bowl cut but with a drop fade in the back.
Most guys have tried a drop fade at some point, and if you haven't paired a drop fade with an Edgar cut, you're missing out. The drop fade adds an angular vibe to the cut, making it perfect for anyone whose personality is a little bit extra.
If your hair is on the longer side, don't take too much of it off. Leaving a couple of inches of length at the crown gives you some room to play around with texture and volume for some variety.
The drop fade can be a little more difficult to accomplish than a classic fade, so unless you're well-versed in cutting your own hair, we recommend you go to a professional who can get this cut right.
Whether you take our advice or not, check out this YouTube video to see how the drop fade Edgar cut is done.
3. High Fade Edgar Haircut
If you have short hair and want to keep it short, a high fade Edgar cut might be just right for you. This high fade haircut features every aspect of a typical Edgar haircut with a high fade along the sides and back.
Go for this haircut if you want a subtle look without too much extra flair. It's understated enough to work for just about every occasion, from the most casual to the most formal.
Watch this video to see how a professional barber does a high fade.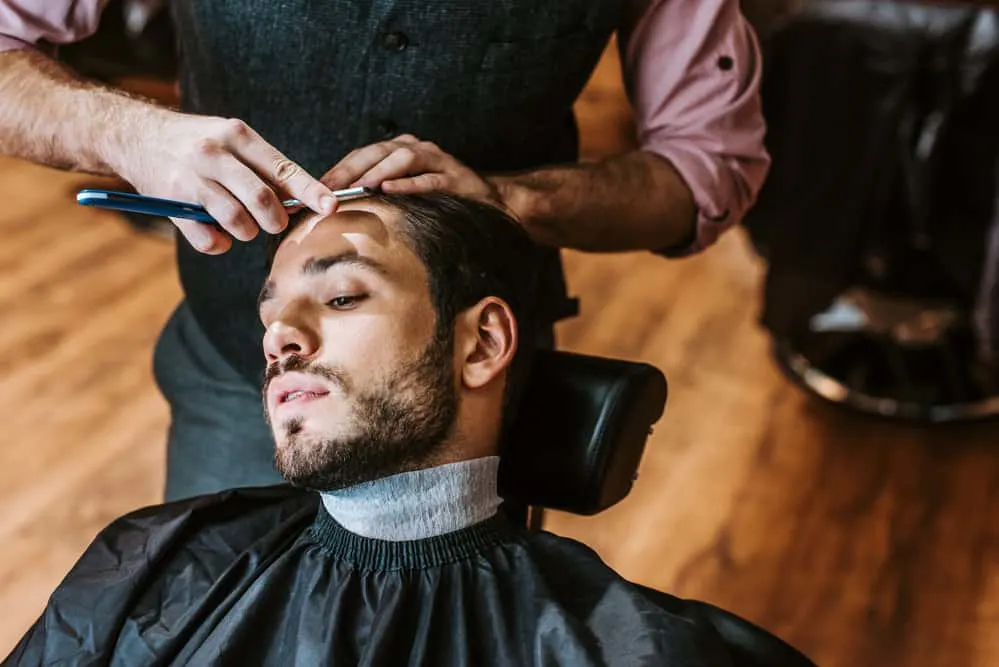 4. Fluffy Edgar Haircut
Do you have some length on top and want to keep it? Then the fluffy Edgar cut might be the ideal cut for you! It's got typical short faded sides and back but features some serious texture up top.
You can maximize this texture with a little Gorilla Snot gel and some zhushing, and if you want to take things a step further, go super bold with an undercut or a skin fade along the sides and back.
This Edgar cut is ideal for anyone who wants to add some height to their frame or some length to their face. It'll especially complement your look if you have a round face or if you're a little on the shorter side.
Just keep in mind that since your hair will be kept relatively long at the crown, you'll have to focus intently on keeping it clean and styled. If you don't have time to devote to hairstyling and maintenance between appointments, opt for a shorter Edgar cut.
Want to see how the fluffy Edgar cut is done? Watch this video for a visual demonstration from start to finish.
5. Edgar Cut with Mid-Fade
Pairing your Edgar cut with a mid-fade is one of the coolest ways to get in on the trend. In case you're not familiar, a mid-fade is a cut where the hair at the back is taken almost all the way down to the skin.
Then, the shorter hair is faded into the longer hair at the crown.
The result is a more dramatic look than you'd get with a regular Edgar cut. Why? It's all in the contrast. The longer hair at the crown contrasts with the super short hair at the back to make your cut really stand out.
If you don't like attention, you might find that this cut is a little too much for you. But if your personality meshes with this aesthetic, the mid-fade Edgar cut is the cut for you.
Whether you'll be getting this cut done professionally or not, it's always a good idea to see the hair-cutting process in action. Here's a step-by-step video of how the mid-fade portion of this cut comes to life.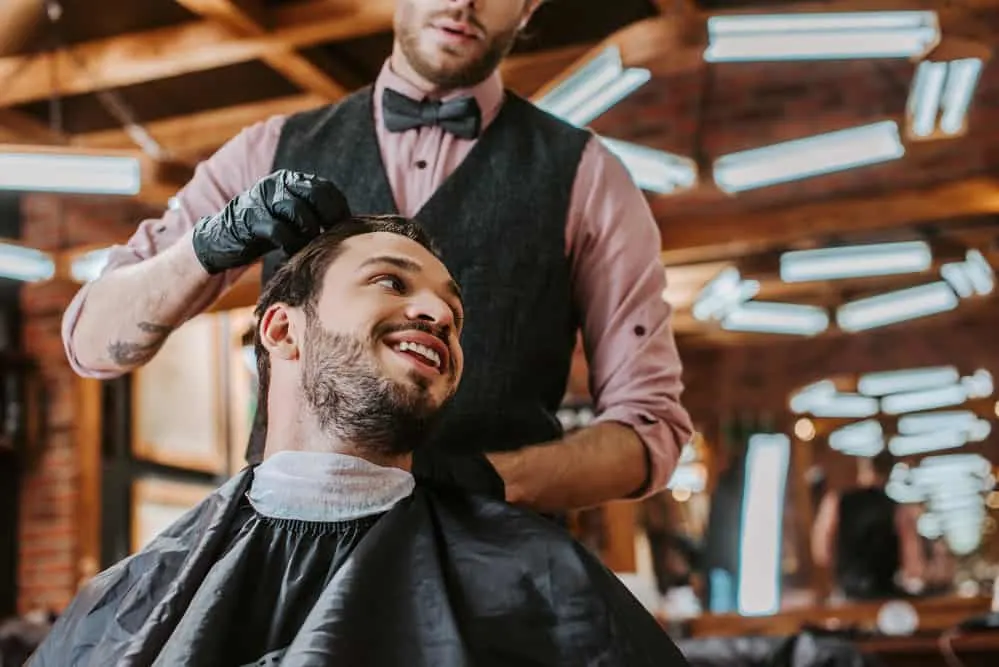 6. Light Brown Edgar Cut
One thing you'll see when you do Edgar cut research is that most people wear their cut in a dark color–usually brown or black. If you're into shaking things up without going too overboard, it may be a good idea to go light brown.
It adds another layer of dimension that makes others do a double-take.
To achieve the light brown color, you can use a box dye in the brown color you want. But if your hair is extremely dark and you want to go super light brown, you may want to ask your stylist to bleach your hair to your desired tone.
Get all-over color for a uniform result, or try only coloring the top portion of your hair for a color-blocking moment.
To see how an all-over light brown Edgar cut looks, watch this video.
7. Curly Edgar Cut
Did you think you were left out of the Edgar cut trend just because you have curls? That's not the case! The Edgar cut really does work for all hair types, even the curliest of the curly.
This specific Edgar cut features loose curls that add a lot of dimension and volume to the look.
Not just anyone can pull off a good curly Edgar cut, so if you're planning on having your cut done by a professional, it's a good idea to go with one that knows curly hair.
Curls can be more difficult to cut than straight or wavy hair since it shrinks as it dries. So, be selective with who you choose to do your cut.
Just know you don't have to have curls to get a curly Edgar cut. With the right hot tool or curling rods, you'll be able to get the look with straight hair.
To get the most out of your curly Edgar cut (with natural curls), get yourself some curling cream or a leave-in conditioner and run it through your damp hair to revive your curls in the morning. It'll keep your curls in place all day long.
Want to learn more about how to achieve the curly Edgar cut? Check out this video!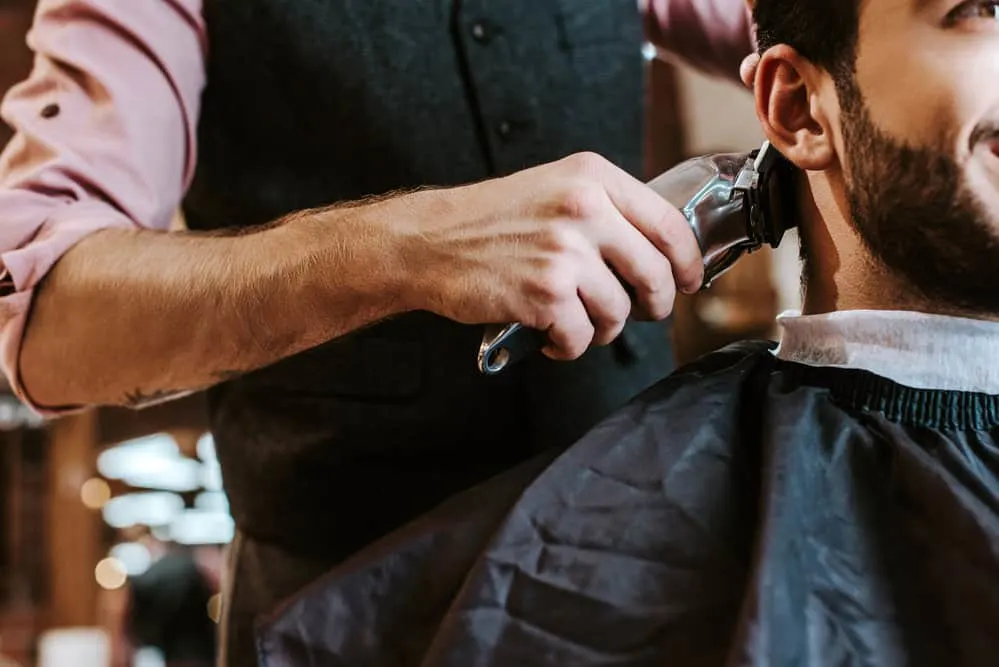 8. Edgar Cut with Taper Fade
If you're looking for an Edgar cut with a smooth gradient, consider an Edgar cut with a taper fade. Instead of a harsh line of contrast between the hair at the crown and the hair on the sides and back, this cut has more of a graduated quality.
When you go in, your barber will ensure the sides and back of your head fade seamlessly from the crown down.
The great thing about this cut is that almost anyone can pull it off. Since it's short, you don't need a lot of hair to get it. In addition, it'll look good regardless of your hair type.
To see how the taper fade portion of this cut is brought to fruition, watch this video demo.
9. Kinky Edgar Cut
We'll bet most people have never seen a kinky Edgar cut before, but it's entirely possible to pull it off with the right skills and tools. The kinky Edgar cut has a relatively low profile, with the crown left a little longer than the rest.
HOW TO GET CURLY HAIR IN 10 MINUTES! (EASY BLACK MEN'S TUTORIAL)
The look is on the edgier side, but can still be considered versatile enough to fit most occasions. One of the best things about this cut is that it's got a lot of volume, mainly due to the texture and density that kinky hair tends to have.
The versatility of this cut shouldn't be understated. It can feature a low fade, mid fade, high fade, undercut, or any other stylistic element you can think of to make it your own.
If you have kinky curls and want to jump on the Edgar cut bandwagon, the kinky Edgar cut is the ultimate style for you!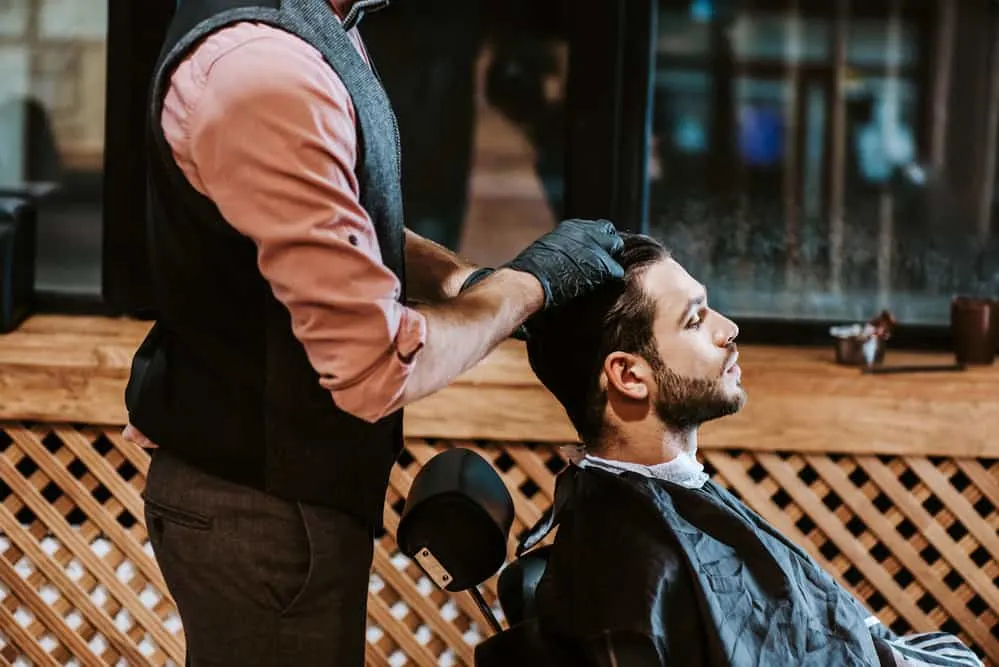 10. Edgar Cut with Mullet
The mullet has been a trend for decades, and its popularity remains to this day. Why? Because it sets wearers apart from the crowd with its out-there shape. When you pair your mullet with an Edgar cut, it amplifies the effect several notches.
The cut features the quintessential Caesar crop, which transitions into a much longer back. One thing's for sure: you've got to have a huge personality to pull off this cut. It's modern enough, but it's not something you see every day.
It takes a very skilled barber to pull this off, so we don't recommend trying this cut on your own. There's a very fine line between a good mullet/Edgar cut and a mess of hair that looks unkempt.
11. Long Edgar Cut
Up until this point, you might have thought you could only play with the back and sides of the cut to personalize it. But that's not true. The long Edgar cut is similar to a typical Edgar cut, but the front is left considerably longer, resembling a bang.
You might like the long Edgar cut if you have hair loss or a receding hairline, as it'll help to conceal those issues. But that's not the only case in which you might want to wear your Edgar cut long.
The front portion can also frame and elongate your face. The best part is that you get to style your bangs however you want from day to day for a fresh look each time.
This Edgar cut can also be used to transition from long hair to a shorter Edgar cut. That way, you won't have to take a huge leap at once. Here's a short video showing an Edgar cut with a longer front.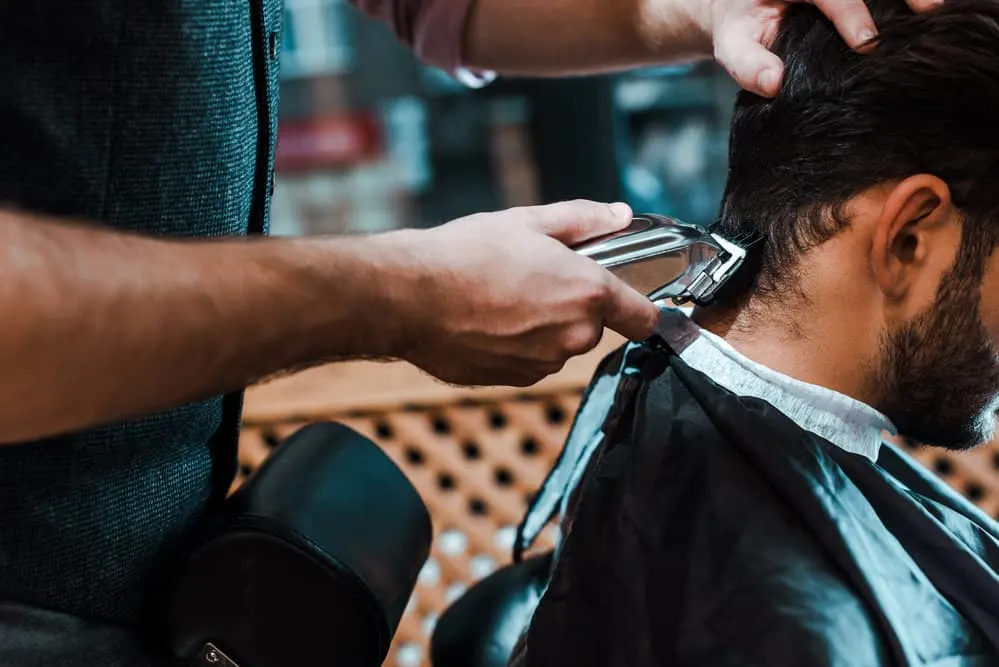 12. Wavy Edgar Cut
Anyone with natural waves can get an Edgar cut to put them on full blast. A wavy Edgar cut has all the qualities of a traditional Edgar cut (or any variations of it) but with visible waves to add a bit more oomph to the style.
This type of cut requires some secondary styling after the initial cut, but it's well worth it when you step out the door with a unique style that showcases your natural texture.
Just like curly hair, wavy hair can be tricky to cut. It's important to scope out a stylist who knows the nuances of wavy hair, as it's easy to mess up on this hair type.
After your cut is done, you'll have to do some light styling to keep your hair looking good. Want to know how to style a wavy Edgar cut? Watch this video to see how a popular creator does it.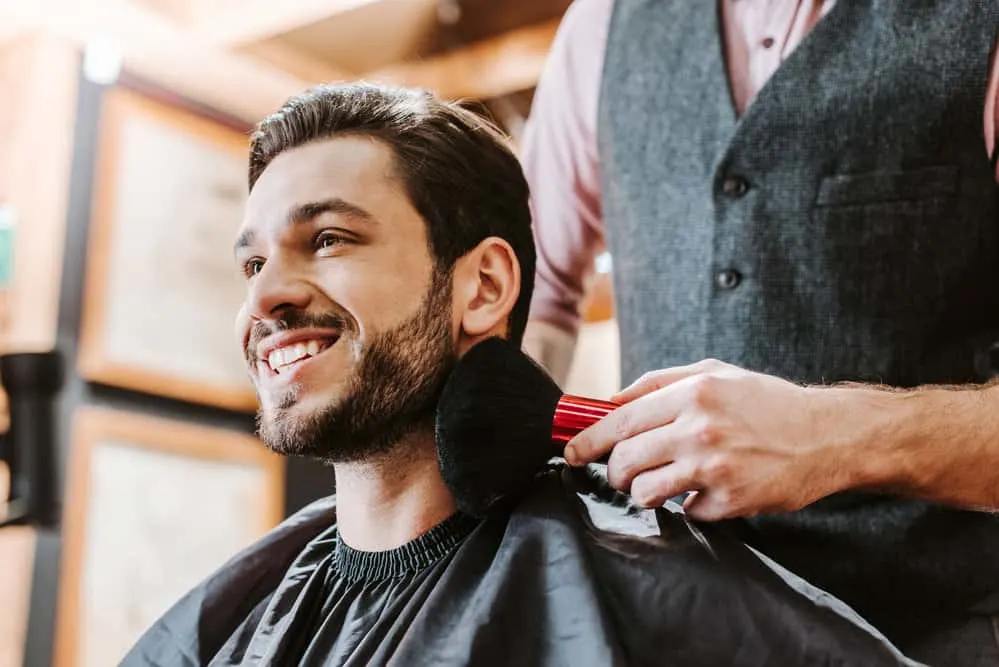 Should You Get an Edgar Cut at All?
Taking the leap and getting an Edgar cut is a huge decision because the look is peculiar. It's a far cry from typical haircuts and has not become a huge trend.
Chances are, if you get an Edgar cut, you'll be one of the first people in your circle to test-drive the look. If you're okay with standing out among the crowd, we say go for it!
And we strongly encourage you not to wait; trends can go out of style as quickly as they rise to popularity. You should get an Edgar haircut if you're tired of typical haircuts and want to look different, and few cuts are as recognizable and intense as the Edgar!
With this style, you can pretty much guarantee that people will see you as a fashion-forward guy–one that's not afraid to push the limits of self-expression. If that's the persona you're going for, the Edgar cut will get you there!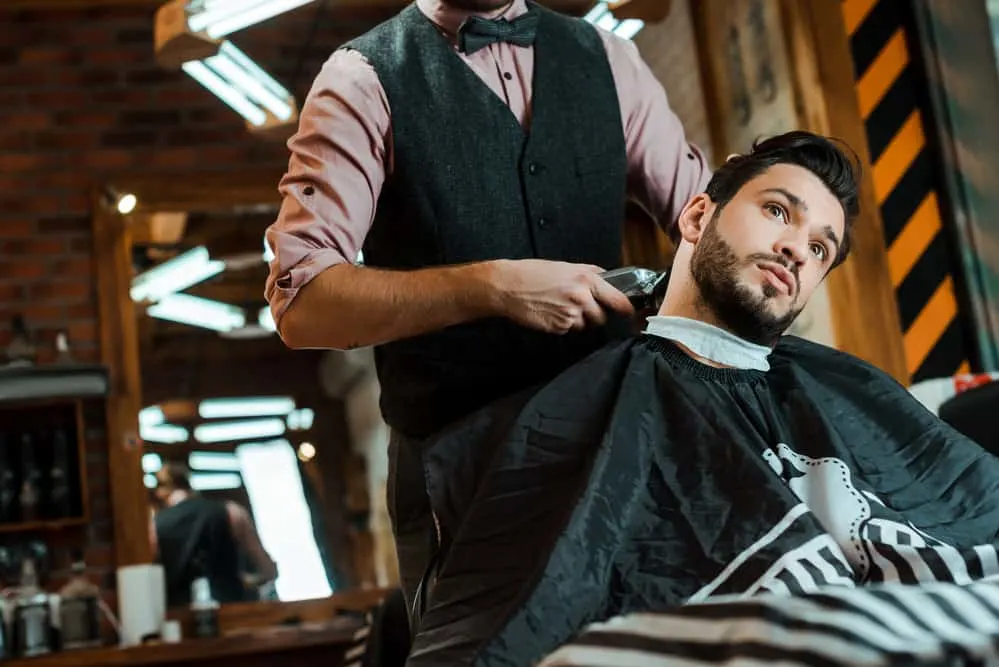 How to Ask for an Edgar Cut
Believe it or not, not every barber will know what an Edgar cut is when you ask for it. So once you decide you want this cut, we recommend calling the barbershops in your area to see if you can find one that knows about the cut.
When you do, ask them how many Edgar cuts they've done. If you can find a professional with direct experience executing this cut, that's the best-case scenario.
If you can't find one with the right experience, no biggie.
Just show them a picture of the exact Edgar cut you want for reference. Doing so will give your barber a clear representation of the look you're going for.
Don't have your phone?
You can explain the cut to the average stylist if you're creative. For instance, if you want an Edgar cut with a low fade, ask for a long top and tell the barber what type of cut you want in the back, whether it be a high fade, low fade, undercut, etc.
But don't forget to indicate that you want the front to be cut Caesar style – that's the defining feature of the Edgar cut.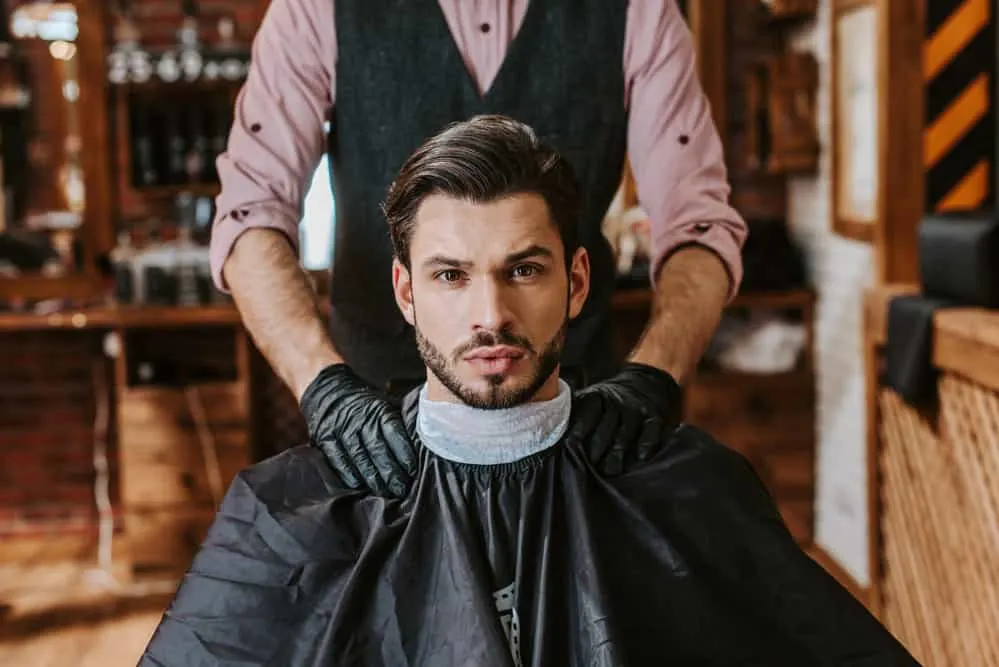 How Long Does an Edgar Cut Take at the Salon?
If you're worried that your Edgar cut will keep you in the barber's chair all day, you'll be glad to know that it likely won't. The average Edgar cut won't take longer than a typical haircut. Just know that if you're going to be getting a wash, hair treatment, or hair color process, that could stretch your appointment out considerably.
Can You DIY an Edgar Cut?
The only situation where it would make sense to DIY an Edgar cut is if you've been doing your own haircuts for a long time and feel comfortable with it. You'll need to be able to cut the front portion of the hair straight across with precision, and if you want an Edgar with a fade, you should know your way around a pair of clippers.
If you decide to do your own Edgar cut, keep your expectations in check. Be prepared if things don't go exactly to plan, and consider seeing a barber if things go awry.
There you have it–12 Edgar cut styles to take your look to the next level. We hope one of the styles mentioned in this article is what you were looking for. Good luck!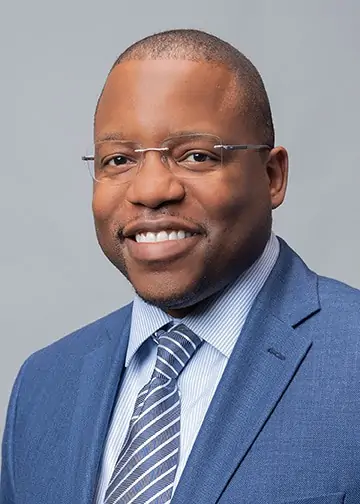 Kenneth Byrd holds a BS in Accounting and Management Information Systems and an MBA from the University of Alabama at Birmingham. With over 15 years of experience, Kenneth has been dedicated to hair care since 2008, when he co-founded Curl Centric® and Natural Hair Box alongside his wife. As a team, they promote healthy hair care practices through their comprehensive platform, Curl Centric. Curl Centric is a website operated by a husband and wife team that encourages healthy hair care. At Curl Centric, we aim to help our readers take control of their hair care journey and make good decisions about products, hairstyles, and maintenance techniques. We also have strict editorial integrity; here's an explanation of our editorial guidelines and how we make money.