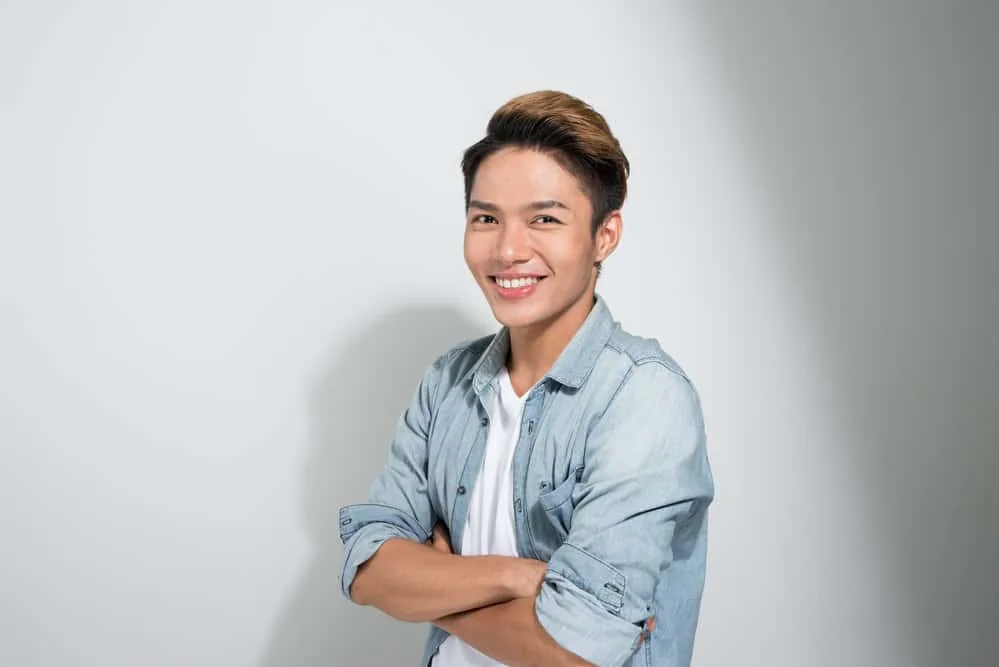 Most Asian men have thick, dark, coarse hair that is the perfect base for a diverse array of hairstyles. But with so many options out there, choosing just one can feel overwhelming.
If you're here in search of inspiration, we've got something you'll want to hear! This article will walk you through a hand-picked selection of hairstyles perfect for Asian men.
Whether you're searching for a new signature style or just want to update your current 'do, you're sure to find something you love in this list. So what are you waiting for? Let's jump right in!
15 Best Asian Hairstyles for Guys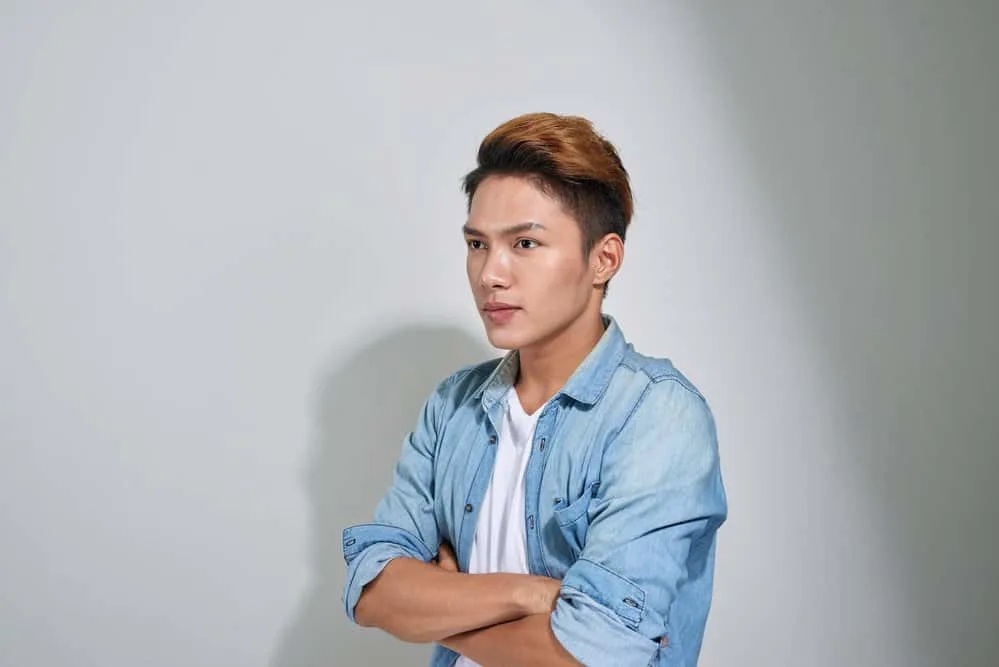 From sleek and stylish bobs to textured and messy crops, a wide range of hairstyles flatter Asian features and hair types. This article will showcase 15 of the best hairstyles for Asian guys, highlighting the latest trends and most popular styles.
Whether you're after a low-maintenance look or something with a little more edge, there's a hairstyle that is perfect for you. Get ready to discover the best cuts and styles for Asian men.
1. The Quiff
Quiffs are one of the most versatile and stylish hairstyles around. They're long and textured on top, particularly towards your face, and trimmed short on the back and sides.
Because quiffs are all about texture, they're a fantastic option for Asian men with coarse straight hair. Quiffs are versatile, modern, and easily tailored to suit a variety of facial shapes.
To style your quiff, work a small amount of pomade or wax into your hair to give it texture and hold. Then, use a hair dryer to mold the top of your quiff up and back.
Once you're satisfied with the shape, lock everything in place with a light mist of hairspray. Curious about what else it takes to get the perfect quiff? Check out this helpful YouTube tutorial for more info.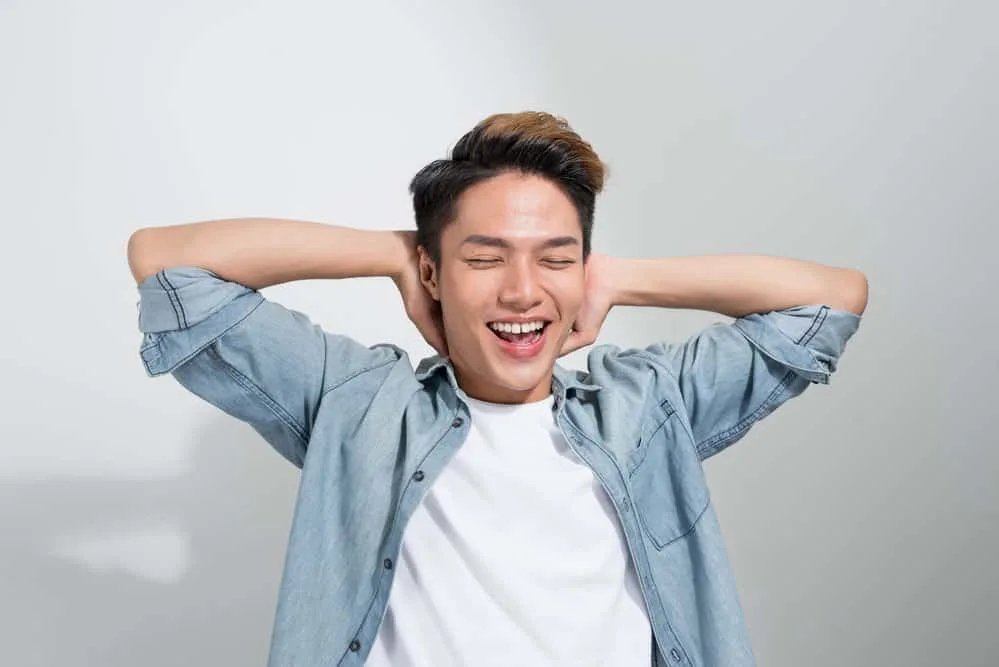 2. Spiky Textured Fade
Are you in search of an edgier hairstyle? If so, you'll love our next entry. This hairstyle features a short, tapered cut on the sides with a longer top styled into spikes.
The key to achieving a spiky textured fade is getting the correct cut and using the right styling products. To start, cut the top of your hair to a shorter length with plenty of choppy, textured layers.
Then, fade the back and sides. Once you finish, go back and add a clean line to separate the top of your hair and the fade.
The process for styling a spiky textured fade couldn't be more straightforward.
You'll just need to find a high-quality styling product that provides hold, volume, and texture. You can choose from various salt sprays, waxes, or styling pomades.
If you prefer a more matte finish, you can use a clay-based paste. Once you pick your product, just work it into damp hair and blow dry. If a spiky textured fade sounds like the right style for you, watch this video tutorial to learn more.
3. French Crop
Fans of classic haircuts will want to pay attention to our next hairstyle! It's neat, short, and ideal for anyone who doesn't want to spend hours on their hair.
French crops are similar to a Caesar cut and consist of short sides paired with a slightly longer top. Depending on your preferences and length, you can style your French crop a few different ways.
The most popular method is to comb your hair toward your face to create a thick, blunt fringe. It's an excellent option for anyone who wants to conceal a broad forehead or face.
Alternatively, you can push your French crop to one side to create a classic and professional style. Another great thing about French crops is that they require minimal styling.
Just smooth on a tiny amount of pomade to slick down any unruly flyways. This video tutorial will teach you everything you need to create an ultra-flattering French crop.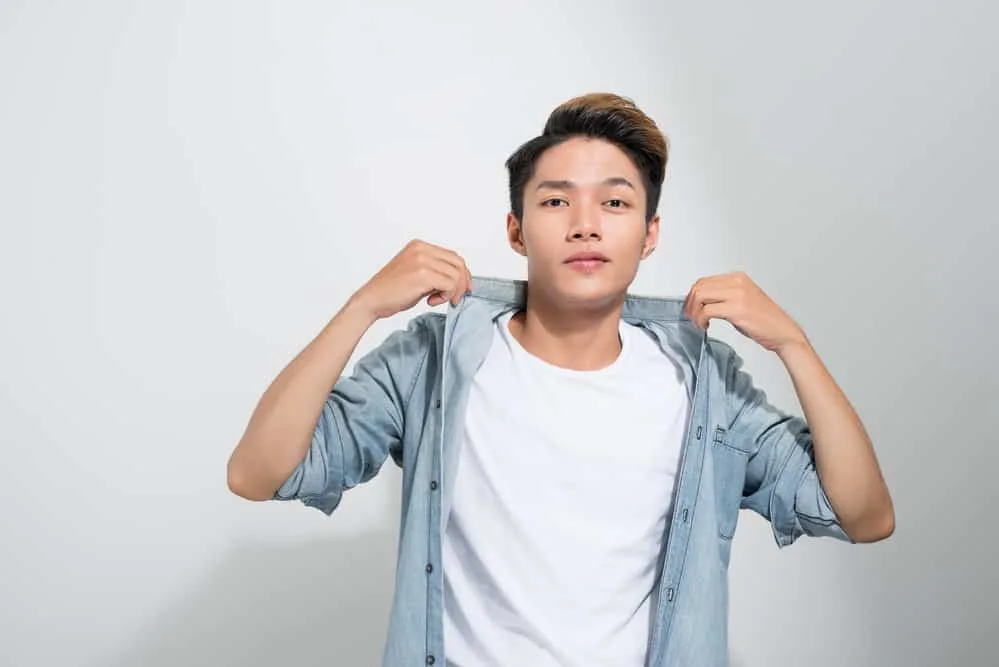 4. Two Block Haircut
Our next entry is one of the most popular hairstyles for Asian men, primarily due to K-Pop's recent explosion in popularity. A two-block haircut is a Korean style consisting of a super short back and sides combined with a much longer top.
They're similar to undercuts, which are another popular disconnected cut. The main difference is the height at which your hair gets shorter.
Two-block haircuts start much lower and have a more gradual transition in length. In a lot of ways, the two-block haircut is an upgraded version of an undercut.
It's sleeker, more wearable, and has a much more laid-back vibe.
As seen in this video, two-block haircuts are highly versatile. Try brushing your hair forward to show off your fringe, or swoop it over to the side to give your hair a bit more edge.
5. Undercut with Fade
Our next entry combines an undercut with a fade, creating an ultra-cool, high-contrast look that stands out in a crowd. If you aren't familiar with them, fades are a style of haircut that originated in black barbershops.
They're a more aggressive take on a taper and feature a shortening of your hair moving downwards. But while tapers are subtle and gradual, fades tend to be abrupt and feature a much more disjointed variance in length.
As your hair gets gradually shorter, more and more skin peeks through, creating a sharp, striking color contrast that gives this look even more edge.
The best thing about fades is how they make your remaining hair easy to style.
Simply apply a little styling product to the top of your head, and use your fingers or a hairbrush to rake it back. Ready for more styling tips? This tutorial will have you cutting and styling your fade like a pro in no time.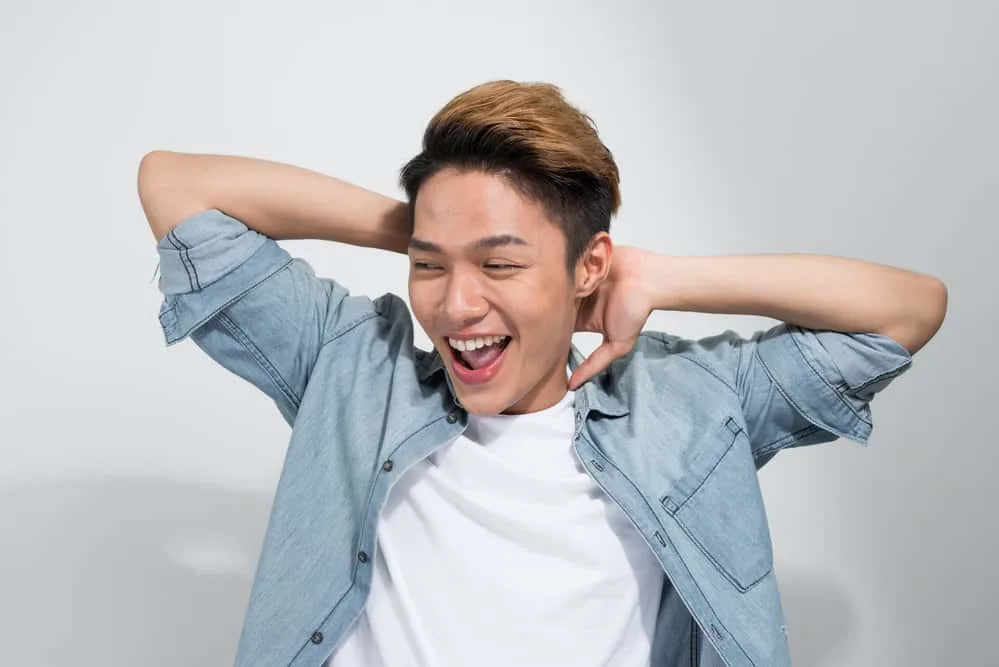 6. Comb-Over Side Part
A comb-over side part hairstyle is a sophisticated, classic hairstyle perfect for men who want a more professional and polished look. While comb-overs are best known as a hairstyle for balding men, they've been given a modern makeover.
Today's comb-overs are typically a medium-length cut with a longer top and deep side part. To style a comb-over side part, comb your hair to either the right or left side.
Then, create a clean, sharp part on the opposite side. Apply a small amount of wax or pomade to your hair for added shine and control, and brush it in the desired direction.
Finish your comb-over with a light misting of hairspray to hold everything in place. Do you need help picturing the steps? This helpful tutorial is all you need to master your comb-over with a side part.
7. Wolf Cut
Want to take a walk on the wild side? A wolf cut is a decidedly edgy haircut that takes inspiration from a shag and a mullet. They're short and voluminous on top, with tons of wispy, longer pieces on the bottom.
It's a highly layered haircut, giving your hair plenty of flow and movement. They also prevent your hair from looking too heavy, which is a common concern among Asian men with long hair.
To style your wolf cut, all you have to do is wash and towel dry your hair. Apply a volumizing or texturizing product to your hair and brush or comb it through.
Next, bend forward, and blow dry your hair while you tousle it with your fingers to promote lift and ensure your wolf cut has plenty of volume.
Getting your wolf cut right can be tricky, especially if you're new to doing your own hair. Luckily, there are tutorials like this one to walk you through the process.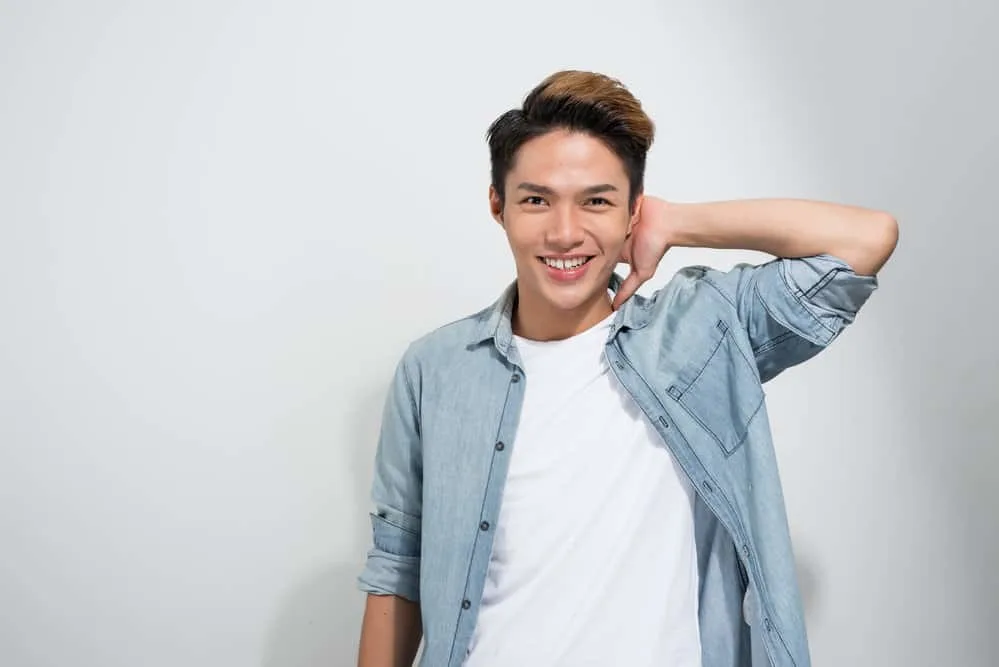 8. Textured Bowl Cut
Our next hairstyle is another increasingly popular Korean import. A bowl cut is a simple style in which your hair is cut with a straight fringe. Then, the back and sides are cut to the same length to create a bowl shape.
Remember, this look isn't your traditional bowl cut. It has a choppy, tousled texture that prevents your hair from looking too prim and proper. Instead, it creates an edgy, playful vibe that perfectly highlights the coarseness and thickness of Asian hair.
To style your textured bowl cut, simply shampoo and condition your hair like normal.
Then, use a blow dryer and round brush to shape your bowl cut. Once your hair is dry, work a texturizing spray, pomade, or wax through your strands.
Run your fingers through and over your hair to encourage clumping and create a soft, touchably tousled texture.
As a finishing touch, spritz a little hairspray on your hair to block out frizz and humidity. Wondering what else it takes to style your new textured bowl cut? Just take a look at this video demo.
9. Wavy Curtain Cut
It's official: the curtain cut is back! Curtain cuts initially rose to fame in the early 1900s and saw a brief resurgence in the 1990s. Thanks to the popularity of TikTok, K-dramas, and K-pop, they're back with a vengeance.
A curtain cut is a medium-length haircut featuring a long fringe with a short back and sides. It's named after the way the bangs fall forward and frame your face and is an excellent option for men who want a casual, laid-back hairstyle.
While curtain cuts look amazing on their own, they look even better with a few loose waves thrown into them. Because many Asian men have straight hair, some have turned to Korean perms to create waves.
But, as this talented creator shows, you can fake a perm by adding a few well-placed curls. Just make sure you apply a thermal protectant beforehand, as hot tools can lead to heat damage.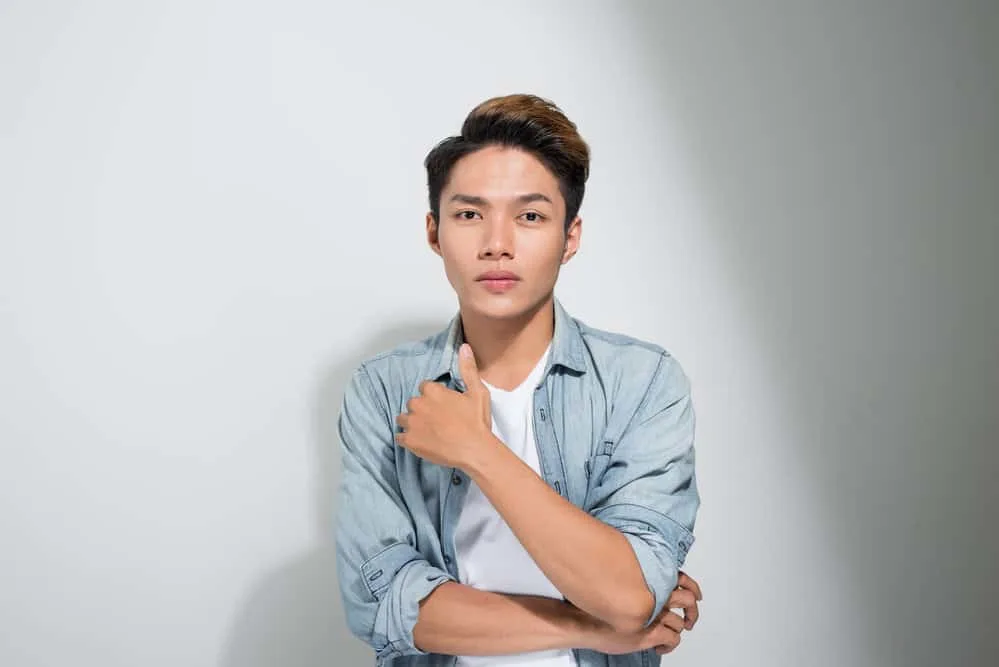 10. Man Bun
Looking for a hairstyle that works for longer locks? A man bun is a quintessential style that's important for men with long hair to master. They're fast, easy, and effortlessly cool.
They have a laid-back, casual vibe that works well in a variety of settings.
They're also super practical since they keep your hair up and out of your face. Ready to learn how to get the look? Start your man bun by pulling your hair back and securing it into a high ponytail.
Wrap the length of your ponytail around itself to create a bun or knot, and tuck the ends into your first hair tie to secure them. Keep in mind that's only one way to do a man bun.
As you can see in this tutorial, man buns are incredibly versatile, so you can have fun experimenting with different styles. You can wear your man bun high, tight, and polished or low, loose, and messy. It's entirely up to you!
11. Braided Half Updo
A braided half updo is a fantastic option for men looking for a way to keep their long hair from getting in their faces while still showing off their length.
This stunning hairstyle manages to elevate a simple updo by combining it with a rugged, single plait.
The braid gives the look a more masculine edge and creates an intriguing contrast between hard and soft. To create a braided half updo, brush through your hair to remove any tangles or knots.
Next, part your hair around your crown and gather it into a tight ponytail. Braid the length of the ponytail from top to bottom and secure the end with a small rubber band.
Finish with a light mist of hairspray to help hold the style in place and keep frizz and flyaways at bay. Need more help with getting started? Check out this video tutorial to learn how to create the perfect braided half updo.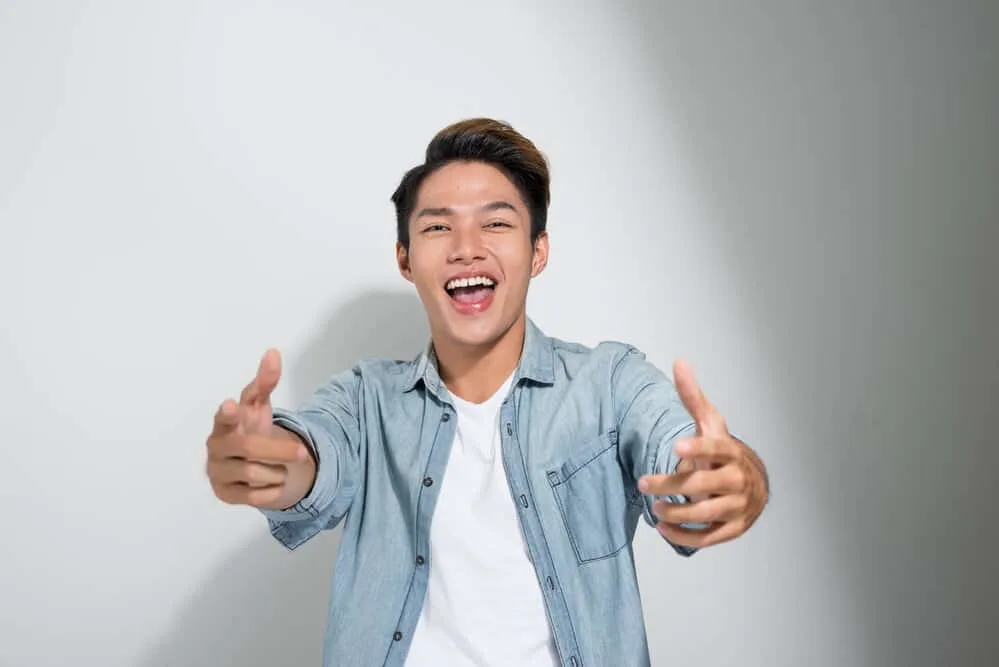 12. Disconnected Undercut
If you're looking for a unique and striking look, you'll want to pay close attention to our next entry. A disconnected undercut is characterized by tightly cut back and sides, with a much longer top.
The abrupt transition between hair lengths gives this hairstyle an ultramodern, rebellious edge. A disconnected undercut is a relatively low-maintenance hairstyle.
However, you will have to regularly trim the sides and back to maintain the sharp contrast between the top and the sides.
Once you get your disconnected undercut, you can style it in a number of trendy styles. One of the most popular ways is to style your longer top in a way that gives it a messy, textured look.
You can do this by working a texturizing wax into damp, freshly washed hair.
Then, run your fingers through your strands to tousle them. That's all there is to it! If you'd like a bit more information, this video demo will give you all the tools you need to pull off this incredible look.
13. Side-Parted Pompadour
Pompadours have been around for decades and have proven they're here to stay. They're polished and sophisticated and give you just the right amount of edge.
Pompadours are characterized by their voluminous top and sleek, slicked-back sides. In addition to being an attractive, sculpted style, pompadours are exceptionally flattering.
They pull your hair up and off your face to highlight your jawline and cheekbones, making this an excellent option for anyone who wants to show off their amazing bone structure.
To style your pompadour, use a combination of pomade, wax, or gel to bring the top of your hair up and backward. Then, create a side part and comb your hair in the desired direction.
Finish your style by slicking the sides of your hair straight back.
When it comes to pompadours, getting the right haircut is essential, so make sure you consult with a professional stylist or barber before your cut. If you want to go about it on your own, this video will help break things down a little further.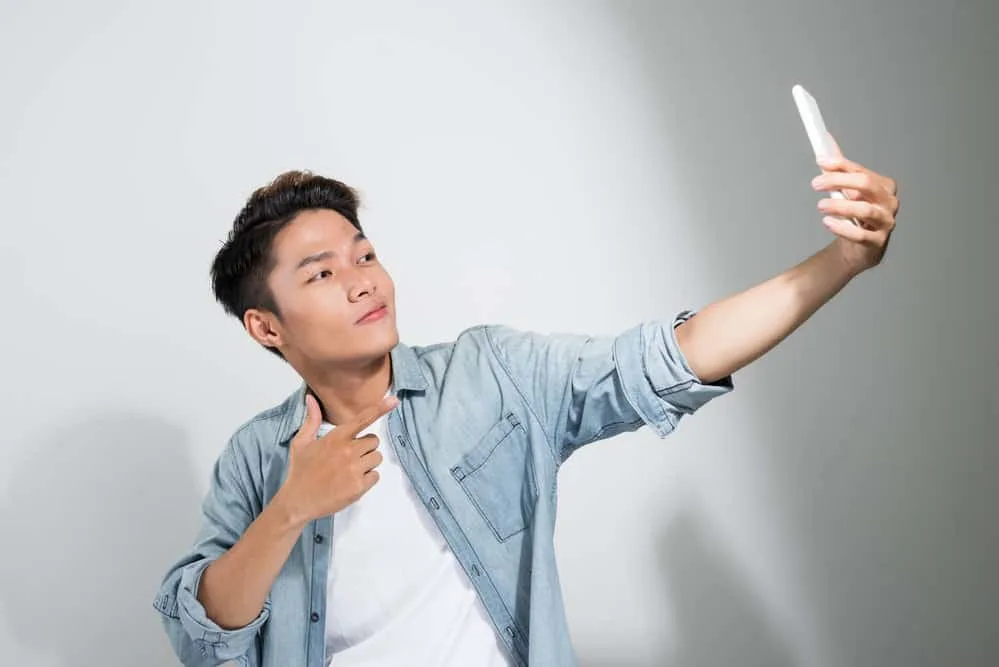 14. Textured Faux-Hawk
A textured faux-hawk hairstyle is a modern, more wearable take on a classic faux-hawk. While it still has a long top and short sides, textured faux hawks are generally much shorter on top.
They have a lot of volume and movement and are typically styled to have a messy, tousled texture.
Textured faux-hawks are more relaxed and effortless than regular faux-hawks but retain all of the modern, stylish edge that makes them exceptionally versatile and easy to dress up or down.
To achieve the style, work a bit of wax, clay, or pomade into your freshly washed hair. Next, aim a blow dryer at your hair and brush or comb your strands forward.
After your hair dries, use your fingers to shape your faux-hawk and add more texture and definition to your mane. For more styling tips, you can watch this helpful video demo.
15. Crop Top
Last but certainly not least on our list of Asian men's hairstyles is the crop top. A crop top is a short haircut featuring a blunt fringe, accompanied by a faded back and sides.
While they're similar to French crops, crop tops have a much shorter fringe. Crop tops are clean and crisp and make daily styling completely painless! Simply smooth a high-quality styling product over your hair to create hold and definition.
To create even more texture, you can pinch or roll small sections of hair to encourage them to stick together. When styled correctly, crop tops help slim and elongate your features, making them perfect for men with rounder features.
It also works exceptionally well for men with thick or curly hair, as the textured layers can help tame unruly locks. Now that you have a general overview, you can watch this beginner-friendly tutorial to learn more.
That concludes our list of Asian men's hairstyles. The good news is that Asian hair creates the perfect base for a variety of amazing haircuts, so have fun trying out different styles until you find the ones that work for you.
If you don't feel comfortable trying them out on your own, you can always enlist the help of a friend or trusted hairstylist. Either way, we hope the hairstyles we've gone over today are just what you were looking for, and we can't wait to see the styles you come up with!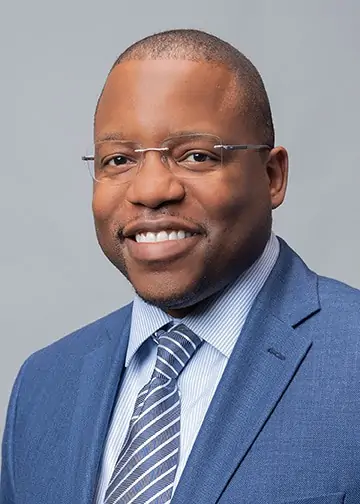 Kenneth Byrd, with a BS in Accounting and Management Information Systems and an MBA from the University of Alabama at Birmingham, has over 15 years of experience and is a recognized authority in hair care. Co-founder of Curl Centric® and Natural Hair Box, Kenneth has dedicated himself to promoting ethical and scientifically-backed hair care practices. Rigorous editorial guidelines, industry recognitions, and features in numerous media outlets evidence his expertise. Kenneth's commitment to transparency, quality, and empowerment has positioned him as a trusted voice in the field, empowering readers to confidently embrace their natural beauty.