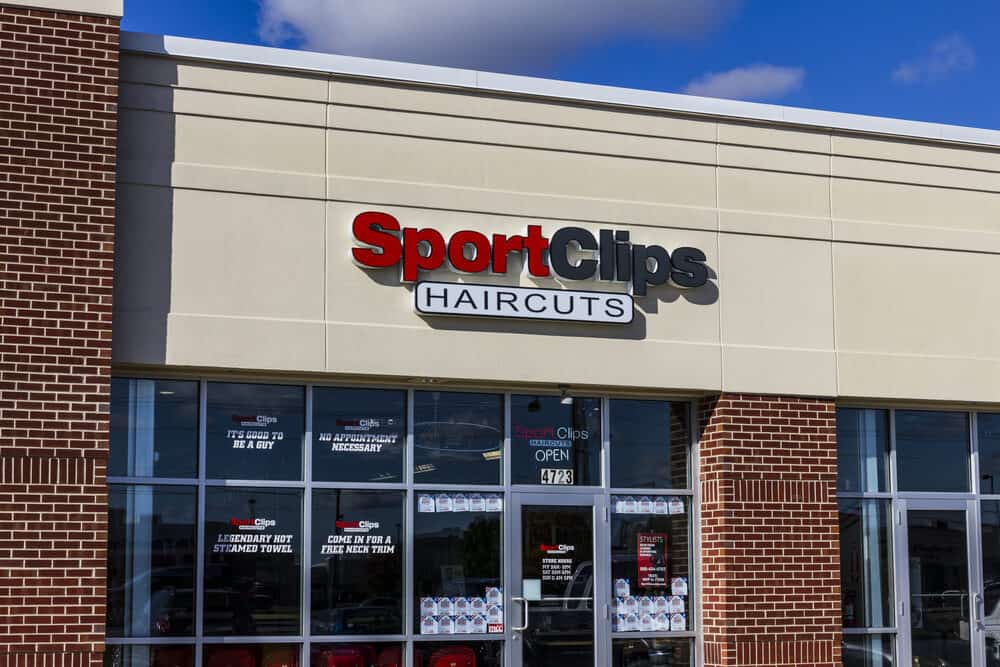 With its laid-back vibe and exciting sports-themed environment, Sport Clips has become one of the largest salon franchises in North America. If you're trying to decide if the salon would be a good fit for you, you've come to the right place!
This article will shed some light on Sport Clips' prices, haircuts, products, hours and so much more. We aim to give you all the information you'll need before taking a trip there.
Sport Clips History
Sport Clips was founded in Austin, Texas, by Gordon Logan, a former Aircraft Commander for the US Air Force. In the early '90s, Gordon saw potential in the men's and boys' haircutting industry.
He sought to create an environment where men could kick back and unwind and get a great haircut in the process. To bring his vision to life, he gathered a team of professionals and opened the first Sport Clips salon.
Gordon expanded into Houston and Dallas shortly after opening the Austin location. As time went on, new salons opened up around the country.
Today, Sport Clips is the only national hair care franchise with salons in all 50 states. In total, there are 31 Canadian locations and over 1,500 salons in the United States.
Sport Clips Stylists receive exclusive education on handling the needs of boys and men's hair. They also go through detailed training sessions that focus on how best to exemplify the Sport Clips brand.
The classes also teach hair cutting techniques, so there is clear uniformity among the haircuts provided at the various locations.
What Time Does Sport Clips Open and Close?
Some Sport Clips locations may have hours of operation that are different from what we will go over in this section. Additionally, some Sport Clips are not open at all on Sundays. Make sure you check with your local Sport Clips before visiting the salon.
That said, here are the usual hours for Sport Clips salons.
Monday – 9 am to 8 pm.
Tuesday – 9 am to 8 pm.
Wednesday – 9 am to 8 pm.
Thursday – 9 am to 8 pm.
Friday – 9 am to 8 pm.
Saturday – 9 am to 6 pm.
Sunday – 9 am to 4 pm.
Management at Sport Clips knows you want to look your best during the holidays, so salons are usually open the day before a major holiday.
While you'll have to check your local franchise to make sure, many are open on Christmas Eve and New Year's Eve. But keep in mind that they may have reduced hours, so try to squeeze your haircut in early in the day!
What Sets Sport Clips Apart?
When you first walk into a Sport Clips salon, one of the first things you'll notice is that the majority of the workforce is comprised of women. The next thing to catch your eye will likely be the latest game playing on one of their big-screen TVs.
Customers will be getting various treatments throughout the salon, from spa treatments to stylish cuts. Sport Clips is a place where guys can relax and get pampered without breaking the bank.
There is a heavy emphasis on sports, and the predominantly female staff receive training on how to best care for their mostly male clientele. Above all, Sport Clips aims to provide memorable experiences and crisp, clean cuts and styles.
What Are Sport Clips Prices?
Pricing is always a topic of interest when it comes to choosing a salon, so we'll jump into that here. Below is a list of Sport Clips' average rates, so you'll have an idea of what to expect.
Varsity haircut – $18 to $21
Jr. Varsity haircut – $ 14 to $17
Sr. Varsity haircut – $14 to $17
Buzzcut – $15
Detailed cut – $28 to $31
Beard detailing – $5
Bang trim – $5
Neck trim – Free
MVP – $24 to $26
Triple Play – $21 to $24
Double MVP – $29 to $31
Triple MVP – $34 to $36
*We'll go into greater detail about the sports-related cuts later on in this article.
Call or visit your nearest location to confirm the latest Sport Clips prices. Salons in larger cities may charge more, while small towns often have lower costs.
Sport Clips Themed Haircuts
When you take a look at Sport Clips' hair menu and see the MVP or Triple Play, you may not know what it means. So, in this section, we'd like to some of the most popular (and vague) Sport Clips cuts and services.
Sport Clips Varsity Haircut
A Varsity haircut is the standard haircut offered to adult men and women. It starts with a one-on-one consultation with your stylist.
You'll discuss the kind of cut you want, and your stylist will help decide how to make it best fit your features and preferred level of maintenance. Then, the Sport Clips stylist will give you an expert haircut.
To finish off the experience, your new 'do will be styled.
Sport Clips MVP Precision Haircut Experience
While you can always go in for just a haircut, many customers enjoy the packages offered by Sport Clips. One of the most popular packages is their MVP Haircut Experience. The full MVP haircut comes with:
Massaging shampoo – The MVP Experience kicks off with an invigorating tea tree shampoo massage. By the end, you will be left feeling relaxed and squeaky clean. After your shampoo, your stylist will apply a leave-in conditioner to help lock in moisture and leave your hair feeling touchably soft.
Legendary steamed hot towel treatment – A moist, hot towel is infused with tea tree oil and gently wrapped around your face and neck. The steam helps promote circulation and softens your skin.
Neck and shoulder massage treatment – Sport Clips stylists receive training on how to work out tension in your neck and shoulders with their handheld massagers. Unfortunately, this treatment is not available in Idaho, Massachusetts, Washington, Oregon, and Utah.
Precision hair cut – A precision cut is an upgraded version of Sport Clips's standard haircut. It comes with a one-on-one consultation, followed by a cut and style performed by one of their highly trained stylists.
Sport Clips Triple Play
​​Like the MVP Experience, the Triple Play is a package that contains a selection of services. The Triple Play includes everything from the MVP, aside from the neck and shoulder massage. It's a relaxing treatment that will have you feeling pampered and refreshed!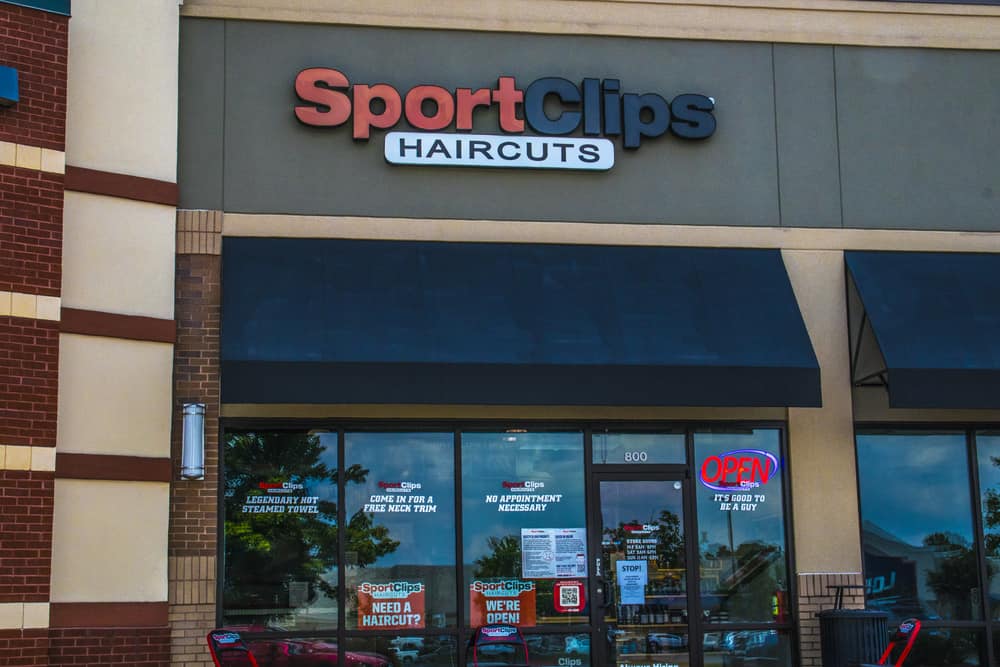 What Methods of Payment Does Sport Clips Accept?
Sport Clips accepts all primary forms of payment, including cash, debit, and credit. They
take MasterCard, Discover, American Express, and Visa. Sport Clips also accepts various contactless payment methods, which we will go through below.
Apple Pay
If you're wondering whether or not Sport Clips takes Apple Pay, the answer is yes! They've recently started to accept some of the most popular contactless payment methods, including Apple pay.
Samsung Pay
As of 2022, Samsung Pay is also accepted at many Sport Clips salons. However, some individual locations might not take it yet. If you want to be extra cautious, reach out to the salon before your appointment to double-check.
Google Pay
Google Pay is another popular, widely used digital wallet accepted by Sport Clips. Until you know for sure that your local Sport Clips does accept Google Pay, bring a different method of payment just in case your specific location doesn't.
Why Choose a Digital Wallet to Pay For Your Sport Clips Visit?
Sport Clips started accepting contactless payment methods for their Sport Clips Clean Commitment Program. Contactless payment methods reduce the need to touch the same surfaces as dozens of other people. They also save you time at checkout and give you an alternative if there are any unforeseen issues with your other payment methods.
Is Tipping Required at Sport Clips?
While it is not required, tipping at Sport Clips is usually expected. You should expect to tip anywhere from 10% to 25% of the total price. You should pay at least 20% for excellent service, although ultimately, how much you decide to tip is up to you.
Doing this will help you build a relationship with your stylist and ensure great visits in the future. They may even help you secure a last-minute appointment!
Does Sport Clips Have a Mobile App?
As part of their commitment to making things as easy as possible for clients, Sport Clips launched a mobile app back in 2018. The Sport Clips mobile app is available for both iOS and Android phones.
Through the app, you can set your preferred location and stylist. The app also lets you check wait times, check-in on the go, and set reminders for your next haircut or touchup.
Does Sport Clips Take Walk-Ins?
As a walk-in-focused salon, Sport Clips does take walk-ins. At your convenience, all you have to do is walk in and stop by the receptionist's desk.
Then you'll wait until someone can service you. If you want to speed things up, you can use a different method to check-in (more on that in the section below).
Online Check-In
As we mentioned before, Sport Clips offers a few different ways to book a haircut. In addition to walking in, you can check-in for an appointment on their website or through the Sport Clips mobile app.
By checking in online, you can pick your salon and stylist ahead of time. You can also skip the wait and show up to your appointment right before the estimated time of service.
Appointments
Sport Clips is primarily a walk-in salon. They don't take appointments, although you can still schedule your haircut ahead of time. The emphasis is on skipping the wait rather than reserving a specific time. We'll tell you how to set up a haircut in advance later in the article.
How Long Do Sport Clips Haircuts Take?
The length of time it takes for your stylist to complete your hairstyle varies. It mostly depends on your stylist and the complexity of your cut. The length and thickness of your hair will also play a role. Typically, you can expect to spend between 20 to 30 minutes in the salon.
Does Sport Clips Trim Beards?
Sport Clips has your facial hair covered, whether you have a full-length beard or a well-maintained goatee. They offer beard trims and detailing for a flat rate of $5.
Sport Clips also provides various products formulated to care for and style your beard. Here are some of the beard-related products available for purchase.
Shaving cream
Skin and beard lotion
Blade slip
Cooling aftershave
Beard oil
Beard, hair, and tattoo oil
Beard balm
Beard shampoo
Does Sport Clips Cut Women's Hair?
Although Sport Clips specializes in haircuts for boys and men, they will happily accept female clients. But it is important to note that they do not offer much in terms of styling.
They're primarily a men's salon, so you probably won't be able to get elaborate hairstyles like updos, curly perms, relaxers, or braids. If you're a woman planning to visit Sport Clips, don't expect more than a basic wash and cut.
Can Sport Clips Cut Black People's Hair?
When it comes to cutting Black hair, technique and familiarity with various textures make all the difference. You can't trust just anyone to work on your mane, so you're probably wondering if Sport Clips can cut black people's hair.
Unfortunately, there isn't a clear-cut answer.
As a franchise, different people own and operate various Sport Clips salons. Call the salon ahead of time and ask if they have anyone who has experience working with Black hair. There is a good chance you will be able to find a qualified stylist, so it's worth asking.
Does Sport Clips Dye Hair?
Sport Clips does not provide any chemical treatments. Sadly, this includes coloring services like dyeing or bleaching. But you aren't entirely out of luck! They will still wash, cut, and style colored locks.
Does Sport Clips Do Perms?
While they are often confused with relaxers, perms are different chemical processes. Instead of straightened strands, they create uniform ringlets and waves in your hair. Unfortunately, Sport Clips does not offer perms or relaxers of any kind.
Does Sport Clips Do Eyebrows?
While Sport Clips doesn't offer specific eyebrow services, they will do touch-ups at some locations. They do not provide more detailed eyebrow services like threading, waxing, or plucking. If you want to get your brows trimmed, just mention it to your stylist to see if they can do it.
Does Sport Clips Do Fades?
Sport Clips specializes in men's and boys' haircuts, which means they have plenty of experience in doing fades. They can do fades on both men and women, so rest assured!
Still, we recommend that you bring a picture or two to your haircut appointment if you have your heart set on a particular cut. That way, the stylist will be able to see the exact style you want.
The quality of the haircut will depend on the stylist you choose. Even within the same salon, there are stylists of various experience levels.
Many hairstylists have portfolios to show off examples of their best work. If you're trying to decide on a stylist, ask them if they have a portfolio you can look over. Then you can pick the one who will best fit your style.
Can You Donate Your Hair at Sport Clips?
Sport Clips doesn't have a dedicated hair donation service. However, some locations may cut your hair for you to mail out to an organization that collects hair donations.
Whether or not they charge for the cut depends on the individual location. Give your local Sport Clips a call to see if they can assist you in your donation.
What Hair Product Brands Does Sport Clips Carry?
Sport Clips carries various nationally-recognized professional brands, many of which are available to purchase in the salon. If you are unsure of what to buy, just ask your stylist for their recommendations.
They will steer you in the right direction and suggest products to help you care for your mane. Here are the brands offered at Sport Clips locations.
Sexyhair
Nioxin
American Crew
Actiiv
MITCH by Paul Mitchell
Tea Tree by Paul Mitchell
MVRCK by MITCH
GIBS
Which Charities Does Sport Clips Support?
Sport Clips is committed to giving back to its community. To do so, they've partnered with an impressive list of philanthropic and nonprofit organizations, many of which reflect the founder's time in the Air Force. We'll walk you through all of the charities they assist.
American Red Cross
For almost a decade, Sport Clips has supported the blood drives run by the American Red Cross Blood Services. In addition to spreading awareness, Sport Clips provides American Cross donors with a coupon for a free haircut. The incentivizing vouchers can be redeemed at any participating salon.
Dream Flights
Dream Flights is a nonprofit organization devoted to honoring American military veterans by providing them with "Dream Flights" in a classic military aircraft. Many of the veterans they serve fought during WWII. Sport Clips is Dream Flight's primary donor and has helped them provide over 5,000 veterans with a once-in-a-lifetime flight.
Aleethia Foundation
The Aleethia Foundation supports injured military personnel with emergency financial aid, grants, and assistive technology. They also fund home improvements and therapeutic recreational activities that help injured service members navigate their day-to-day lives.
Sport Clips supports this organization through its Friday Night Dinners. These dinners give wounded, injured, and ill service members a much-needed night out with their closest loved ones.
Honor Flight Network (Austin)
Honor Flight Network transports veterans to Washington DC so they can visit memorials from their previous tours and reflect on their memories in a supportive environment.
They prioritize senior and terminally ill veterans and aim to show their appreciation for veterans' sacrifices. Although there are numerous branches, Sport Clips specifically supports the Austin, Texas, location.
VetFran
VetFran's mission is to educate veterans and assist their transition into owning and operating a Sport Clips franchise. Sport Clips provides qualified veterans with a potential 20% discount on their Sport Clips franchising fee.
VetFran also gives veterans access to educational materials, events, and sessions to help them further their careers as franchise owners.
Eric Gozur-Wayne McGlone Memorial Relief Fund
Sport Clips supports its employees in more ways than one. The Eric Gozur-Wayne McGlone Memorial Relief Fund has given almost $3.6 million to over 800 Sport Clips employees. The fund provides financial grants to Sport Clips Team Members who've suffered from tragedies like:
Floods
Accidents
Tornados
Earthquakes
Illness
St. Baldrick's Foundation
St. Baldricks Foundation is an active participant in the fight against childhood cancer. As its first national sponsor, Sport Clips has shown its commitment by donating millions of dollars to support cancer research. Sport Clips also hosts St. Baldrick's head-shaving events to help raise funds and spread awareness.
Help A Hero Scholarship Program
As the Official Haircutters of the VFW, Sport Clips has partnered with them to create the Help A Hero Scholarship Program. Since 2013, Sport Clips has funded over 2,000 scholarships to service members and veterans seeking to further their education. The scholarships cover a variety of post-secondary institutions, from universities to trade schools.
Sport Clips Discounts and Rewards
It's always nice to get a discount or reward, but can you get either at Sport Clips? We'll get into that in the following sections.
Rewards Program
Right now, Sport Clips does not have a rewards program. But don't be discouraged! They more than make up for it by offering plenty of promotions and coupons throughout the year. Sport Clips also offers occasional free upgrades, so check with your local Sport Clips for potential savings.
Senior Discounts
Some Sport Clips locations offer a discounted price for seniors. In keeping with the sports theme, the program's name is the SR Varsity.
It takes about $4 off the cost of a haircut, so you will end up paying about $14. To qualify for the seniors' discount, you'll have to be 65 or older at most locations. Some salons lower the minimum age to 55, so be sure to call to find out.
Kids Discounts
Here is some good news for parents. Sport Clips offers a discount for kids' cuts! Participating locations will take off up to $4, bringing the cost of a JR Varsity haircut down to around $14. Kids 12 and under are eligible for the reduced price at most sites. However, other locations may limit the discount to kids ten and younger.
Free Cuts for Veterans
Sport Clips is the VFW's Official Haircutter. To show their commitment to our country's veterans, Sport Clips strongly encourages their franchisees to offer free Veterans Day haircuts to veterans. But ultimately, it's up to the salon owner's discretion. We recommend you call your preferred salon location to see if they offer complimentary cuts.
Military & First Responders Discount
In addition to their frequent discounts and promotions, many Sport Clips locations offer military personnel and first responders a discount on their services. However, this isn't available at every salon. Once you locate your preferred location, contact them to find out for certain.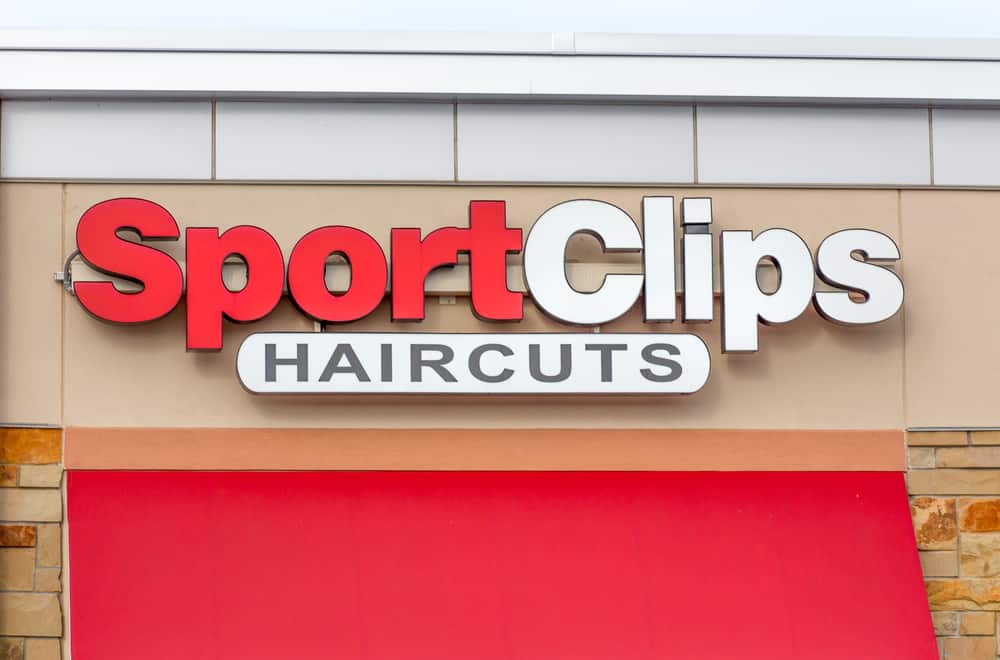 What Are Customers Saying About Sport Clips?
Customer reviews can give you a preview of how your salon visit will go. With so many different customer experiences, we thought we would collect a balanced mix of some of the best and worst. Let's dive right in!
Satisfied customers love the relaxed atmosphere and thoughtful service. They particularly enjoy the consistently low prices and capable stylists.
They say that the hot towel treatments and massages take the service to the next level and provide an experience they can't get at regular salons and barbershops.
There are quite a few reviews about people who were pleasantly surprised by how accommodating Sport Clips staff treated individuals from various gender identities and orientations.
Another glowing review that came up frequently was how often Sport Clips sends out coupons and promotions. Critical comments state they encountered unprofessional behavior and uneven haircuts that don't reflect the cut that they asked for.
Not all Sport Clips salons offer blow-drying and female styling services, so some people have to leave with damp locks. Others think that the services are overpriced and stress the importance of visiting locally-owned barbershops.
While these reviews have given you some insight into customer experiences, it is essential to keep in mind that Sport Clips is a franchised establishment.
Different locations have different owners and staff, and the experiences will vary depending on which salon you are visiting. Additionally, the quality of your haircut will depend on the individual stylist that works on your hair.
If you want to see what customers are saying about the Sport Clips you plan on visiting, check out the reviews for that individual salon. You'll also get to look at some pictures posted by customers and get an idea of whether that location can meet your needs.
Halfway between a salon and a barbershop with a dash of a sports bar thrown in, Sport Clips offers a unique haircutting experience for an affordable price. If you decide to go, remember that location is everything!
Your experience can vary wildly depending on which franchise you visit, so do your research beforehand. We hope this article has answered all of your questions and filled you in on everything you need to know about Sport Clips!